Five Ideas for Old Fashioned Handmade Natural Christmas Decor
Old-fashioned Christmas decor is simple to make and gives your home that nostalgic feel. The process of making decor can be a favorite and eagerly anticipated tradition!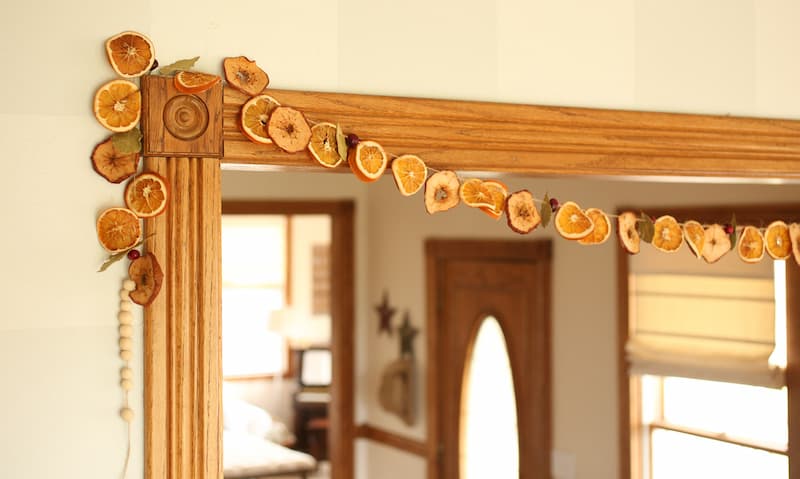 This post contains affiliate links
While we have a couple of tubs of Christmas ornaments and decor, I've never been heavy into keeping lots of Christmas decor, mainly just ornaments for each child. I've never collected snowmen, santas, or anything really. That's really just not my style. I honestly feel a burden with stuff. I can't stand loads of it.
Ok, I guess I do collect pillows and pillow covers. Most of them are handmade, but I do love changing those out seasonally. If you want to know how to make your own pillow covers, it is super easy. I have a tutorial here. Other than that, some garland, a candle burning, a few handmade items, and cozy throws feel like the best decor to me.
Here are Five Ideas for Simple Handmade Old-Fashioned Christmas Decorations
I am definitely not inventing the wheel here. These are all things that people have done for decades, this is just my take on each of them. That's the beauty of handmade decor, you can make it your own, you can take something traditional and add your own modern take on it! I added wood beads for a more modern twist.
Dried Fruit and Spice Garland
This is one of my favorite decor items, you can make some garland and hang it up in the early fall and leave it up all the way through the New Year. It looks old-fashioned and rustic, plus it smells wonderful!
I remember making these when I was a young mom with a small budget and a creative mind! Dried fruit garland feels so very nostalgic to me!
Items needed for Dried Fruit Garland
For an eight foot garland I used 1 three pound bag of oranges and 1 three pound bag of apples and 1 bag of cranberries
bay leaves
wood beads (this was a good value here)
pine cones (these were very difficult to thread)
Twine ( I probably wouldn't use that again, it frayed and ended up making it a bit difficult in spots)
Wire, fishing line or bakers twine would be better.
Other Ideas for Dried Garland
star anise
pine tree twigs
pears
cinnamon sticks
Steps for Dried Fruit Garland
Decide which fruit you would like to use. I chose oranges, apples, and cranberries. However, you could use pears, lemons, grapefruit, or whatever other fruit that would dry well. You can string these a number of ways, I did this one so that the face of the fruit shows. In the past I have strung them as a stack if that makes sense. Similar to this one.
Slice the Fruit 1/4 inch thick, if the citrus fruits are particularly juicy, blot with a paper towel first
Place on wire racks placed on baking sheets
Set the oven to around 170 degrees
Leave in the oven for 4-6 hours, mine took every bit of 6 hours
Let cool
Using a large needle string some fishing line, wire, plain or striped twine, (really whatever you want to use)
Next string wood beads, fruit and bay leaves
Spray with an essential oil mix of orange cinnamon and cloves for extra wonderful smells!
Dried Fruit Ornaments
Easy Peasy here. Just dry your fruit as you did above. Then you can add cinnamon, cloves, or star anise to make them extra pretty! String the slices on a piece of twine. Rustic, simple, and beautiful!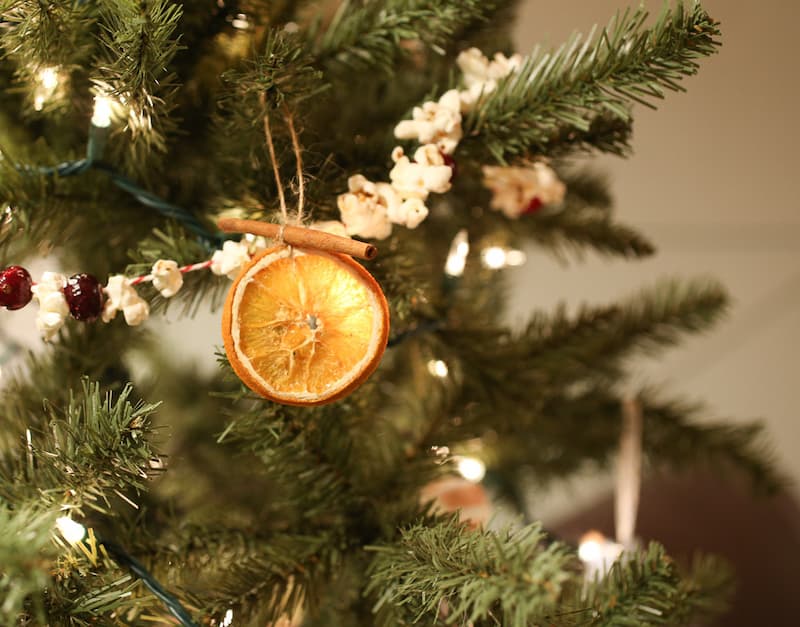 Orange and Clove Pomander DIY
I think these are some of the loveliest Christmas decorations. These are also easy to make and smell wonderful! You can get fancy with your designs or just keep it basic. Both are beautiful! I found it easier to poke holes with a skewer and then push the cloves through the holes.
You can also roll your pomander in ground cinnamon to help preserve it longer. You can also tie a pretty ribbon around the pomander to make it extra pretty!
Cranberry and Popcorn Garland for Old-Fashioned Handmade Christmas Decor
This is a fun family tradition. You could pop in your favorite Christmas movie and sit around stringing popcorn and cranberries as you watch it! We didn't watch a movie while we strung ours, instead, we watched that baby smash cranberries and eat popcorn. We did listen to Christmas Bluegrass music though! Make sure you pop enough for snacking too!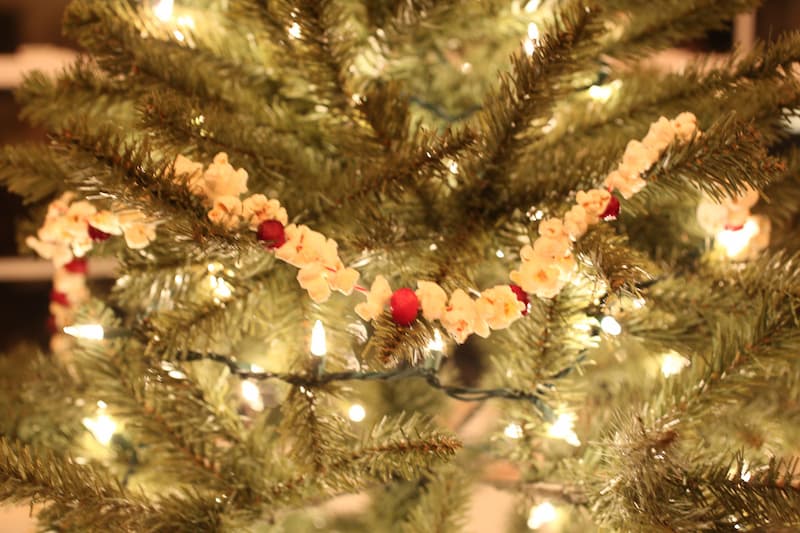 My kids loved making this cranberry and popcorn garland, they are so proud of their homemade decorations too! Although this seems very straightforward, here are a few tips.
Tips for Stringing Cranberry and Popcorn Garland
Pop the popcorn at least a day ahead, stale popcorn works much better than freshly popped. It just doesn't break as easily
Use a thick needle with a sharp point
Use bakers twine.
Be gentle when you go through the center of the popcorn, just kind of wiggle it through
Be prepared for sticky fingers, maybe don't do this on your living room furniture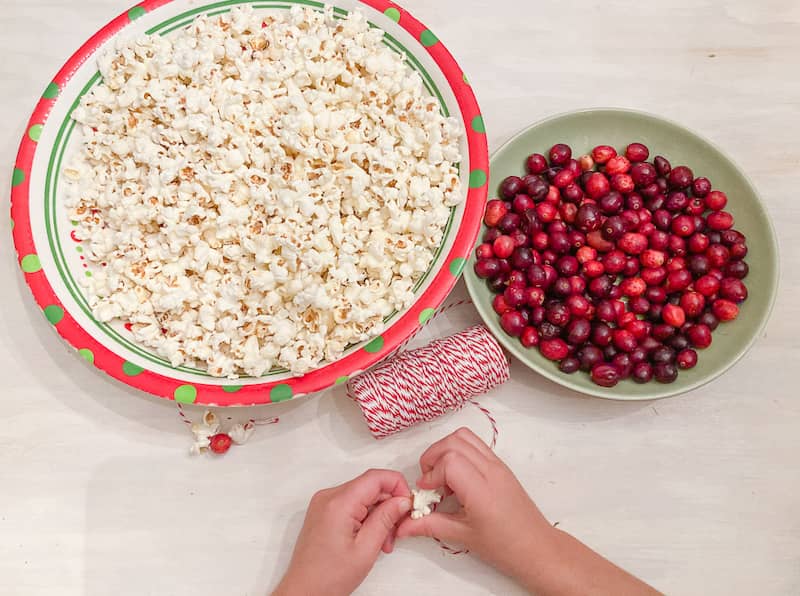 Dried Cinnamon Pinecones for Old-Fashioned Handmade Decor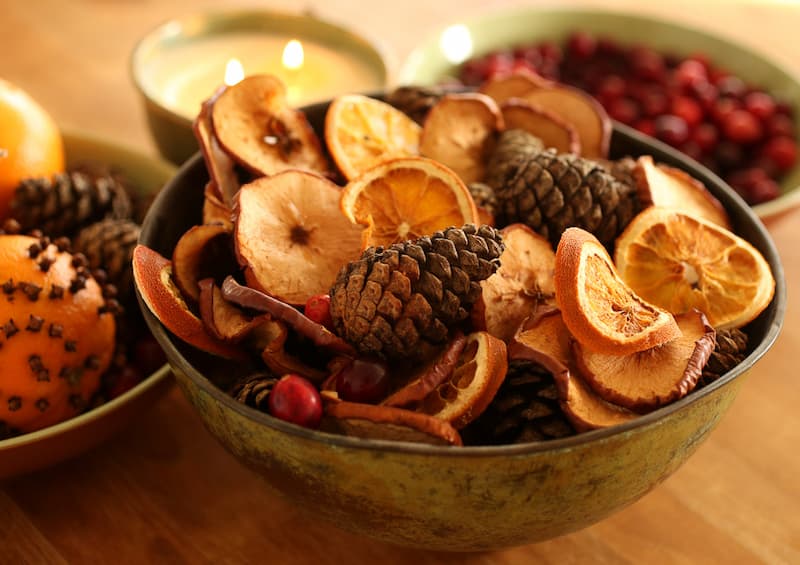 Collect pinecones wherever they are available. I always bring home a bag of pinecones from my in-law's house when we visit at Thanksgiving. My mom also collects pinecones for me from their property.
Pinecones are closed when they are wet, if you want them to open up, they need to be dry.
When bringing pinecones into the house for old-fashioned decor, you need to consider a couple of things. There may be stowaway bugs in them, and there may be sap. The following steps will help your pinecones to be clean, sap-free, and open!
Soak your pinecones in soapy water
Line a baking sheet with aluminum foil
Shake off excess water and place the pinecones on the sheet
Dry the pinecones in a 200 degree oven for about 45 minutes or until the pinecones are dry and open
Steps for Cinnamon, Clove and Orange Scented Pinecones
Mix a small spray bottle of Cinnamon, Clove and Orange essential oils, I didn't measure, just about fifteen drops or so of each.
Spray the pinecones and place in a zippered bag
Leave them in the sealed bag for a day or so to let the smell soak in well.
Take them out and display! Add more spray whenever they need to be freshened
What are Your Favorite Old-Fashioned Christmas Decor Ideas?
Of course, fresh greenery is a lovely old-fashioned Christmas decor. I also love candlesticks in the windows. What are some of your favorite Old-fashioned Christmas decor ideas?
Need Some Christmas Planning Help?
Check out my Christmas Planner in my Shop!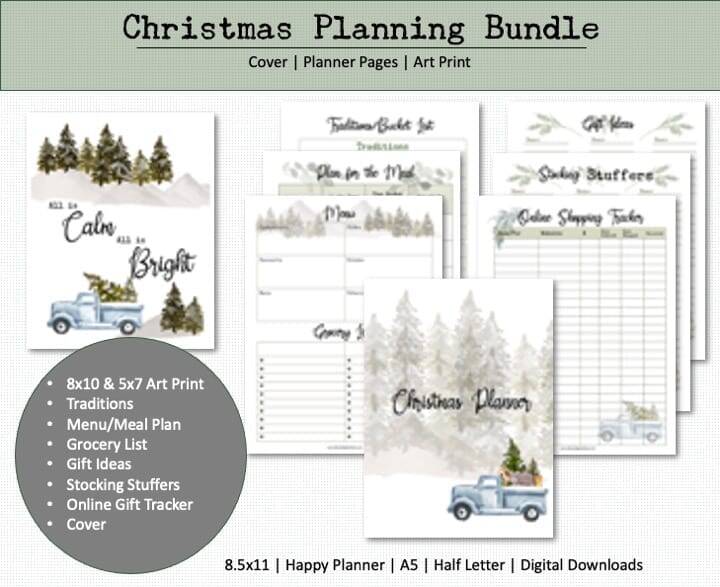 The Final Project from #thehandmadehomechallenge
This was the last project for the handmade home challenge! December's challenge was to make a handmade ornament or Christmas decor.
We made it through a whole year of making things for our home! Here are all the projects from 2020! I have compiled a list for 2021 and will be sharing it with you all soon!
September- Make a scarf or article of clothing- I didn't document this one on the blog, but I did teach my 8 year old to crochet a scarf and she made several for her friends. I may put a tutorial together for that in the future.
October- Fermented Veggie or Bread- I have few fermented veggie recipes on here already, so for this month, even thouh I don't yet have this documented, I am working on Sourdough bread recipes.
Aprons, pillow covers, kitchen towels, planners, and printable Christmas Tags!