How to Hang Dry Herbs, Flowers and Peppers Naturally
Hang drying herbs for preservation is an age-old method for saving herbs and flowers. This method is simple and requires no special tools.
This post contains affiliate links.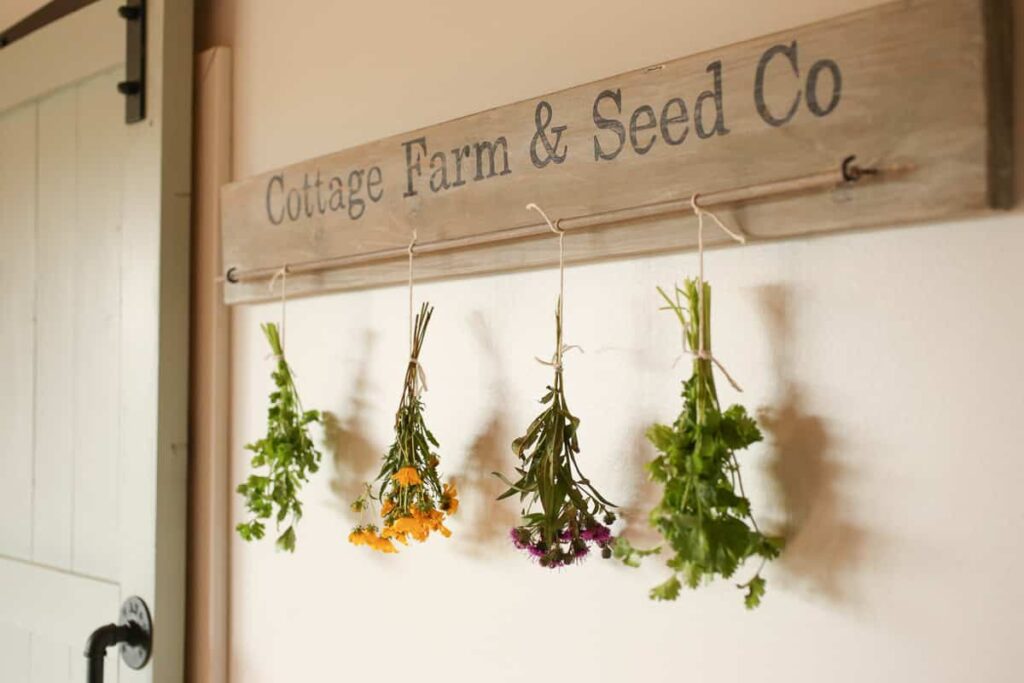 Typically the best herbs to hang dry are ones with a strong flavor and less moisture. Herbs like mint can be hung to dry, but since it has more moisture it may take longer and smaller bundles are recommended to inhibit mold growth.
Rosemary
Oregano
Thyme
Lemon Balm
Lavendar
Bay
Red Clover
Parsley
Marjoram
Cilantro
The Best Flowers to Hang Dry
I love to find wildflowers in our fields and along our driveway. The kids and I went on a nature walk today and picked every flower that we found. We then brought them home and used our wildflower book to identify them. This is a great activity to do for homeschool! You may be surprised to find that many of the flowers that you see growing all around have excellent medicinal properties. I hang dry just about any wildflower that we find!
Strawflowers
Statice
Larkspur
Red Clover
Eucalyptus
Amaranth
Zinnias (I've done it and they look decent)
Roses
Peonies (These dry surprisingly well)
Hydrangeas ( Can be hung dry, but do really well just left in a vase to dry)
Ironweed (that is the purple flower in my pics). It has many medicinal uses. Native Americans used it for treating menstrual issues and for childbirth pain! Some use it to treat symptoms of cold and flu. You can make tea with the dried leaves
Tickseed Sunflower or Tickweed (that is the yellow flower in my pics). I dry flowers like this for use in tinctures, teas and salves.
When To Harvest Herbs to Dry
Timing is important when harvesting herbs or flowers for drying. A warm dry morning after the dew is gone is the best time to harvest your herbs or flowers.
Flowers shouldn't be fully open and always choose the best flowers in their prime. It never hurts to just try with a flower, experiment, and see which ones dry well for you!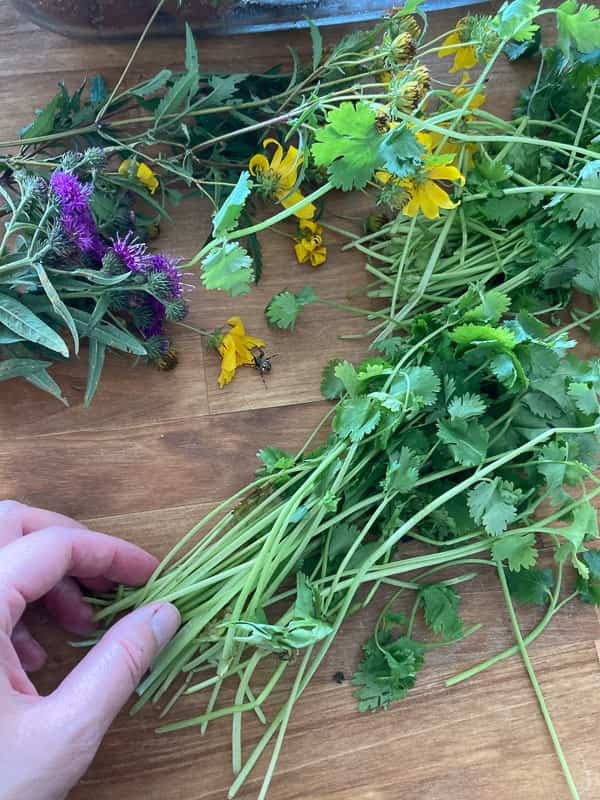 How Long Does it Take to Hang Dry Herbs and Flowers?
Typically at least two weeks. Hanging bundles take longer than herbs that are laid flat.
You will know an herb is completely dry when it is brittle and crumbles easily when you grind it between your fingers. Making sure an herb is absolutely dry helps ensure it keeps well when stored.
How to String and Hang Dry Peppers
Hot peppers are a veggie to hang dry. They can be strung up with a needle and thread into bundles and hung on your herb drying rack. I dried these in my kitchen, they dried perfectly.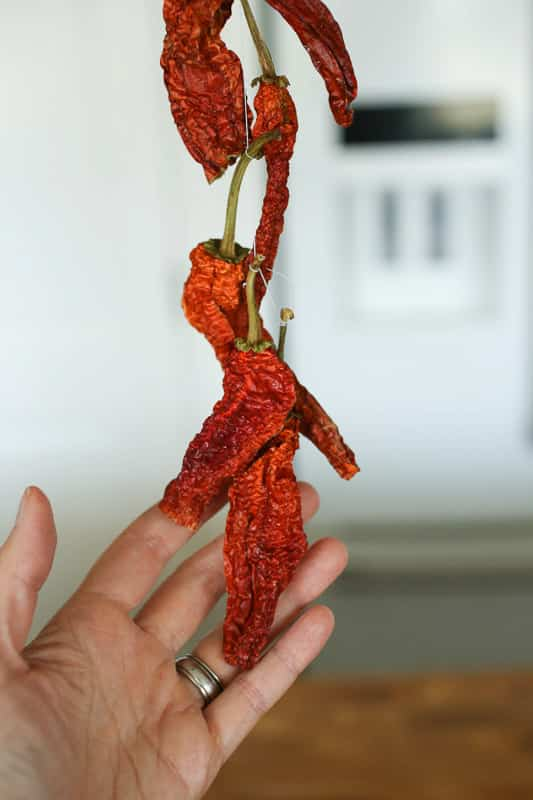 Cute grain stripe towels can be found here.
How to Bundle Herbs to Dry
Choose the best herbs and flowers to dry. Flowers should not be fully opened as they will open more as they dry. If you have washed the herbs, make sure they are completely dry before bundling to hang. Strip the leaves away where you plan to tie the bundle. This will eliminate a moist environment for mold to grow.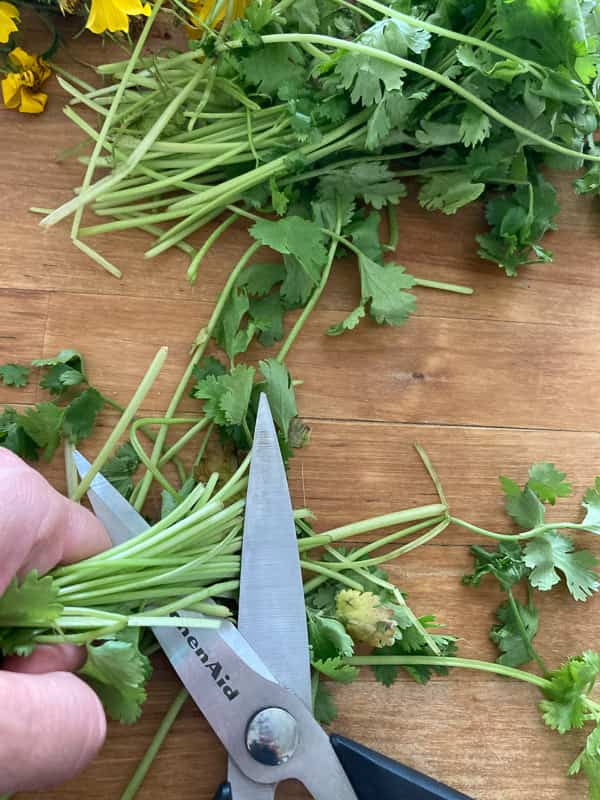 Once the leaves are stripped away, make small bundles and tie them together. A rubber band works well as it will tighten around the stem as it loses its moisture while drying. A twisty tie also works well as it is easy to tighten as you need to. If neither of those options appeals to you, you can just use twine or thread but be sure to tighten the bundle as it shrinks otherwise your lovely bundle will fall to the floor!
Check your herb bundles every week or so, tighten as needed, and check your progress. If you are a meticulous person and can't stand the thought of dust on your herbs, you can cover the bundles with a paper bag with holes cut for ventilation or a muslin bag. I like the beauty of the herb bundles drying so I don't do that. Plus I don't think I would be described as meticulous!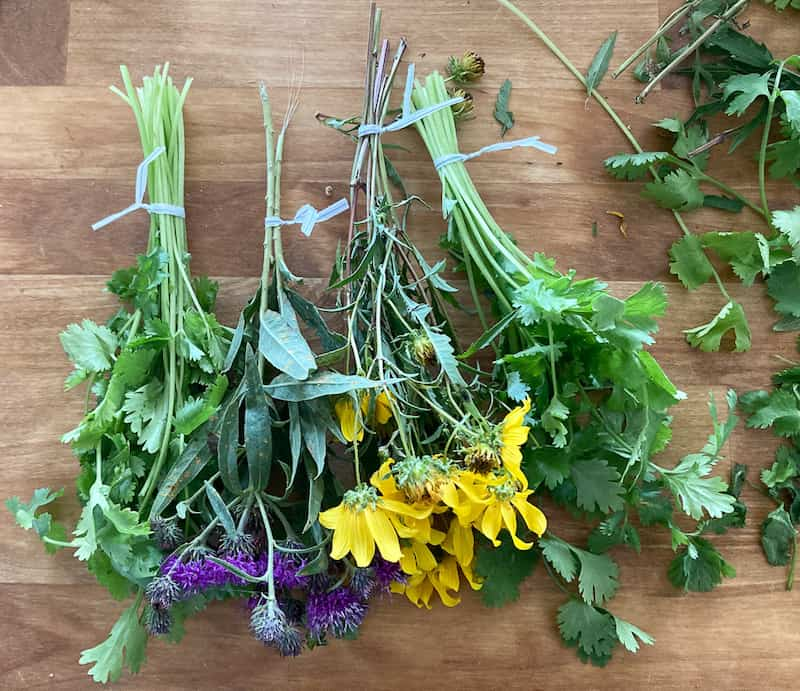 Best Place to Air or Hang Dry Herbs
The best place to hang dry herbs, peppers, or flowers is a cool, dark dry place. A basement is too moist as is a kitchen. Although I have successfully dried parsley in my kitchen, it just took a long time.
How to Store Dried Herbs (How Long do they last)
Herbs can be stored in zippered bags, plastic lidded containers, or lidded glass jars. Glass is always preferable over plastic. As plastic may leach who knows what into your herbs.
The best way to store herbs is as-is once they are dry. Then you can crumble them as needed. This will give you fresher and stronger flavors.
You can certainly crumble them and store them in containers, just be sure to store them in a cool dark space.
Dried herbs can be stored for 1-3 years.
Using Dried Herbs in Place of Fresh for Cooking
The general rule of thumb for using dried herbs in place of fresh is that dried herbs are generally more potent and concentrated so you can use less. The ratio is one tablespoon of dried to one teaspoon of fresh.
Making Salves with Dried Wildflowers and Herbs
Did you know that making your own salves is a simple and easy process? I have a post here that can help you to get started! What's fun is that you can find different flowers and herbs growing naturally, dry them and add them to your salves! Just look the flower up and study about it, find out what medicinal properties it has and then try it out!
Thanks for reading! I hope this encouraged you to hang dry herbs, flowers, or peppers! Next time I'll be sharing how to make that cute drying rack in the first picture!
Find Herb Drying Racks

Handmade Home Challenge
This post was done for the #handmadehomechallenge. I have been participating in this challenge since January of this year! The challenge for August was to dry herbs or make a plant hanger. I chose to dry herbs and I made an herb drying rack. Here are all of the past projects for this year!
Pin for Later!