DIY All-Purpose Cleaner & Bathroom Spray with Witch Hazel
DIY Cleaner and Bathroom Spray with witch hazel, two simple recipes that you can use in your home. This post contains affiliate links.
#HandmadeHomeChallenge
If you remember, this year I am participating in the Handmade Home Challenge. Each month for the year 2021, there is a prompt for a handmade item to make for your home. Last month it was a dishcloth. You can find my tutorial for that here.
This month the prompt is DIY Cleaning solution or detergent. I have an older post where I did an all-natural cleaning solution round-up and I offered free printable labels for your cleaning bottles. That post is here. I will say after using the glass cleaner in that post for a while, it does in fact clean well, but the baking soda in the recipe tends to clog the sprayer.
Let's make some DIY Cleaner with Witch Hazel!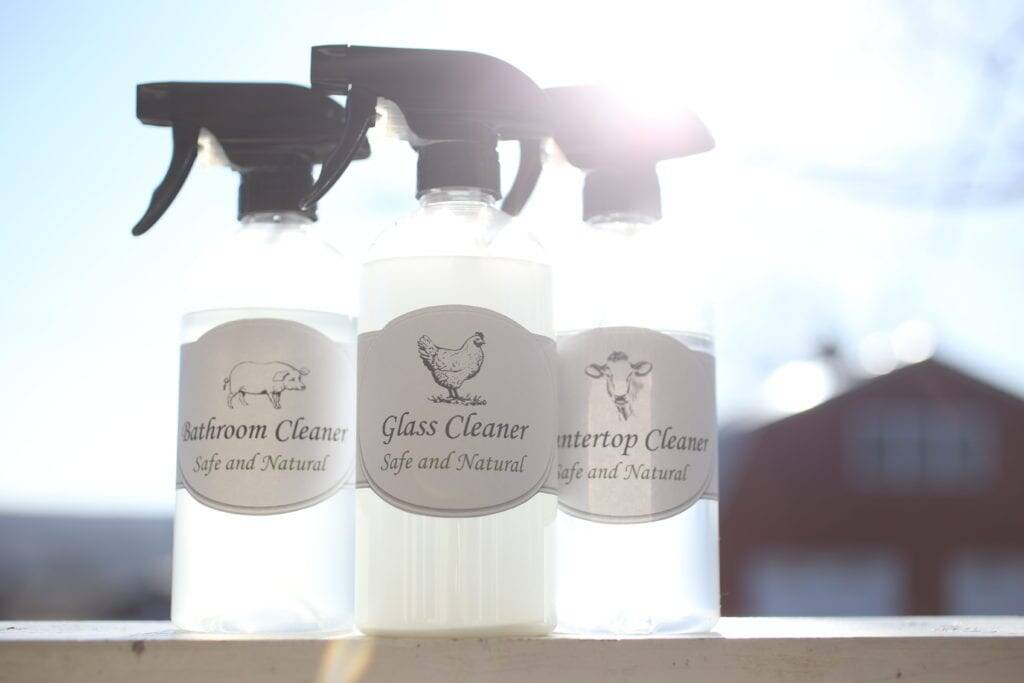 Why Make Your Own Cleaner?
I am not a purest with making my own cleaner. I go in spurts where I am feeling very frugal and crunchy and I just want to make my own. I want to know exactly what I am spraying all around my house, and I want to like what I am smelling.
Other times, I like to buy cleaning products from Grove Collaborative.
The thing with "making" your own cleaner is you are still buying products, you are just combining different ones and "making" your own creation. Purchasing lots of different essential oils can get expensive. I think I am going to try infusing witch hazel next. This would probably be an even more frugal option.
Witch Hazel for Cleaning
For this challenge, I wanted to try a DIY cleaner with Witch Hazel. I have made granite countertop cleaner in the past, and have used rubbing alcohol, and also I have tried vodka. I found the smell of both of them annoying. Rubbing alcohol to me is a very unpleasant smell, and no amount of essential oils seemed to change that.
Vodka, while not overpowering still smelled like vodka. Every time I would use it my husband would feel compelled to tease me about hitting the sauce while making dinner. And really the kitchen shouldn't smell like a distillery. I felt a little weird every time the kids would ask, what's that smell? Well kids that's vodka!
Witch Hazel seems to be the better option. It's fairly inexpensive and the smell is not overpowering at all. Plus I think it does a great job.
Granite or All Purpose Cleaner with Witch Hazel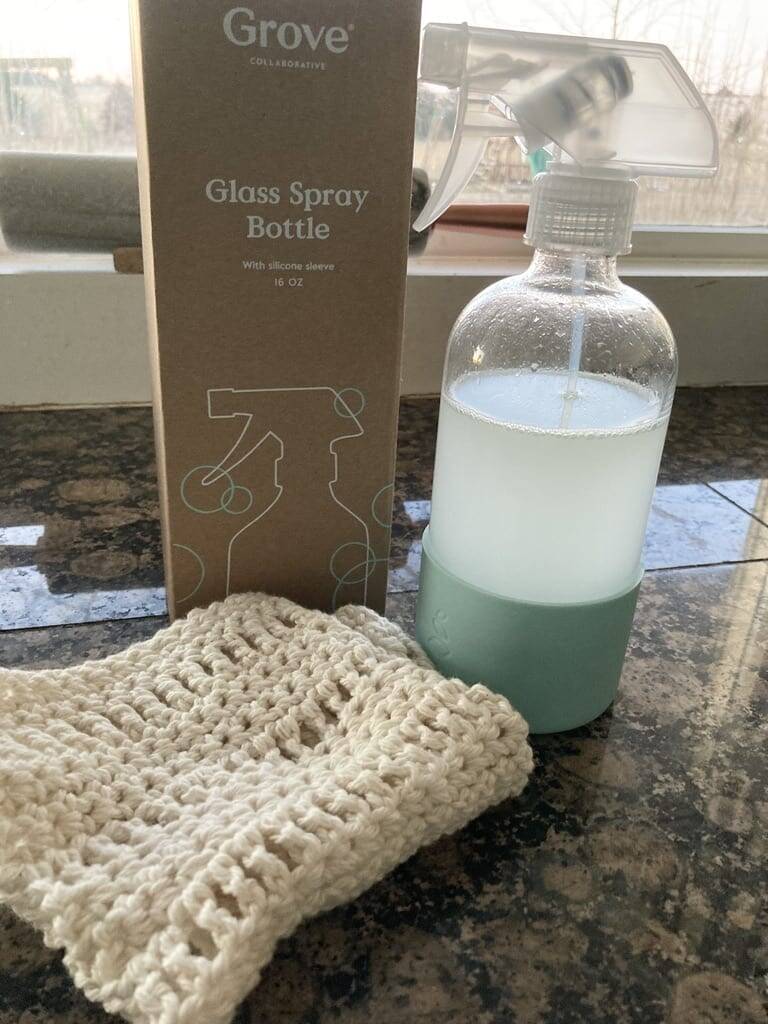 My intention with making this was to use it as a granite countertop cleaner. After I got it mixed up I sprayed it on the counters and wiped them down. It really did do a nice job and they were shiny. Crochet dishcloth tutorial here.
I looked at my greasy stove, which to be honest is dirty 90% of the time, if you can imagine, it gets a lot of use. Anyway, I thought I would test it's grime cutting ability on the stove. I was impressed! It really does a nice job as an all-purpose degreasing cleaner as well!
Ingredients for DIY Granite or All Purpose Cleaner
1/2 Cup Witch Hazel
3 Drops Dish Soap
35-40 Drops Essential Oils of Your Choice. My choices listed below
10 drops Orange Oil (for grease cutting)
5 drops Tea Tree Oil (anti-bacterial)
10 drops Lemon Oil (cleansing and deodorizing)
10 drops Eucalyptus (because I like the way it smells)
After mixing the ingredients, pour into a 16 oz. bottle and fill the rest of the bottle with distilled water. Shake it up and clean that kitchen!
DIY Bathroom Spray (Poo-Pourri Knock-off)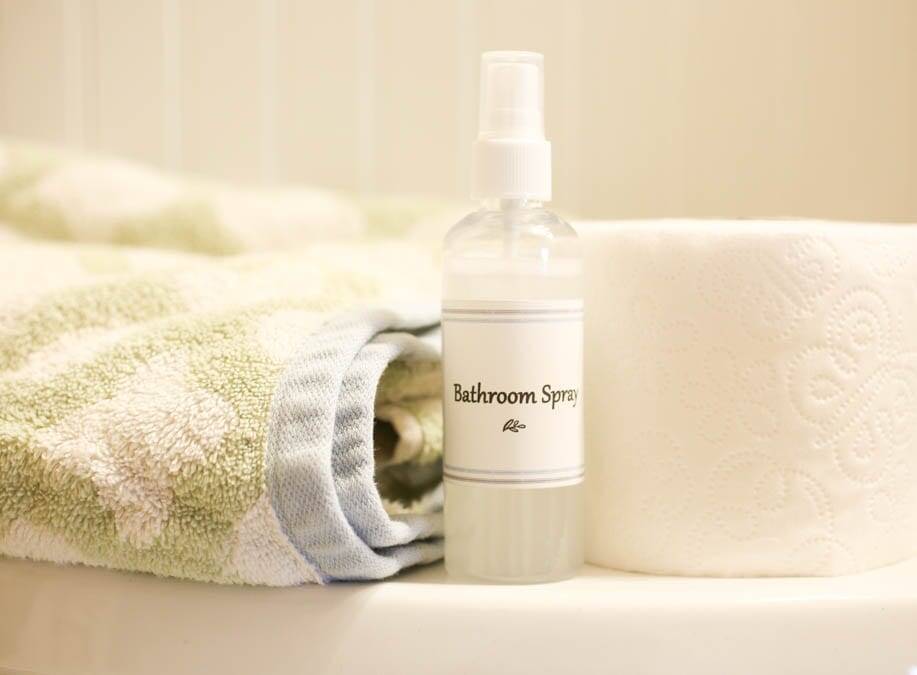 Next up I wanted to try to make something for our bathrooms. For Christmas we do a white elephant gift exchange. One of my kids got a whole bathroom themed gift bag. It had poo-pourri in it. We had never used this before, but I had heard about it.
So, I am not trying to be crude, but we have 12 people living in this house. Our bathrooms get A LOT of use. We have one bathroom in the front room of our house. Our little ones use that one the most, and they don't always turn the vent fan on! I don't know why I have never thought of using a spray like this before! It really does make a big difference!
This recipe is adapted from several I found on the internet. I really like the way it smells and I think it works nearly as well as the real thing. This is definitely cheaper than buying Poo-Pourri, but if you aren't a DIYer, here is a link to the product.
You spray this over the toilet bowl, (3-4 squirts), before you go. Although, with my little kids I often have to go in after they go and it still helps!
Just to let you know how brilliant and organized I am, I had to make this twice! I fiddled around with it in the kitchen and scratched down notes, amounts, and ingredients. Then I proceeded to lose whatever I wrote it on! Likely the back of an envelope…hey, maybe I should buy one of my planners? Ha!
DIY Bathroom Spray with Witch Hazel (Poo-Pourri) Recipe
To make a 4 oz. spray bottle
2 oz witch hazel
30-40 drops essential oils total- my choices listed below
10 drops lemongrass
10 drops jasmine
10 drops eucalyptus
2 drops dish soap
Fill the rest of the bottle with distilled water and give it a shake
Free Labels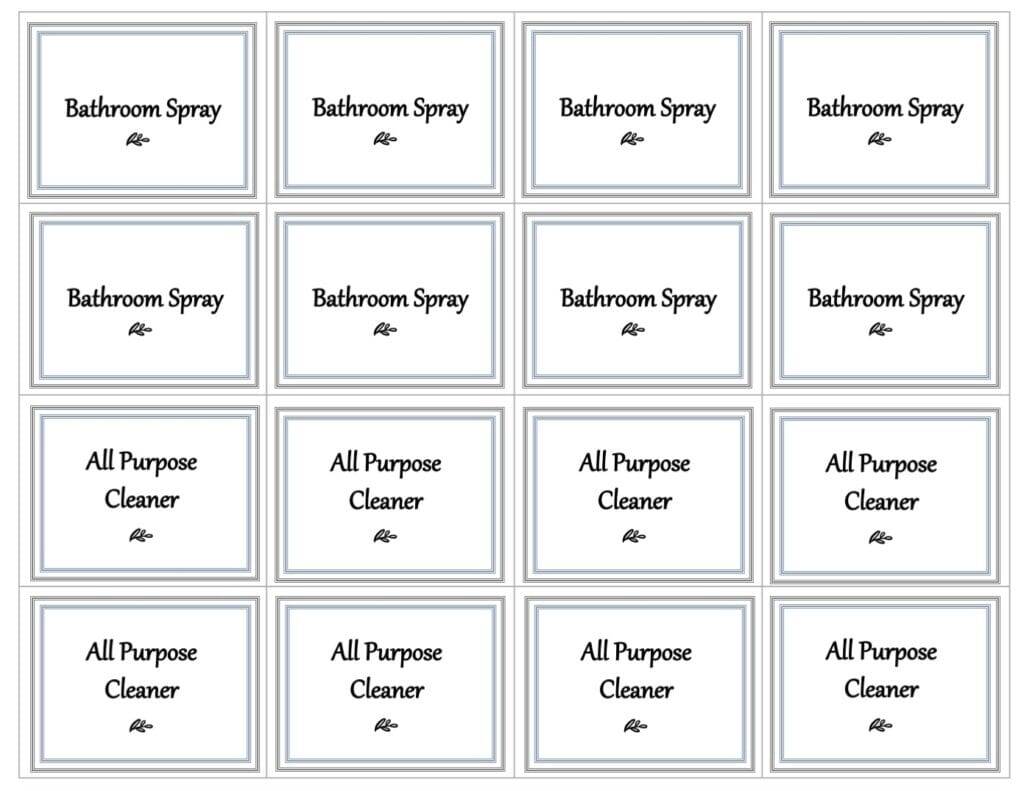 Pin for Later!