All Natural Cleaning Roundup–Plus Free Printable labels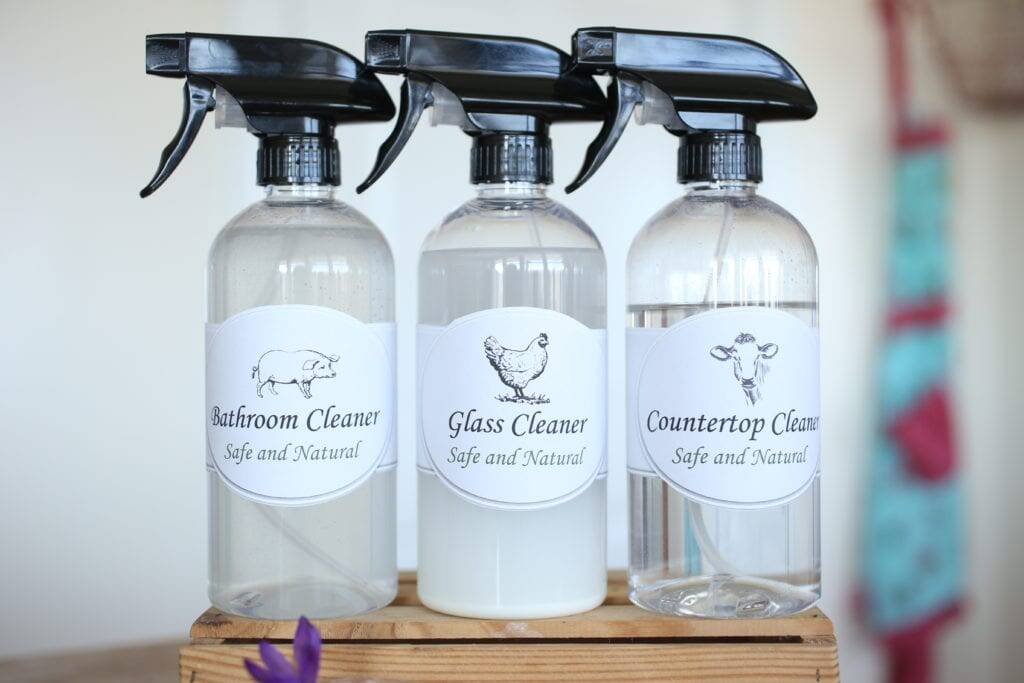 DIY All-Natural Cleaning recipe roundup. Making your own natural cleaning products is an easy and effective way to save money and clean safely.
This post contains affiliate links.
Non-toxic cleaners will quickly be at the forefront of your mind if you have toddlers. You watch in bewilderment as they put anything and everything in their mouth. Why on earth did he just lick the window, the floors, the wall, or gasp…the toilet!
If you do any online searches you will find a myriad of recipes for natural cleaning products. I have tried my share of them. Many consist of simple, easy to acquire ingredients. Others are a bit more complicated and require ingredients that may not be so easy to find. I chose the ones that I have tried and have used regularly with good results.
Researching different homemade cleaners can make your head spin. There is so much conflicting information out there too. Many people love Castile Cleaner, I have not found it to be that amazing. Maybe I am doing something wrong? In this post, I link to several other sites that have done way more research than me and have put together some great recipes. I hope you enjoy them! I mainly wanted to make and offer some pretty labels for your natural cleaning products.
Update** Here is a more recent post of products made with Witch Hazel
DIY Safe and Natural Granite Countertop Cleaner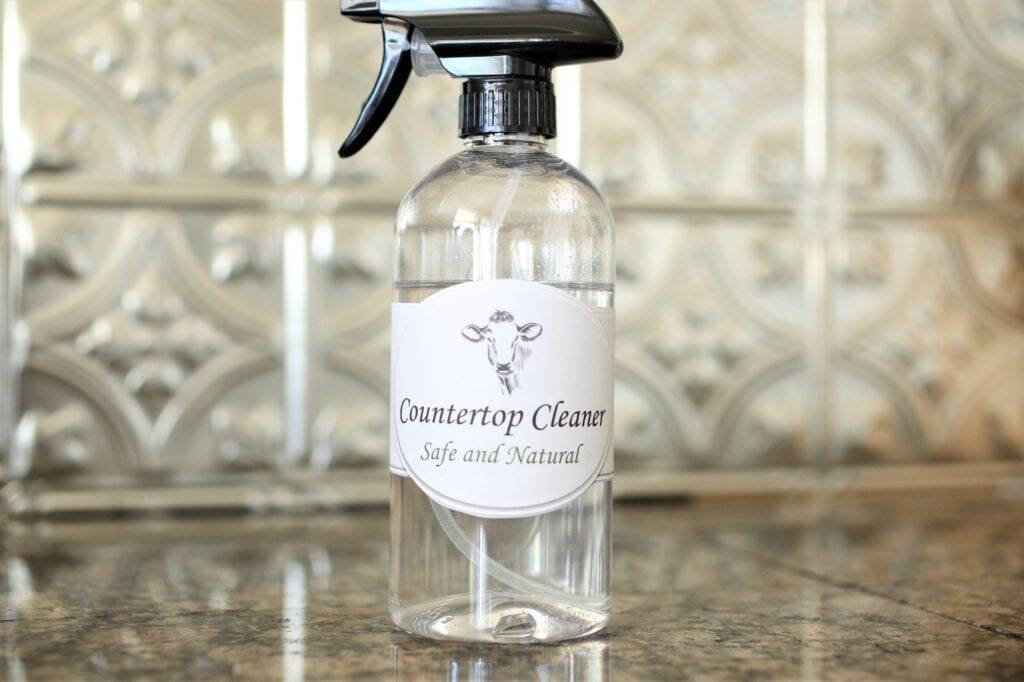 We have granite counters in our home. They were here when we bought the house, and I don't love them. The previous owners saved money by using granite tiles rather than a solid surface. I don't like to scrape to gunk out of the grout lines. Granite was very trendy for a while, but I think it will be one of those features that date a kitchen. Anyway, all that to say, you can't clean granite with just anything. Most likely your granite was sealed to protect the natural stone. Avoiding cleaners that will break down that sealant is important. Cleaners like vinegar or bleach are no-nos. I like this recipe here from Wellness Mama. The only thing I change is that I don't add the Castile. It still works great without it.
Granite Counter Cleaner
A DIY counter top cleaner you will be happy to use and that will save you money!
Ingredients
1/2

Cup

Vodka or rubbing alcohol

1 1/2

Cups

Distilled Water

1/2

Tsp

Castile soap

20-30

Drops

Essential oil of your choice.

Welness mama recommends 20 drops grapefruit and 7 drops basil
Instructions
Mix all ingredients in a 16oz spray bottle, shake and go to town on those counters!

DIY Safe Bathroom Cleaner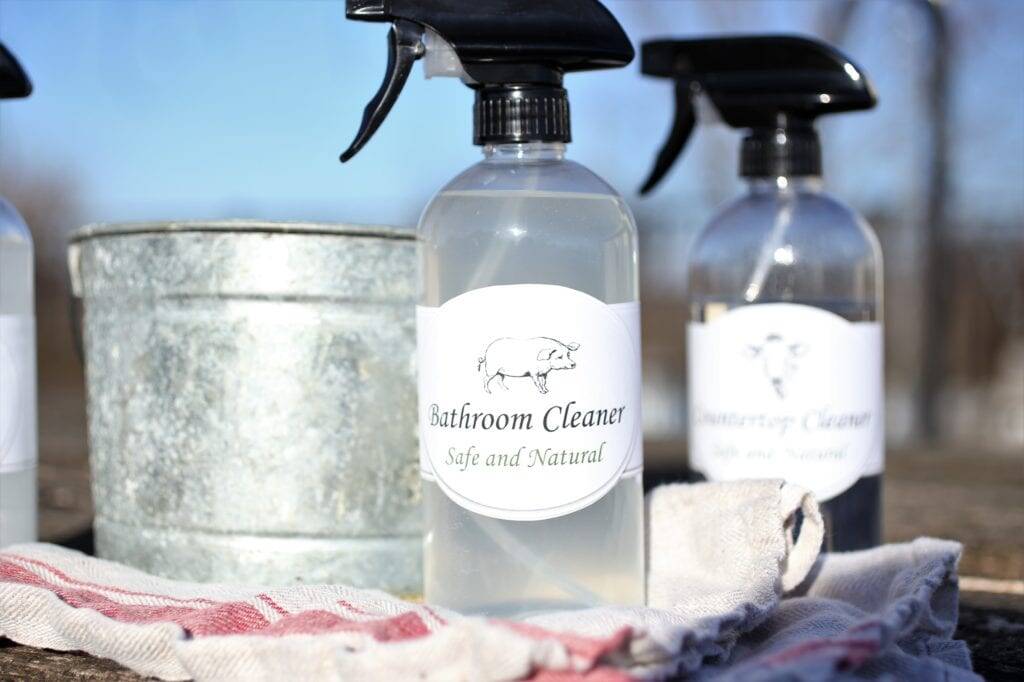 My favorite thing to clean the bathroom with is peroxide. It is inexpensive and readily available. Mixing up homemade cleaners with peroxide comes with the disclaimer that peroxide loses its potency after being exposed to air and light. Also, mixing peroxide and vinegar will form peracetic acid which could irritate your skin and hurt your lungs.
This recipe can be used in place of chlorine bleach. I like it for cleaning the bathroom. If you need to store it for more than a few days, mix it in an amber bottle. We go through it quickly, so I don't worry about the peroxide breaking down.
Homemade Bleach/Bathroom Cleaner
This can be used to freshen up your bathroom, or as an alternative to bleach in your laundry.

Ingredients
1/2

Cup

Peroxide

2

Tbs

Lemon Juice

Bottled is fine

1/2

tsp

Citric Acid

If you have it

10

Drops

Essential Oil

I like lemongrass

1 1/2

Cups

Water

I always use distilled
Notes
This really should be mixed and used quickly. To be on the safe side use an amber colored bottle.
DIY Natural Glass Cleaner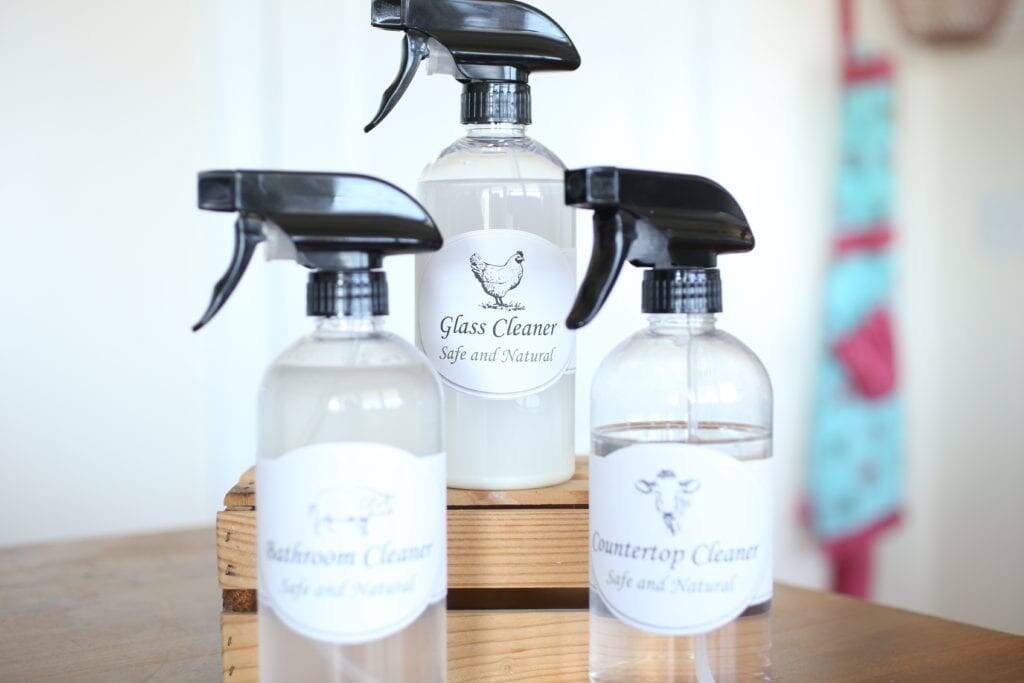 I know you can just use vinegar for cleaning mirrors and windows, but honestly, it's just not that impressive. We used to use vinegar and wipe with newspapers and it did the job, but the windows never really sparkled. However, if you were comparing them to the smudged-up with banana and oatmeal mess they were previously, they looked pretty good.
In searching for an impressive glass cleaner, I came across a recipe on this site (Crunchy Betty she is really quite funny). I tricked my chemist son into mixing it up and testing it out. He cleaned four windows before he realized I was preying on his inquisitive chemist mind….and getting my windows cleaned!! So, the verdict is, this is a really good window cleaner.
Homemade Glass Cleaner
This really does a great job of cleaning windows and mirrors.

Ingredients
1/4

Cup

White Vinegar

1/4

Cup

Rubbing Alcohol

1

Tbs

Cornstarch

2

Cups

Warm water
Instructions
Put all ingredients in a spray bottle, and shake. Shake before each use, as the cornstarch will sometimes settle at the bottom.

All Purpose Cleaner DIY Natural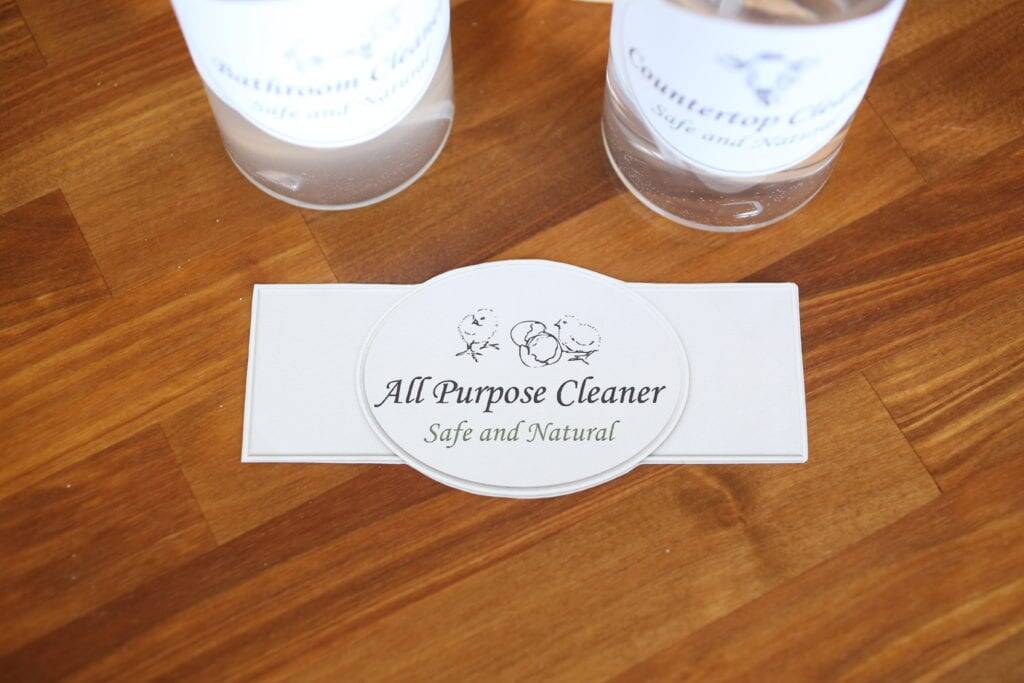 Vinegar is a good natural all-purpose cleaner, but my husband and children despise the smell. I get it, it's not pleasant, but it does dissipate pretty quickly. The oils seem to help with the smell as well.
For most of my cleaning, I use the recipe above for the bleach alternative/bathroom cleaner. However, if you are looking for something different, you could try either of these recipes here This gal seems to be a natural cleaning expert.
All Purpose Cleaner
An easy to make all purpose cleaner for your natural home.
Ingredients
1

Cup

Water

1

Cup

Vinegar

1/2

Whole

Lemon juiced

I have used the bottled juice in a pinch

15

Drops

Lavender Oil
The bottles
As mentioned, amber bottles would be good for the recipe containing peroxide. Otherwise, any bottle will do. I bought some heavy-duty plastic ones because…well, kids. I love the look and feel of a nice glass bottle, but I do not like to clean up broken glass. My kids clean their bathrooms, and the bottles would without a doubt get broken. The ones in my links are nice and are supposed to hold up well.
The labels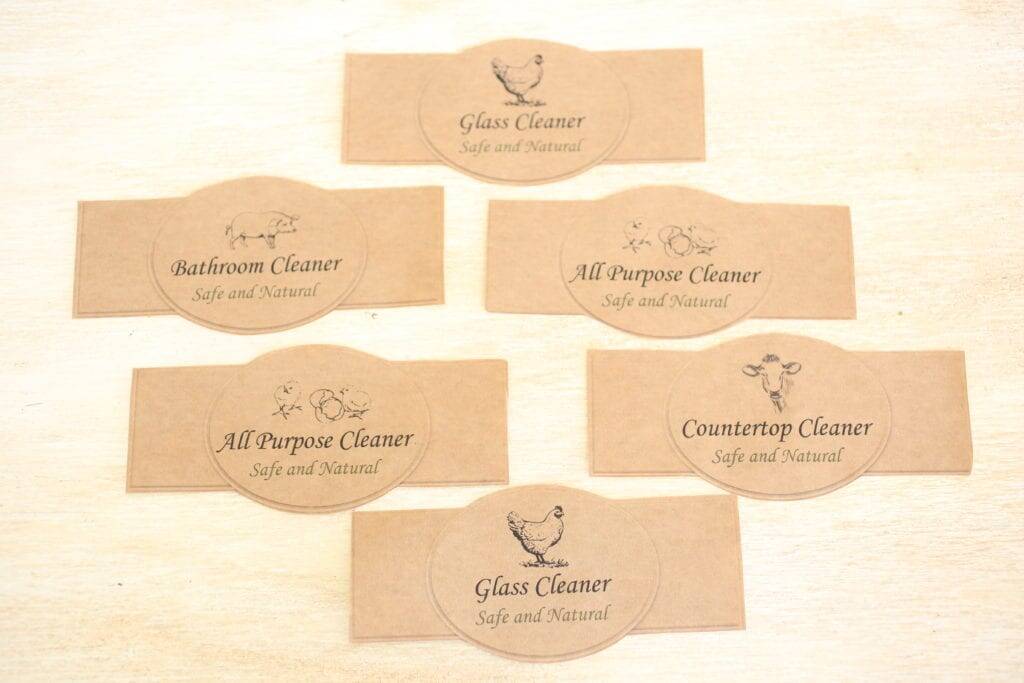 Ok, I love these labels! When I printed them and put them on the bottles I told my kids I was quitting the homeschool mama gig and was going to become a graphic designer! I get a big kick out of making stuff like this! I hope you enjoy them. I was thinking I might put some clear packing tape over them to protect the label. Otherwise, they make waterproof labels, I just didn't have any. If you would like these, they are in my printable library. It is password-protected, so sign up to get the password. Also, I put the word safe on there, this does not mean that your child should drink it…obviously, he or she could still get sick.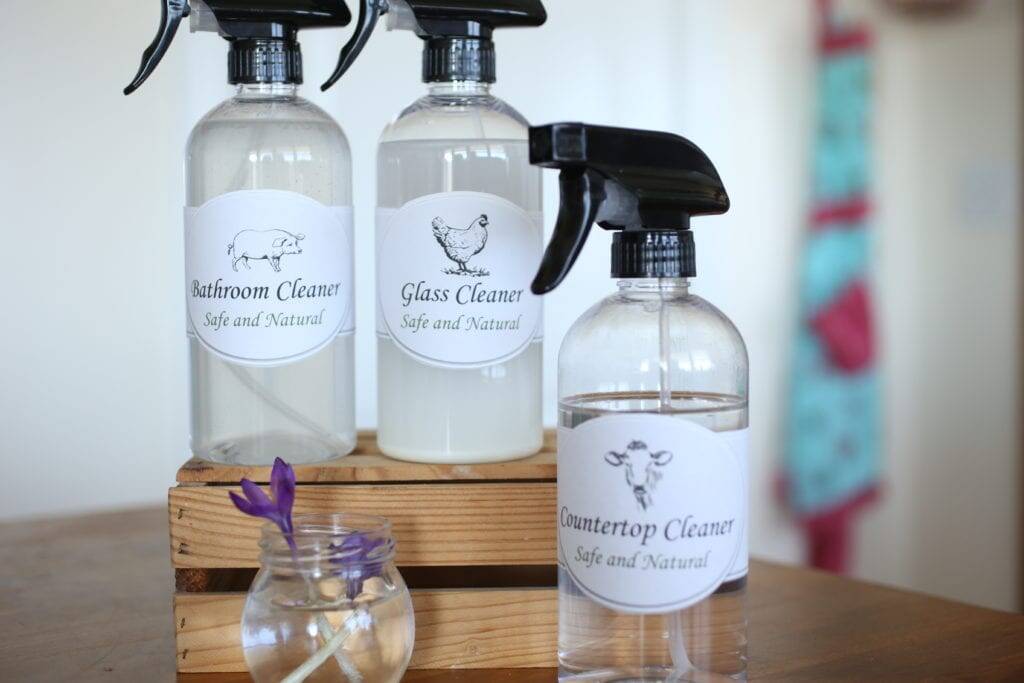 Amazon Links
Clear Plastic bottles and Clear Glass Bottles
Amber Glass bottles
Label paper
Pin for later!