Fresh Lavender Lemonade Recipe | Refreshing Summer Drink
This Fresh Lavender Lemonade is simple to make and is such a refreshing twist on regular lemonade! Not too sweet and with the floral notes of lavender, this is sure to be a crowd-pleaser!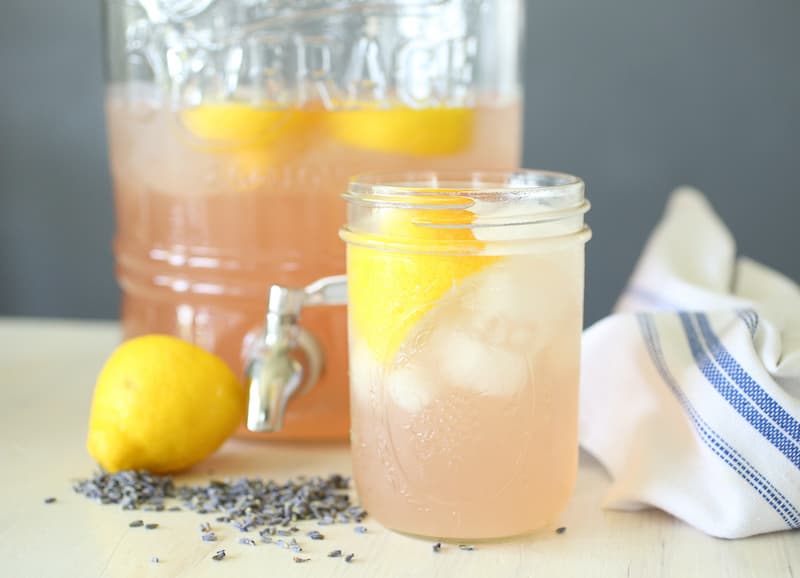 This post contains affiliate links.
Lavender Lemonade?
I had never heard of lavender lemonade until last summer! My girls convinced me to stop at the local coffee shop while we were out running errands. I wasn't in the mood for coffee but their Lavender Lemonade caught my eye! I gave it a try and loved it! It was so refreshing and unique! Of course, I knew it was made with fake lavender syrup so I set out to make my own lavender syrup and I think I got it just right!
This recipe took some trial and error, my first batch was way too sweet and it had far too much lavender! My family was a little bit afraid to try subsequent batches! However, I think I finally got it just right!
How to Make Lavender Lemonade
First, you need to make a Lavender Simple Syrup. This is easy enough, and you can find the full tutorial here. The cliff's notes version is 2 cups water, 2 cups sugar, and 1/4 cup dried lavender buds. Simmer for 35-40 minutes, cool, and strain.
This will yield the two cups of syrup that you need for this lemonade recipe.
For this recipe I have you make a lemonade base, then you can either keep this refrigerated and mix it with water as you want or you can add the water all at once and make approximately 2 quarts of lavender lemonade.
Ingredients for Base
Mixing the Base with Water
This recipe will yield approximately 6.5 cups of lemonade base. You can mix this with 6-8 cups of water and serve a whole pitcher of lavender lemonade.
Otherwise, you can keep the base in the fridge and use equal parts base and water and make a cup here and there as you want! It should last in the fridge for a week.
Shop This Post

Lavender Lemonade Printable Recipe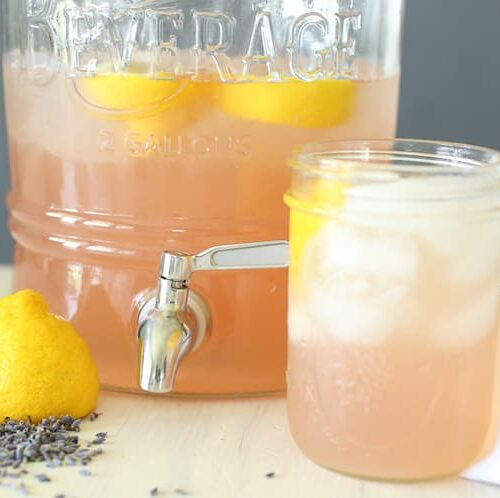 Fresh Lavender Lemonade
A fresh and lightly floral lemonade, perfect for a refreshing summer pick-me-up! Also beautiful to serve at parties and showers!
Ingredients
2

Cups

Lavender Simple Syrup

2 cups water, 2 cups sugar, ¼ cup dried lavender. Boil for 35-40 minutes, cool and strain.

2

Cups

Freshly Squeezed Lemon Juice

2½

Cups

Water
Instructions
Prepare the Lavender Simple Syrup. Next, squeeze 2 cups of fresh lemon juice. This will require approximately 6-7 lemons. Mix the lavender simple syrup with the lemon juice and 2½ cups of water. This makes your lemonade base.

From here, you can mix the entire batch of base with 6-8 cups of water for a pitcher of lavender lemonade.

Otherwise, you can mix equal parts lemonade base and water to enjoy the lavender lemonade by the cup.

The base should last in the fridge for at least a week.