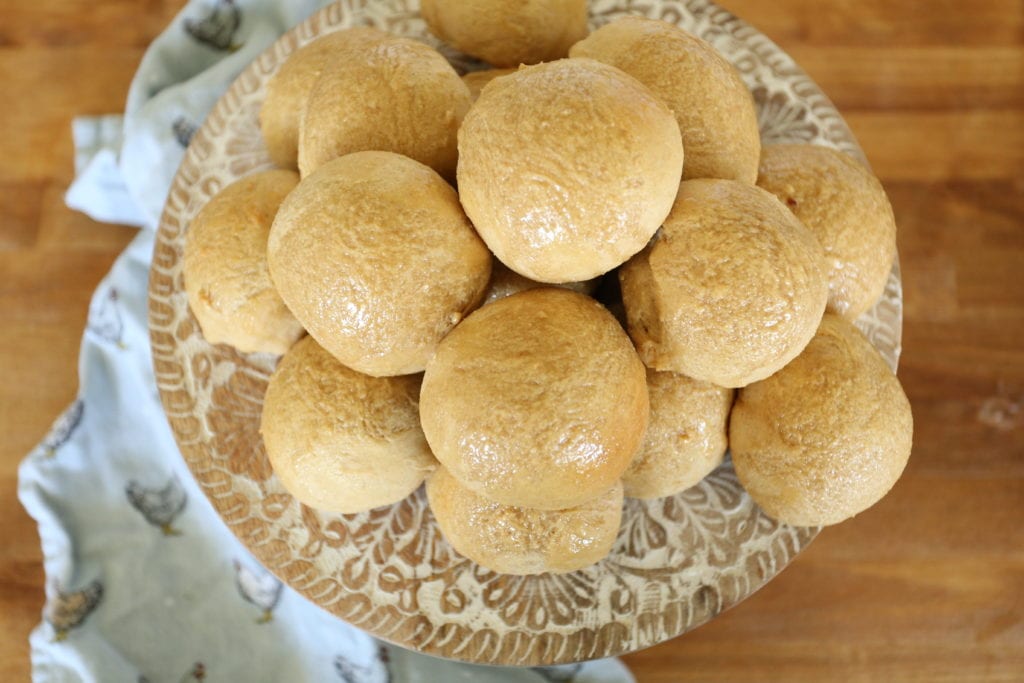 In this post, I share a recipe for honey butter yeast rolls. Also some thoughts on our current state of affairs and how our family is dealing with it. This post may contain affiliate links.
Jump to Recipe
Meal Planning Help in My Etsy Shop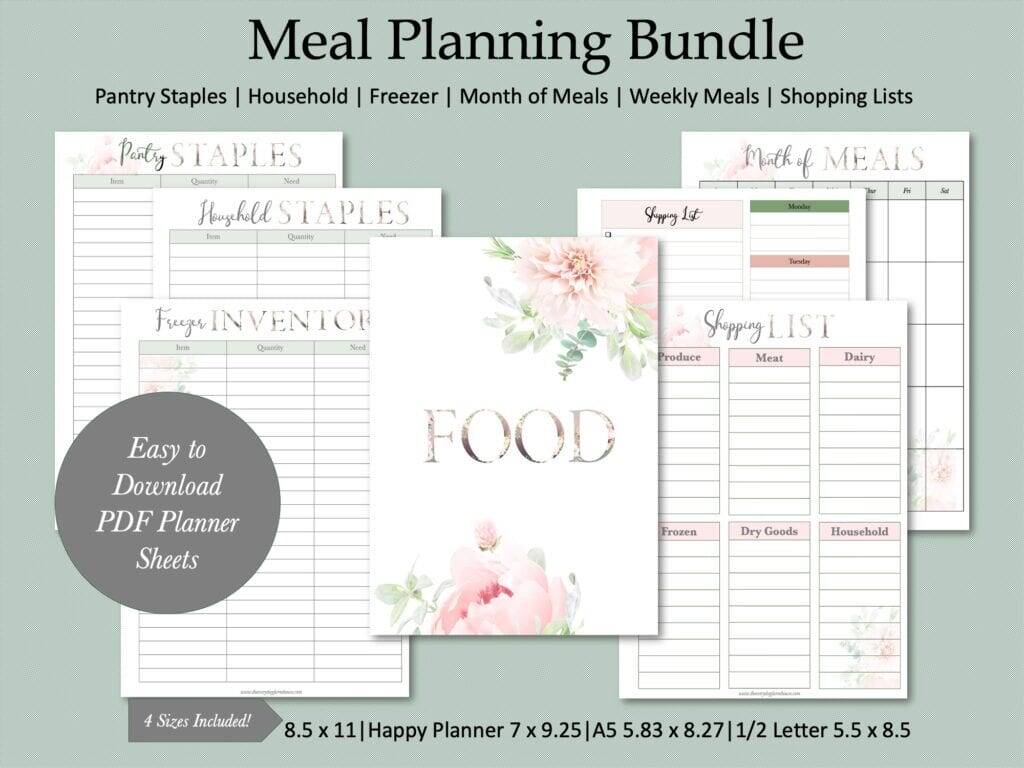 How are you?
So, how are you doing? Life sure can change quickly, can't it? It's crazy to think that just a month ago, none of us were really thinking seriously about this virus. Well, I shouldn't say none of us. I'm sure some people were. However, for me it still seemed like a far away issue. In some ways, it still does. I understand it is not that way for everyone. I truly hope you are hanging in there, even if your new "normal" is inconvenient, or challenging. We have had tons of rain here, which always makes things seem a bit worse. My mom reminded me that the sun will shine again, and that this too shall pass. I know she's right.
Privilege
I honestly see myself and my family in a place of privilege right now. This hasn't effected us too deeply as of yet. My husband is still going to work (although I wouldn't mind if he were home). We home school already, so I'm used to having my kids around all day everyday. When I hear people talking about the mess from three meals a day at home, I just nod my head. This is my daily reality. Keeping your kids busy all day…I've got that. But, while nothing much has changed, things still feel different. I have talked to other home schooling moms that feel it too. There is this urge to bake, to crochet, to do simple old fashioned things.
I think part of it is realizing that I live a life of privilege. Most of you probably do too. We need to cherish this. There has been this feeling of slowing down and putting less pressure on ourselves. Perhaps it's just realizing that everyone is now in the same boat. I no longer feel that I am "competing" with the public schools…I don't know.
Here is what I do know. We have done a lot of bread baking these last two weeks! My 14 and 12 year old daughters have taken an interest in baking more bread, and my 15 year old son has made homemade pizza twice in the last 10 days! The kitchen has been a mess, but the house has smelled wonderful! Dinner has seemed slower and more delicious. I am truly trying to soak it up and live in this moment. Things in the world are crazy, but you wouldn't know it from inside these walls. For that I am so grateful.
Baking seems almost spiritual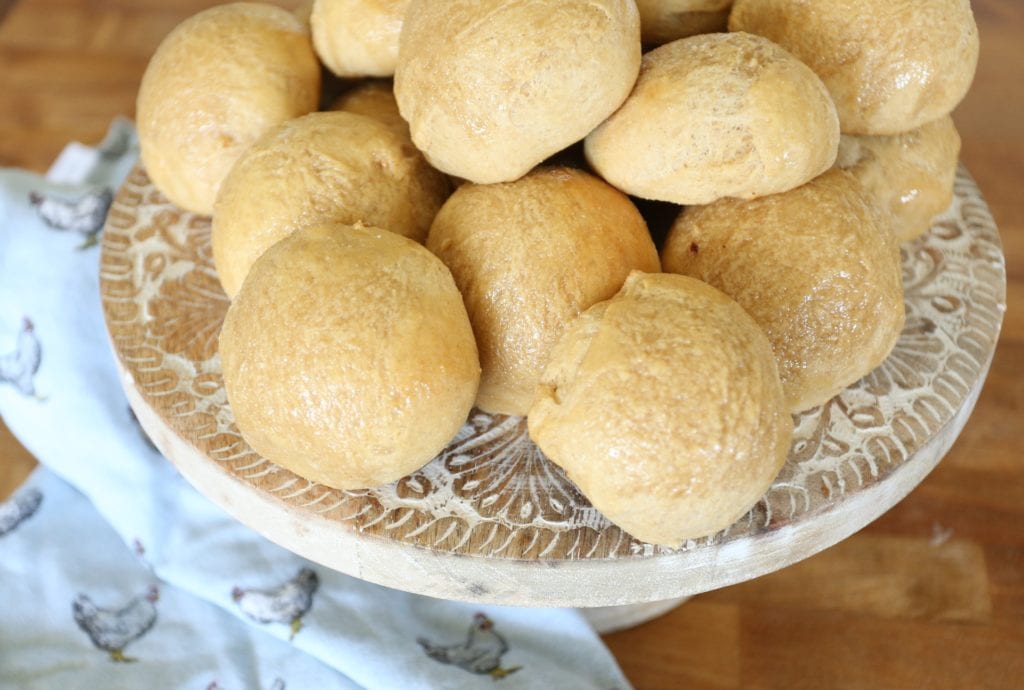 I'm not trying to be a heretic, but it's true. There is something about baking that brings a calm to the home. Kneading the dough is such a peace giving exercise. It is fulfilling and life giving. Maybe not everyone feels that way, but I certainly do. My oldest daughter feels the same. It is a pleasant task, therapeutic even. Waiting for the bread to rise is an exercise in patience. Good things come to those who wait. It's satisfying to punch the dough down after the rise and shape it into beautiful little balls. Then the treat of the house being filled with the smell of fresh baked bread…who doesn't love that? It brings a smile to everyone's face–Especially my 17 year old, who got to relive the whole experience when he edited my photos. His love language is bread. Particularly yeast rolls!
So here it is
I honestly don't know where the recipe came from. My daughter found it tucked away in my recipe box. I think it came from a Mennonite friend, but I am not sure. We did tweak the recipe a bit. The original called for powdered sugar to be mixed with the honey and butter. That seemed like overkill, plus if we are trying to keep our immune systems strong, less sugar is better! The recipe also called for rolling these out, cutting them into triangles, brushing them with the honey butter and then rolling them up like croissants. We did that with the first batch, but found it terribly time consuming and the honey butter oozed out and burned to the bottom of the pan. We found that shaping them into balls and brushing the tops with honey butter before and after baking was just perfect.
Ingredients
1/3 cup warm water, 2 1/4 tsp yeast, 5 Tbs sugar, 1 1/3 cup warm milk, an egg, 1 1/2 tsp salt, 5 Tbs softened butter, 4 Cups flour and 3 Tbs honey.
If you are new to baking bread, remember that the wet ingredients, (water and milk) should be warm–almost hot. If you'd like, you can use a thermometer and measure the temperature. It should be between 105-110. If you don't have a kitchen thermometer, test it on your skin. You are around 98 degrees, so it should feel slightly hot too you, but not too hot, as it will kill the yeast.
Instructions
To begin, put the warm water in a large mixing bowl of a stand mixer if you have one. Sprinkle the yeast over the warm water along with the sugar. This is called proofing the yeast. If you are using active dry yeast, this is a necessary step to "wake the yeast up" so to speak. Active dry yeast is dormant, and needs about ten minutes in the warm water and sugar to get going. If you are using instant yeast, this step is not necessary. You can just mix it in with the rest of the ingredients.
After the yeast has proofed, it will be foamy. This will tell you that it is ready to go. Now mix in the rest of the sugar, the warm milk, egg, salt and butter. Gradually add the flour. If you are using a mixer, the dough may still stick to the sides of the bowl as this is a rather sticky dough. If you find it too difficult to work with, add a bit more flour. I knead mine in a Kitchen Aid Mixer with a dough hook. It takes about four minutes. If you are doing this by hand, you may want to work the dough for closer to 8 minutes.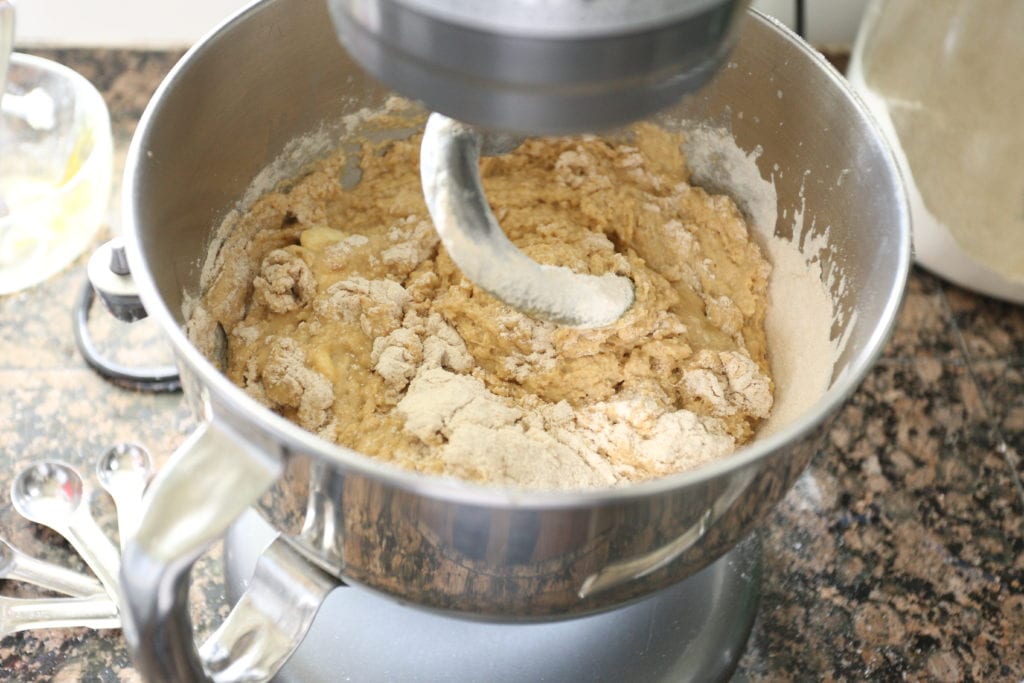 Next, place the dough in a greased bowl and cover with a tea towel. Let it rise for about 2 hours, or until it is nearly doubled in size. A warmish place free from a draft is the best spot. If the house is cool, you can place a bowl of hot water in the bottom of your oven, and place the bowl of dough on a rack above it. This will provide a nice warm environment, but we rarely find this necessary. These yeast rolls rise quite nicely.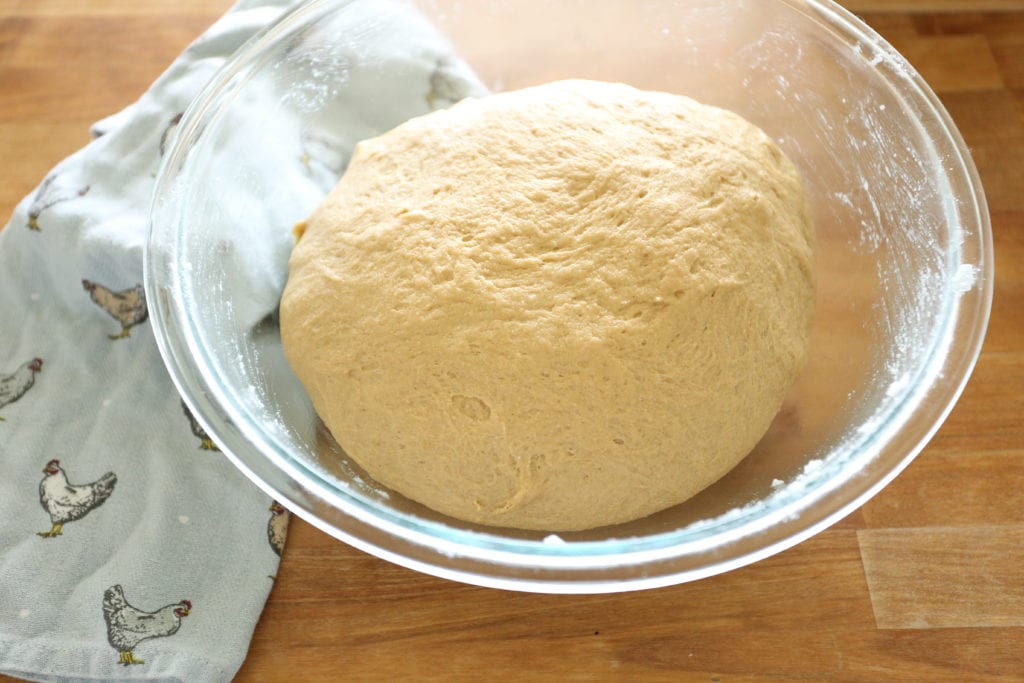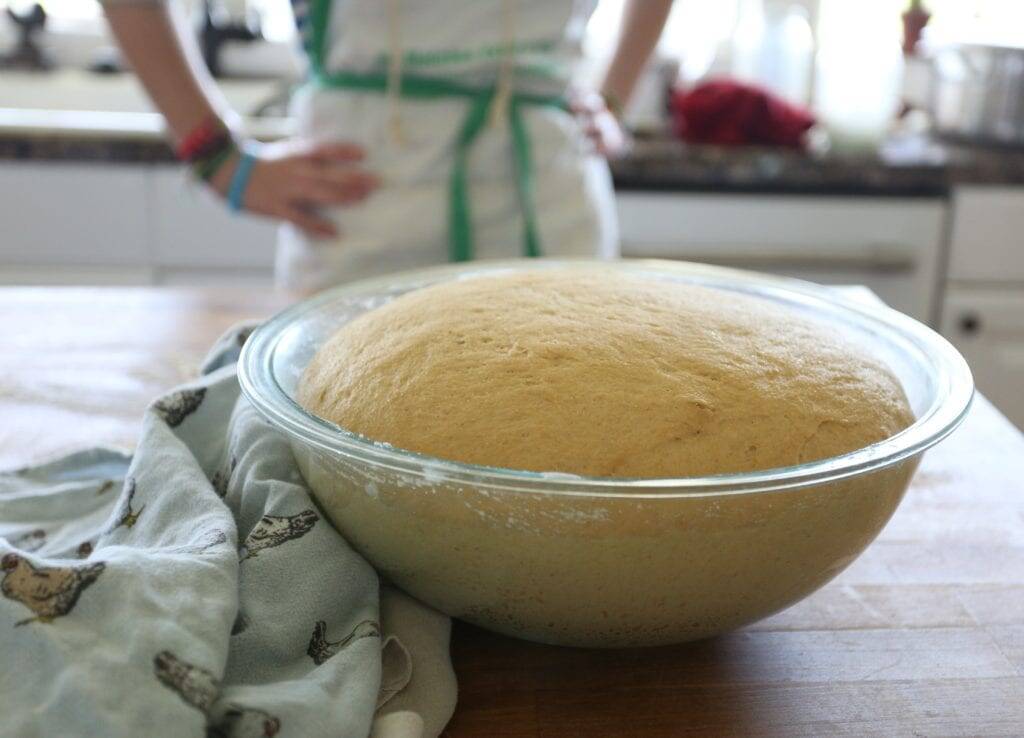 Shape the Dough
After the dough has risen, punch it down and split it into two lumps. Begin shaping the dough into balls and place on a greased sheet pan, or a 9×13 will work too. It is fine if they touch each other. Brush them with honey butter. Next, set them aside to rise for 30 minutes to an hour. They will double in size. Once risen, bake at 375 for 15-18 minutes. Finally, remove from the oven and brush with honey butter again. Watch everyone come running to get one hot out of the oven! Enjoy and soak up this moment! Serve with remaining honey butter. I've heard people calling any weight gain during this time, "the quarantine 15." Here is my contribution to that–honey butter yeast rolls!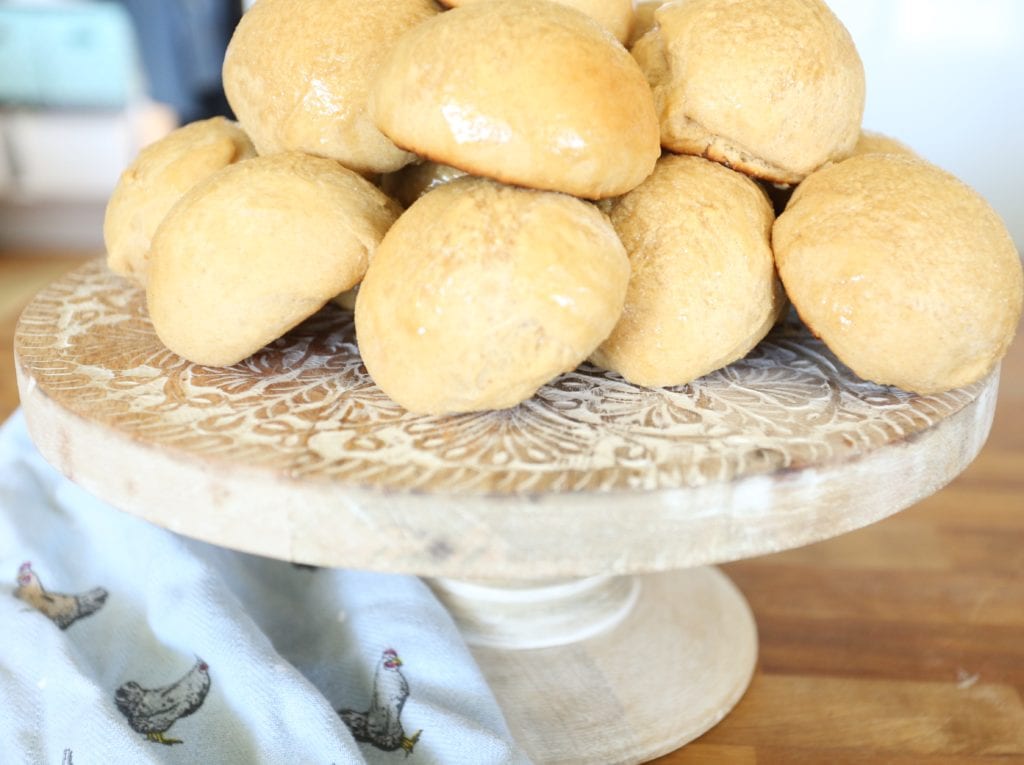 Printable Recipe Card
Honey Butter Yeast Rolls
A soft and delicious roll, sure to bring a smile to everyone's face.
Ingredients
⅓

Cup

Warm water

Between 105°-110°

2 ¼

tsp

Active Dry or Instant Yeast

This is the equivalent of one packet

5

TBS

Sugar or Honey

I use Organic Evaporated Cane Sugar

1 ⅓

Cup

Warm Milk

1

Beaten Egg

1 ¼

tsp

Salt

5

TBS

Softened Butter

4

Cups

Flour

I use Prairie Gold White Whole Wheat Flour
Honey Butter
4

TBS

Soft Butter

3

TBS

Honey
Instructions
Sprinkle the yeast over the warm water with ¼ tsp sugar. Let proof for about 10 minutes. When it is foamy mix in the sugar, milk, egg, salt and butter. Gradually add the flour. This is easiest using a stand mixer. The dough will be sticky.

Place dough in a greased glass bowl and let rise until doubled, or approximately two hours. After it has risen, punch it down and work into two lumps. Then shape the dough into small balls about 2". Brush with honey butter and let rise for about an hour. Bake at 375° for about 18 minutes. The bake time depends on your oven. Time could range from 15-20 minutes. Remove from the oven and brush generously with honey butter. Enjoy!
Notes
This dough could be rolled out to about 1/4″ thickness, cut into triangles and rolled up like croissants.  
Also, if you are feeling indulgent, you could substitute half of the whole wheat flour for white flour.  This will make them incredibly fluffy.  The ones in the photos were made with all whole wheat.
Want more baking inspiration?
Try these cinnamon twists
Pin and Share!