Simple and Easy Cinnamon Twists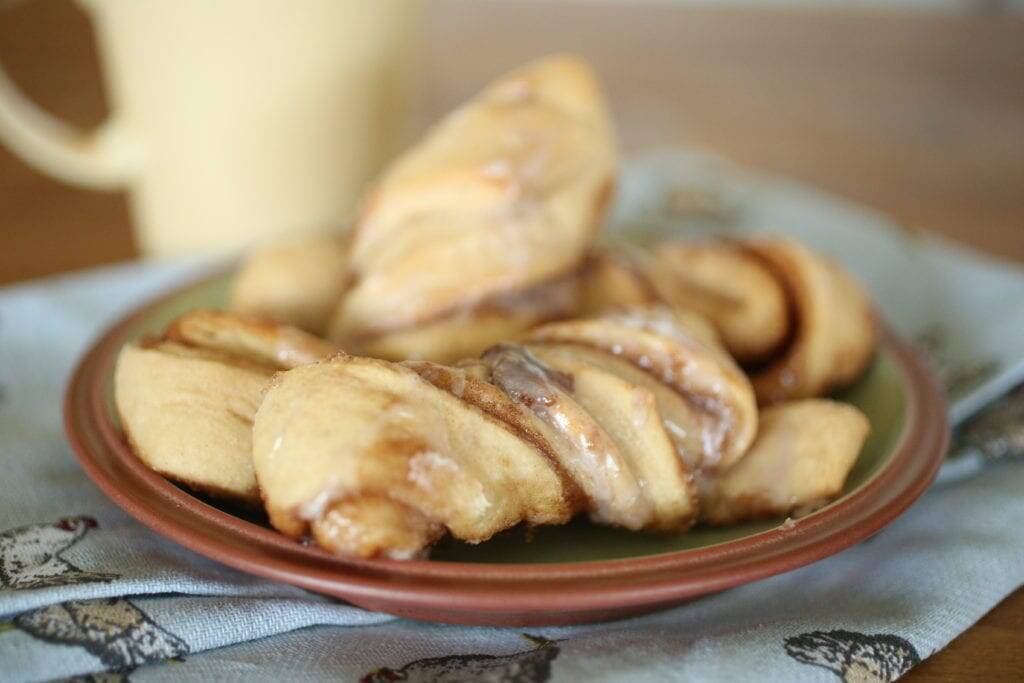 In this post, I show you how to make some simple and easy cinnamon twists. Serve these for dessert, or for an indulgent breakfast. These are a crowd-pleaser!
So, I feel almost guilty posting this recipe. Bread, even made from scratch bread with whole wheat flour has a bad rap these days. So many people are gluten free, and the truth is, we could all cut back on those things most likely. Not to mention the sugar, we try to avoid sugar most of the week. All that being said, this isn't an everyday recipe– it's a once in a while treat. The fact is every time I serve these, people love them! So my rebel heart posts this recipe!
My favorite time to serve these is for dessert after Mexican food. I think it goes back to school cafeteria lunches. Didn't they always serve some sort of cinnamon twist on Mexican food lunch day? They did at my school and I loved them!
Gather your ingredients for the Cinnamon Twist Dough
For this, you will need whole wheat flour–you can use white if you are extra rebellious, but they are really good with wheat. Active dry yeast, honey or sugar, milk, water, butter and salt. That's it! It's pretty easy!
A versatile dough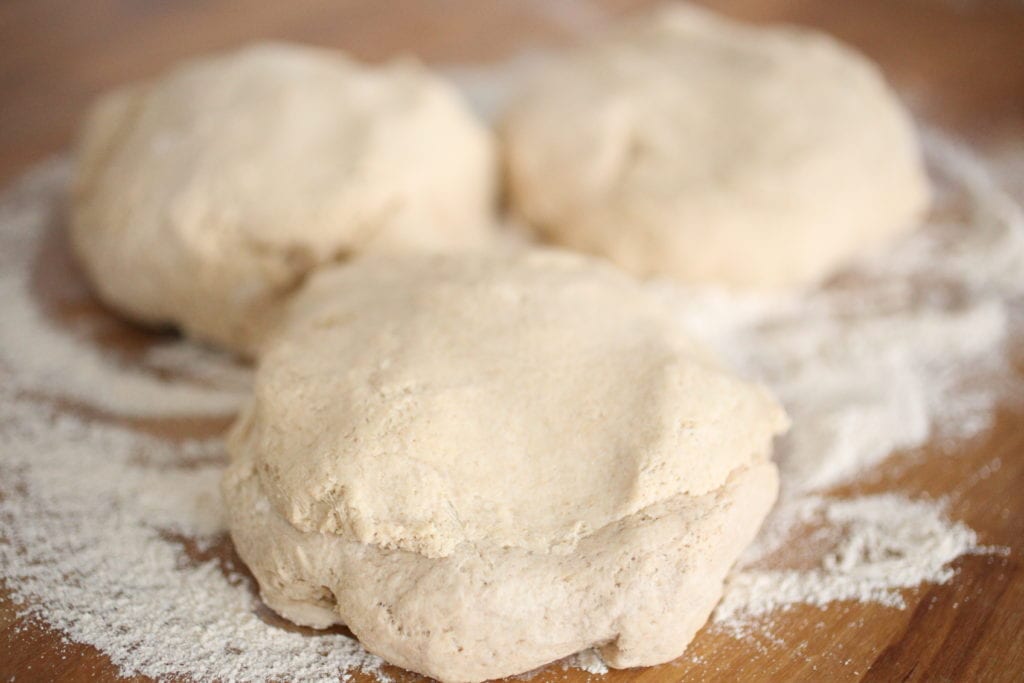 This dough can actually be shaped into hamburger buns or dinner rolls. The dough calls for a lot of yeast, which makes the rise very quick. So tuck this recipe away and pull it out when you are in a pinch and need some rolls quickly.
The cinnamon twist filling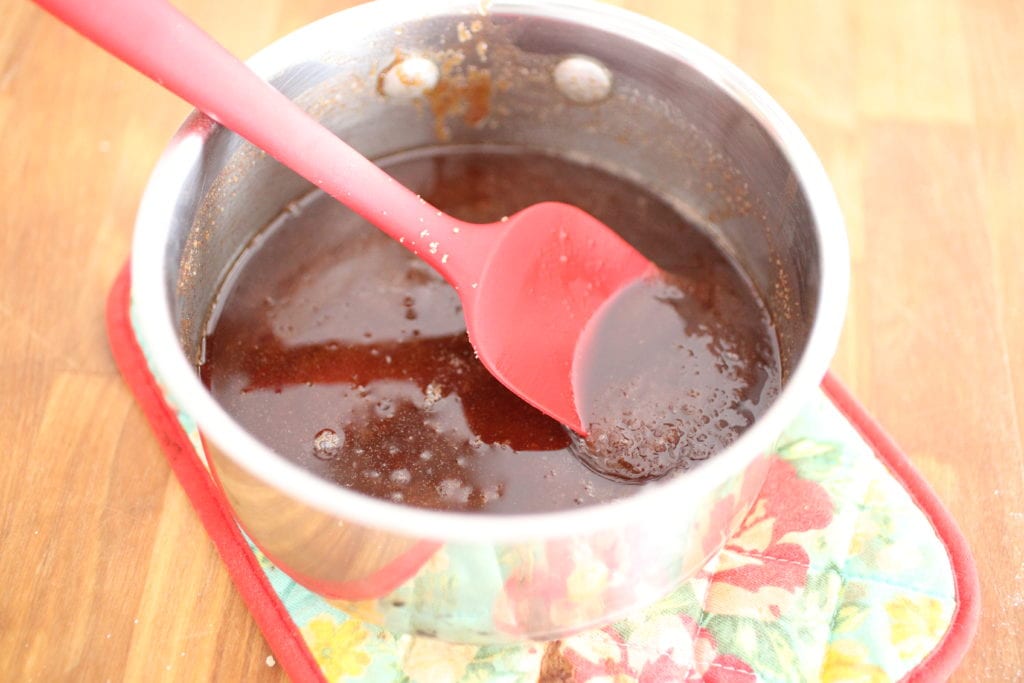 The filling is super simple. Just melt 3/4 stick of butter and add a cup of brown sugar. Once the butter and sugar are melted together, add two teaspoons of cinnamon. A variation would be to chop up some pecans really small and mix those in as well! Melt the butter and sugar while you are mixing the dough so it's ready when you start.
Directions for Making Cinnamon Twists
Mix two of the cups of flour and the yeast (I use my stand mixer). Heat up the milk and water so that it feels warm to the touch–around 120 degrees. Add that to the flour yeast mixture along with the sugar. Next, mix in the salt, butter, and remaining flour. Mix until fully combined and a nice soft dough forms. It will be rather sticky and won't pull away from the sides of the bowl completely. Let it rest for 10 minutes…you can rest too!
Next, remove the dough from the board and turn it out onto a floured surface. Knead it a bit and then shape it into a rectangle. Now roll it out into a long rectangle about 1/2″ thick. After that, get your cinnamon, butter, and sugar mix then spread it over the dough. From here you can either make cinnamon rolls by rolling this up into a tube, or you can follow my lead and make cinnamon twists. For the twists, you will fold the dough in half, pinch the sides slightly, and then using a pizza cutter, cut strips. Now double those over and twist. Place on a greased cookie sheet and bake at 400 degrees for 10-15 minutes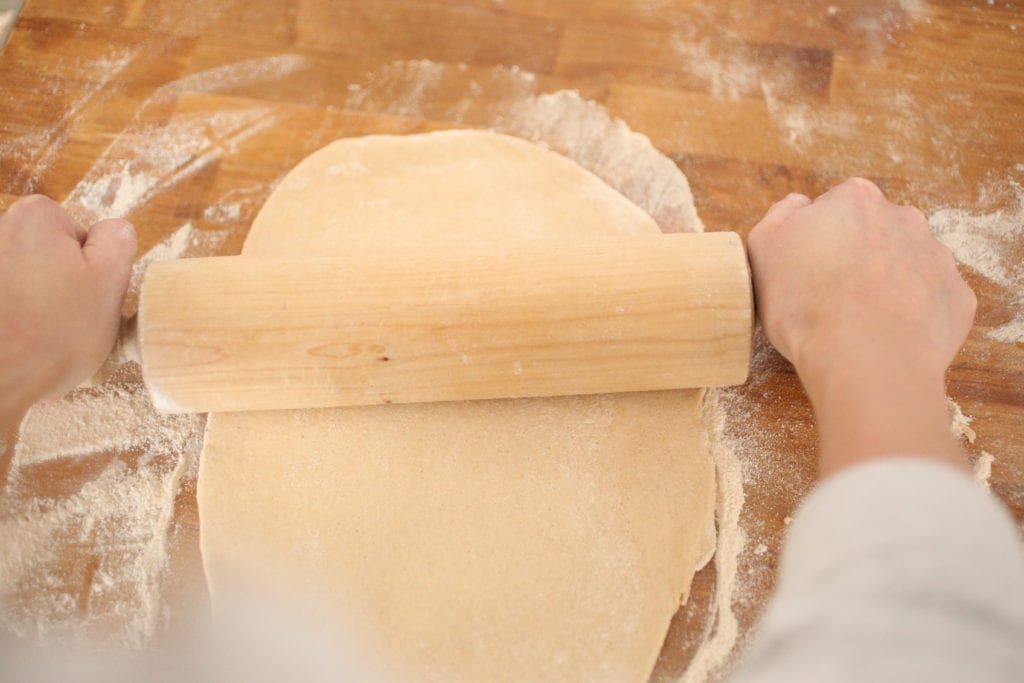 The Baked Easy Cinnamon Twists
Be warned, when you take these out of the oven, it will look like all of the filling has leaked out of the twists. It is true, some has, but just scoop them off of the sheet and make sure you are scooping the cinnamon mixture with them. They still have all of the filling with them, it is just kind of caramelized on the outside and made a delicious crispy crust. Watch the video if you need assurance that all is well.
Drizzle with glaze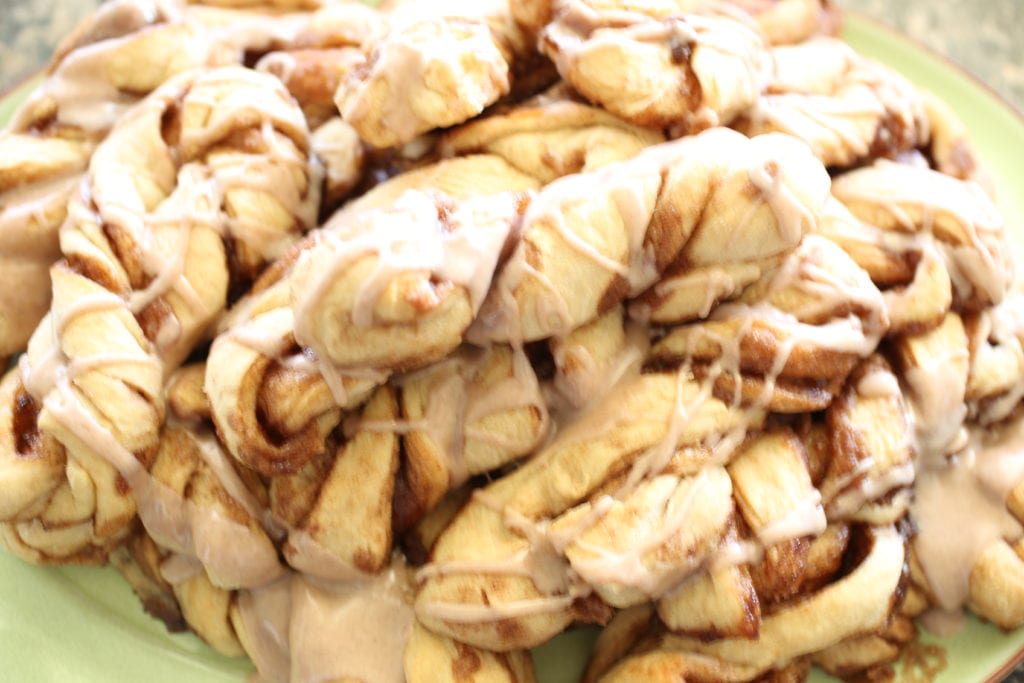 Mix up a little powdered sugar and milk with a couple of shakes of cinnamon. Now, drizzle that over the finished cinnamon twists. Serve them up warm and enjoy!
Printable Recipe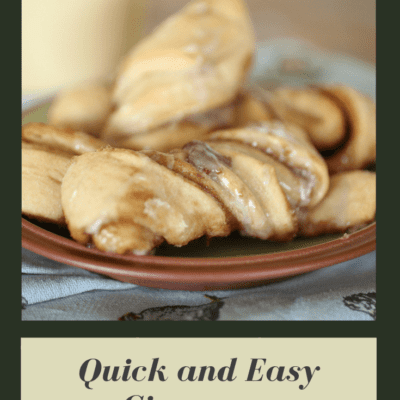 Cinnamon Twists
Yummy and gooey, these cinnamon twists are sure to be a crowd favorite. Made with honey or raw sugar and whole wheat flour, they are not exactly healthy, but you could almost tell yourself they are.
Ingredients
4

Cups

Whole Wheat Flour

I use prairie gold white wheat. If you have a courser wheat flour, you many want to mix half of it with white flour.

2

Tbs

Active Dry Yeast

1

Cup

Milk

warm

3/4

Cup

Water

warm

3

Tbs

Honey or Sugar

1

Tsp

Salt

1/2

Cup

Butter or another oil
Filling
6

Tbs

Melted butter

1

Cup

Brown Sugar

2

Tsp

Cinnamon
Glaze for top
1/4

Cup

Powdered Sugar

This is an estimate, I never measure I just dump and stir until the consistency is right.

1

Tbs

Milk

2

Shakes

Cinnamon
Instructions
Using a stand mixer, mix two cups of the flour, 2 tbs yeast, the sugar and the warm milk and water. Add the butter or oil, and salt along with the remaining flour. Mix until a soft dough forms. Turn out onto a floured surface and knead a bit more, then shape into a rectangle. Roll it out to 1/2″ thickness. Spread the melted butter-sugar mixture over the dough. Either roll into cinnamon rolls or cut into strips to make twists. Bake at 400 degrees for 10-15 minutes, or until lightly golden. Remove from the pan while still hot making sure to get all of the cinnamon filling. Drizzle with the powdered sugar glaze. Serve warm if possible…Enjoy!
Pin for Later!