Benefits and Reasons to Use a Berkey Water Filter System
The Berkey water filter is one of the best and most affordable ways to filter your water at home. Learn all about the Berkey water system from set-up to regular cleaning. All the benefits of a Berkey water filter.
This post contains affiliate links.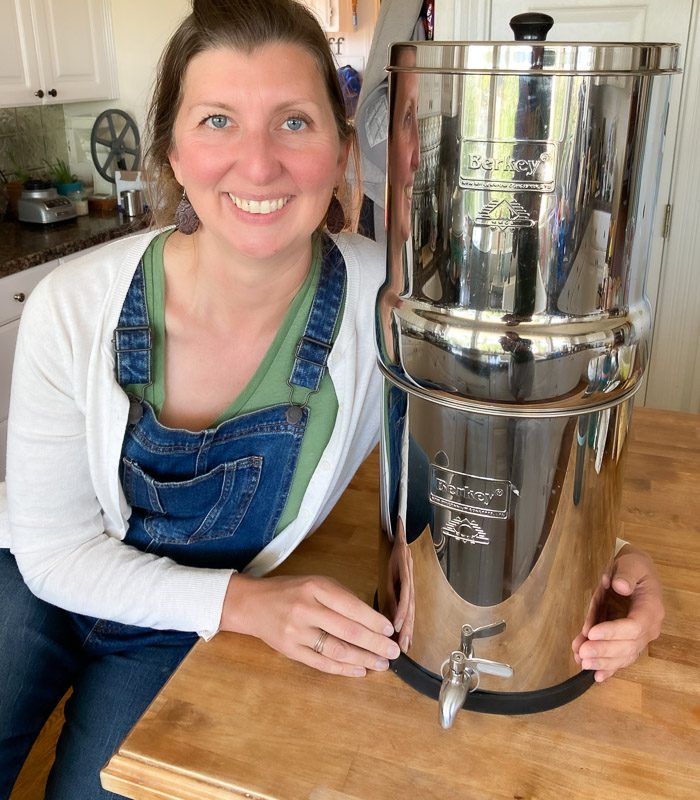 Why Should you Own a Water Purification System?
Tap water in most U.S. cities is considered 'safe to drink', but EPA standards on when tap water is unsafe to drink haven't been updated in about twenty years.
If you live in the city or even the suburbs with municipal water, you really don't know what you may be getting in your drinking water. On the Berkey site, you can actually put in your zip code in the What's in your Tap Water Section and they can give you an estimate of the safety or likely contaminants in your drinking water. This information is from the Environmental Working Group. Of course, you could also have your water tested to find out if it has any specific contaminants and then see if the Berkey filters those out.
I did this and it says that our water likely has high Radium. The Berkey filters 98.7% of that.
My two main reasons for wanting filtered water were for soapmaking and for sourdough bread baking. I had some soap that turned out with spots in it and I believe it was from the water. Also, sourdough calls for filtered water and I am getting back into that.
Will a Berkey Make your Hard Water Soft?
The answer is no. However, hard water simply means it has minerals in it. Many of these minerals are beneficial. Modern soaps make it easy to use hard water for dishes and bathing. We do use a water softener for our home as we find our hard water irritates some people's skin.
When it comes to drinking water, however, it is best to use your regular hard water to filter through the Berkey for drinking. This leaves all of the beneficial minerals, with the exception of zinc, and also keeps the sodium lower in your drinking water.
What Contaminants Does the Berkey Filter?
Berkey claims to be more than a filter as it removes over 200 contaminants. If you search around YouTube enough you can find people turning muddy creek water into pure clear drinking water.
You can look at a detailed pdf on their site to see exactly what the Berkey filters. Here are a few of the highlights for me.
Pathogenic Bacteria
Viruses
Inorganic Minerals
Heavy Metals
Micro-organisms
Pharmaceutical drug contaminants
Pesticides and volatile organic compounds
We don't consider ourselves preppers, but we sure like the idea of being more self-sufficient. Our world is crazy right now. If we lose power for a long time or if our water becomes contaminated for whatever reason, it feels good to know that we could filter less-than-desirable water and make it safe to drink.
You can also buy a fluoride filter to remove that from your city water. That is one of the benefits of a Berkey water filter.
Which Berkey is Best for My Family?
I did quite a bit of research before I decided which Berkey would be best for our family. We have a large family so I could have definitely justified buying the largest Berkey they sell. However, I like most of you don't have loads of extra money laying around and the cost was definitely a factor. I'll share later how to get a Berkey at a discounted price!
Berkey comes in several different sizes, consider how many people are in your home, how much space you have, and what your budget will allow. Also, the more filters it can take, the faster it will filter water.
Berkey Light-
This one is a bit different as it is plastic. The benefit of this would be that you could see through to see how much water you have left.
It is recommended for 2-5 people.
Holds 2.75 gallons of water and is 28″ high. It can use up to 4 filters.
Travel Berkey-
This is the smallest size recommended for 1-3 people.
It holds 1.50 gallons and is 19″ high.
It can have 2 filters.
Big Berkey-
This is the most popular size, it is recommended for 2-4 people.
It holds 2.25 gallons and is 21″ high.
Can have up to 4 filters.
Royal Berkey-
This is the one I chose.
It is recommended for 2-6 people.
It holds 3.25 gallons and is 24″ high.
Can have up to 4 filters.
Imperial Berkey-
This is the one I really wanted, however, the size made it a bit intimidating to me, plus the cost was more.
It is recommended for 6-10+ people.
It holds 4.5 gallons and is 27″ high.
Can have up to 6 filters.
Crown Berkey-
This one is recommended for 6-10+ people.
It holds 6 gallons and is 31″ high.
It can have up to 8 filters.
How to Get a Berkey at a Discounted Price
On the Berkey website, they have a scratch and dent area. Here you can find Berkey's with cosmetic flaws. I actually bought one of those and cannot see where the blemish is! This is a great way to save some money on a Berkey.
Check Craigslist, Marketplace, or Mercari for second hand Berkeys
Ebay is a great place to get Factory Blemished Berkeys as well
How to Set Up A Berkey
I made a little video of me setting up my Berkey. My son helped me to edit this video and declared that it is terribly boring. I can't disagree, watching me set up my Berkey is definitely not thrilling! However, if you just bought one or if you want to see what it looks like or how difficult it is to set up, then you may find it helpful!
How Long Will a Berkey Filter Last?
If using two filters in your Berkey, you can filter up to 6000 gallons of water before it needs to be replaced! For the average family of 4 that is using the water for every drop of drinking and cooking, this would equate to about four years! That is an average of 2 cents per gallon! Pretty economical!
Regular Cleaning of a Berkey Water Filter
Your Berkey water filter system is designed to provide a lifetime of purified drinking water for you and your family. Because of the effects water deposits and contaminants have on your unit it is necessary to clean your unit on a regular basis. Berkey recommends cleaning the stainless steel chambers monthly, and the Black Berkey Purification elements every six months or as filtration speed slows. The container is made of high-quality stainless steel and should last a lifetime.
To clean the chamber, remover the filters and the spigot. Clean thoroughly with mild soap and water. They recommend air drying as the best method.
Cleaning the Black Berkey Filters
Berkeys don't use disposable filters, this means they have to maintain their integrity after many thorough cleanings. The filters can be cleaned up to 100 times before they need to be replaced!
You will know it is time to clean the filters when the flow rate decreases. Depending on your household contaminants and how much water you filter. Typically you should clean the filters every six months.
To clean the filter, simply remove it from the housing. Under running water with the spout side up scrub your filter with a new scratchy sponge. Do this for several minutes. Do not use soap or detergents on the filter. Rinse and return to the chamber.
Berkey Red Dye Test
If you are in doubt about the integrity of your filter. Perhaps it was dropped or you moved and are fearful the filter may have been damaged. You can do a red dye test. The Berkey filters 100% of red dye, so if you filter water with red dye in it, your water should come out clear. If you find that it doesn't, you will know that your filter has indeed been damaged and you need to replace it. You can watch Lisa from Farmhouse on Boone perform a red dye test here.
I Hope this Helped You to See the Benefits of a Berkey Water Filter
You can visit the Berkey website for even more information or to check and see how pure your drinking water is!
Pin and Share!