The Handmade Home Challenge
If you are anything like me, you may have a running list of skills and arts that you want to either learn or develop. Things like making a beautiful loaf of Artisan Sourdough bread, sewing things for your home, learning how to crochet, or maybe the art of dipping candles. Whatever your desires, we often put those things off as things we'd like to learn "someday".
What I have learned over the years is that I have to set those "someday" desires as goals and I need a way to hold myself accountable. Otherwise, those desires may never actually be fulfilled. Learning to make more of your everyday items can bring fulfillment and a sense of satisfaction to your days.
Last year I joined this challenge when it was started by Tara at She's Rooted Home. I stayed with it for the entire year and was so pleased to look back on the year and see all that I had accomplished and the new skills that I had learned.
This is Not All or Nothing
If you would like to join in this challenge, please don't think of it as all or nothing. Pick which items you want to make and do those, if you miss a month, just pick up where you left off. If you don't like what I picked for the month, switch it out with something that you would prefer. Make it your own and have fun with it! There is absolutely no obligation either!
I tried to divide these projects up to cover the main areas of our homes. The kitchen, dining, family room, laundry, and garden.
Also, let me know what you make! Please tag me on Instagram or Facebook, send me an e-mail, or comment here on this page! It's fun to share in the challenge and to see each other's take on each prompt!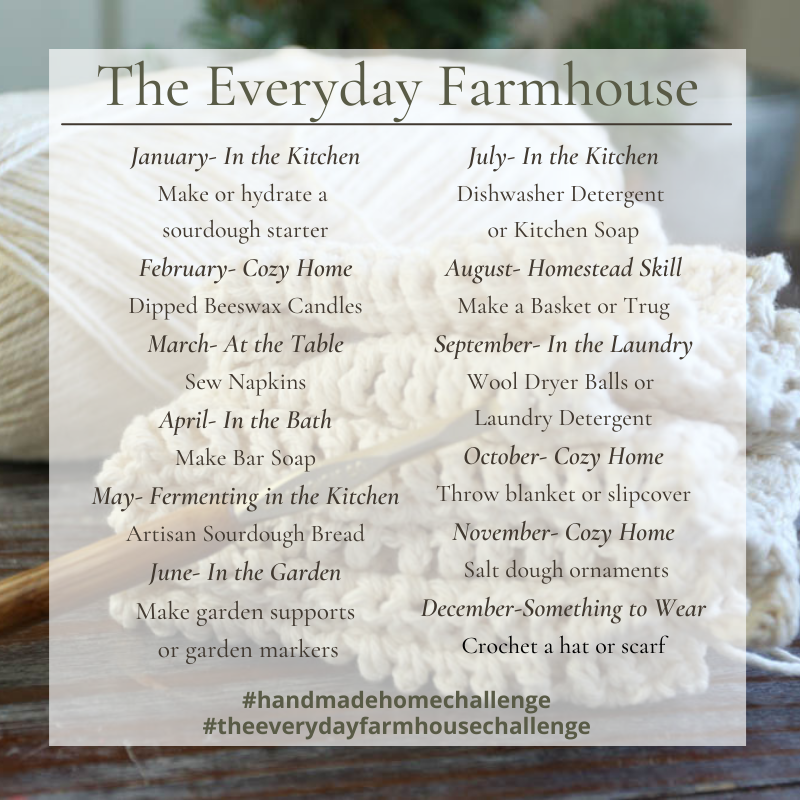 Posts So Far for 2022
Sourdough Starter Recipe | Simple Easy Sourdough Starter Step by Step
How to Reactivate a Dried Sourdough Starter
Candle Dipping | Hand-Dipped Beeswax Taper Candles
Click Download to Print The List
Sign Up Here to Join and Receive Monthly E-mail Reminders!
Here are Last Year's Projects for The Handmade Home Challenge
January-How to Crochet a Dishcloth for Absolute Beginners
February-DIY All-Purpose Cleaner & Bathroom Spray with Witch Hazel
March- Easy Farmhouse Envelope Pillow Cover Tutorial
April- How to Sew a Simple Tote Bag with Flat Bottom and Lining
May- DIY Reusable Beeswax Wraps Three Ways!
June-Crochet a Rag Rug for Beginners
July-Best Beginner Soapmaking Tutorials and Books
August-How to Hang Dry Herbs, Flowers and Peppers Naturally
September-I taught my daughter to crochet a scarf but did not write a tutorial
October-Make Red Cabbage Sauerkraut | Fermented Cabbage
November-Handmade Plaid Flannel Lined Christmas Stocking
December-Five Ideas for Old Fashioned Handmade Natural Christmas Decor