Easy Farmhouse Envelope Pillow Cover Tutorial
This easy farmhouse envelope pillow cover is something that just about anyone can sew. This pillow cover requires only one cut of fabric, two hems and two seams!
I love making pillow covers and enjoy changing things up in my home. I get tired of the same pillow covers all the time. What's nice is that you don't need a lot of fabric, or a lot of time to make new covers for a few pillows in your home!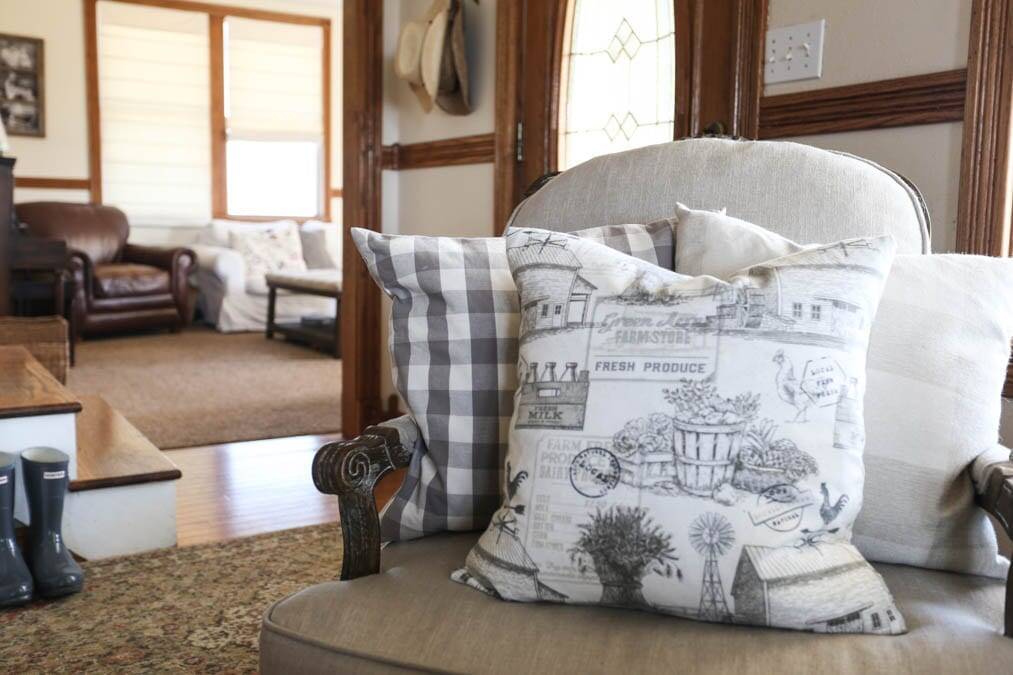 Easy 15 Minute Pillow Cover for the #HandmadeHomeChallenge
If you remember this year, I am participating in a Handmade Home Challenge. Each month this year there is a new prompt for creating something handmade for your home. January was a dishcloth, that tutorial is here. February was a handmade cleaning product, that tutorial is here. This month's prompt was a handmade pillow or blanket. I had big dreams of creating a crocheted blanket, but there just wasn't enough time for me to do that! Then I thought I could maybe get a crochet pillow cover done, but alas… it didn't happen! I stuck with what I know and what I had time for!
You can make a pillow cover in 15 minutes or less by following these instructions. Making pillow covers is a super cost-effective way to update your home decor for the seasons. Here is a post on making a pumpkin pillow cover.
My Favorite Pillow Cover Inserts
I love down and feather-filled pillow inserts. I usually buy them at Ikea…unfortunately, the closest Ikea is 2 hours from our home! When we do make it to Ikea, I grab two or three pillow inserts…just in case. These look similar and have several sizes to choose from. I like the insert to be at least 18″, I prefer the 20″ ones. The inserts that I had for the covers I made for this post are 19″.
My husband might think I have a bit of a pillow addiction…this is one instance where he is definitely wrong;)
One Piece of Fabric for an Envelope Pillow Cover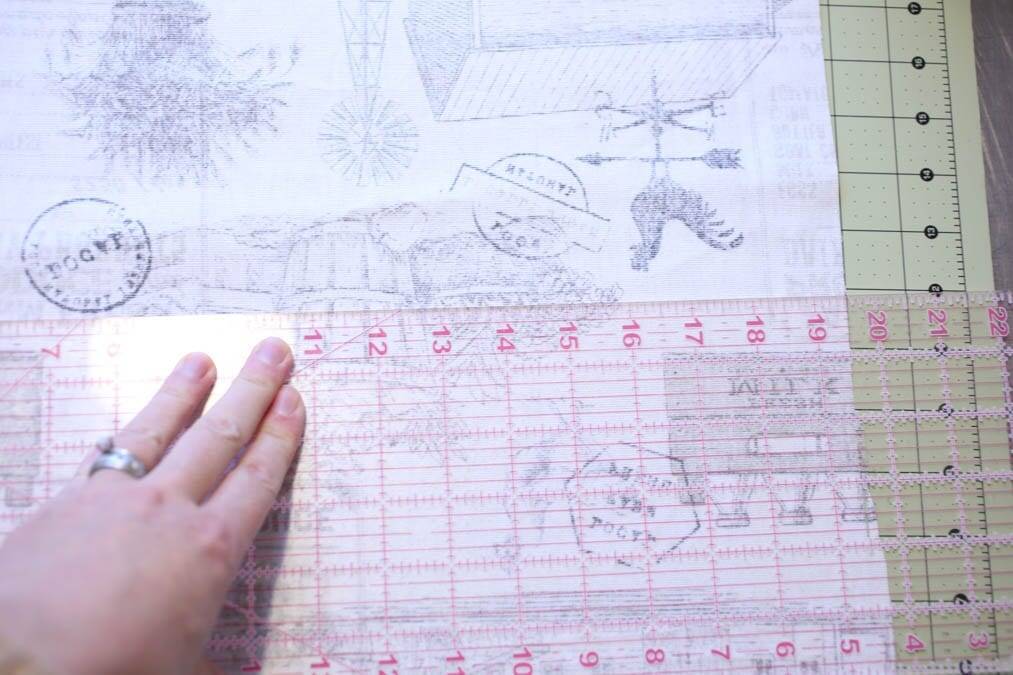 Step 1: Estimate how wide and cut the fabric to width. Make it about 1″ wider than your pillow form.
Step 2: Cut the length. My fabric was cut 45″ long. You could get away with a bit less. This allowed for a 8″ overlap on the envelope. That ensures it stays neatly closed. The formula should be about 2 1/4 times the size of your pillow. Hem both ends of the fabric with a 1/2″ hem
Step 3: Wrap the fabric tightly around the pillow wrong side up and pin in place. Remember that the fabric on the bottom will actually be the fabric on the top when the pillow is done, so keep that in mind when you decide where to place the overlap.
Step 4: Carefully remove the pillow
Step 5: Stitch along the sides using a 1/2″ seam
Step 6: Turn the pillow cover right side out and insert your pillow form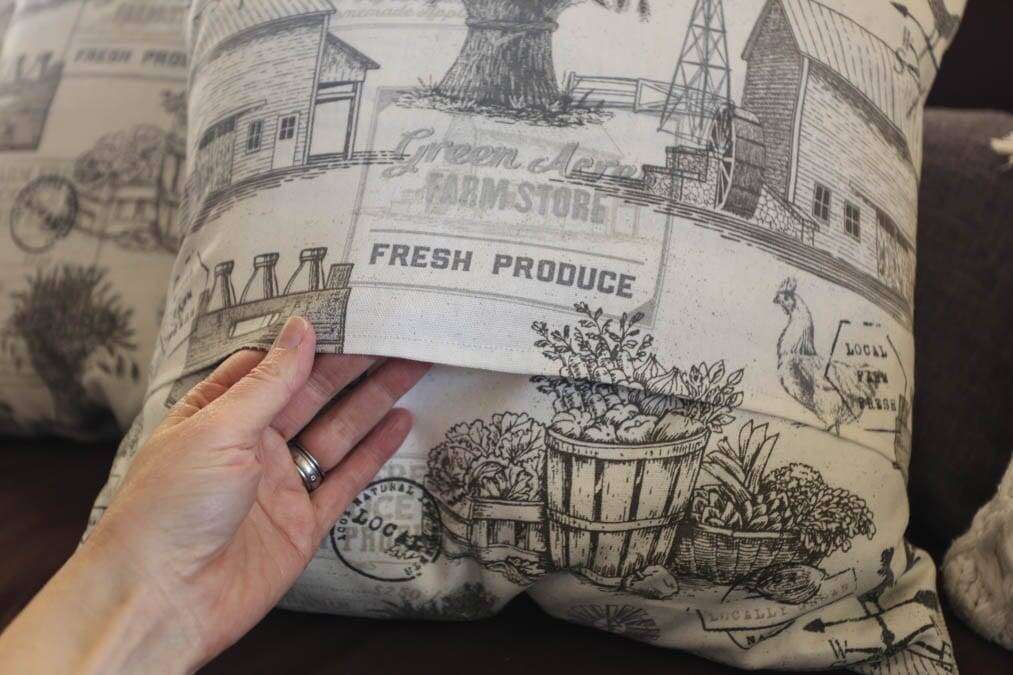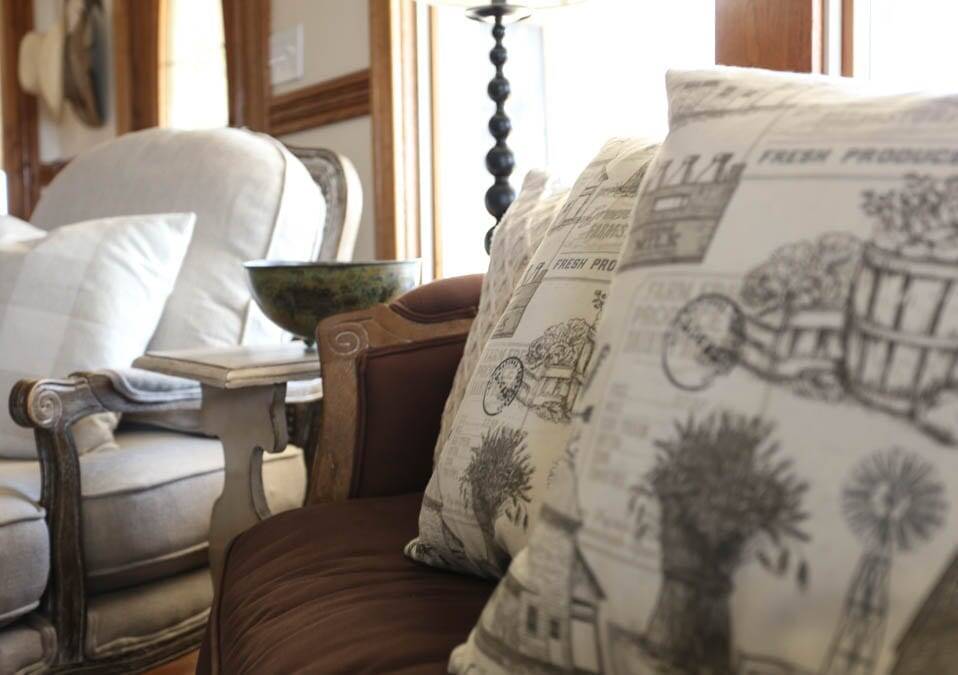 The Easiest Farmhouse Pillow Cover
That's it! The easiest pillow cover to make! I hope you enjoyed these simple farmhouse envelope pillow cover tutorial. Tag me on social media if you make one for yourself!
No Time to Sew? Shop My Favorite Farmhouse Pillow Covers Here!

Please pin and share!