How to Sew a Simple Tote Bag with Flat Bottom and Lining
Sewing a tote bag with flat bottom and lining is quicker and easier than you might think. There are many many tutorials out there on making a tote bag. I found two that I really liked and have modified those a bit to make the perfect sturdy tote bag. Let's sew a tote bag! This post contains affiliate links.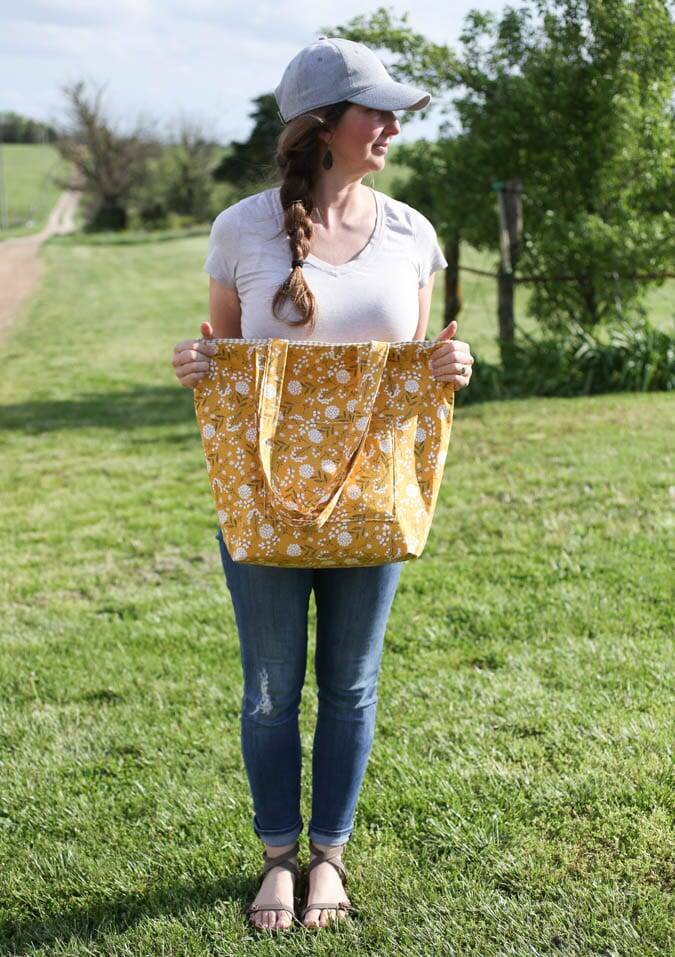 Is is Difficult to Sew a Tote Bag?
I really thought it was going to be super difficult to sew a tote bag. About a year ago my aunt made the cutest little tote bags for all of my daughters. When they arrived, I couldn't believe how beautiful and professional they looked. I am not a skilled seamstress, so when I studied them I figured I would never be able to make one.
If you remember I am participating in the #handmadehomechallenge. Tara from She's Rooted Home started this challenge for 2021. Each month of the year there is a new challenge to make something for your home. You can see the projects for the year below. When I saw the challenge for April was a reusable grocery bag, I felt a little defeated. I really thought it was beyond my skill level. I am posting this a bit late, but better late than never!
After watching several tutorials I realized that making a tote bag was really not hard, and not something that takes a high level of skill! You really just need to be able to measure, cut, sew a straight line, and follow instructions to sew a tote bag! I made two bags. For the practice one, I used a spare cloth shower curtain so that I wasn't investing any money in something that I may mess up! I really like the way it turned out too!
This can be made in an afternoon! I was surprised at how quickly it came together!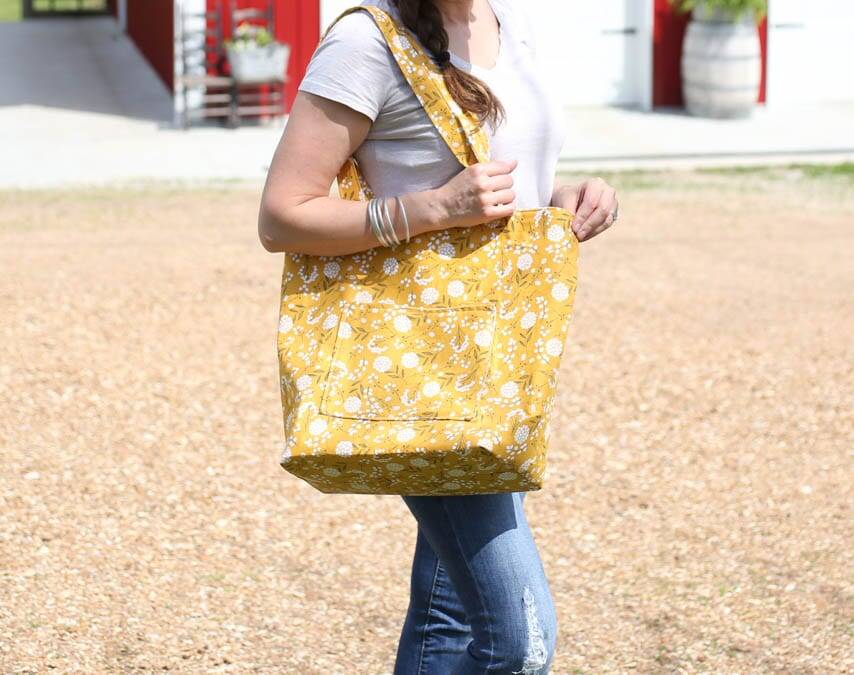 Past #handmadehomechallenges
You Can Never Have Too Many Bags!
The bag that I made from the pretty shower curtain is now in my van. We have had three instances of kids puking in the car recently. Each time I was so frustrated with myself for not having a bag of extra clothes in there! Now, I have a super cute bag full of extra clothes and blankets, and this will guarantee that no one will puke in the van ever again…right!?!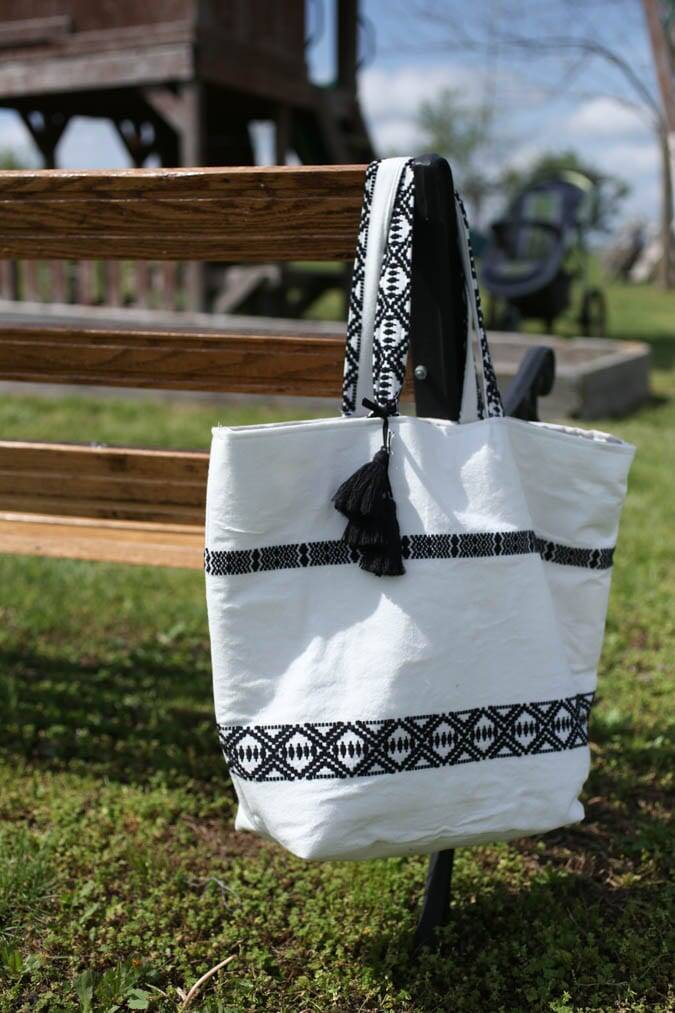 My Two Favorite Tote Bag Tutorials
This first tutorial is extremely helpful, this gave me the confidence to try. I modified mine a bit by adding a stabilizing lining and a pocket. I also made my straps slightly longer than the instructions, and I added a magnetic snap. This one is a video, but also has written instructions on the website.
This one gives a similar result, but the corners are made differently, and it is a smaller size.
Materials Needed for a Flat Bottom Tote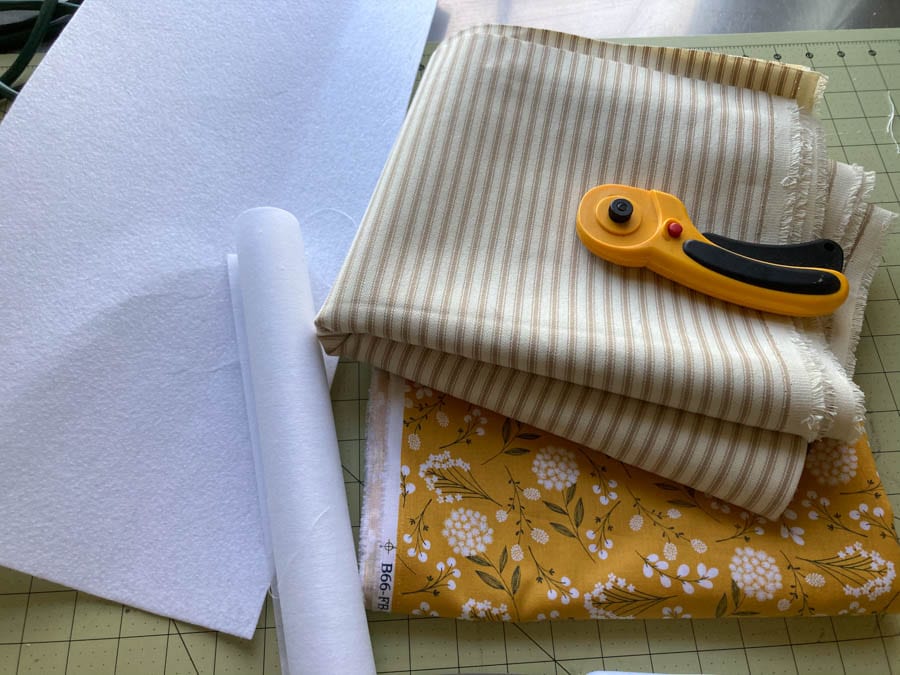 1 yard lining fabric this is a tan ticking stripe from Walmart, I cannot find a link for it.
1 yard medium weight stablizer
thread
sewing machine I bought this inexpensive machine about 4 years ago. I cannot say enough good things about it!
snap
A few notes about choosing your fabric. First of all if you want to use this as a grocery bag, oilcloth may be a really good choice. Then it could be easily wiped off and you don't need to worry if it gets wet. I like my totes to stand up. To achieve this, you can either select a sturdy fabric like a duck or you can add a fusible stabilizer as I did. Even with the stabilizer, it doesn't stand up perfectly like it would with oilcloth. Also, you can buy a fusible vinyl that can turn any fabric into an oilcloth. I bought some on clearance, but have not tried it yet!
Step 1: Measure and Cut Your Fabric
For a large tote bag like mine. You will need to cut two pieces of the lining fabric 20″ wide and 21″ long. Also, two pieces of the outer fabric 20″ wide and 21″ long as well. If you are using a iron-on stabilizer for the outer fabric, cut two pieces of the same dimensions.
For the Straps, you will need to cut two pieces 5″ wide by 24″ long.
For the bottom, cut a piece of ultra firm stabilizer 7″ by 13″
Step 2: Sew the Outside
Press the midweight stabilizer on the pieces of fabric. Depending on your yardage, you may need to piece it together. Slowly press all around until it is fused.
Sew along the bottom of the outside with right sides facing. 1/2″ seam allowance
Press the seam open.
Place the thick stabilizer in the center lining it up. It should be perfectly centered with even space on both sides.
Press the stabilizer in place. I then stitched around the stabilizer to make sure it stayed in place, it does not adhere very well to the lighter stabilizer.
Fold the top edge down 1/2″ and press.
Next, match up the top edges and then stitch down the sides of the bag. Press open the seams
Step 3: Make and Attach the Pocket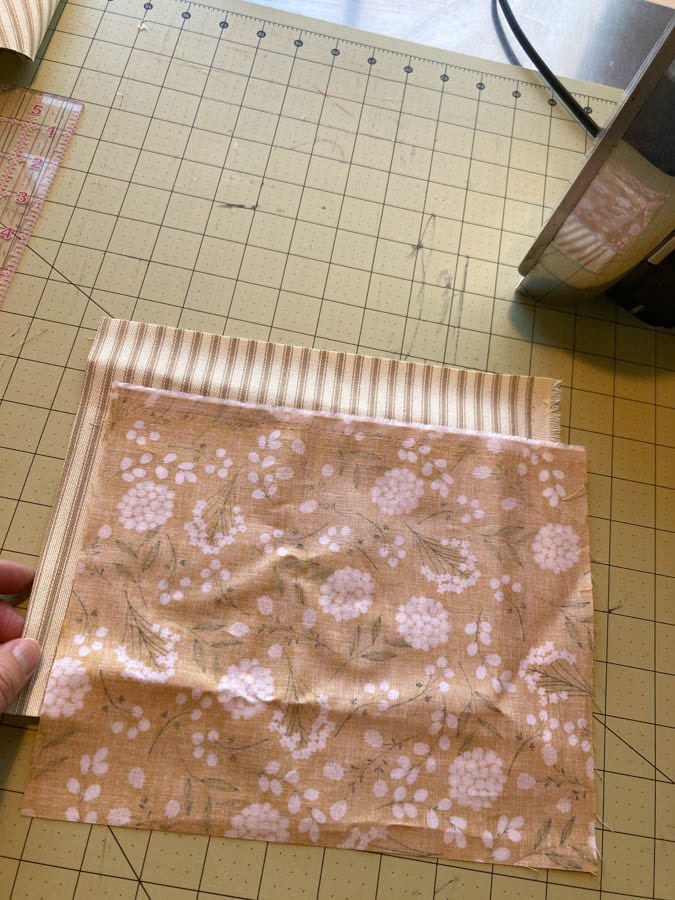 To make the pocket, I stitched two 9X12″ pieces of fabric together, right sides facing. I left an opening to turn it right side out. I put the opening on the bottom and stitched over it when I attached the pocket. In hindsight, I think it would have been better to just press the edges down and make the pocket that way. Either way, attach the pocket using 1/8″ seam allowance. You can center it between the top and bottom of the bag, or place it wherever you like.
How to Make the Square Corners on the Tote Bag
Match up the side seam with the bottom seam. You will make a triangle shape on the corners. Then stitch a straight line approximately 3.5 inches in from the corner. This stitch will run along the edge of the stabilizer.
After you have done that to both sides, cut off the corners.
Turn the bag right side out.
Step 4: Sew the Bag Lining
Place the lining pieces right sides together, double-check your measurements for top and bottom to make sure you have it positioned correctly.
Fold a 1/2 seam along the top edge and press. Next, stitch along the sides and the bottom. Press open the seams and then line them up as you did on the outside. Stitch a straight line 3 1/2″ from the point. It's best to draw this line with a marker to ensure it is straight. Stitch along the line and then cut off the point.
Step 5: Attach the snap to the bag lining
This should be done before you assemble the bag. I used a magnetic snap that is just hand stitched in place.
Step 6: Make the Tote Bag Handles
Fold the handle piece in half and press. Open it up and then press the edges into the centerline. I added a strip of the midweight stabilizer, this may not be necessary if you are using a heavier weight fabric. Press again. Then fold the whole thing in half and press. Stitch down both sides with a 1/8″ seam allowance. Do this for both handles.
Attatch the Handles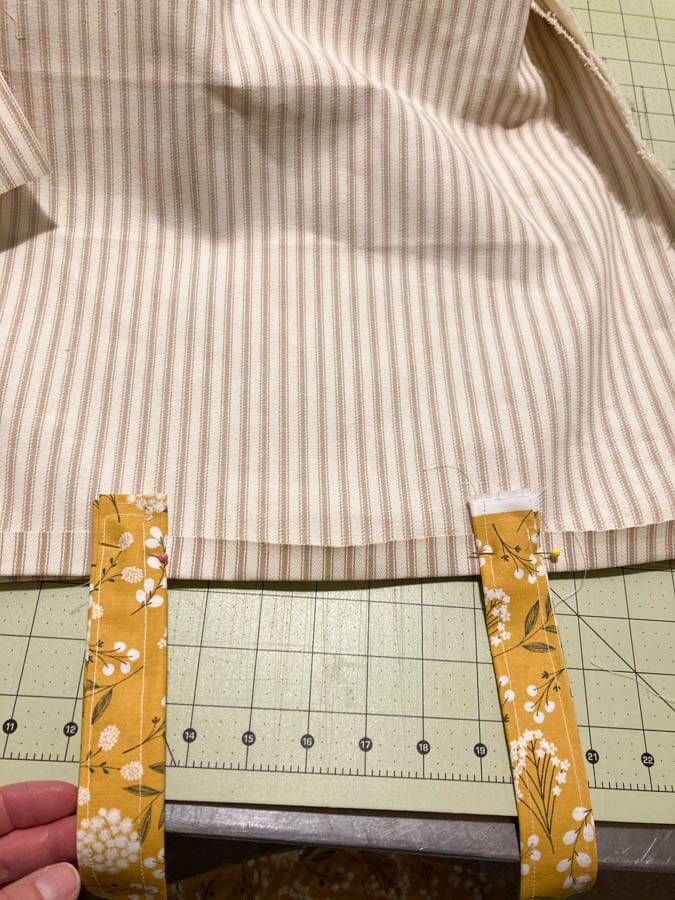 Now you will attach the handles to the lining of the bag. Measure in 6″ from each side and mark. Then pin the handles in place. Stitch the handles in place by going sewing a square with an X in the middle for reinforcement.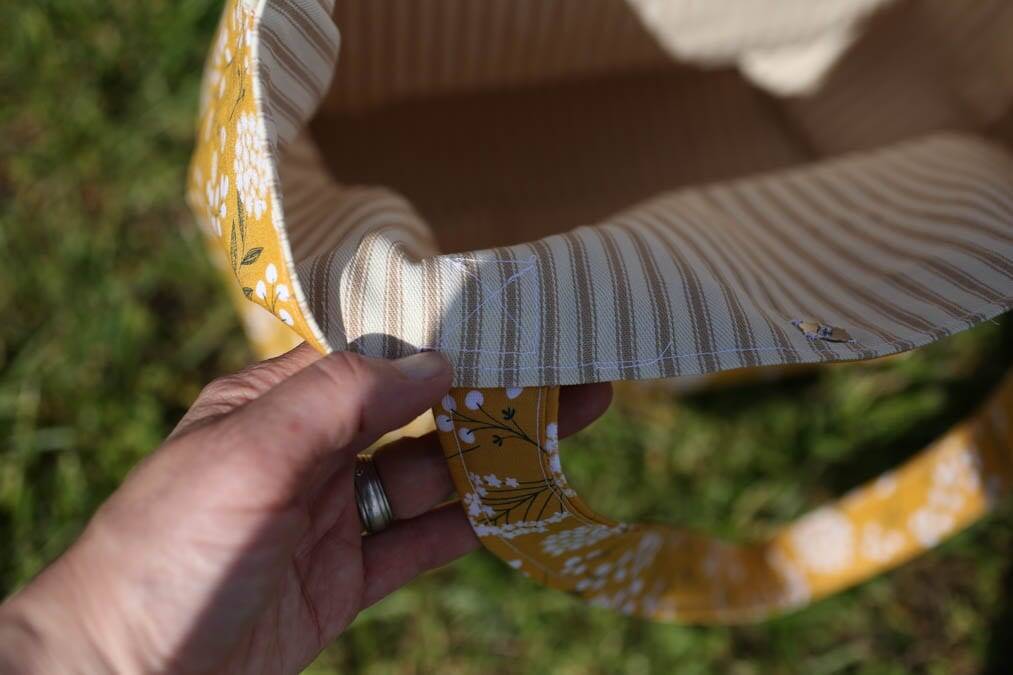 Step 7: Assemble the Bag
Lastly, tuck the lining inside the outer shell. Pin all along the top making sure the seams line up. Now using an 1/8″ seam allowance stitch all along the top of the bag. Trim the strings and enjoy your amazing new tote!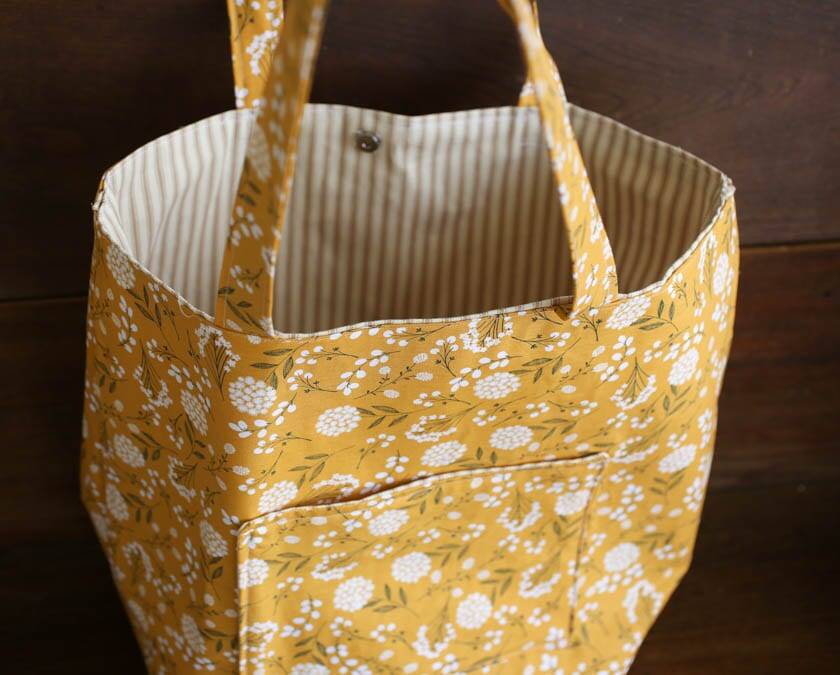 Below is a Great Place to Get Fabric and Supplies Online
Don't Want to Sew a Tote Bag? Shop Cute Totes Here!

Please Pin and Share!