Patriotic Handkerchief Pillow and Summer Porch Tour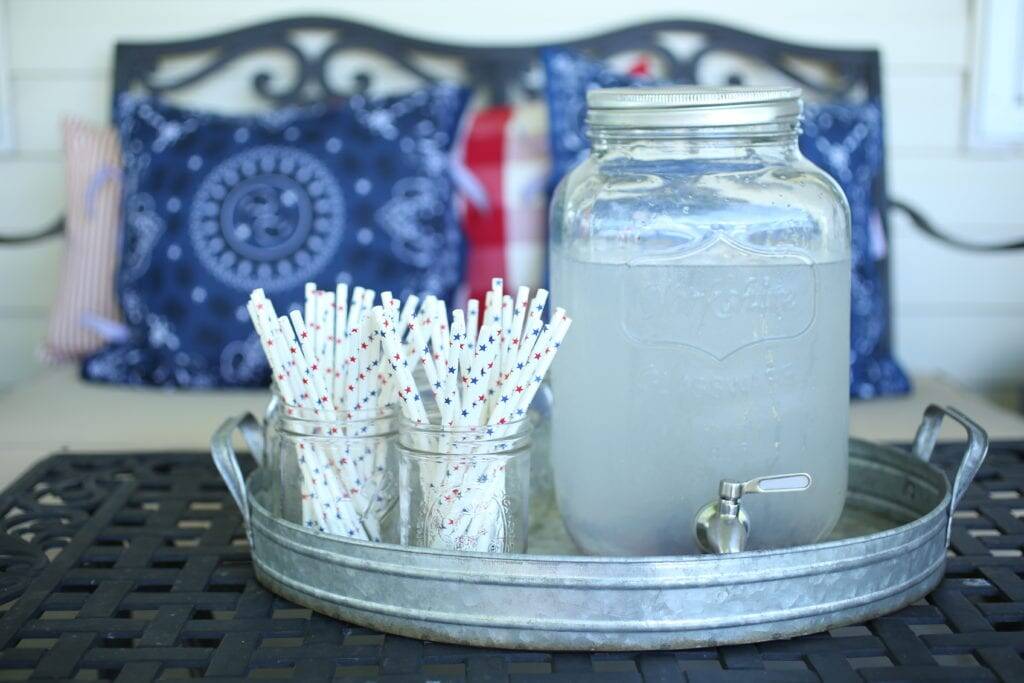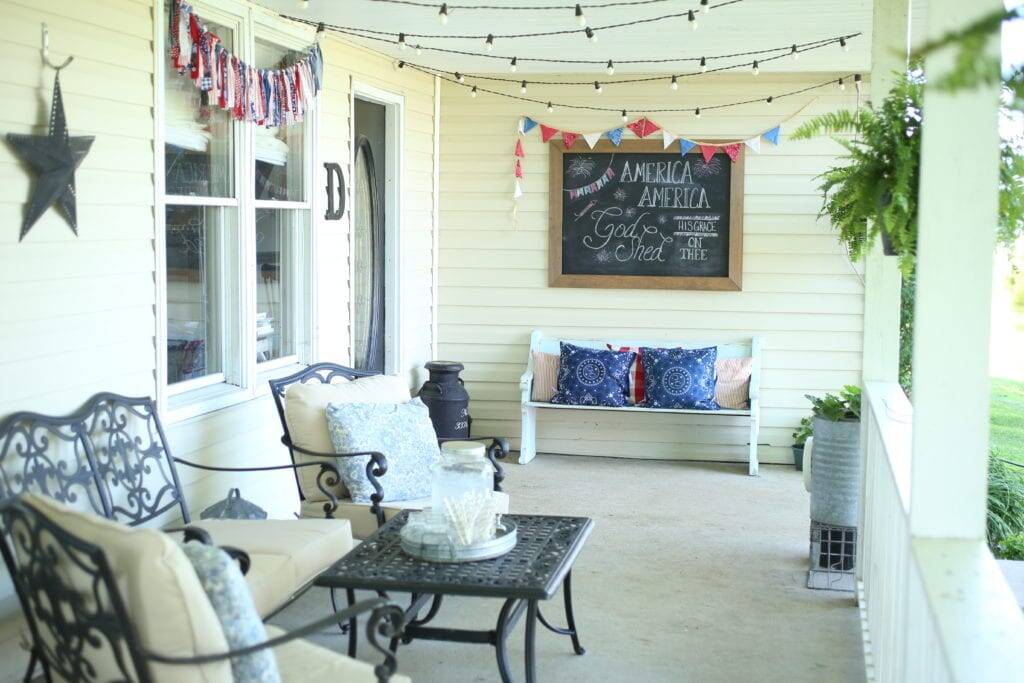 In this post I show you my front porch all decked out for Summer. I also show you how to make some super simple patriotic handkerchief pillow covers. This post contains affiliate links.
Summer might be my favorite season to decorate for. I just love a patriotic theme. Maybe because we always have a party for Independence Day. Perhaps it's because there's more time for decorating in the Summer. Either way I don't think your patriotic theme has to be just for July. It can carry you all the way to Fall. Lets look at the porch with these patriotic handkerchief pillow covers!
Our Porch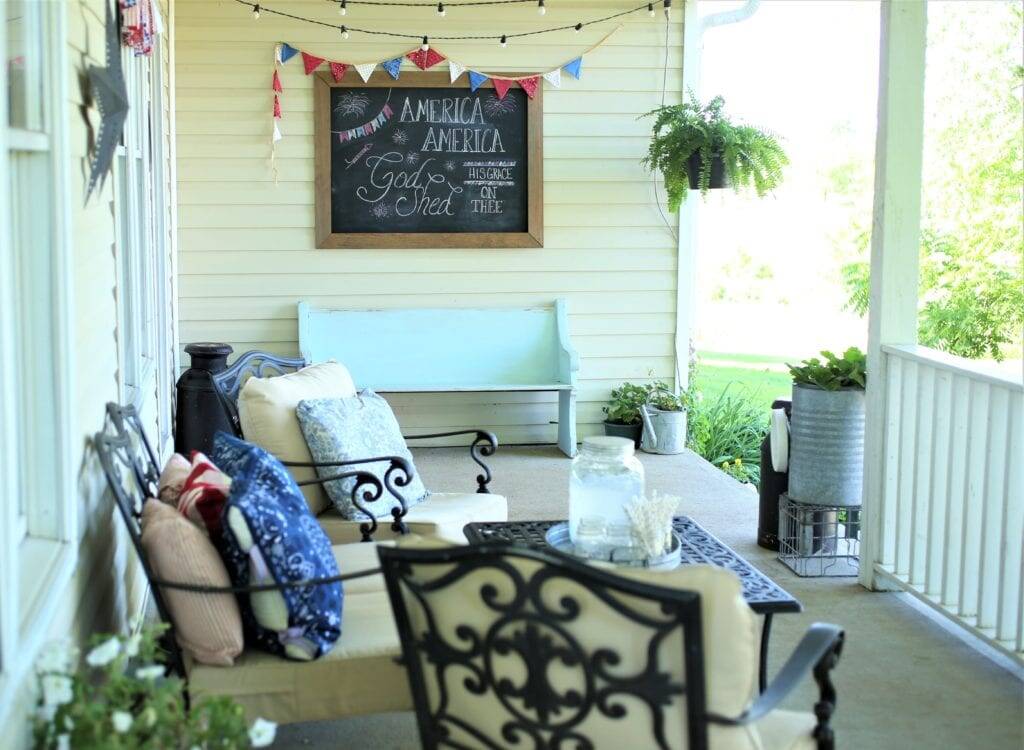 This is our front porch, I introduced you to the porch in this post on ferns. You know that I love my front porch. I love it over storage space or closets. It is one of my favorite places to sit and chat with my husband on the weekends. It also makes our house feel way bigger than it really is. It's like a bonus room…during some seasons anyway.
Use What you Have Decor
My go to for décor is buntings, pillows and chalkboards. So easy to change out for the seasons and it costs little or nothing to update.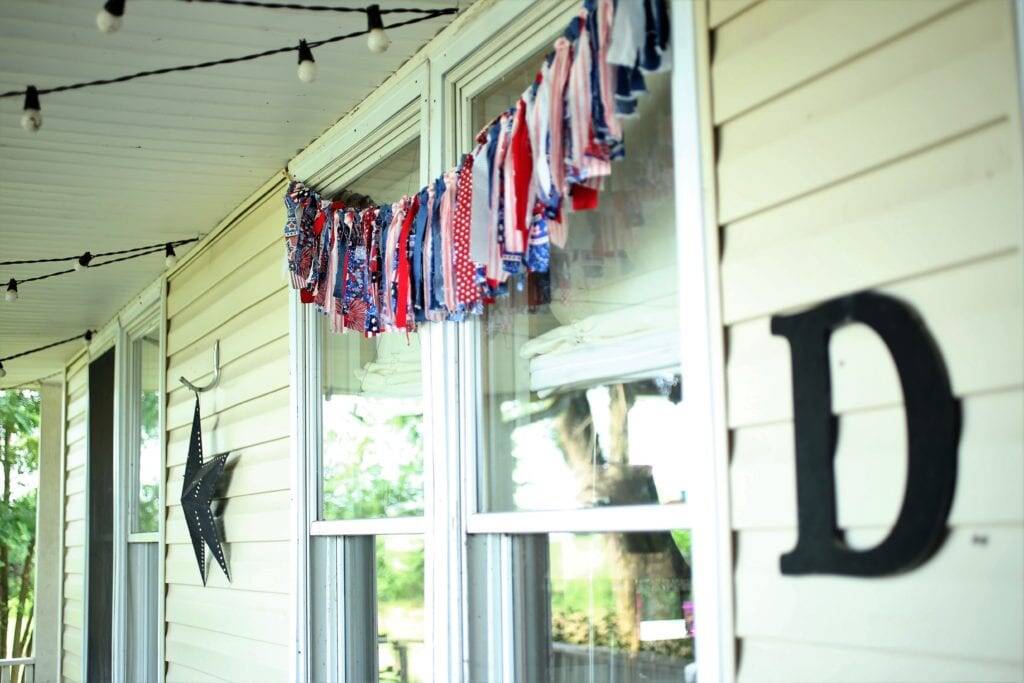 For the buntings I used scraps of fabric from various projects. When I was younger and more ambitious…and had less daughters. I would always sew little Fourth of July outfits for my girls. I would make skirts and then embellish little t-shirts with applique. This left me with a lot of patriotic fabric scraps. These tie bunting are so easy to make and use up lots of scraps quickly. Denim fits in nicely with the red white and blue as well! Just cut your scraps into long strips mine are around 20″ and tie them to a piece of twine. I have had this one for three years.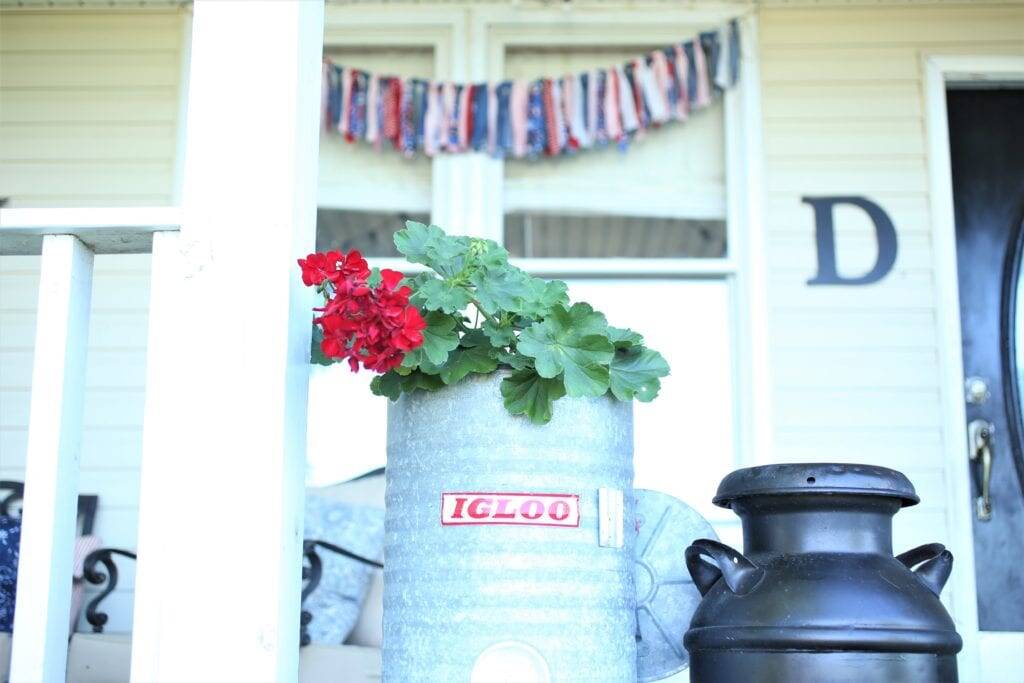 The triangle buntings are a little more time consuming, but they hold up for years and years. These are just sewn to a piece of burlap ribbon.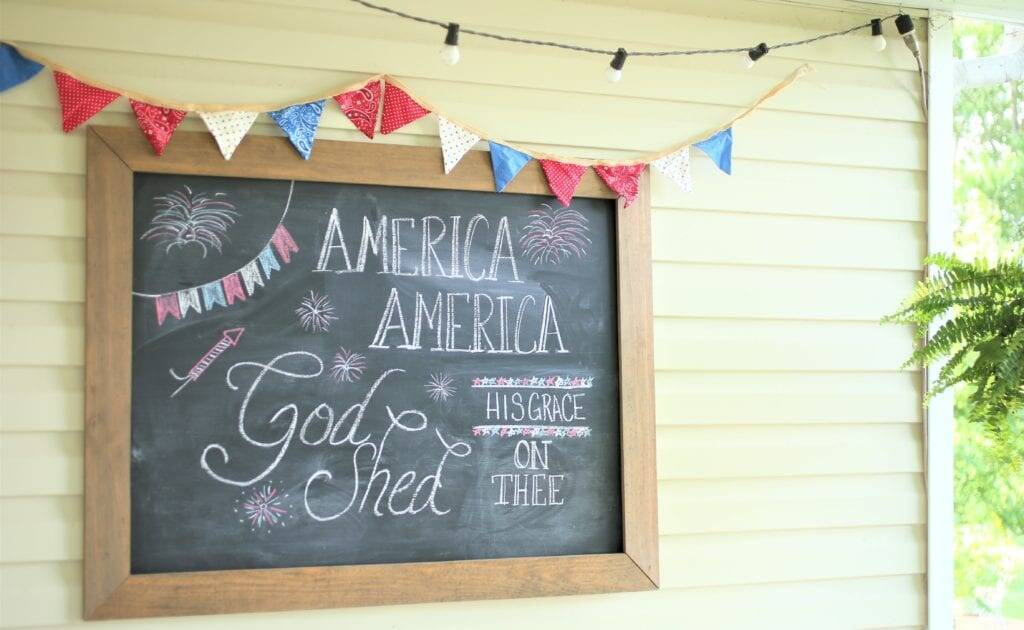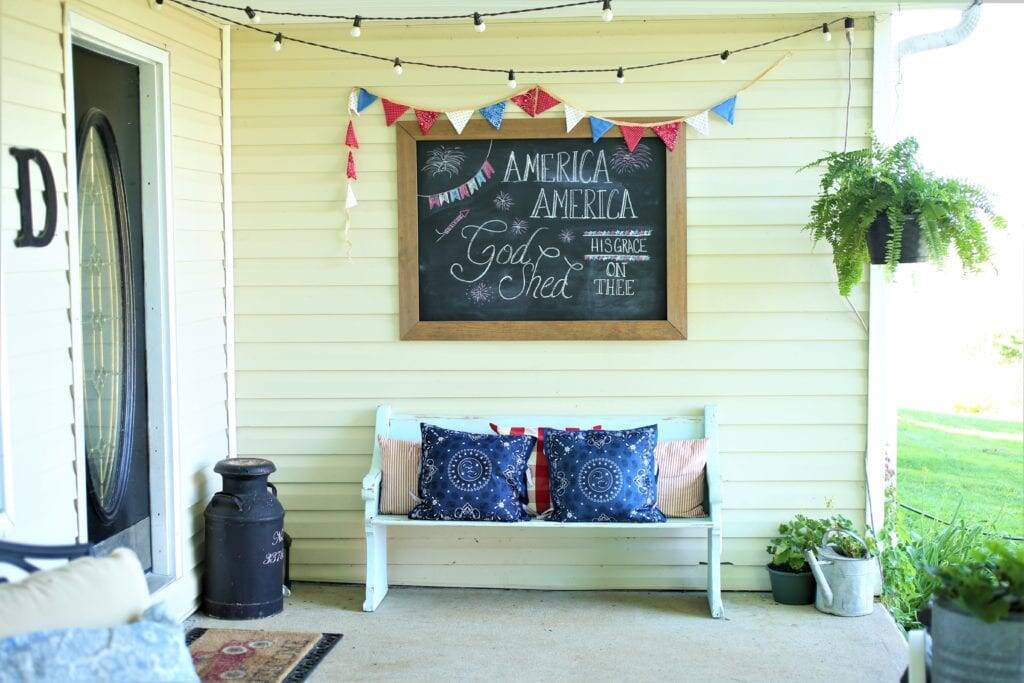 The Chalkboard was made from plywood and Chalkboard paint. My husband built the frame from pine boards. I cover the front with plexiglass so that the chalk doesn't get washed away in some of our crazy thunderstorms.
Make Some New Patriotic Handkerchief Pillows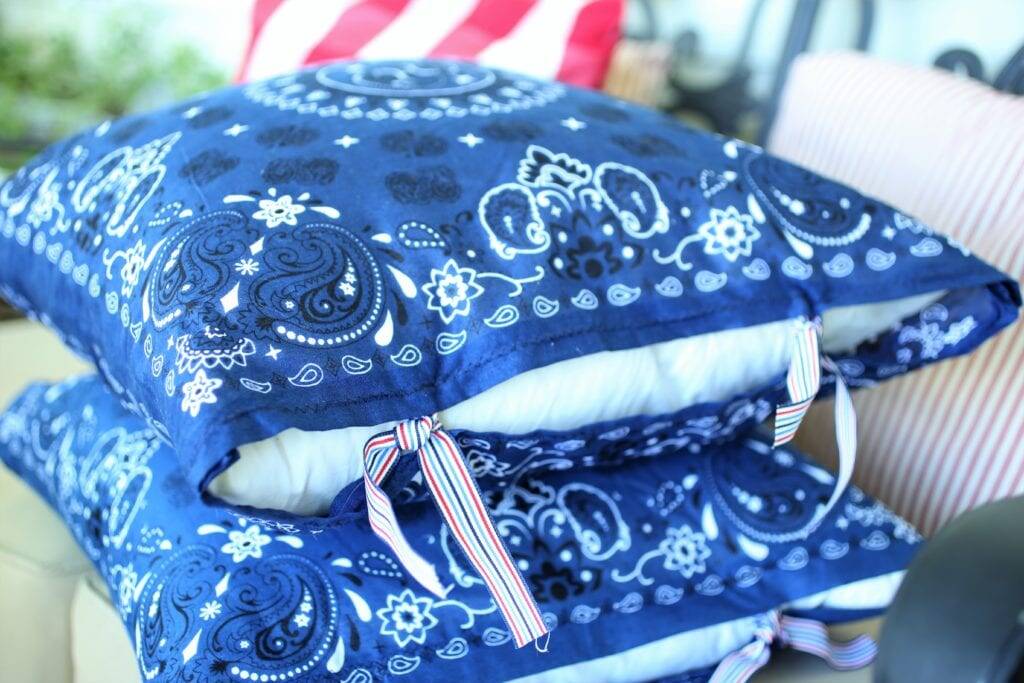 These little patriotic handkerchief pillow covers were so easy to make, and they cost about $2 each. If you can sew a straight line you can make these pillow covers. Even if you can't sew, fabric glue would work just fine too!
For the inserts I used the Ikea 20×20 feather inserts. It seriously took 20 minutes to make. Do you want to make some? Here's how…
Materials
2 handkerchiefs or 2 squares of fabric
a roll of ribbon
a pillow insert
To Start….Iron your fabric
Am I the only one that gets irritated and wants to skip this step? However, it is so important and really makes your finished project look neater and more professional.
Measure your handkerchief against your pillow insert
My handkerchief was a bit bigger than my insert, so I ironed a 1″ fold on each side and also allowed for a 1″ seam allowance. You just want the cover to fit snug to the pillow insert.
Stitch the sides that will be open
After ironing your fold, stitch along it. I used a zig-zag stitch because I think it looks cute. A straight stitch or fabric glue is just fine too!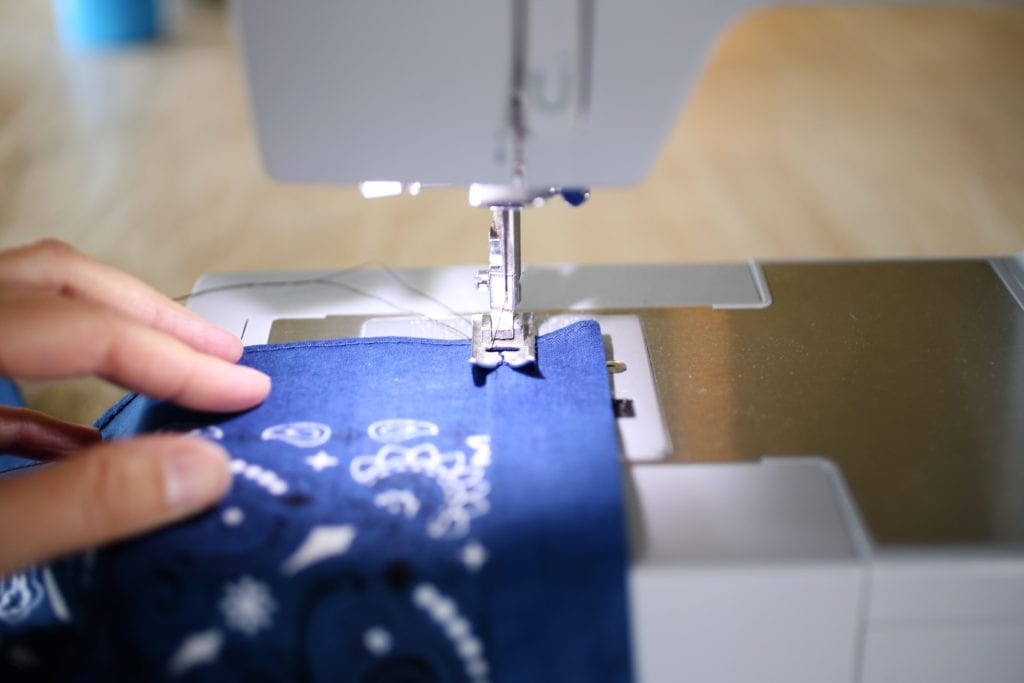 Cut and attach ribbons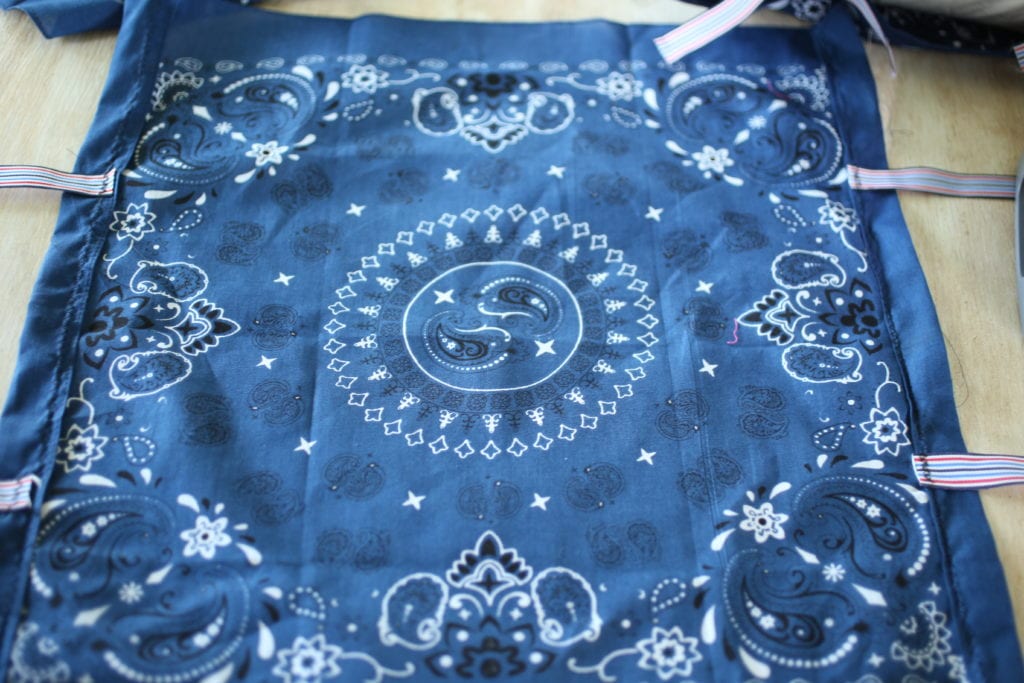 Cut your ribbons to 7″ lengths. You will need 8 strips of ribbon for each pillow. Stitch them to the open sides of the handkerchief. I just counted down little paisley marks to make them even. Treat the end of your ribbon with a little fray block.
Next place your right sides together
Placing your right sides together, stitch along the top and the bottom sides.
Put your pillow in and enjoy.
Don't forget the other tedious job of cutting off all the stray strings. Tie up the sides and enjoy your new patriotic pillow covers!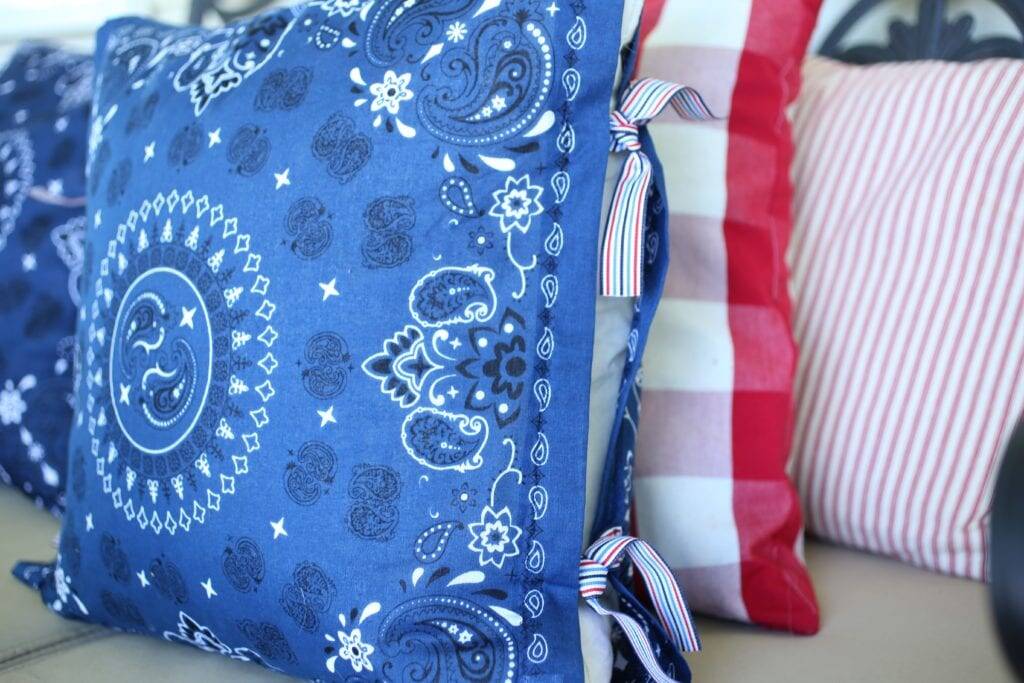 An Evening View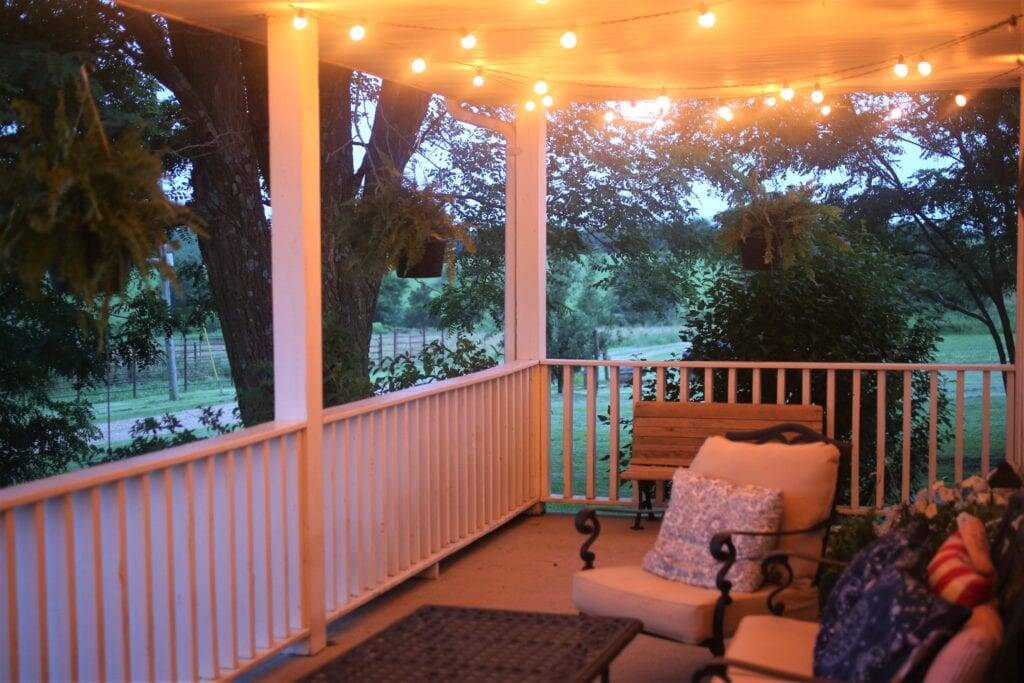 Thank you for stopping by!
Thank you so much for spending your time here at The Everyday Farmhouse! I truly appreciate you stopping by and checking out what we are doing here! I fully understand that your time is valuable and you could do any number of things with it! Thank you for choosing to spend some of it here!
Pin for Later!
Helpful tools and supplies
I used to despise sewing, I really think it was because I always had a used hand-me-down machines. I bought this machine a few years ago for my girls for Christmas. It has made all the difference in our sewing experience. It is so affordable and it really does a good job!