Propagating Lavender from Cuttings | Two Ways In Soil and in Water
Propagating lavender from cuttings is simpler than you might think. You can propagate lavender in two different ways.
This post contains affiliate links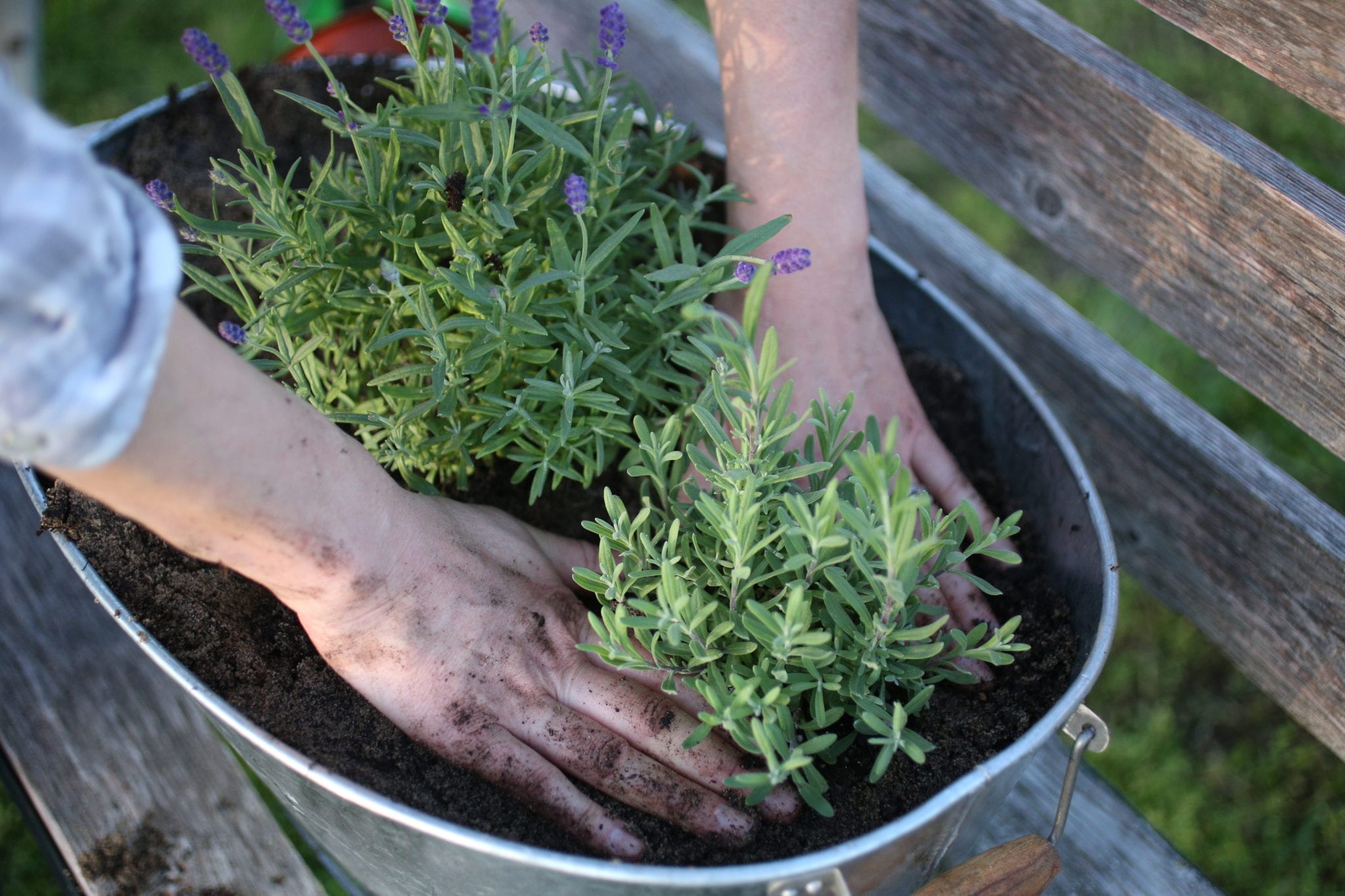 Choosing the Type of Lavender to Propagate and Grow
You can propagate any type of lavender. It is best to choose a variety that is suitable for your climate and zone. Nearly all varieties enjoy loose, gravely, or sandy soil. They don't love to be overwatered and prefer a dry climate.
As a rule, lavender loves sun and heat. Most varieties need at least 6 hours of full sun every day, 8 hours is really best. Lavender likes dry conditions, with sandy soil.
Here are a few different varieties of lavender and where they grow best. There are three main varieties and a hybrid. French, English, and Spanish are the main varieties and the English hybrid Lavandin.
English Lavender
Flowers in June and continues to flower for about a month
English lavender is cold-hardy to up to zone 5
Can live for up to 15 years in the right climate
Hidcote which is what is pictured above has a sweet aroma
Usually smaller in size growing to around 20-24″ tall and wide
Prefers mildly acidic soil can live at pH 6.5, thrives around pH 8
Spanish Lavender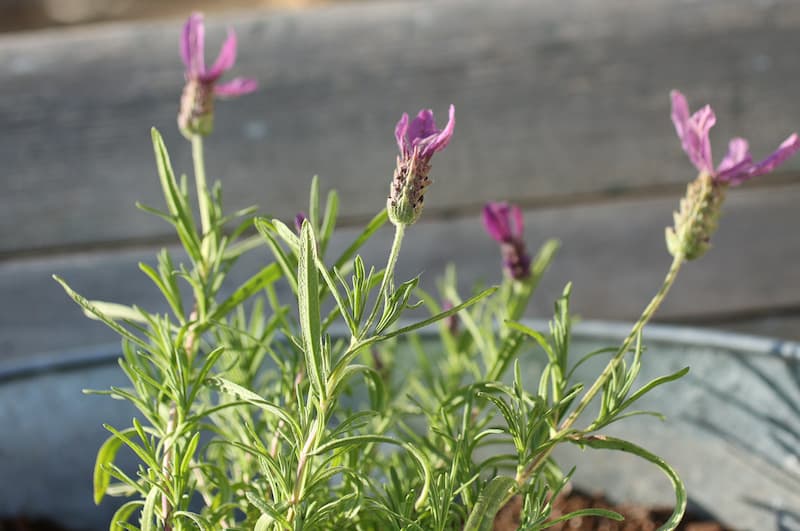 More of a pinkish hue to the flowers
Flowers are unique in their shape and the lovely flower on top
Grows 18-36″ tall
Hardy to zones 8a-9b
Deer resistant but may be toxic to animals
Spanish lavender tolerates heat very well as it is from the Mediterranean region
French Lavender
Unfortunately, I don't have my own photo of French Lavender, you can see what it looks like here. I know I have grown it in the past but don't have a photo. The main difference that helps me to identify the French variety is the leaves, they are notched rather than smooth like the ones above.
Begins flowering in earlier Spring and will flower until late summer in the right climate
Hardy only to zones 7-9
Prefers alkaline soil
Not as fragrant as English, more subtle fragrance
Lives around 5 years or so
Grows to about 30″ tall
Benefits of Propagating Lavender from Cuttings
Cost-effectiveness is one of the main reasons that I propagate anything! Plants like lavender and hydrangeas can be expensive to purchase. If you can learn to propagate them from a plant that you already have, you can get several plants from one purchase!
Lavender is very tricky to get going from seed. If you choose to buy a small potted lavender plant, you can then propagate several new plants from that and not only save money but you can make sure that you are growing the perfect variety for your zone!
Growing Lavender From Cuttings
This may be one of the easiest plants to propagate and growing lavender from cuttings doesn't require any special skills!
Step 1: Prepare a Pot and Soil
You will want a 3.5 to 4″ pot for starting your cutting. This gives plenty of room for the roots to form. I washed and reused a pot that I had from a purchased plant.
Fill your pot with a nice starter soil mix or make one yourself with peat moss and enriched soil.
Step 2: Take a cutting
For this post example, I actually took my cuttings from a very young lavender plant that I had just purchased. It had excellent roots by 2 weeks. I have found that young tender cuttings that are not woody do best. It is also best to take a cutting from a stem that has not flowered as it will have not yet spent it's energy on flowering and put that into growing roots.
Pick all of the leaves off of the bottom inch and a half or so of the cutting.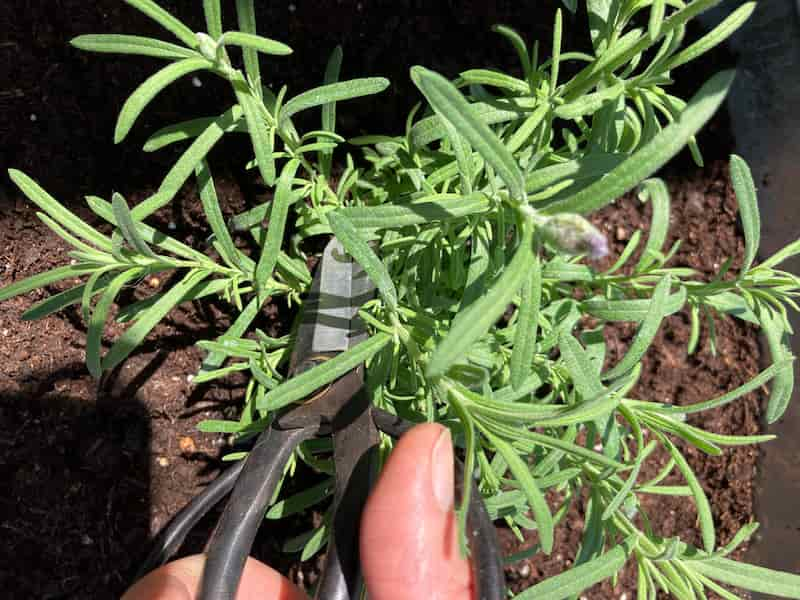 Bonsai clippers are so nice for taking cuttings.
Step 3: Dip in Rooting Hormone
This stuff is inexpensive and pretty much ensures success! I have been so pleased with the results of using this to root lavender. If you don't have rooting hormone or don't wish to use it, you can certainly try to root your cutting without it.
Simply dip the stripped stem in water and then in the rooting hormone.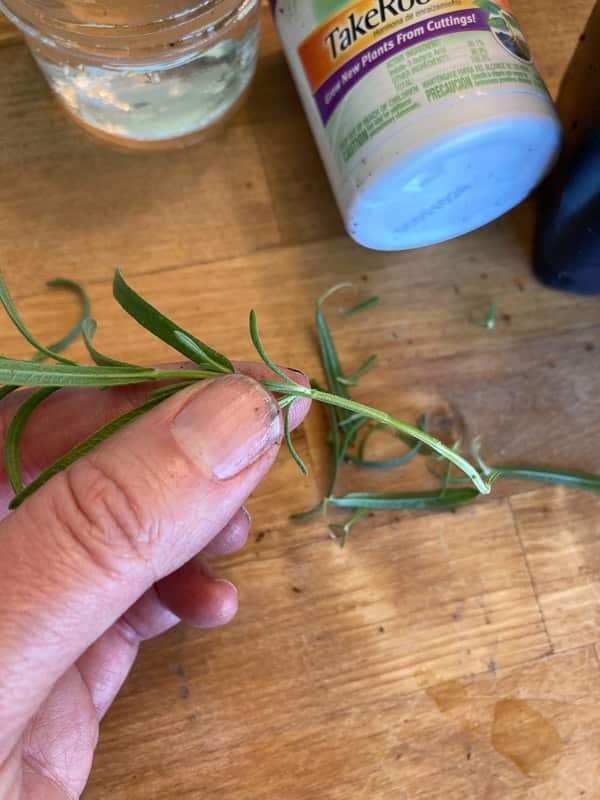 Step 4: Place in Soil
Stick a pencil or your finger into the soil to make a nice hole for the stem, that way the rooting hormone doesn't wipe off. Pack the soil gently around the stem, give it a bit of water, and set it in a warmish sunny spot.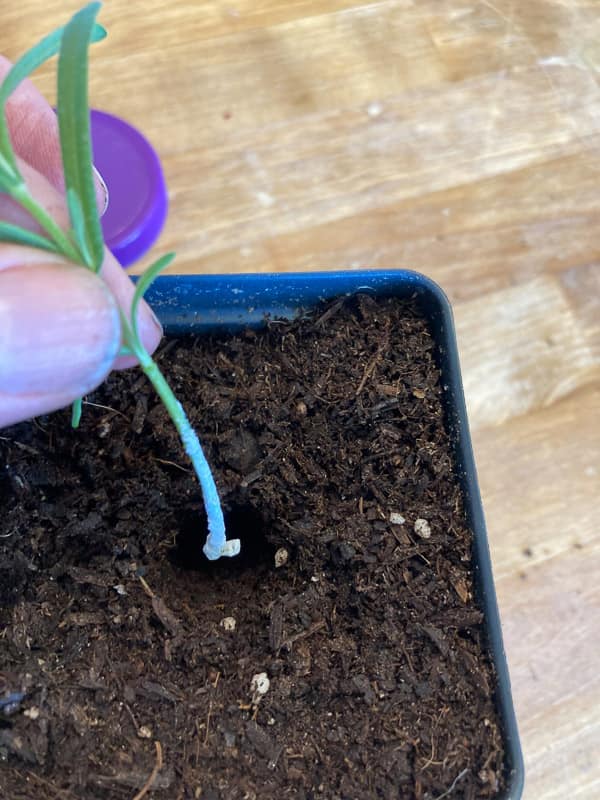 Step 5: Check for Roots
You can check for roots by gently tugging at the plant, if you feel resistance, your plant has likely taken root! If you are like me and want to see those roots for yourself…or if you need to take pictures for a blog post, you can run a thin knife next to the plant and kind of pry it up without disturbing the roots.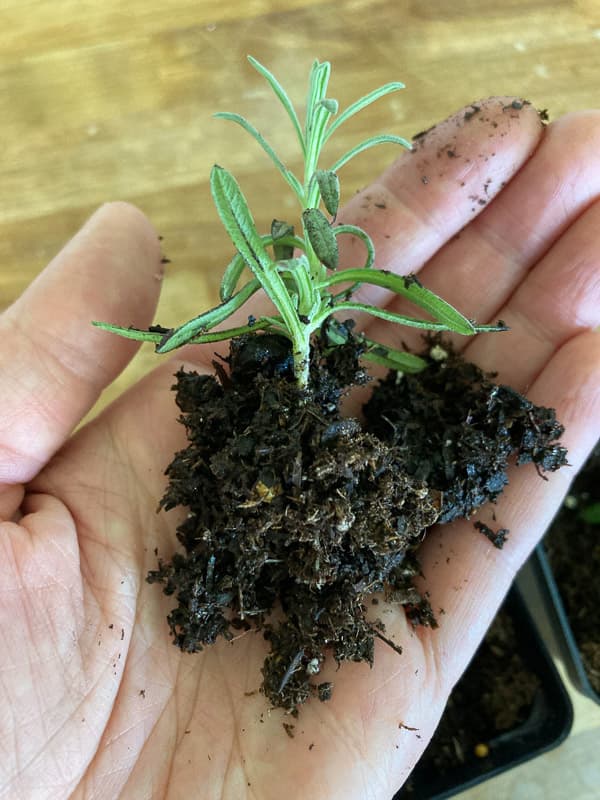 Planting Lavender Cuttings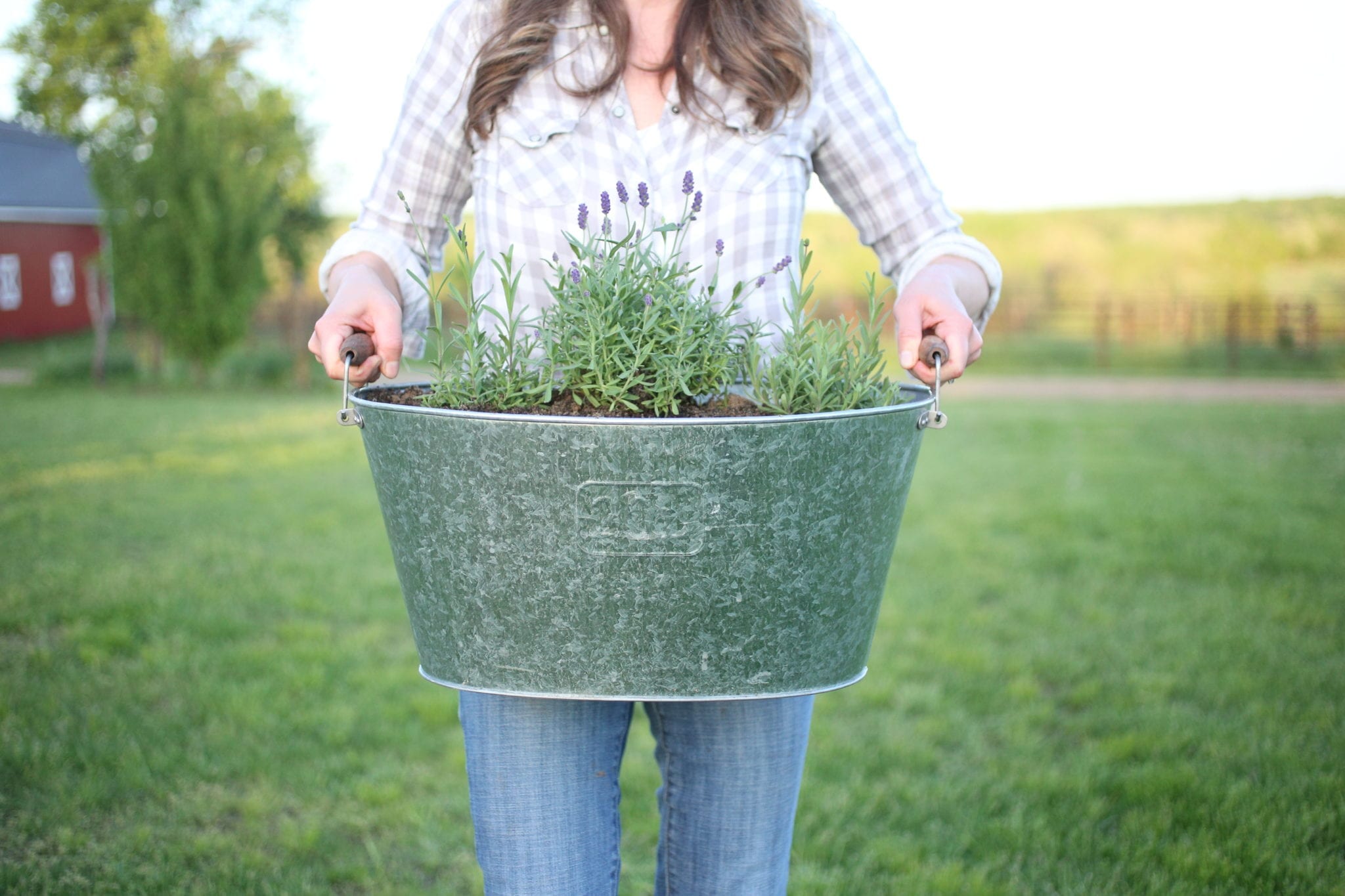 Here is a popular post on planting lavender in containers
The post above will tell you all you need to know about planting your lavender in a container. The rules are pretty much the same for planting it in the ground.
Above all well-draining soil is essential as lavender does not like wet roots. This helps to ensure hardiness through winter as well. Wet cold roots will rot over the winter. Amend the soil with sand or light gravel to keep it draining well.
Lavender enjoys full sun and tolerates heat well.
Do not overwater your lavender as this is detrimental to it
If you want your lavender to live through the winter and you are in a colder climate, make sure you are planting a cold-hardy variety. Planting it near the house and pruning it back to a small mound will help. However, don't cut back the woody parts, this does not regrow and is considered the least resilient part of the plant.
It is best to mulch with rock rather than a decaying material. Leaves and wood mulch will stay wet and decompose encouraging root rot.
Propagating Lavender in Water
Another method for propagating lavender is in water. For this method, the steps are similar, you can cut a nice stem that is green and has not yet flowered.
Pick off the leaves from the bottom two inches. Place in a jar or vase where the bottom two inches can be submerged in water but the leaves should stay out of the water otherwise they will just turn black from rot.
Leave the stem in the water until you can see roots forming. This could take anywhere from 2-6 weeks. Make sure you replace any water that evaporates.
This method has not been as reliable for me. I have had much quicker success with propagation in soil. However, if you have a nice healthy lavender plant, why not give both methods a try and see what works best for you!
Love Lavender? Me too! Check out these posts!
Lavender Linen or Room Spray | Simple and Fresh
Homemade Lavender Simple Syrup
Fresh Lavender Lemonade Recipe | Refreshing Summer Drink
DIY Lavender Sachet | Great Beginner Sewing Project
Planting Lavender in Containers
Great Pots for Planting Lavender