How to Create the Best Large Flower Pots
Creating a stunning flower arrangement in a large pot takes a bit of planning. However, you can create the best large flower pots with a few tips!
This post contains affiliate links.
Stunning Large Flower Pots
I have always admired large flower pots full of a variety of different flowers spilling over the edges and making a big impact. However, in the past, I had just taken the easy road and filled my pots with impatiens or petunias and went on down the road. I wasn't sure what the secret was to growing different varieties in the same pot without things looking disorderly or crowded.
Plus, who has time to research all of the different varieties of flowers and learn what their needs are? Well, it turns out, I had time! You can turn anything into a homeschool lesson, so we decided to learn about container plants and make some large planters out of old washtubs!
Be creative when you look for a container for your flowers! I love old and rusty and beat-up containers…weird maybe, but the contrast of beat-up and beautiful mixed together speaks to me! I love using old watering cans, an igloo cooler, tea kettles, chicken feeders. Look for any old cast-off thing and turn it into something beautiful! If you don't have an old washtub, you can buy new ones here.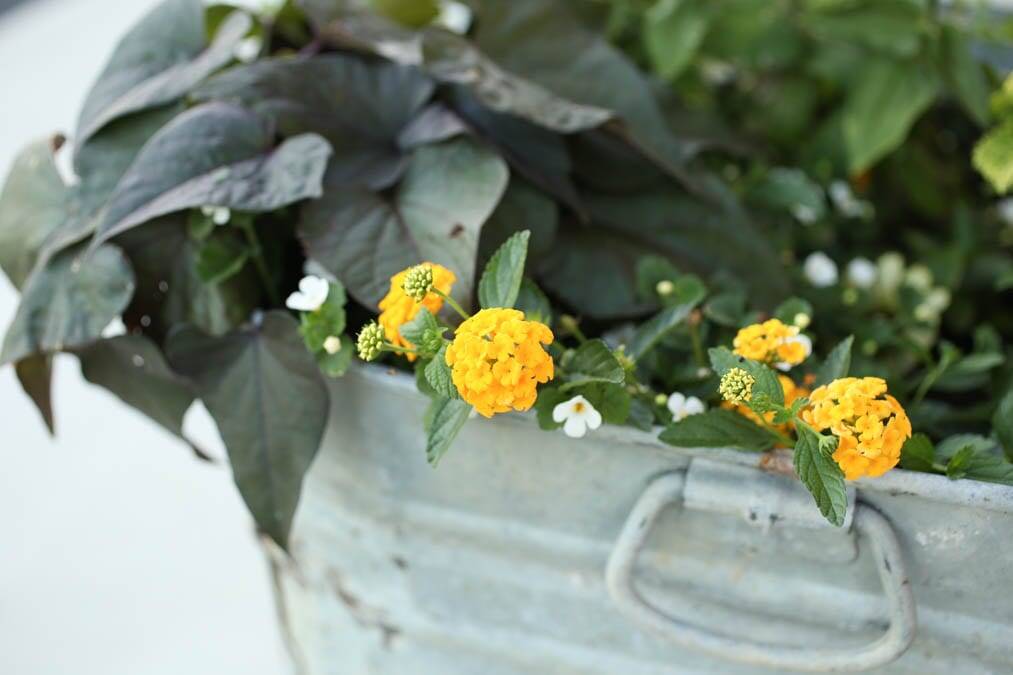 The Thriller, Filler Spiller Formula to Create the Best Flower Pots
This year I decided to put my finger on the formula. With just a little research I have found the secret. It's called Thriller, Filler, Spiller. The idea is that you take a plant or two with a big impact and put it at the center. Next, you place a few filler plants in there. Lastly, you fill in the edges with some spillers. Sounds pretty easy right? Well, it is! If you are placing your plant in an area where it can be seen from all sides then put your thriller in the middle. If you are doing it like I did where it is up against a wall or building, place your thriller towards the center back.
Ideally, the thriller should grow to be about double the height of the container. Mine clearly do not at this point, they may in another few weeks.
After our research, and a visit to or two to our local nurseries, here are a few plants that will give you stunning large flower pots!
You will notice that some plants like Coleus do well in sun or shade and also work well as a filler or a thriller. While Thriller, Filler, Spiller is an outline, it is not a hard-fast system. There is plenty of room for creativity and interpretation of what is a filler, thriller, or spiller!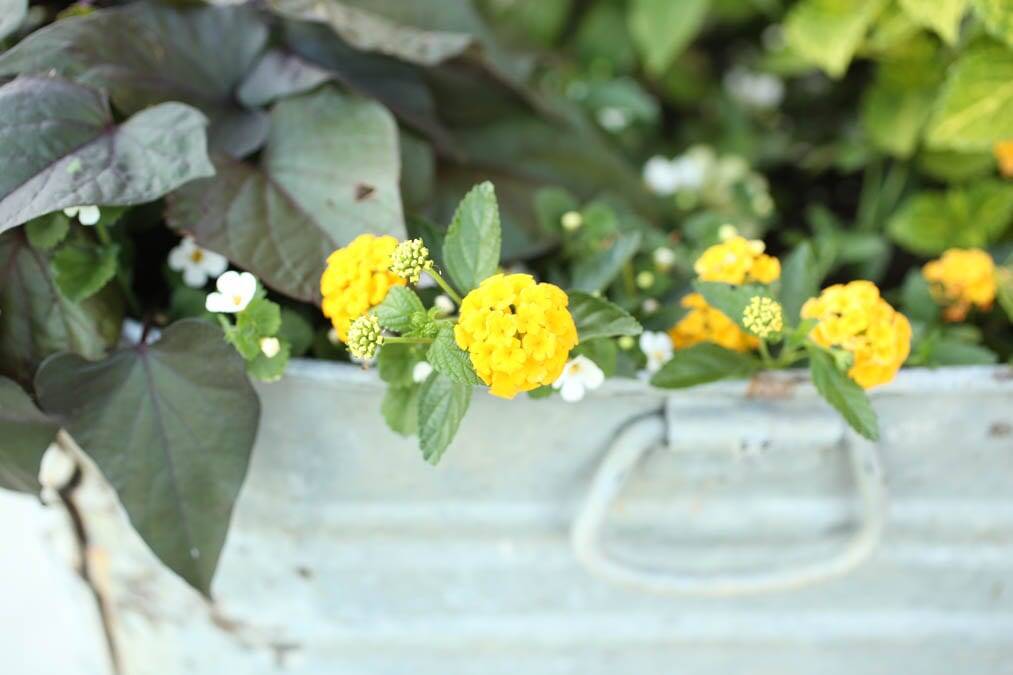 Create Your Own Annual Flower Pots and Save Money
While it may be tempting to walk into your garden center and purchase a premade pot, those can be really pricey. If you don't love gardening, then it may be worth it to you. However, it really isn't difficult to put plants in soil, it may be worth it to give it a try!
I spied a beautiful pot at our local nursery, the price was $40! Yikes, $40 for one pot of annuals seemed steep! Instead, I decided to create my own flower pot. As far as the cost, I spent around $35 and got enough plants to fill four pots! Granted, I had the washtubs on hand, so I didn't need to purchase any pots.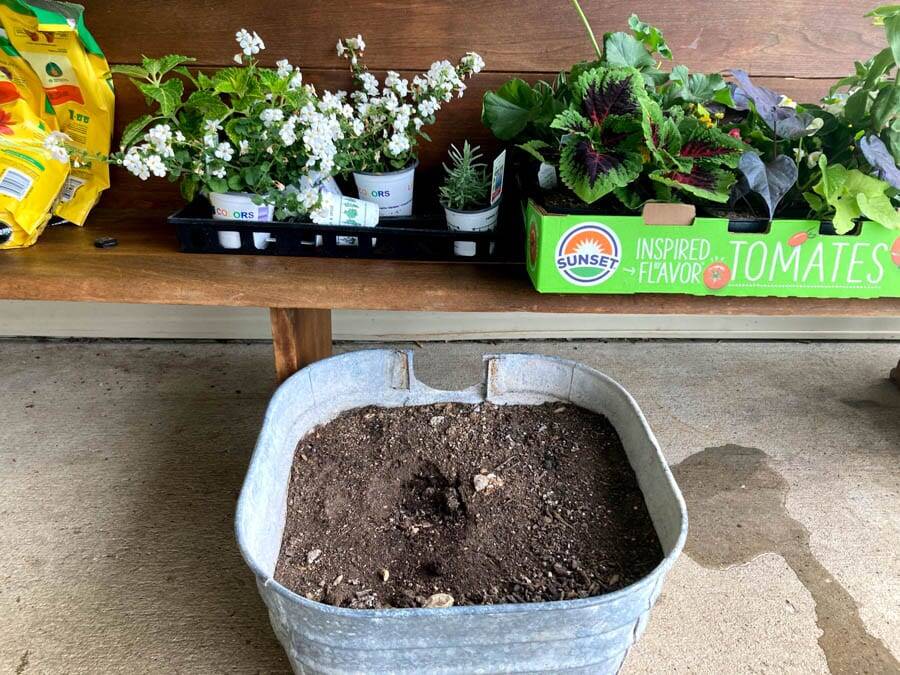 Another money-saving tip, I used old soil from last year in the bottom of the pots and then just topped them off, about 2/3 with fresh new soil. Fresh soil and fertilizer are very important for container plants.
Choosing Colors for Interesting Flower Pots
I chose to stick with yellows and greens. Knowing that these pots would be near the red barn, and I also knew I would have red geraniums near them, I didn't want too many colors. I really wanted a simple color palette. So I chose white, light yellow, mustard yellow, and bright yellow flowers. I also chose a variety of green shades for the foliage.
This is your flower pot, so choose what makes you smile!
Tips for Planting the Flowers in Your Container
The first tip is lay it all out in your pot before you remove the plants from their containers.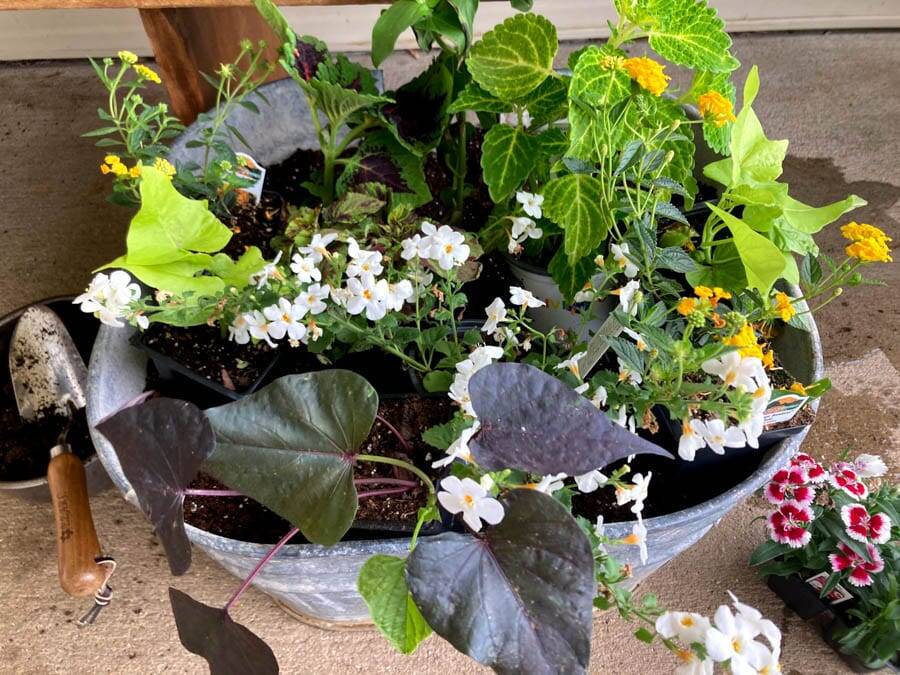 Start with your Thriller, and then work adding in plants from there.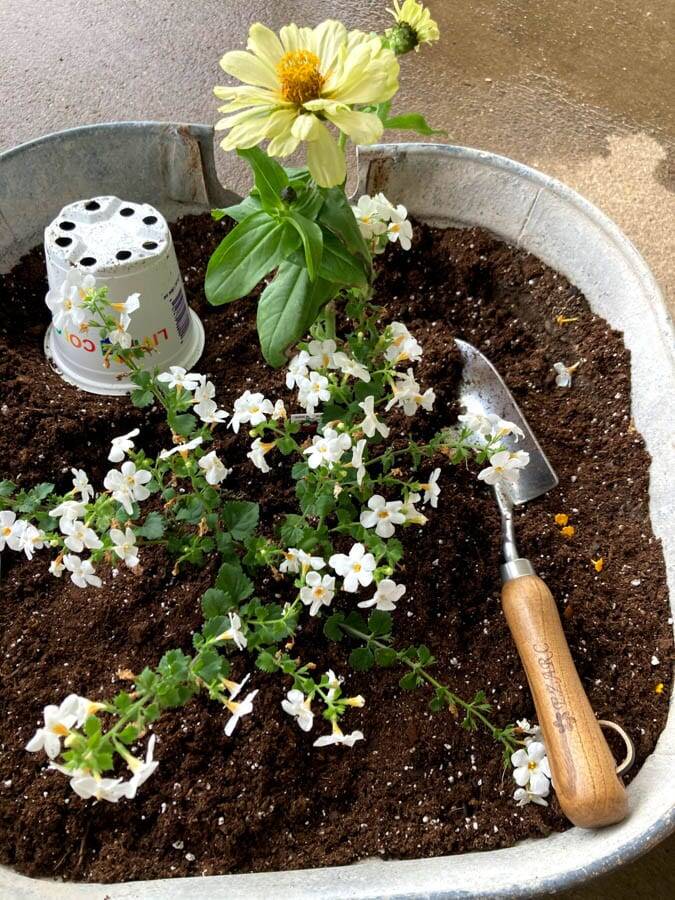 Next Tip: Put a lot of plants in the container for a full stunning arrangement, but don't overcrowd. Leave some room for the plants to grow and multiply!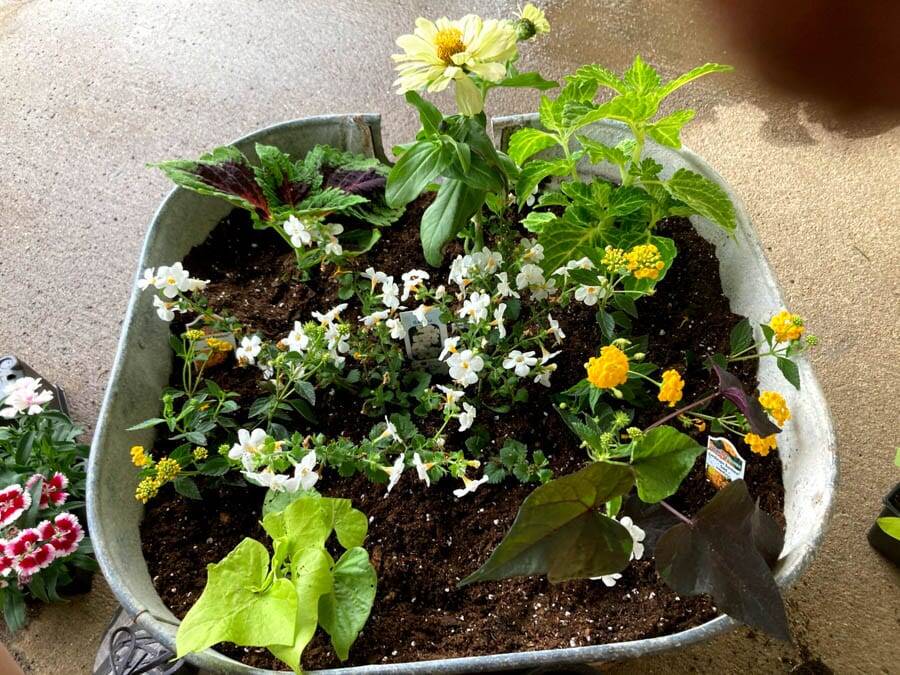 This is what the tub looked like when I first planted it. After just a month of growth, it looks like this!
Great Choices for Thriller Plants Full or Part Sun
Zinnias- we have always just planted zinnias in the ground, but it turns out zinnias make a great center focal flower in containers!
Bracteantha (Strawflower)
Coleus- there are several lovely varieties of this plant
Cannas
Geranium
Grasses like fountain grass
Chinese Fan Palm
Dracaena
Gerbera Daisy
Begonias
Great Choices for Thriller Plants Shade or Part Sun
Ferns
Snapdragon
Impatiens
Fuchsia
Coleus
Graptophyllum
Great Choices for Filler Plants Full Sun
Lantana
Herbs like rosemary, basil, oregano
Salvia
Coleus
Moss
Moss Rose (Portulaca)
Petunias
Vinca Vine
Cosmos
Great Choices for Filler Plants Shade or Part Sun
Pansies (depending on the season and your climate, these will wilt in the heat)
Begonia ( If you have free range chickens, avoid these, I have planted them twice, and my chickens have eaten them down to the soil both times, they must be very tasty to them!)
Salvia
Impatiens
Coleus
Great Choices for Spiller Plants Full Sun
Ivy
Sweet Potato Vine (not actual sweet potatoes, this is an ornamental vine)
Trailing Begonia
Creeping Jenny
Trailing Lantana
Asparagus Fern
Bacopa
Brachycome
Verbena
Trailing Rosemary
Great Choices for Spiller Plants Shade or Part Sun
Asparagus Fern
Bolivian Jew (wandering Jew)
Ivy
Lobella
Wave Torenia
Vinca Vine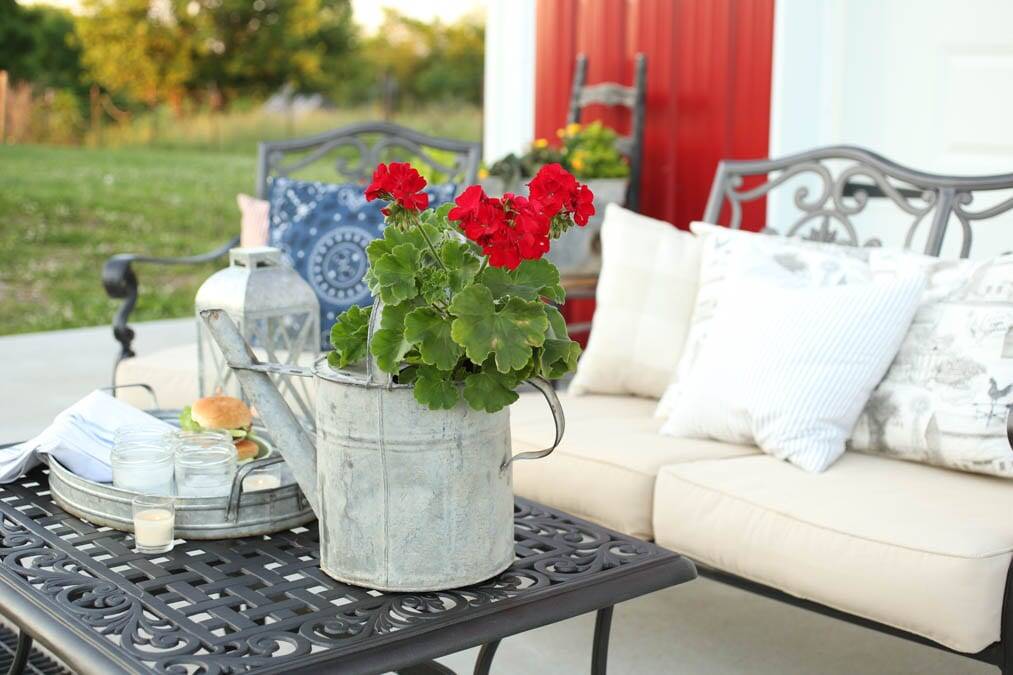 What Plants Do You Love for Creating the Best Planters?
Please share in the comments, and whether they love shade or sun and I will add them to the lists!
Want to learn about planting lavender in containers or caring for Boston ferns? You can find those posts here and here.
Pin and Share!