Homemade Fly Repellant Spray for Livestock
Homemade fly repellant spray for livestock is easy to make and can make your animals a little more comfortable.
This post contains affilate links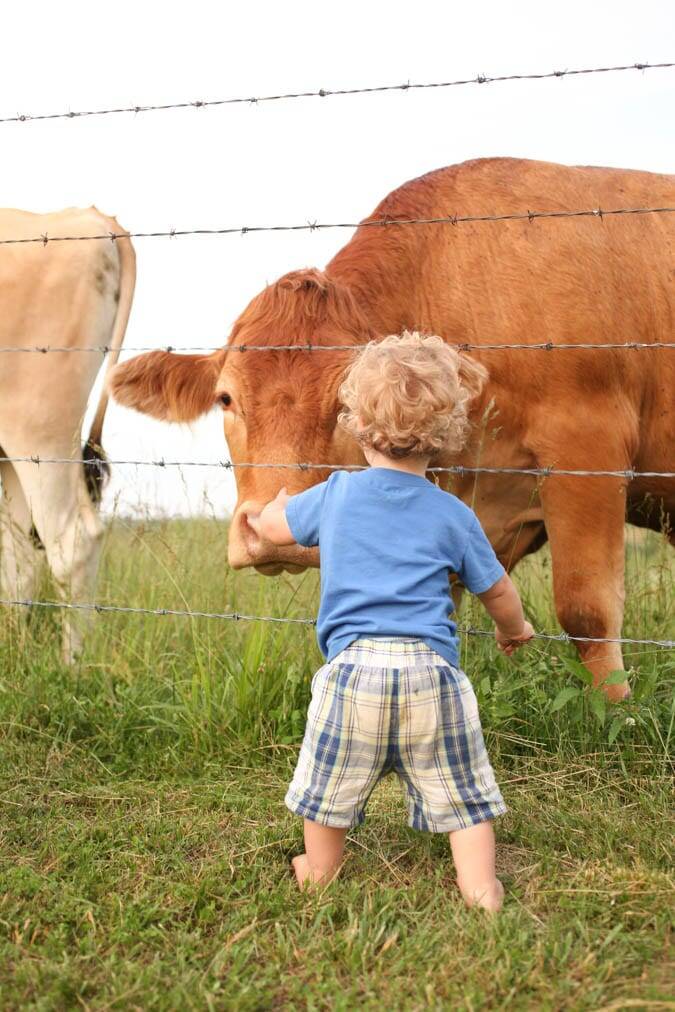 Avoid Assault By Cow Tail
Ok, let's be honest. The worst part of milking a cow is getting whacked in the face with her tail. If there is one thing that can make me lose my religion it's an early morning smack in the face with a poopy cow tail. Keeping it real here. It is maddening!
While there may be mornings where I think my dear Penelope is just in a foul mood and taking it out on me, the truth is, she's just swatting away flies. She is using her God-given fly swatter. Nice for her, not so nice for me.
Why Make Your Own Fly Spray?
Well, to keep away flies of course! Ha! I'm feeling rather funny today! But seriously, what's wrong with commercial fly sprays? They have toxic ingredients that's all. I mean it's really unfortunate that they aren't good for you because they sure do work well! I think most of us with cattle have purchased a commercial fly spray in the past. If you have, you know that they work! However, you are consuming the milk that comes from the cow. If you are that committed to your family's health, I mean committed enough to daily milk a cow then likely you don't want to taint that pure goodness with pesticides!
What Ingredients Do You Need For Homemade Fly Repellant?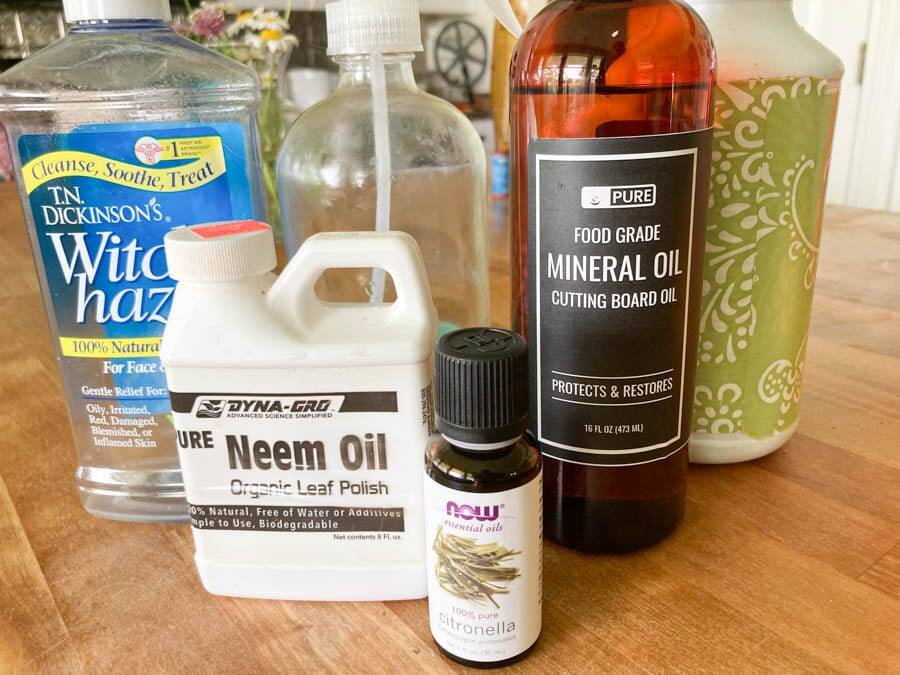 I have tried numerous homemade fly sprays. Most recipes are fairly similar. Some sort of vinegar, either white or apple cider, some dishsoap, water and a few essential oils. For the most part, those ingredients will get the job done. A spray made with those ingredients will work for about 30 minutes, but it seems that once it's dry, the flies are right back on.
I have found three key ingredients for homemade fly spray that really works. Neem oil, witch hazel, mineral oil, and citronella essential oil. I'll give you a few reasons for why I choose these ingredients.
Neem oil has been revolutionary for our farm. I use neem oil in my homemade garden spray. The recipe for that is coming up in our next Homestead Living Ebook. It's due out towards the end of this month, so stay tuned for that! Neem oil really works at killing insects. It works on like 100 different species too! Flies being one of them! The insect does need to come in contact with the neem oil for it to kill the bug!
Mineral oil acts as a sort of adhesive for the spray. It helps it to stick to your cow's coat.
I have used Cider Vinegar in all of my other attempts at fly spray. However, there are times when I wonder if the flies aren't attracted to the cider vinegar, I can't be certain on that though. Witch hazel seems to be a good base for the spray. I prefer it over the smell of vinegar anyway.
In the past, I have used lemongrass essential oil, and I think it works pretty well also. This time I decided to give citronella a try. It certainly smells stronger than the lemongrass. In addition to flies, our cow gets ticks every day! It is so bad! They just seem to love her! None of our other livestock seems burdened by ticks. I'm not sure if it's because she lactates and she smells more appealing? Whatever the reason, I really want to put a stop to it! I have read that adding Thyme oil to the Citronella helps as well. Lavender and Peppermint are also said to repel ticks.
I do think the citronella is working. She has had fewer ticks over the last week than she did previously. I am hoping that with continued use I will see a vast improvement. If you see ticks on your cow, you really should pull them off before they blow up and get disgusting. A cow that is infested with ticks can actually suffer health problems from infection or blood loss. Keeping your fields mowed down can help with ticks as well. I know that is way easier said than done!
Amounts to Make a 1 Qt Bottle of Fly Repellant Spray
2 Cups Witch Hazel or Vinegar, White or Apple Cider
2 TBS Neem Oil
1 TBS Dishsoap or Castile Soap
2 TBS Mineral Oil
30 Drops Citronella Oil
Feel free to add other essential oils like Thyme, Lemongrass, Lavender or Peppermint
Fill the rest of the bottle with water, approximately 2 cups
Directions for Using Homemade Fly Spray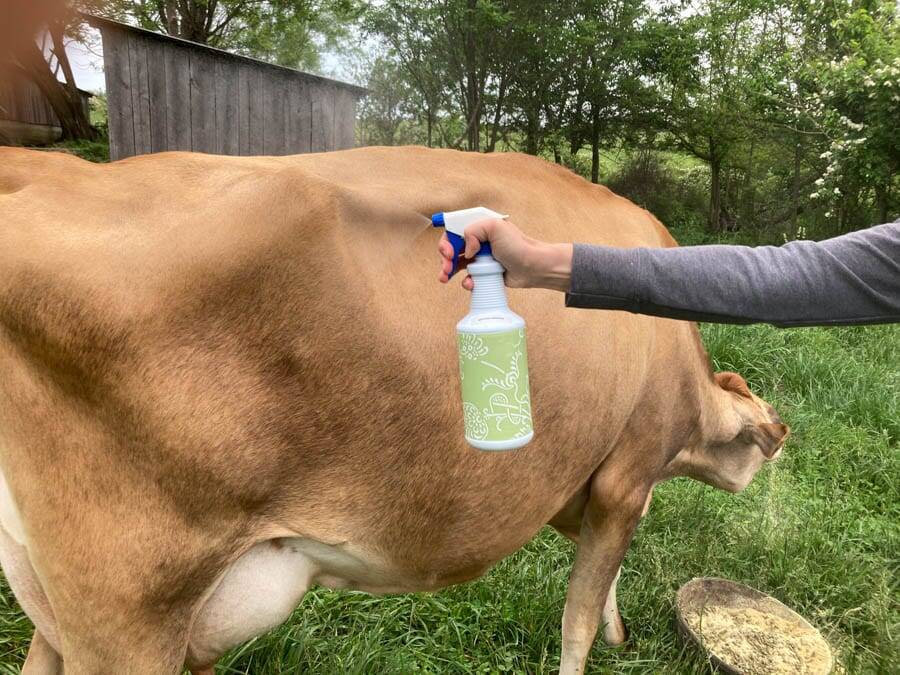 As stated before, this will not repel flies or ticks the way a commercial spray with a strong pesticide would. You can expect about two hours of protection from a good thorough spraying. I mean really soak her with it. However, some flies on cattle are to be expected. Don't let this worry you. I usually spray only at milking time.
I was a city girl before we bought our farm. When I saw any amount of flies on our cattle I was up in arms thinking I had to do something to protect them. However, they have natural ways of knocking the flies off, such as with their tail, ears, or by shaking their whole body, like they send a shiver down their outer layer of skin. Have you ever seen one do that? It's pretty neat!
Managing Flies around the Homestead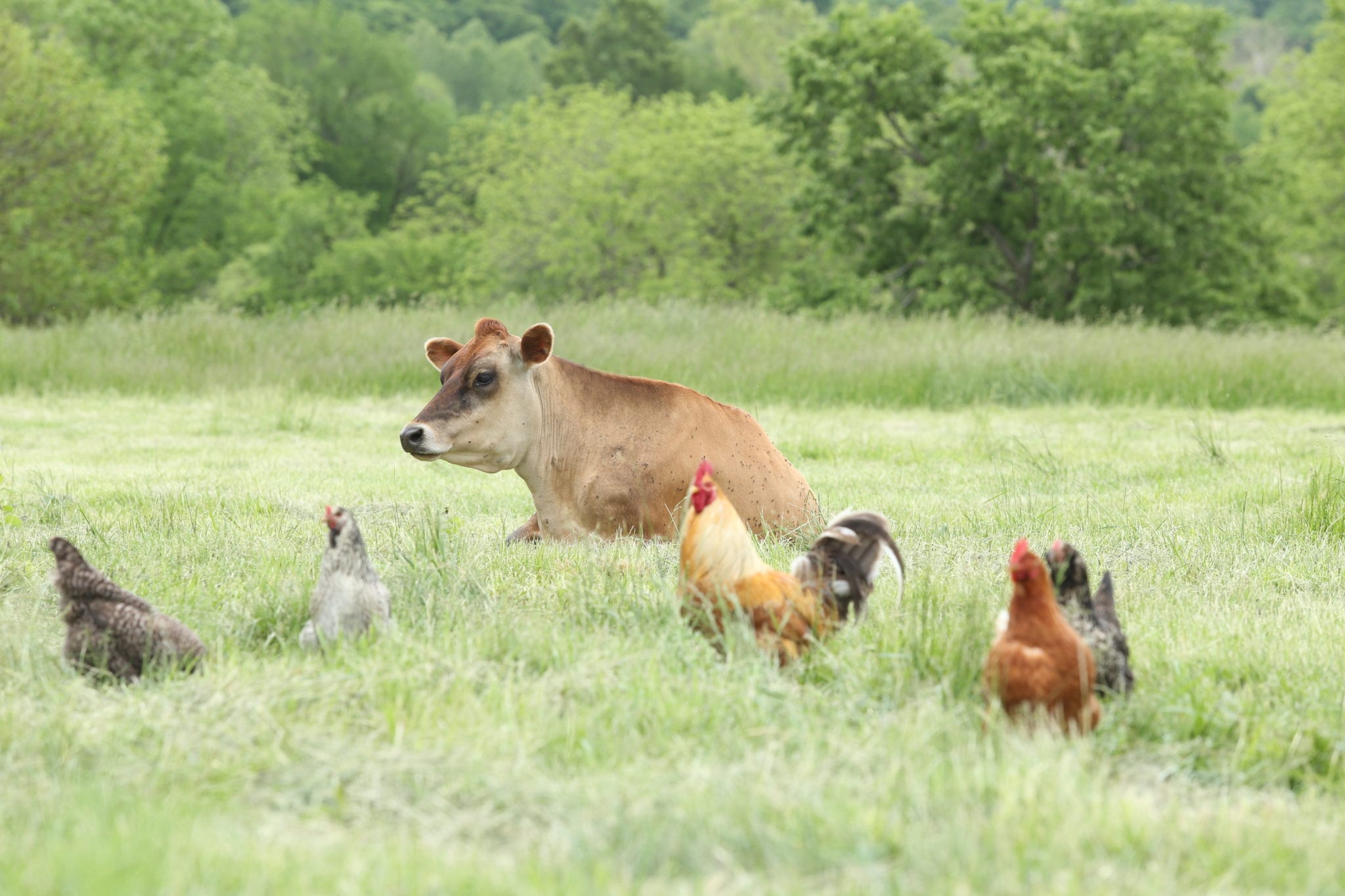 Another thing to remember is that flies are attracted to manure. The more cattle you have around, the more flies you will likely have. We are surrounded by cattle, all of our neighbors have cattle. This makes for lots of flies.
We do let our chickens free-range, so while they do scratch up cow patties and help by eating the larvae out of those (gross). They also drop their own poop all over the sidewalks and porch, attracting more flies near the house. So, it's kind of a catch 22! Hosing off the porch and sidewalks regularly does help. Also, teaching our children to shut the door when they go in and out is a step in the right direction too!
In the past, we have used Spalding Fly Predators. We did think that they made a difference, and now that we have pigs again, we may try them again this year. I'll let you know if we do and if we still think they help!
Any Questions about Homemade Fly Spray?
Check out my Shop for Homesteading and Homemaking Planners!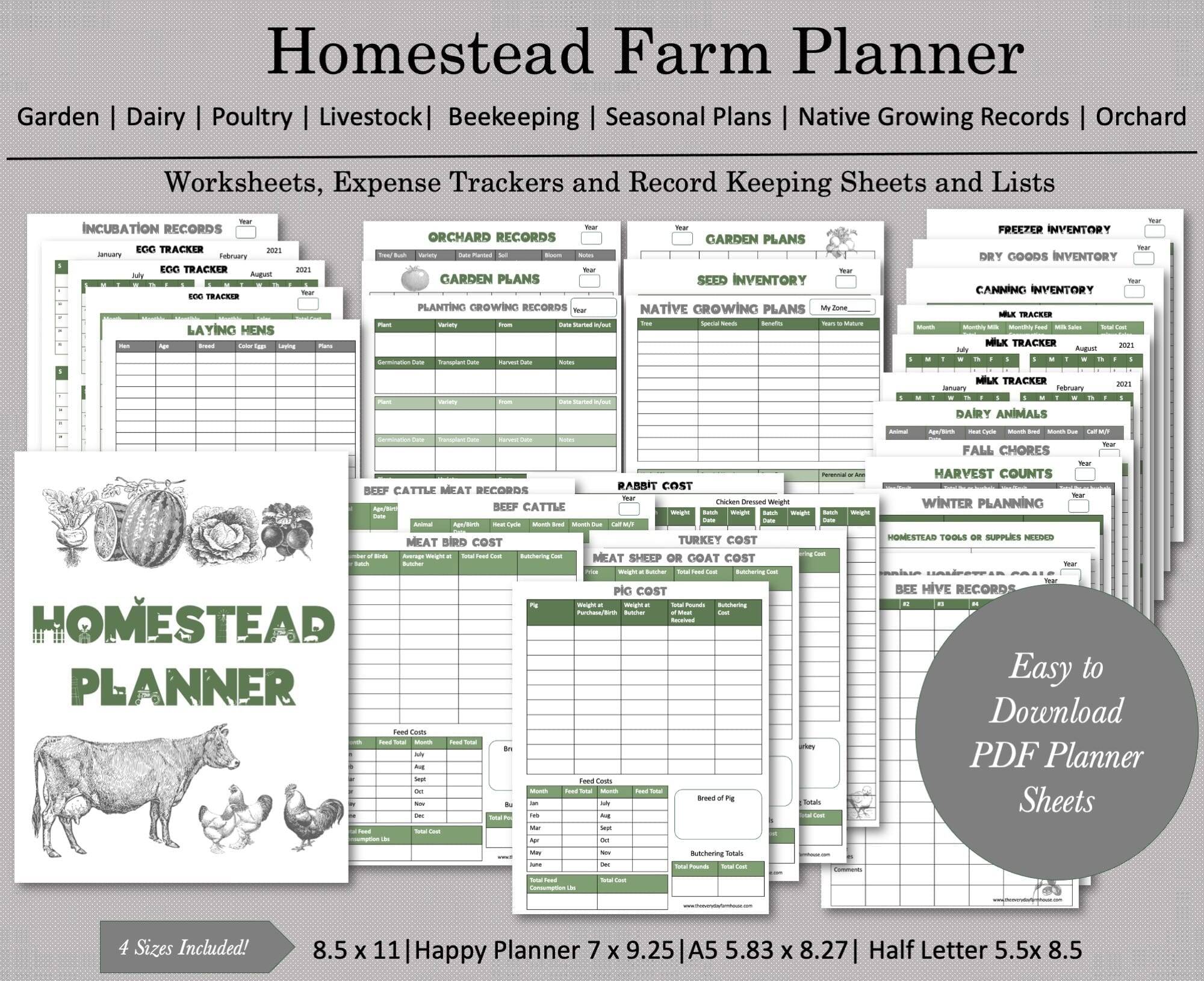 Pin and Share!