Once a Day Cow Milking Schedule | Milk Sharing with a Calf
Once a day milking may be for you! If you love the idea of having a cow but aren't sure you want to be tied down to milking twice a day every day, then the information in this post will be very helpful to you!
This post contains affiliate links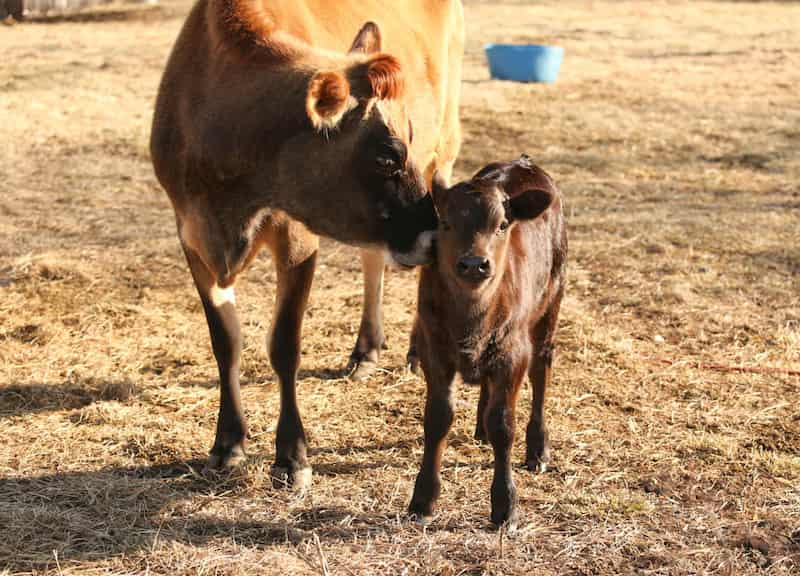 What is Once a Day Milking and How is it Done?
Once-a-day milking is just what it sounds like, it's milking your cow only once a day rather than twice a day which is what is traditionally done.
This method involves separating a cow and her calf for part of the day so that it doesn't drink all of the milk. Don't worry, the calf will still get plenty! Typically you keep the cow and calf separated overnight and then milk the cow in the morning and then return the calf to its mother for the remainder of the day.
Benefits of Milk Sharing
Produces a healthy calf
Allows time off from milking, even a lazy Saturday or Sunday morning here and there
Lowers the risk of mastitis as the calf can "clean up" after you milk ensuring all the milk is stripped
Allows for travel
Downsides of Milk Sharing
It takes work to train a calf to come to you and to get it into a pen, calves can be naughty and not want to come, leaving you with what feels like a wasted evening chasing a calf!
You must separate every night if you want milk!
That's all really, not too many downsides!
When to Start Separating the Calf for Milk Sharing
This will be another matter of preference. Some cows produce loads and loads of milk and you may not need to separate the calf for months. We usually get plenty of milk for about two to three months before we need to begin separating the calf. By that point, the calf is supplementing her milk intake with a bit of grass or grain as well. During that time we are only milking once a day, however, if you want more milk then you can milk twice a day.
How to Separate the Mama and Her Calf
This is going to depend on what type of setup you have on your farm. We have a little barn that we use for milking, it has a back stall that we put the calf in for the night. Make sure the calf has access to hay or grain and water.
Perhaps you have two separate pastures that you can put the cow and calf in? Just be sure that the calf cannot have access to the cow through the fence! A calf can easily nurse through a fence or gate!
Our routine is to bucket train the calf with a little bit of grain, this way he or she will come when you call and then follow you wherever you go. We like this better than halter training as it works best for our system.
At around 7:00-8:00 in the evening, we call the calf into the barn and shut it in for the night. The next morning we milk the cow and then let the calf out to be with its mother for the day. This is typically by 9:00 in the morning.
Consistency is key when working with cattle. Cows thrive on consistency and routine. Our cows wait in the barn for us in the morning. It is very rare that they are out in the pasture and we have to call them in. That usually only happens when they are in heat!
This doesn't mean you have to milk at the exact same time every day, nor do you have to milk at 5:00 in the morning. This just means that if you have established a morning routine of milking, stick to that within an hour or two. Don't wait and milk in the late afternoon, try to be consistent.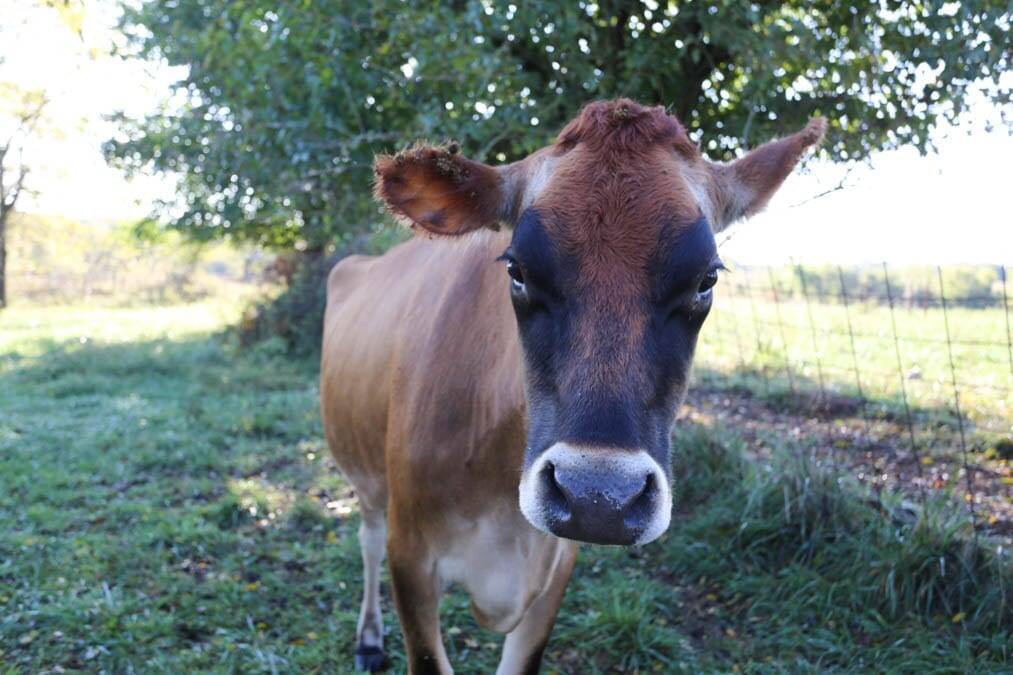 Foremilk and Hindmilk
Instinctively a cow knows how to save the best milk for her calf! You will know that she is saving back some of the cream as the cream line while calf sharing is not as thick as the cream line after the calf is weaned! You will still have enough cream but it won't be as much as you might be expecting!
The first milk that comes out is called the foremilk, and the milk with all the cream is called the hindmilk, it comes out after the cow "lets her milk down"
You can improve the chances of her letting down by brushing and wiping her down before milking. Talk gently to her and be kind. I can usually feel her udder fill up when I am wiping it off.
When to Start Milking a Cow after Calving
This is one that confused me for a while. Some people say that you should start milking by day two, others say that you can wait weeks. I've settled somewhere in the middle. Day two seems early to me as there is still colostrum and typically the cow and calf are a bit jumpy. This can be the case especially if it's a mama with her first calf.
If you wait too long then you can have some potential for mastitis. This is when a cow gets an infection from having too much milk in her udder. Some people say that since a dairy cow is bred for large milk production, it is essential that you milk her right away and that you must assist or she is likely to get an infection. I am not 100% in agreement with this, milk is a supply and demand issue and while the calf cannot drink all the milk at first, the cow's body is designed to adjust to the demand.
I have decided on starting to milk by day four or five. This gives the cow time to get established with the calf, it allows her milk to come in and everyone seems calmer by this point. Of course, this is personal preference and if your cow looks terribly uncomfortable, feel free to start attempting to milk her whenever you feel the need!
Please don't stress and feel like you have failed if you don't get to milking within the first week, with this last calf, our young cow had never been milked. It took a good two weeks of working with her to get her trained to milk. She never got mastitis and we are grateful for that!
Be Prepared for Kicking or Moving
Since her udder may be uncomfortable, she will either be grateful for your help, or she will kick you away. Her sore udder may make her not want to be touched. You will need to be consistent and brave! A cow kick stop may be helpful, but typically consistency and gentleness will win in the end!
Milking a Cow and Travel
This is the beauty of milk sharing with a calf! We typically travel to Pennsylvania at least once a year. It isn't easy to find someone to milk our cow. Even if someone is willing to do your chores for you, the cow may not be so willing to have some stranger touching her udder.
If you are milk sharing with a calf, then you can simply leave the cow and calf together and not worry about her drying up or becoming engorged! The calf will take care of it for you!
Equipment You May Consider for a Milk Cow
Milking Machine
I'm a milk-by-hand milkmaid, however, some people love milking machines
Stainless Seamless Milk Pails
These are an absolute must!
A Milk Strainer
Also a must, you can get a good one pretty cheap!
A Brush
This comes in handy if your cow has laid down in mud or manure. It's also wonderful for training your cow to be touched. She will likely enjoy being brushed!
A Rubber Dish or Trough
Should You Halter Train the Calf?
We have tried halter training. For us, this didn't seem like the best option. Many people halter train their cows and then they lead them around by a rope and can tie them up to a fence post or a barn post for milking.
Initially, when you halter train the calf, you still have to get to the calf to put the halter on and hook the rope to it. This would be a good option if you were keeping your cow and calf in a smaller confined area where you could easily access the calf during the training process. We allow our cow to roam over about 10 acres and the calf is always with her. You don't want to leave the halter on the cow at all times as they can easily get caught up in brush or on a fence post. Plus the calf grows quickly and you have to have several sizes of halters. This works well for many people and I am not saying it isn't a good option. It just didn't work well for us or for our setup. Instead, we bucket train.
Bucket Training Your Calf
This is as simple as it sounds. Animals are often controlled by their stomach, something like corn is the equivalent of candy or a treat to them. It is quite easy to train a cow to come to the sound of corn shaking in a bucket. She will then follow you anywhere, she will also come from across the field when you call her name because she has learned that your calling equals a treat!
This is how we train our cows to come for milking or if they need to be loaded in a trailer, or just moved to a different pasture. If you are dead set on grass-fed only, this may not work for you. We have decided that a little bit of corn here and there is not going to affect the quality of her milk and the ease of handling her is worth it to us. Totally personal preference.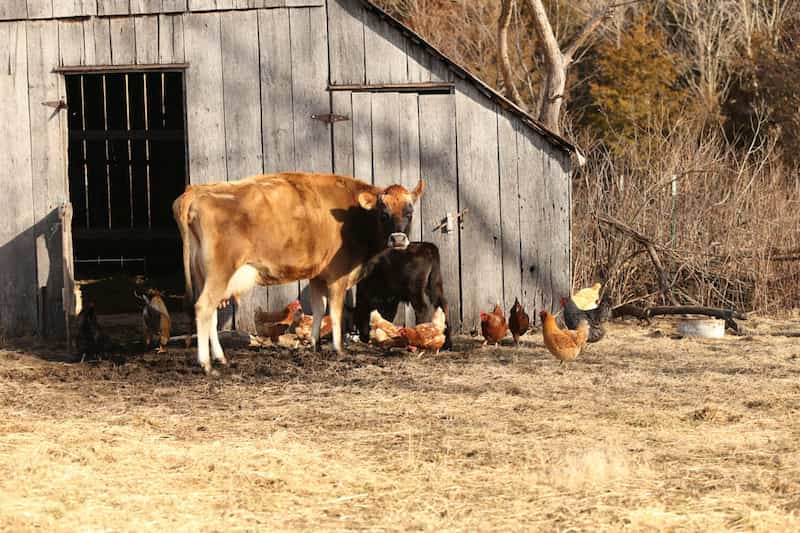 Summary of Once a Day Milking Schedule
In the late evening, you separate the calf from the mama. Either in separate pastures or with one of them locked in a barn or separate pen. They should not be able to touch noses or access one another. Try to get started separating before it gets dark. It's no fun to chase a calf around when it's dark!
The first week of separating will be a challenge most likely. There will be times when the calf just won't come in. Be consistent and eventually the calf will get used to the routine. One day you will be surprised when you call in the evening and the calf comes and goes directly into the pen without any fanfare!
After separating in the evening, the cow and calf are apart all night. Do not worry the calf will be fine. Do make sure the calf has access to water and some hay.
In the morning at your set time, go out and milk the mama cow. After milking the calf and mama are reunited for the entire day. The calf will usually go directly to the mama and nurse. Do not worry if you have milked her out, she will have more for the calf!
That's it! It is really a simple routine and makes keeping a cow much more reasonable in our modern lives.
If you have any questions, please don't hesitate to ask! I will do my best to answer!
More Posts on Keeping a Milk Cow
The Cost of Keeping a Milk Cow for Your Family | Will You Save Money?
Ultimate Guide to Keeping a Family Milk Cow
Can I Talk you out of a Milk Cow?
Another New Life! Caring for a Cow and a New Calf After Birth.