Can I Talk you out of a Milk Cow?
Eight things to consider before buying a milk cow. It's a great idea to really think about what you are getting yourself into before you buy a cow! Caring for a large animal and commiting to milking her is a big resposibility. Do you think I can talk you out of it?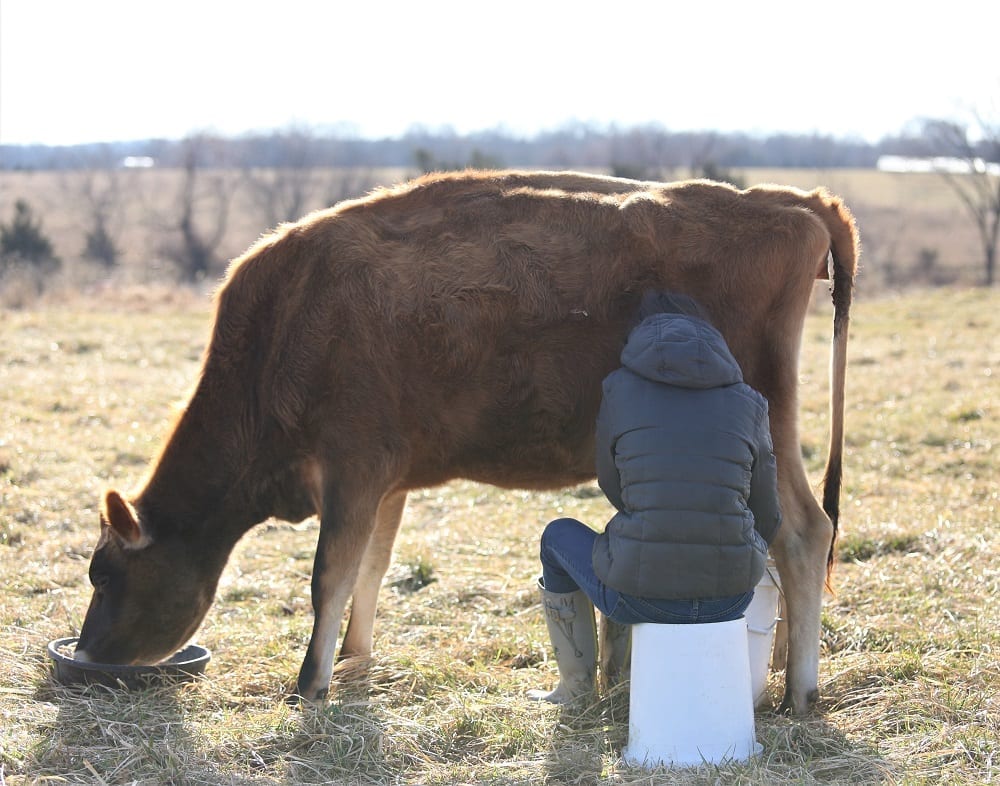 Keep in mind that I am writing this tongue in cheek…sort of! I will be the first to say that I love having a milk cow…most of the time. However, there are some things to consider before you jump on the dairy maid bandwagon. I am going to be honest here. There may have been some storybook pictures in my head when I dreamed of having a milk cow. Perhaps you have those too? Here, let me rain on your parade a bit. Below are 8 things to consider before buying a cow.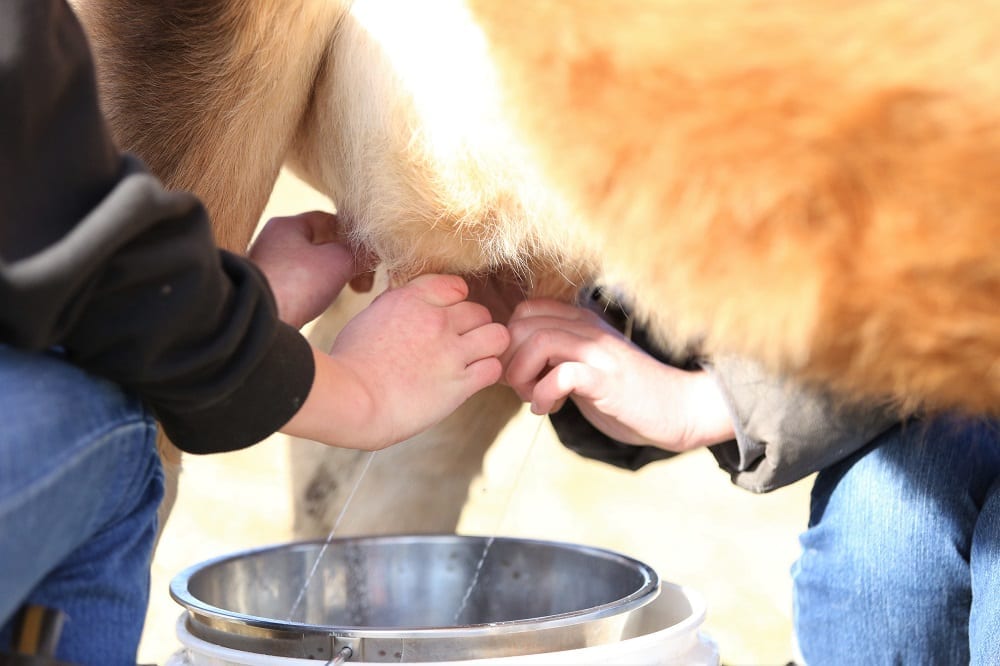 1. Cows produce milk only if they have had a calf.
I know this is basic biology. However, if you do not have a plan in place you may find yourself with a pet cow. Both cows we have purchased had recently had a calf, therefore they were both "fresh" meaning they had milk. This is a great way to start, especially if you have never bred a cow or if you have no experience with calving. However, she will not be fresh forever. You will need to either rent or buy a bull, or artificially inseminate her. This could be easier said than done.
We have owned a bull in the past to remedy this problem. This comes with benefits and pitfalls. Dairy bulls can turn mean on a dime, out of nowhere. This is something to take seriously. When a bull is all worked up and ready for action, he will plow through or over the fence…easily! Then you have the dreaded call from the neighbor, "Hi there Jennifer, are you missing an aggressive bull?"
We have also tried the artificial insemination route. UMMMM….yuck. If you have never witnessed this, just know that they make rubber gloves that go all the way up to a person's shoulder for a reason! This is tricky because you need to know your cow, you need to read her behavior and you need to act quickly when she comes into heat. The thing is, you may need to call a local farmer to come do this for you, and guess what? He may not be able to drop everything at his farm to come help you at yours, and you may miss the "window" for when she is ready. Also, when a cow is in heat she is not always cooperative. You will read more about this in the section on "Stubborn Eyes"
We have never rented a bull, simply because we have not been able to find one to rent. We live in the middle of beef cattle territory. Finding someone with a Jersey bull that they are willing to rent has proven difficult. It is also a bit intimidating to think of having someone else's bull on your property.
2. More than just basic fence is required in order to separate the Mama from the calf.
We have been successful in sharing milk with the calf. This means that we milk some of the time and the rest of the time the cow is on pasture with her calf and he gets the milk. This is nice for when you want a day off, or when you need to travel.
With all systems though, there are some trials with this. For one, there needs to be two areas in place that are securely fenced, and that have a source of water. Gates between these two areas are ideal as well as some sort of shelter in each area. Fence and fence work is expensive, like, oh man I could have bought a lot of milk with all that money expensive!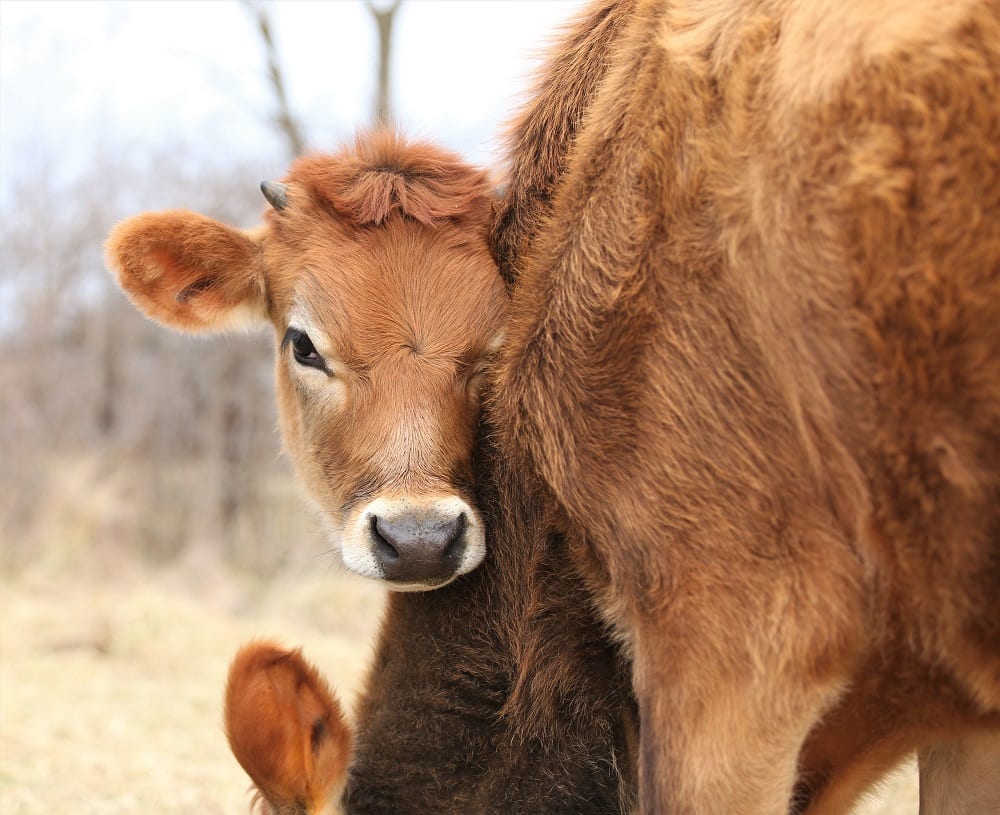 3. Neither snow, nor rain, nor heat nor gloom of night…
Okay, so that's the postman's motto, but guess what? It will now be yours. A cow must be milked, otherwise she will either dry up or get an infection. You really don't want either of those.
I actually prefer milking when it's cold over when it is hot. When it is hot, there are flies. Lots and lots of flies. Please refer to the section on POO. How about rain? You know–cold rain like right before it freezes? Sacrifices of comfort will have to be made if you desire a cow.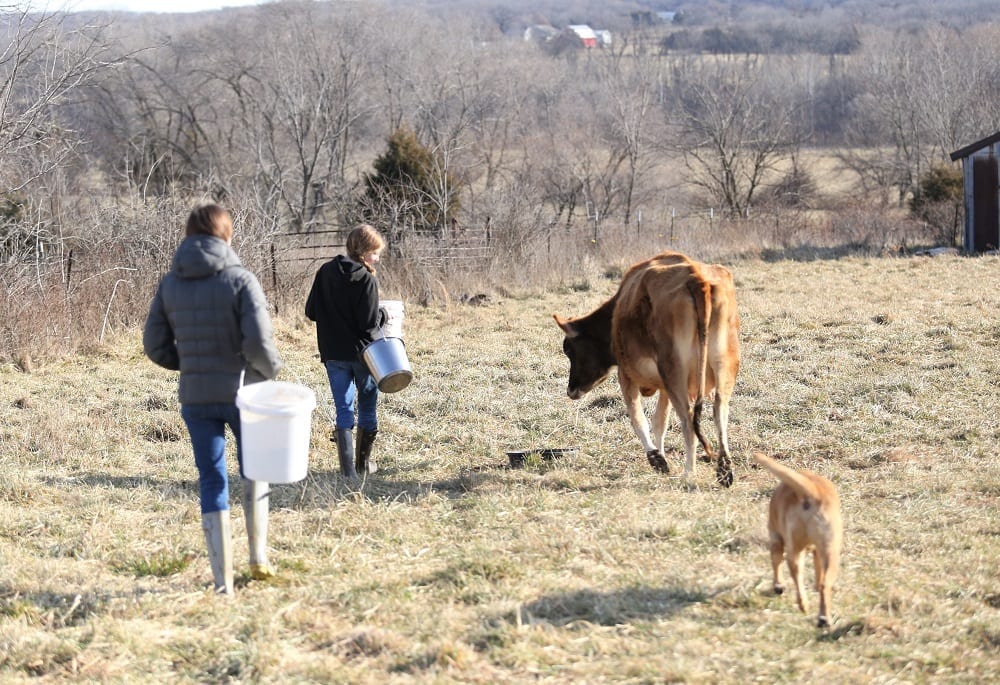 4. Hope you like to run, because cows can get "Stubborn Eyes"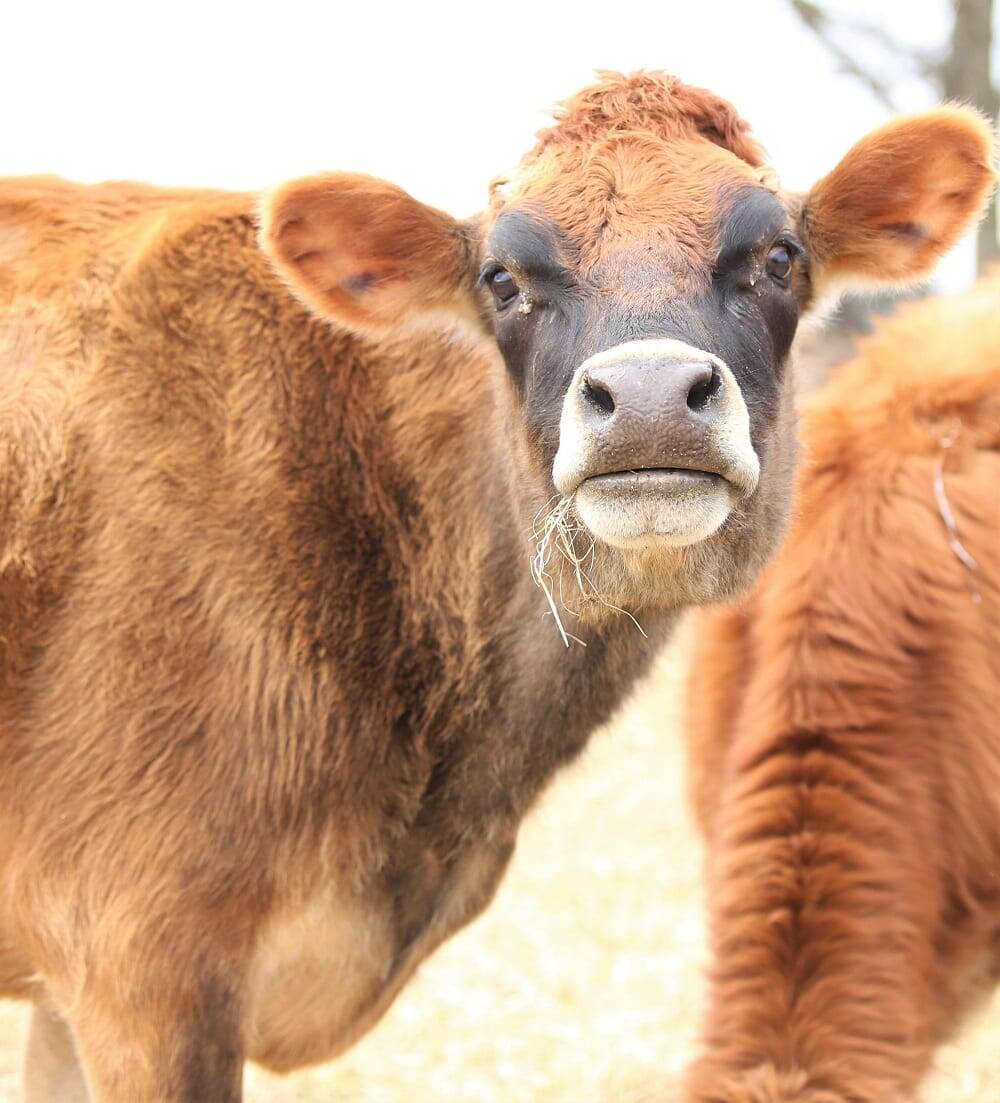 I recently saw this "stubborn eyes" phrase on an email from Justin Rhodes http://www.abundantpermaculture.com It describes the cow's attitude so well. What do I mean? Well, remember how I was telling you that a cow must be separated from her calf so you can milk her? This means you will be moving the cow from one area to another. Please erase from your mind the Tasha Tudor pictures of the little girl leading her gentle cow through a beautiful meadow. You may be able to achieve that someday, but not before you find yourself chasing her or her calf, cursing the day you ever brought them home and proclaiming that you are becoming vegan and that you hate milk anyway!
Please also note that she may escape the pasture where you placed her, and this will never happen at a convenient time. Remember the section on fence? You will most likely come home from an evening away and find her standing in the middle of your driveway. It will be dark and you will be tired and the baby will be crying. Alas, the cow must be moved back to where she belongs, and you will need to figure out how on earth she ever escaped? All the while she will be staring at you or staring away from you with "stubborn eyes" Those are the eyes that you will dread. This means you had better lace up your running shoes because things are not about to go your way!
Stubborn eyes are the worst when a cow is in heat. She wants nothing to do with you, or being milked or following a bucket of feed. The neighbor's cattle is what she desires. Your lovely cow will be completely unreasonable and she absolutely will not listen. The grass in front of her is now delectable, the best ever; like oh my goodness I have to eat all of this grass right now! Now, you will need your running shoes and a team of helpers.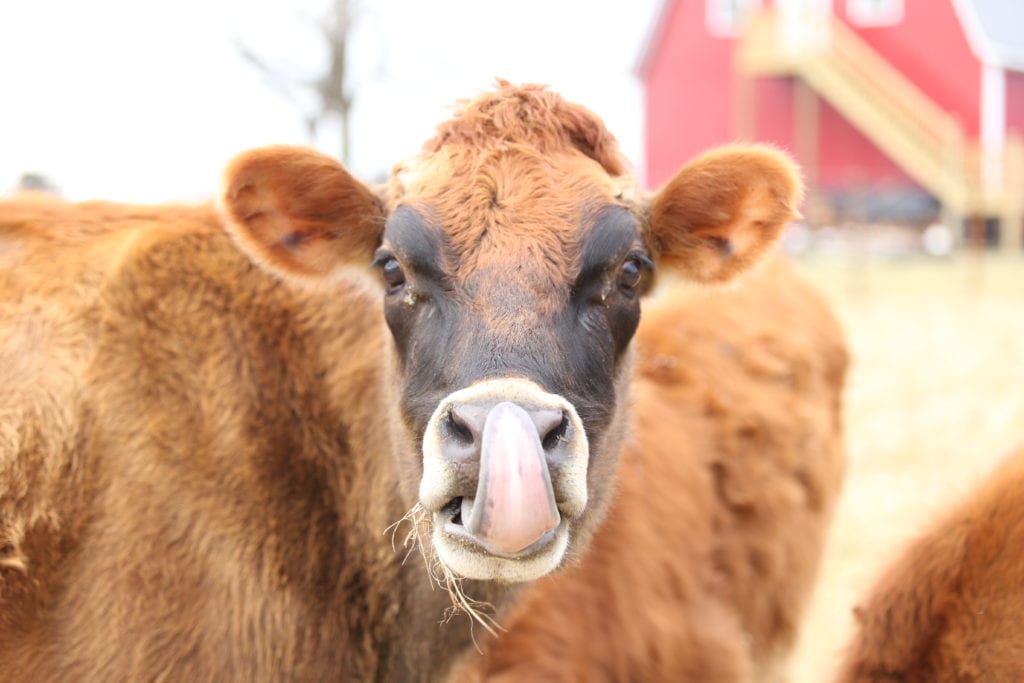 5. Cows poo
Okay, another obvious statement. My husband accuses me of actually thinking that my cow would never be dirty. As if she would really look just like the storybook pictures. Ha ha. Perhaps I was a bit naive. Cows poo out of their backside, and it doesn't always land in a neat little pile behind her. She doesn't have the foresight nor the desire to stop what she is doing, lift her tail out of the way and make sure her legs are going to stay clear. No, she just lets it go and many times it hits her legs, her udder and her tail. This may sound like no big deal, except you will be the one that will need to clean this off before you milk her.
Poo attracts flies. Flies irritate the cow. The cow uses her tail to swat the flies away. Poo is covering the tail. The cow spreads the poo. Poo, flies, flies poo. It is a vicious cycle.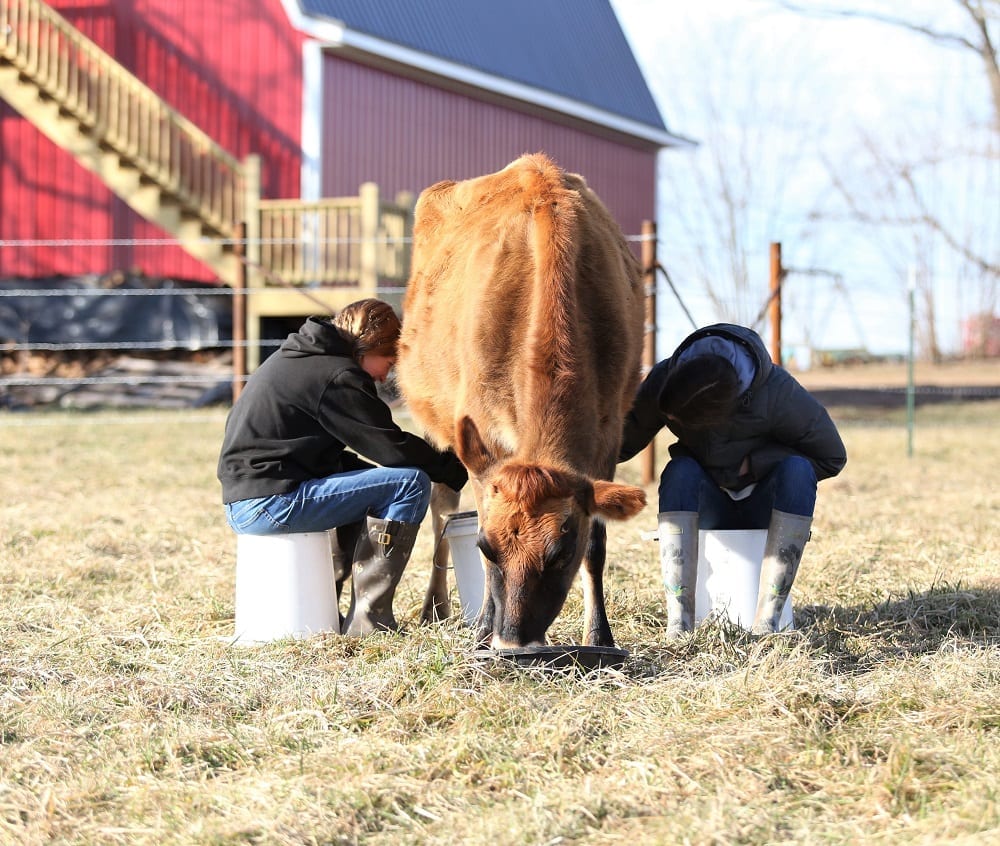 6, Cows have tails
Are you beginning to think I am a master of stating the obvious? Well when it comes to a cow's tail, one must understand that it is a weapon. In the last section we covered her using her tail to spread poo. What I didn't mention is that you will position yourself toward her back end when you milk her…within reach of her tail. In the summer she will be swatting the pesky flies with her tail and she will not care one iota for your head. She may even seem to delight in hitting you in the head with her poopy tail. Certainly she isn't doing that on purpose…is she?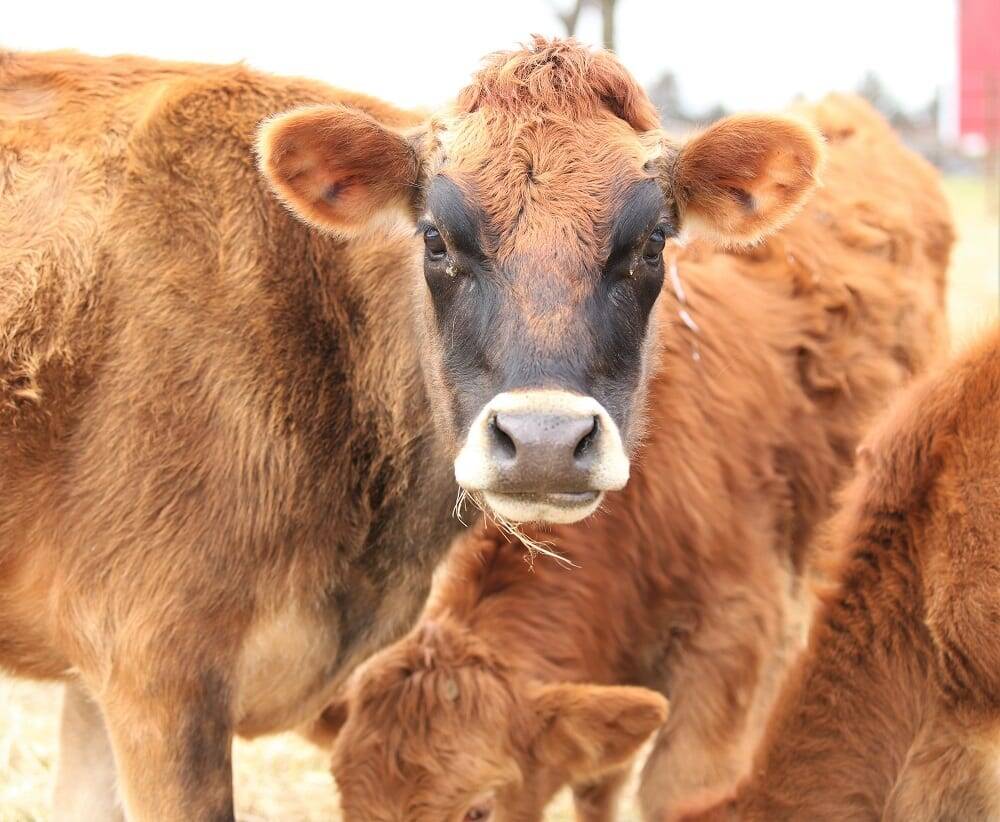 7. Cows are heavy and they have hooves.
Have you ever stubbed your toe? Sure you have, and doggone, it hurts! How many nerves are there in that tiny little toe anyway? Just like a cow may seem to hit you with her tail for her own pleasure, she may also delight in stepping on your foot.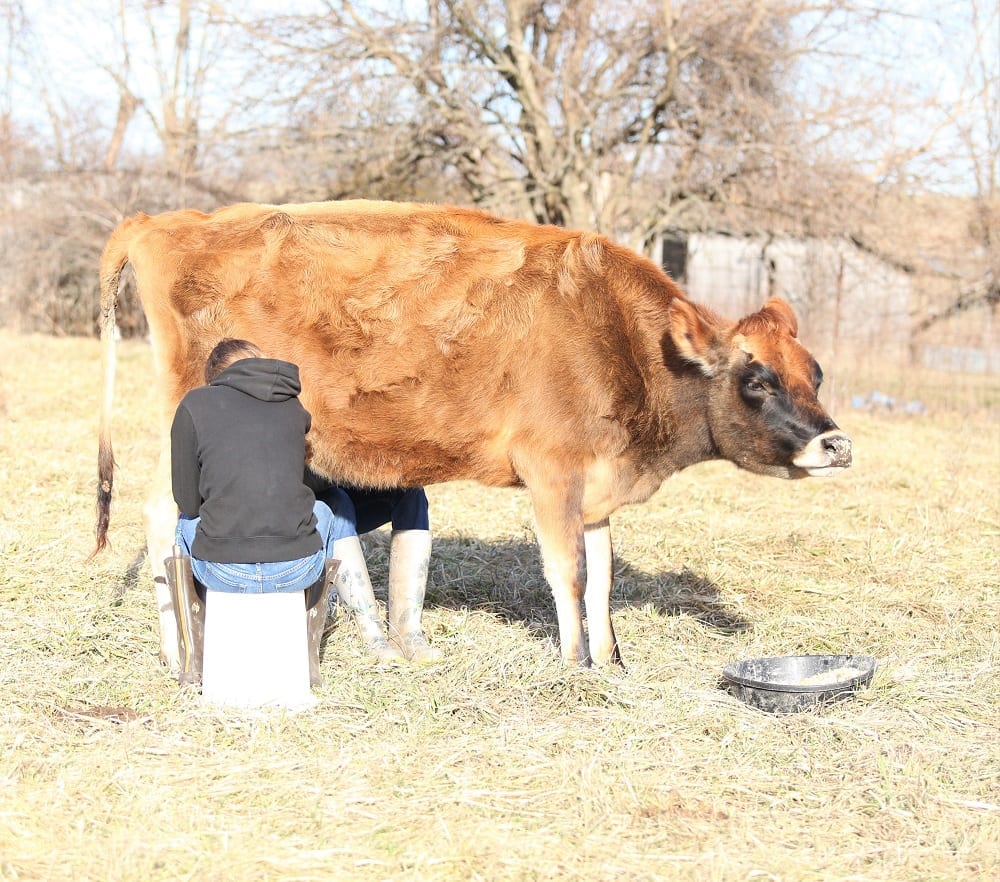 Imagine this: you will be sitting there, just finishing up the milking, feeling quite pleased with your full pail of milk (one that she didn't manage to knock over.) The pail will be smoothly moved out of the way so that you can gather up your things and prepare to move on out. Your beautiful cow will notice that you are wrapping things up and that the bucket is out of the way and she will shift ever so slightly while you are turned to the side and she will place her heavy hoof right down on your toes. You may have a flash of rage and again swear off dairy!
8. Cows die
This one is sad. Unfortunately most people that you talk to that keep a cow are familiar with the death of a cow. Sometimes they get sick and you must spend lots of money to try to save them. After lots of time, money and heartache she may die anyway. Other times, as in our case, the cow just dies suddenly. We found our first cow lying in the pasture one morning. The night before she looked fine. Bloating can happen quickly,perhaps she ate too much clover. It was terribly sad, and it took me two years before I thought I could bear to have another cow. There is risk with any animal, but the loss of a milk cow is truly the saddest.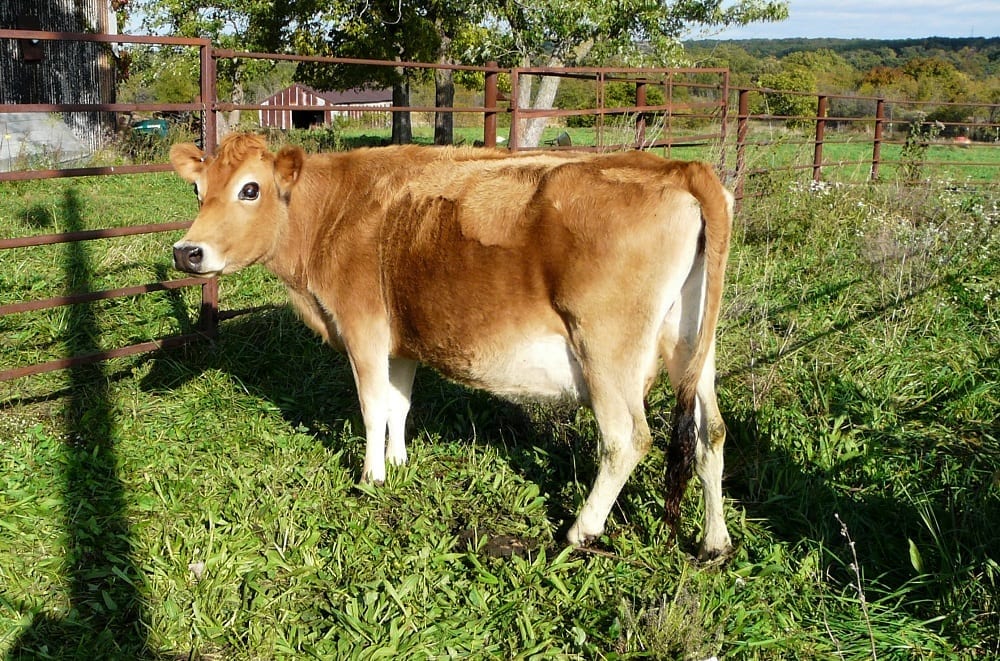 Even with all of that, I love having a milk cow. If the above has not deterred you, then perhaps you would love to have one too! Just remember as with all things farming, it is not for the faint of heart! I hope you look at these 8 things to consider before buying a cow!
Any questions? How about advice? Leave it in the comments!
Want More Milk Cow Posts?
Another New Life! Caring for a Cow and a New Calf After Birth.
Pin for later!