Raising Pastured Meat Chickens–How We Do It
Raising pastured meat chickens is one of the most rewarding endeavors on the homestead. Chickens are inexpensive to start with and even a beginner can quickly learn how to raise their own food! This post contains affiliate links which means I may earn a small commission if a purchase is made through a link.
In this post, I will cover how we raise pastured meat chickens. We have been raising our own chicken for about 8 years now. We are by no means a final authority or chicken expert. However, I get enough questions about what types of chickens we raise, and how we raise them that I thought a whole post would be helpful. This is part two in my Homesteading Series.
A Polyface Approach
The first book we ever read on raising our own food was Pastured Poultry Profits by Joel Salatin. We read this book back when we still lived in the city and were dreaming of moving to the country. This book is quite old now but is still full of super-valuable information. If you are unsure about what a Polyface approach is, it simply means not having all of your eggs in one basket, so to speak. It is cultivating an ecosystem of sorts on your land. The cows grazing and being rotated intentionally. Chickens on pasture in movable pens. Pigs foraging and acting like pigs.
It is really the opposite of "factory farming". Where you raise only chickens, or turkeys or pigs in large quantity in confined housing.
Unfortunately, the "organic" movement while wanting to eliminate harmful pesticides doesn't necessarily have this sustainable polyfaced approach. Many "organic" farms have the same industrial approach that any other commercial farm has. Again, the answer is supporting small scale local farms, or in our case raising your food yourself.
What Breed of Chicken?
You have decided that you would like to raise some of your own meat. Chickens are a great place to start, but what breed do you buy? Many people swear by heritage breeds, while others will only raise the typical cornish cross chickens. We have tried our hand at both and here are the differences that we noted.
Different Breeds for Raising Pastured Meat Chickens
We have raised Cornish Cross, Red Rangers, and other dual-purpose breeds for meat. Here is the break down of the differences.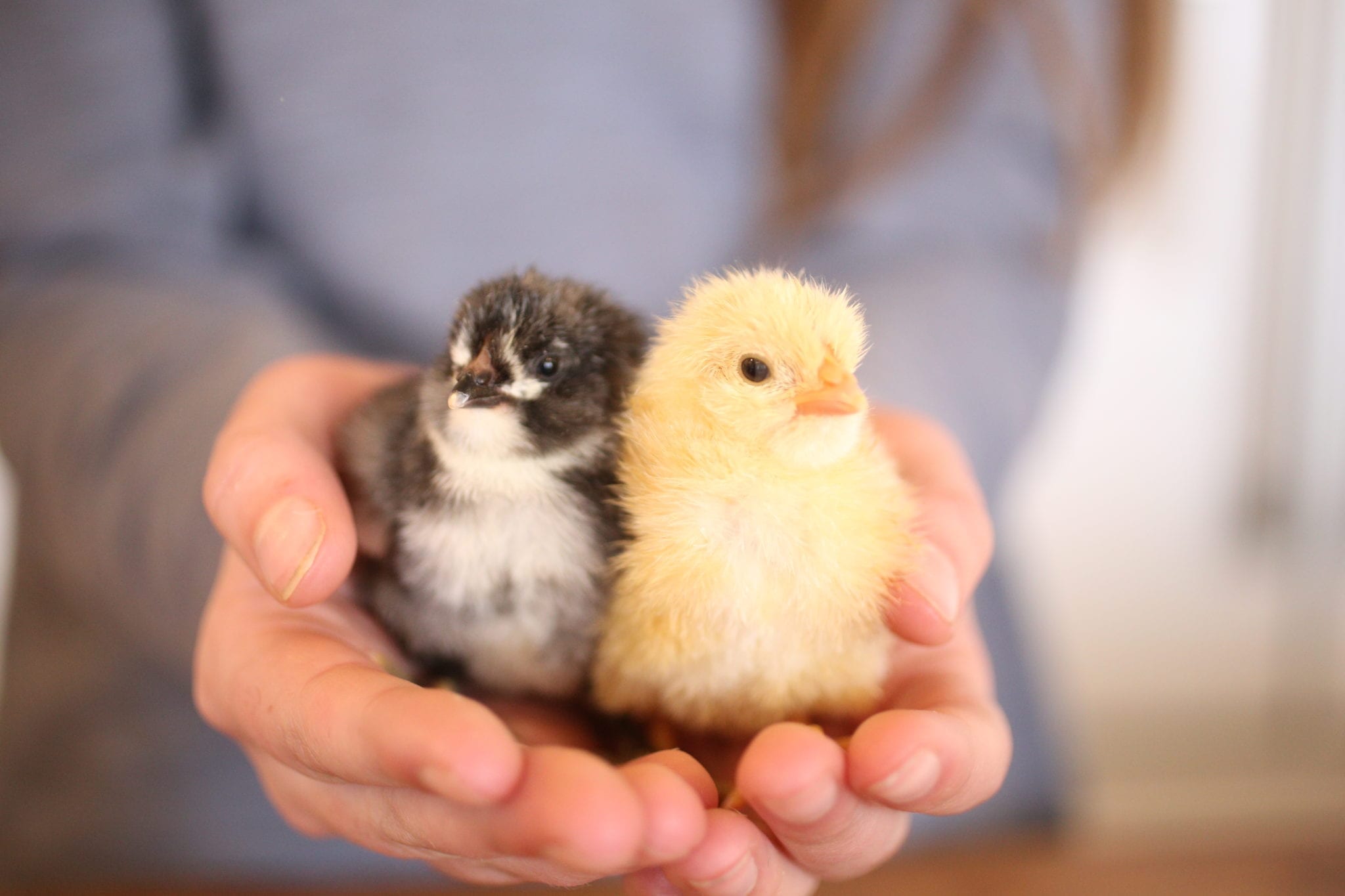 Cornish Cross-
This is the breed we have raised the most. This bird has been bred for maximum growth in minimum time. They also yield a large breast. The feathers are sparse and white. Cornish cross is just that a crossbreed, or a hybrid bird. They have been bred and developed for specific characteristics.
A Cornish Cross can be processed as early as 7-8 weeks. At 8 weeks the average weight is around 5 pounds.
Red Rangers or Freedom Rangers-
There appears to be a branding difference between these two. If I remember correctly ours were called Red Rangers. They are considered a dual-purpose breed as you technically could raise them for eggs as well. Although they are technically a broiler. They are also a hybrid bird, bred for specific characteristics from other pure breeds.
This breed will need at least 11-12 weeks to get to a similar dressed size of around 5 pounds.
Dual Purpose Breeds for Broilers-
There are several breeds of chicken that could be considered dual-purpose. This simply means they are good for raising as egg layers, but will also make a good meal when they are done laying. Or, if you hatch your own chicks and wind up with several roosters that you don't need, a dual-purpose breed will ensure that it is worth your time to process him!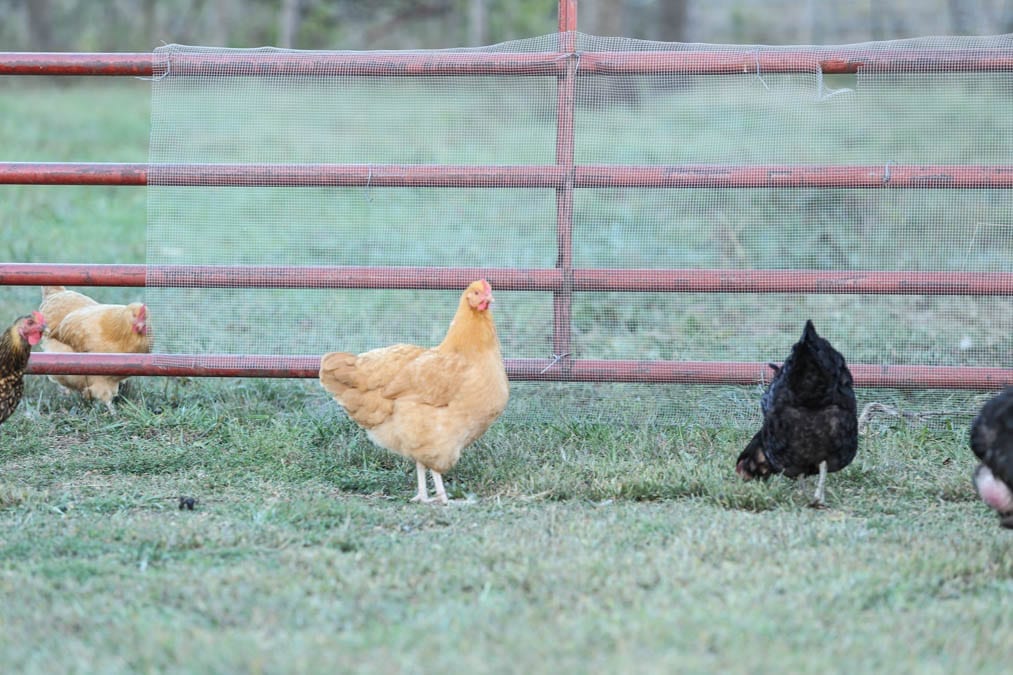 Buff Orpingtons
These are fluffy beautiful birds. Excellent layers and they have a larger body. We have butchered buff Orpington roosters and used them in both soups and we have oven-fried the meat, both with great results!
Australorps
This is the first breed of chicken we ever raised. Also, great consistent egg layers with a decent-sized body.
Silver Laced Wyandottes
These are beautiful birds with lovely feathers. Similar in size to the Austrlorp they make a good meal or an excellent layer of brown eggs.
Jersey Giant
As the name implies, these are big birds. They are also very excellent egg layers. The roosters get considerably bigger than the hens, which makes it worth your while if you have a few extra!
Deciding on a Breed for Raising Pastured Meat Chickens
In order to decide on a breed, you need to look at how you run your homestead. For us, we like to raise our chickens for meat all at once. We dedicate the Spring and early Summer months to filling our freezer for the entire year.
We are a large family, so this works well for us. If your needs are not as great as ours, then perhaps keeping a few extra dual purpose roosters around or processing your older hens will meet your needs just fine.
Here are the Pros and Cons
Let's say for the sake of conversation that you are deciding between a dual purpose breed, the red rangers or the cornish cross. We have raised all of the above, we have processed all of the above and I will share our experience. This is just our experience and it may be different for other people. There are also other factors that go into deciding whether a chicken performed well or not. Things like feed and climate play a huge role in how well a chicken fares.
The Pros and Cons of Cornish Cross Chickens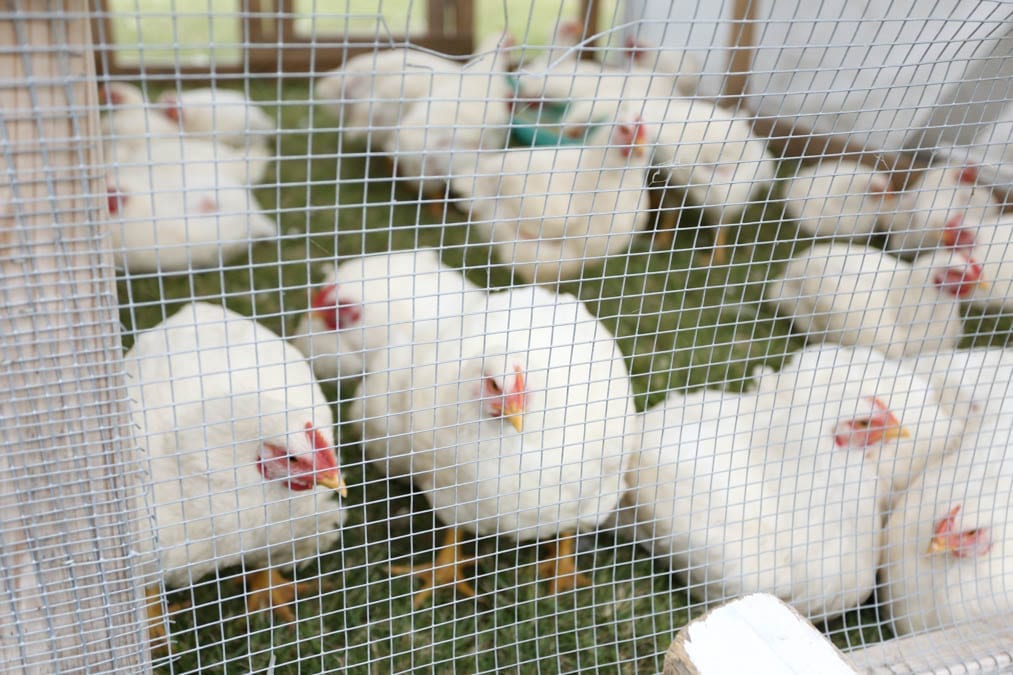 We have chosen to raise Cornish Cross for our primary meat birds. They are predictable and we know roughly how long it will take to get them to weight. We live very near a hatchery that hatches primarily Cornish Cross Chicks. It is only 3 miles away, so we don't have to fool with shipping. Plus we are supporting a locally run small family operation. This is a huge bonus!
Cornish Cross chickens are not endearing. I look at this as a pro because I did not grow up in the country and I have a hard time taking the life of any creature. However, these chickens are rather ugly and smelly, and to be honest if you don't butcher them, they will just begin to drop dead. So, we are doing them a favor by making their life useful!
Cornish Cross chickens are easy to gut and pluck. They are bred for meat, and whoever was in charge of that knew what they were doing. They pluck beautifully and you can get practically every little feather off of them. The dressed bird is clean and beautiful, you could easily sell one without feeling embarrassed with the way it looks! The carcass is big and it is easy to fit your hand inside to gut them, even the large hand of a man can fit inside.
Their conversion rate is excellent. They grow remarkably fast. The conversion rate is somewhere around 3:1 which means it takes roughly 3 pounds of feed for each pound of meat that you get back.
They provide lots of meat! As Americans, we are used to large meaty chickens. There is a lot of white breast meat on the Cornish Cross chickens. This may be a pro or a con depending on whether you like white meat or dark meat. I like dark meat, however, the thighs and legs are also quite meaty on these birds!
Cons
Many people call them a frankenbird. They are unusual and don't really behave like the typical barnyard chicken. They do minimal scratching and foraging. Although they do eat bugs and grass, most of their growth will come from a storebought feed.
Because of their high rate of growth, they require a very high protein feed. We use a non-GMO 19% protein feed. Thankfully we can buy this locally as well. At one point we experimented with an organic feed that was also corn-free. The cornish cross chickens did not perform well with this feed at all. This was a late batch, and the temps were getting cooler at night. Chickens process extra carbohydrates at night to keep themselves warm. As a result of no corn and cooler temps, our birds were only an average of 3 pounds after 8 weeks. All that to say, if you are wanting a corn-free feed, cornish cross chickens may not be the breed for you!
Cornish Cross Chickens do not tolerate very hot or very cold weather extremes. We have made the mistake on both ends. They don't necessarily drop dead when it is cold but add rain in with a bit of chill and you can expect to lose a large number. We have had to put chicks back in the brooder after a large storm just to get them warm and perk them back up. Extreme heat is usually fatal. They just don't tolerate temps above 85 or so, they begin to pant and act miserable, and then of course they just die.
The Pros and Cons of Dual Purpose Chickens
Pros
They look and behave like a normal chicken. They will do more scratching and foraging and require less daily feed. Stay tuned for the cons, because this doesn't mean you will need to feed them less overall!
They usually have a nicer richer flavor overall.
Overall they tolerate climate extremes better and don't seem as fragile as a cornish cross.
Cons
Although daily feeding won't be as much, the time it takes to raise a dual-purpose breed can be months longer. Red rangers can grow to a five-pound average in 3 months. However, most of the "dual-purpose" breeds will take more like 6 months.
Processing is a chore. Plucking a fully feathered chicken with dark feathers is no easy task. Even with a chicken plucker, there will be a fair bit of manual clean up to do. The carcass is longer and narrower making gutting the bird less comfortable and more difficult.
While the meat flavor is arguably better, the texture is different. It is a stringier texture, not as soft as what most people are used to. This is totally a matter of preference, and we know some people that prefer it over the softer meat.
What Type of Housing for Patured Meat Chickens?
Now that you have figured out what breed to raise, how are you going to house them? Some people keep their chickens in an enclosed run for protection and control. We do not recommend this for meat birds. They eat a lot and therefore poop a lot. They become quite stinky very quickly. It is unhealthy to have that much mess on a small piece of ground. Raising meat birds on pasture is really the way to go.
We keep our chicks in a brooder house until they are roughly three weeks old. They will need to be kept warm with a heat light until they are feathered. By three weeks they are usually ready to be moved to pasture. This of course depends on the climate, but here in Central Missouri, we can usually have chicks out on pasture by April.
Wind and rain are what the main enemies are. There have been times when a huge storm has blown through and we have had to put up wind blocks (insulation or hay bales) or move the chicks back to the brooder for a night.
Movable Pen Options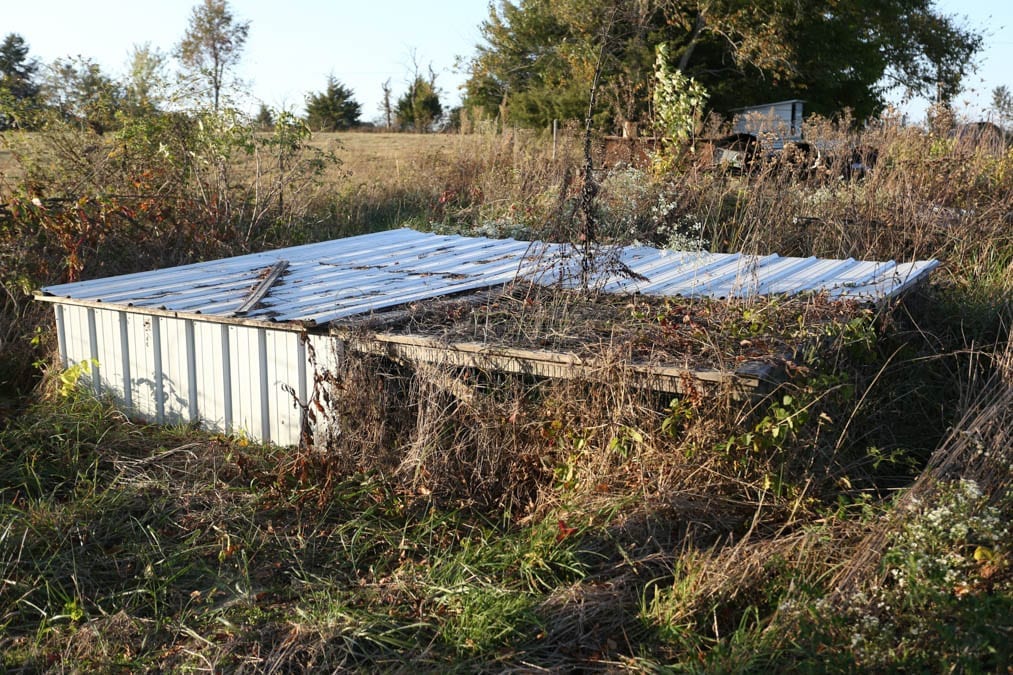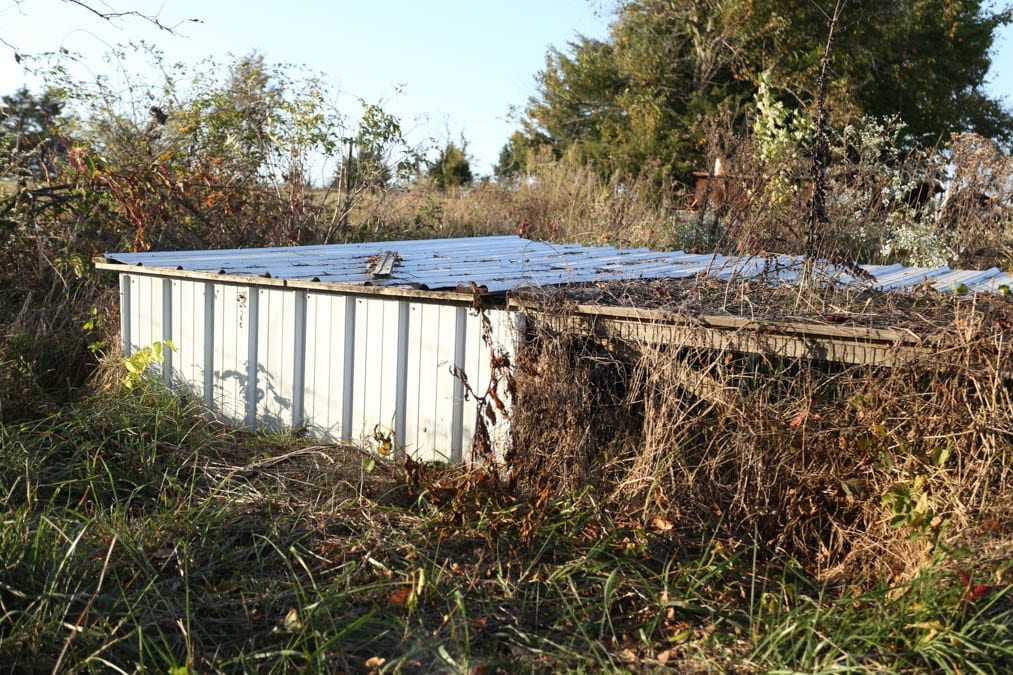 We have tried two different types of movable chicken tractors for our pastured meat chickens. When we first started raising chickens we bought several used Joel Salatin style movable chicken pens from a friend. They had several years of life left in them and we got a good price. We used them for about six years until they were pretty well beyond repair. Ours were 10×12 and 10×10. They are approximately two feet tall.
Here are the pros and cons of these pens:
Pros:
They are sturdy. No need to worry about them blowing over or away.
You can fit a large flock of chickens in them.
You can build these yourself of varying sizes.
The materials are sturdy and easy to find.
They can last for many many years.
Cons:
Since they are sturdy, they are also heavy. They are easy enough for a grown person to move, but if you want to include your children in the chores, they are not ideal for kids to move.
The hinged lids can get caught by the wind and break the hinges or damage the frame.
When it is time to process the chickens, it is a messy job to get the chickens out of the pens. You cannot stand up in them, and so you will be crawling around to catch them.
For the same reason as above, tending the chickens is a bit more difficult since you cannot go inside the pen easily.
They are an eye-sore…I know a true farmer doesn't care, but I'm not a true farmer, and I like things to be pretty.
About two years ago, we found that our Salatin style pens had lived their best life and we needed to build new pens. We purchased this book with plans for a different type of chicken tractor. These are called Stress Free Chicken Tractors. My husband and older sons built the first one and since then, our boys have built four more. Here are the pros and cons for these.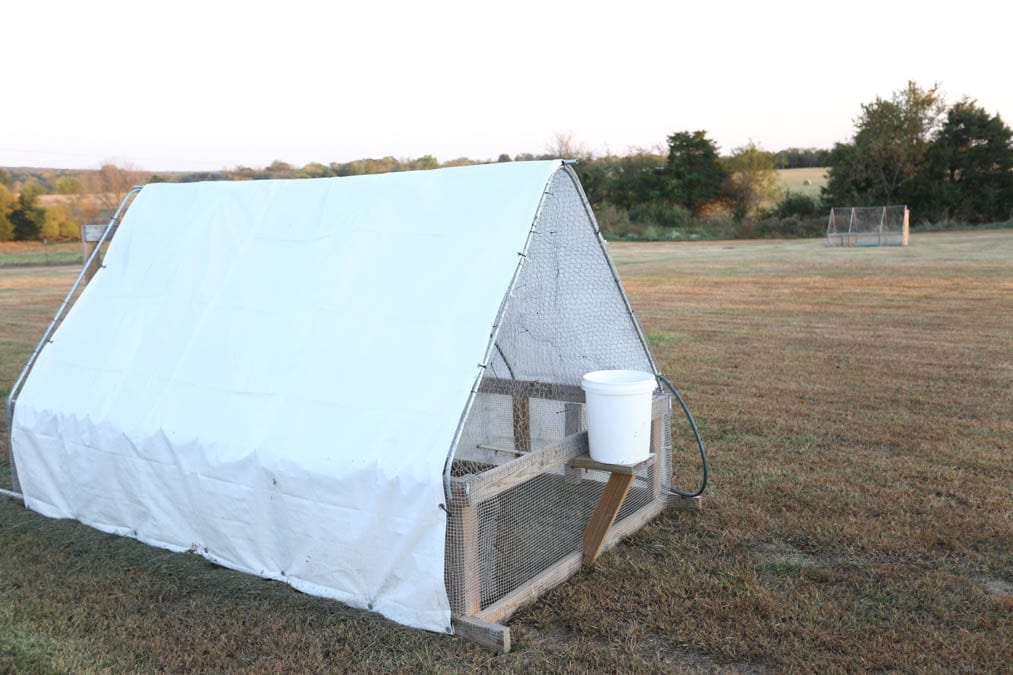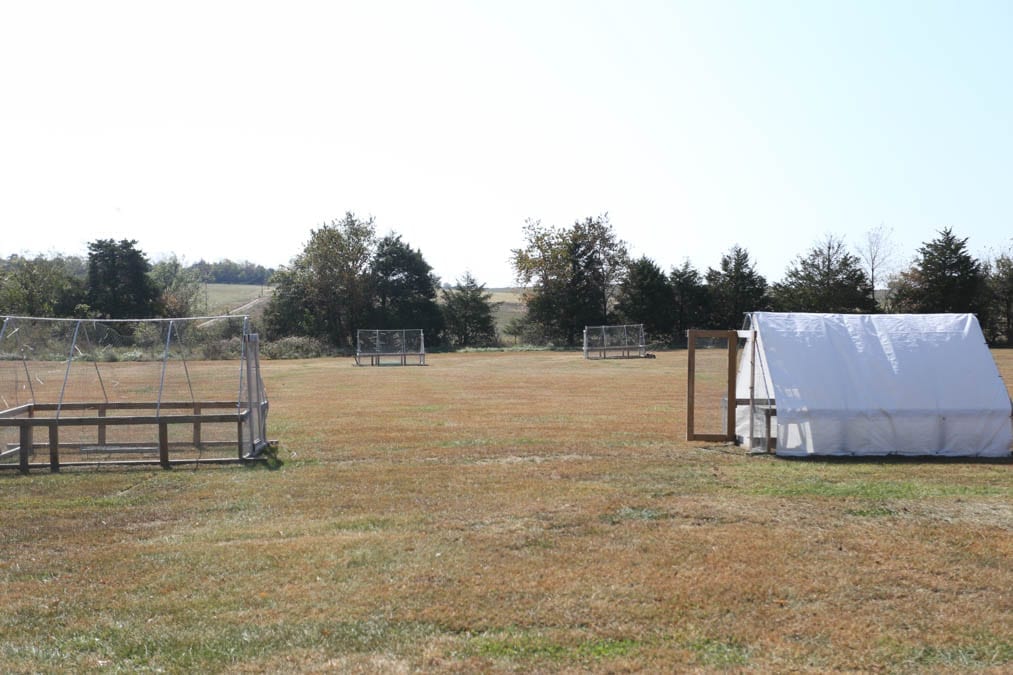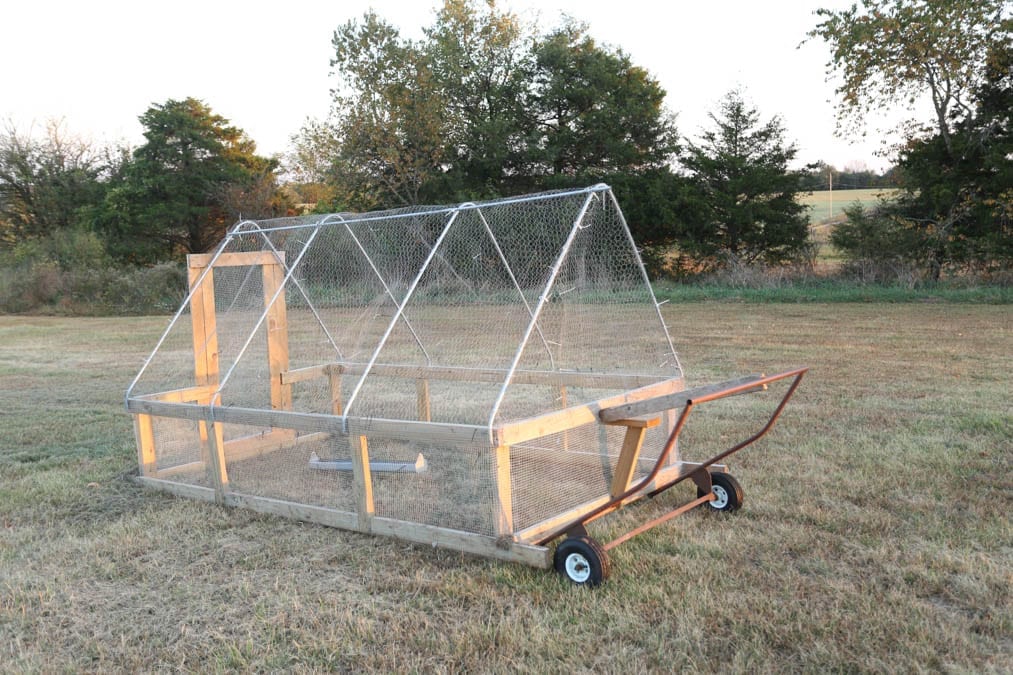 Pros:
They are pretty sturdy but much lighter than the previous pens
Easy to build yourself, and the plans are inexpensive.
The materials are easy to find.
If cared for properly, like removing the tarp each season. They last for many years
Retrieving the birds at butchering time is much easier.
You can stand inside the pen which makes feeding and tending the chickens easier.
They are easy to move, even a 6 or 7-year-old child can manage.
Cons:
We have not had one of these blow over, but the wind has moved them around.
30 birds are the maximum capacity on these pens. Therefore to raise 100 chickens at a time we needed several more pens. Which means more feeders and waterers.
We are not sure that the chickens grow at the same rate as in the Salatin style pens. We don't have a scientific study to back this up, it's just an observation, that we are wondering about. Since switching we have had to add a week or more to get the average 5-pound bird.
Overall our teenage boys (who tend the chickens) prefer the Suscovich pens over the Salatin pens. Mainly just for the ease of moving and caring for the chickens.
I am sure there are other chicken tractor plans out there, or maybe you can come up with your own. These are the only two we have had experience with.
We have never had issue with predators with either pen. We once had some stray dogs that were wreaking havoc on our farm. They did try to dig under one of the pens but they were not successful. Our farm is mostly open pasture. We do not have woods surrounding us which I think helps with the predator issues.
Movable Pens Benefit the Ground
One of the main benefits of movable pens for raising pastured chickens is what it does for your land. When the grass is growing, the difference is obvious. The areas where the chicken tractor has been is greener and lusher than the other areas.
The routine is to move each pen the full length of the pen once a day when they are small. As the chickens get bigger and messier, they will need to be moved at least twice a day. We move them morning and evening.
How Much Feed Do Pastured Chickens Eat?
Honestly they will eat just about as much as you give them. We will typically feed them three times a day, which allows them free choice. This ensures they are up to weight by that 8 weeks that we like.
Remember the average conversion is 3 to 1. Three pounds of feed for every one pound of meat you will get. This is just an average. Many different factors like climate and health of the birds will effect the conversion.
Farm Tour
This video shows the chicken pens that we use and how we move them. I thought I had good pictures of the pens in use, but I cannot for the life of me find them! This video shows them in use!
Raising Pastured Meat Chickens Is Rewarding
The Cost of Raising Broiler Chickens
While it is rewarding, it is not the cheapest way to get chicken on your table. You have to remember that the chicken you are growing is far superior to the .99 cent/lb chicken at the grocery store.
We are able to raise ours for roughly $1.70 a pound. That is including the price of the chick. Which is about $1.50 a chick. We are able to sell them for $4.00 a pound, but no one is knocking down our door at that price, I will tell you that! We have a few loyal customers and that is it. A person has to really understand what they are buying and they need to really want a non-gmo pasture raised bird.
That's all for today. I hope you found this post helpful. Raising your own meat is definitely a rewarding and worthwhile endeavor. Not to mention the fact that the meat really is better! You know where it came from, the chickens are meatier than storebought, and they are just plain tasty!
Processing Pastured Meat Chickens Will Be a Whole Other Post.
We process all of our own chickens, so I will share that process and the equipment we use in another post. Thank you for reading Raising Pastured Meat Chickens!
Here are Some Other Homesteading Posts!
A Great Free Resource for You!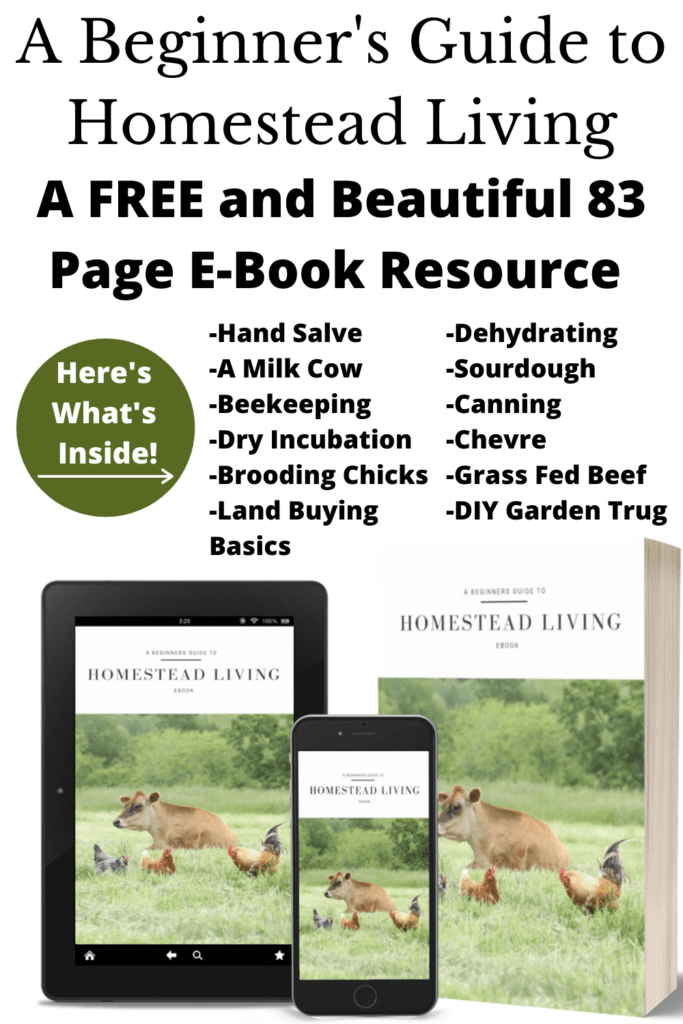 Pin for Reference