Ultimate Guide to Keeping a Family Milk Cow
Thinking about getting a family milk cow? This ultimate guide to keeping a family milk cow should help you figure out what you need and whether it is the right choice for you!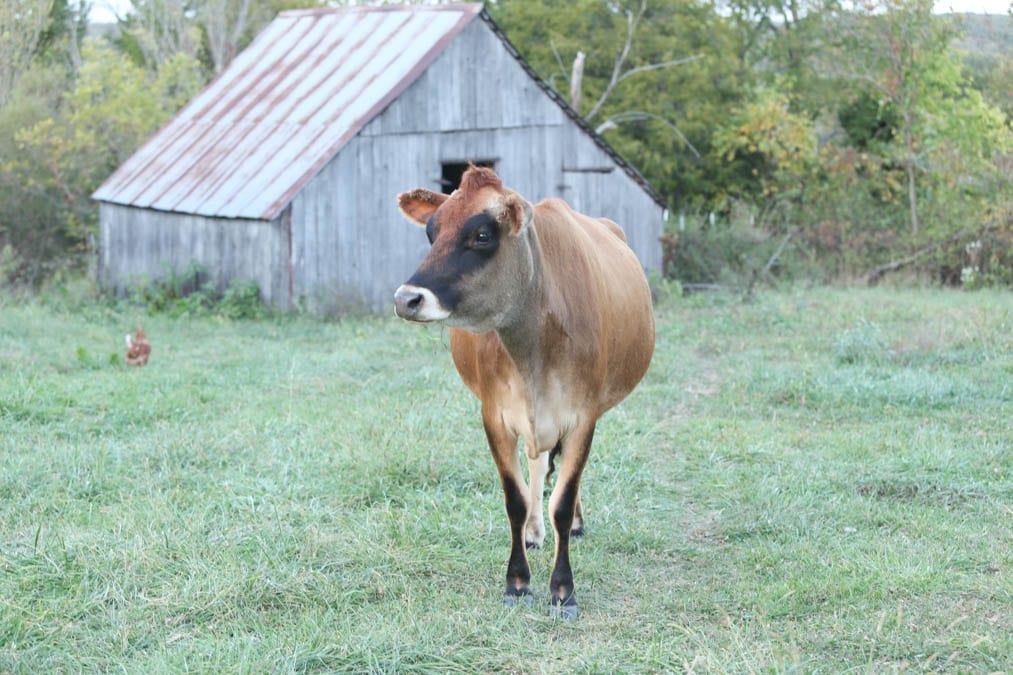 This is part three in my homesteading series. You can find part 1 here and part 2 here. This post contains affiliate links.
We have kept a milk cow off and on for approximately seven years. I by no means claim to be an expert, nor do I think there is only one way to do things. Each individual and each homestead are unique. This is just an informative guide where I am sharing my knowledge and my experience keeping a family milk cow. If you would like a funny tongue in cheek read on keeping a milk cow, you might like this post, Can I Talk You Out of a Milk Cow?
A Quick Vocabulary List
Cattle: this is the term for males, females or calves
Heifer: A female that has never had a calf
Cow: A female that has had a calf
Bull: A male that is intact
Sire: A mature male for breeding
Steer: A castrated male used for beef
Calf: A young one, male of female usually under 1 1/2 years old
Calving: The act of giving birth to a calf
Fresh: This is a cow that is in milk
Selecting The Best Milk Cow Breed
There are several breeds that make good milk cows. Some people try to find a good dual purpose breed. That way if your cow gives you a bull calf, you can raise him up for meat. We have found that even typical dairy breeds make fine meat. We have raised both Jersey and Holstein calves. Both have stocked our freezers with healthy, delicious meat. The only drawback, is that a dairy breed takes a bit longer to raise to full weight on grass. Typically 18 months to 2 years.
Before you set your sights on a particular breed, it would be a good idea to do a quick Craigslist search or ask around about what types of cows are available in your area. Holsteins and Jersey cows are very common in our area. It certainly keeps your start-up cost down if you can buy a cow locally!
Here is a quick run down of common dairy breeds:
Common Milk Cow Breeds
Holstein:
The typical image of a milk cow. White with big black markings. These are heavy milk producers, and are often used in commercial dairies. They have large teets, and are easy to milk. Holsteins have a very large frame. Their milk is not as rich or heavy in cream.
Brown Swiss:
These are beautiful cows, with a grayish brown color. They are very resilient cows–strong and hardy. Their milk is also high in butterfat and protein.
Guernsey:
Guernsey are also beautiful cows…okay, all cows are beautiful in my opinion! This cow is not very common, and may not be as easy to come by. Their milk is golden in color due to it's high content of beta-carotene.
Dexter:
This is considered a good dual-purpose breed. They are smaller and easy to handle. Their milk production is lower than a true dairy breed. The milk fat is also lower than a Jersey, Guernsey, or a Brown Swiss, but not as low as a Holstein. They do, however, claim that they mostly produce A2 milk which is supposed to be easier to digest.
I want to add that I don't see any reason to look specifically for a dual purpose breed. We have tuned our steers into meat for the freezer for years. We have had Holstein and Jersey steers. The meat from both is very good. Some people even prefer Jersey meat.
Jersey:
I saved what I consider to be the best for last. Ha! I don't know if that is true, but we sure love our Jersey cows. This is the only type of cow that we have experience with milking. Jersey cows are easy to find in most areas. They are known for their gentle nature and sweet brown eyes. Their milk is rich and creamy and makes great butter, whipped cream, and yogurt!
How Much Does a Milk Cow Cost?
Jerseys and Holsteins are popular in our area. They are easy to find on Craigslist or through word of mouth. We have bought two cows, both times they had their calf with them. The first time we paid about $950 and the second cow was around $850. Really, they were both a steal!
The cow we have now was very thin when we bought her. The thought of walking away was in our minds for sure! We really took a chance, but the price was so good that we were determined that with proper care and extra minerals she would thrive. Thankfully we were right!
A healthy cow with a calf can run $1000-$3000 depending on your area and the breed of cow. If you are not familiar with cattle, having someone who knows what to look for go with you would be a good idea!
How Much Feed Does a Milk Cow Require?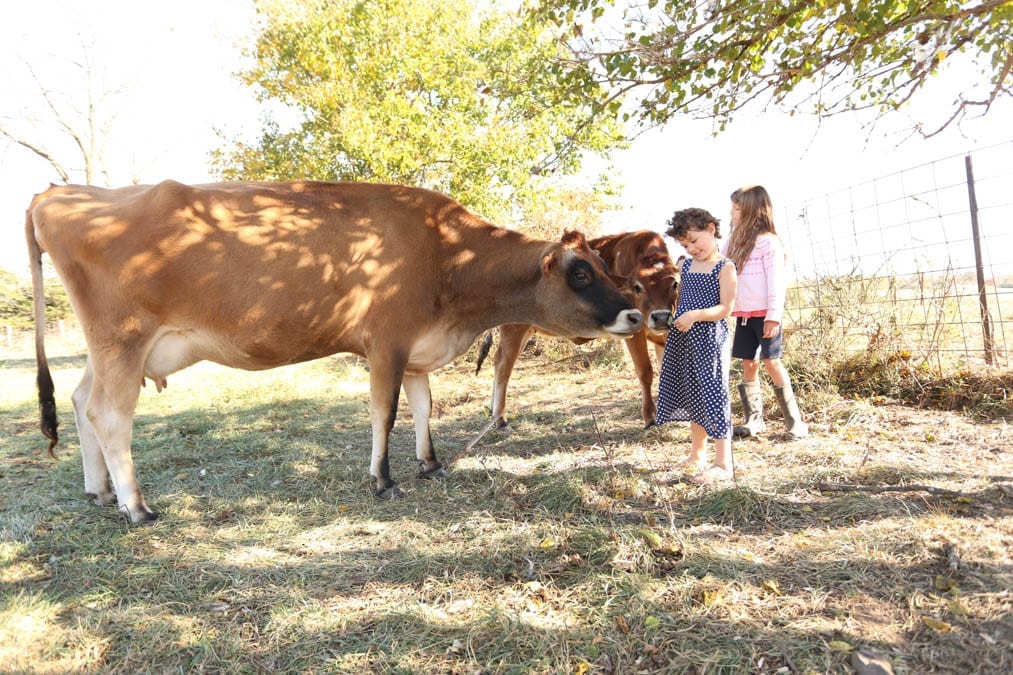 To start with, cows require pasture with high quality grass. About 2 acres is required for one cow. Good grass will be her primary diet through the Spring and Summer. You will need to consider where you will source hay for the winter and the cost of that. A smallish cow like a Jersey should eat about a small 50lb square bale of hay a day through the fall and winter months. If she is in milk, she may need more.
For a milking ration, you will need either a good non-GMO grain or something like alfalfa pellets. We allow grain at milking, and this is the best way to get your cow to behave. We give her two to three scoops. This keeps her standing still while we milk her.
If you prefer only grass-fed, then alfalfa pellets may be your best bet for a milking ration.
What Kind of Shelter for a Milk Cow?
Depending on your location, a shelter for winter may not be required for cattle. However, a milk cow should be treated special. You should be treated special as well. Believe me, you don't want to milk out in a field during a rain or snow storm!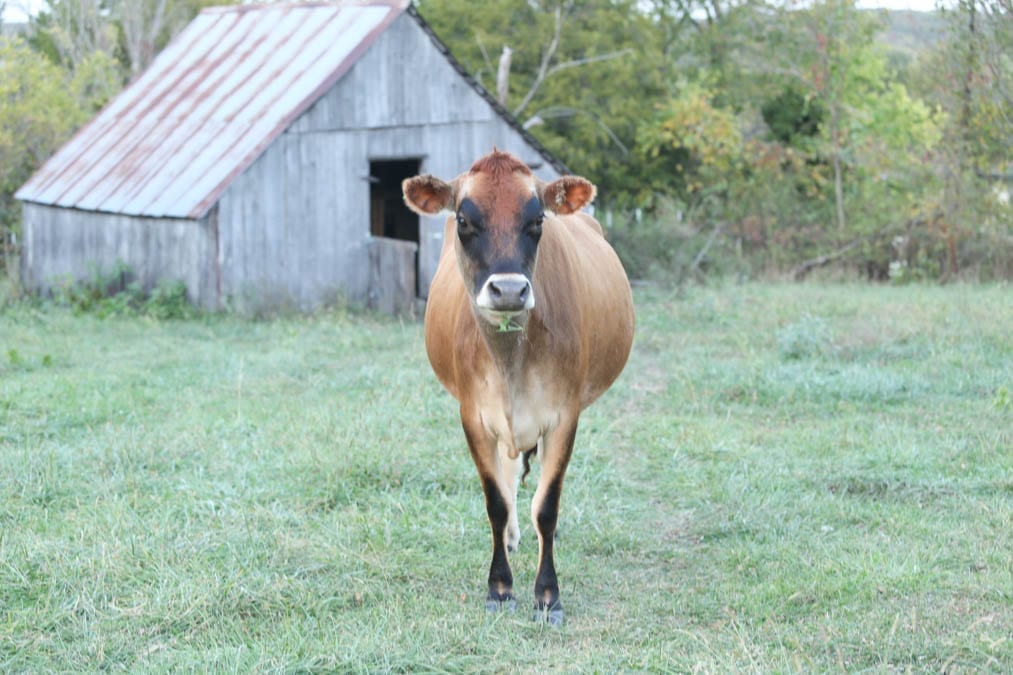 A simple shelter to duck into in order to get out of the wind makes all the difference. We have an old smallish barn that we use. On nice days, it is possible to milk out in the field. Our cow will stand still with only a bucket of feed. However, some cows require being tied or in a headlock in order to stand still for milking.
We live in the Midwest, our winters can be harsh, but are not always severe. A wind break of some sort is really all we need. Rarely will the cattle take shelter inside of the barn. It has to be pretty severe, like very windy and cold. Snow doesn't seem to bother them at all.
I notice that even with the option of the barn to go in, when it is raining, the cows will ususally just stand against a building to block the wind.
What Kind of Fence for a Milk Cow?
Believe it or not, fencing can be one of your largest farm expenses. Fence doesn't just mean a perimeter fence to keep her in either. As far as the type of fence for cattle, 5 strand barbed wire fence works well.
You will need to really think and plan how you want to manage your cow. After she has her calf, how will you separate them so that you can share milk with the calf? It is also necessary to have separate areas if you have other cattle. It is no fun to fight other cattle off when you have a bucket of feed intended for your milk cow
A corral is also very nice to have for loading cattle. Whether you need to make a trip to the vet, or maybe you need to take her somewhere to get bred, a corral will make your loading life easier.
For our current set up, we have about half of our milk barn sectioned off with cattle panels. We call the calf into the barn in the evening time, then lock her in there away from mama for the whole night. Then we milk first thing in the morning. After we milk, we let the calf back out to be with her mama for the whole day.
What Gear Do You Need for a Milk Cow?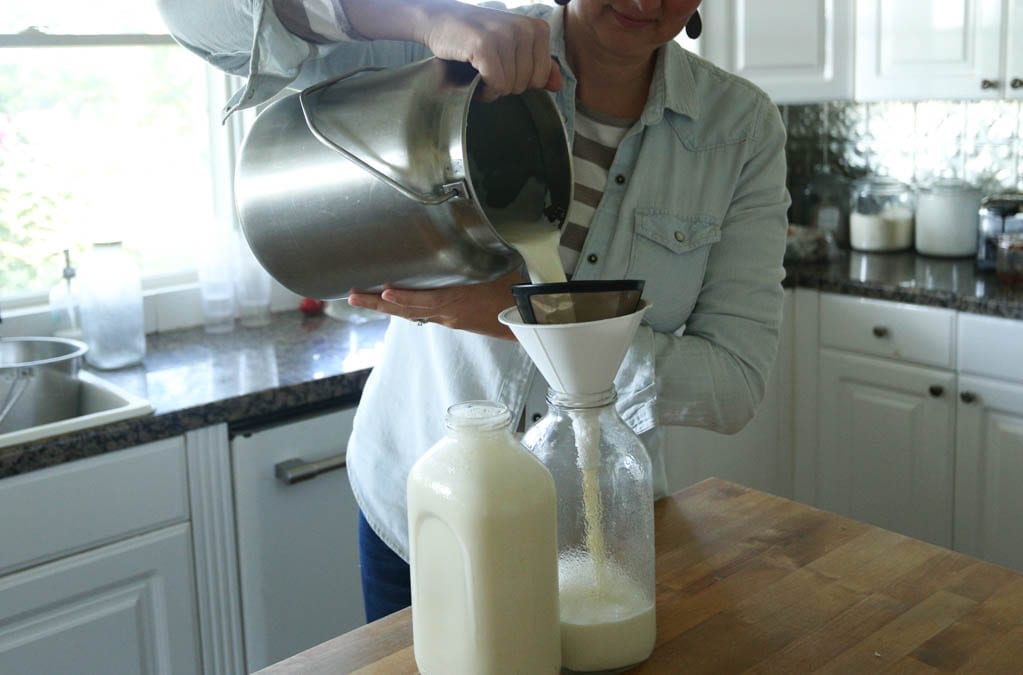 We milk by hand, so our gear is very minimal. Simple 5-gallon buckets for carrying feed and for sitting on when we milk serve us well. We have two seamless stainless steel buckets. One with a lid, and one without.
For straining you can buy a set up like this or this. Or you can just use a funnel and a reusable coffee filter like we do!
Best Ways to Breed Your Cow
In order for a cow to have milk, she must have a calf. In order for a cow to have a calf, she must be bred. This is one area of having a milk cow that takes the most planning. A cow should be at least 15 months old to breed her. Ideally, a cow will calve once a year. Depending on your climate, a late spring calf or an early fall calf are usually ideal. The grass is usually good at those times for the mother, and it's not too cold for the calf.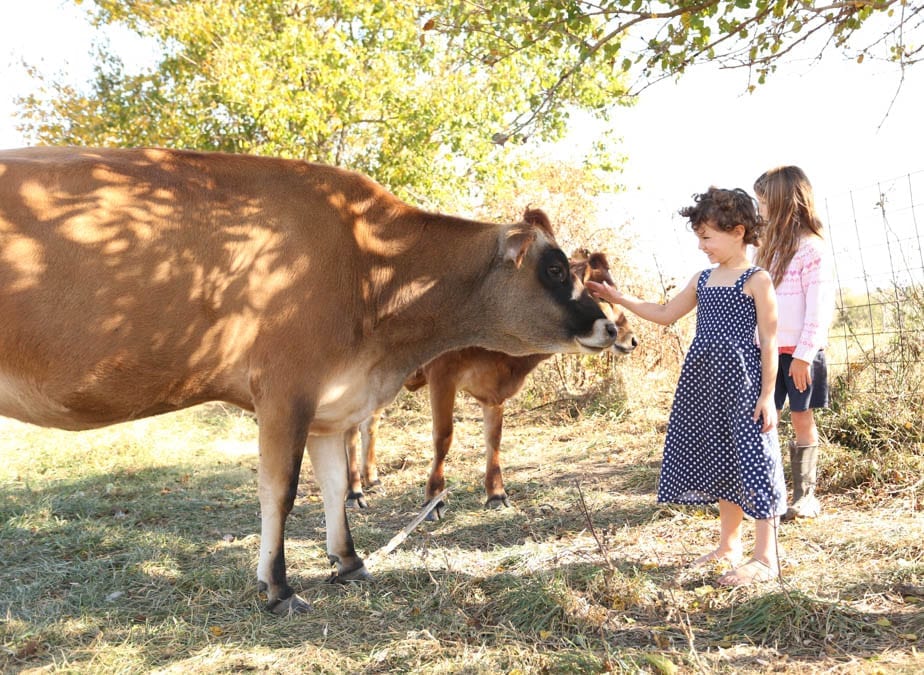 This means you need to get her bred nine months before then. The absolute easiest way to do this is to have a bull on site. First, though, you must weigh the pros and the cons of owning a bull. We have owned one in the past, and don't really want to do it again. You see, we keep Jersey cows, and Jersey bulls have a reputation for suddenly turning mean. There are enough stories out there that we just don't want to take the chance. We have not experienced a mean bull first hand, however, our bull was a fence jumper. That doesn't usually please the neighbors!
Your other options are renting a bull or artificial insemination. We have tried artificial insemination in the past. You must know your cow very well, and you need to get someone there to inseminate her at just the right time when she is in heat. We were never successful with this either.
For us, the easiest way is to rent a bull. We found someone with a Jersey bull and he was willing to rent him to us for a month or two. This usually goes very well. To ensure that your cow is pregnant before returning the bull, it is a good idea to have a vet check her.
A Personal Bull Renting Story
This year we were on top of our game, we rented the same bull as last year, brought him out to the farm, and put him in the same pasture as our cow. Our timing was just right. She would get bred and have a calf in late spring.
We watched them interact for about a month and a half. She was showing absolutely no interest in him! Actually, she was showing no signs of coming into heat at all! What was going on?
We began to have suspicions…she did jump the fence shortly after her calf was born. Perhaps three or four months ago. Our neighbor keeps cattle, and he has a bull.
We decided to have her pregnancy checked before we returned the rented bull. Our suspicions and observations were true. She is indeed pregnant, and she is too far along for it to be from the bull we rented…
So your third option for breeding your cow is to just let her take care of it herself!!! (Not really recommended)
Now, instead of her having a Jersey calf in the spring she will have a Jersy Black Angus cross.
Calving for a Milk Cow
A cow carries her calf for nine months just like a human. There are certain signs to look for prior to calving, you may notice some or all of the following.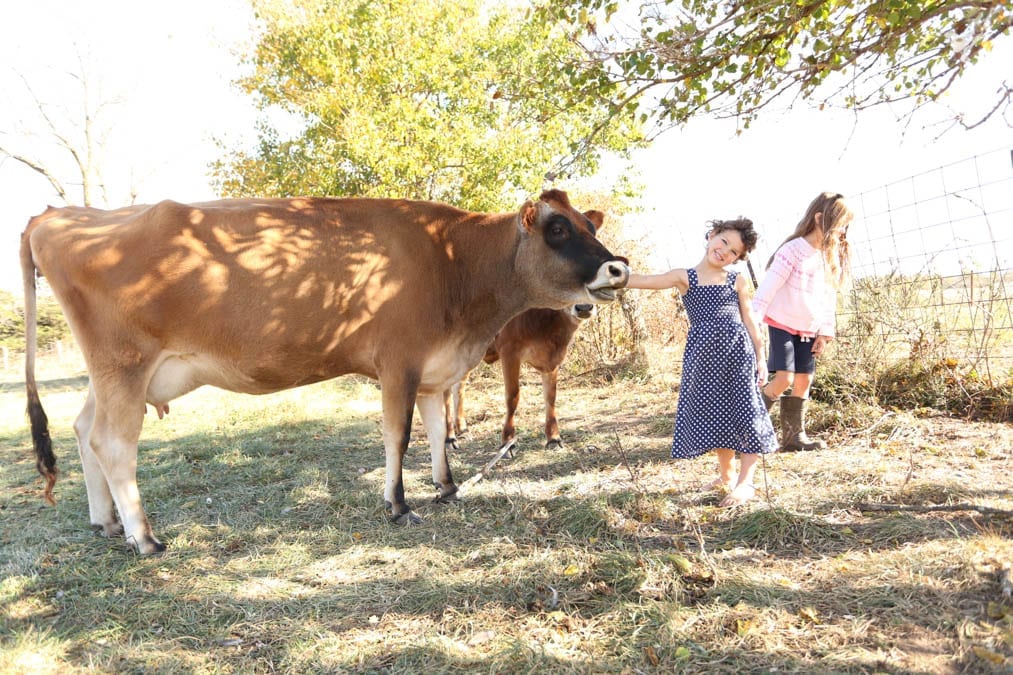 Signs a Cow is going to Calve
An enlarged udder, we noticed this with our cow about two weeks before she calved. Two days before she calved, her udder was enormous!
Loose or disappearing ligaments. This looks like their pin bones are sticking up higher than usual, and their back end is lower.
Swollen vulva with or without discharge. This can happen weeks ahead as well.
Loose stool–this one is tough to tell unless you are following her around, and a cow's stool always looks a bit loose to me.
Change in appetite. This is listed as a possible sign, although again this one would be hard to judge.
I have a whole post dedicated to this here.
Where Does a Cow Calve?
Cows can calve in a field or a barn depending on the season. Ideally you should plan for your cow to calve when the grass is at optimum nutrition, and when it isn't terribly cold. For us that is a bit later in the spring or early fall. Having a shelter for her to rest is nice, but you may find that she doesn't use it and just goes out into the field.
For that reason, keeping her in a corral or some sort of a pen is a good idea when you are pretty sure that birth is imminent. This way it is easier to keep an eye on her and her calf for the first week or so. Otherwise, she might just take off to the other side of your property and you won't be able to observe what is going on. If you miss your opportunity to pen her up, at least try to get her to come in shortly after she calves. Then you can make sure she is eating and drinking. Some nice water with molasses in it will ensure she is drinking and getting some extra nutrients.
A cow will typically eat the afterbirth, this is just fine, and probably good for her. It is best to just let her do her thing, and intervene only if you suspect a problem.
What is Milk Sharing?
Milk sharing is when you let the calf stay with it's mother only weaning when he or she is old enough to be on grass full time. You are only separating them from each other for part of the day so that you can have some milk as well. You and the calf are sharing the milk.
We start part-time separating when the calf is about three months old. Until that point, we are able to milk at just about any time and there is enough milk for us and the calf. Once the calf is bigger though, you must separate the calf from the mother at least part of the day, otherwise, there won't be milk for you!
By the time the calf is about 8 months old, she will be roughly the size of her mother, and it will look absolutely ridiculous when she nurses. That is about the time that we take her off of her mother permanently. The calf is old enough to get her nutrition from grazing.
Very Important Note About Feeding a Calf
If you take your calf off of the mother sooner, and you want her to be grass-fed, you must supplement with milk replacer or the mother's milk in a bottle or pail. Without the mother's milk, grain, or milk replacer, the calf will die. At 8 weeks or even three months, a calf's digestive system is not mature enough for grass alone. They need extra supplementation.
How Long Does a Cow Give Milk
Most people breed their cow every year so that she will give you a new calf, and to ensure that she has milk. Our vet told us that this is good cow management and that it is in her best interest to breed every year.
If you know us at all, you know we don't always like to do things the same way as everyone else. In the past, we have let our cow go for 18 months before we got her bred again. We have actually done this twice. Both times, she gave us lots of milk through that second season. Granted we didn't get a calf that year, but we did get milk. So, if you find yourself in a pinch and you can't get her bred, don't despair! You will still be able to milk her for quite some time!
Cow Management is Up to You
While this was a lot of information, it is really just scratching the surface. Keeping a milk cow is a very big responsibility. There isn't really a once size fits all plan either. We love to milk share with the calf because it frees us up to be able to go places or to travel during that time.
However, not everyone likes to fool with separating every day. Some people like to separate them from the beginning and then bottle feed the calf. Either way, you will have plenty of work! Whether you separate early or whether you milk share, the time will come when you may need to be away for an evening or longer. You will find that you need someone to milk for you if you plan to be gone during a time when you usually milk. This is where building a community with your neighbors comes in. Be a person that is willing to help others, so that when you need help, there are those around that are also willing to help you.
Here is My Video on Milking a Cow
Think Long and Hard About a Milk Cow
I hope this information has helped you to consider what goes into owning a family milk cow. The average life of a milk cow is 20 years!
I didn't even get into the actual milking. Although I have a video above and this post here. When you buy a cow, you are making a long-term commitment to her. Leisurely mornings come only after the chores are done, but that first cup of coffee with fresh cream is much more enjoyable knowing that, doggone, I earned this! Additionally, there is nothing quite like the quiet morning in the barn, with the birds singing and the sweet smell of hay. It feels like a sacred time, and the reward is so sweet!
My Other Milk Cow Posts
Once a Day Cow Milking Schedule | Milk Sharing with a Calf
The Cost of Keeping a Milk Cow for Your Family | Will You Save Money?
Milk Cow Frequently Asked Questions | FAQS
Can I Talk you out of a Milk Cow?
Another New Life! Caring for a Cow and a New Calf After Birth.
Pin for Reference