Milk Cow Frequently Asked Questions | FAQS
Keeping a milk cow faqs. This post will help to answer some of the most common questions new or aspiring milkmaids ask!
This post contains affiliate links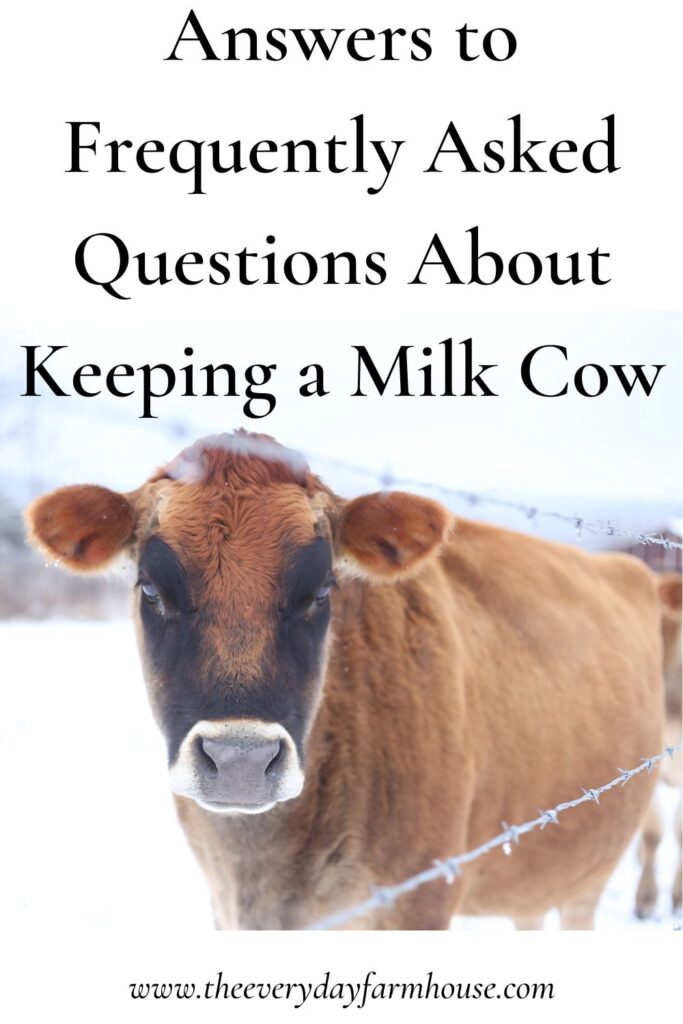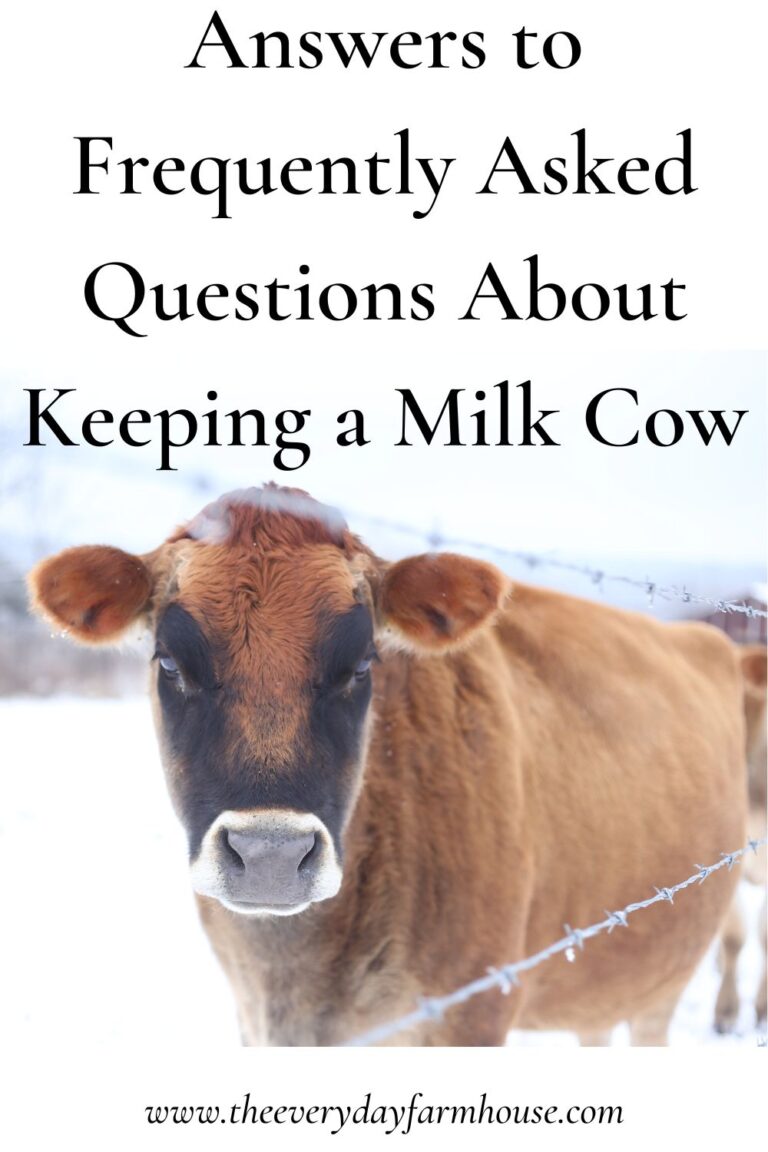 You Want to Keep a Milk Cow?
This is an exciting endeavor for the modern homesteader! Perhaps it will be the latest status symbol! Ha! The truth is keeping a milk cow is kind of a trial and error project for most people. I don't claim that there is one right way to milk a cow or one right way to care for your cow. My answers come from my experience and the experience of my friends and neighbors that keep a milk cow.
As with most things, there are several "right" ways to do this! Everyone's circumstances are different and truth be told most of us did not grow up on a farm raising our own food or milking a cow! We have learned or are learning along the way.
Perhaps the way we do things won't look quite right to someone from 100 years ago! I remember my grandma scolding me for milking on the wrong side of the cow! I had no idea there was a "right" side! However, traditionally the cow was milked from the right side. We milk from both sides as in two people milking at the same time! It works for us!
Out of all the questions I get about homesteading or anything else I write about here on the blog, milk cow questions are the most common and the most plentiful! Here are my answers to the most common questions about milking a cow: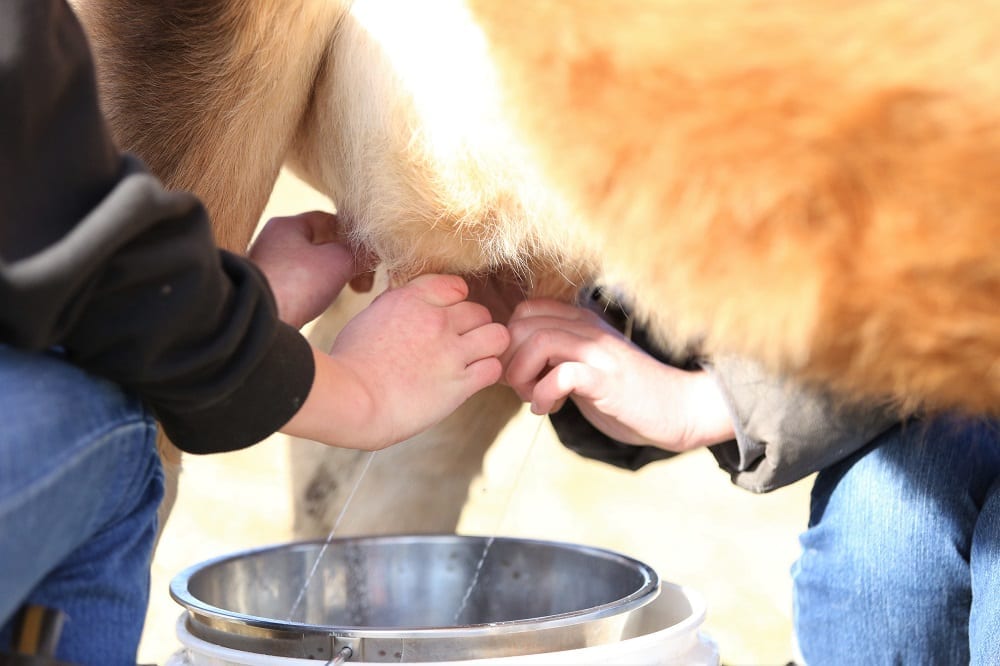 How Long Does it Take to Milk a Cow?
This answer will vary depending on your method and your experience. When we first started milking about 8 years ago, it took us longer than it does today. We have gotten better at milking and more efficient in our system.
From start to finish, from gathering our equipment to straining, we spend about 20 minutes on our morning milking. Not too bad really. We do milk tandem or two people at a time, one on each side of the cow. This cuts the hands-on time down considerably! This also cuts down on the amount of feed we have to give her as we get done so quickly.
If you are brand new or if you milk solo. You should account for about 40 minutes for this task.
Do You Have to Milk a Cow Twice a Day?
This answer is no! I have a whole article on our process of once-a-day milking or calf sharing right here.
Can I Travel if I have a Milk Cow?
Refer to the article above! Yes, you can travel if you share milk with the calf. Of course, you need to plan your travel for times when the calf is still nursing and is well established. You simply leave the calf with the mama and don't worry about milking!
What Equipment Do I Need for a Dairy Cow?
We try to keep it simple with everything on our farm. For each item, you add to your milking arsenal the cost of keeping the animal goes up. You truly have to weigh the cost of convenience against the cost of return.
We milk by hand and have very little "equipment". Our routine is simple and works well. That being said there are a few things that you must have and it is my advice to spend the money to buy quality items once rather than buying cheap milk pails and strainers and having to replace them frequently.
Here are a few of the items I recommend at different price points:
A Seamless Milk Pail
This is essential, you can buy cheap plastic ones or cheap ones with seams but you will never get a plastic pail as clean unless you are bleaching it regularly. Stainless pails with seams are just a waste of money, they will rust and get nasty in the seams. Spend the extra and get a quality pail. Also, one with a lid is super nice when it's raining, then you can cover the milk to carry it to the house.
A Milk Strainer
This is also essential. You can go super cheap like a plastic funnel lined with cheesecloth or you can go expensive. Personally, I don't care for washing out cheesecloth every day it gets stinky pretty fast. We used a cheap reusable coffee filter for years nested inside a plastic funnel. This is serviceable however it needs to be replaced every year as it just doesn't hold up.
We recently switched to the first strainer on the list below. I do wish it was a bit bigger, and for the cost might get the next size up. However, this is a vast improvement over our coffee filter setup!
An Electronic Milker
We milk by hand. I love the simplicity and the quietness of milking by hand. It's a sweet time and I enjoy it. However, if you find that you cannot get the hang of milking by hand or that you are unable to milk your cow out all the way, you may want an electronic milker.
I have zero experience with one but here are a few that I found at various price points:
How Do I Clean the Cow's Udder and Teets?
This is one of those things that will vary from homesteader to homesteader. What I am comfortable with may make you cringe, and someone else's routine may be way too complicated for me. That is the beauty of keeping your own cow, you can do what pleases you!
The traditional method is an iodine dip. This is used in commercial dairies. However, you are not a commercial dairy, you don't have 200 head of cattle and truckloads of manure to deal with. You are likely a clean and tidy little homestead with one or two cows.
The cow's udder will get dirty, she will lay down in mud or manure from time to time. The best way to combat this is to keep your barn and shelter clean. Meaning lay down fresh bedding regularly. I like straw the best for bedding.
When it is time to milk, we wipe the udder and teets down with a dry rag. If she is super dirty, we use a warm wet cloth and a brush to clear away any mud or manure. If you are more of a germ conscience person, you could make an udder wash with equal parts vinegar and water.
Also, I was taught that the first few squirts of milk should go on the ground, as if there is any dirt or bad bacteria it would be in those first squirts. We milk the first cup of so of milk into a cat dish and let them have it.
After we wipe her down I then apply this udder balm. It contains essential oils to help prevent mastitis and to keep her teets nourished and clean. This also gives some lubrication which helps with milking.
How Do I Know When My Cow Will Calve?
This is the most exciting part of keeping a milk cow! Waiting for your cow to calve (give birth) is super exciting and maybe a bit nerve-wracking! Likely she will calf without incident, most of the time we wake up in the morning to find that she had her calf in the night or early morning without fanfare. This can be disappointing when you really want to see the birth!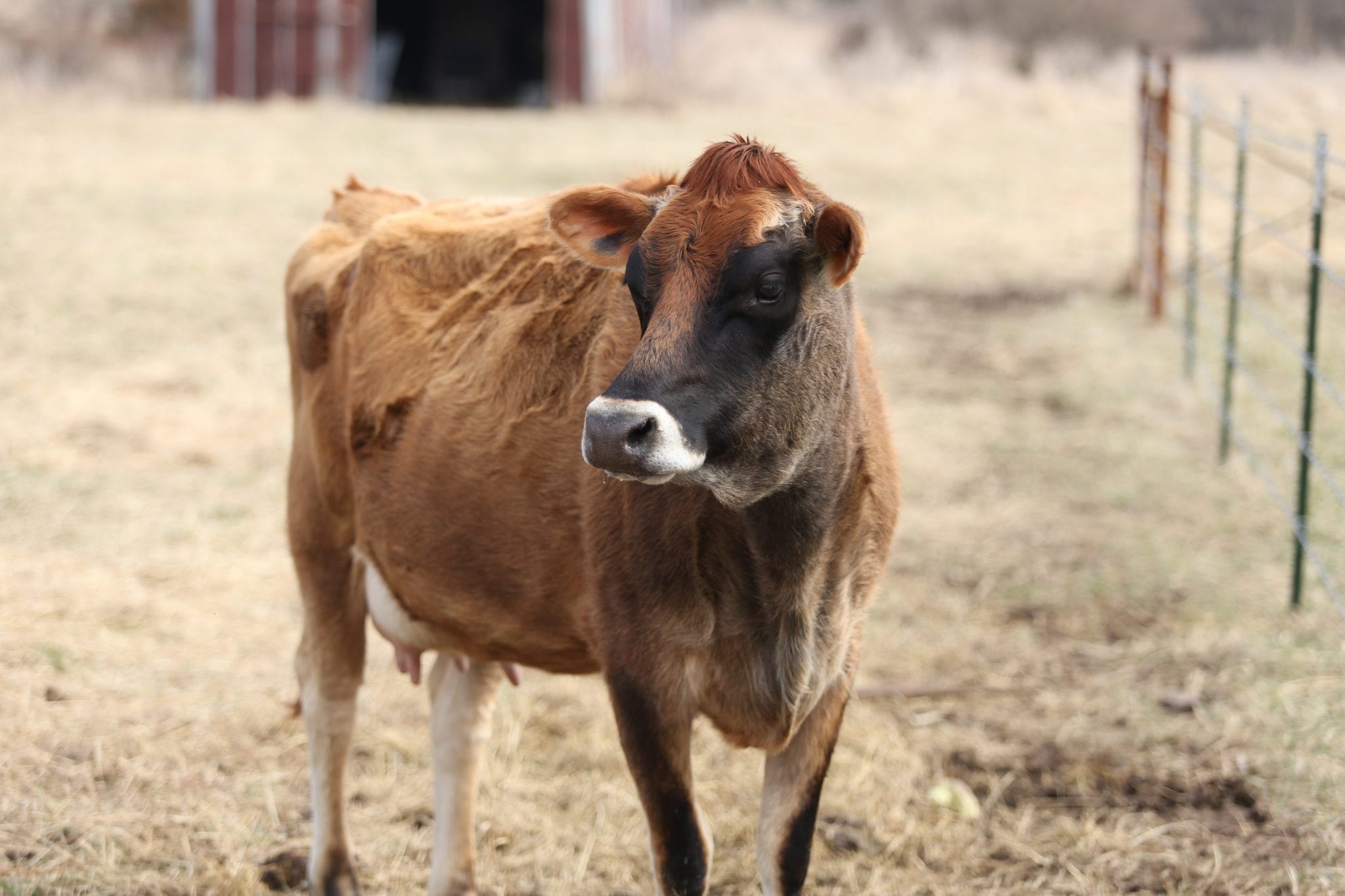 Do I Need to Worry About Milk Fever in My Milk Cow?
Milk fever can be a concern, and many say it is a calcium deficiency. However, I have read that it is more likely a magnesium deficiency. Magnesium is vital for so many functions in the body, one of the functions being the absorption of calcium. Molasses is high in magnesium, and she loves it. After our cow gives birth I always offer warmish water mixed with a couple of cups of molasses, they always gulp it down. You should also offer some mineral cubes or a mineral bucket and high-quality hay.
How Long is a Cow Pregnant?
Nine months! However, Jersey cows have a tendency to go early from our experience. Our older cow Penelope gives birth at least two weeks early every time. Our other cow went about a week early.
My Jersey Calf Has an Underbite! Is This Normal?
Actually yes it is. Our vet told us it was nothing to worry about. Turns out she was right, by the time the calf was about 6 months old, her underbite was gone. She never had any problem nursing or eating. She has had a calf of her own and it did not have a noticeable underbite.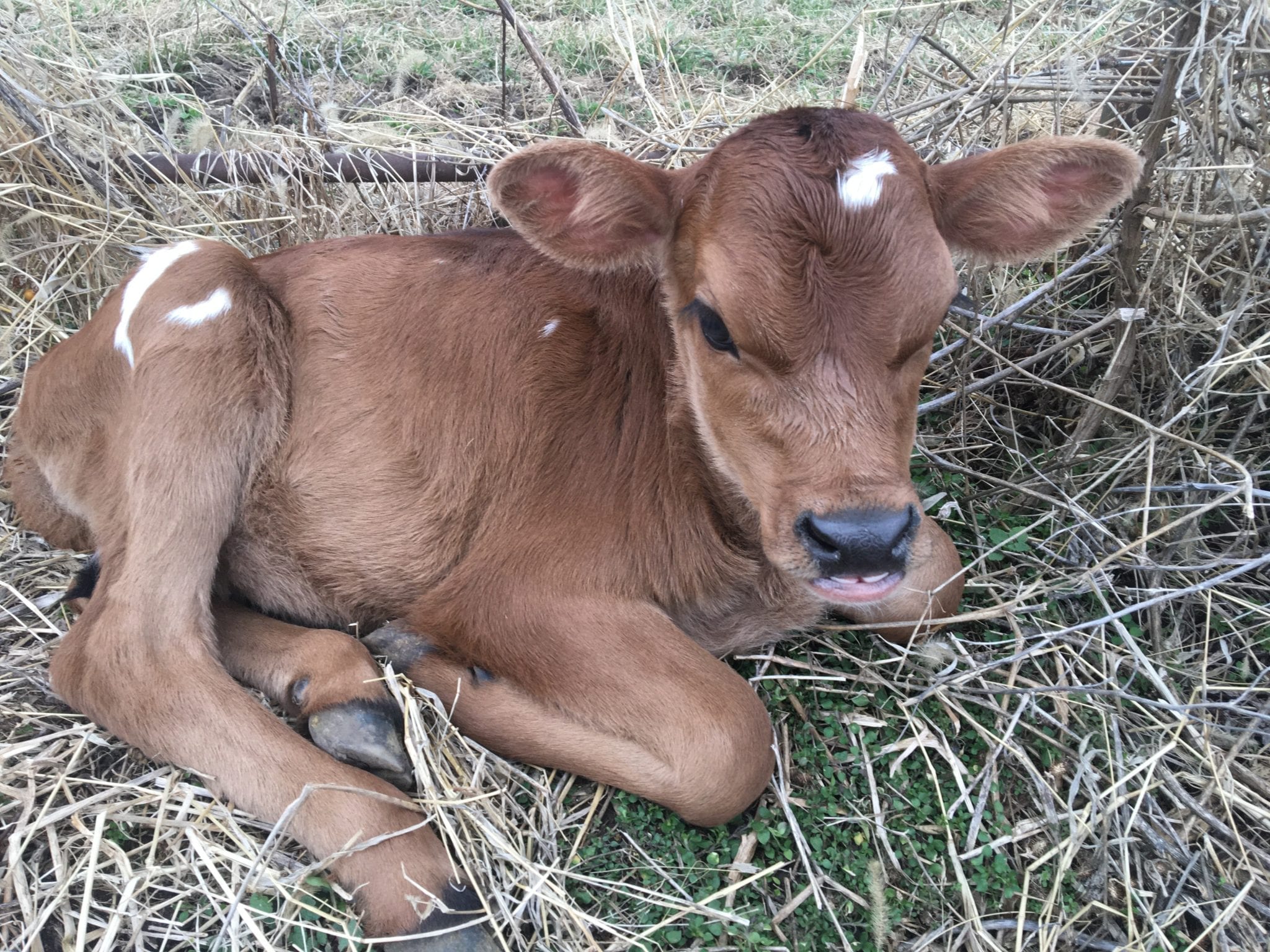 How Long Does a Cow Give Milk After a Calf
Most homesteaders and vets advise that you get your cow bred every year. Typically when the calf is about three or four months old you should get your cow bred again so that she can have a calf the following year. The vet assures me that this is what is best for the cow.
We are not always good at making this happen! We miss the window and then we need to wait until it would be an ideal season to breed her. You don't want your cow dropping a calf in the dead of winter. Spring and Fall are the best seasons for calving.
If you miss the window don't despair! We have milked a cow for 18 months to 2 years with no problem. She will give less milk than if she were fresh but our current cow is going on two years of milking and we still get 1.5 gallons a day. She is currently bred and we will be drying her off in a few weeks.
You should give your cow a dry period of about 3 months before her next calf is born.
What First Aid Supplies Should I Have on Hand?
We don't keep an awful lot of supplies on hand. If we suspect there is a real problem, we don't hesitate to call the vet.
However, things like pink eye or a cut on her teet can definitely be treated at home. This product is absolutely amazing and can be used for just about any minor ailment. It is called Vetericyn. There are different labels on some of the bottles for things like pink eye or wound treatment, but the active ingredients are the same.
We have used this to treat a severe teet injury and pink eye. Just spray it on any wound on any of your animals. For pink eye spray it directly in the eye.
Saline Water
This can also be used for many wounds. Keeping a wound clean accelerates healing and keeps down infection
Molasses
I like to keep molasses on hand. After my cow calves, I always give her molasses in her water, it is high in magnesium which helps in the absorption of calcium. This helps to prevent milk fever.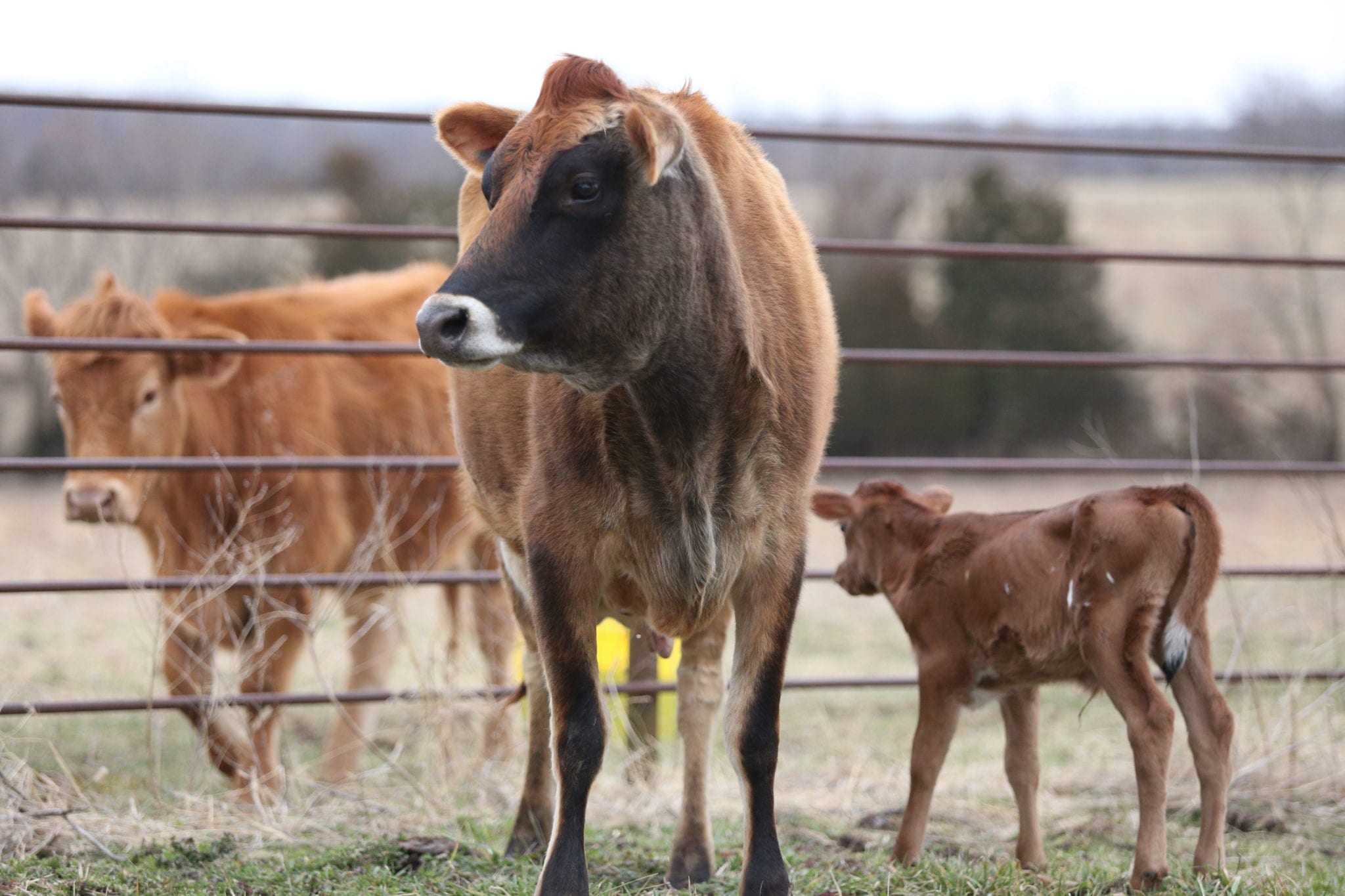 How Do I Stop My Cow From Kicking?
This can be very tricky as there are cows with difficult temperaments. We have never had a cow that kicked maliciously. However, after a cow has her calf, her udder can become sore, the only way she has of telling you that it hurts is by taking her hoof and swatting your hands away. This does not mean she is mean or that she won't let you milk her. It is just going to take some time and consistency to get her to let you touch her udder.
Usually, after she can see that you touching the udder brings relief she will allow you to milk her. With our newest milk cow that the kids have trained to milk, it took a couple of weeks of them being consistent with her for her to stop kicking their hands away. It also takes a bit of bravery on your part!
One thing my kids tried was for one of them to kind of lean over her back right behind her front legs, this puts enough pressure on her that she can't easily lift her back legs to swat you away. This does help.
You can also tie one leg to a post behind her. This will hold the leg and not allow her to kick with the other one.
If you happen to get a cow with a bad disposition, there are some products that can encourage your cow to stop kicking. We bought one of the kick-stop bars but have never had to use it.
What Can I Do About Flies on My Cow?
Ugggh flies, they are the worst! When we first started keeping cattle I was alarmed that they had flies on them! I felt like I needed to do something to keep the flies off of them at all times. However, cows are equipped with a tail and ears that move easily and they have the ability to kind of move their skin to shoo the flies away.
During wet seasons when flies are really pestering them, you will likely want to intervene. If you are more of a purist or a naturalist, you might like my recipe here for an all-natural fly spray for livestock.
We only spray our cows when we are milking because the cow's natural ability to swat flies with their tail can be very painful for the milkmaid! We usually use our recipe above. I will say this has to be applied every time you milk, it usually only keeps the flies away for about half of the day.
If you aren't afraid of a commercial option, we have used this one in extreme cases when the flies are truly a pain. It will keep them off for days. Horse flies can cause big problems for your livestock, so if you see your cows being pestered by them, it's time to intervene! The main active ingredient is pyrethrin which is considered non-toxic to animals and humans. However, it is far from "natural" or completely harmless.
You have to weigh the options for yourself. Sometimes I compromise on my principles if I feel like it will benefit the animal overall.
When Do I Wean the Calf?
This is another area where people differ in the way they do things. If you are calf-sharing you are doing what is best for you and the calf. You are allowing the calf to nurse on its mother for as long as you can, thus producing a healthy calf!
In commercial operations, they separate the calf soon after the colostrum is gone. I've never liked that approach.
We let our calves nurse until they are at least 8-9 months old, sometimes longer. When it begins to look absolutely ridiculous and the calf is as big as its mother, we say it's time to wean.
If you plan to breed your cow every year, then you will need to wean the calf three months before the next calf is born.
You really should not wean the calf until it is eating mostly grass and only nursing occasionally. Never wean the calf before four months, they are not ready for a grass-only diet yet. If you do wean them, they must be supplemented with either grain or a milk replacer.
To wean you must separate the calf from the mother, as far away as possible. Our calves and the mama cow have both been known to jump the fence to get to each other. This can be a challenging time. They will usually be over it in about three days.
Do You Pasteurize Your Cow's Milk?
No, we don't. We strain it chill it and keep it raw. There are health benefits to drinking raw milk, one being that it contains the enzymes needed to properly digest it. Our family has drunk raw milk for 18 years and we have never had any issues.
How Long Does Raw Milk Stay Fresh?
Usually a week and a half to two weeks. If you can keep it extra cold it will stay fresh for close to two weeks.
Any More Questions About Keeping a Milk Cow?
Ask away! I will do my best to answer or to find the answer for you!