Homemade Waterproof Sunscreen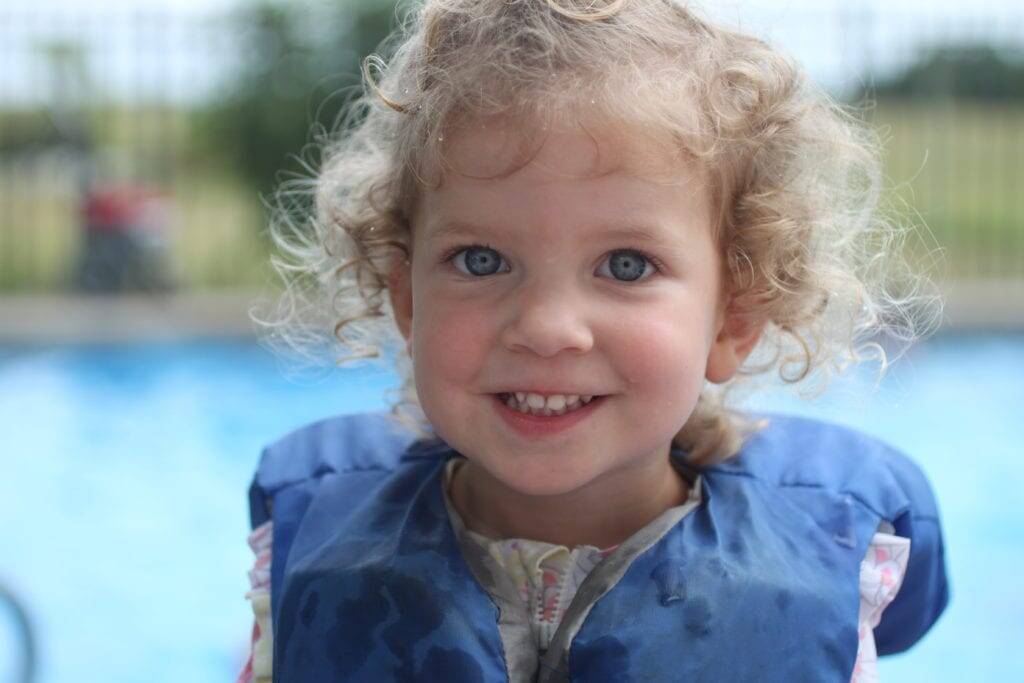 Homemade waterproof sunscreen is a great way to protect your children from sunburn while they are playing outside or at the pool!
I have been making this sunscreen for about three years now. I originally got the recipe from the blog My Blessed Home, and it looks like she originally got the recipe from Wellness Mama. So, why am I sharing it here? Well, because it is a great recipe and it really works well. I think it should be passed around as much as possible!
Easy Peasy
Are you intimidated by making your own lotions, salves or balms? I know I am sometimes. I think ugggh, I need to make sunscreen…it's going to take a bunch of time. However, the truth is, that is just a mental block. This really is super easy, once you have the ingredients on hand. You can whip this up in less than 30 minutes. The batch is large enough that you many not need to make it again for a year or more.
Why Homemade Sunsreen?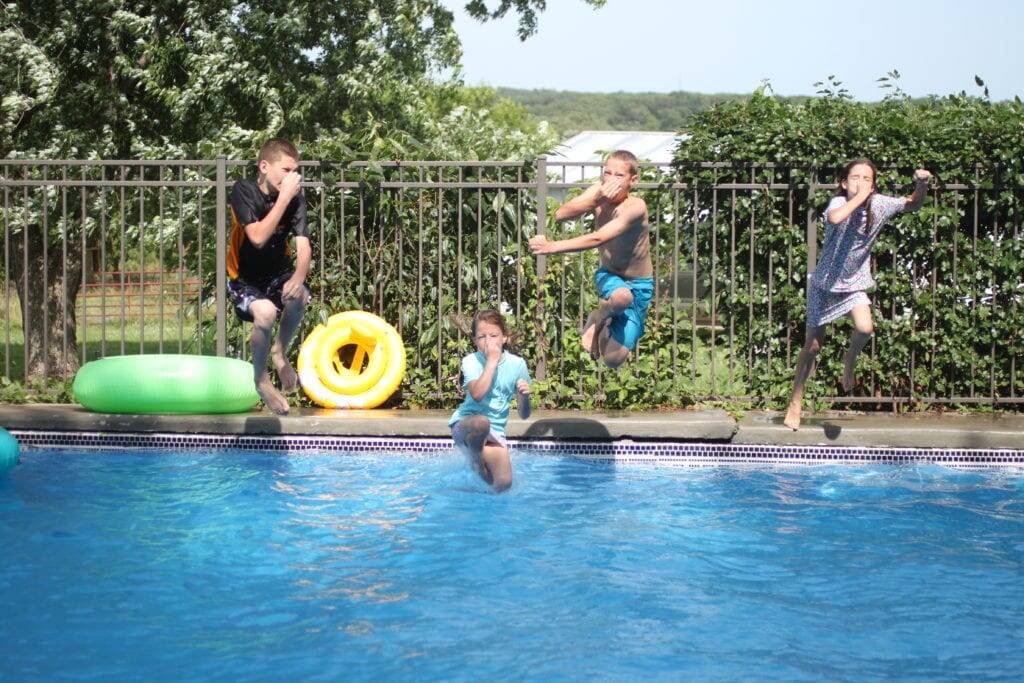 I am by no means a perfect mom when it comes to diet or how I care for my children. I go through cycles where we do really well, and then busier more indulgent seasons when there are less than perfect foods consumed in our home. Right now, my older kids are obsessed with iced coffee and they really love it with fancy flavored creamers. We don't have it in the house every week, but just know when we do, it gets consumed! Overall, we do try to educate ourselves and follow through with what we learn to keep our bodies healthy.
All that to say, there are toxins in just about everything! So, if I have a way to eliminate some of those toxins and possible carcinogens, I try to stick with it! There are lots of chemicals in standard sunscreen. Since our skin is the largest organ of our body, we really should pay attention to what we put on it! Making our own sunscreen is just one way I can be sure that what I am putting on my child's skin is not toxic.
The added benefit is, your skin will be so soft after using this!
Eating Well for Sun Protection?
This article from Wellness Mama is absolutely fascinating to me. I have read this before, but her testimony really makes be believe that there is truth to this! Sunburn protection from the inside out? Eliminating inflammation in your body through diet can help to prevent sunburn! It makes sense! After all, I find it hard to believe that the sun is all bad like we are told! Especially since vitamin D is essential to our health and the best way to get it is from the sun! Hmmm…God's design perhaps?
Application
This seems to protect well for about 2-3 hours. Most of my children don't burn severely. I have a few that do burn more easily, so I make sure their ears and noses are covered well. You know your child best, if they tend to burn very easily, then re-apply this homemade waterproof sunscreen as you would any other sunscreen.
A note: this will look a bit white on your skin if you don't rub it in well. My kids don't care at all, but we are just swimming here at home. If you are in public, you might take the time to really rub it in more 🙂
Let's Make Sunscreen
Here is what you need
Coconut Oil– 1 Cup
Shea Butter– 1 Cup
Bee's Wax Pastilles– 1 Cup
Zinc Oxide Powder (non-nano)– 2 TBS
Silicone Molds, helpful but not necessary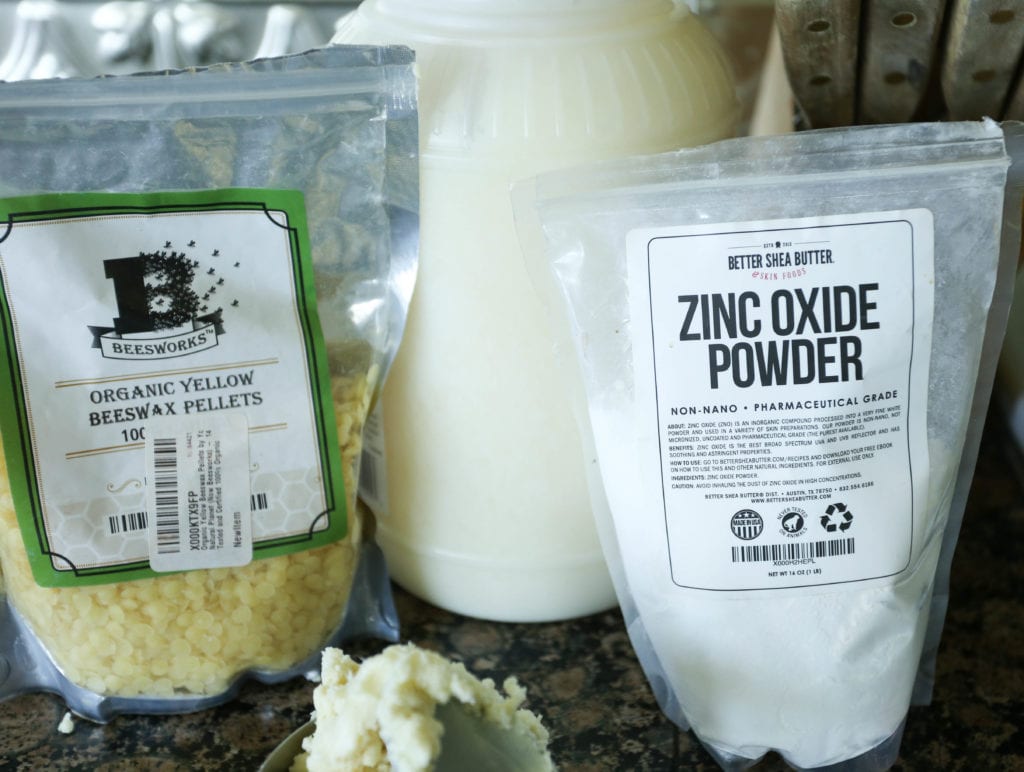 The original recipe calls for vitamin E oil to help preserve it. My skin does not like vitamin E, so I have never used it, but you sure could add 1 tsp, if you like. I store it in the refrigerator and have never had it go bad. You may have many of these items on hand if you have made my orange and clove lipbalm, or udder balm or salve. Once you have these ingredients in the house, it is very easy to whip up your own products. Typically, you will not use the entire package of shea butter or bee's wax for one recipe, which means you have a good stash on hand for future recipes!
In a double boiler, or old crockpot, melt your coconut oil, shea butter and bees wax. As you can see in my picture, I didn't use a double boiler…what was I thinking? The pan was difficult to clean, I had to waste paper towels to wipe it out first. So, use something that you can designate just for making salves and balms. Once everything is melted, turn off the heat and stir in the 2 Tbs of zinc oxide. This recipe filled six large soap molds and we then cut those in half. I may actually cut them in half again for smaller sized bars. Therefore, this recipe yielded 12-24 bars depending on the size you want.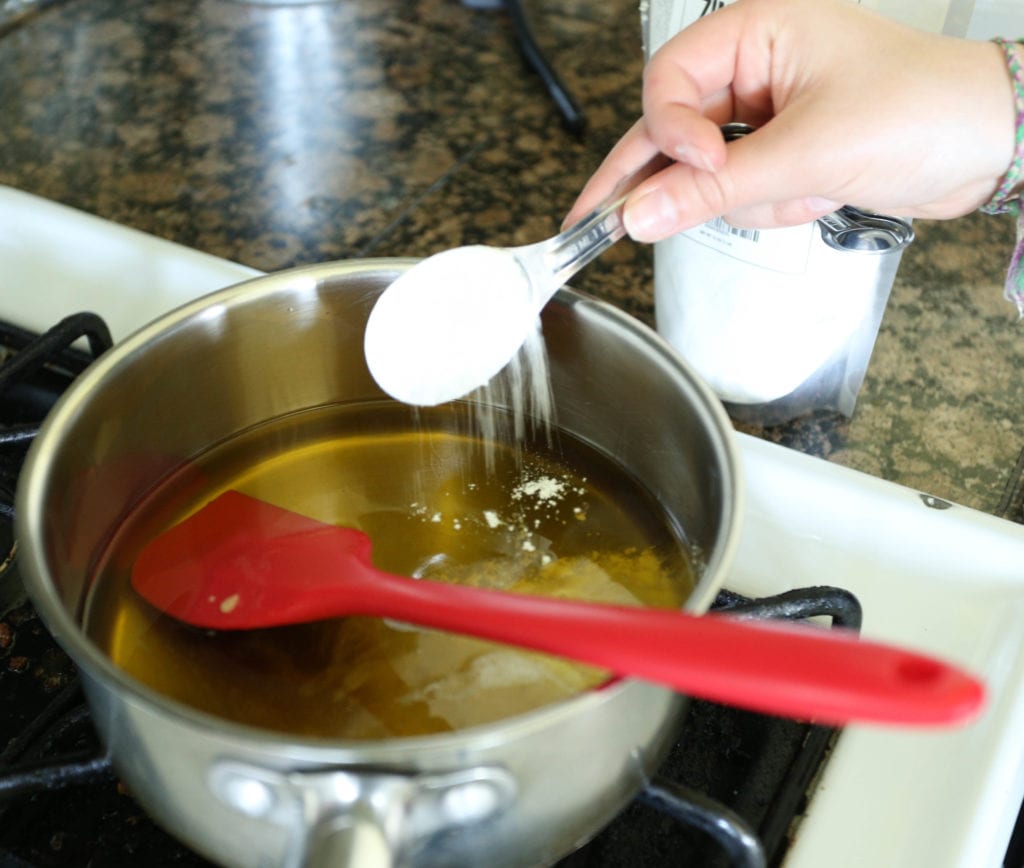 Now, you can pour this into your molds. I had silicone soap molds on hand, so I used those. In the past I have just used plastic sandwich containers or muffin tins and cut my bars to a size that I liked. Don't let the lack of a fancy mold stop you from making these. Anything will do really!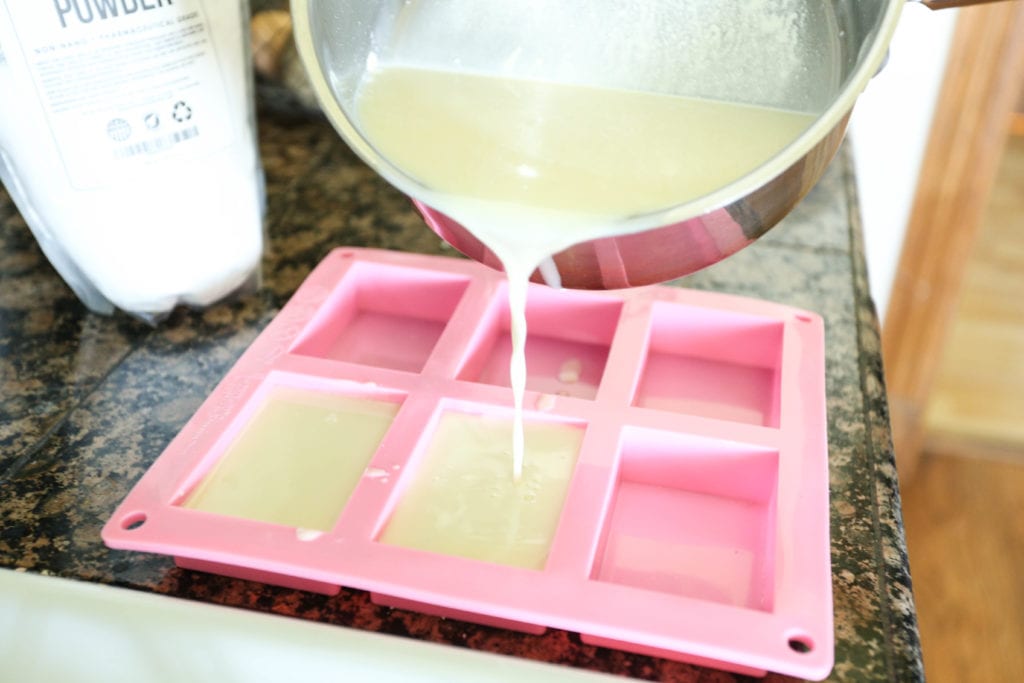 Storing
This sunscreen is best stored in the fridge so that they remain bar shaped. However, my older boys left a container of it in their car, and it melted, but was still usable. The bars are handy for little kids to grab and rub all over their face and arms. My kiddos are just used to getting the sunscreen out of the fridge. I store it in a glass or plastic lidded container.
I hope you enjoy this homemade waterproof sunscreen!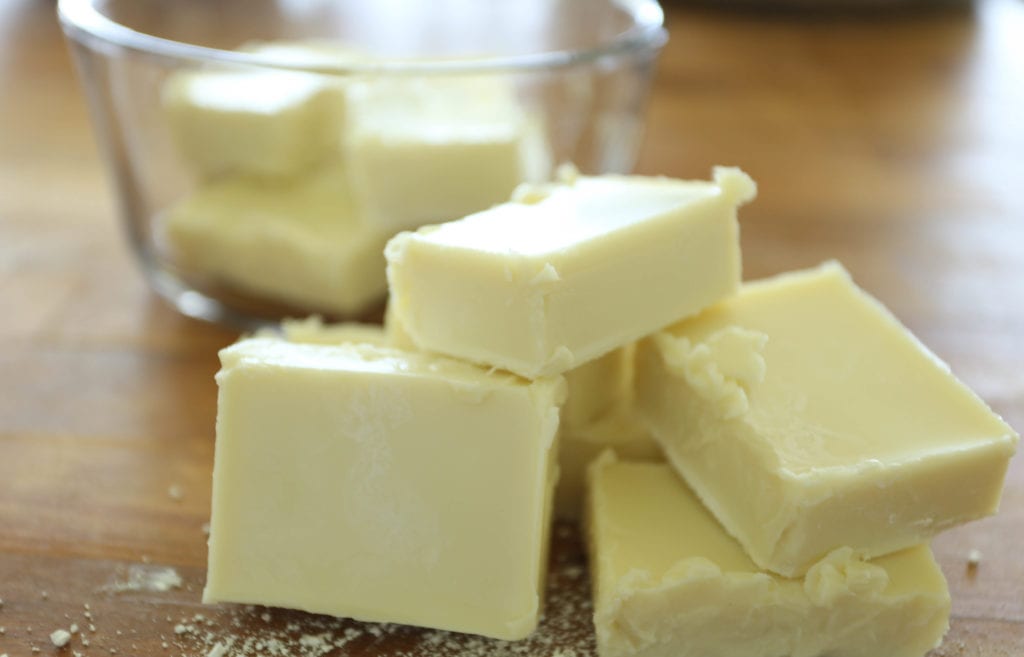 Pin and Share!