Healing Salve | Herbal Salve Recipe
In this post, I will show you how easy it is to make a homemade salve that you will reach for every day. We will talk about infusing oils, and I show you that it really is very simple!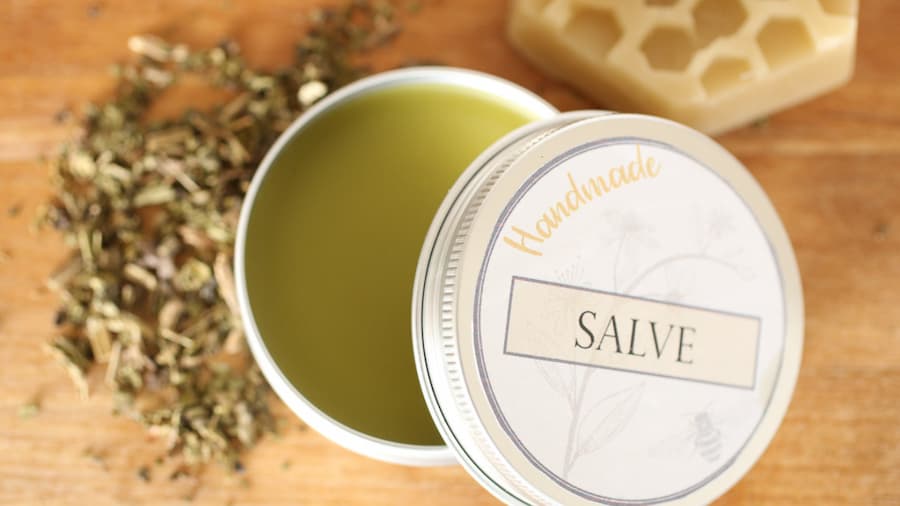 This homemade healing salve recipe is from my herbalist friend Debra. She has made this salve for years. After one of my babies was born she gave me several tins of this as a gift. We were hooked! It really is the best salve I have ever used. You can make this homemade salve as well!
We use this for everyday scrapes and cuts. Since it has plantain in it, you may also find this works very well on bee or wasp stings. I have found that it works on some of my children, and on others, it doesn't help that much. Most likely it depends on a person's personal reaction to stings in general. Since I am terribly allergic to stings, I have yet to find anything that really helps. For one of my children, I can put a drop of lavender on her sting and it helps immensely. So, it's worth trying if your child doesn't have severe reactions to stings.
A Testimony for Healing Salve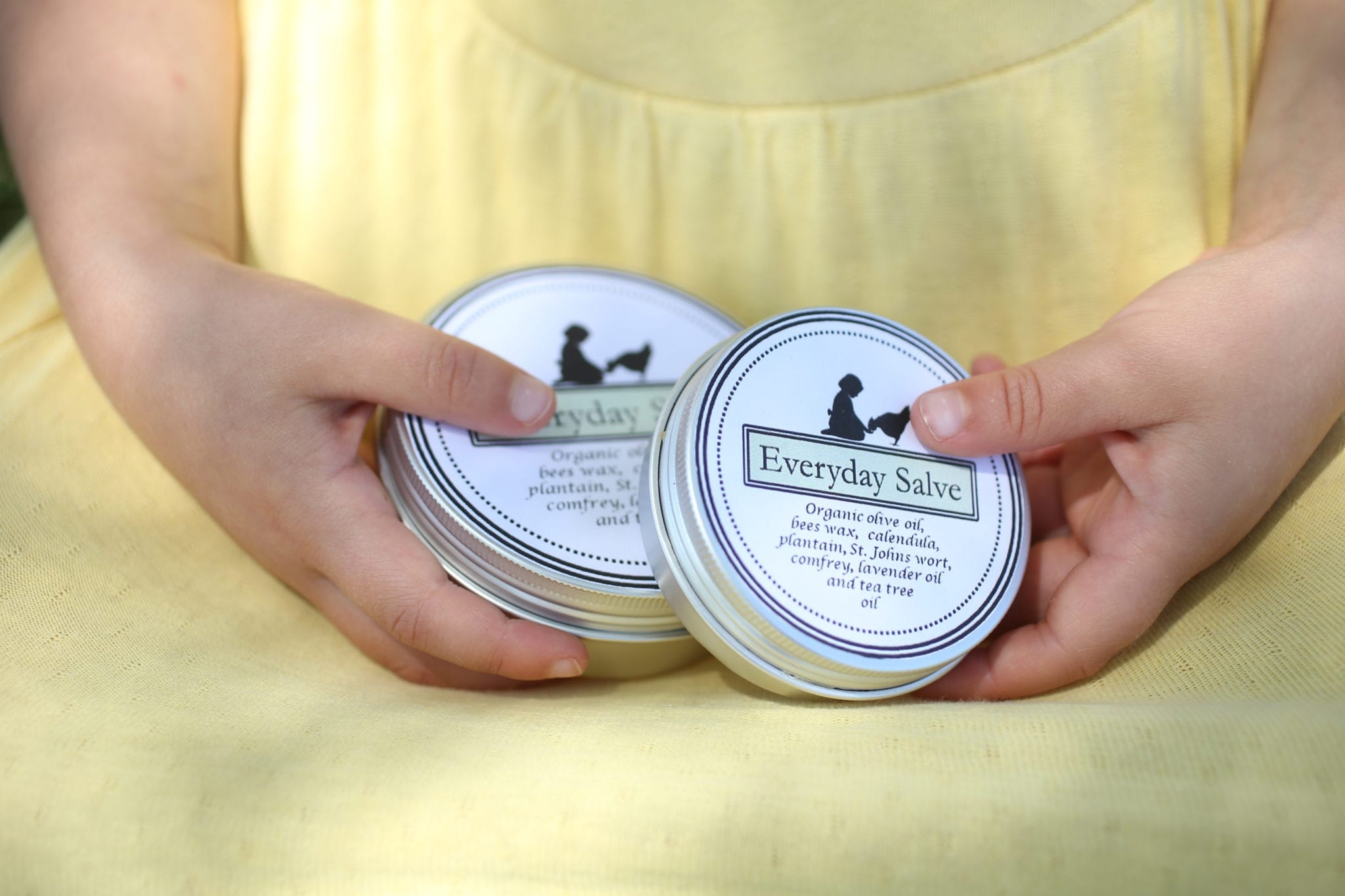 So, I made a batch of this salve a few weeks ago. Spring seems to be the time for scraped knees and elbows. The kids get outside and start riding their bikes and running around more. So, the front door slamming and someone running in crying with a bloody knee becomes more frequent. Anyway, a few days after I made this salve, my nine-year-old wrecked her bike, and really scraped herself up. The worst part was her face! She scraped up her forehead, nose, chin, and even her cheeks. I cleaned her up and put this salve on her. I gave her her own little tin of salve and told her to use it several times a day. After less than a week her little face was almost healed completely!
How to Infuse Oils
In the past, I have been so intimidated by the thought of infusing oils. I mean, just listen to the word infusing…it sounds like maybe you will need special equipment or knowledge at the very least. However, if you can measure, turn on a crock pot or boil water; you can infuse oils! It really is very simple. From what I understand, there are three methods that most people use.
Method One–Solar infused
The first is slower, but less hands on. Simply fill a mason jar with herbs, then pour some organic olive oil over it so that all bits of the herbs are covered. Now, place your jar in a sunny window and let it sit for two to three weeks. After that time, strain out the herbs with a cheesecloth or strainer (reusable coffee filter for us) and you have an infused oil.
Method Two
You simply measure your oil and herbs and put it in the crock-pot on low for three days. A small crock-pot would be best, so that you can cover the herbs completely without having to make a giant vat of it! Next, strain out the herbs and use your infused oil.
Method Three
The third method is quicker, but you must watch it more closely. That is the double-boiler method. This is just a fancy way of saying, simmer some water and nestle a bowl in the pot to heat the oil indirectly. The oil should be heated on low for 1-5 hours, I went with about an hour and a half for mine. I didn't have five hours to tend it. I am happy with the results. The oil should start to look greenish and have the smell of the herbs. Again, just strain out the herbs and enjoy the oil.
Supplies for Healing Salve
How to Make Salve
You will need Olive oil, St. John's Wort, Calendula, Plantain, Comfrey, Bees wax, lavender, and tea tree essential oils. Make sure you are purchasing the dried whole herb, not a powder. I somehow ordered Comfrey powder instead of the dried herb and as you can see in the video, it does not strain easily! So, learn from my mistake!
Infuse the oil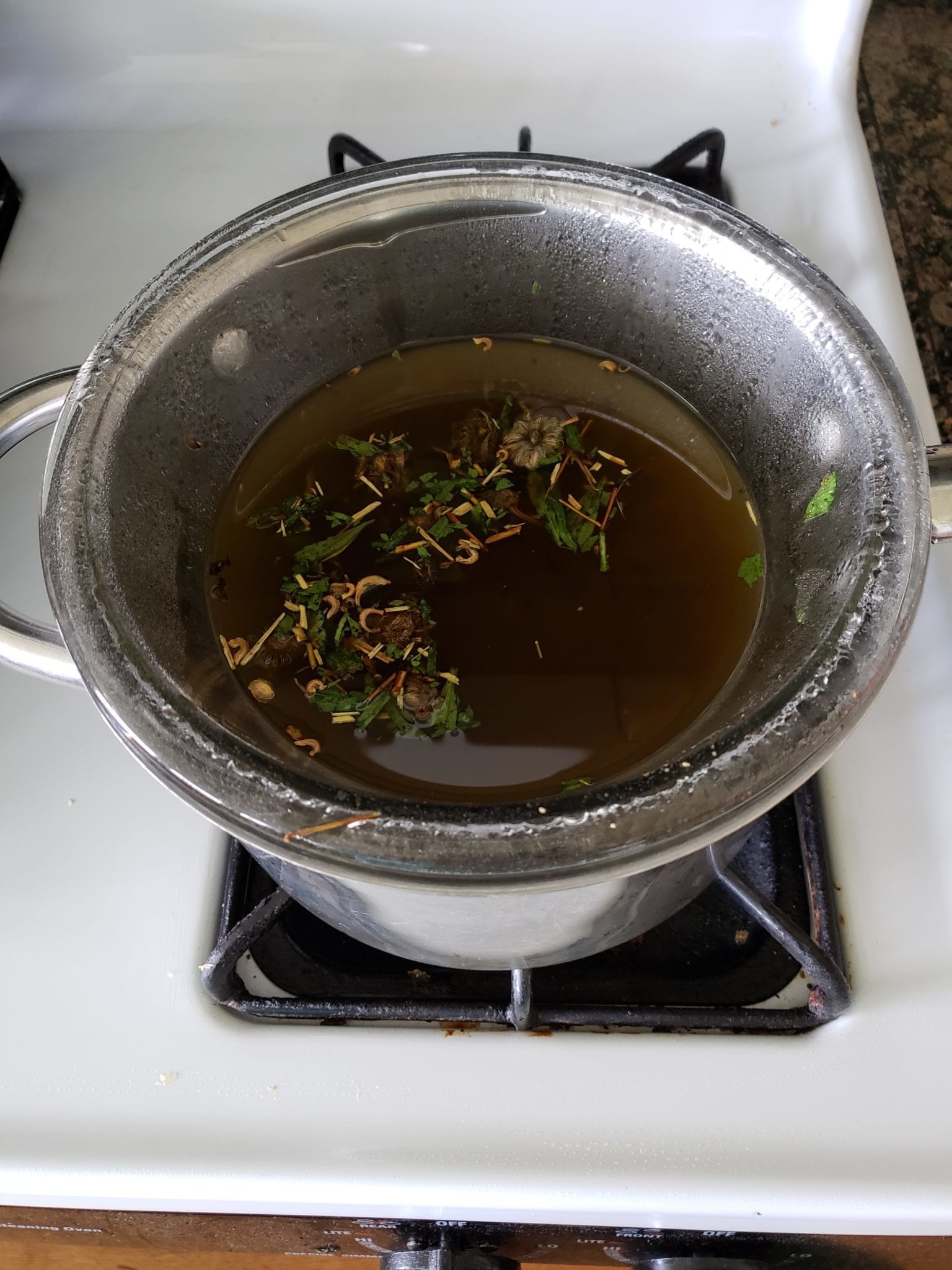 Choose which method above you would like to use to infuse the oil. I used the double boiler method. When you are done, strain the herbs out of the oil.
Melt the beeswax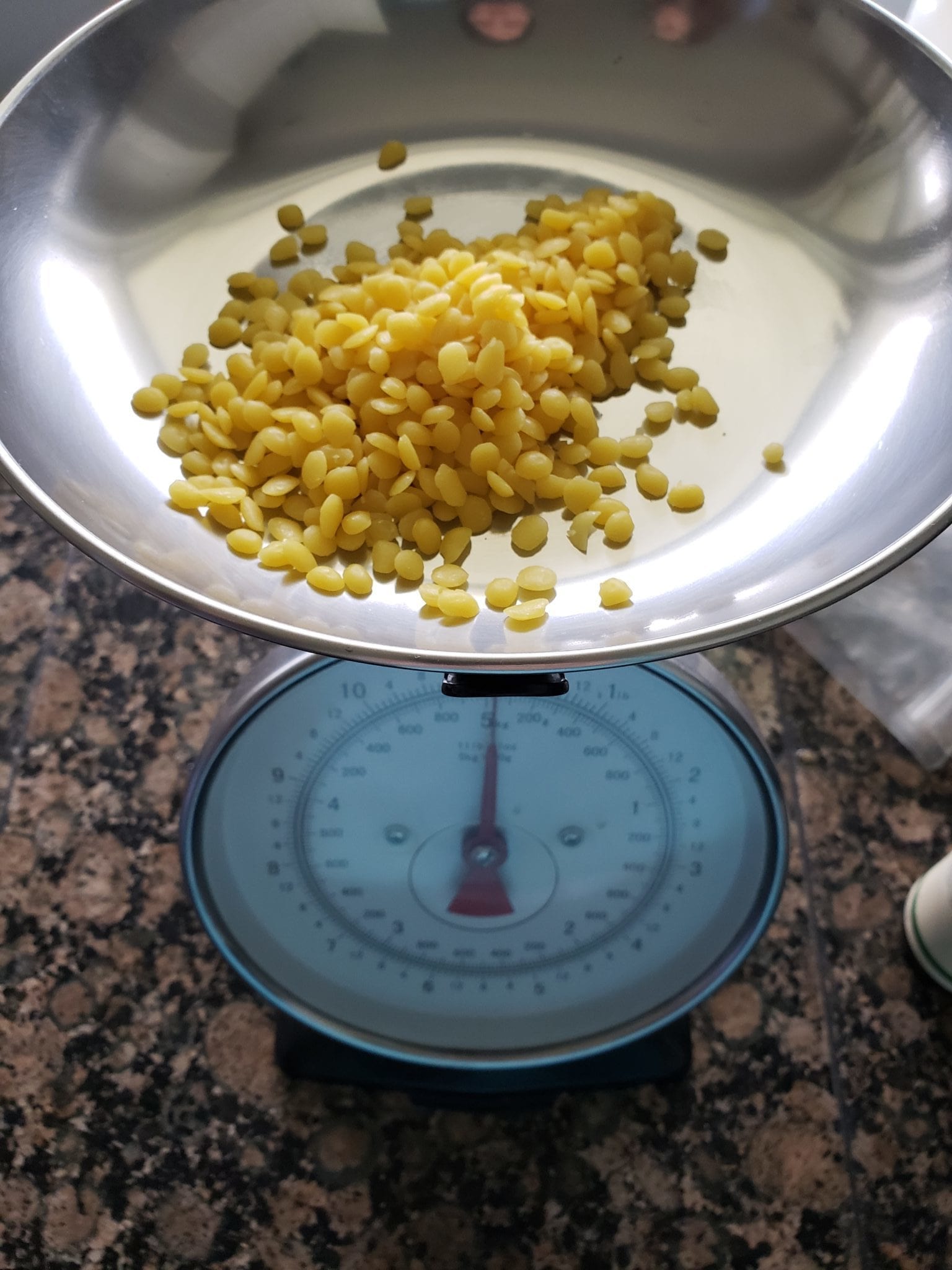 In the same double boiler setup, put your beeswax in the bowl. Next, pour your dandy-infused oil on top. Stir constantly while the wax melts and mixes with the oil. In a previous post, I showed you how to make udder balm. There, I used a small crockpot to melt the beeswax with the other ingredients. That is a very easy and hands-off way to do this as well. If you don't have time to stand at the stove, you could put it in the crock and walk away for about 45 minutes.
Add the Essential Oils to the Infused Oil
Next, add 15 drops of each essential oil. 15 Tea tree and 15 lavender.
Pour the melted ingredients into the tins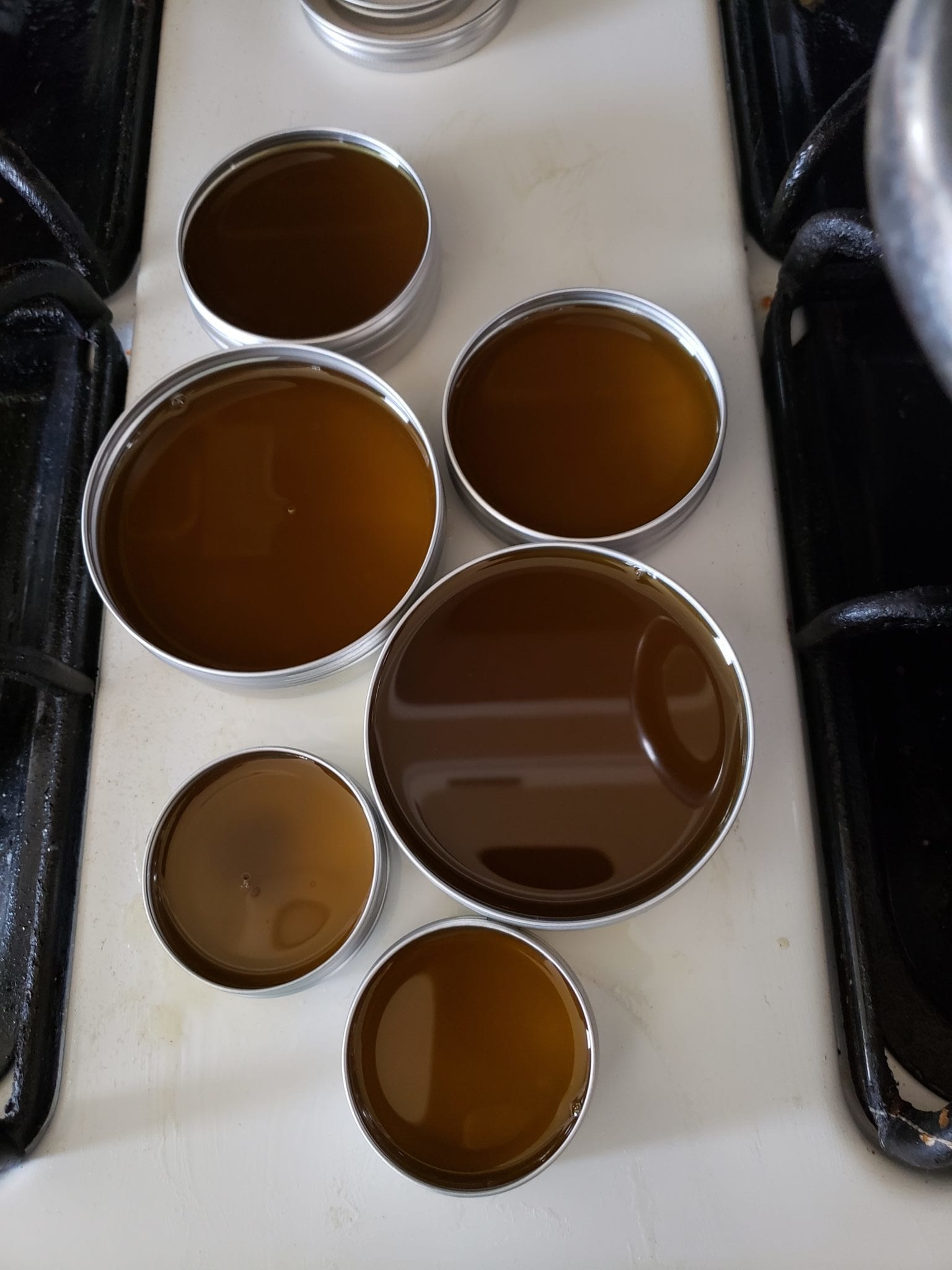 There may be a better way to do this, but I usually function in a rush. Therefore, I just pour the salve into the tins straight from the bowl. I just clean up any drips afterward. Let the salve cool, and double-check that you like the consistency. If you find that it is too soft, heat it again with more beeswax. If it is too hard, add more oil. Following this exact recipe, I find it to be perfect.
You Can Make Salve!!
Writing this all out makes it sound way more complicated than it is. It is really very simple. Watch the quick video and you will see that I am telling the truth. The process isn't even very time-consuming!
Everyday Salve
A simple salve that you might reach for everyday. Made with herb infused oil, beeswax and essential oils. Great for cuts and scrapes.
Ingredients
12

oz

olive oil

1

Tbs

St John's Wort

Dried Herb

2

Tbs

Calendula

Dried herb

1 1/2

Tbs

Plantain

Dried herb

1 1/2

Tbs

Comfrey

Dried herb
Beeswax and essential oils
1

oz

beeswax

15

drops

lavender essential oil

15

drops

tea tree oil
Instructions
First, infuse your olive oil with the dried herbs. Either solar infuse it for 2-3 weeks in a sunny window, in the crock-pot on low for a few days, or in a double boiler on the stove top for 1-5 hours. Strain out the dried herbs when done.
Next, Melt your beeswax in a double boiler or a small crock-pot with your infused oil. The recipe from my friend recommended using only 8 oz of the infused oil to start, then adding more in if you want it softer. I just used the 12 oz of infused oil to the 1oz of beeswax. I like the softer consistency. However, if you prefer it to be firmer, you may use less. Once the beeswax is melted in, add in the 15 drops of each essential oil. Now, pour into the tins. Let them cool, label them, and enjoy.
How about some cute labels for your homemade salve tins?
My subscribers get access to my free printable library. There you will find two different salve labels and many other fun printable labels, lists, and tags. These labels are for 4oz., 2oz., and 1oz. tins.
Pin for later!