How to Choose Outdoor Barn Lights and Exterior Barn Decorating Ideas
How to choose outdoor barn lights, and a few fresh updates have made the barn exterior ready for summer!
In one of my last posts, I did a little round-up of patriotic outdoor decor ideas. In this post, I am focusing on the barn, but I carried some of those ideas over for this space as well.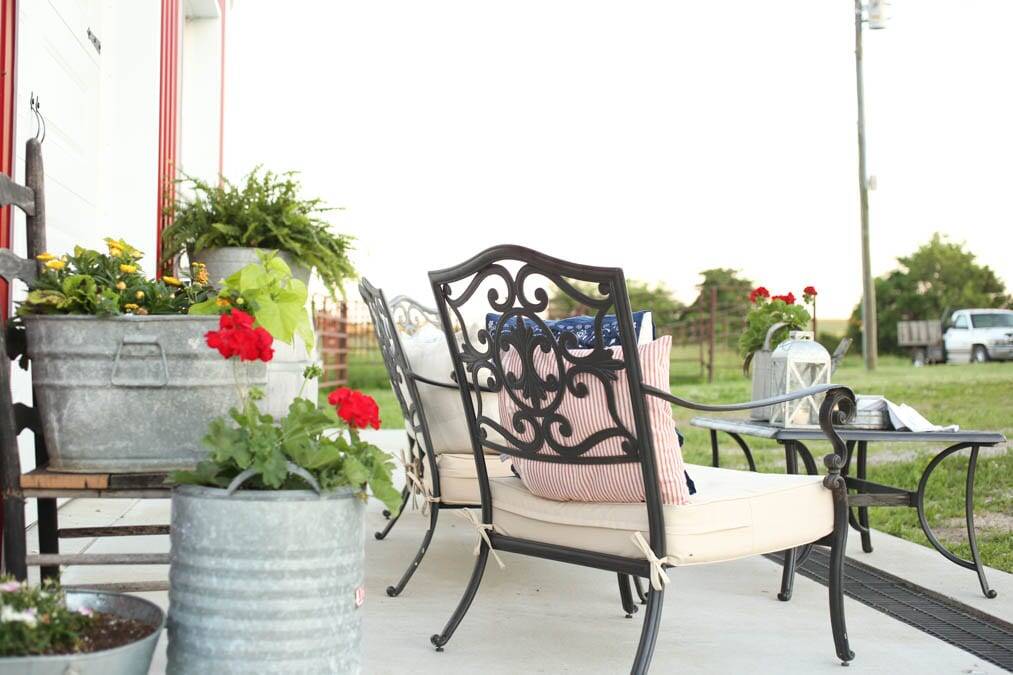 This post was done in collaboration with Lamps Plus a Family Owned Company. All opinions are my own.
Gooseneck Barn Light Outdoors
The first and main thing we did was replace our outdoor barn lights with new ones. We live in Central Missouri, and the wind here can be unbelievable at times! We had some super strong winds this spring, so strong that the wind broke one of our lights on the outside of the barn. My husband says the previous lights just weren't robust enough to stand up to the wind here. I chose Gooseneck barn lights because they look so classic and just fit the style of the building perfectly!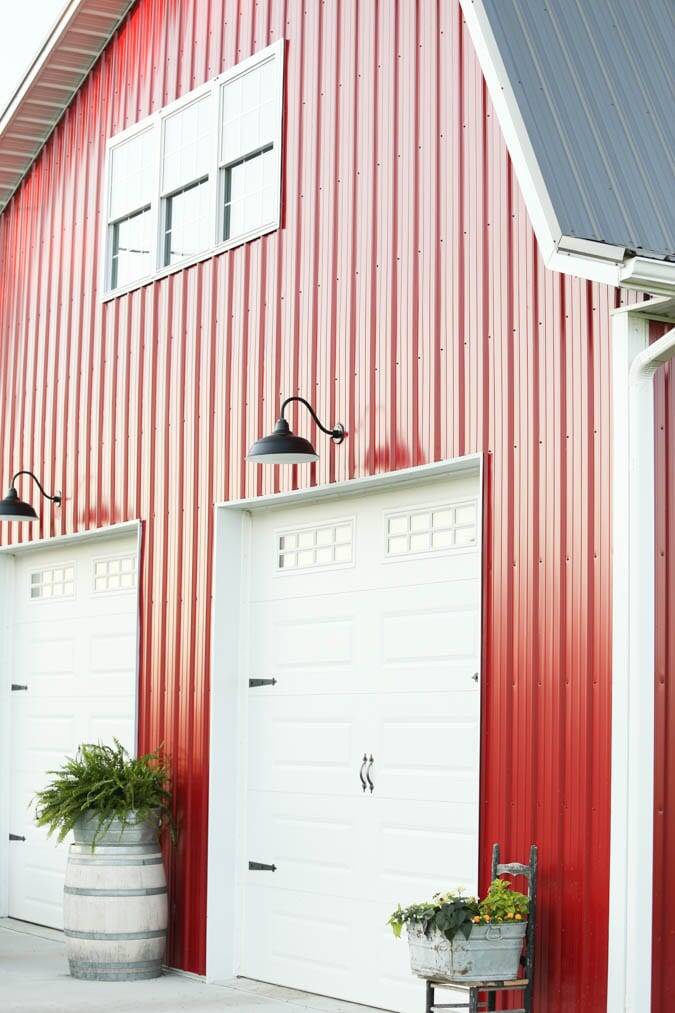 To replace the lights I turned to Lamps Plus, they have not only outdoor barn lights, but they are a resource for lighting and home furnishings for your entire home! The new lights are perfect for the barn, they are very sturdy and well made. We have already had a few crazy storms here since installing the lights and they have held up perfectly!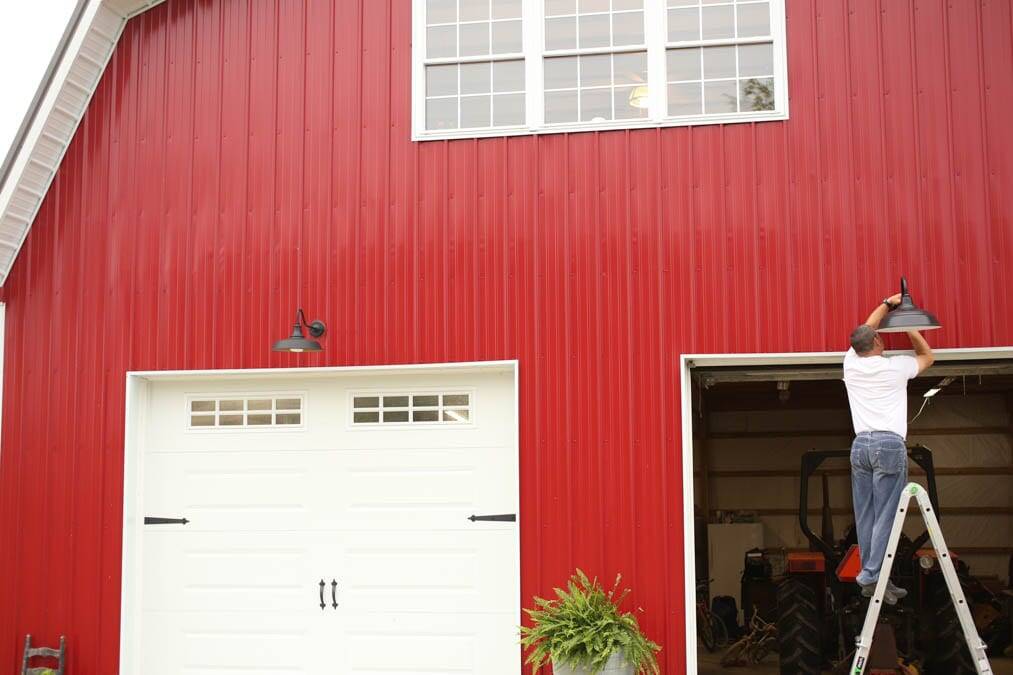 Tips for How to Choose Outdoor Barn Lights for Your Building
If you are replacing existing lights on your barn or building, it is very important to make sure the mounting plate matches the size of the existing mounting bracket. If not, you may have to cut a larger hole or re-install the existing mounting bracket. I learned this first-hand! I chose a light that had a mounting plate that was two inches larger than our existing one. The metal building has ribbing and there was no way to make it work. Thankfully Lamps Plus has free returns and they were so helpful in making sure I got lights that would actually work for our building!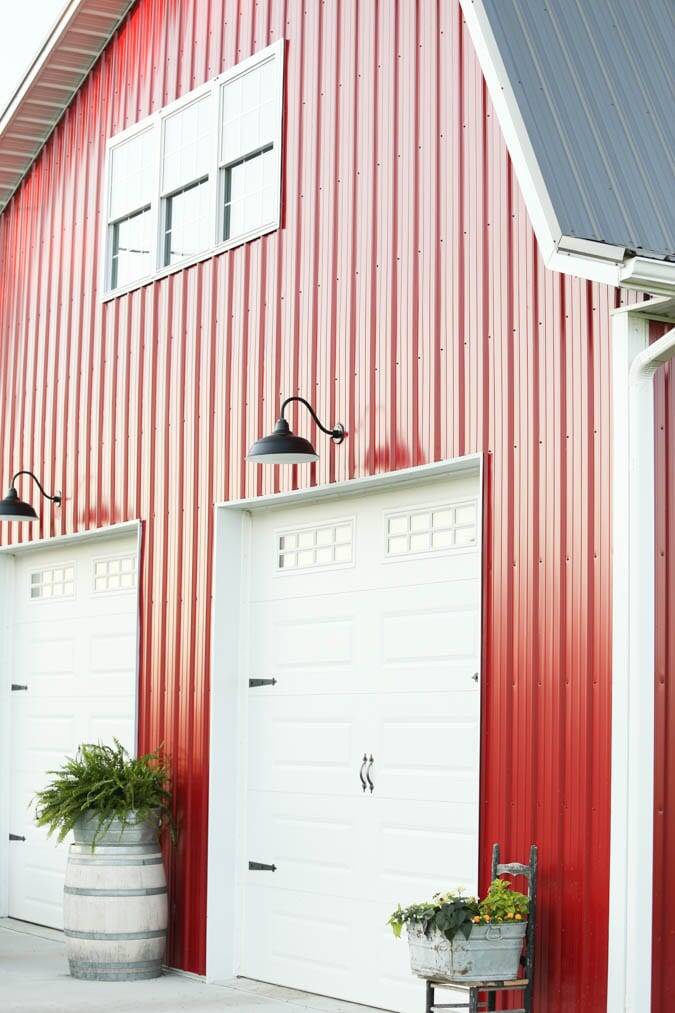 The next tip for how to choose outdoor barn lights is to really pay attention to the size of the space. It can be difficult to make purchases online, it's hard to tell the scale of something. Our barn doors are 10′ wide. This really requires a light that is substantial for it to look right. Our previous lights were really a bit too small. The new lights are 16″ wide x 10″ high, the backplate is 4 3/4″ wide. The light extends 22 1/2″ from the wall. All of that information is provided in the description on the Lamps Plus website. Pay attention to that info, as it will really help you to make your selection!
Really pay attention to the color. These lights are black. Often there are oil-rubbed bronze lights, which at times look black, and other times they look very bronze. For our red barn, the solid black really looks better than a bronze color.
Tips for Installing Outdoor Lights on a Metal Building
After you have selected your lights, you now need to install them! If the building is new or if lights have never been installed, you will need to decide how to mount the lights.
The first time we installed lights on our building, my husband was wanting to try to find a way to mount the lights without cutting a hole in the building. Cutting into your brand new building can be very intimidating! I really thought he was going to cry at one point! Ha! I may be exaggerating a bit…maybe:). I asked him to help write the next section on the lights, and he said I wasn't exaggerating!
How to Install Outdoor Lights on a Metal Building
As you can see from the picture, he wound up cutting an octagon hole and flush mounting a box from the inside. The new lights came with good instructions that were very easy to follow for assembling the fixtures. Once the light was assembled, it was time to wire and mount it. Wiring a light is fairly simple. First, ensure the power is turned off to the box. Use a non-contact voltage tester to make sure the power is off inside the box before you start touching any wires.
Next, you will have to connect the wires from the light to the matching wires in the box. You can use any style of wire connectors, but my husband loves the Wago lever nut connectors for their ease of use. When you are holding a light and trying to connect wires, just having to flip a lever down while inserting a wire is far easier than twisting wires together. Once the wires are connected, you will then have to mount the light to the electrical box.
This particular light had two screws that went through the light base and screwed directly into the box. Sometimes they will have a mounting bracket that first connects to the electrical box, and then the light connects to that bracket, but either way, you follow the instructions that come with the light to mount the light. Once it is mounted, turn the power back on to the box and check to make sure the light works!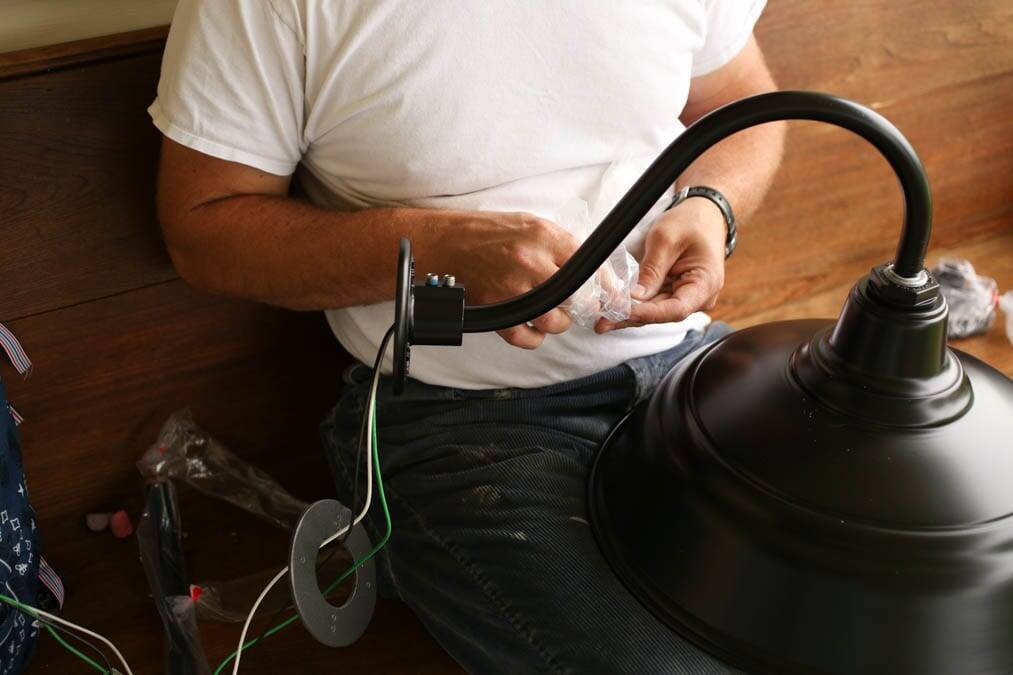 Outdoor Summer Decor for the Barn
Here are the other things I did to freshen up the outside of the barn!
American flag on the red Barn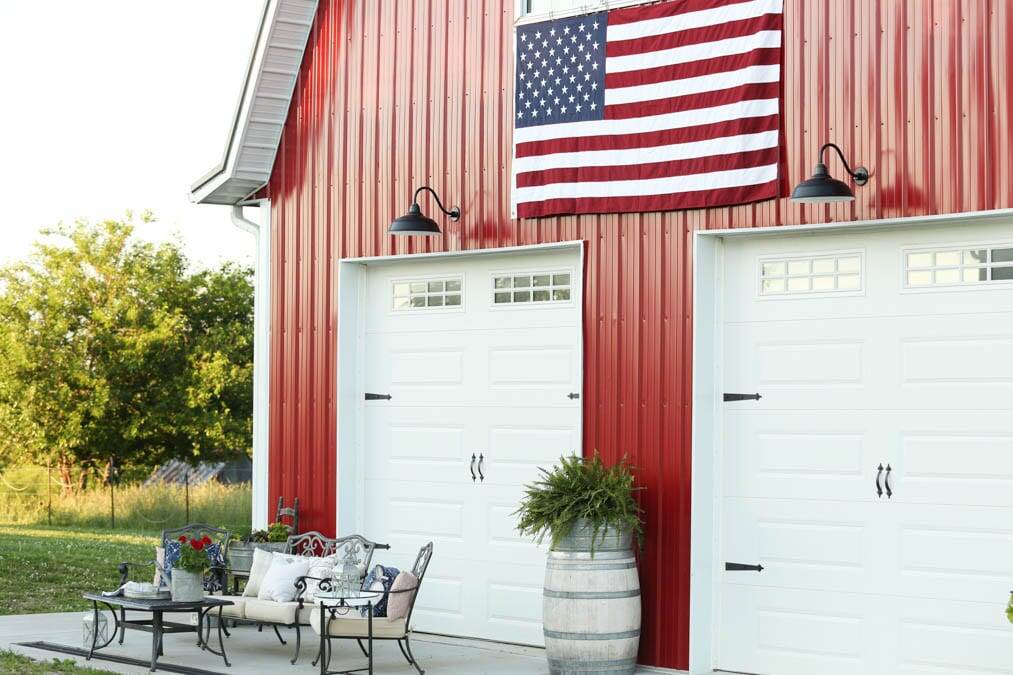 I added a different American Flag to the barn. In my last post, I had purchased a nylon flag, and I told you it just wasn't quite right. We felt like it needed to be a bit bigger, and the red wasn't very vibrant. I returned that one and bought a cotton flag. This one is much nicer, and it is beautiful, plus the size is just right. However, the red seems a bit burgundy in color! I am starting to think that finding an American-made American flag that is just right is a difficult task! The price was really good though, so I think I will keep this one!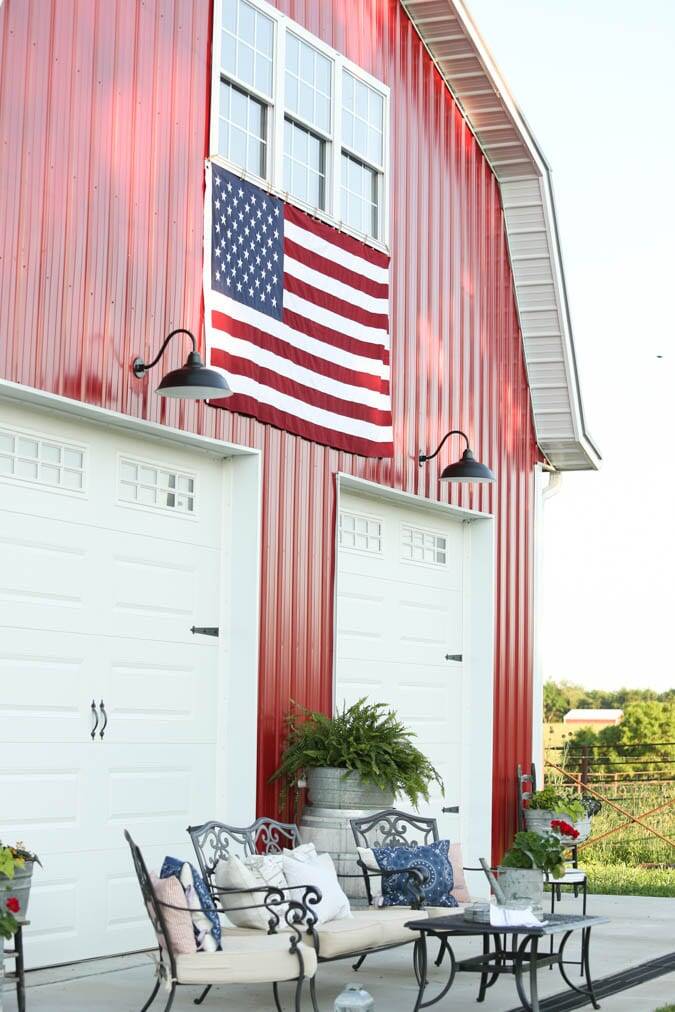 Repainted our outdoor furniture
Our outdoor furniture needed to be refreshed! I washed and repainted the frames. I used Rustoleum Oil-rubbed bronze spray paint. It was a perfect match! I also washed the cushion covers and added some pillows. I used my favorite handmade bandana pillows and my farmhouse envelope pillow covers.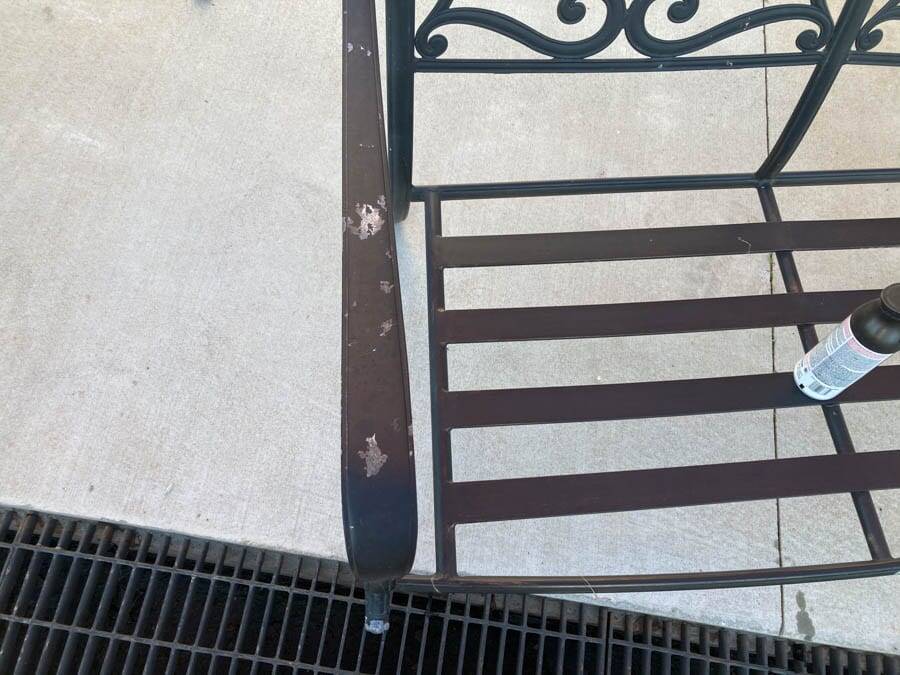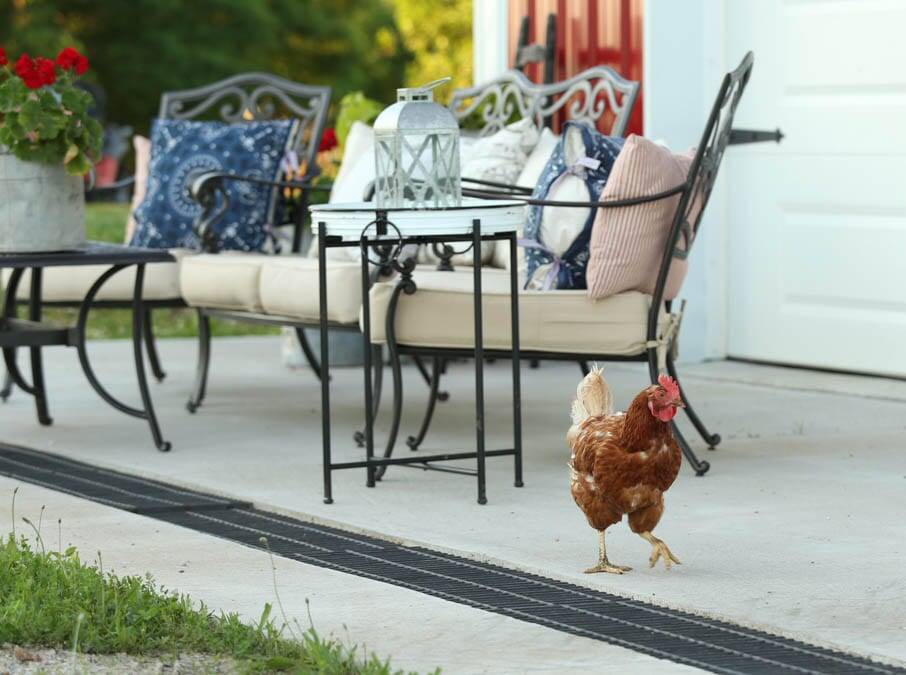 Fresh flowers and a fern
I added fresh flowers to my galvanized tubs and made stands out of old chairs. Here is a full tutorial on making outstanding large flower pots! I also planted a huge fern in a washtub and placed it on top of a whiskey barrel. If you need tips on keeping ferns, I have a post on that here.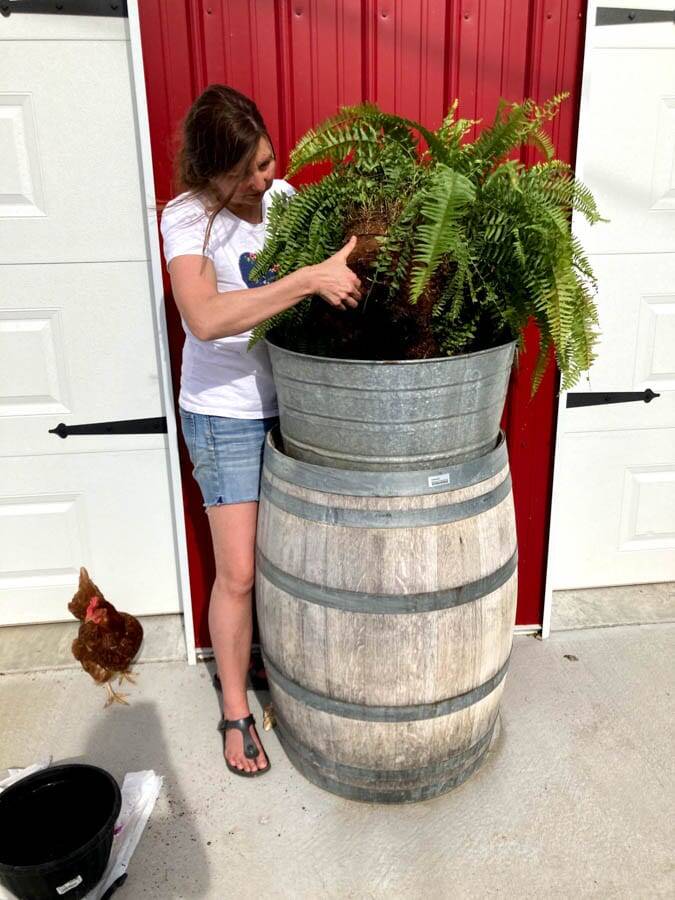 add Lanterns
I really like these lanterns, they look so summery and they are super affordable, especially since they are on sale right now! They have a casual rustic look and really freshen up a space!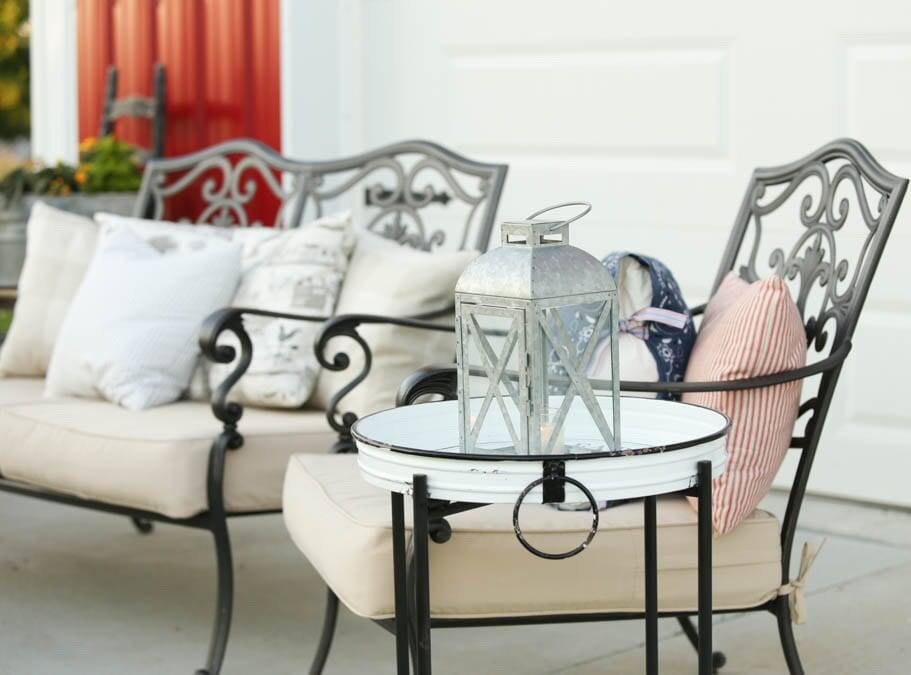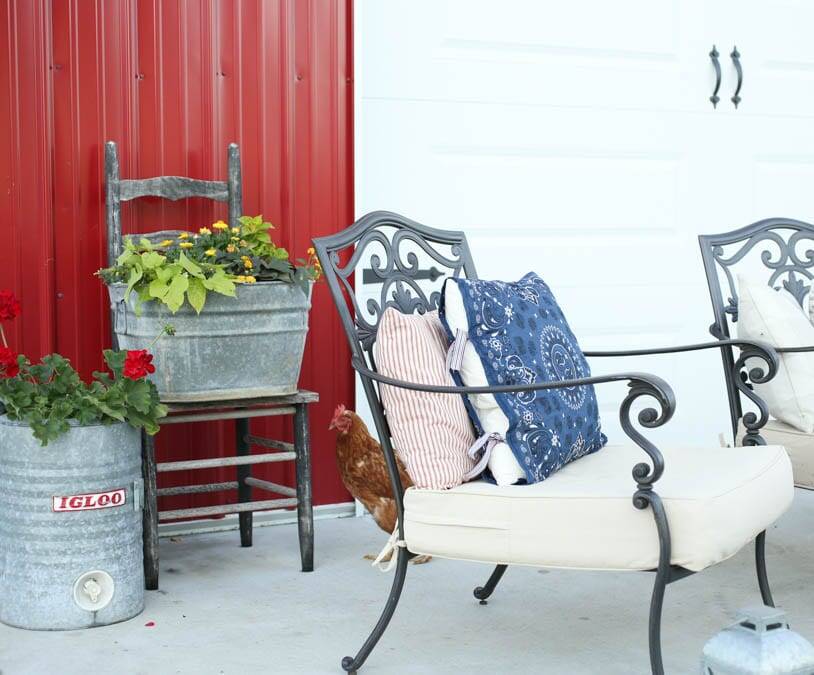 That's it! Just freshen up what you have and add new where needed! I hope you found this post helpful for how to choose outdoor barn lights for your space! I also hope you got some ideas for using what you have and just freshening it up! Enjoy your summer!