Wooden Craft Eggs DIY | Stained, Painted, and Carved Wooden Eggs
This wooden craft eggs DIY is simple, fun, and gives such a lovely result! Using a rotary tool, you can carve pretty designs into wooden eggs!
This post contains affiliate links
Also, this post is part of a blog hop! This hop is all about eggs and there are some super cute ideas, so make sure you hop around and check out all of the fun ideas!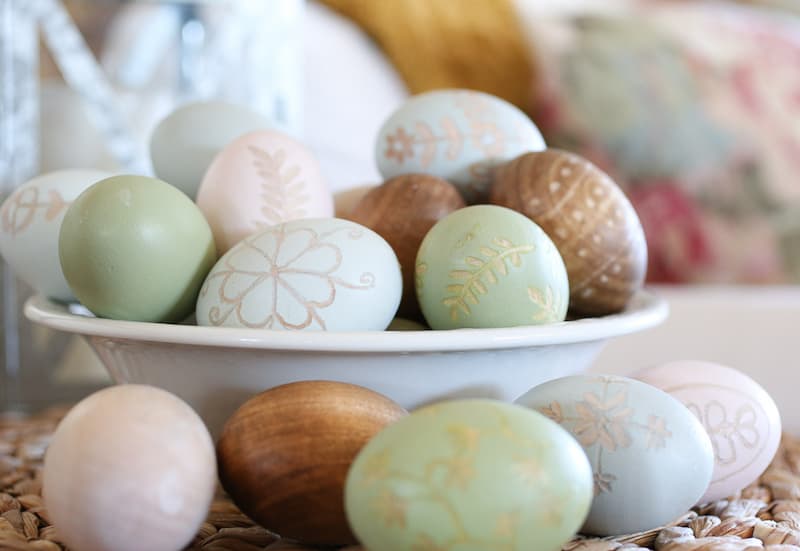 We live on a little farm with cows and chickens and pigs. Not to sound prideful, but our chickens lay the prettiest eggs. I have purposely chosen all different varieties of chickens so that our eggs are all different colors. We have green, blue, all shades of brown, and brownish pink. Did you know that the outside color of an egg has nothing to do with the nutrition of the egg inside? Brown eggs are no more nutritious than white eggs! It only matters what the chicken eats! The color of the outside of the egg is determined by the breed of the hen. Free education here today! Ha!
All of that to say, when I was challenged by some blogging friends to join in an egg blog hop, I knew I wanted to create eggs that looked similar to the beautiful eggs that our chickens lay! I am delighted to say, that I think I came pretty close! Of course, our chickens don't lay eggs with pretty folk designs carved in them, but I had to take my eggs one step further.
Step 1: Select Paint and Stain for Your Wooden Eggs
I purchased these wooden eggs here. Of course, you could check your local hobby store to see if they have wooden craft eggs.
I used paint that I had on hand, thankfully I had loads of sample pots from Ace Hardware. Most of these were from the Magnolia Paint line, the colors were mixed using Valspar paint. I will tell you the colors that I know for sure. The green I used was by Valspar.
Emmies Room
Americana Egg
Ella Rose
Olive Grove or Magnolia Green
Summer Valley by Valspar
I also used golden oak stain and pickled oak stain which gave a whitewashed look.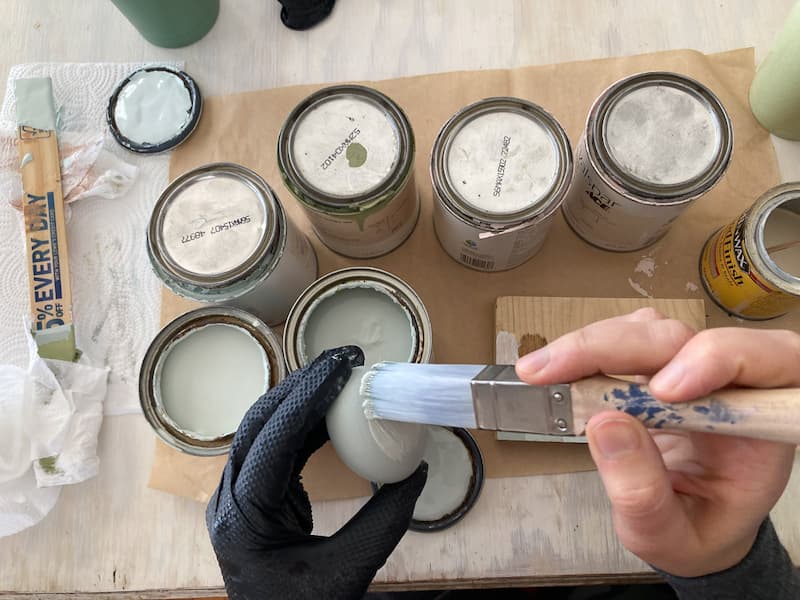 Step 2: Sketch or Stencil Designs on Your Wooden Eggs
I just sketched some designs on a 3×5 card and looked at it while I drew on the eggs. You could use stencils or you could just freehand with the rotary tool if you are super talented!
I went with some kind of folky-looking designs. I just looked on the internet for inspiration.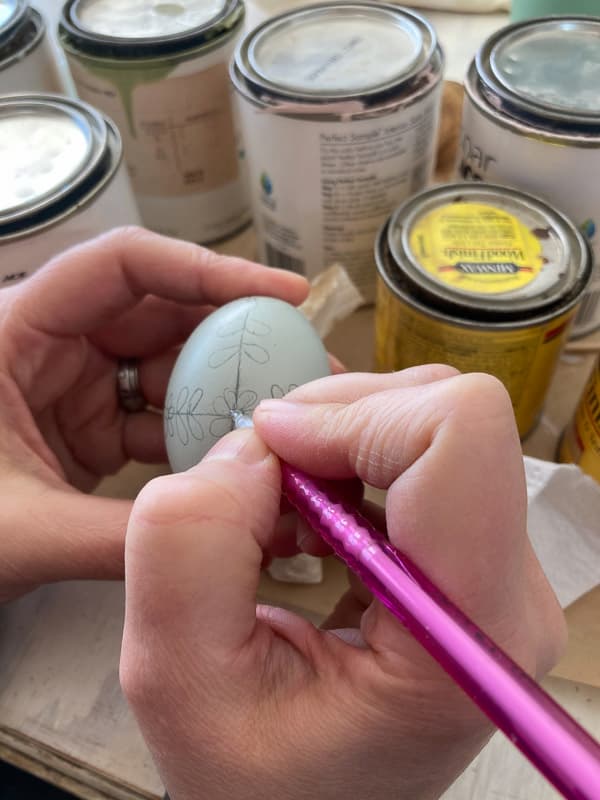 Step 3: Carve the Design into the Wood
Using a Dremel tool or a Worx Rotary tool, on a medium-fast setting with a medium-sized tip, trace over your design with the tool. Keep your hand as steady as you can, and don't worry if you get off the lines a bit, you can always erase the pencil marks. The designs do not need to be perfect, they will be just as pretty with a few imperfections!
The wooden stained eggs were so pretty that I only carved a design into one of them, the natural wood grain showing through was lovely on its own!
Final Steps
To finish the eggs, you could add a wax, a spray-on clear coat, or a non-yellowing polyurethane. You can also leave them as is.
Also, you can go in with paint and add more detail if you would like, on a few of my designs I went in with the end of a small paintbrush and added dots to the center of some of the flowers.
Another thing you can do is use a stain to go over the painted eggs to darken the wood underneath and to give the eggs an aged look. Let your creativity guide you, the sky is the limit!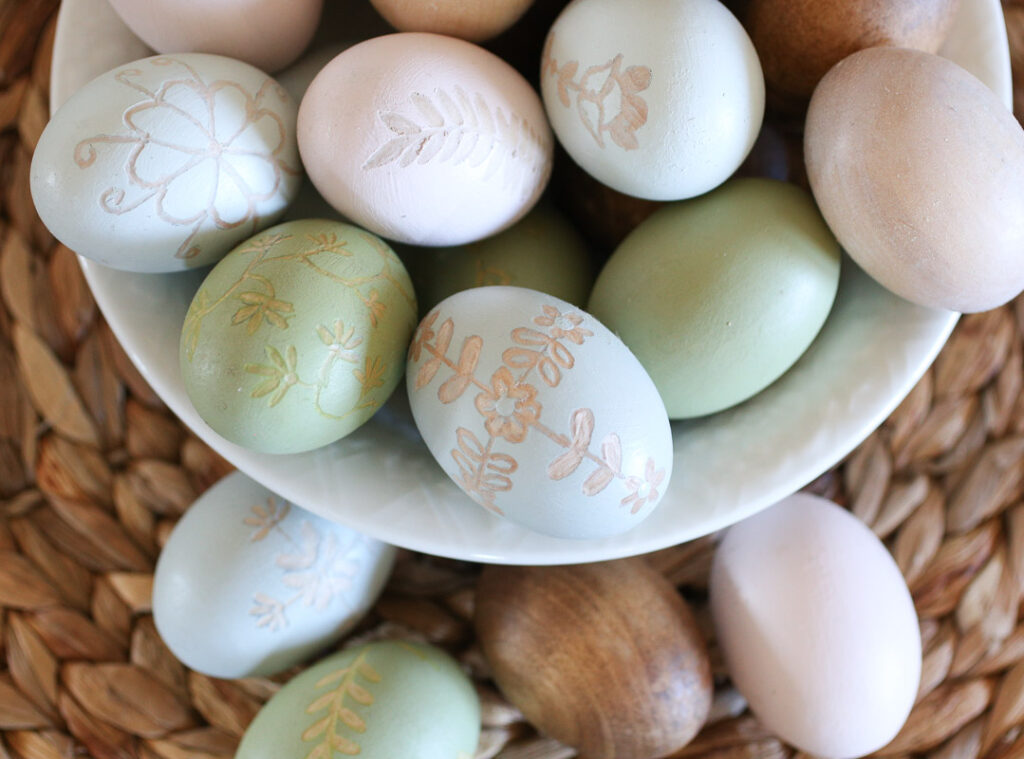 Here's a 2 Minute Video Showing the Whole Process
Easter Egg Blog Tour
More Amazing Easter Egg Inspiration
Click the links below the images to go straight to their posts. ENJOY!
Chalking Up Success // My Uncommon Slice of Suburbia // Bluesky at Home
The Everyday Farmhouse // Saved from Salvage // Zucchini Sisters // Cottage on Bunker Hill
This Dear Casa // A Life Unfolding // A Life of Balance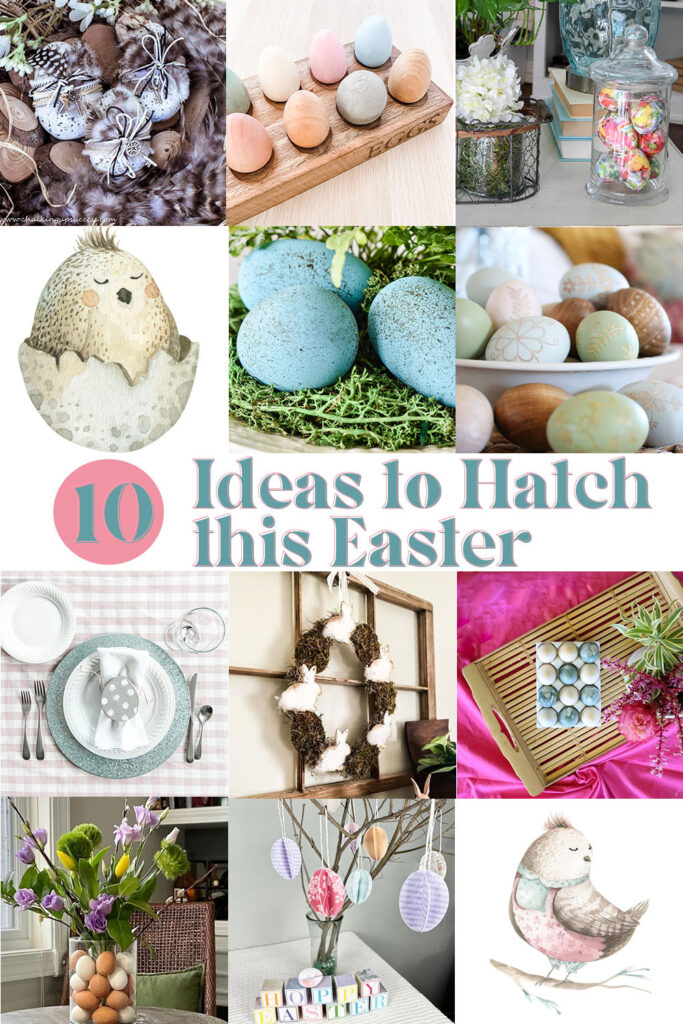 Love Spring Crafts? Check These Out!
Woven Wreath–Dressed for Spring
Hello Spring–Super Easy Handmade Sign
A Fun Spring Mod Podge Craft–Plus a Blog Hop
Did You Know We Have A Shop?
Printables planners, aprons, kitchen towels, and pillow covers! I hope you check it out!