Woven Wreath–Dressed for Spring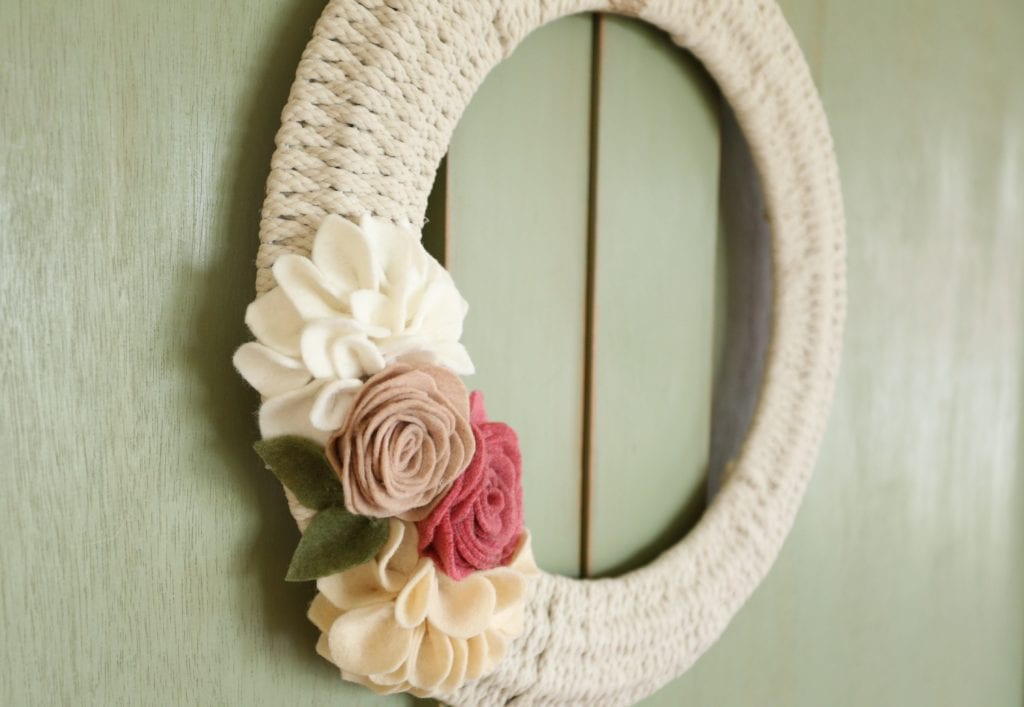 In this post, I share a technique for making a woven wreath. I dress mine up for spring, however, you could use this for any season. I hope you enjoy making this woven wreath! Be sure to scroll to the bottom for more spring wreath inspiration. I have joined up with several blogging friends to bring you lots of different takes on a spring wreath!
Ever Have an Idea?
Do you ever get an idea for something, and you don't really know where it came from, but you have to do it? That's how it was with this wreath. I wanted to make a wreath, with a woven look. It needed to be natural looking with some sort of neutral cord. The idea came to me in January when I was making the Valentine Wreath. I had never worked with these wire frames before, and they just looked like something should be woven through them. That's where this woven wreath came from.
I tried jute twine, but it just shed all over and wasn't pleasant to work with. I had a roll of this type of cording, but it was 100% cotton. I loved the look of it, but I needed more than I had. That is when I came across this Bonnie cord at Hobby Lobby. It is not cotton, but a poly blend which is nice for fusing. It is also on Amazon, and comes in lambs wool and cotton. 100 yards is plenty for two wreaths.
Be sure to watch the video it really gives you a good visual for how this is done!
Gather Your Materials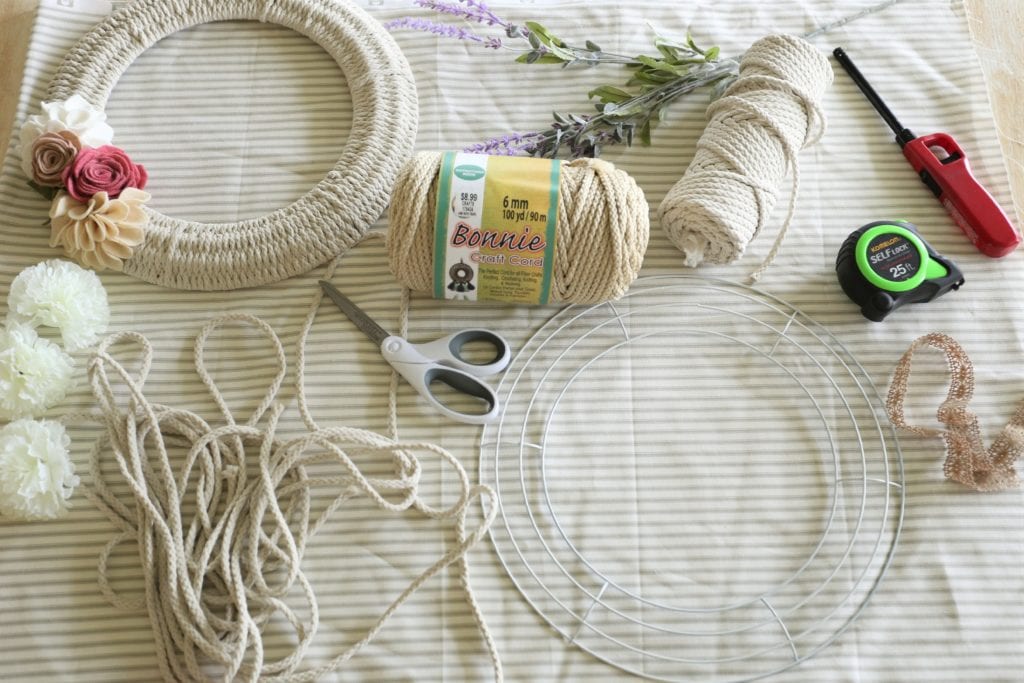 You will need:
A wire frame–they have these small ones at the Dollar Tree
Spray paint if you want to
Cord or yarn or whatever you want to weave
A tape measure
Scissors
A lighter to fuse the ends
Embellishments and Ribbon for hanging
Start Weaving
If you want to spray paint your frame to more closely match the color of your cording you sure can. It may not be totally necessary, but there are few little spots on my wreath where the frame shows through, so I think it's worth the extra step.
Next, begin weaving your cording around the frame. I looped mine around the first time and then fused it to itself so that it stayed put. You are going over the first wire, then under the next, over the next, under and around the top. There is a video at the end to help you to see how to do it, but it really isn't complicated.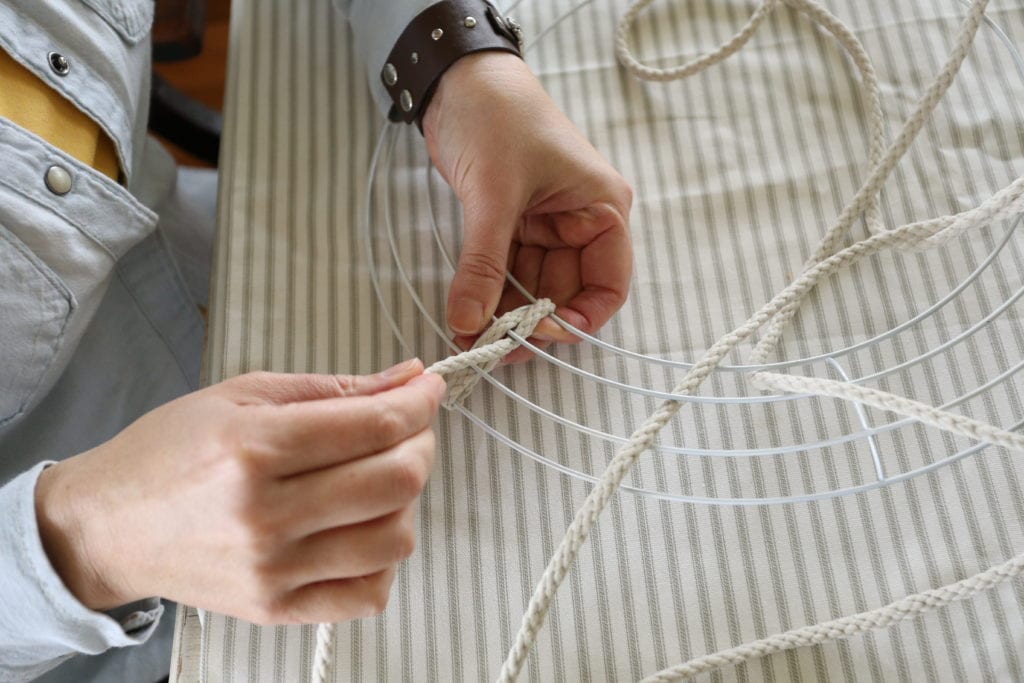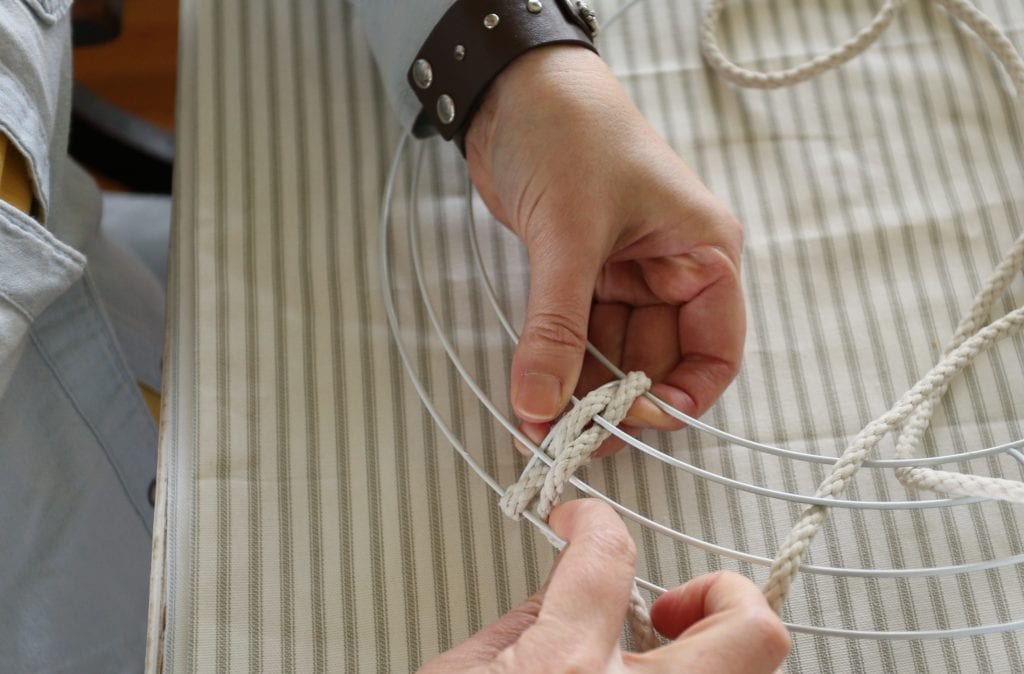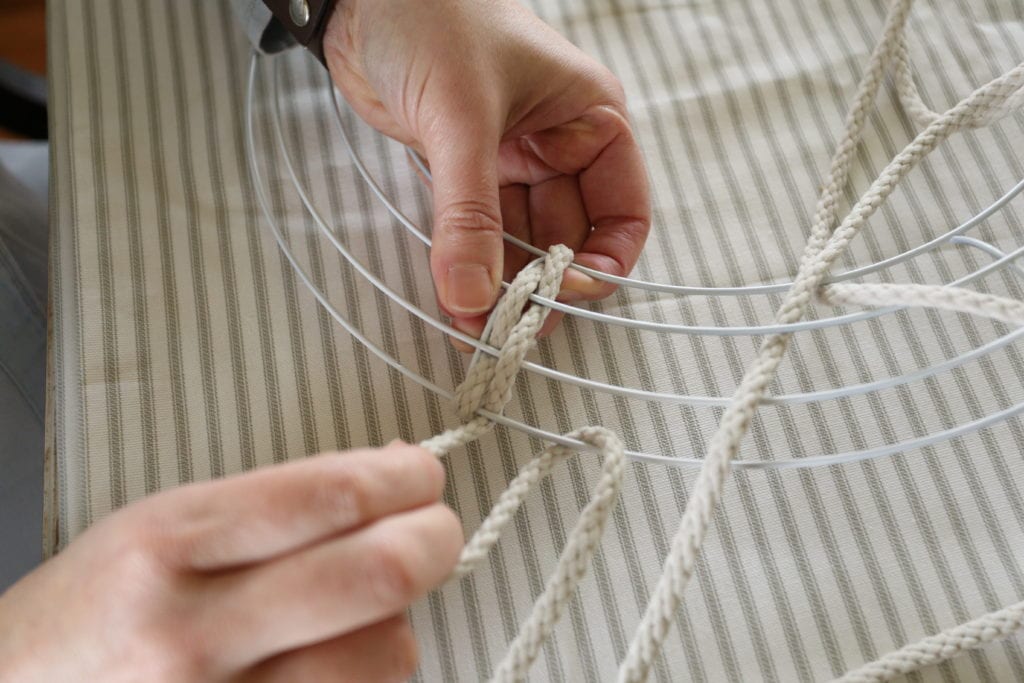 Continue to weave pulling the cording tight and then pushing your rows together.
When you get to one of the vertical wires, simply pull the cord over the entire wreath frame to cover the wire, and continue on the other side weaving over and under. It is the best way I could figure to deal with those bars. I tried wrapping around them, but it just looked messy.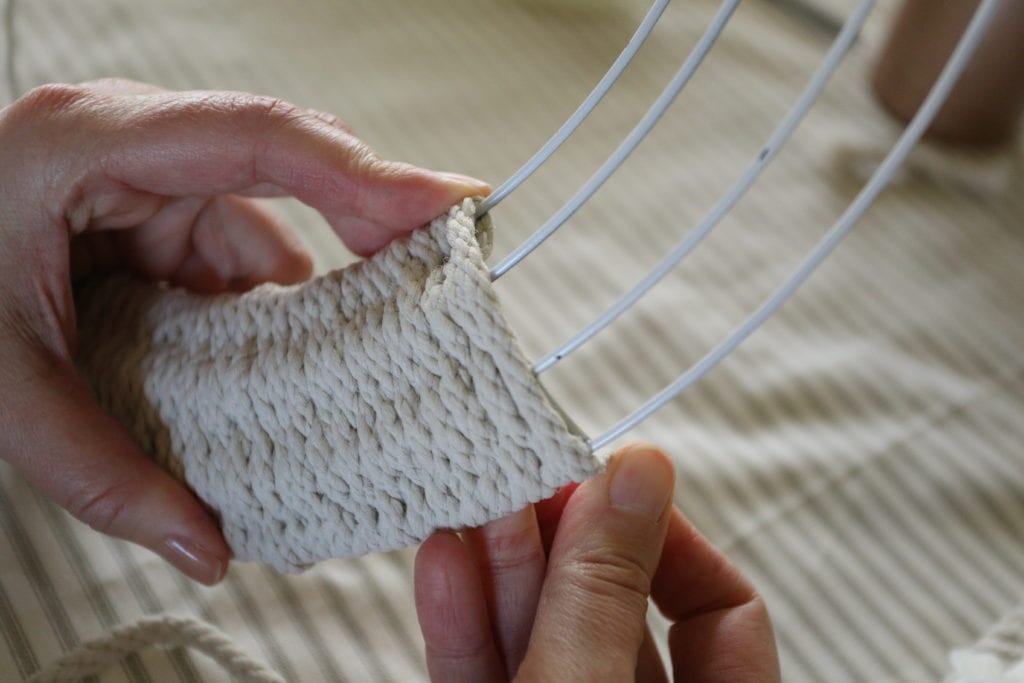 When you run out of cord, you can just tie on some new cord, or if you have the Bonnie cord, you can heat it with a lighter and fuse a new piece on to the old one. Just be careful, I did burn myself once!
Keep going all the way around the frame. Tie it off or fuse the end on the back.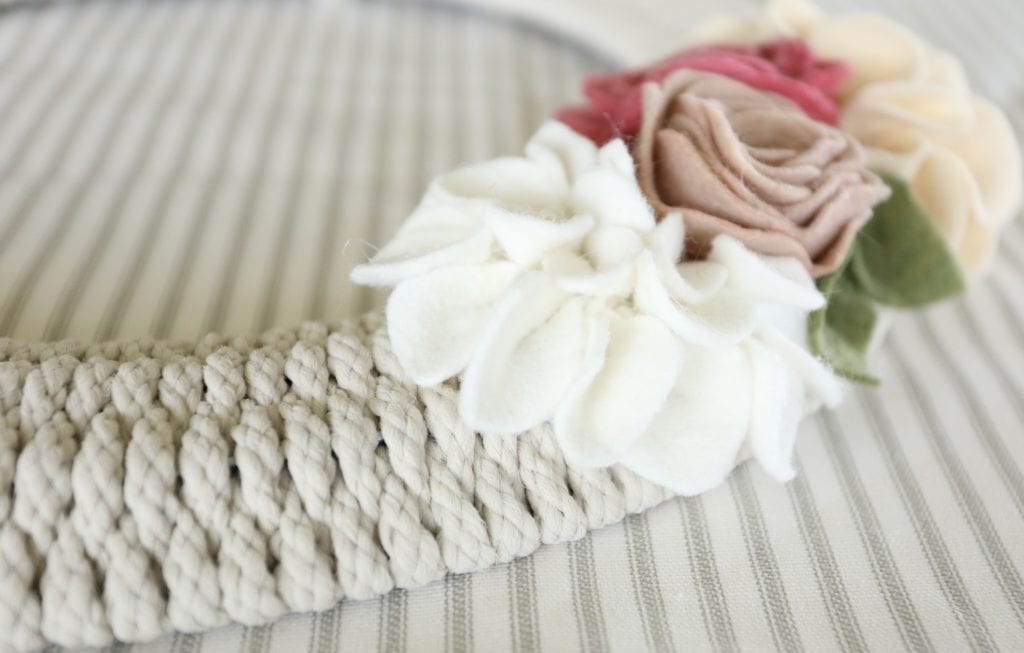 Embellish Your Woven Wreath
Now the fun part, dress up your wreath. You can use anything with these. I could see going in a nautical direction with this. Perhaps some lavender or some other pretty fake flowers. Whatever your heart desires! You can just hot glue them on, or use a wire if you want to change it out for the seasons.
I pictured mine with felt flowers. I found two excellent tutorials for making the flowers that I chose. However, there are tons of different tutorials out there for just about any flower you could want. I chose roses, and I followed this tutorial . She even has a free printable template.
The other flowers look like dahlias to me. This is the tutorial that I followed for those. She has a great video to go with it. Warning, these are quite a bit of work. My tip is to only make half of one and tuck it in with the other flowers. At least that is the lazy way that I did it. Also, her flowers look way better than my version, but I'm okay with that!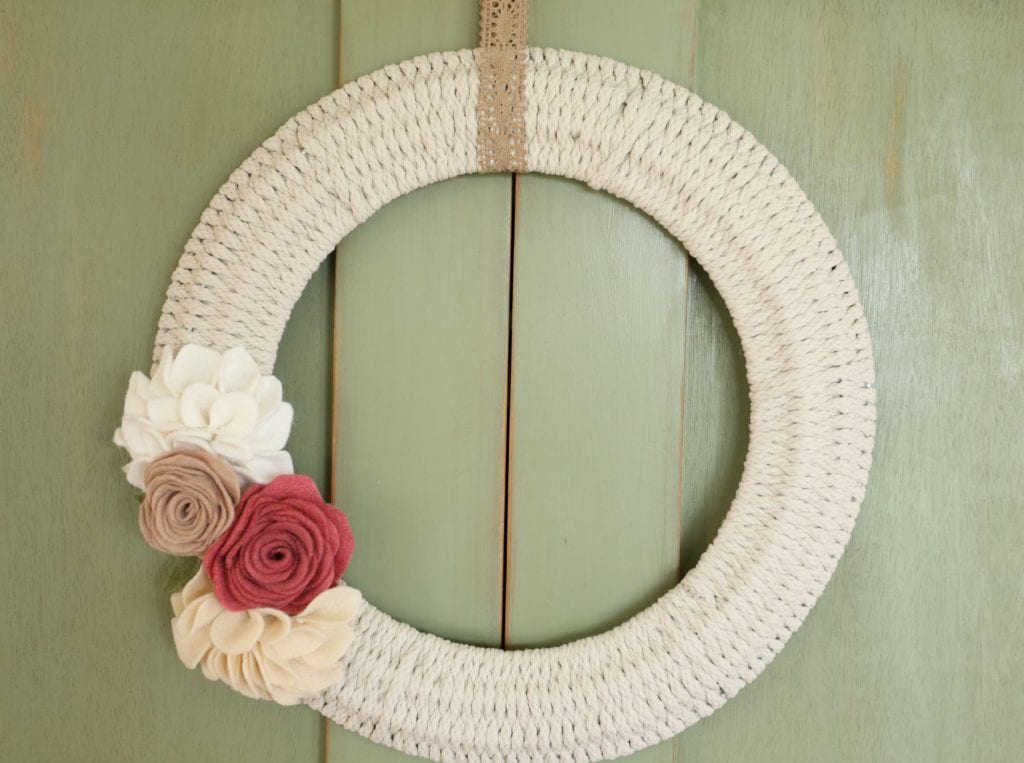 Video Tutorial
Need Help With Home Organization and Cleaning? Check out My Helpful Planners!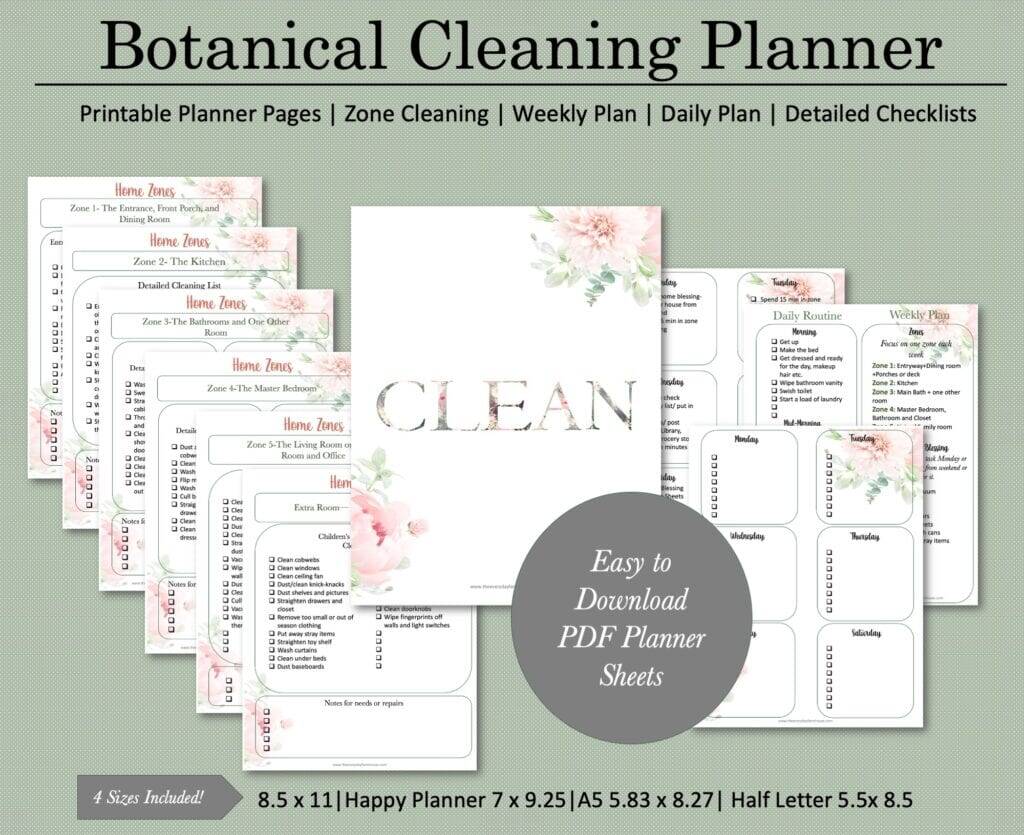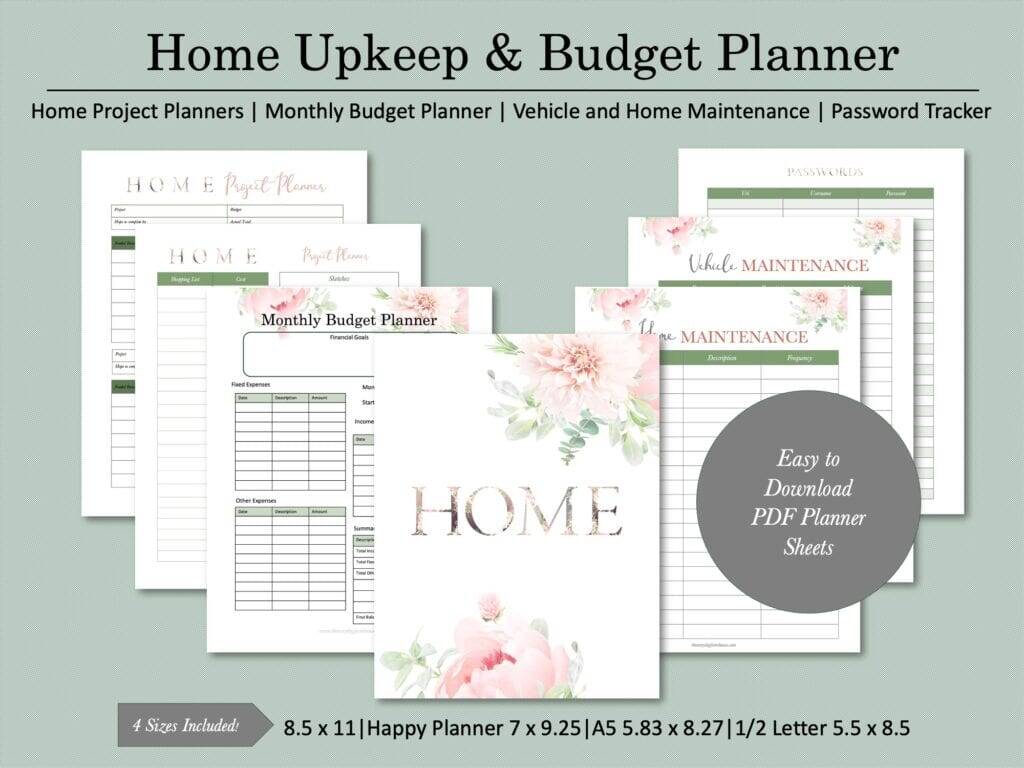 How About Some More Spring Wreath Inspiration?
Pin and Share!