The Ultimate Etsy Gift Guide for the Homesteading Mom
In this post I share an Etsy Gift Guide for the Homesteading Mom
Support Small Businesses by Shopping Etsy
Now more than ever I am trying to be more purposeful with how our family spends our money. One way to do this is by supporting small businesses. A great place to shop all things handmade and to support small businesses is Etsy.
I love Etsy for finding unique gifts and beautiful handmade items. There are so many creative people selling their products on Etsy. There are so many options that keeping track of what you have seen and what you like can be a challenge. Now, Etsy has a solution!
Etsy Favorites Lists
Etsy now has a great way to organize all of the different options on their website. It is called lists. As you shop it is so simple to just click the little heart to "like" the item. After you like an item a little bar pops up at the bottom and prompts you to add that item to a list, or to create a list.
This is so handy for keeping track of items that you want to buy for gifts or to keep track of items that you are comparing.
The Ultimate Etsy Gift Guide for the Homesteading Mom
With Mother's Day approaching, I thought it would be fun to make a few lists of some of the best gifts for a mom that loves homesteading or even farmhouse style.
Below are five collages with the highlights from my lists. Below each collage is a link to my list on Etsy. There you can purchase any of the items, plus a few more that wouldn't fit on the collages. I have listed a brief description of each item, but to see the actual item you will need to click the link above the list.
These are affiliate links which means if you make a purchase through my links, I will earn a small commission at no extra charge to you.
Here we go!
Homestead Gifts For Mom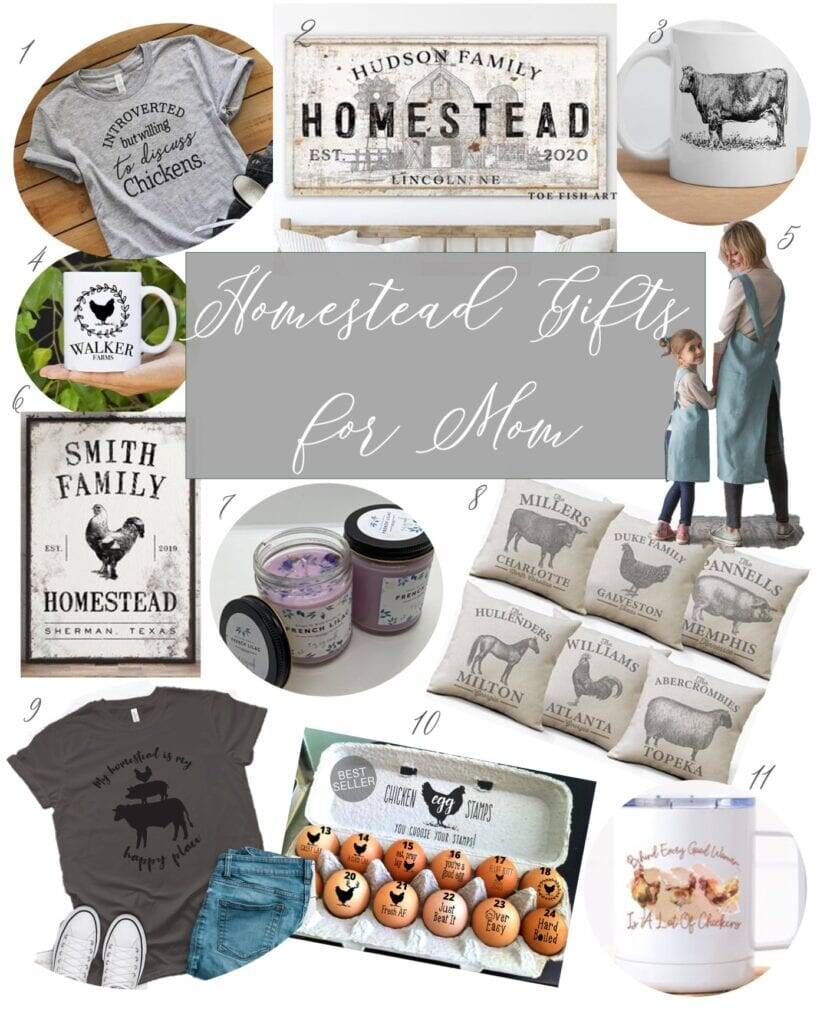 Click Here to see everything on My Homestead Gifts List
Chicken T-shirt
Personalized Homestead Sign
Homestead Coffee Mug
Personalized Farm Coffee Mug
Cross-back Aprons Mother/Daughter sizes
Personalized Homestead Sign
Handmade Candles
Personalized Homestead Pillow Covers
Homestead T-shirt
Personalized Egg Stamps
Insulated Chicken Mug
Homestead Style Gifts For Mom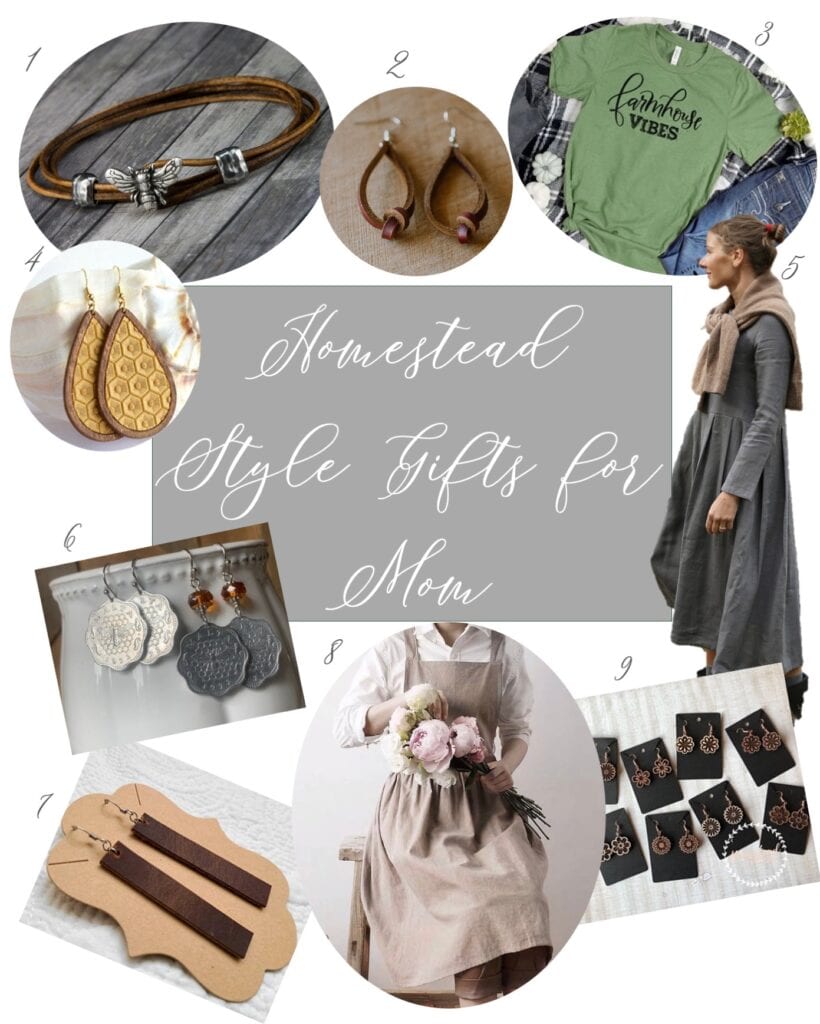 Click Here to see Everything on My Homestead Gifts List
Bee Leather Bracelet
Leather Knot Earrings
Farmhouse Vibes T-shirt
Wood Leather Teardrop Honeycomb Earrings
Linen Dress
Bee Coin Earrings
Leather Bar Earrings
Soft Linen Apron Dress
Wood Flower earrings
Etsy Gardening Gifts for Mom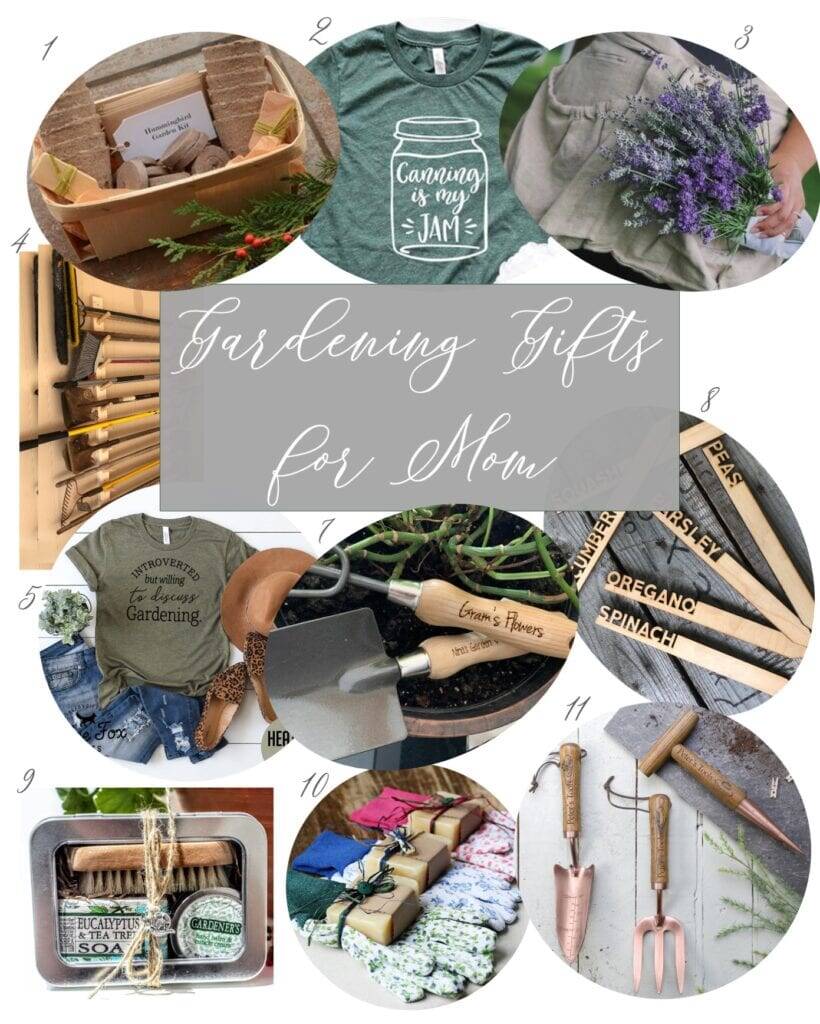 Click Here to See Everything on My Etsy Gardening Gifts List
Hummingbird Garden Kit
Canning is my Jam T-Shirt
Harvest Apron
Garden Tool Storage Rack
Introverted Gardener T-shirt
OOps missing
Personalized Garden Tools
Wooden Garden Markers
Gardeners Hand Care Kit
Soap and Gloves Gift
Personalized and Beautiful Garden Tools
Farmhouse Homemaking Gifts for Mom
Click Here to See Everything on My Farmhouse Gifts for Mom List
Cross-Back Linen Apron
Personalized Wooden Boards and Utensils
Home sign with Wreath
Grainsack Pillow Covers
Lavender Spa Kit
DIY Soapmaking Kit
Recipe Binder
Handmade
Farmhouse Pillow Covers
Handmade Wooden Kitchen Utensils
Organizational Gifts for Mom
Click Here to See All of My Etsy Organizational Gifts for Mom
Wooden Jewelry Organizer
Wooden Greeting Card Holder
Linen Zipper Pouches
Honeycomb Wooden Desk Organizer
Rifle Paper Co. Fabric Zipper Pouches
Bedside Organizer
My favorite Leather Binders
Wooden Art Supply Organizer
Boxy Tool Pouch Pattern
Jewelry Organizer
While You are Visiting Etsy…
While you are on Etsy looking around, don't forget to check out my shop as well! I have Homestead Planners, Thank You Cards, Egg Carton Labels and Vintage Homestead Style Homeschool Flashcards
All of my Etsy Favorites