7 Wood Burned Gifts You Can Make
Wood burned gifts are a great way to add a handmade touch to your holiday giving! This post contains affiliate links.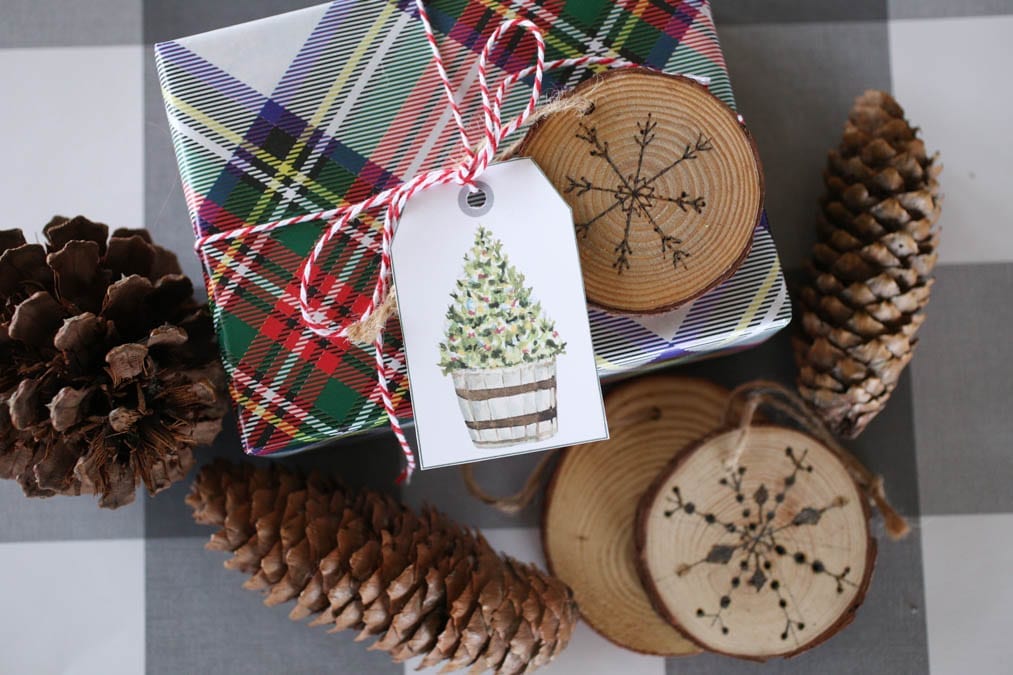 Are Handmade Gifts Your Thing?
Do you like to give and receive handmade gifts? I really do. A thoughtful handmade gift means a lot to me. Maybe because my grandmother was always making something with her hands. Whatever the reason, I enjoy creating.
Even if you don't want to make a handmade gift, a nice little handmade embellishment to the packages is fun too! Below you will find some wood burned gifts that anyone can make!
What is Woodburning or Pyrography?
It is the art of decorating wooden or other objects with burn marks. With the right piece of wood and the right skills, your options for creativity are endless.
A few weeks ago I had the opportunity to do a project with Maker X by Worx. I made a Charcuterie Board. You can see that project here. I really enjoyed working with the tool. I am not sure how this one compares to other wood burners on the market. My guess would be that this one is not as powerful as some others. However, for my needs, it works just fine.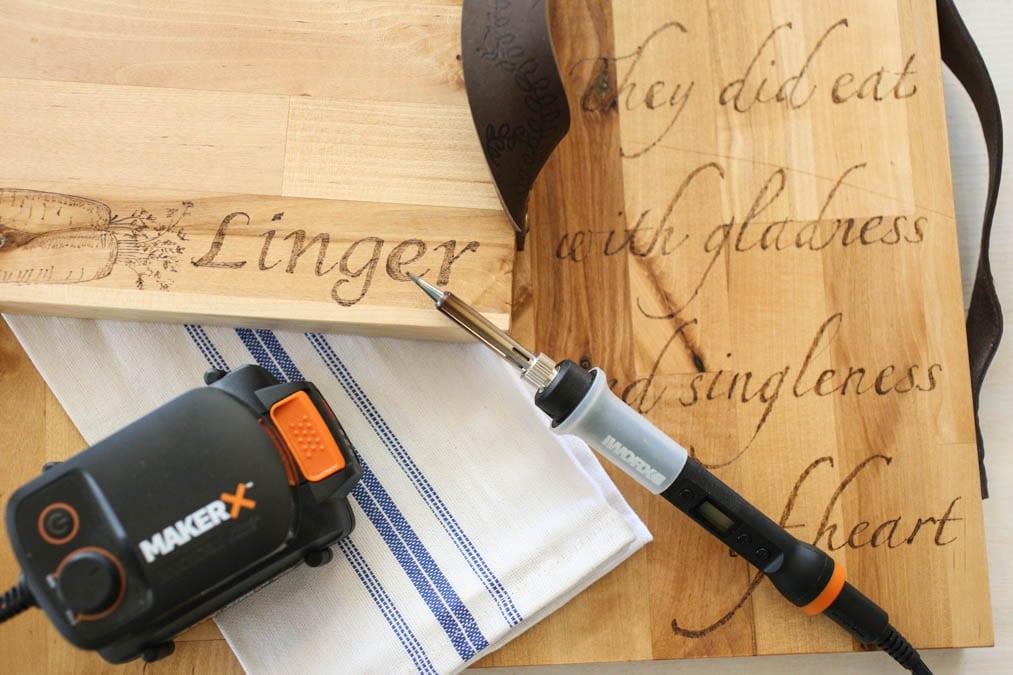 What Type of Wood is Best for Woodburning?
Your choice of material makes all the difference. Softwoods like pine are the easiest to work with. What I have found is minimal grain is ideal. As I show you the different projects that I made, you will see that the ones with little grain really yield the best results. While I love the idea of burning on the wood slices, the grain really made it difficult to have good control.
Below are all of the items that I purchased for these projects. A jewelry box, wood slices, round balls, round discs and unfinished coasters.
Honestly, the coasters and wood slices I could have made from wood we had around here. We have lots of scrap wood. However, there is something to be said for convenience. All of these items were 50% off, so I think I spent less than $20 for everything. Not too bad for several wood burned gifts!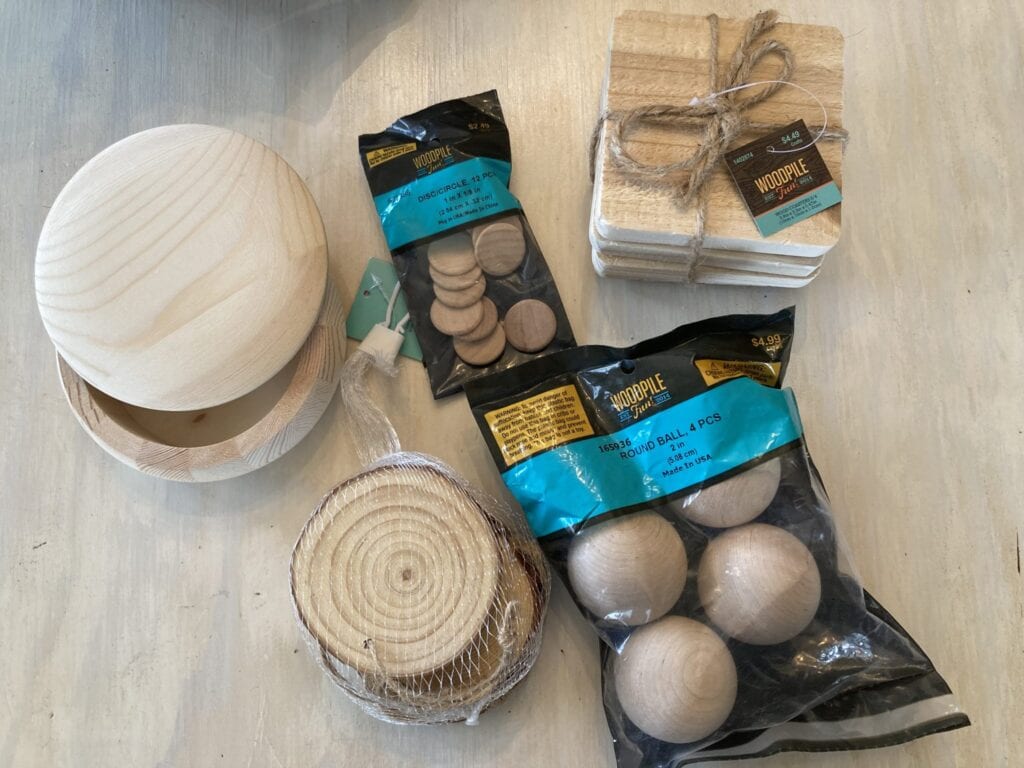 Choosing Your Design and Fonts for Wood Burning
For fonts, I like to check with Creative Fabrica or Creative Market. They frequently have sales and they also offer freebies. I have purchased some really nice fonts and graphics for $1 or less. Often the freebies are super cute as well. Signing up for their e-mail is the best way to get free fonts. every month.
A transfer method is the best way to get a really professional looking result. Just design your project in Word or Powerpoint. Choose a unique font and make sure the size is just right. To make a transfer, simply print your design, color all over the back of the design with a pencil, then transfer the design to the board by tracing over the top with a pencil.
I told you about this book when I did my dining room chalkboard wall. The designs in the book are pretty and simple to learn. I used this book as a guide for making the snowflakes on the ornaments.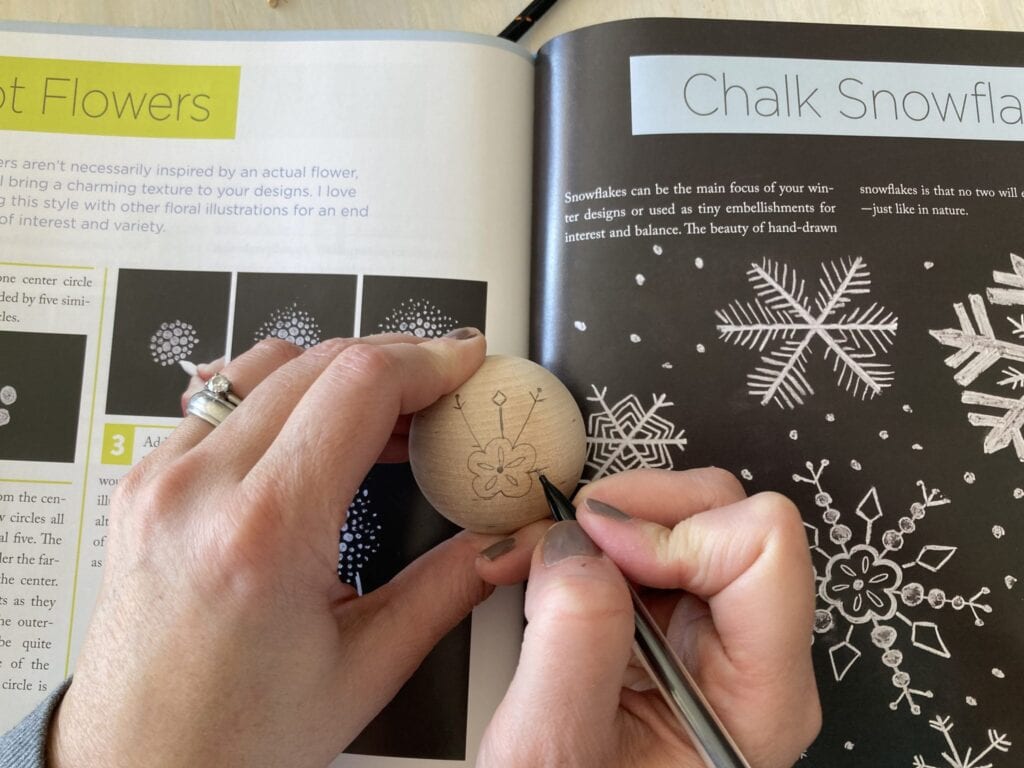 Woodburning on Leather
Using the woodburning tool on leather is incredibly rewarding. It takes very little effort to burn into leather. The result is very custom and lovely.
Here are the five projects that I made with my Maker X. All of these were purchase with 50% off from Hobby Lobby.
Wood Burned Christmas Ornaments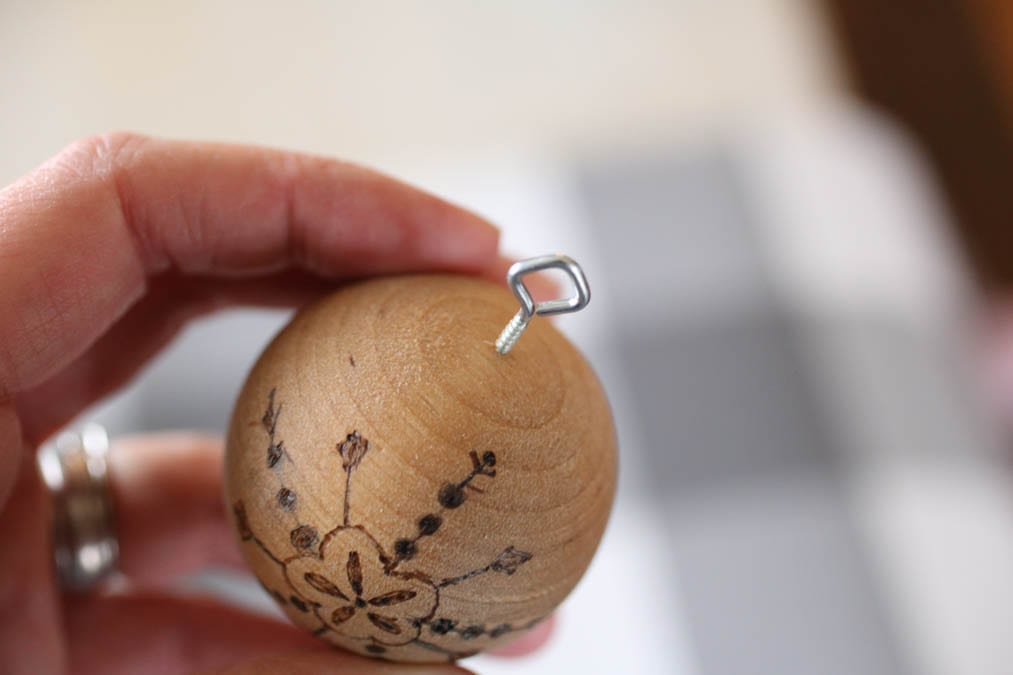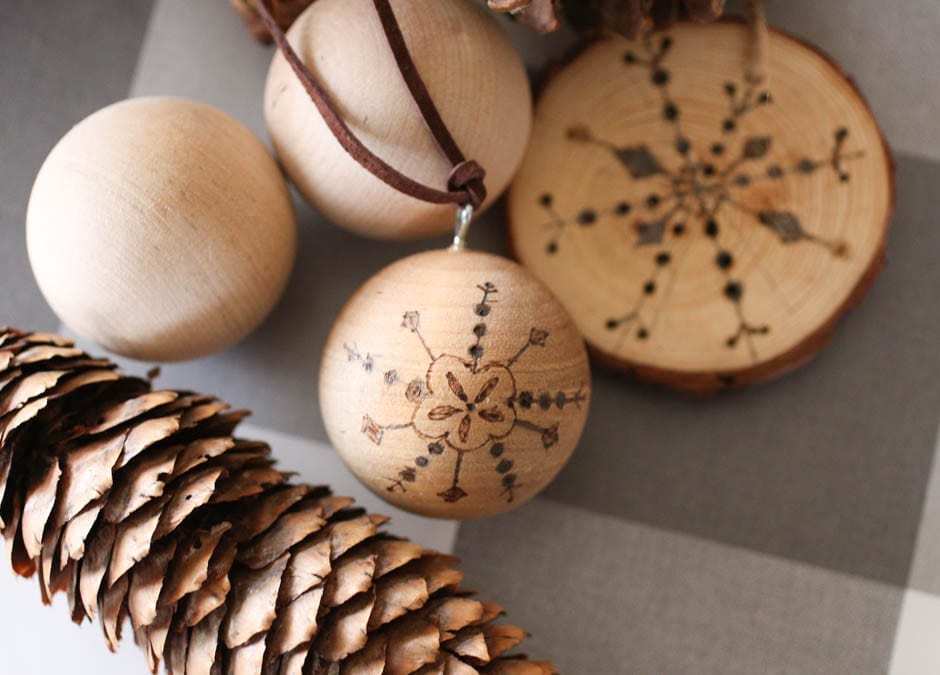 For these ornaments, I purchased the 2″ round balls in the unfinished wood section.
I just used leather strips for the top part, also from Hobby Lobby.
Wood Slice Package Toppers or Ornaments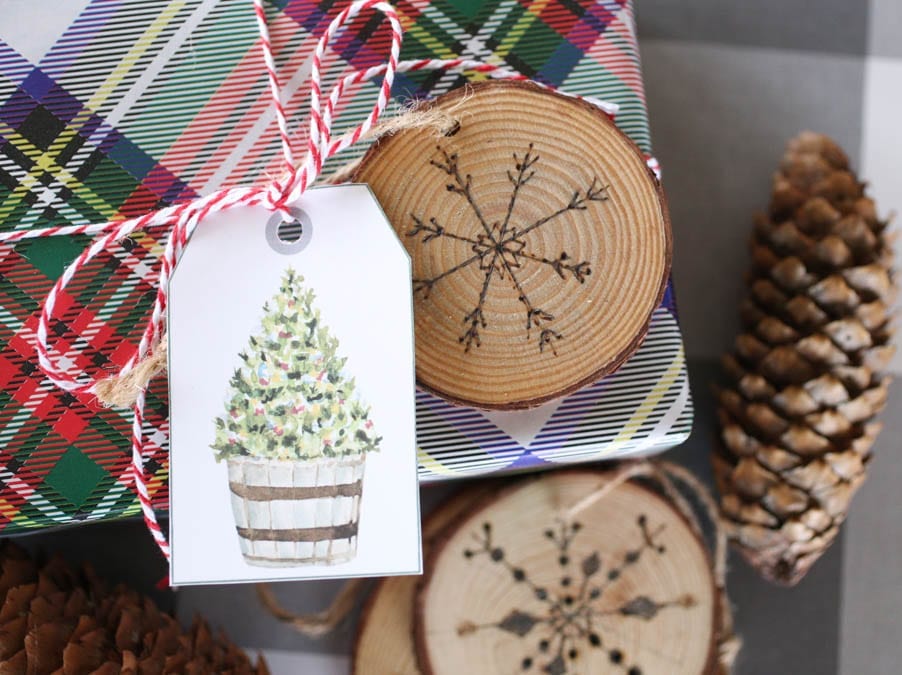 Handmade Wooden Earrings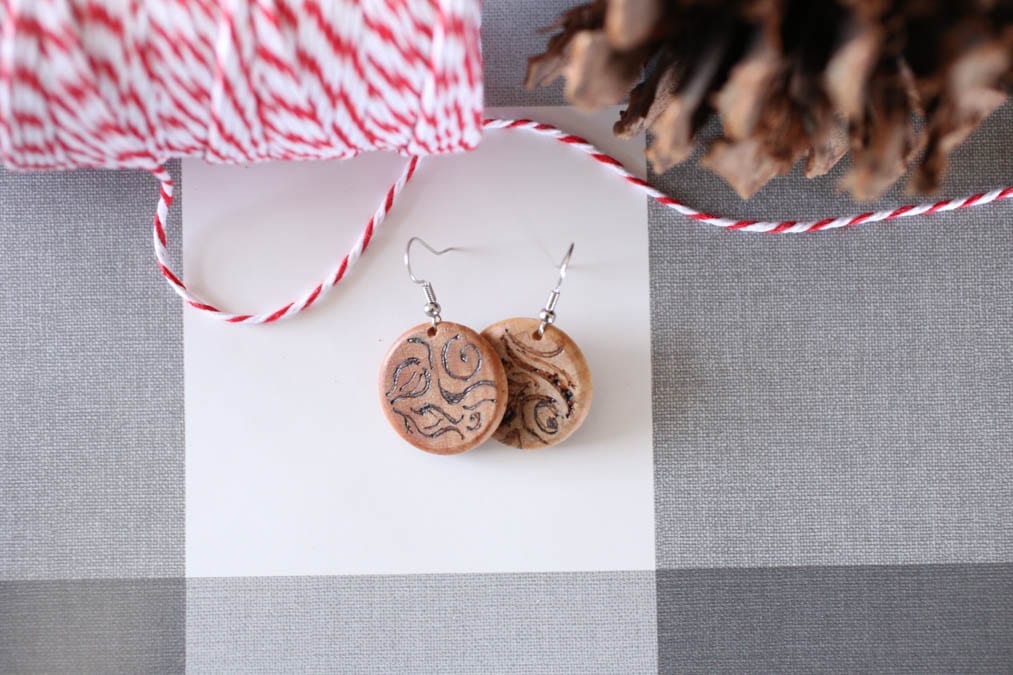 These are my favorite. You can put any design on these little disks that you would like. They are pretty easy to burn onto and the result is a lightweight and beautiful earring.
A Wood Burned Wooden Jewelry Box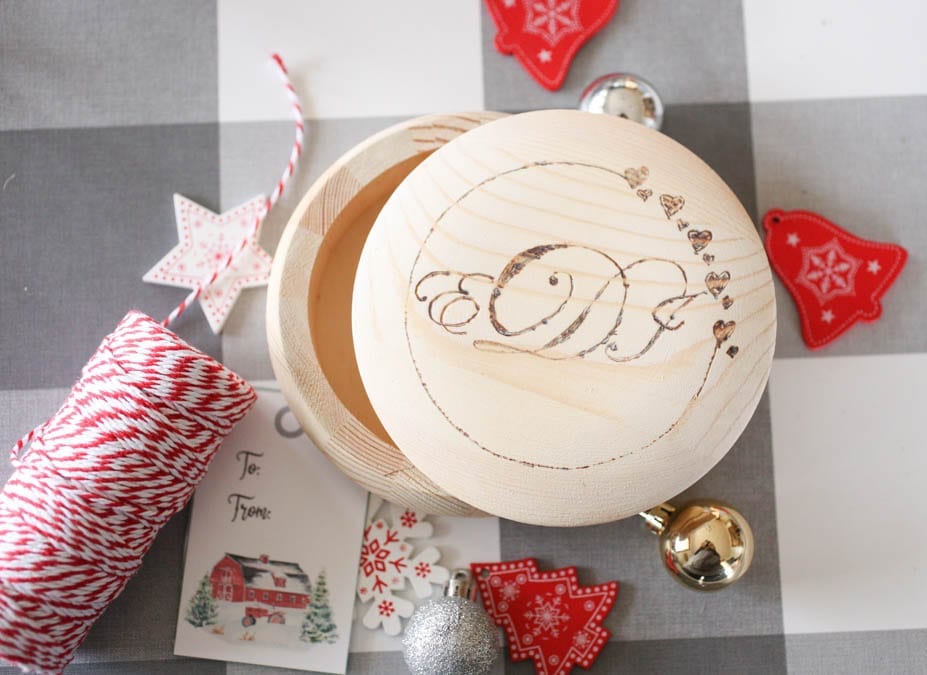 The results on this did not turn out as well as I had hoped. The grain made a delicate design like this a bit difficult. I gave it to my seven year old daughter, and she liked it anyway!
Wood Burned Coasters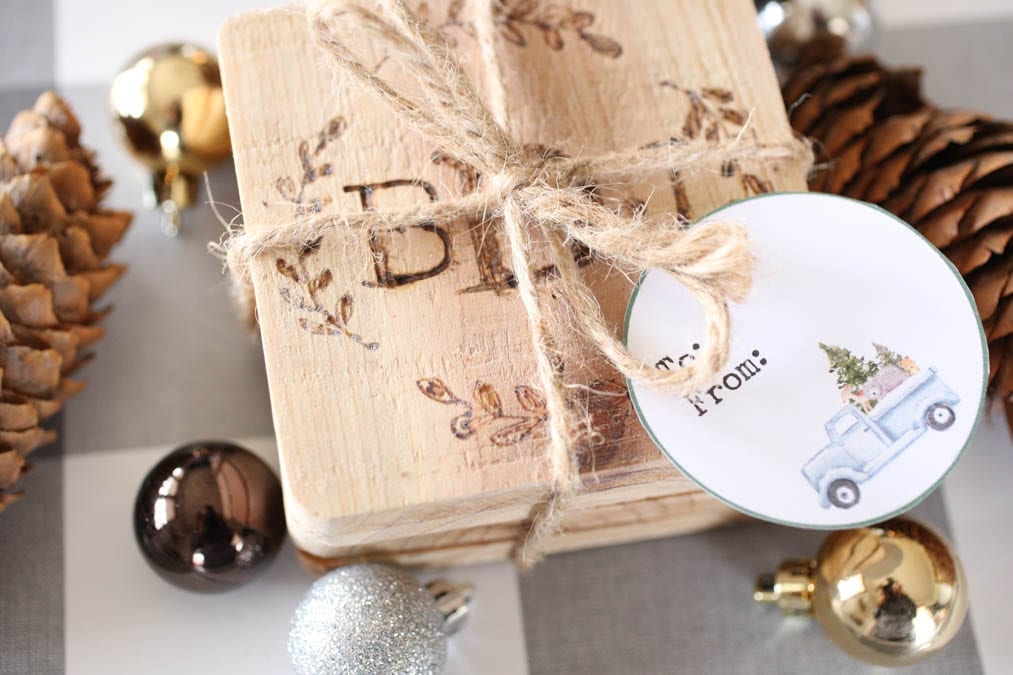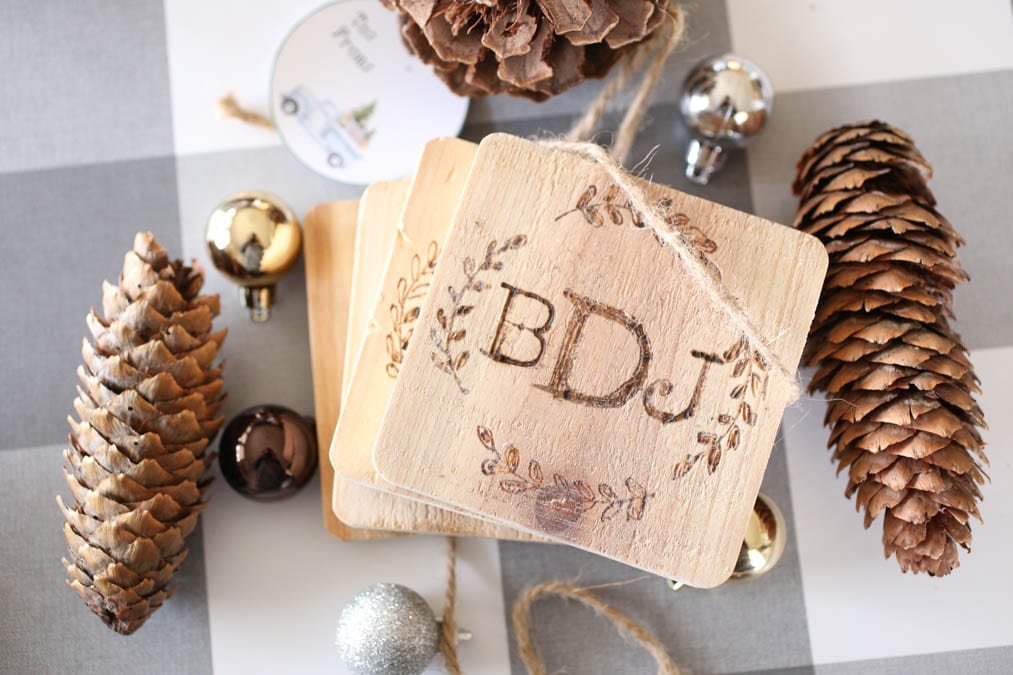 These were similar in difficulty to the jewelry box. The quality of the coasters is pretty minimal. The wood was almost too soft, so they are a bit more rustic in their design.
Leather Burned Backpack Tags with A Wooden Embellishment.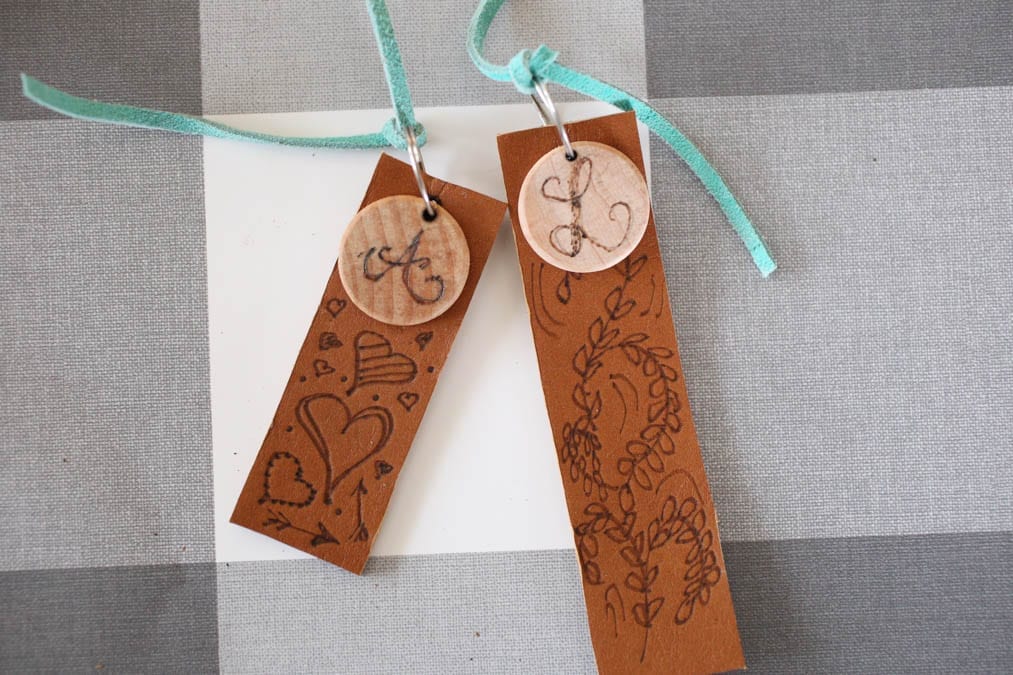 My first idea for the leather was to make bookmarks. I cut a nice long strip but, quickly realized that the leather is probably too thick to use as a bookmark. Then I thought that little tags for backpacks or duffel bags would be just as cute.
I really liked using these little disks for woodburning. The initials are easy to put on the disk and they look lovely when they are stained.
Order of Operations for Woodburning
Sand your item until it is smooth
Transfer or draw your design
Burn the decoration into the wood
Finish with sealer, stain or wax
Need Help Keeping Track of Christmas Details?
This planner coordinates with the free gift tags. This set also has a cute framable print! All of this can be found in my Etsy Shop!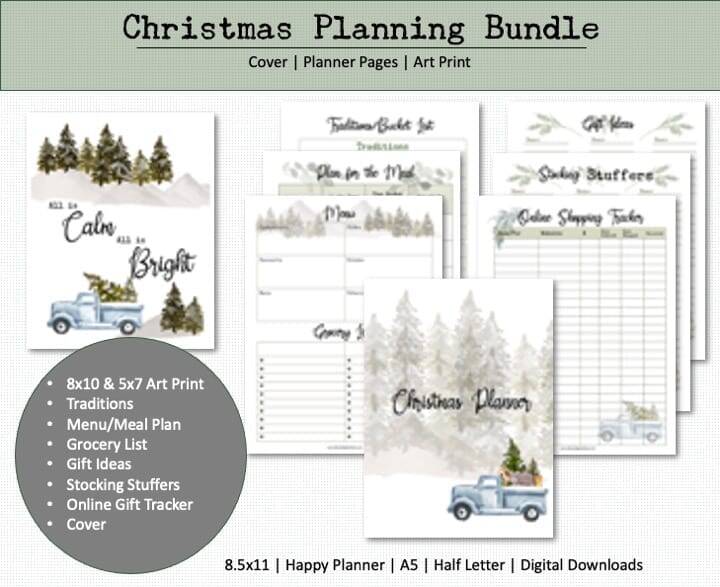 Pin and Share