DIY Custom Leather Phone Stand Cover
DIY leather phone stand cover tutorial. With just a few special tools you will be on your way to making your own custom leather phone stand cover! This post was done in collaboration with Worx Tools, it also contains affiliate links. All opinions are my own.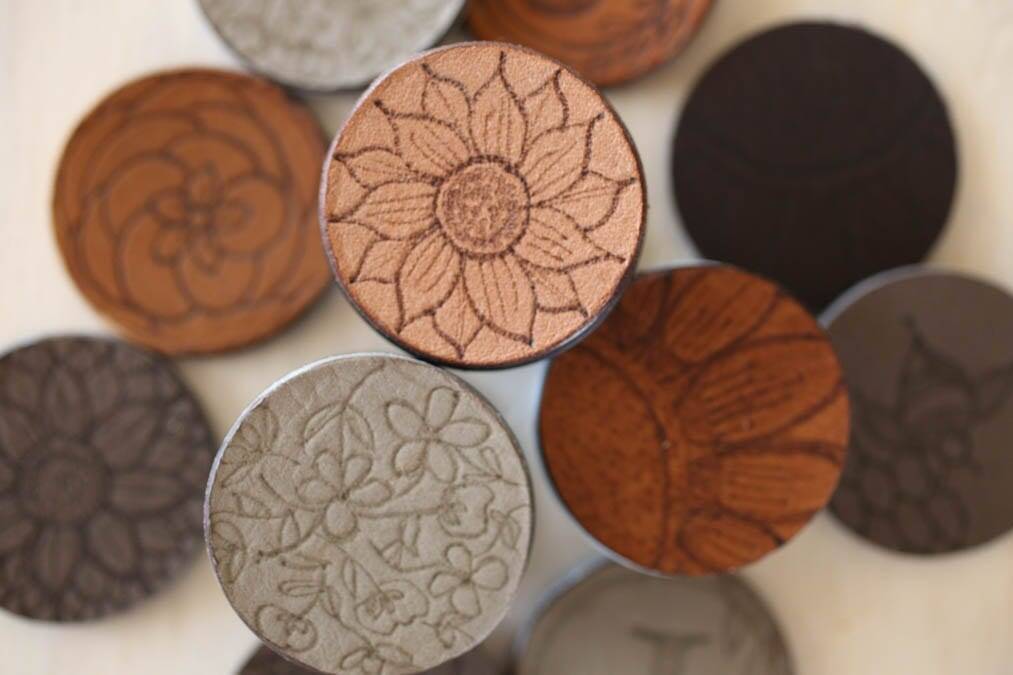 Why a Phone Stand Cover?
I know a leather phone socket cover tutorial seems a bit out of place on a homemaking, homesteading homeschooling blog…I get that! Admittedly I have never had a pop socket on my phone nor did I see the need for one.
Lately, I have been attending zoom meetings for blogging. What I found is that I really needed a way to prop my phone up. However, I couldn't find a pop socket that suited me. I'm kind of difficult like that. I often want things that don't exist!
So, what is a picky DIYer to do? Make her own of course! Here are the steps to make your own DIY leather phone socket cover. Plus I am finding that I love working with leather! I have big dreams of making a leather tote bag…we'll see if I manage to achieve that!
Follow my blog with Bloglovin
First Cut a Perfect Leather Circle
How do you cut a perfect leather circle? This took some trial and error, I tried tracing a circle and cutting it out with scissors…no go, it looked terrible. I tried tracing a circle and cutting with a straight-edge razor. Also a no.
Finally, I bought this handy little tool called the NT Cutter. It is pretty inexpensive but does a good job of cutting a smooth-edged perfect circle. However, it is finicky. There may be a brand that is better quality, but I don't know. It takes a bit of trial and error, and you need to make sure the blade is set just right.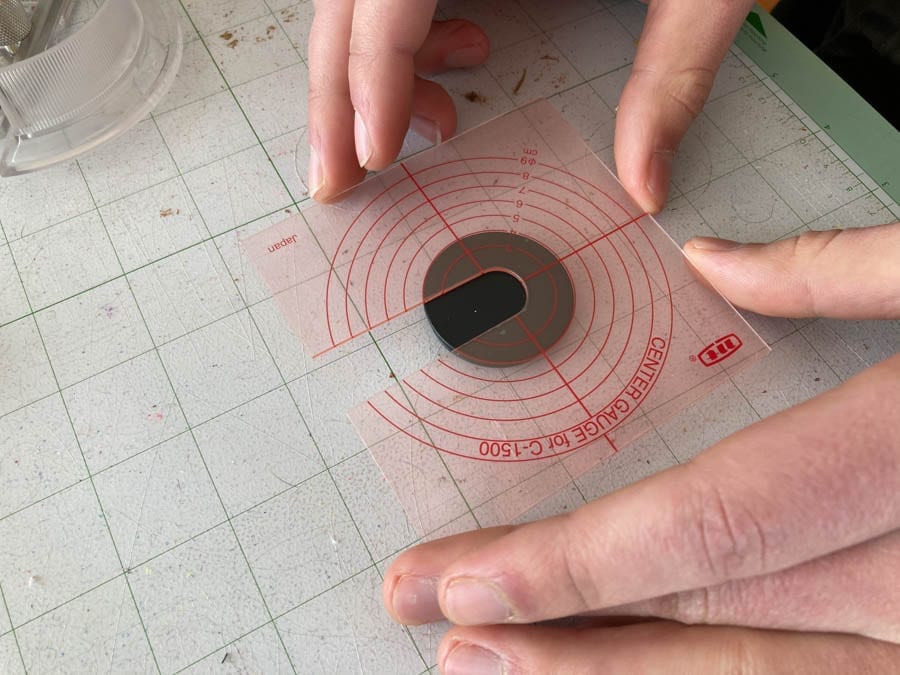 If you have been around here for the last year, you will know that I love my little Worx Maker X tool. I have used this tool in many many creative projects over the last few months. Earlier this week I shared a DIY Silver Spoon Ring using the Maker X angle grinder. I have made a Leather Handled Charcuterie, I have also shared 7 Wood Burned Gift Ideas. All of these were done with the Worx Maker X. It is a super handy tool!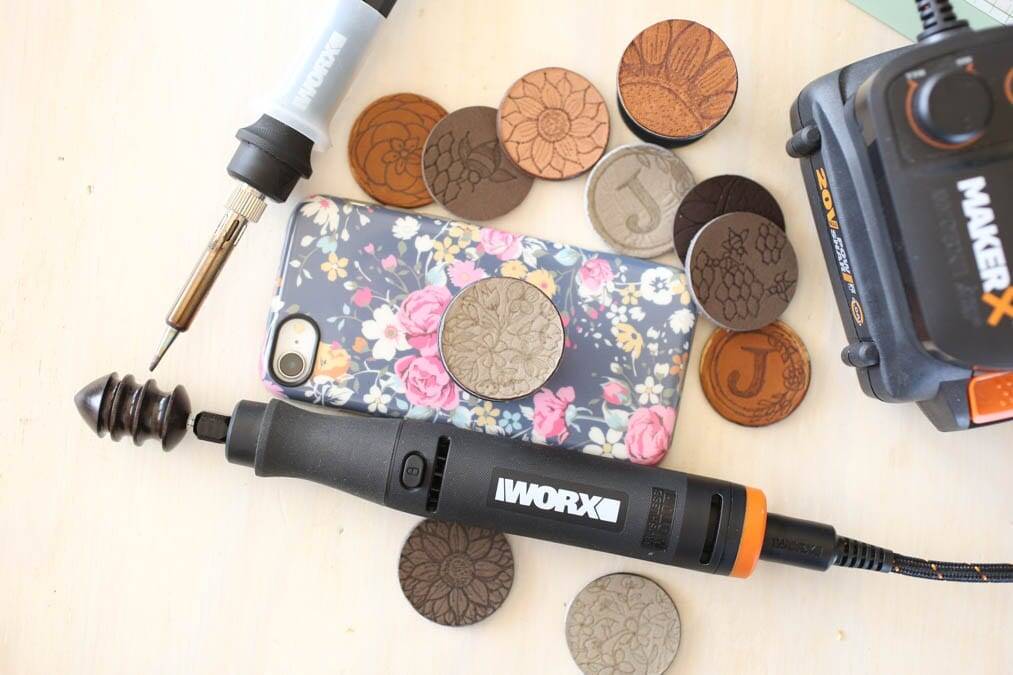 Burnish the Edges of the Leather
In order to give the edges a finished and smooth look, you will need to burnish them.
Burnishing is sealing and smoothing the edges of the leather. It keeps it from fraying and splitting apart. An old-fashioned way of doing this is rubbing it with a piece of canvas. I also tried rubbing the edges with denim, however, it made the leather a bit blue.
The best method I found was using an actual burnishing tool or an edge slicker. I bought this one on Amazon and I used it in my Maker X Rotary tool. This method was super fast and effective. The friction is what smooths the leather.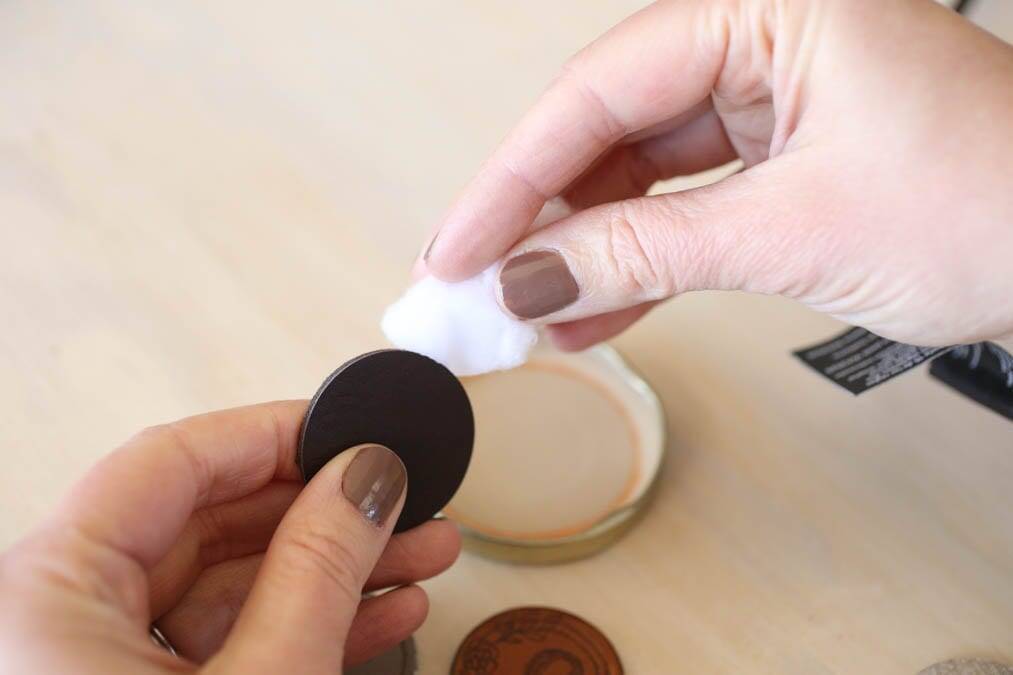 Now Embellish Your Leather Popsocket
Again, I use my Worx Maker X for this part. I used the burning tool and set it to 700 degrees.
If you are not artistic, you can print a picture and transfer it to the leather by coloring on the back with charcoal and then tracing it to the front. This is really rather difficult to do. I find it easiest to draw the design myself. Just break your design into basic shapes and you will be amazed at what you can create!
Hot Glue the Leather to the Socket
I purchased these blank inexpensive socket covers here. My son has been using one for several weeks and it is working just fine. I used a hot glue gun to glue the leather to the plastic socket. Press it firmly on until the glue sets. Clean up any glue around the edges.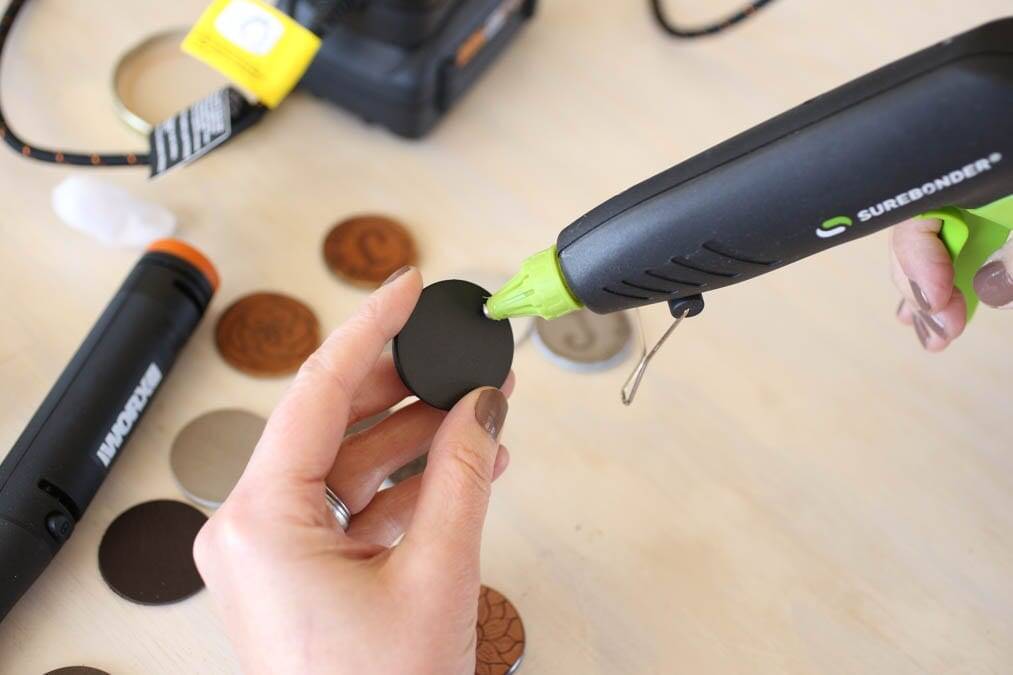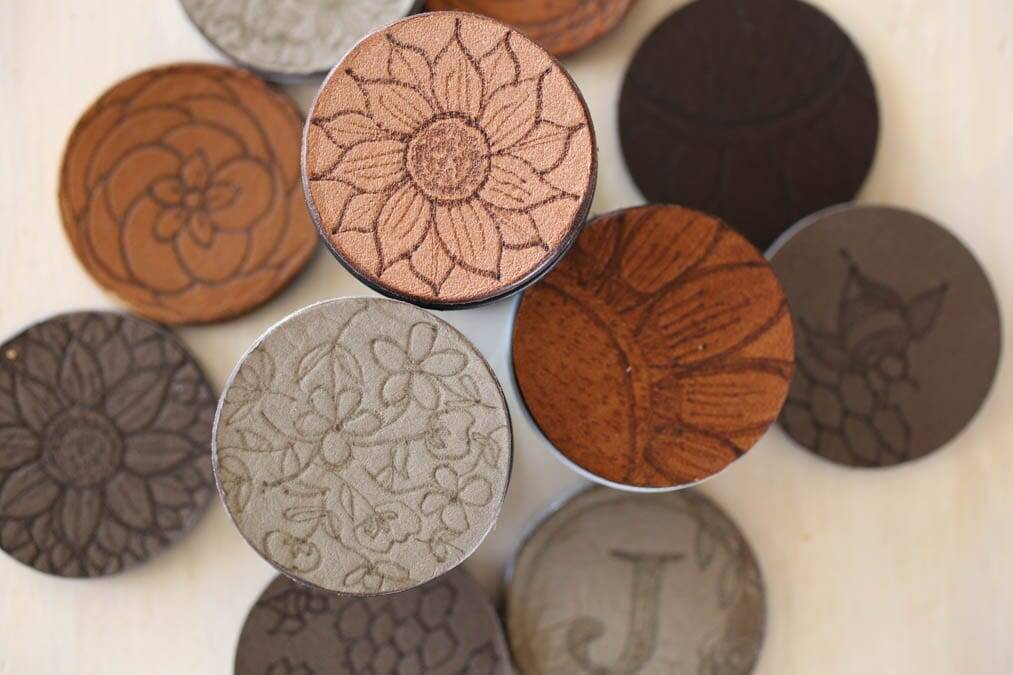 What Do You Think of this DIY Leather Phone Stand Cover?
Does this look like a project that you would try? Let me know what you think!
Pin for Later!