How to Hang a Daybed Porch Swing with Rope Plus Style Sources
How to hang a daybed porch swing might be one of your main questions after you build your swing. There are several different ways you could hang your daybed swing, but this is how we chose to hang ours.
This post contains affiliate links.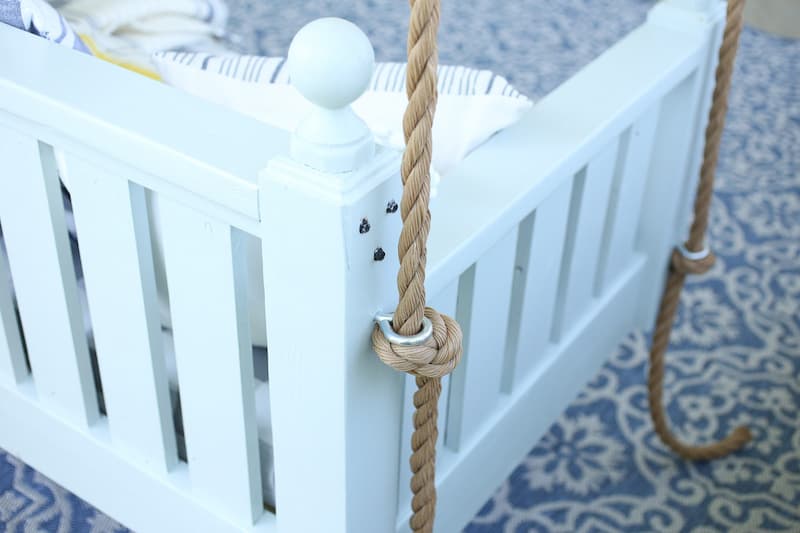 Hanging a Daybed Porch Swing
The first step is not the most fun however, it is the most important. You must make sure that you are choosing a spot to hang your swing that will provide proper support. Locating your porch joists is the first step in hanging your swing. It is also the most important step, while not fun, it's necessary! You don't want your beautiful swing to fall down!
My husband had to pull back the ceiling siding and he had to cut through the board underneath. I felt pretty bad that he had to go through all the trouble, but in the end, it was worth it…even he says so!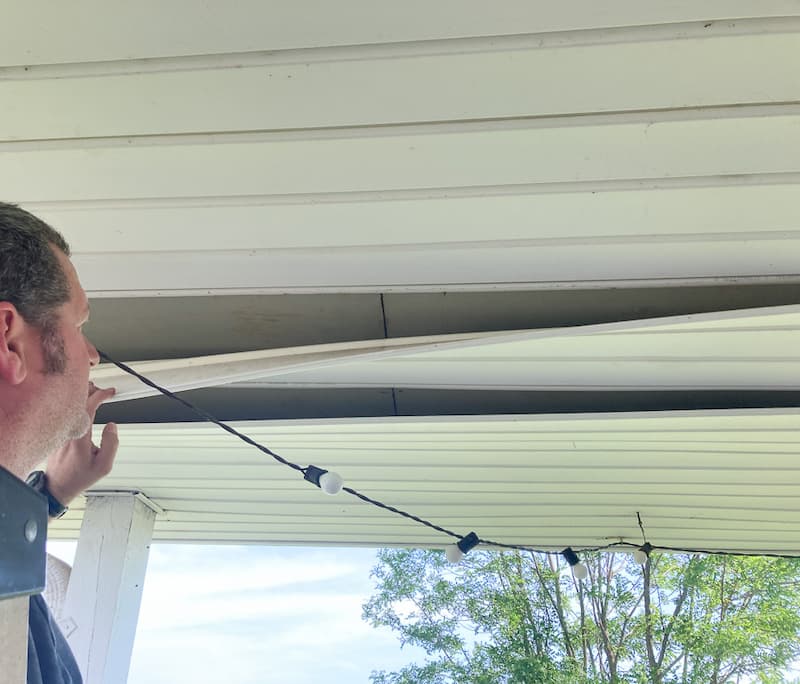 Follow This Tutorial for Building a Daybed Porch Swing
Select Hardware for Hanging Swing Bed
We chose to use four swing brackets for hanging the daybed. You could probably get away with just two and Running your rope through at the top and then connecting to four points on the bottom. I wasn't sure how smoothly it would swing with that setup, so we opted for connecting the rope at four points. It feels very sturdy and swings smoothly.
For the bed itself, we just used four 3 7/8″ eye screws.
Measure For the Brackets
After you have decided on the hardware, you need to measure for placement. Measure the distance between the eye hooks on the swing and then mirror that distance on your ceiling. Ours had to be placed in slightly so that the brackets would be placed on the joists. The ropes angle in slightly rather than hanging perfectly straight down. This doesn't bother me at all, and the swing moves freely.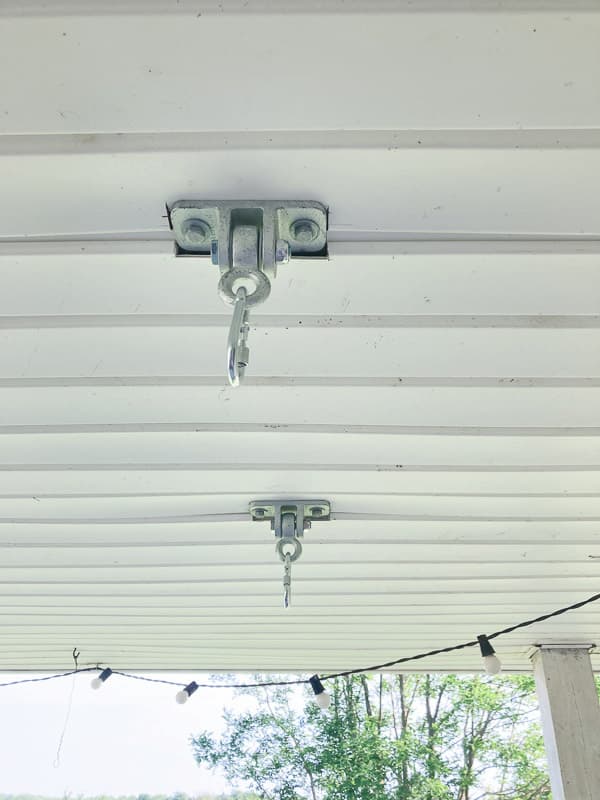 What Type and Size of Rope for a Hanging Porch Swing Bed
We tried two different types of rope, one was 1/2″ and one was 1″. The 1/2″ was way too small for the scale of the swing. You would want at least 3/4″ rope for this size of the swing. 50′ of 1″ rope should be plenty for hanging your swing unless your ceilings are very tall, in that case, you will just have to measure from the ceiling to swing and then add about 6″ or so to allow for tying the knots. The knots use up quite a bit of rope.
We cut our lengths of rope at 11′. This was more than enough. On the back we hung the eye hooks up higher so we needed less rope, more like 6′, however, we just cut the 11″ and let the rope hang down even with the rope in the front. I like the way it looks but that, of course, is a matter of preference so you will need to decide how much rope to cut for your taste, and also how high your ceiling is.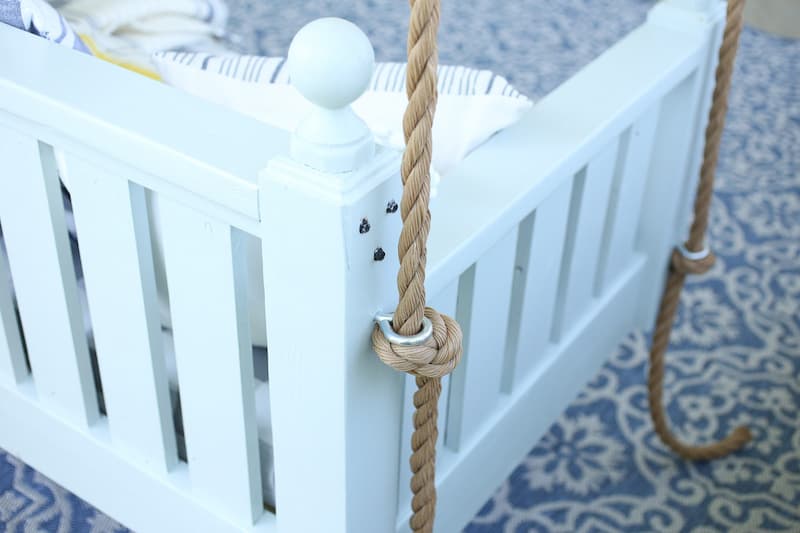 You can choose a natural fiber rope like hemp, cotton, or jute. Natural rope will eventually stretch and fray over time. Some people like that look. I would make sure you choose a rope that the reviews say isn't scratchy. I didn't want a super rough rope since my kids would be on it all the time. Choosing a poly rope seemed good as I didn't want the look of the fraying fibers, I wanted it to be smooth to the touch and weather-resistant plus it was more affordable. This is the rope I purchased. The one downfall of poly rope is that the knots are a bit more difficult to tie.
I love the color of this rope next to the color of the swing which is Americauna Egg by Magnolia Paint.
The Best Way to Cut the Rope for a Hanging Daybed Swing
My son came up with this idea and it worked really well. After measuring the length of your rope, wrap some duct tape around the area where you plan to cut. Using a utility knife just cut through the rope and the tape. A super-fast way to do it would be to use a band saw. We didn't do that since the saw was in the garage and we were working on the porch. It really isn't difficult to cut with the utility knife.
After hanging and knotting, I use a blowtorch to melt the ends to keep them from coming apart.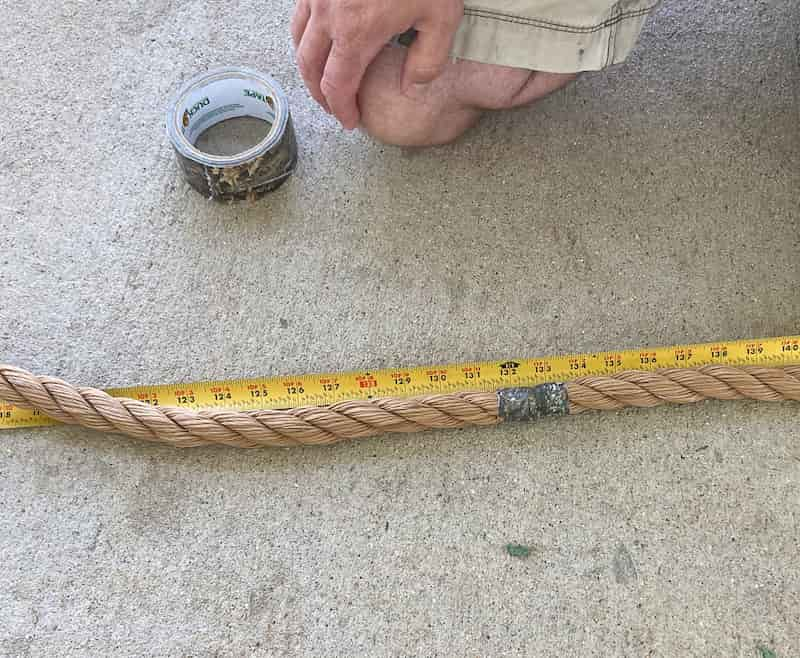 What Knot to Tie for Hanging a Porch Swing with Rope
We used two different types of knots for hanging the porch swing. For the top knot, we used the Midshipman's Hitch Knot. Figuring this out was the most time-consuming part of hanging the swing. We watched videos and looked at diagrams. Eventually, my son got the hang of it and it holds the swing beautifully at the top.
For the bottom knot, you just tie a regular knot underneath the eye hook. The weight of the swing and the size of the knot will not allow it to go through the eye hook.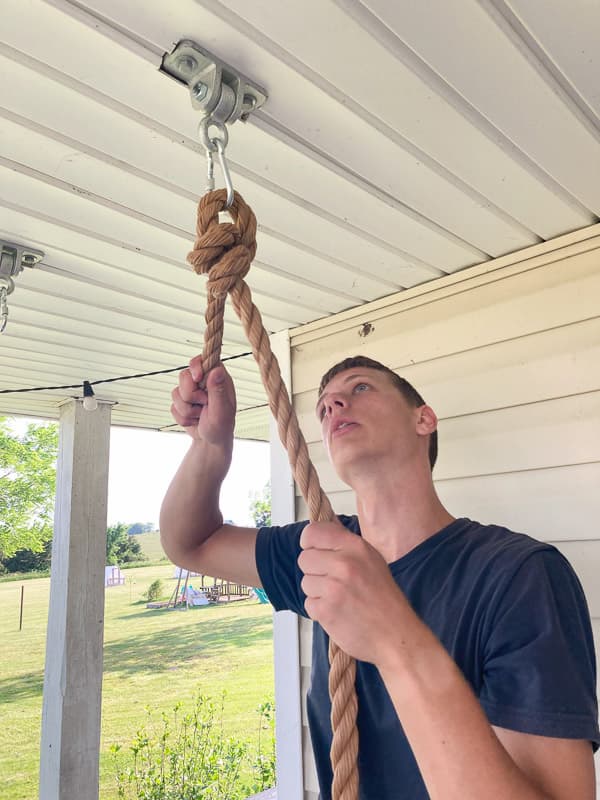 How to Hang a Porch Swing with Rope
After you have your knots figured out, set your swing on two or four five-gallon buckets. This gives you the perfect height for hanging your swing. Be sure to sit down on the swing to make sure you agree with me on the height of the swing. We are pretty tall so this height seemed perfect, if you are smaller, you might like it to hang a bit lower. Either way, have something to set the swing on to hold it level while you tie your knots.
After the swing is hung, you can just eyeball it to see if it is level. If it isn't adjust your knots to make it hang straight.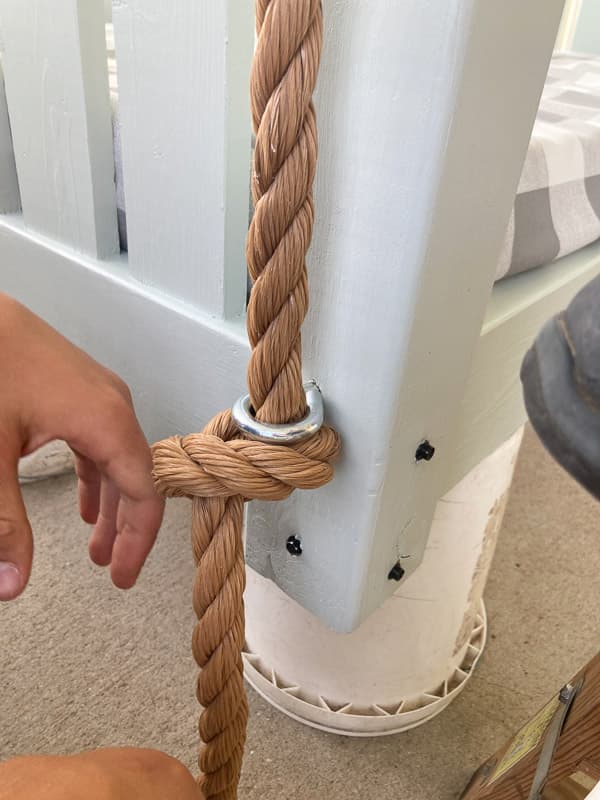 Styling Your Daybed Porch Swing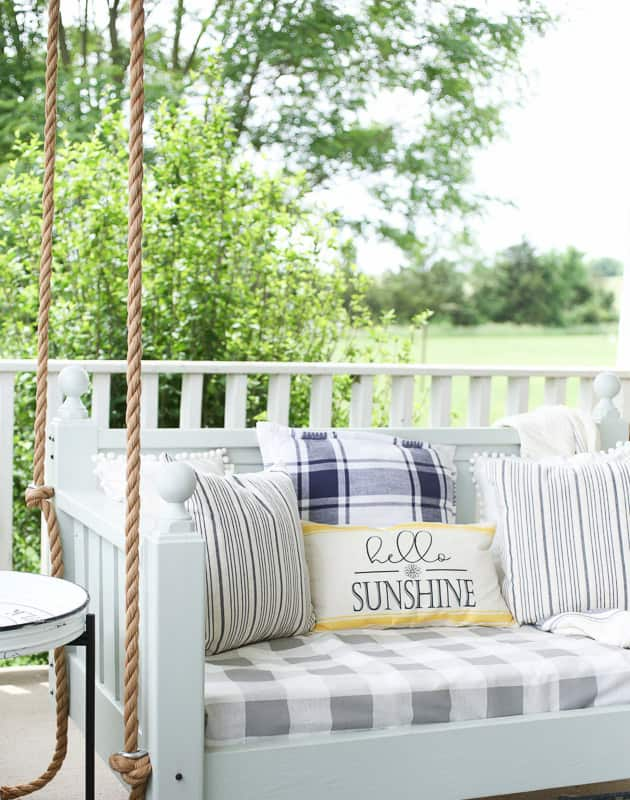 After the swing is built and hung, you get to have fun making it an inviting and comfortable spot! To cover the twin mattress, you could of course use a twin sheet. I wanted something a little bit sturdier than that and also I wanted something made of water and fade-resistant material. I found the cute grey buffalo check at JoAnn in their outdoor fabric section. However, another cheap alternative would be this tablecloth. I followed this tutorial for making a crib sheet. Easy peasy. I also safety pinned some elastic across the bottom to keep it securely in place. One of these clamps with elastic for a bed would work well too!
I searched and searched for affordable weatherproof outdoor pillows. I couldn't find very many that I liked. If you find yourself in a similar situation, you can use this spray to help your pillow covers to resist stains, sun fading, and water. I have used a similar spray before and it works pretty well!
Here are the pillows that I chose:
The Porch Rug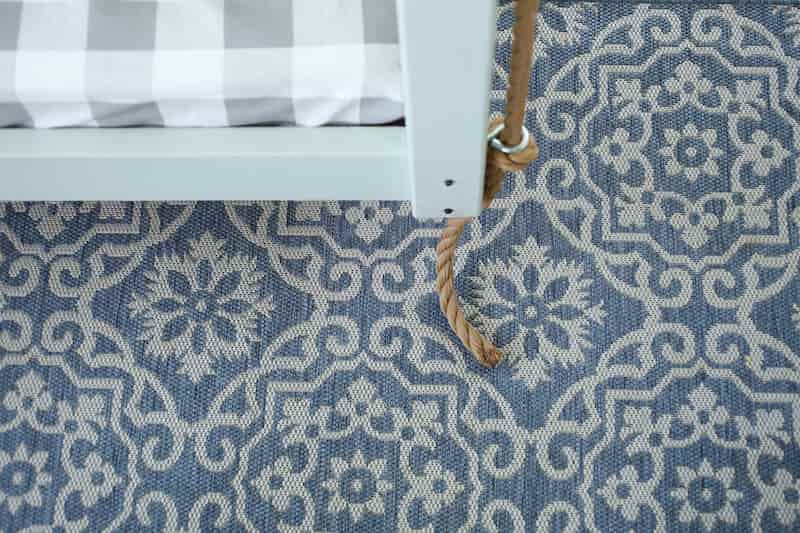 I chose this rug and I couldn't be happier with it! It is so beautiful in person and the reviews are excellent! I hope it lives up to the durability claimed in the reviews! It feels good underfoot even though it is an outdoor rug. It also comes in lots of different colors!
Enjoy Your Newly Hung Daybed Porch Swing!
We love this addition to the porch! My kids do their homeschool out there, we read books, and honestly we just hang out on the porch a lot more than before.
The only problem is keeping the dogs out of the area. If you have any suggestions, I am all ears. Right now we have some makeshift gate barrier things that are really an eyesore and the dogs still manage to get through.
I've looked at training collars, spray, baby gates, and outside invisible fences. If you have something you successfully use to keep your dogs out of certain areas, let me know!