Limed Oak Table–The Easiest Makeover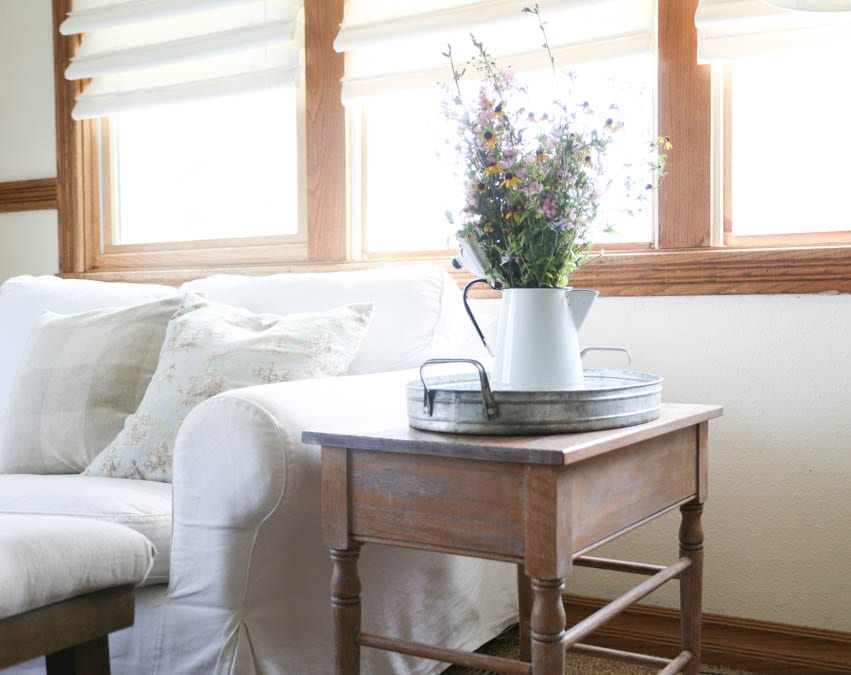 This limed oak table is a simple makeover. Try it on a piece of furniture that might not be your style, or maybe needs a little updating. This post contains affiliate links.
I found this little set of nesting tables on Marketplace. The set was about $40, not too bad considering they are solid oak. I knew when I bought them, that I would not leave them with the golden oak finish. While I acknowledge that the finish is beautiful, it is just not my style or my favorite.
All of the trim in our house is that golden oak color, so I get my fill of it's beauty:) However, I didn't think I wanted to paint these. My hope was to just lighten the finish and maybe give them a bit of an aged look. I didn't yet know I would do a limed oak finish.
Stripping Furniture Stinks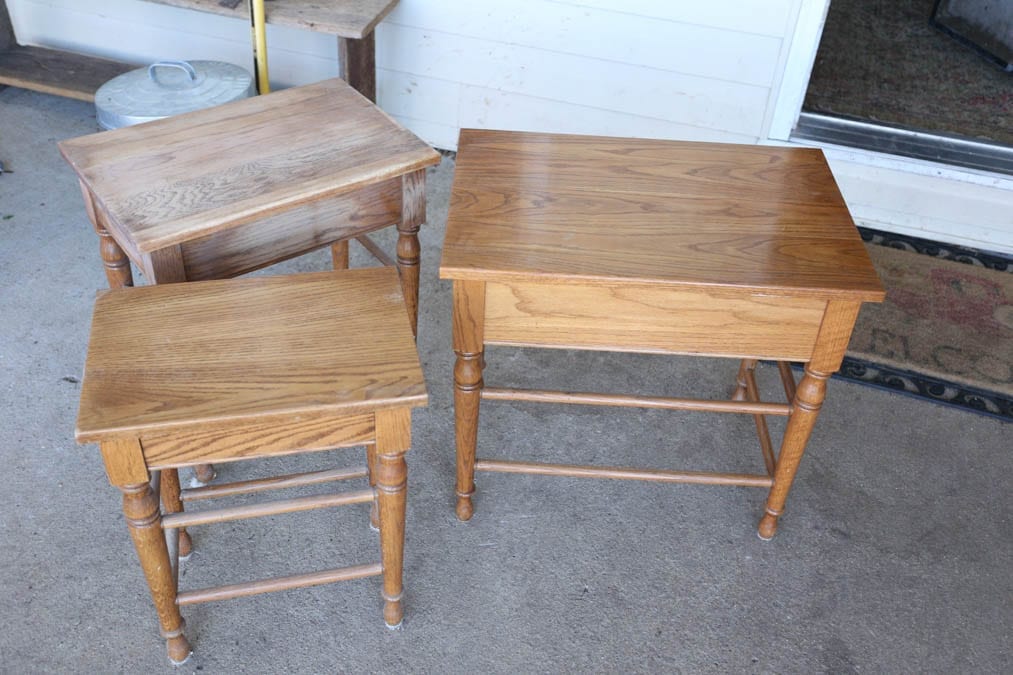 I am not afraid of hard work, but I have never stripped a piece of furniture. I have never heard of it being easy or going well. For whatever reason, I thought it would be different for me. So, I started stripping the smallest table.
First I Sanded
This was where I was smart, and I should have just stuck with this method. However, I thought "Oh, the turns on those legs will be a pain to sand. Maybe I should try a chemical furniture stripper."
Big Mistake
I am not cut out for stripping furniture. You would think having 10 children would make me an incredibly patient person. If you think that, I am here to tell you that you are wrong. I am just like the next person, and I want everything to be quick, easy and done already. I watched a YouTube video, and the guy convinced me that it was almost a pleasant project. He was using Citri-Strip, but I just cannot believe anyone would really enjoy the process!
So, since my YouTube buddy recommended it, I used Citri-Strip. This is supposed to be more natural and non toxic. I was pregnant when I first started on these tables, so I was trying to be smart. However, what I didn't know is that furniture stripper turns the finish to a gooey mess. The first layer will come off, and you will be like "Hey! This isn't too bad!" You are wrong…it is bad! The layers that are left are sticky and impossible to sand. You will need to continue to add the stripper and scrape every last bit of the finish off the table. BLAH!!
And those turned legs…I don't even know how I am supposed to get that off! Not my cup of tea at all! So, the little table that I experimented on still sits looking sad and halfway stripped. I loathe it and I don't want to mess with it. Eventually I will finish it, but not today.
Let's Try Something Easy!! A Limed Oak Table
The look I was going for was like what you see at Ballard Designs. That white grain look on a stained piece of furniture. After trying a few products, I found THE BEST and easiest way to achieve that limed oak look.
Liming Wax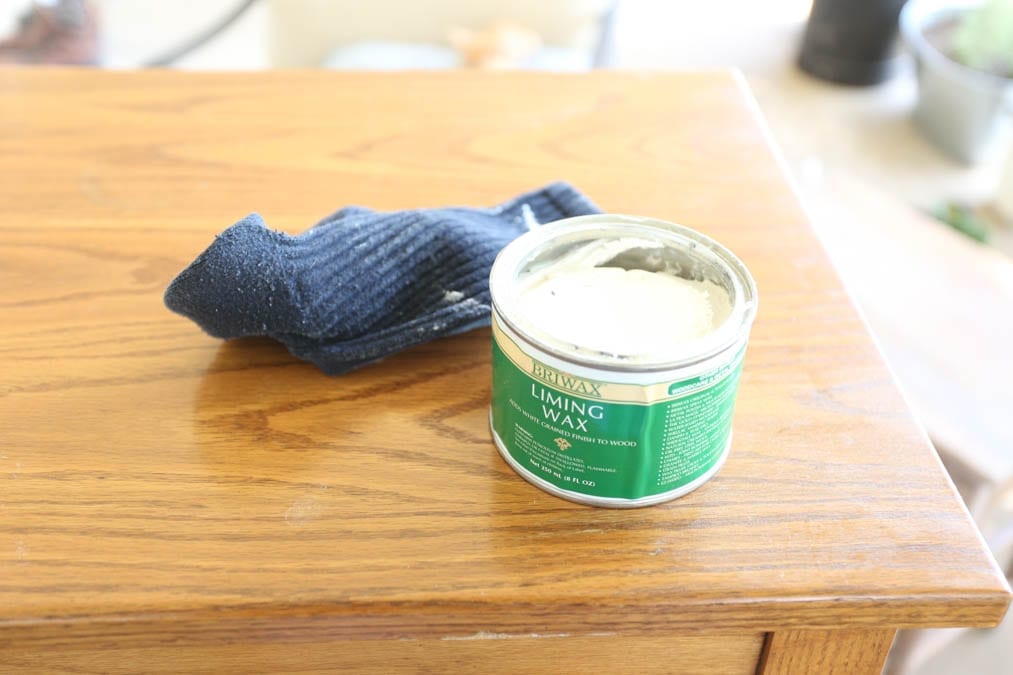 Briwax Liming Wax is what I used. This stuff is amazing and wonderful! I tried it on two of the tables. One I sanded a bit and one I left with the glossy polyurethane finish. There is absolutely no reason to sand. After trying both, the one I sanded looks no better than the one I left with the glossy finish. Actually, it seemed to settle into the grain better on the one I didn't sand.
How To DIY a Limed Oak Table
Apply Over Polyurethane
You heard me right, you can apply this over a piece that has not been stripped or sanded! You can go from an orangey oak finish to a limed oak wash finish in less than an hour! It's almost too good to be true!
This is so simple! The wax is light and fluffy, it comes out of the can so easily. Just dip your rag, or your old sock, or your son's old sock (ahem) in the wax. Wipe some on the table. Work it into the grain. Then flip your sock over and buff it a bit with a clean part. That's it…really! That is all there is to DIY a limed oak table!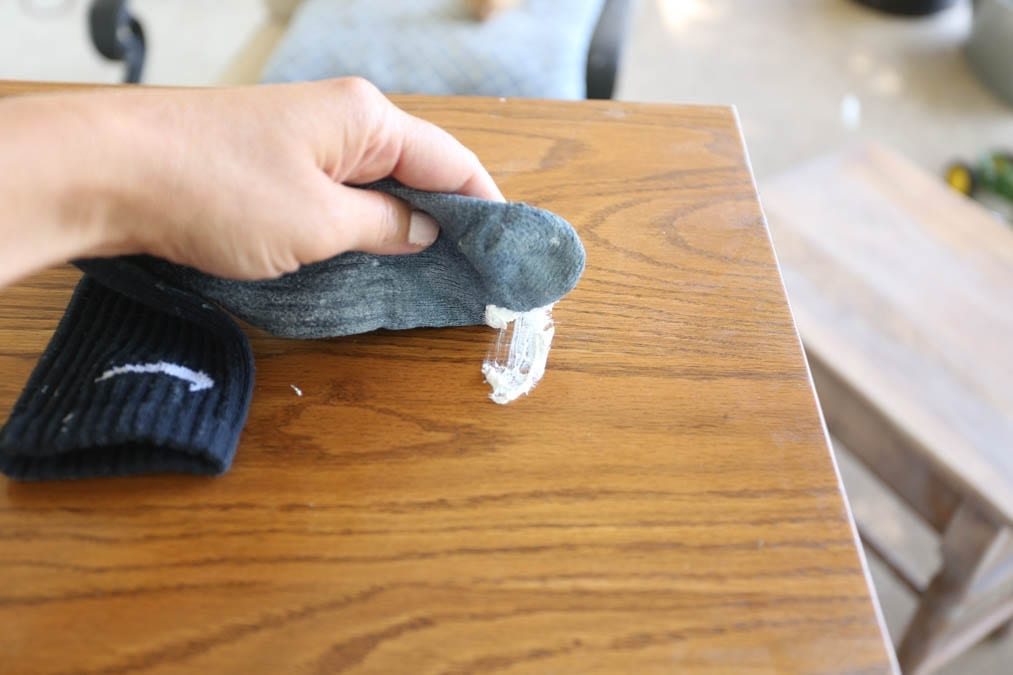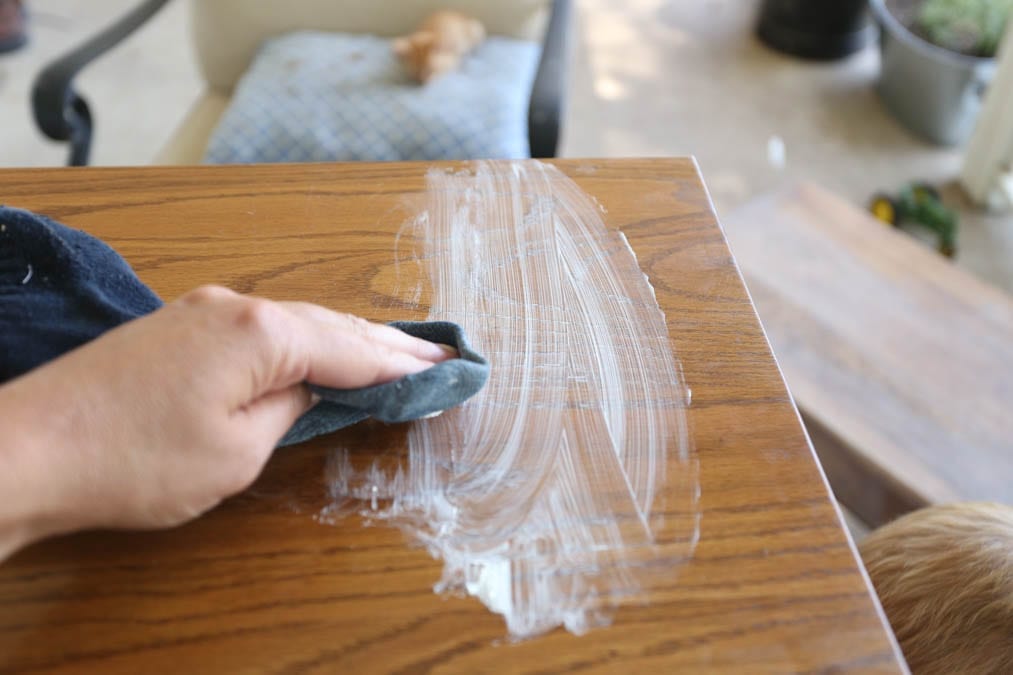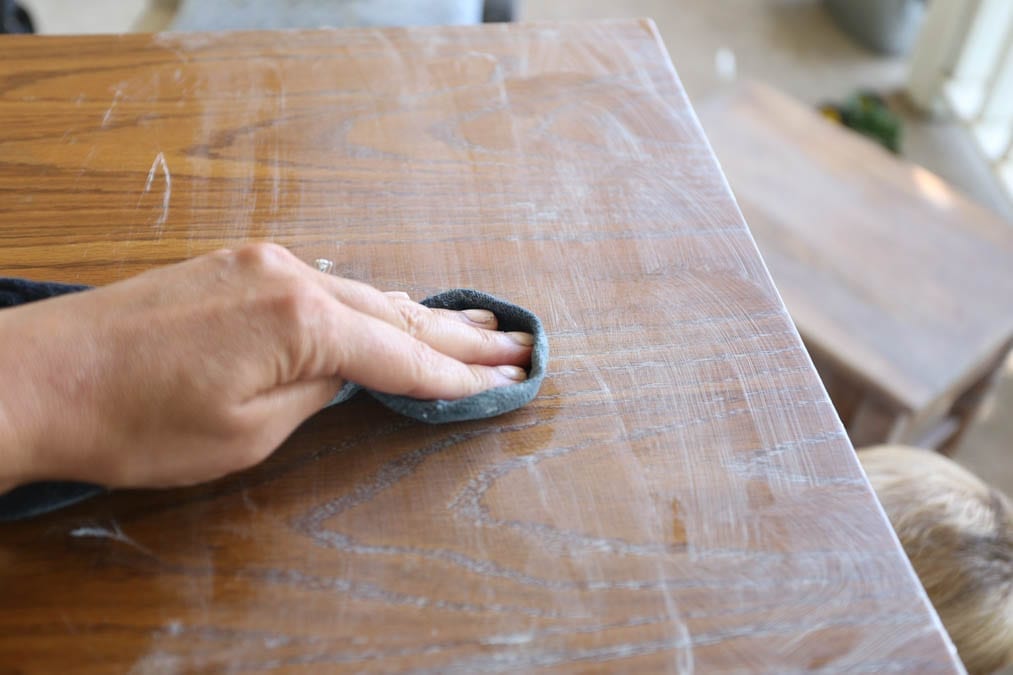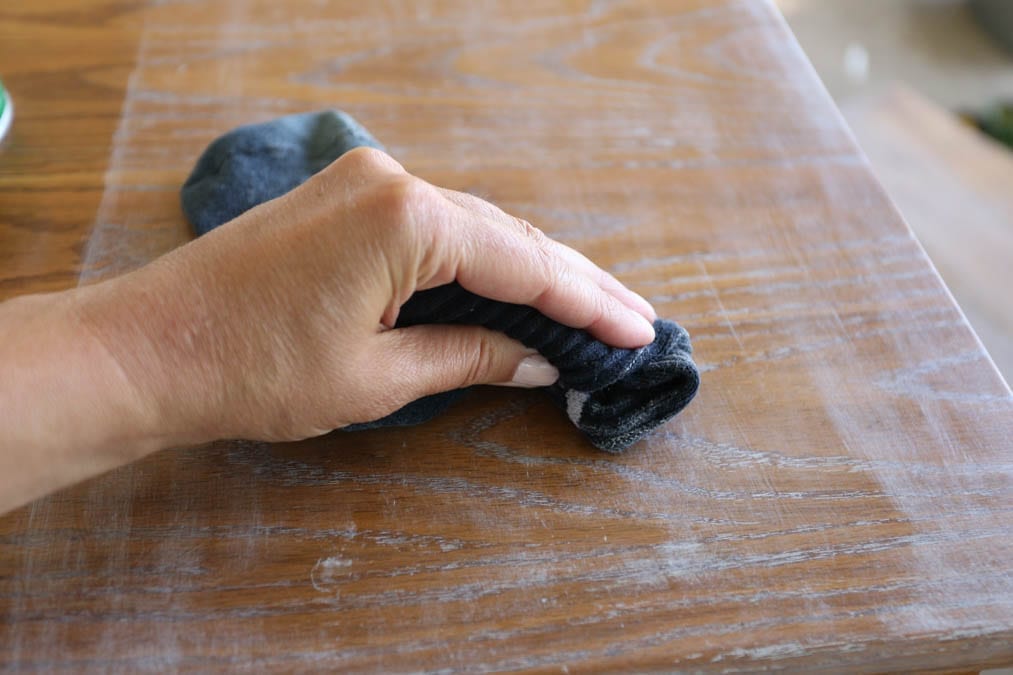 Half and Half
Here is the table after a few minutes of work. Half done and half still orangey oak.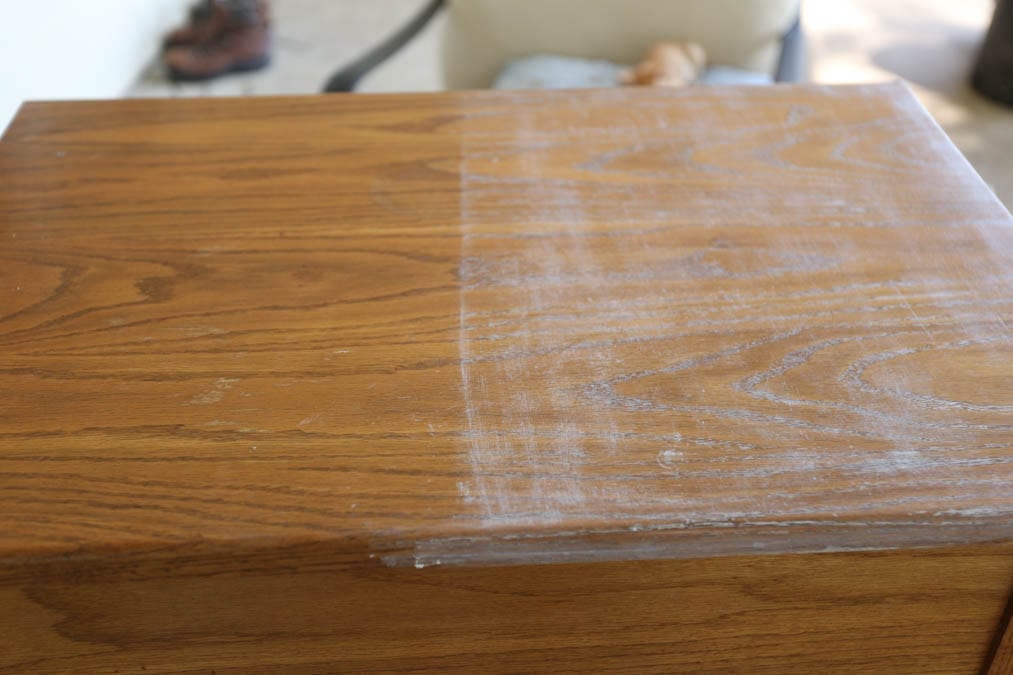 Limed Oak Table All Finished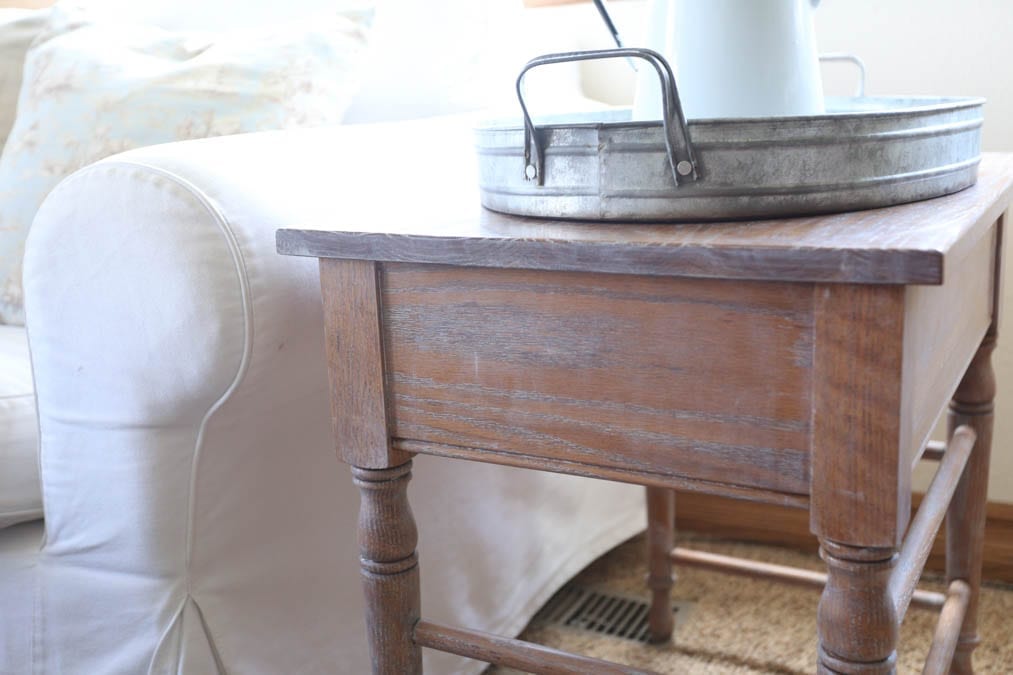 Longevity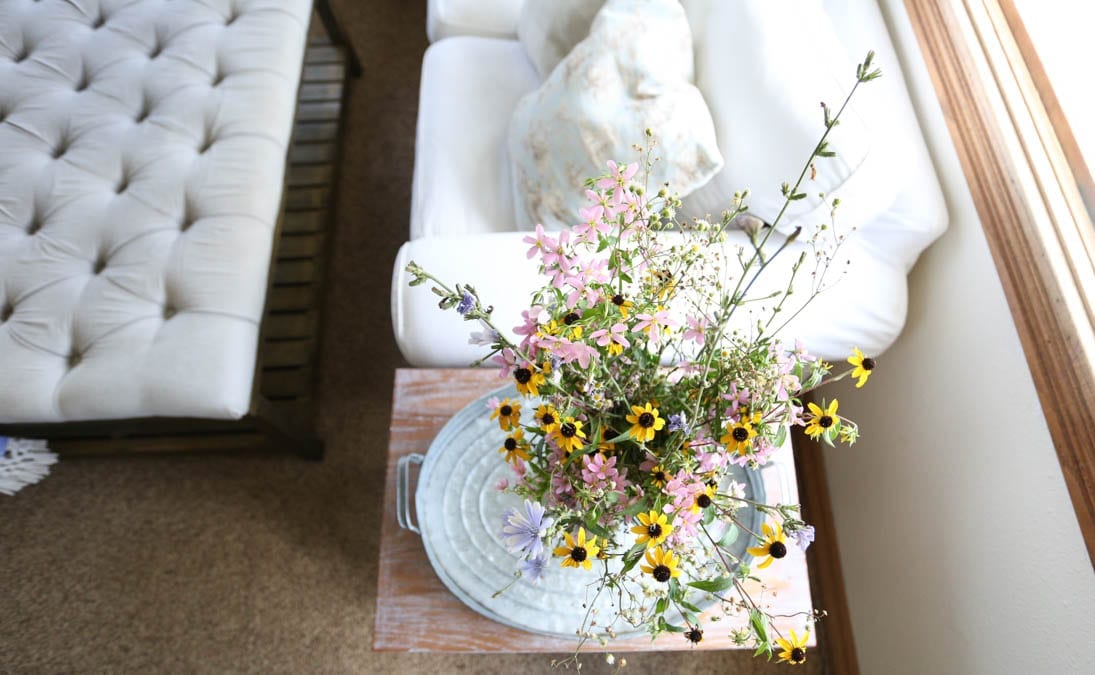 How will this hold up? I really think it will hold up pretty well. Of course, this is an end table, so it gets the occasional dusting, but it isn't a highly used piece of furniture. However, it did dry solid and smooth, so it's not tacky at all.
If you were wanting to do this on a dining table, I would imagine you would want to put a poly finish of some sort over it. I think the daily wiping would eventually wear away the finish.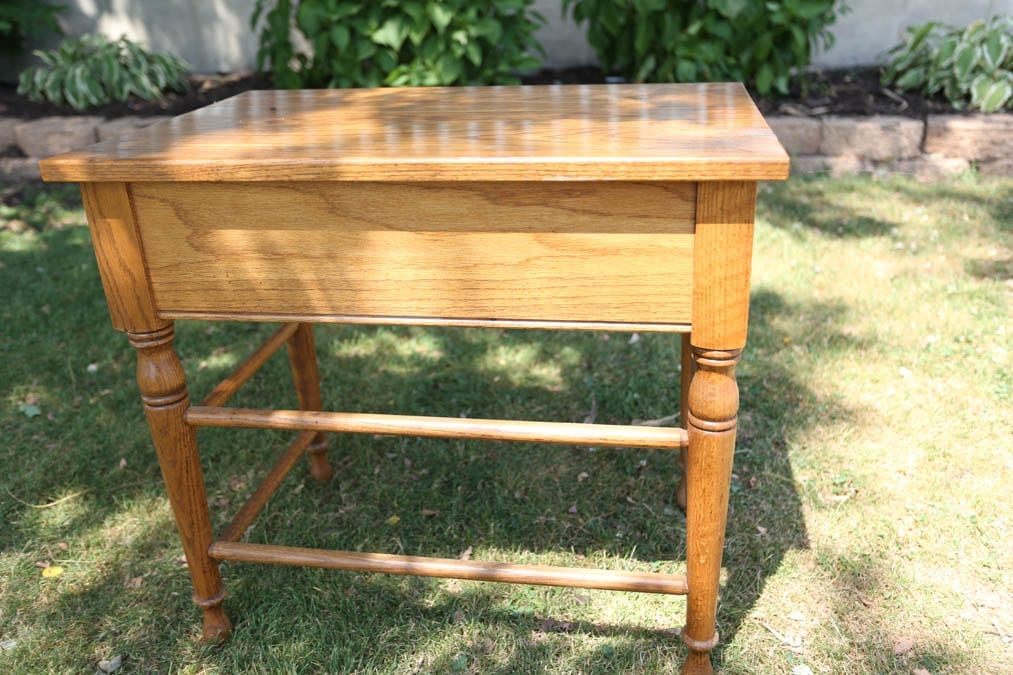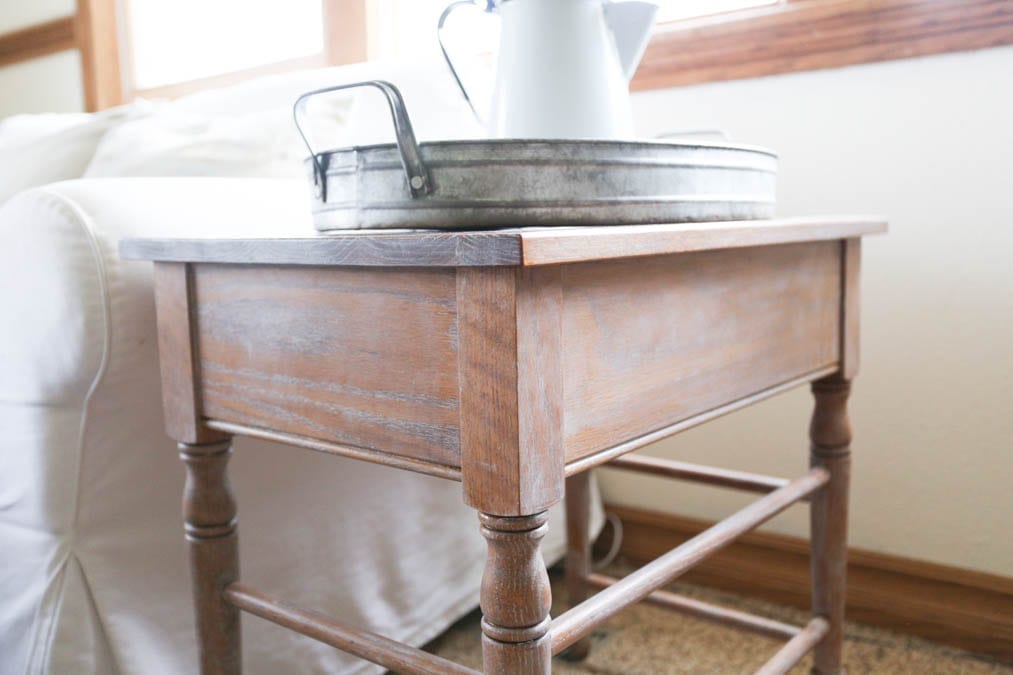 What Do You Think?
I am personally so pleased with the finish. It gives it more of that coastal or white washed look. Or maybe it's a farmhouse look. I don't know, but I like it! It fit's my style a bit better. I love the turned legs and the wax settles nicely in there to give a bit more contrast.
Would you try this limed oak table finish? Let me know in the comments!
Thank you for Stopping By!
Here are some other fun DIY projects
I will be back soon with part 3 in my Homemaking series. Next in that series we will talk about equality, and how we as women are specially designed!
Also, I'll see you Friday with our next Embracing Home and Family Link Party!
Shop Similar Looks
Pin This Limed Oak Table for later!