Simple Easter Table at the Farmhouse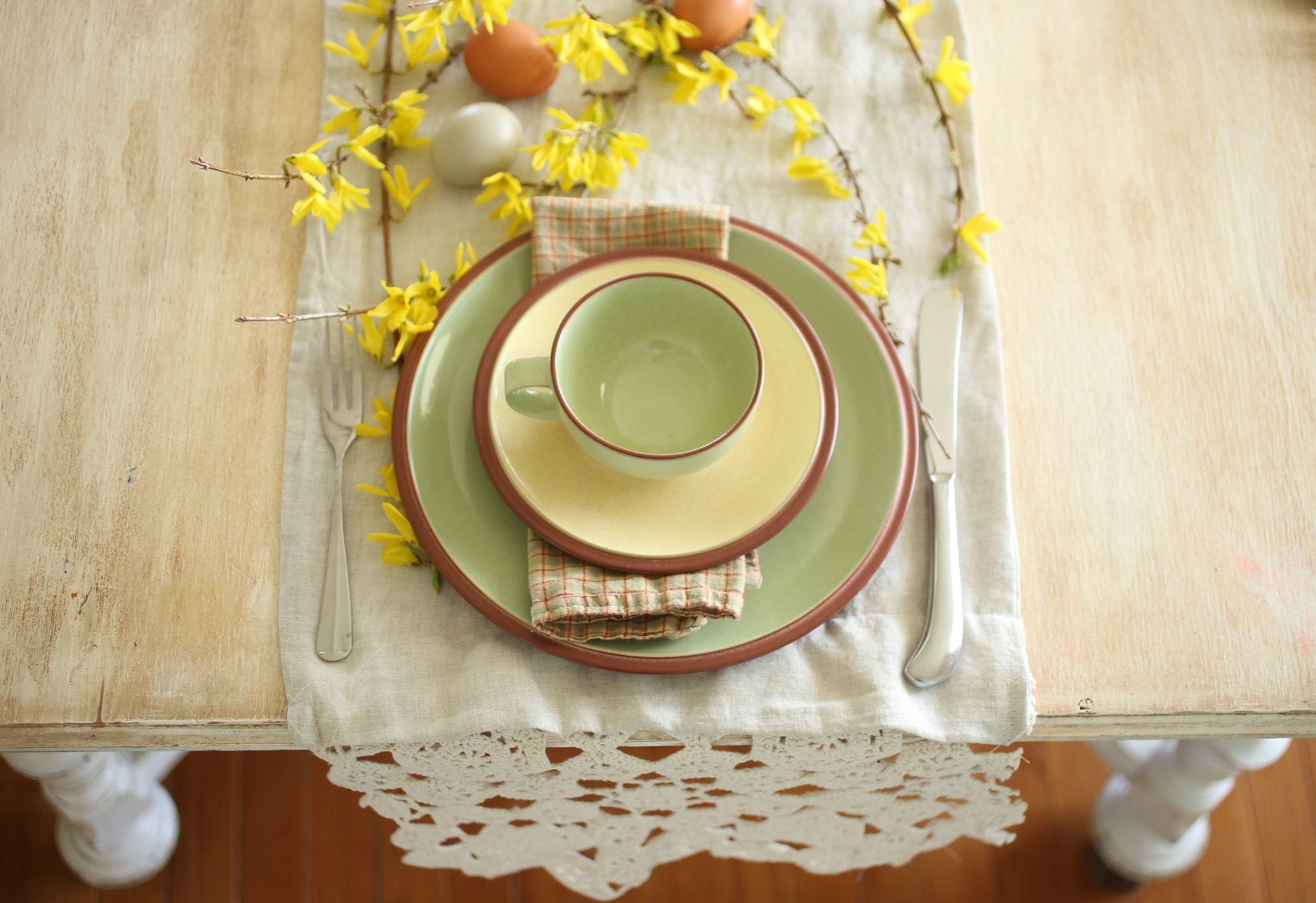 In this post I show you how I set the table with things I had or could easily find for free. I also share some long winded stories with you. Stay with me to the end where I share links to some of my blogging friends' Spring and Easter tables.
In keeping with the theme of contentment, I thought it would be fun to set an Easter Table with what I had on hand. As I mentioned in a previous post, I love to make things pretty. I don't think that means I need to run out and buy new things, although you will find out, I was tempted! When I started looking around at what I had, I found that I even had two different centerpieces to try out. I hope you enjoy this Simple Easter Table at the Farmhouse.
I also wanted to show you that you too can set up a pretty table and snap pictures, remember point number 4 on my contentment in your home post? (if you missed that you can read it here). Point number 4 is Count the Cost. So, I spent an entire afternoon nap time setting this table and taking pictures of it. Two whole hours of sacred nap time!! That is a high cost!
Our Table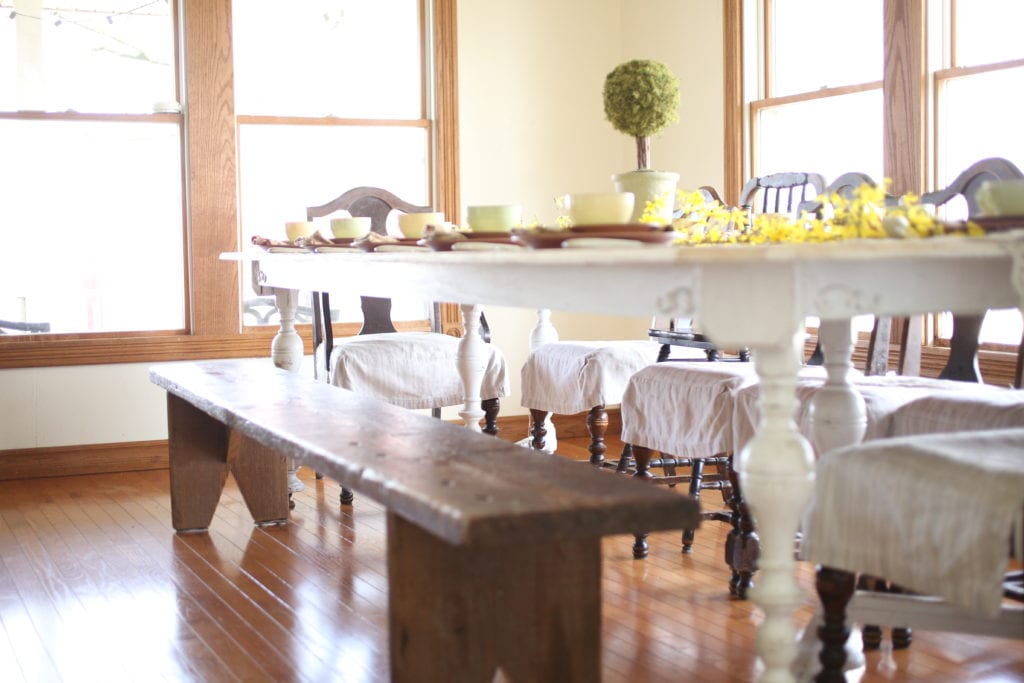 I love vintage and antique items, especially when I know the story. This table here has a story. This set was actually given to us by my in-laws. To be honest, when we received it, I didn't really want it. We had three or four little children at the time and we hadn't really outgrown the table we had yet. Not to mention, I liked our other table–it was our first marriage purchase and it was cute.
However, my in-laws had brought this table all the way from Pennsylvania to give it to us. It had been their formal table during my husband's childhood. How could I refuse it? The problem was, it was a formal table, with the protective pads and table cloths and all of that jazz. Plus the seats were cloth covered. How was that ever going to work with a homeschooling, toddler-filled home?
So, I grinned and accepted the table and we decided that we were just going to use it, and it was going to get scratched and that there wasn't anything to be done about it. When we moved to this house 7 years ago, I had every intention of buying a new table. A farmhouse table with turned legs and Windsor back chairs. By this point our family had grown, we now had six children and could have easily justified buying a new table.
An Accident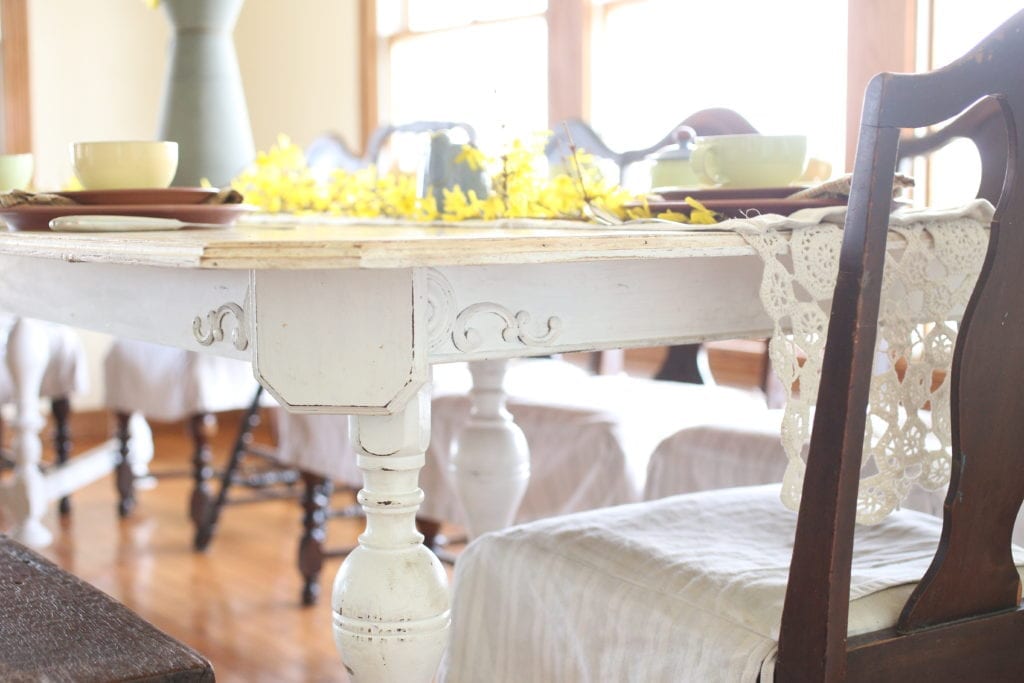 So the year we moved, we also hosted Christmas at our house. We had only been here about two months, and I had not yet bought a new table. It was two days before Christmas and I was on top of the table cleaning the light, when something snapped, and the table broke in two right at the center! I wasn't hurt, but started to laugh and cry at the same time because we were hosting Christmas, and I had just broke the table. There was no time to shop for new, so my husband fashioned a table top out of plywood and lengthened it while he was at it. We covered the whole mess with a table cloth and called it good.
We used the table like that for a few months, and I was pricing new tables. However, the lines of this table had actually grown on me by this point and I was starting to like the style of chairs. A sweet lady at church had made some chair covers for me to change out seasonally. They were washable, and they made the cloth seats a bit more practical. So, spending a ton of money on a table that my children would most likely destroy…I mean use, didn't seem practical.
The top however was not acceptable. So, again my handy husband made a new skirt for the table. I saved the little decorative pieces and re-glued them on the new skirt. Then we made a new table top out of a higher quality plywood, and my husband routed the edges to make it look nicer. Then I painted and stained the top using a trial and error method to make it look uniform. All together, it cost less than $75 to make a 9 1/2 foot table. So, at this point, I am quite content with it.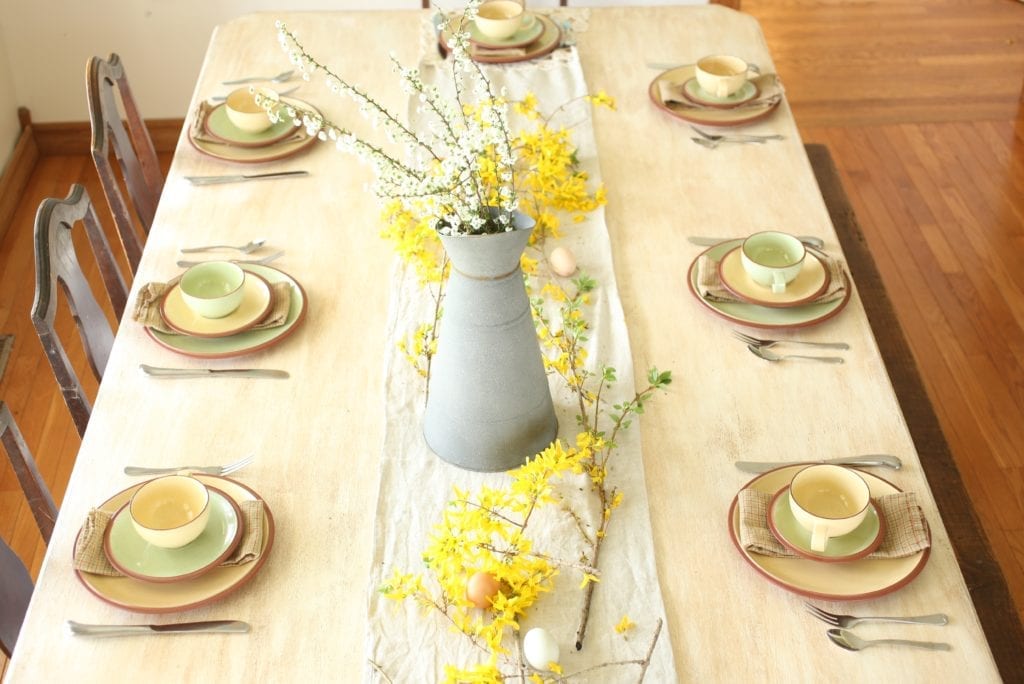 The Dishes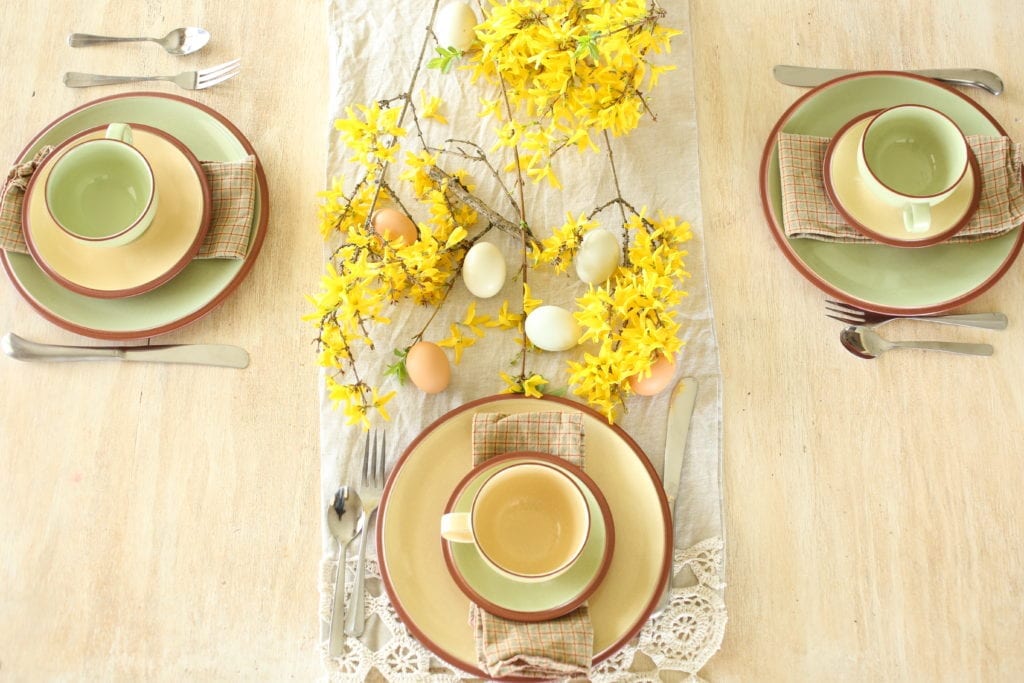 If you are married, do you remember registering for dishes with your husband-to-be? Did he have an opinion? I am sure some men do, but mine did not. He just agreed with whatever I picked…I was so surprised– delighted really. Now I laugh at that, because the truth is, he just did not care one bit about dishes, towels, sheets or home furnishings in general, and he still doesn't. So I get to do whatever I want!
Anyway, my pattern is Denby Juice. Please note that while I was at T.J. Maxx the other day I saw (on clearance) three sets of white dishes with galvanized chargers underneath. They were $12 for a set of four, and they had three sets which would have been enough for my family. The dishes were melamine and they were so stinking cute! I knew I was doing this post, and I knew that they would look so pretty, I even walked around with them in my cart. Then… I tenderly put them back.
I do not NEED dishes. In my Denby pattern, I have like 22 place settings. They are super heavy, nice quality dishes that have stood up to 9 children handling them everyday. We have only lost a handful of pieces to breakage. The set actually has three colors to mix and match–green, yellow and blue. I left the blue out on this table and just went with green and yellow. The dishes are not fresh and white with galvanized chargers, but I like the look and am content! Ha!
Forsythia, Spirea, a topiary and Eggs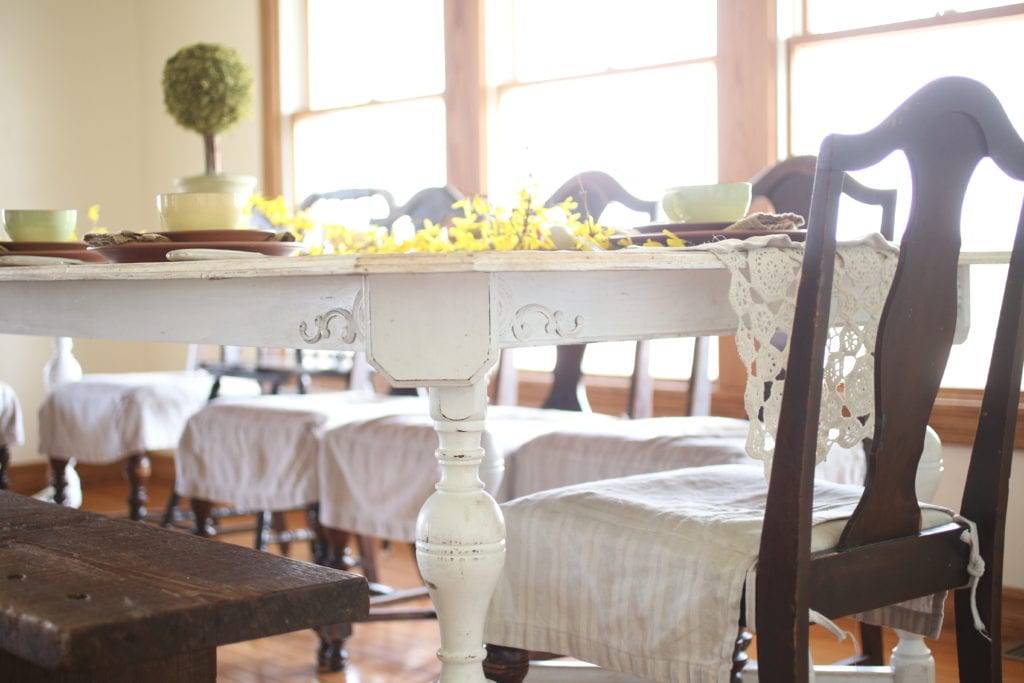 The forsythia and spirea actually came from my mom's yard. I love the yellow and white, it just looks like Spring. I couldn't decide which combination I liked best, so I arranged and re-arranged and tried them all! The topiary came from one of the surplus stores near us. It was originally from Target and was priced at $24.99, but at the surplus store I paid $4.99! More about these surplus stores later.
Duvet cover turned table runner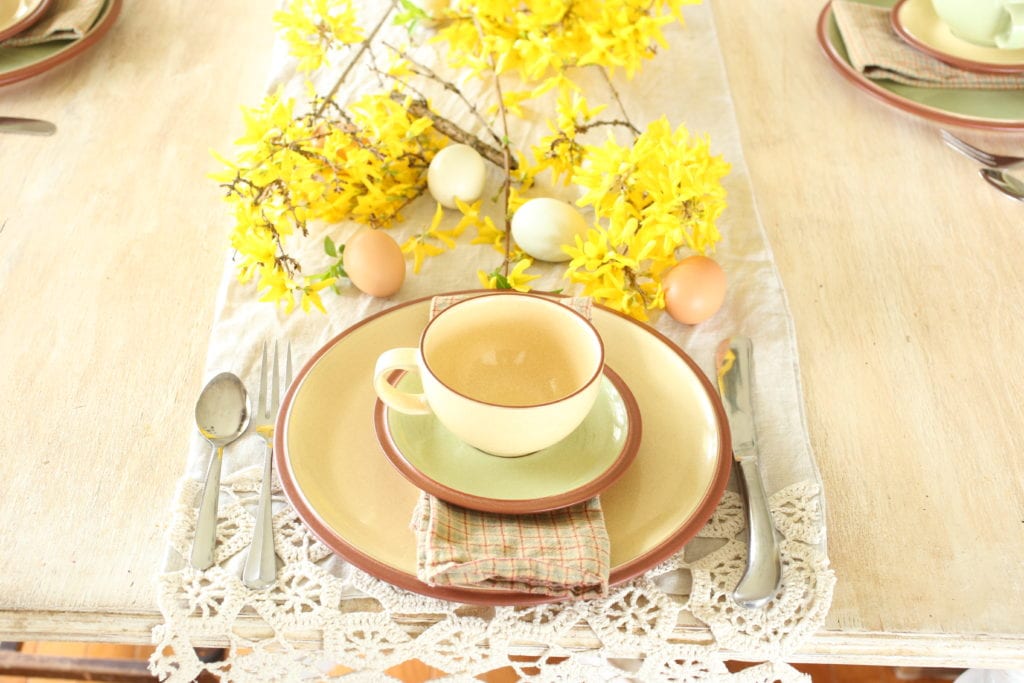 We live way out in the country, so we don't have Target or anything cool like that nearby. But, what we do have are these Mennonite owned Surplus stores all over the place. There are at least three within 25 minutes of us. They carry all kinds of random stuff, sometimes at a huge discount. While browsing one day I spotted a 100% linen duvet cover.  The price sticker said $88 and it was King size. I only needed queen and $88 was still more than I wanted to spend. Then I noticed a sign. All bedding was 60% off and certain colored tags were an additional 20% off. So I got the duvet cover for around $32.
The duvet cover was super easy to cut down to queen size, and I had enough fabric to make this table runner and some pillow covers! I also cut up another crochet table runner that I had, (it was far too small for my table) so I sewed it on the ends of the linen. Years ago, I made the napkins that you see.
Free Printable Banner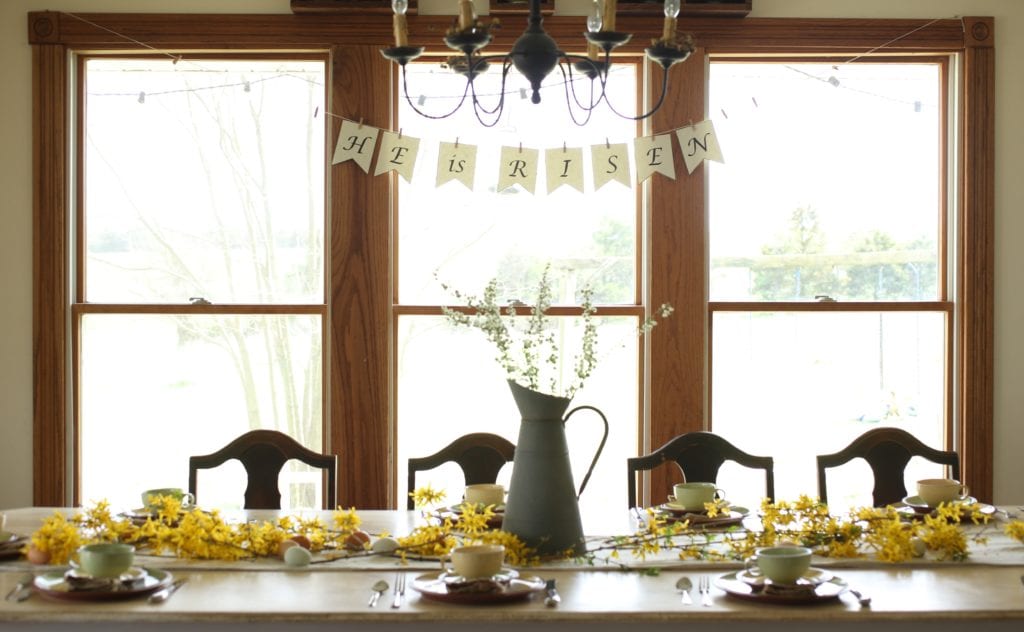 You can find the "He is Risen banner" is in my printable library. If you would like to print your own banner, just subscribe and get the password to my free printable library where you will find other fun printables as well! In our home, I change out banners frequently. We usually have a Birthday banner hanging here. I just use little clothes pins and bakers twine.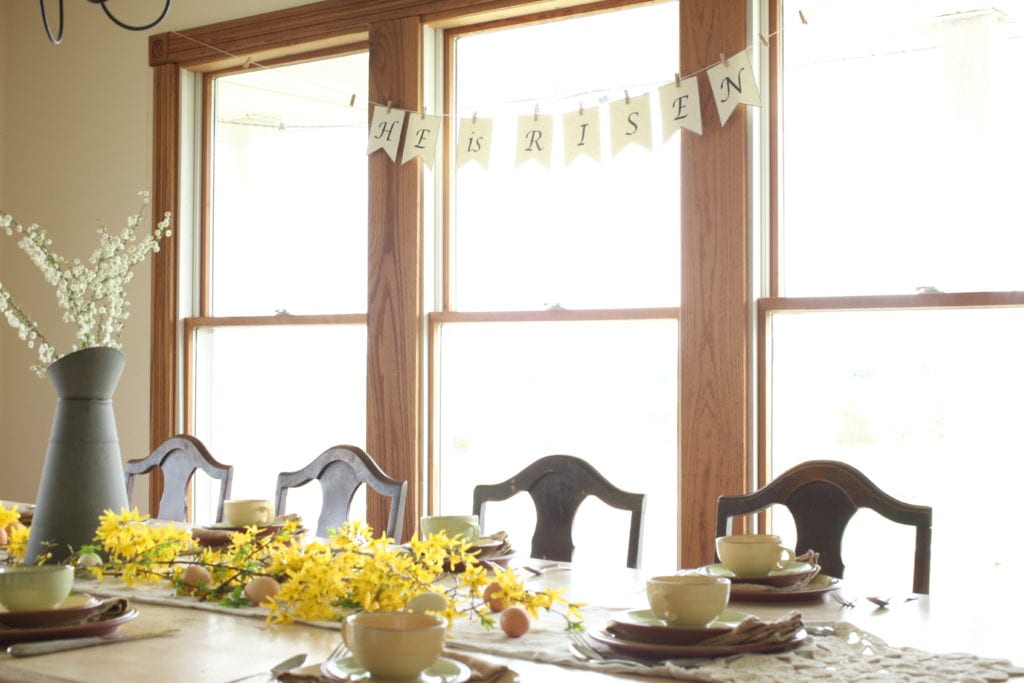 Thank you for stopping by!
I hope you enjoyed my Easter table set with things on hand or for free! My hope is to inspire you do be content and make the best of what you have!
Would you like more inspiration? Here you go!
Pin for Later!