Five Things Friday | December
Welcome to Five Things Friday for December! Five random things that I'm loving or excited about sharing with you!
1. Be Exalted O God
If you are anything like me, the past two years have been eye-opening and challenging. Things have felt out of control at many points. To put it simply I have just felt like the bad guys are winning. Have you had those moments where it hits you that our freedoms are being threatened, down is up, up is down, right is wrong and wrong is right? I know I have.
I have prayed for the past two years that the wrong shall fail and that the right will prevail. There have been times when I have put too much trust in men only to be disappointed with them. I have been absolutely sure that some sort of justice would play out only to be let down when it doesn't.
Yesterday morning when I was reading my Bible a verse stuck out to me. Psalm 57:5 and Psalm 57:11. Both verses say the same thing. "Be thou exalted, O God, above the heavens; let thy glory be above all the earth." What really struck me about this verse is that David prayed it when he was pleading to God for mercy, he is looking for refuge from his calamities. He says his soul is among lions, and he describes the sons of men as having spears and arrows for teeth and their tongues are sharp swords! Yet he says he will continue to praise God, his heart is fixed on God.
He asks God to be exalted twice in that Psalm. I want to be the same way. It feels like we are surrounded by our enemies, doesn't it? Even those that are claiming to want to protect us and do good are really trying to hurt us and control us. It's difficult to know who to trust…except God…we can trust God. We can praise God we can Exalt God! Let His Glory be above all the earth!
This is my prayer for 2022…I no longer want to focus on myself and my fear or worry. I want to focus on God, I want to tell others about Him and I truly want Him to be exalted!
Here is a little printable I made to remind myself daily. You can have it if you would like! It's free for you! Just hit download and print it! It's 8×10 size, often you can just change the settings on your printer and print it as a smaller 5×7 if you would like. I hope you enjoy it and I hope you find peace in trusting God!
2. These Two Ponytail Holders (Or Hair Ties if you are under 30)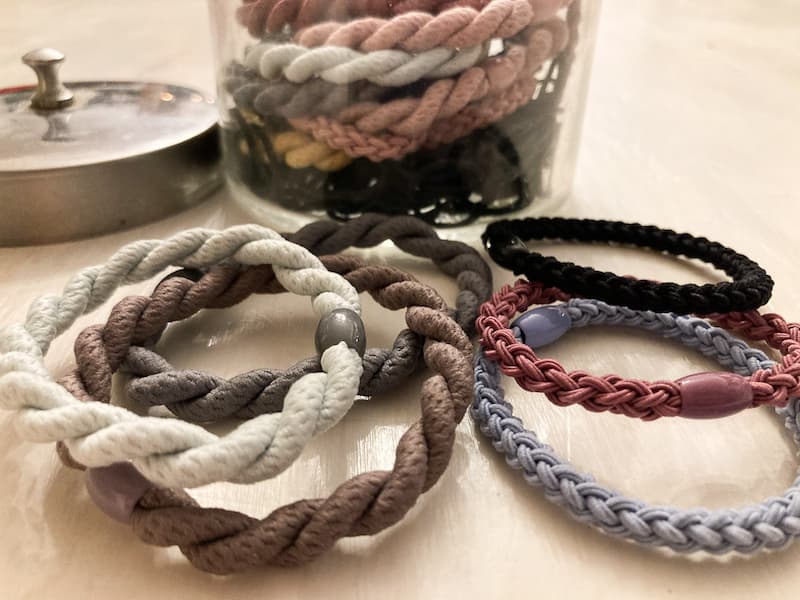 If you have longer hair and pull it back, you know how difficult it is to find good ponytail holders. We have five girls and we go through the cheap ones all the time, they just break! Not to mention the fact that they get stretched out and don't really hold your hair that well.
We found some at TJMaxx that we really liked but of course, they only had one little pack. I did an internet search for some similar and found a couple that I may like even better! They seriously hold your hair so well, they don't break easily and they don't get all stretched out after two uses! Now, I'm a bit of a hair tie (ponytail holders forever) evangelist.
3. #handmadehomechallenge
I am super excited to share that I get to host the handmade home challenge this year! If you missed my announcement about it, here is the info, you can also check out and share this page if you know of anyone that would like to join in! There is no obligation at all! You can jump in or out any time you want! Here are the projects for 2022! My plan is to do a video tutorial for each project as well…we will see if I can keep up with that!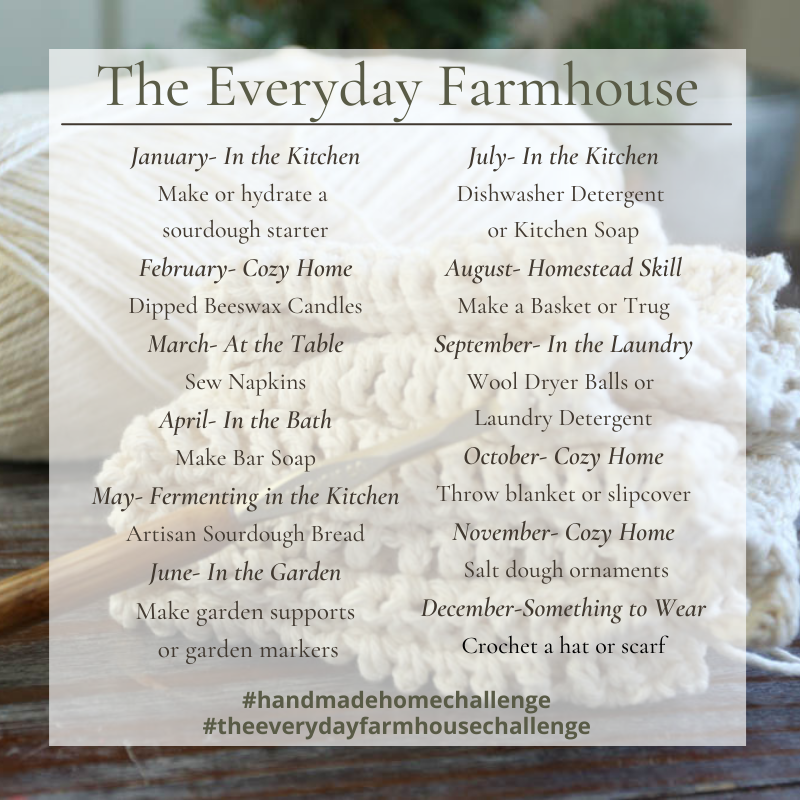 Here's a look at a few of the projects from last year! My favorite is probably the tote bag! I never thought I would be able to sew something like that! Needless to say, I am very pleased that I actually could! I really hope you all join me and make some things for your home, it is so rewarding to look back on the year and see what you can accomplish when you set your mind to it!
4. My Five Most Popular Posts from Last Year
DIY Cross-Back Reversible Apron Pattern-Linen and Cotton
How to Sew a Simple Tote Bag with Flat Bottom and Lining
10 Simple Meal Ideas For Dinner in The Car
One Udder Balm Recipe: Three Products, Plus Free Printable Labels!
Farmhouse Blanket Ladder DIY Free Detailed Instructions
5. Homestead Living
If you missed it, our latest edition of A Beginner's Guide to Homestead Living is here! It is so great for making your home cozy for winter! As always there are loads of inspiration and beautiful pictures. Best of all it's free in my e-book library!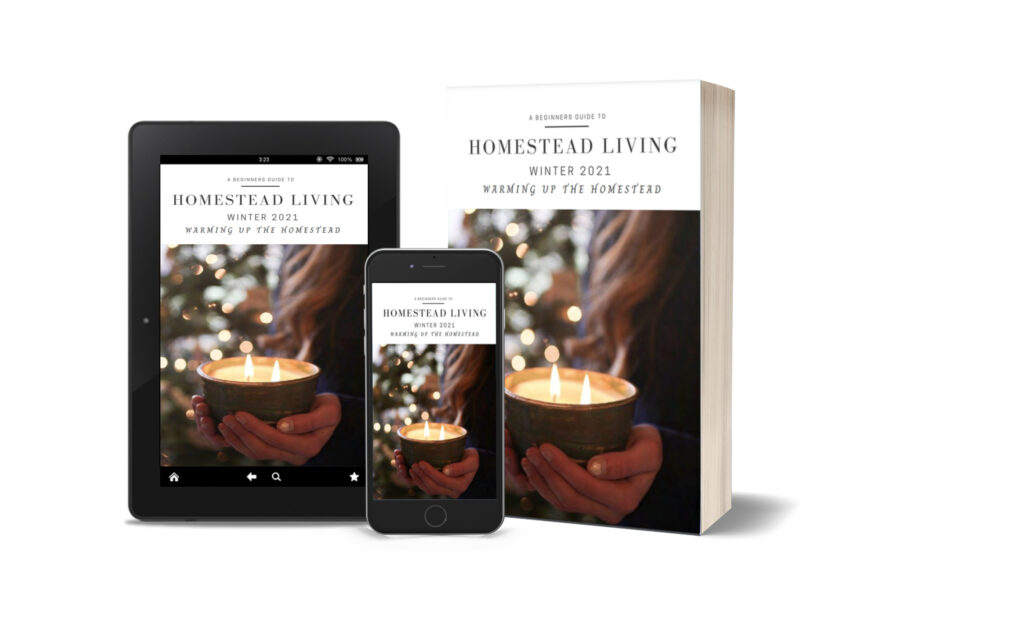 Don't Forget Calendars and Planners in My Shop!
My shop is full of planners and calendars to help you in the new year! From Homestead and Garden Planning to cleaning and budgeting there are all sorts of pages to help you keep track of everything that needs to be done! I also have a pretty prayer journal. I hope you check it out!
Happy New Year!
Lastly, I want to wish you a Happy New Year! I am so thankful for all of you! This last year of sharing content and creativity with you has been so fun! Please reach out to me at any time, I truly love hearing from you all…especially when it's positive! Ha! Kidding aside, I appreciate it even when you point out my mistakes and when you let me know that something isn't working properly! It does help me to get things straightened out!
If there is anything that you would like to see more of, leave me a comment or send me an e-mail! I have a lot planned for this next year. First up is going to be hydrating a sourdough starter! You can expect some sourdough recipes…and likely some stories of sourdough failures! Ha!