10 Simple Meal Ideas For Dinner in The Car
10 simple meal ideas for dinner in the car. These meals travel well, are homemade, nutritious and best of all they came from you, not the drive-thru! This post contains affiliate links.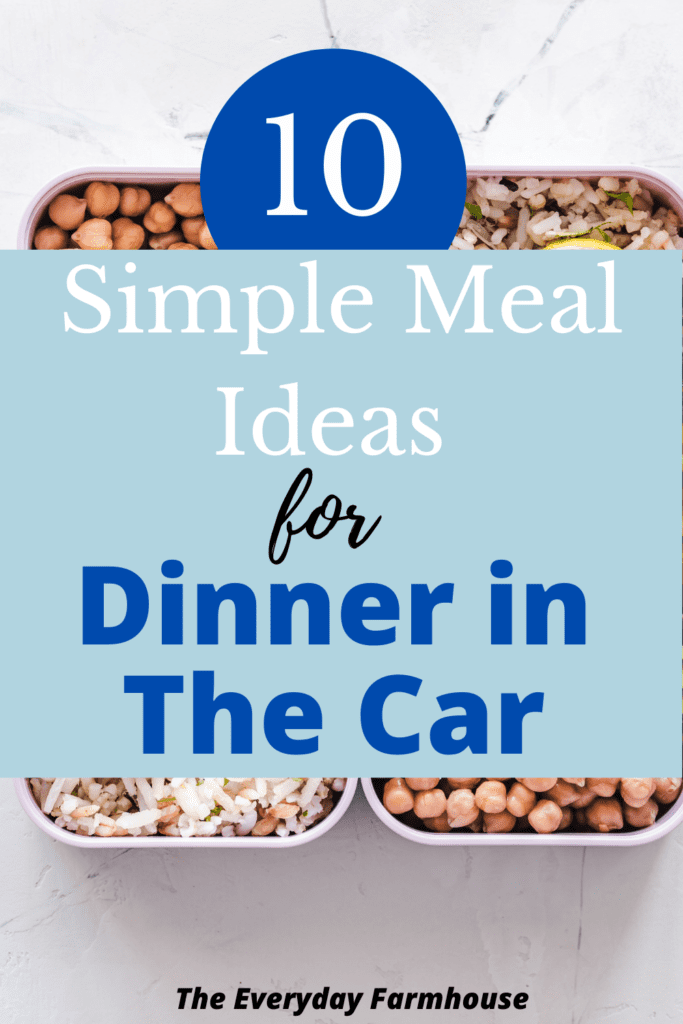 To Eat in The Car or Not…That is the Question
Do you allow your family to eat in the car? I have gone back and forth with this over my 18 years of parenting. There have been times when I have cleaned out an absolutely disgusting car, and afterward declared…"NO MORE FOOD IN THE CAR!!"
However, there are just seasons in life where eating in the car is a must. Whether it be basketball or soccer games, theatre or other after school activities, there are times that the only way everyone eats is on the way to or from. Or how about road trips? We drive to Pennsylvania at least once a year. 12 people in the car is gonna take some food am I right?
The secret to eating in the car is making food that isn't super messy. Now, our two year old can make a mess out of anything, so these foods aren't neccessarily mess proof for a two year old. If you have something like that, please share! I am all ears! Then we could write a post on simple meal ideas for dinner in the car with a two year old!
Real Meals in the The Car
I have searched for years for a great post on simple meal ideas for dinner in the car. Unfortunately I have come up short. There are plenty of lists out there with items like, fruit, veggies, trail mix and granola bars. Essentially road trip snacks. I think most of us can come up with those things on our own. What I was looking for was a list of actual meals that would satisfy everyone for dinner.
So, over the last few years I have tried many different meals and tested how well they have traveled. I have tested how they did in the car, and how big of a mess they make. Sometimes, there is the luxury of eating the premade dinner picnic style, on a the soccer sidelines. Other times, the games are out of town, and dinner is on the road. Those are the times when you need car friendly meals.
Bowls for Eating in the Car
My best tip for food in the car is to serve it in bowls. It is just so much easier for a little person to handle a bowl. They can set it on their lap and it is less likely to dump.
Paper bowls are fine, no judgement here. Or these handy little plastic bowls would be great too.
We use these plastic water bottles for drinks and just bring a two gallon jug to refill if necessary. Here are some nice insulated water bottles.
A Good Size Insulated Bag
You don't want something too big, and of course too small will never do. This size here seems about perfect for our family. A portable insulated bag is a must for dinner in the car. You will also need some freezer packs, I like the rigid ones like this or this.
Plan Ahead for Car Meals
The main thing when you are in a busy season is to meal plan. I hate meal planning as much as the next person, but there are times in my life when I just have to! This might mean that you have to cook dinner at 2:00 in the afternoon so that it can be ready to go when you leave the house at 4:00. However, it will be worth it. You will be saving so much money by not eating out! Plus, you are loving your family by feeding them healthy food!
Here are My 10 Simple Meal Ideas for Dinner on the Go
These might be everyone's favorite. I have been making these for probably three years. They are pretty easy to whip up and they are good even if they have cooled off. I will usually wrap them in foil and put them in an insulated cooler, but honestly they are a bit less messy if they are cool. Just don't overdo it on the pizza sauce and they won't be too messy!
Another note, I make these with whole wheat flour, and they turn out great.
Meat Loaf
This might sound strange, but it really works. The key is to make sure you add eggs and oatmeal to make it a stiffer, less crumbly meatloaf. I serve this with steamed broccoli and oven roasted potatoes.
My meatloaf recipe isn't really a recipe, but I will share what I do. I use grassfed ground beef, oatmeal, shredded carrots, shredded peppers, and diced onions. Add about a cup of oats for every two pounds of meat. I use one egg for every two pounds as well. For seasoning, I use Johnnys (of course), minced garlic (a whole head usually), several glugs of worsteshire sauce, and a few squirts of ketchup.
A fun idea is to cook the meatloaf in muffin tins, then they are easy to handle.
Quiche
This is one of my favorite car foods. It is nutritious, full of protein and good whether it is hot or cold.
You can cook quiche in muffin tins as well and again you have an easily handled amount for little hands. If I do quiche in muffin tins, I skip the crust. Too much work for me to cut the crust into little rounds. Call me lazy, but it's just not worth it to me!
Quiche is another meal that I just kind of dump ingredients in a big bowl and hope for the best. It has never turned out poorly. I think you just can't go wrong with sausage, eggs peppers and crust! I always make a huge batch, but here are the ingredients that I dump in with approximate amounts for a smaller version.
This is for a single quiche. I usually make four at a time.
8 eggs
1/2 cup onion
1/2 lb ground breakfast sausage cooked
1/2 cup milk
1 cup cheese
1/2 cup chopped peppers
1/2 cup shredded zucchini
1/4 cup sour cream
a few dashes of salt and pepper
A pie crust
An alternative to quiche would be this egg casserole
Burritos
Mexican food is a crowd pleaser at our home. We could eat Mexican food almost every night and I don't think anyone would complain. For burritos in the car, just make sure the ground beef and beans are mixed together. This ensures that the crumbled beef doesn't drop out easily. The beans kind of hold it all together.
For our burritos, it's simply grassfed ground beef seasoned with Tones Taco Seasoning (our favorite). Refried beans, shredded lettuce, sour cream for those who like it, and shredded cheese. I wrap these up in foil and put in a cooler as well. Easy peasy!
Sandwiches
Of course sandwiches are a given. They are easy to make ahead and there are so many varieties! Here are some of our favorites.
Ham on Whole Wheat Buns– Did you know you can freeze deli meat? I always keep sliced ham in the freezer. It thaws quickly and makes for a super fast and easy lunch or dinner.
Chicken Salad Sandwiches– Here is my recipe for Chicken Salad. It is so good! We love to serve this on croissants, however, it is also very good on hawaiian rolls or wheat buns.
Egg Salad Sandwiches– This has the potential for being messy. I just try to not fill the little kids sandwiches too full and I kind of smash it together. Doesn't that sound appetizing?
Pulled Pork or Chicken Sandwiches– This is my go-to super quick and easy meal. I cook a few pork roasts or a couple of chickens in the Instant Pot or you could use the crock pot. I cook them with Johnnys and about a tablespoon of liquid smoke. (Have an extra rubber ring for your IP, just for meals like this) Then you just shred the meat and put bbq sauce on it.
Grilled Chicken Strips
If you have read any of my other posts on food, you know that we raise our own chicken. That means my chicken is always whole. I must plan ahead and thaw several whole chickens and then cut them up for a meal like this. However, it's not so bad. I just thaw a few chickens overnight and cut them up the next morning.
Then we can have several meals throughout the week.
For chicken in the car, grilled chicken strips are the least messy. I just season the chicken with Johnny's seasoned salt and cook the chicken in a cast iron skillet.
I serve this with oven roasted sweet potatoes.
Pasta Salad
This is not my husband's favorite, and if you have little kids, it could be messy. However, I understand that not everyone has to think that way! If you have older capable children, then pasta salad makes a great meal in the car.
What's so great about it? 1. It doesn't have to be hot. 2. It can have all the food groups in one bowl. 3. There are a million varieties so you are sure to find one that your family will love.
Here are a few that we (excluding my husband) like.
BLT Pasta Salad. I use spiral pasta rather than bowtie, I think it is easier to get on the fork…again less messy!
Here is a post with 60 different pasta salads! Certainly there will be one that would please your family.
Pizza Sticks
This is an alternative to pizza rolls. My kids love these too. We like these with italian sausage. Here is how I make them.
2.5 Cups flour
1 Tbs yeast
t Tsp salt
1 Tbs honey
1 Cup Warm water
4 Tbs olive oil
pizza sauce
Add flour, yeast salt and honey to a bowl, pour in warm water. Add oil, knead about 5 minutes. Let rest for 10 minutes. Work it a bit and then roll it smooth about 1/4 inch thick into a long rectangle. Brush one half with sauce, sprinkle with italian sausage or pepperoni, or whatever you like. Sprinkle with herbs and mozzarella cheese. Fold in half over the toppings. Press down all around the sides to seal. It will look like a huge calzone. Move it to a large baking sheet. Brush the outside with oil. Bake at 375 degrees for about 20 minutes. Cut into long strips after baking.
Breaded Chicken Strips
Oven fried chicken takes a little planning and forethought, and I probably wouldn't make this on a super busy day. However, you could make it ahead of time. They are quite tasty cold. A great alternative to drive thru chicken nuggets!
Here is my recipe for Oven Fried Chicken.
Anything Wrapped Up
We love wrap-ups. These are essentially anything wrapped in a tortilla or flat bread. Earlier I told you about cutting up whole chickens for the week. It's nice to have some cooked chicken on hand as well. Often I just cook a couple of whole chickens in the Instant Pot and then we make chicken wrap ups or chicken sandwiches when we need a quick meal.
Our favorite wrap ups have chicken, sliced red peppers, fermented carrots (recipe here), lettuce, mayo or salad dressing and avocado if we have it.
Sides
For sides, I try to stick with simple and not too messy as well. Here are our favorite sides to serve for dinner in the car
Organic Baby Carrots
Sugar Snap Peas
Roasted Sweet Potatoes
Roasted Regular Potatoes
Broccoli
Raw French Green Beans
Raw Asparagus Spears
Chips
Dried Fruit
Helpful?
I sure hope you found this post helpful. These are my tried and true simple meal ideas for dinner in the car. If you have any that your family loves, please share in the comments, it's always nice to have new ideas!
Need Menu Planning Help?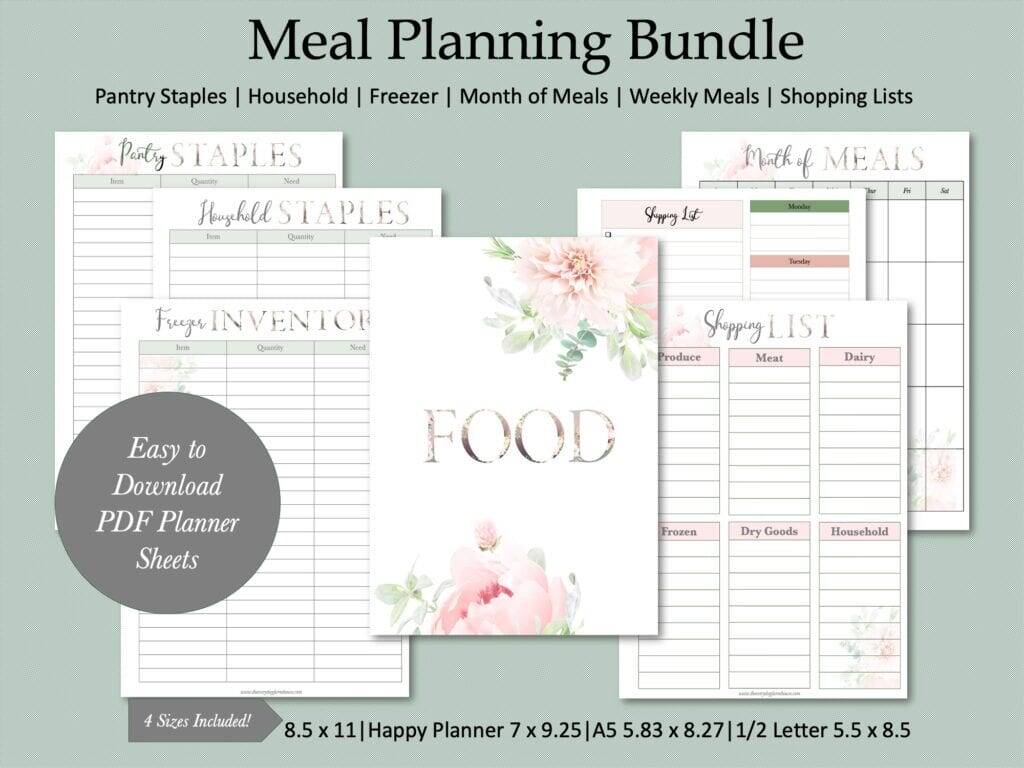 Pin For Reference