Homemade Coffee Creamer | Whole Ingredients Four Flavors
Homemade coffee creamer is super simple to make and flavor however you like! With whole ingredients and a few flavors or extracts, you can have creamer that rivals store-bought.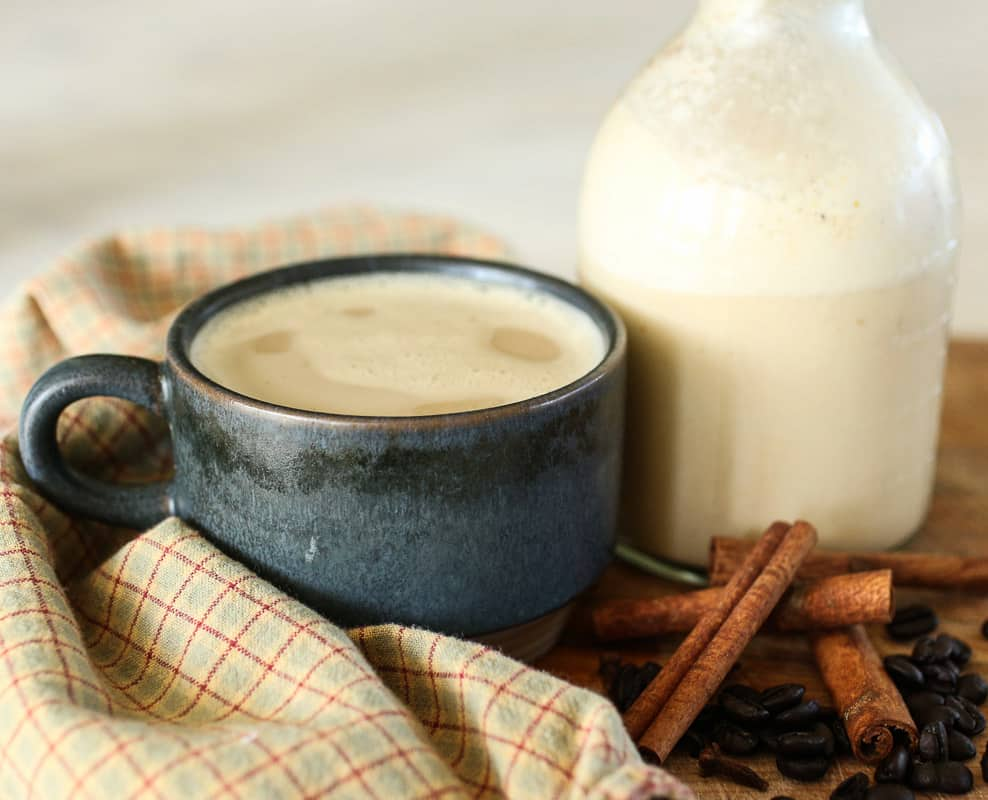 Want to know a dark secret? Ok, it's not really dark….but my kids love coffee with flavored creamer! I know it's not good for them so I set out to make our own and I'm glad I did! I feel much better about the treat of Saturday or Sunday morning coffee knowing they are using cream flavored with whole ingredients!
Please note that I am trying to get myself and my children to enjoy things that are less sweet. Our "bliss point" with sugar is likely way higher than it should be. Therefore the following recipes only call for 1/4 cup of maple syrup to sweeten the creamer. If that isn't sweet enough for your liking, increase the amount to 1/2 cup. You will probably find it closer to the store-bought sweetness with the added 1/4 cup.
What is in Store-Bought Coffee Creamer?
I did a quick analysis of the list of ingredients and unfortunately, there are not only bad oils but it's just chemically laden. Here's the list of ingredients in the one I used to buy. The only "dairy" is sodium caseinate which is just a milk derivative. Why would I let my family consume this when we have fresh milk and cream?
WATER, CANE SUGAR, PALM OIL, CONTAINS 2% OR LESS OF: SODIUM CASEINATE* (A MILK DERIVATIVE), DIPOTASSIUM PHOSPHATE, CARRAGEENAN, MONO AND DIGLYCERIDES, NATURAL AND ARTIFICIAL FLAVORS, SODIUM STEAROYL LACTYLATE, SALT.
Homemade Coffee Creamer with Heavy Cream
The key to rich and tasty creamer really is heavy cream. We have a milk cow so we use fresh raw milk, I understand not everyone has that luxury. However, if you can get a hold of some raw milk from a friend or local farm you will be glad you did!
If you absolutely can't find raw milk, heavy whipping cream or half and half from the store will be just fine!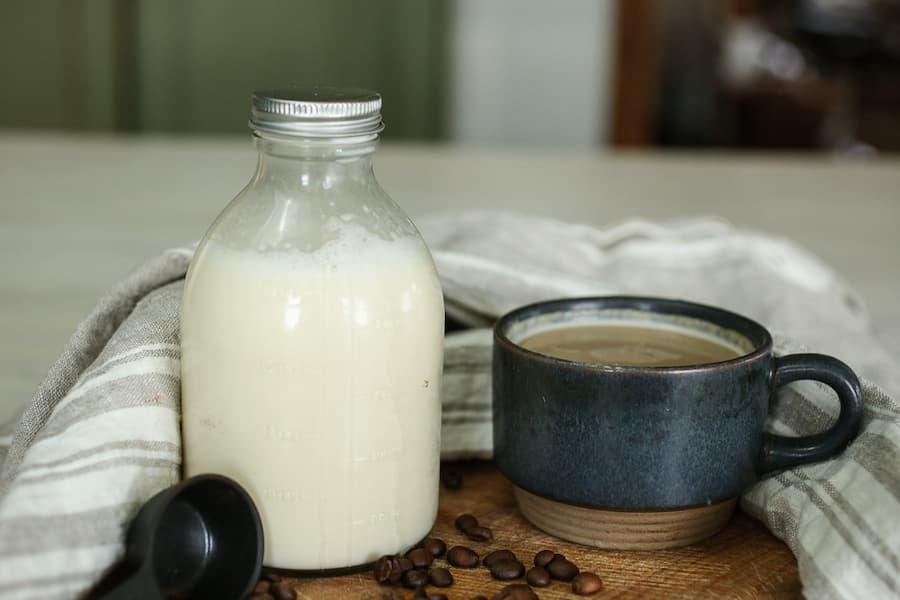 Below I will show you how to make four different flavors of creamer perfect for any season! In order to make the first two creamers listed, measure out the ingredients, pour them into a jar with a lid, and give it a good shake. Enjoy!
All of the other flavors are based on the Homemade Vanilla Creamer Recipe and then you add in a few other ingredients to make other flavors.
This creamer should last for at least a week in the refrigerator.
Homemade Flavored Coffee Creamer
Vanilla Creamer
Pumpkin Spice Creamer
Caramel Flavored Creamer
Peppermint Mocha Creamer
Homemade Vanilla Coffee Creamer (Base Recipe for all others)
1 Cup Heavy Cream
1 Cup Whole Milk
1/4-1/2 Cup Maple Syrup
1 tsp Vanilla Extract
**If you want the creamer to be extra thick and creamy, feel free to use two cups of cream rather than a cup of cream and a cup of milk.
Homemade Caramel Coffee Creamer
1 Cup Heavy Cream
1 Cup Whole Milk
1/4-1/2 Cup Maple Syrup
1 tsp vanilla extract
1 tsp Caramel Flavor (I can usually find this in the baking aisle with extracts). If this ingredient bothers you could also make some caramel with butter, vanilla, cream, and sugar and add about a tablespoon of that instead. Here is a good quick recipe. I'm fine with the tsp of caramel flavor, I didn't find any of the ingredients too offensive.
Homemade Pumpkin Spice Creamer
It is best to mix this one using a blender and then pour it into a jar
1 Cup Heavy Cream
1 Cup Whole Milk
1/4-1/2 Cup Maple Syrup
2 TBS Pumpkin Puree
1 tsp vanilla extract
1/2 tsp Pumpkin Pie Spice
Homemade Peppermint Mocha Creamer
This one is also best mixed with a blender and then poured into a jar
1 Cup Heavy Cream
1 Cup Whole Milk
1/4-1/2 Cup Maple Syrup
1 tsp Vanilla Extract
1 TBS Cocoa Powder
1/4 tsp Peppermint Extract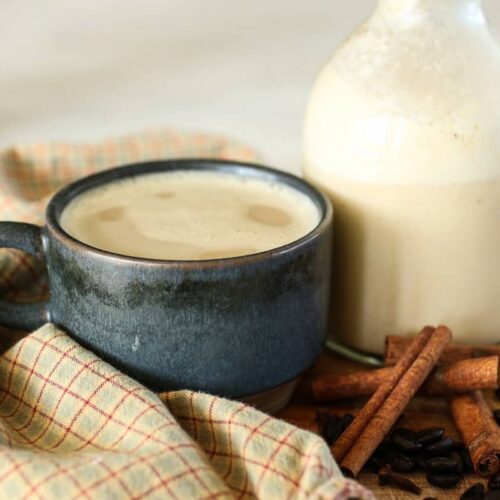 Homemade Flavored Coffee Creamers
Ingredients
Base Vanilla Creamer
1

Cup

Cream

1

Cup

Whole Milk

¼-½

Cup

Maple Syrup

1

tsp

Vanilla Extract
Pumpkin Spice
2

TBS

Pumpkin Puree

1

tsp

Pumpkin Pie Spice
Caramel Creamer
1

tsp

Caramel Flavor or 2 TBS Homemade Caramel
Peppermint Mocha
3/4

tsp

Peppermint Extract

1-1½

TBS

Cocoa Powder
Instructions
All of the recipes start with the base vanilla creamer. To make other flavors just add the additional ingredients listed.

For the Pumpkin Spice and the Peppermint Mocha a blender is ideal for mixing.

The Vanilla and Caramel can just be shaken in the jar to mix.
Notes
For extra rich and creamy coffee creamer, feel free to use two cups of cream rather than 1 cup of cream and 1 cup of milk