The Most Delicious Homemade Potato Soup with Bacon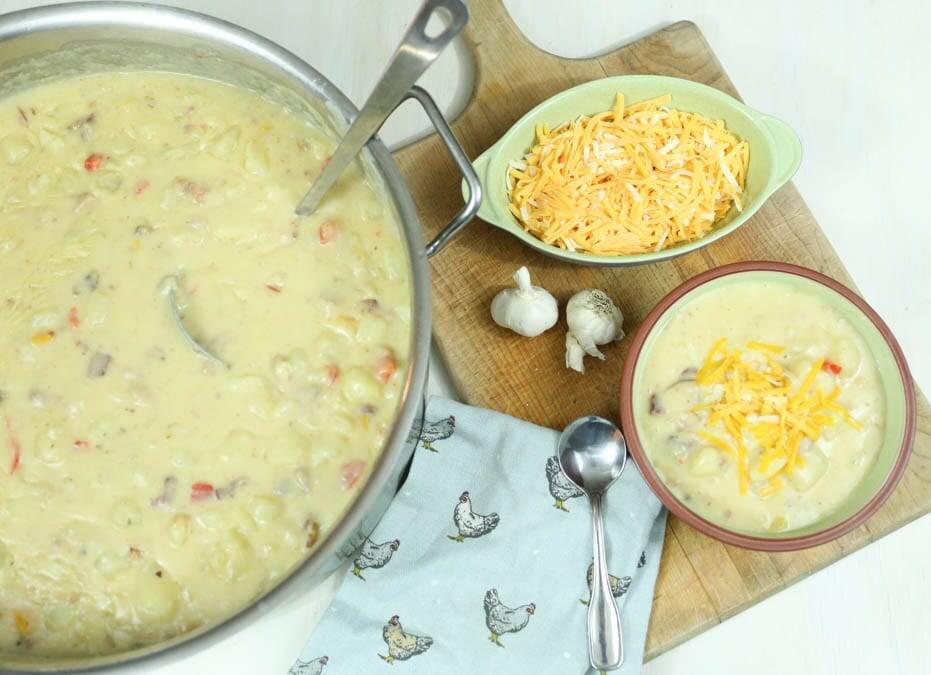 The most delicious homemade potato soup with bacon is really simple to make. During the cold months, nothing feels quite as cozy as a warm bowl of homemade soup. This post contains affiliate links.
Jump to Recipe
An Ode to Soup
Oh, soup how do I love thee. Let me count the ways. You can be made in one pot, you fill our bellies when the weather is cold. You bring us comfort and feelings of coziness….
Too much? You are probably right! However, I do love soup! I am the person that Panera Bread had in mind when they started. Their Avatar so to speak. The person that they hoped would way overpay for a bowl of potato soup and a meager salad. Yes, I am that person.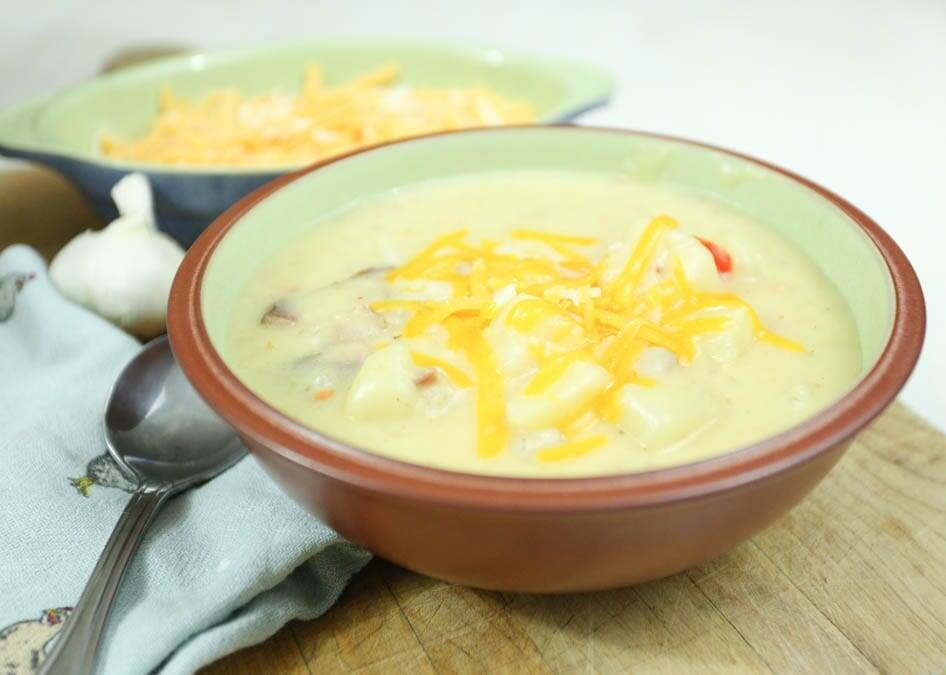 Homemade Potato Soup is Inexpensive
The truth is you can have soup at home that is way cheaper and believe it or not even yummier than Panera!
Potatoes are cheap. I mean really, compared to most things you can buy at the store, a five-pound bag of potatoes can go a long way, for the average family anyway. When I make this soup I actually use ten pounds of potatoes and use an enormous pot. Then we can serve this to a crowd, or we can have leftovers for a day or so. I cut the recipe in half to share with you all.
My family loves this soup. It is often requested for birthday dinners, which of course is only reserved for favorites! I have been making this soup for probably 15 years or more. I sure hope you enjoy it as much as we do!
Instant Pot Potatoes
I don't make this soup entirely in the Instant Pot. Actually, I make very few meals entirely in the Instant Pot, although I do use it almost daily. I love using it for things like cooking potatoes or cooking a whole chicken or roast.
When you cook the potatoes in the Instant Pot, it helps to ensure that your soup is thick and creamy. No need to get out a huge pot and cover the potatoes with a lot of water. I use only four cups of water (or chicken broth) for 5 lbs of potatoes. All of that liquid goes into the soup when the potatoes are done. No need to drain a bunch of hot steamy water.
This Potato Soup is Neither Low Fat Nor Low Carb
That is all I need to say…it just isn't.
Ingredients for Homemade Potato Soup
Potatoes (obviously)
1 lb of bacon
2 peppers, (I use one red and one yellow)
1 large onion (I like yellow onions)
4 Cups water or chicken broth
3/4 Cups of Flour
A pinch of dried dill
1/2 Tsp garlic salt
A head of garlic
4 Cups of half and half or milk
1 TBS Chicken Base
Salt and Pepper to taste
Cheese to garnish (optional)
Directions for Homemade Potato Soup
Prepare the Potatoes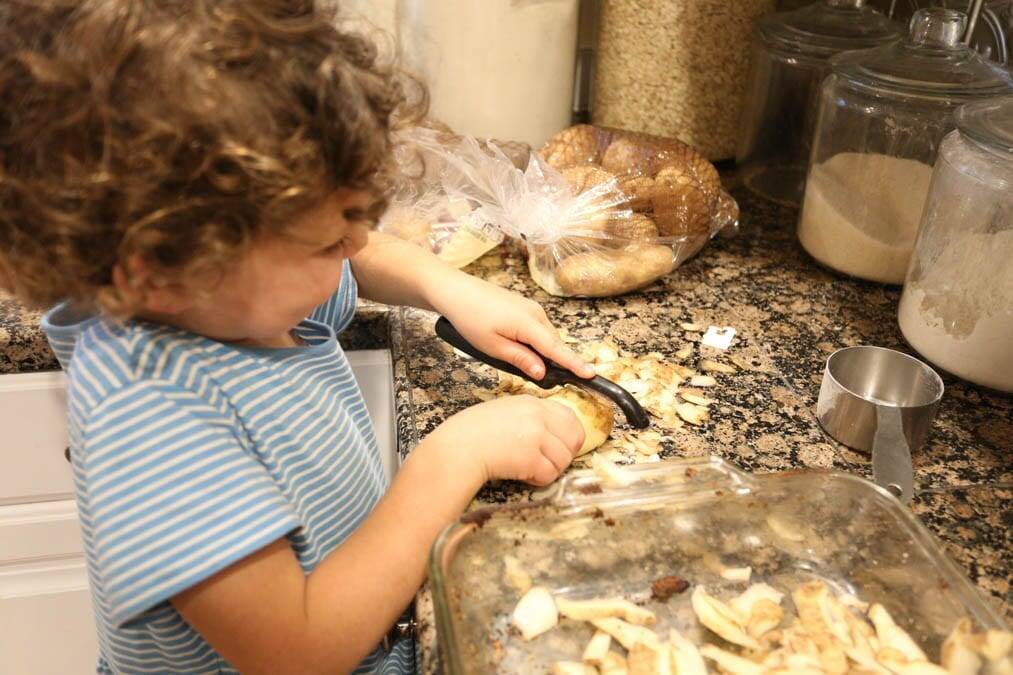 To start, peel your potatoes. Unless you are a person that enjoys potato skins in your soup. Chop the potatoes into bite-sized chunks. Put the potatoes in the Instant Pot with four cups of chicken broth. If you don't have chicken broth, you can use water, but it would be good to add some chicken base flavor to the water. Cook in the IP on high pressure for 8 minutes. Release the pressure.
While the Potatoes are Cooking
Chop the bacon, onions, peppers and garlic into small bits.
Cook the bacon until crisp. You can either remove the bacon from the pan to keep it crisp and add it to the finished soup. Or you can leave it in the pot. I choose to leave mine in because while crispy bacon is nice, it's just one more step and one more dish to dirty. I leave mine in the pot.
Next put the onions peppers and garlic in the pot with all of the bacon grease. Yes, I am telling you to leave all of the grease. If it seems like an obscene amount then you can remove a little bit, but really you should leave it all.
Thicken the Soup Base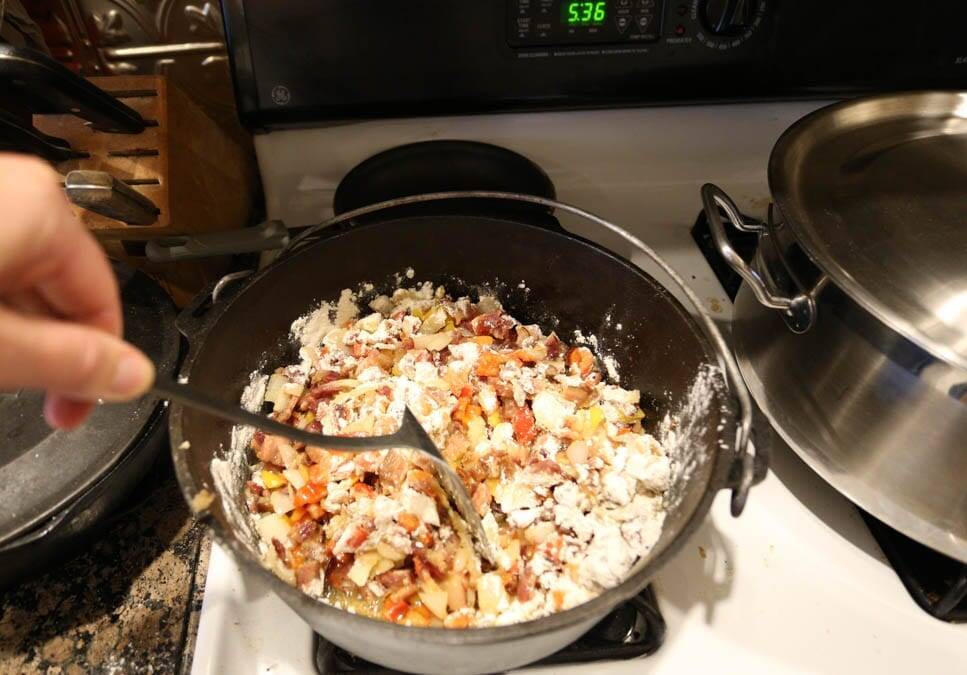 Once the peppers, and onions are nicely cooked, just a bit translucent, you can add the flour to the pan. Also add the pinch of dill, the garlic salt, and a Tbs of chicken base. Stir the flour all around with the grease the bacon and the veggies. You are making a roux. This will thicken the soup. After you have cooked the flour for about a minute, pour in the four cups of milk or half and half. Stir this periodically until it is nice and thick. It will be super thick like gravy.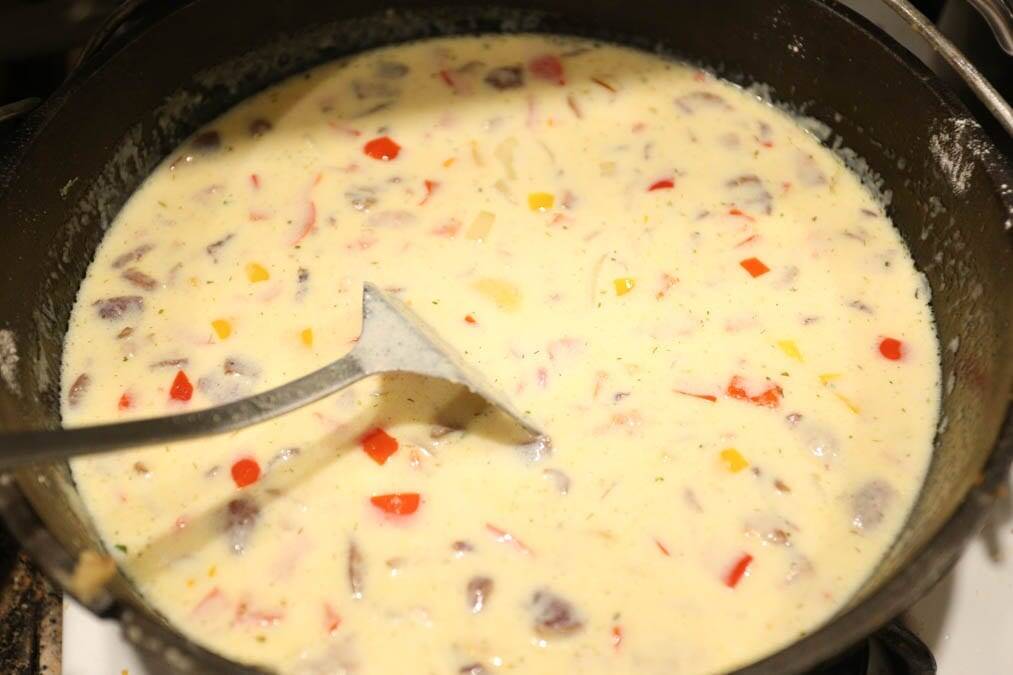 Add the Potatoes
After the potatoes have cooked and you have your base made, add the potatoes and all the liquid from the Instant Pot to the creamy base with all of the bacon peppers and onions. Stir until everything is combined. Let it cook for about ten minutes. My sons think that there is no such thing as potato soup that is too thick. I tend to disagree. If it seems too thick to you, add a bit more chicken broth, water, or milk.
Sprinkle with Cheese
To serve you can sprinkle some shredded cheese on top, or if you have reserved your bacon, you can sprinkle that on top too. Enjoy!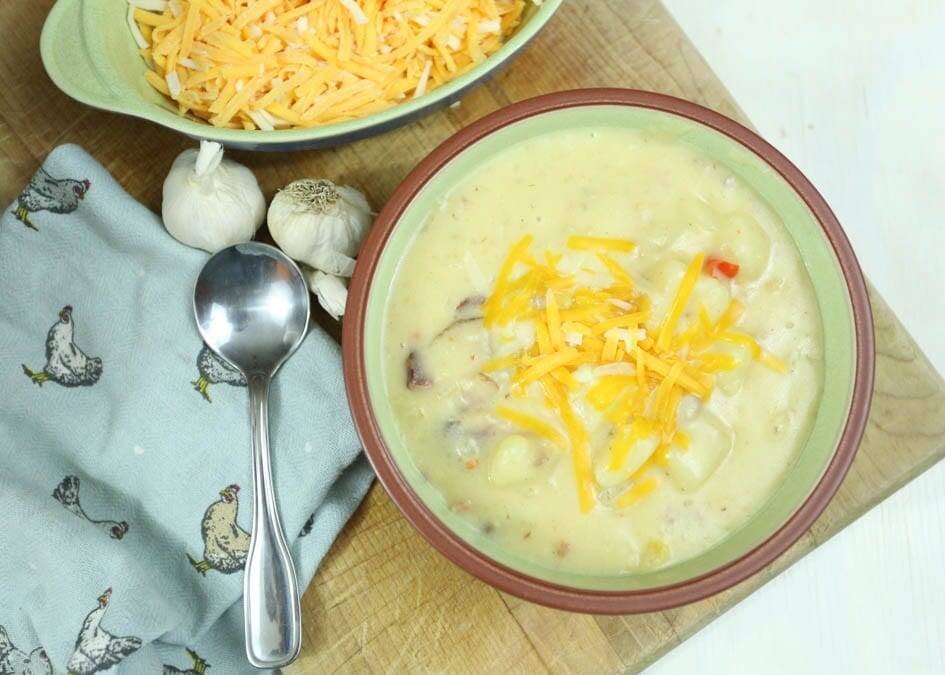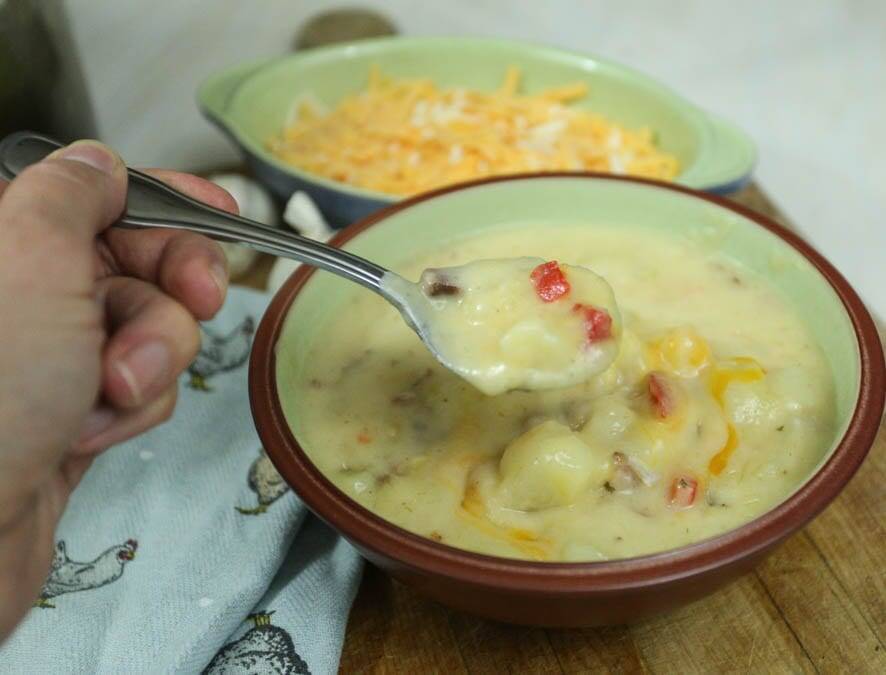 The Most Delicious Homemade Potato Soup
Thick creamy and full of potatoes and bacon. This soup is sure to please your entire family. Simple and made from scratch come together!
Ingredients
1

lb

Bacon

5

lbs

Potaotes

I use russett

1

Yellow Onion

2

Peppers

Red Yellow or Green

1

head

Garlic

4

Cups

Chicken Broth

4

Cups

Half and Half or Whole Milk

1

pinch

Dried Dill

½

tsp

Garlic Salt

Salt and Pepper to taste

¾

Cup

Flour

Shredded Cheese (Cheddar or Colby Jack)

For Garnishing
Instructions
Peel the potatoes. Chop into bite sized pieces. I cook mine in the Instant Pot on high-pressure with four cups of chicken broth for 8 minutes. If you do not have an IP, you can boil the potatoes on the stove until tender. While the potatoes cook, chop up the bacon and begin to cook it in a large stockpot.

While the bacon cooks, chop up the onions, peppers and garlic. Cook the bacon until crisp. You can either remove it from the pan and add at the very end, or you can leave it in the pot. By removing it you can keep it crisp and add it to the soup right before serving. I usually just keep mine in the pot. Keep all of the grease from the bacon in the pan. Add the onions peppers and garlic. Cook until a bit translucent.

Add the flour, dill chicken base and garlic salt to the grease. Stir around to make a roux. Slowly add in the milk or half and half. Continue to stir until it is creamy. Let it cook until quite thick. It should be the consistency of thick gravy.

After the potatoes are done, release the pressure if using an IP. If you are boiling, then drain all but about four cups of the water.

Once the creamy base is thick, add in the potatoes and all of the liquid from the IP or all of the liquid that you reserved. Stir until completely combined. Let the soup cook for five to ten minutes to combine all of the flavors.

That's it! Now you can top with shredded cheese if you like and the bacon if you reserved it. Enjoy!
Pin and Share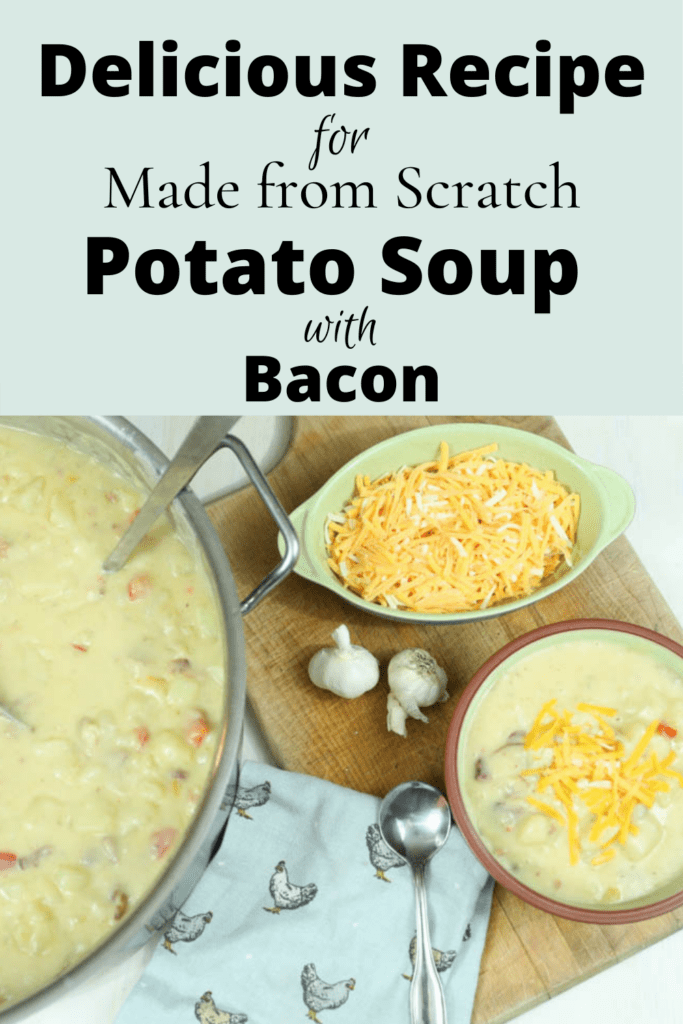 More Fall Recipes
Pumpkin Bundt Cake With Streusel Filling Recipe