Recipe Chai Tea for a Crowd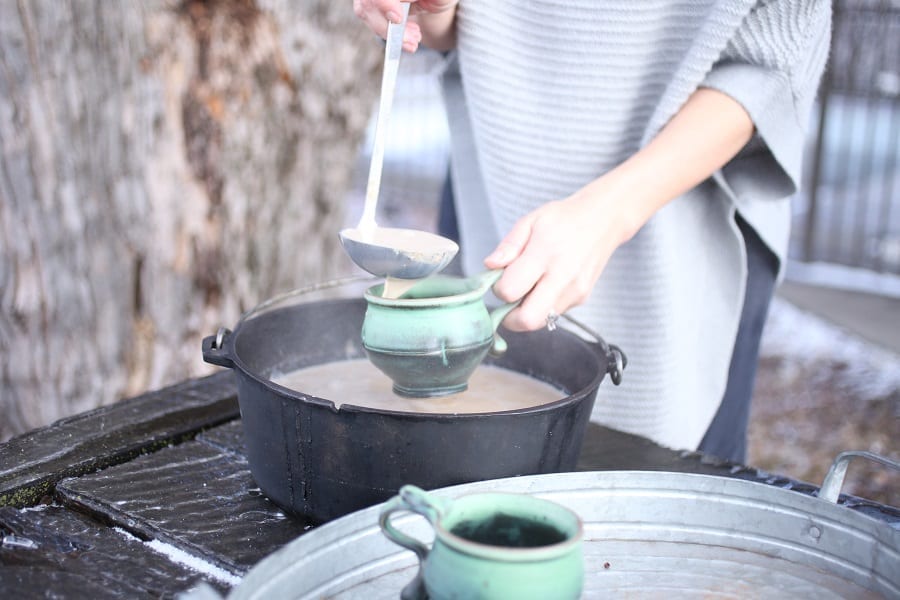 In this post I share with you my recipe for Chai Tea for a Crowd. You can always cut this recipe down if you don't need a huge amount. This is one of my favorite cold weather drinks, it's full of sweet cream and spices, perfect for warming up on a chilly evening!
This post was originally published nearly a year ago when I first started blogging, I have updated it and decided to share it again. This post contains affiliate links.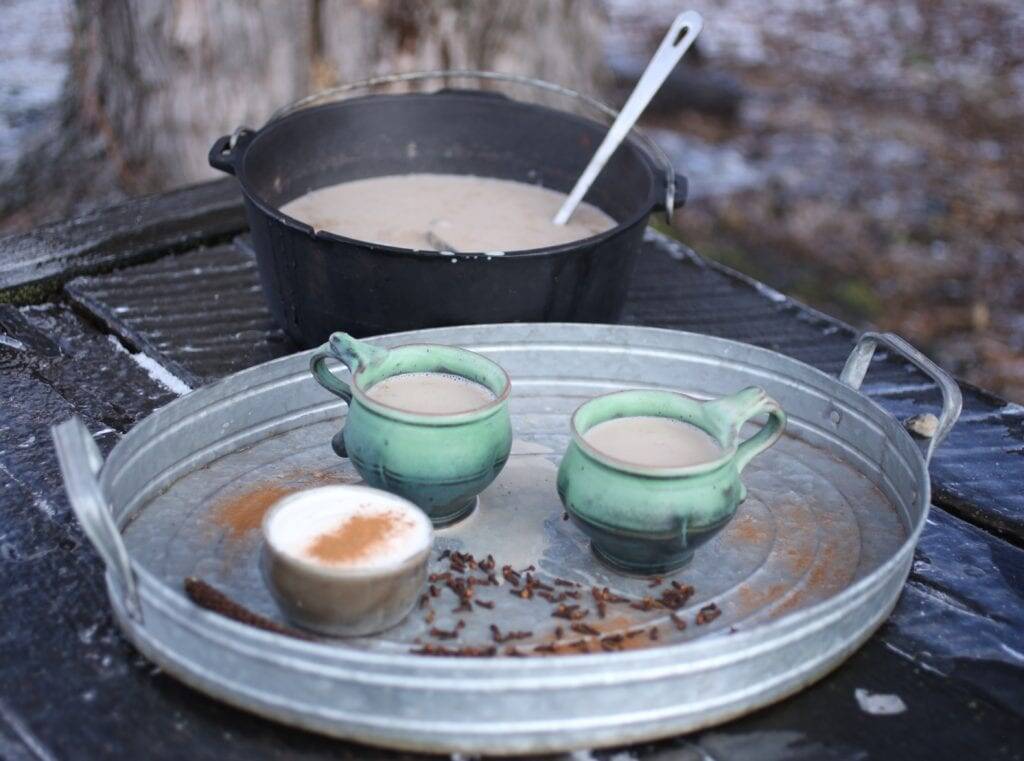 The cooler weather makes me crave cozy nights at home with a hot drink. While our nights at home during Basketball season are not abundant, we like to make the ones we do have extra special. Although, the cold freezing weather can lead to cancellations which means more evenings at home!
We are a large family, so every recipe I make needs to be for a crowd. We also host church on Sunday at our home with several other families. During the week we watch our sugar intake, but on Sunday we splurge and enjoy whatever we want…in moderation of course. This drink is great to whip up and serve to your family or to your guests.
Having a milk cow usually means lots of milk and cream. Our kiddos drink lots of milk and we share with friends and family, but even still we often have an abundance of milk. This is a great recipe for using up extra milk and cream. However, if you are lactose intolerant, try using coconut milk.
What is Chai Tea?
Well Chai (rhymes with sky) is a hot Indian milk beverage full of delicious spices. It warms you up inside not just with the heat, but with the spices.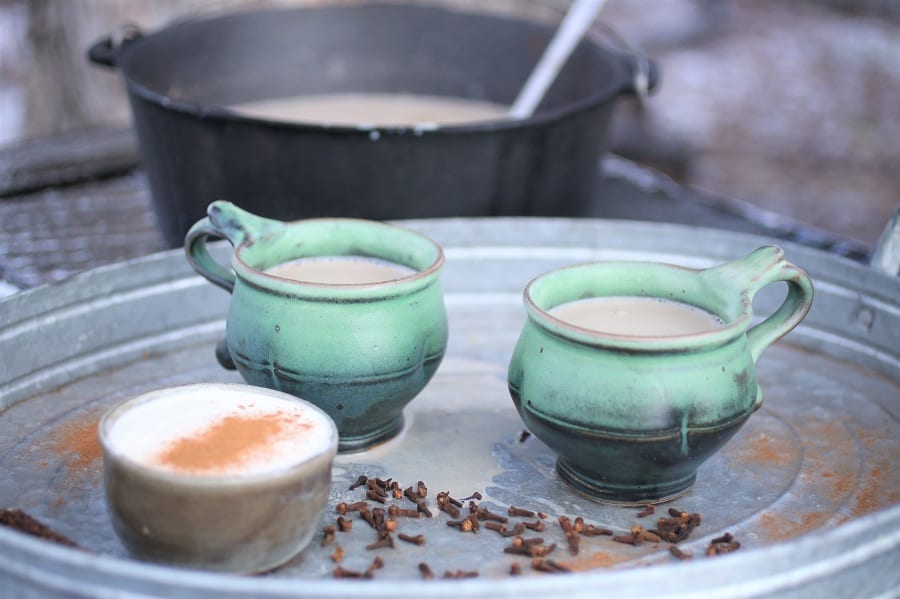 How to Make Chai Tea
For this recipe, you will start with making a tea concentrate. Combine the water and spices and bring to a boil. After it boils, turn the heat off and then add the tea bags. I was taught that tea should not boil, so just let this mixture steep with the heat off for about 10 minutes.
After the ingredients have steeped for 10 minutes, pour in the milk and sugar and return to a boil. Let it boil for 1 minute.
Make it Fancy
You can serve this up in individual cups garnished with whipped cream and cinnamon. Or put it in a large carafe or pot and let everyone serve themselves. Provide cinnamon sticks, whipped cream and a shaker of cinnamon for folks to top it off. Enjoy this delicious Chai Tea for a Crowd!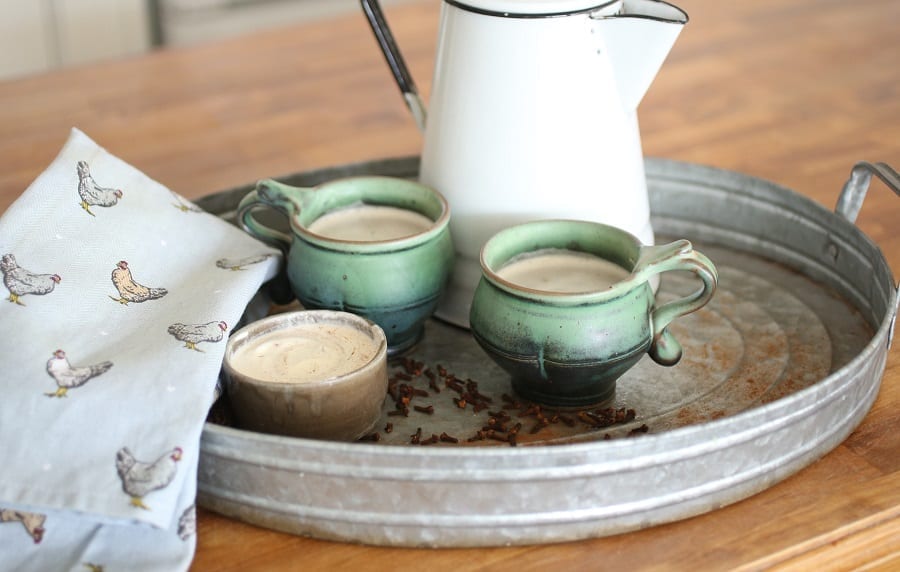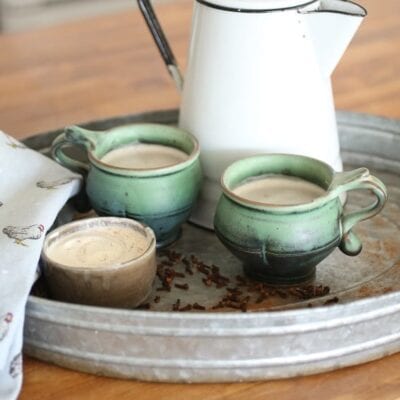 Chai Tea for a Crowd
This easy to make Chai tea is great for a cold night at home. Made with spices, black tea and milk. This drink will please even non tea lovers.

Ingredients
10

Cups

Water

10

regular

Black Tea Bags

or 5 family size

5

tsp

Ground Cardamom

or 25 seeds crushed

10

whole

Cloves

1 1/4

tsp

Ginger

2

tsp

Cinnamon

12 1/2

Cups

Milk

Try Coconut milk if you are lactose intolerant

1 2/3

Cup

Sugar

I use evaporated cane sugar
Whipped Cream
3

Cups

Heavy cream

3

Tbs

Sugar
Instructions
Boil the water along with the spices.  Turn off the heat and add the tea bags, let steep for 10 minutes.  Remove the tea bags, stir in the milk and turn on the heat.  Let it boil for about 1 minute more.  Stir in sugar until dissolved. Strain out the seeds and cloves before serving

Whipped cream
If you would like fresh whipped cream, chill your mixer bowl and whisk attachment in the freezer for at least 10 minutes. Next, stir the sugar into the cream to let it dissolve. Powdered sugar dissolves the best. Now whisk on medium high in a stand mixer for around 4-5 minutes, watch for stiff peaks. Watch it closely, otherwise you will have sweet butter!



Pin for later!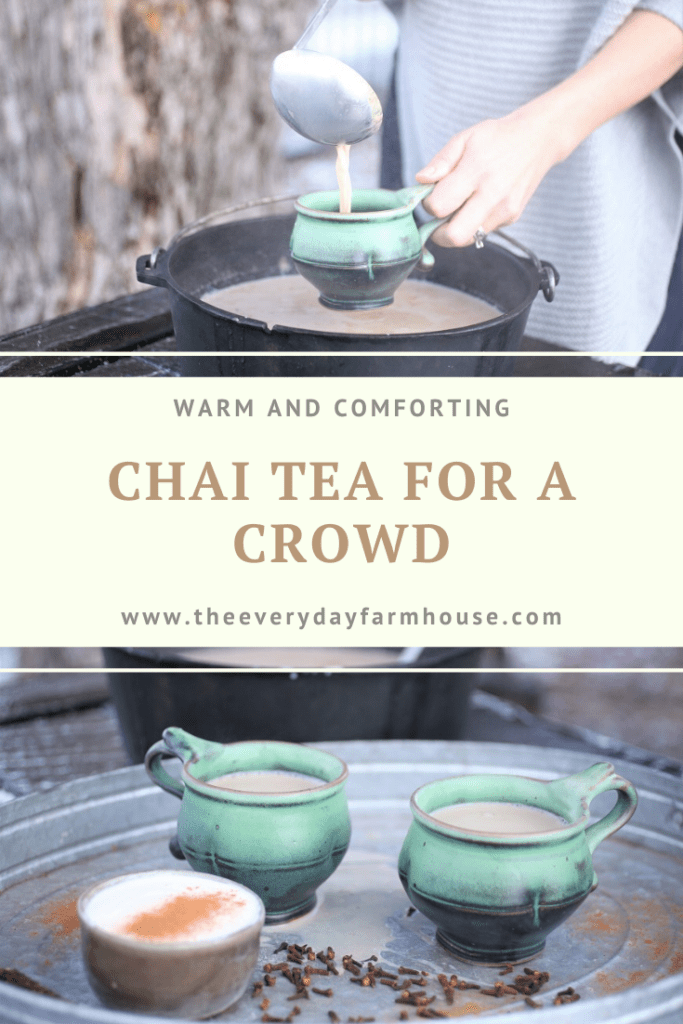 Helpful Tools and Ingredients