My Top 10 Homemaking Essentials–Part Four in the Homemaking Series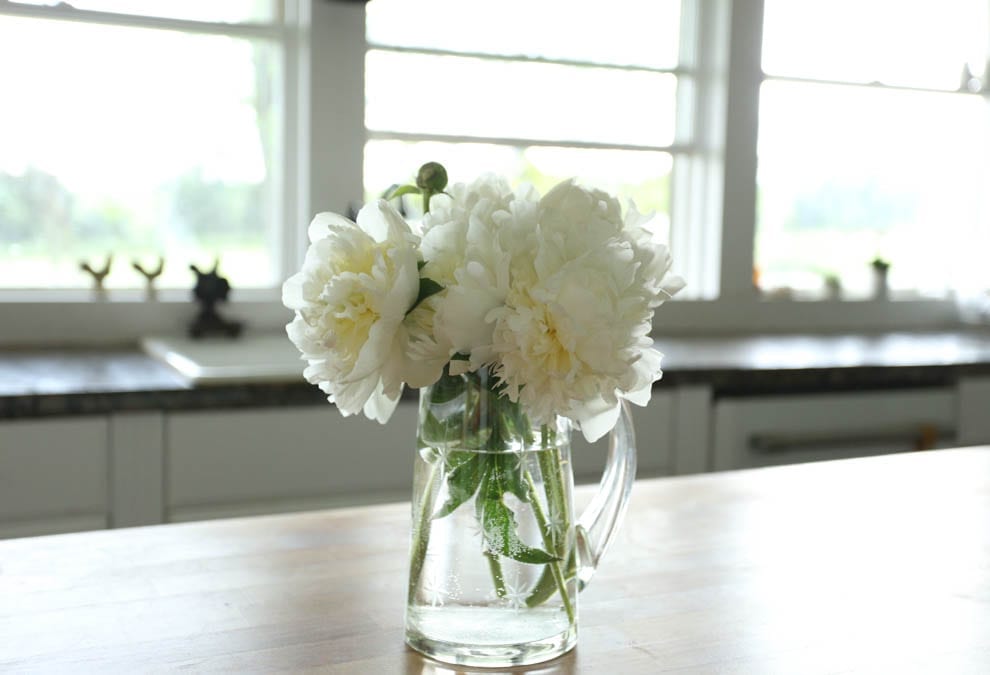 My top 10 Homemaking essentials, these are resources and tools that I would recommend to my best friend! Essential homemaking tools that I use regularly that make my job as a homemaker easier or more pleasant!
This post contains affiliate links which means if you make a purchase through one of the links, I may earn a small commission. This is at no extra charge to you. Thank you for supporting The Everyday Farmhouse.
Here we are, part four in the homemaking series!! This one is certainly more light-hearted. I appreciate all of the kind and encouraging remarks from the first three parts. It has been a blessing to my soul! I hope you all have been blessed as we dove into what it really means to be a homemaker. I certainly learned a lot as I put it together. If you missed those posts, here are the links to parts 1-3.
So, here we go, my top 10 homemaking essentials! At the end of the post is a graphic with most things I mention and easy links to each of the items. I love reading product reviews and recommendations before I buy things, so I hope you find this helpful as well!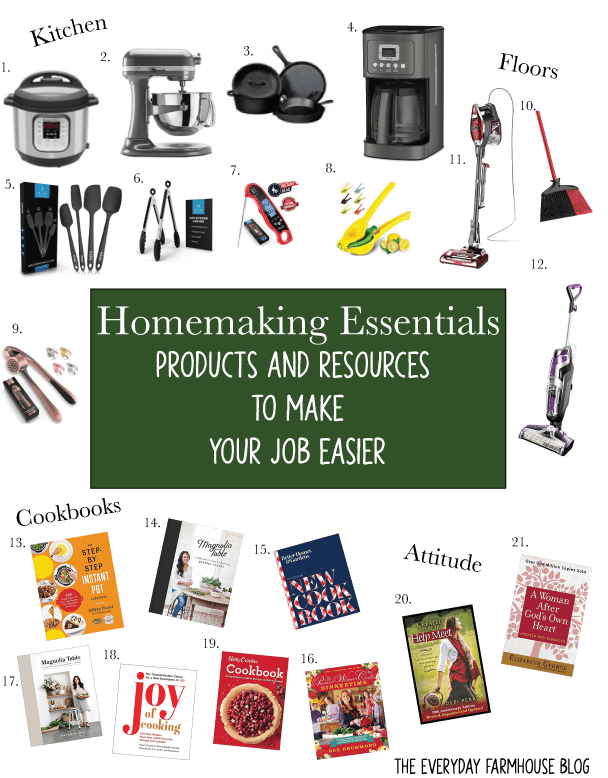 Number 1: Attitude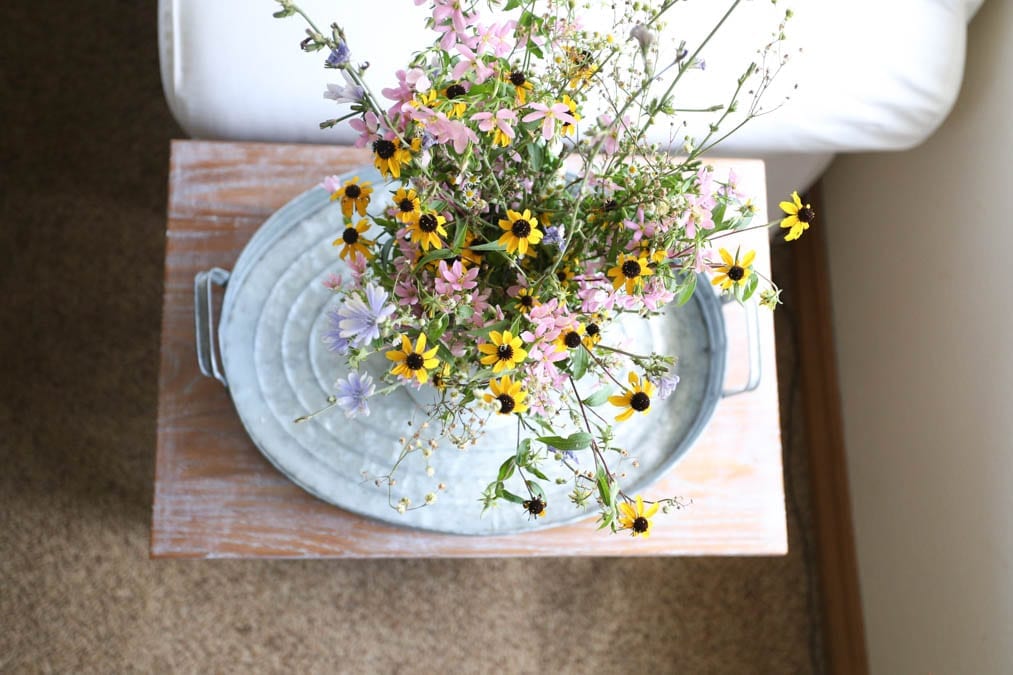 A sweet spirit
We have a saying at our house that attitude is everything. This really is so true for everyone, everywhere. Having a good attitude is vital as a homemaker. If you are a mother, your children feed off of your attitude. If you have a bad attitude, watch out, your children will too. This is why attitude really is number 1 on my top 10 homemaking essentials!
A heart for learning
Along with a sweet spirit, a heart that is ready to learn is vital as well. There is so much to learn! Ways to make the home run more efficiently are endless. Finding the rhythm and schedule that works for your unique family takes planning and an open mind for learning.
Number 2: A Resource Library
In order to feed that desire to learn, you will need resources! These are my favorite books that are about homemaking, being a wife or a mother. Some of these deal with issues of the heart, while others are helpful with more physical needs; like caring for a child with an injury or health concern.
This is the first book I read on the topic of homemaking and being a wife. It was foundational in shaping who I am as a wife. I still think of things I learned in this book to this day.
I love this book and think it could transform many a troubled marriage. You have to pull up your big girl pants when you read this one, as some of it might be a bit hard to swallow. However, it contains so much truth!!
Rachel Weaver's Books
Doctors are definitely a blessing to have if you really need one. However, I love natural rememdies. I like to make my own salves and balms. We very rarely go to the doctor. I refer to these books often, and find them very helpful for non-emergency issues.
This book has great tips if you are managing a large family, or if you think you might in the future! Really there are great tips in this book for managing any size home.
Number 3: A Good Cleaning System
I mentioned Fly Lady in my first homemaking post. I think her system for organizing and avoiding CHAOS (Can't Have Anyone Over Syndrome) is brilliant and very doable! If you are just starting out with keeping home, you will find her system invaluable! Start with Baby Steps!
Number 4: A Routine
I am not a big scheduler. I find that putting everything in a timeslot for the whole day puts too much pressure on me. There are just too many variables when you are homeschooling this many children! If things don't go exactly as I plan, then I am dealing with unmet expectations in my day…that gives me the feeling of being a failure. Plus I like to have a relaxed home, I am not trying to make everyone feel hectic.
However, having an order to the day, and a few key things done at a certain time and in a certain order gives structure to my day. This helps you as a homemaker to make sure you aren't spinning your wheels.
Figuring out the most important things, what I want or need to accomplish every single day as a homemaker, has helped immensely.
For me this is walking or running, Bible time, milking the cow and reading aloud to my kids, plus nap time. If I can accomplish those five things without fail every single day, then I consider the day a success. Do I accomplish more than that? Yes, definitely, but those are five things that are on my schedule for a certain time.
7:30 Physical activity
9:00 a.m. Milk the cow
10:00 Read aloud
11:30 Family Bible Time–All kids present
2:00 Nap time
The rest of the day happens in between those times, there is breakfast, chores, table work, music, computer work, lunch. All of those things are also there, but I don't have a time set on those, they just happen during the natural flow of the day. That way, I can say, "table work after I change this diaper", or "get your chores done while I nurse the baby."
This could be a whole post in and of itself. Perhaps I will work on that! A routine really can be a lifesaver, that is why it made the list of top 10 homemaking essentials!
Number 5: A Few Good Cookbooks
There are many resources online for recipes. However, there is just something about a physical cookbook. It is so easy to get distracted and overwhelmed with recipes online. Homemaking and cooking do go hand in hand. An essential homemaking tool is an arsenal of usable recipes.
The first two books are the cookbooks I was given for our wedding. I think they are timeless and most of the recipes are very adaptable. The rest are ones that I have used or would like to have!
Better Homes and Gardens New Cook Book
Number 6: A Floor Cleaner
I love clean floors! There I said it, however, I live on a farm and have 10 children! It may seem like an impossible task to keep the floors clean, and maybe it is. However, those precious hours when the floor is really clean are a blessing to me! Plus it's nice to know that while there may be grass tracked in or lint all around, it isn't weeks worth of filth! Especially since we always have a baby crawling around on the floor!
Here are my favorites for cleaning the floors! Homemaking essentials for a clean floor if you will.
A Good Broom– We use this broom multiple times a day, usually after every meal. I have been through countless brooms, and this is one of the best!
A Small Vacuum for Quick Jobs– We have used this probably beyond what it was designed for, but it does so well! We had a Dyson for years, but we think Shark makes a better vacuum! It just has better suction! I have my eye on a bigger shark vacuum like this one.
A Great Floor Mopper– We used to have a Hoover Floormate. I really liked it, but a hose broke after only a couple of years and we could not find a replacement. Since then, we bought this Bissell. It is a similar type of floor cleaner. It puts water down, scrubs the floor and then sucks up the dirty water. You will be both horrified and delighted when you see the filthy water sucked up! This one can also clean area rugs.
O'Cedar used to make an amazing dust mop. They have discontinued or changed it, and it's just not as good. It was similar to this. If you have a recommendation for a really great dust mop, I am all ears!
Number 7: Some Great Cast Iron
Cast Iron is an excellent and healthy option for non-stick cookware. This set will cover all of your needs. We have each of these items and they are all used regularly. Once you learn how to cook with cast iron, and how to care for it, you will likely be hooked!
Number 8: An Instant Pot
I have waxed eloquent on the Instant pot on several occasions, you can read those posts here:
This is one of my favorite tools for homemaking. It really is great for saving dinner, especially if you are a lousy meal planner!
Being able to get dinner on the table in an hour or so, even if you didn't thaw out meat, is a lifesaver!
Number 9: A Kitchen Aid Mixer
I got my Kitchen Aid probably 15 years ago. This was a very expensive investment at the time. I actually bought it with travel points that my husband had saved. The original reason I wanted it was for bread baking. They do a wonderful job of kneading dough.
I use it nearly every day, for so many different things! It is one kitchen tool that I would not want to be without! Here is the one I use. I highly recommend this larger size! It is especially helpful for bread dough and a large batch of cookies!
Number 10: A Few Kitchen Gadgets
Essential? I guess that depends on your perspective! It sure is nice though! This is the coffeemaker we have used for our entire marriage. We have replaced it a couple of times, but always with the same brand. It makes good hot coffee! Hot coffee has to be on the top 10 homemaking essentials!
Prefer Tea?
I love this little electric kettle for making hot tea.
These are great towels and a super value! The perfect farmhouse look, I sometimes use them for napkins as well! You can see them on this table setting.
The Following Gadgets are all from Zulay Kitchen
Zulay Kitchen is offering my readers a 10% discount on any product in their store!
Use Code THEEVERYDAYFARMHOUSE10 for 10% off. This offer is good until September 22.
Hope My Top 10 Homemaking Essentials was Helpful!
I love to hear about what other people are using and loving! I hope you enjoyed this post and maybe found something that would make your homemaking life easier or more pleasant! What would you add to my list? Please share your favorite homemaking tools!