How to Clean and Care for Your Instant Pot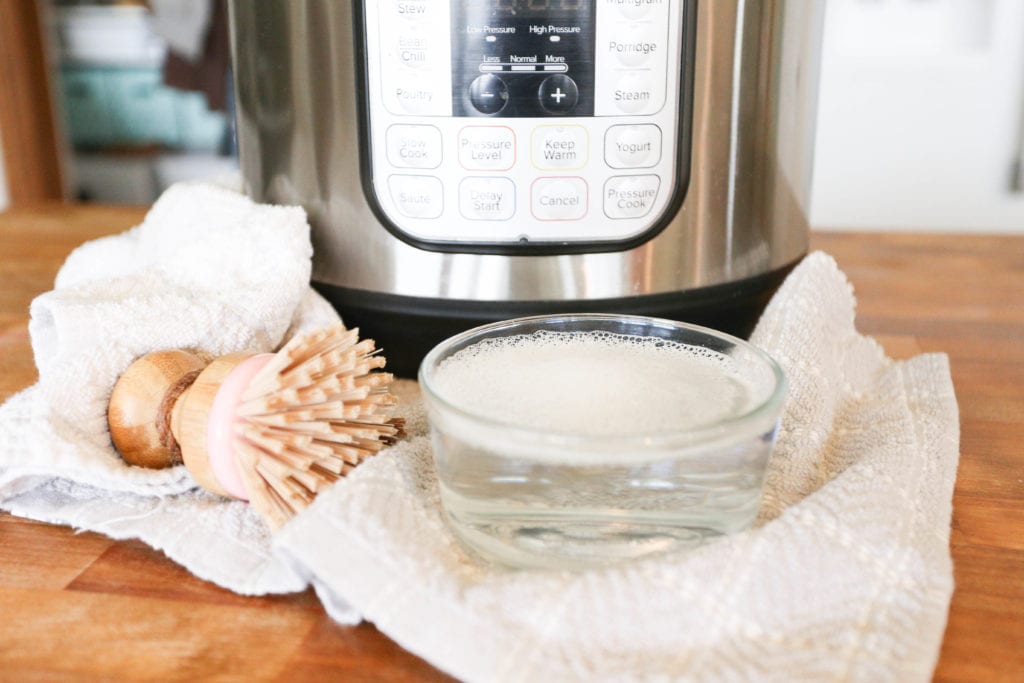 In this post I share some information that I recently learned on how to care for your Instant Pot. These steps will ensure that it works well for a long time.
I Just Didn't Know
I got on the Instant Pot Bandwagon last summer. My first Instant Pot post was about whether or not I found it to be a good investment, you can find that post here. Needless to say, I have found it to be a good investment for our family. So much so that I have since purchased a second one. I also got my mom one for Christmas.
Even with all my enthusiasm for the Instant Pot, there were a few things that I didn't know. When my mom came to help me after our last baby was born, she informed me of a few necessary maintenance procedures. Ones that I had no idea about! Here's a few tips for how to clean your instant pot.
Well, That Explains it!
After owning and using the Instant Pot for over six months, we started noticing that it wasn't getting up to pressure very quickly. Another problem we were having was that there were times when it wasn't getting up to full pressure at all. My husband had several instances where he would put a frozen chicken in the pot, and after the full time, it wasn't done! In the back of my mind I kept thinking, "I need to call about this, it probably has a warranty, and I need to complain." Thankfully my mom saved the day. It turns out if you are not regularly cleaning the Instant Pot properly it will start to underperform. Well…I guess that explains the problems!
The Lid and all its Parts
The Rubber Seal
This needs to be cleaned every time you use your Instant Pot. I actually figured this one out on my own after about the fifth use. I had cooked a pork roast and used liquid smoke. That sure made for a smelly Instant Pot! The rubber ring can be easily removed and cleaned in soapy water. They do tend to hold onto the smell of whatever was last cooked. Soaking it in baking soda and water does seem to help. I submerge mine in baking soda water and let it soak for a bit to clean it. The actual lid can be washed in the dishwasher, but honestly who has room for it in there? It's just as easy to hand wash it anyway. Use plenty of dishwashing soap and give it a good scrub.
Removing the ring is not necessary every time you use the IP. Some people say that removing it too frequently is hard on it. It may be sufficient to wash it while it is still in the lid. I would just make sure everything gets completely dry before putting it away.
Many people also recommend keeping two rings on hand. One for when you are cooking something smelly, like a roast or chili. Then keeping one for things like sweets or yogurt. Here are some colored rings to help keep track.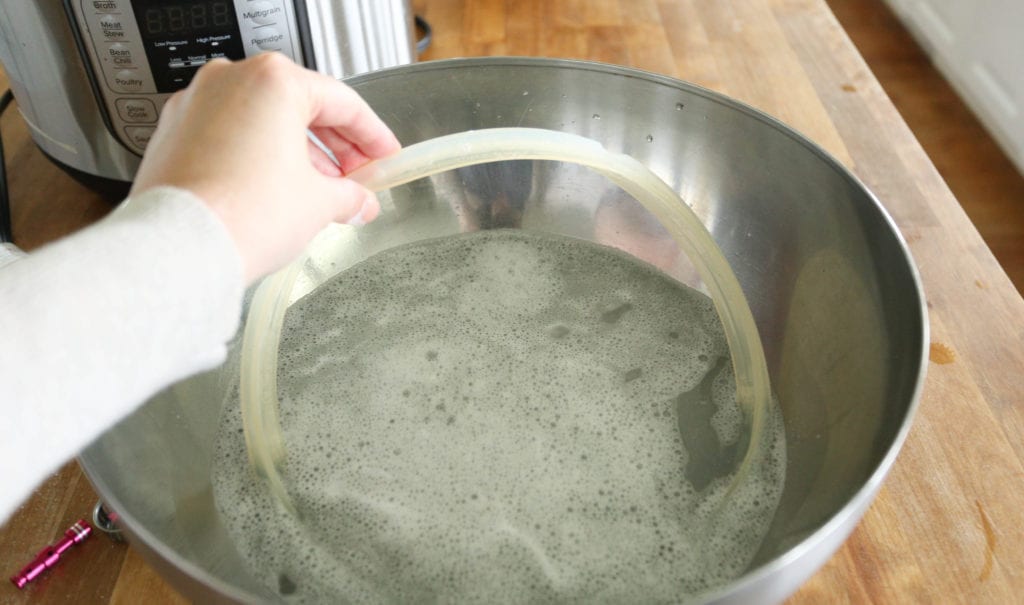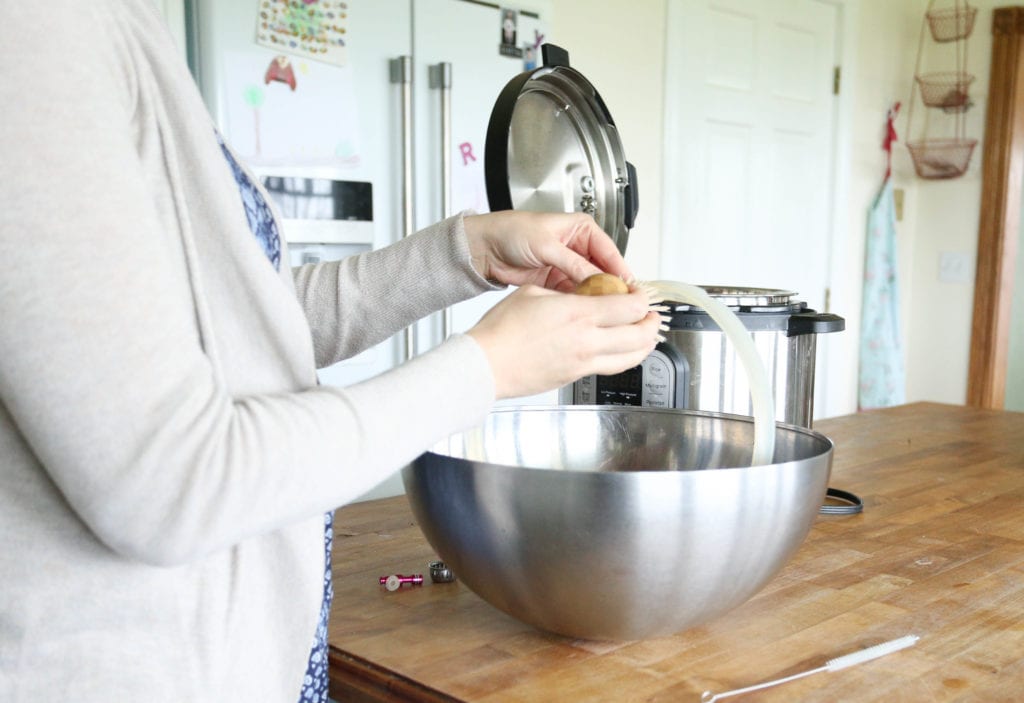 The Steam Release Valve-The Venting Knob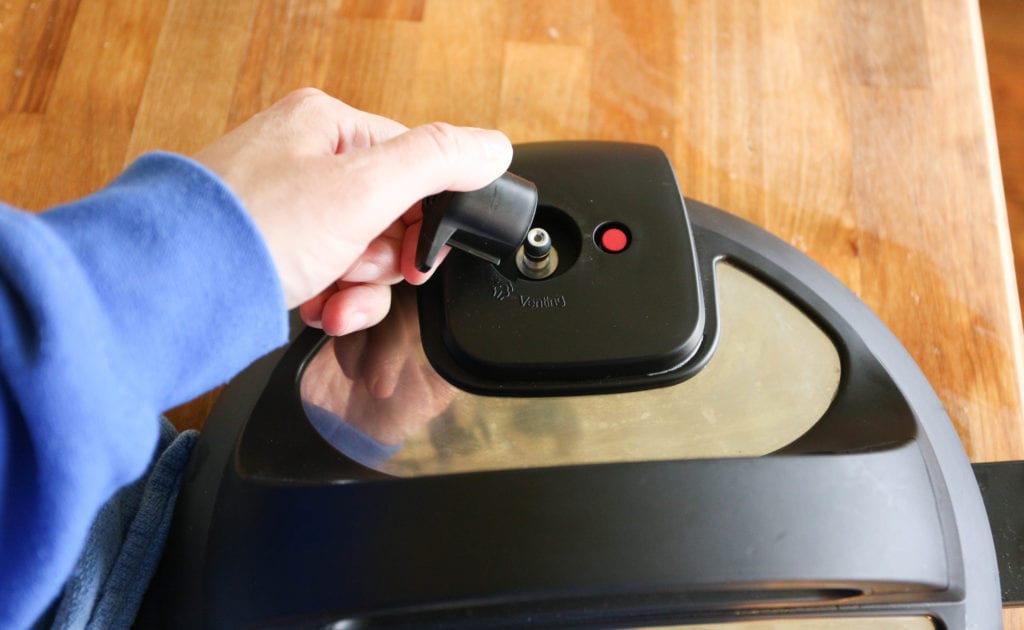 This pulls off on the top, and then on the back there is a little cage looking thingy called the anti-block shield. This just pops off, but it does take a bit of pressure, you just sort of push it from the side to pop it off. This is where the steam releases, so it is possible that bits and particles could get stuck in there. It is important to clean that regularly so that your Instant Pot can continue to work as it should. I just soak these in the same bowl of soapy water and rinse.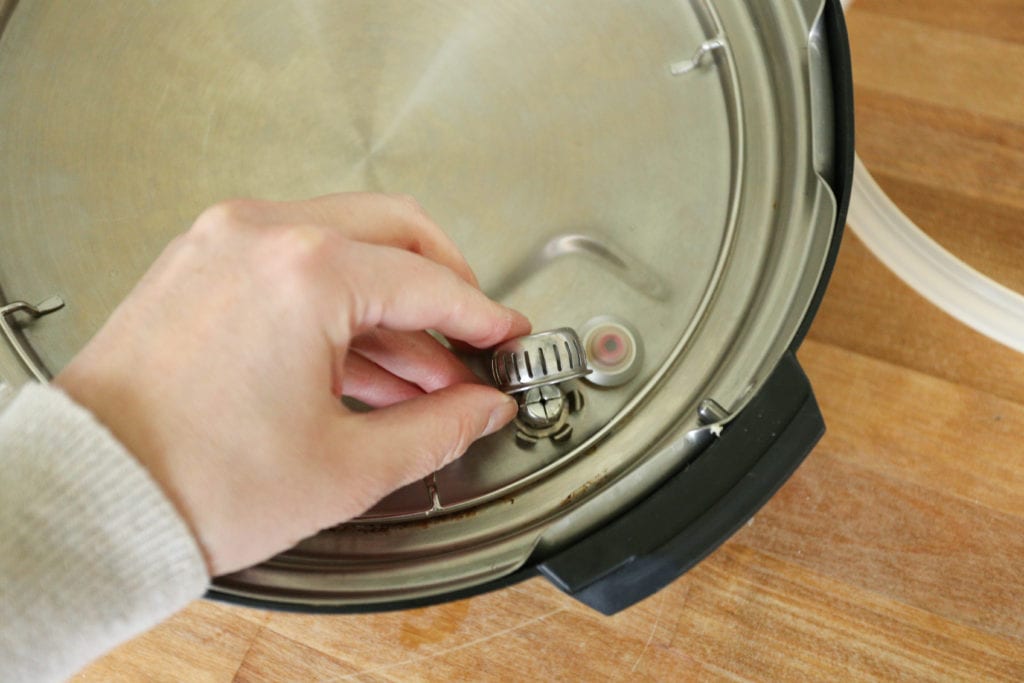 Float Valve
This little part is intimidating to remove, but don't worry, it goes back in easily. It is a good idea to remove this and give it a good soak and rinse from time to time as well.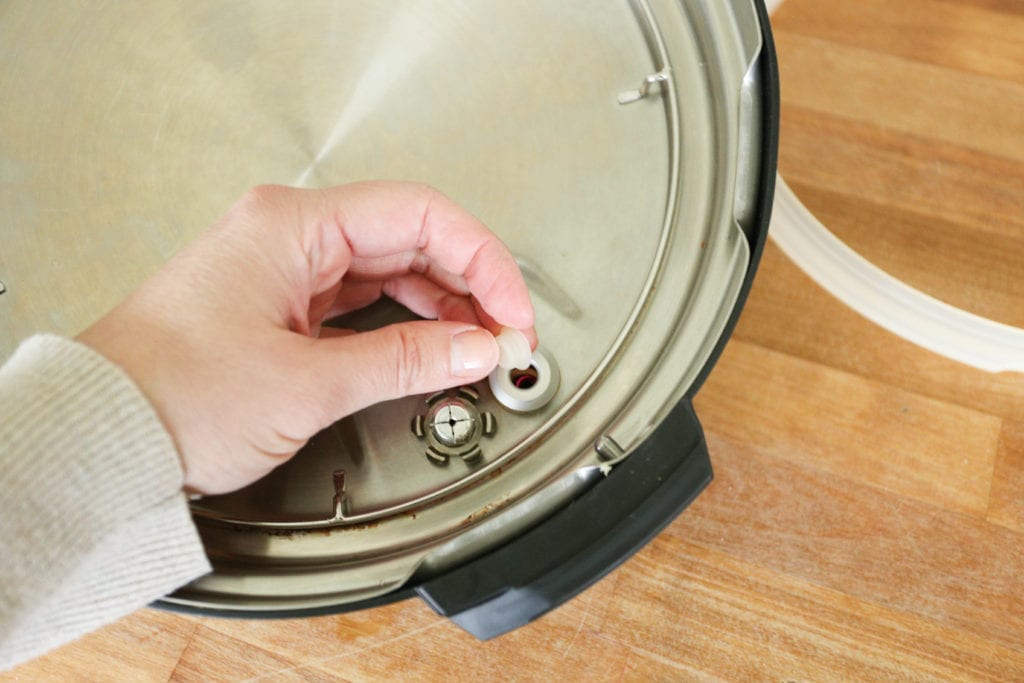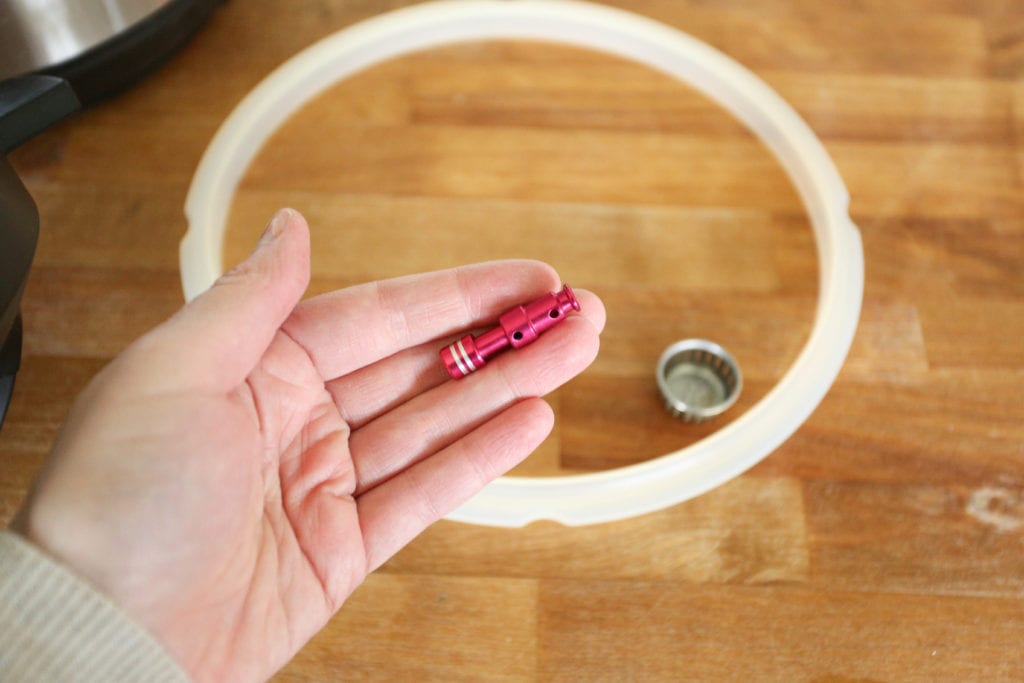 The Housing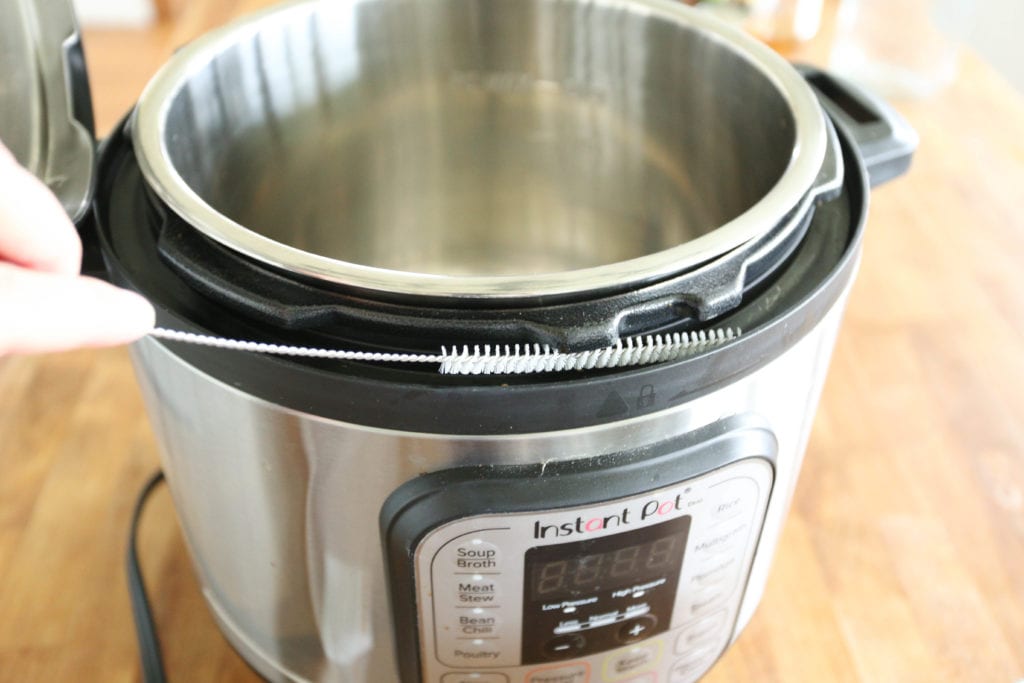 A little cleaning brush, toothbrush or even a paint brush is a great tool for cleaning the little crevice around the outside of the housing. The main offender on mine is rice, I can't seem to use the thing without dropping rice in there!
Vinegar
Vinegar is your cleaning friend. Using vinegar to clean the inside will remove any stains or discoloring on the inside of the pot. Most of the time just soap and water does the trick, however, if something is really stuck on, Bar Keeper's Friend does a great job cleaning up stainless steel.
Did I miss anything?
Leave a comment below if you have any tips for how to clean your Instant Pot and keeping it running like new!
This is the Instant Pot that I use. Here are a couple of Instant Pot Posts. Here and Here
Pin it for Reference!