Is the Instant Pot a Good Investment?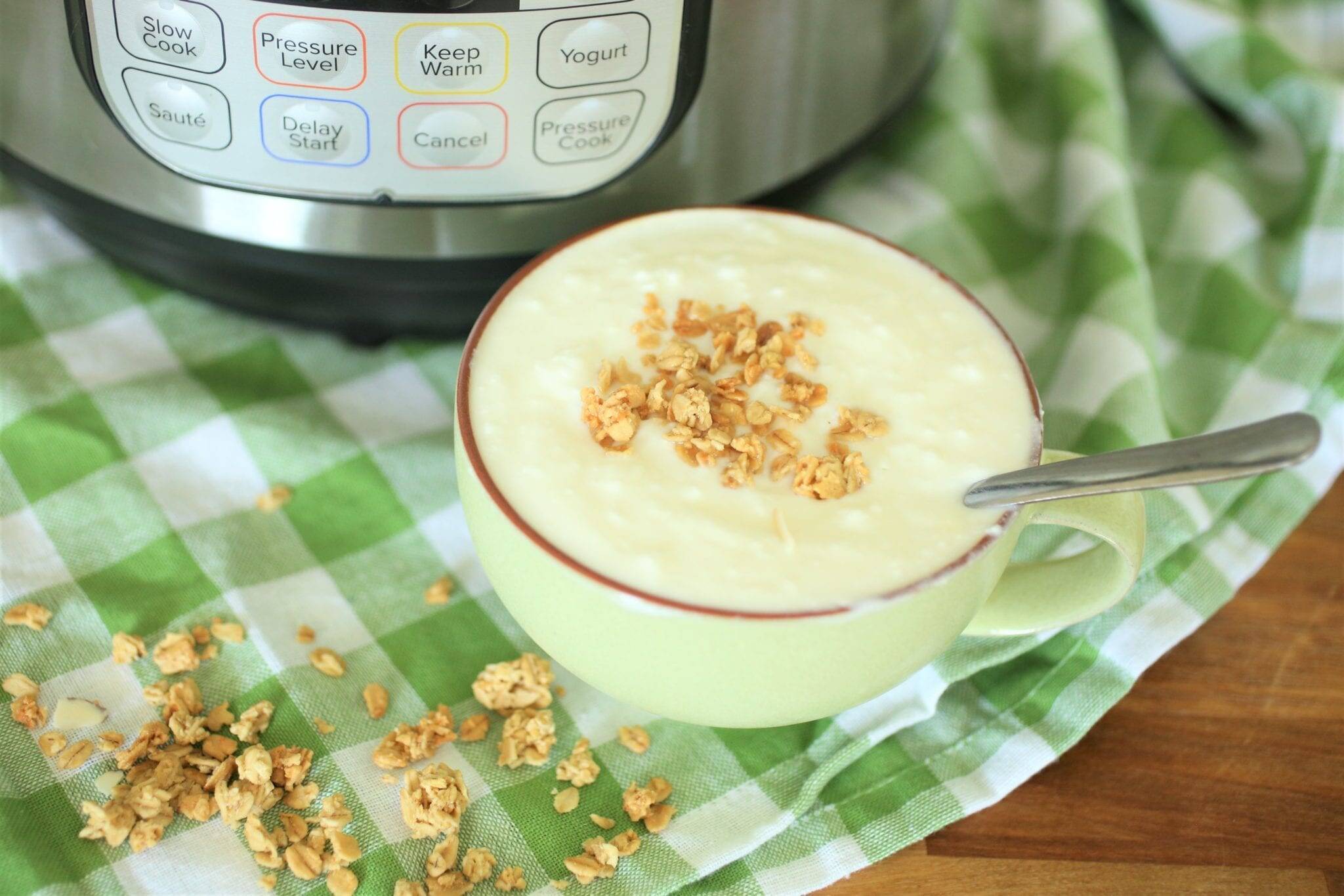 In this post, I talk about whether I have found the Instant Pot to be a good investment. I share how often I use it and what I make with it most frequently. **post update at the end**
I'm late to the party
So, I know I am like, way late to the Instant Pot party. I have been contemplating buying one for at least two years, but I was intimidated by learning something new. Also, the thought of storing another kitchen appliance did not appeal to me.
After all the waiting, I finally bought one about three weeks ago. One of the surplus stores near me had one for a good price. Shortly after, they went on sale for Prime Day for a similar price. I was looking for an 8 qt with the yogurt setting, and this one had it.
Buy it if you make yogurt
This was my main reason for buying the Instant Pot. We have a milk cow, which means we have lots of milk. My family loves yogurt, but it can be a pain to make at times. I like to make it in the winter because I can set it next to the wood stove and it keeps it at just the right temperature. However, my other methods proved to be a bit more trouble.
I would usually bring a cooler into the kitchen and place a bowl of boiling water inside it. I would then place the jars of milk inside the cooler, close the lid and it usually turned out well. The only problem is the cooler in the kitchen. It's just a pain.
The Instant Pot has made making yogurt so incredibly easy. There is a button for yogurt and it keeps it at just the right temperature. You can also set the time for however long you want it to ferment. I can make a gallon and a half of yogurt at a time.
Since I bought this three weeks ago, I have made more than 8 gallons of yogurt. My kids would eat it for breakfast and lunch everyday. It has come out perfectly each time. I have used store bought whole milk yogurt for a starter. I have also used the yogourmet starter. Both have worked equally well. The store bought yogurt gives a milder flavor. The yogourment starter gives a tangier taste.
Savings on Yogurt Alone
So, I don't usually do this type of thing, because well…math. However this math was pretty simple and it makes a good point about savings.
If I were to buy 8 gallons of yogurt, comparable to our homemade jersey-cow yogurt, it would be Brown Cow Yogurt. This will run you at least $4 for a 32 oz. container…probably closer to $5. Let's just say $4. So, if I were to buy the equivalent of 8 gallons of yogurt, I would have to buy 32 x 32 oz containers. Thirty-two times $4 would be $128.
Now, to be fair, I would need to calculate the cost of our cow's weekly feed bill. This gets a little complicated because we sell a few gallons of milk a week and that covers her feed. However, if you were to buy 8 gallons of milk at $3 a gallon that would be $24 plus the cost of starter which we could say is about $4 for a 32 oz carton of yogurt. So, your cost of making yogurt would be about $28 for eight gallons of yogurt. That would make your savings $100!
In other words, my Instant Pot has already paid for itself after 3 weeks. Granted, we are a family of 11 and the average family most likely doesn't consume that much yogurt in three weeks. So, it may take more time for you to say it has paid for itself, but I believe you will be able to say that!
Buy it if you are a Lousy Meal Planner
I am a horrible meal planner. I excel at my lousiness in the summer, because I simply do not care about dinner. In the summer I would prefer anything over meal planning. Now, during basketball season or theater season, I am a good meal planner because I have to be. I have to keep all of the people fed, and meals just seem easier in the winter.
I discovered that with the Instant Pot I can be a lousy planner and still get dinner on the table, without heating up the oven! The rule of thumb for frozen meat in the Instant Pot is 10 minutes per pound. That means a 6 lbs frozen chicken can be done in 1 HOUR!!!
I am not going to brag and say that a chicken in the Instant Pot is comparable to a roasted chicken. It just is not. The texture is chewier and there is no crispy delicious skin. We have eaten it this way with mashed potatoes and gravy, and there were no complaints. My husband and I just noticed it was not as good as roasted. However, it is certainly better than no dinner for your family! This type of chicken is best for a dish where you are mixing it in with a sauce or curry or even Tarragon Chicken Salad.
If you wanted some math on this one, you could say that this saved us from ordering Chinese food or pizza or something far less healthy or economical. For our family to order take out, it is at least $50. So, lets say the Instant Pot saves us from eating out, due to my lack of planning and thawing meat. It has again paid for itself…even at full price.
One more thing, the broth that is left at the bottom is delicious. I seasoned my chicken with Johnny's Seasoned Salt, added the cup and a half of water and cooked it for an hour. Be sure to save that broth for rice or soup or whatever you use broth for!
Buy it if you Don't love to Make Mashed Potatoes
This was one thing I had read was easier in the Instant Pot. I have only made them once–I did peel the potatoes, but did not cut them up. However, I have seen recipes where you do not have to peel them. I added some water and I believe I cooked 10 lbs of potatoes for 20 minutes. Now, you do have to remember that it takes time for the pressure to build up, so that adds possibly 10 minutes to some times. So, the time savings is not huge on potatoes, but to be honest I don't know how long it takes to boil ten pounds of potatoes! The time savings may be more than I think. However, it was far less mess.
Anyway, they were really tasty! I think because they weren't boiled and you don't throw out all of the water? Then you just mash them right there in the pot. No money savings here, but I think saving on dishes and mess is of great value!
Ease of Learning
I was afraid of learning something new and thought the Instant Pot would be complicated. It is totally not! It is very straightforward and not intimidating at all. I am not a technical person for a frame of reference. I was using it within minutes of unpacking it.
Which Size?
As I said before, I bought the 8 quart. For our family, this is even a bit small. We can fit a whole large chicken (6 lbs or more), but we really need two chickens if we have the hope of any leftovers at all. If the chickens were thawed and small, you could probably fit two. I see no hope of fitting two frozen chickens in there unless they are very small.
Are you still on the fence?
I hope this helped if you are still on the fence or just late to the party like I was! Let me know in the comments what your hesitations are. Or if you have an Instant Pot and use it, let me know–what is your favorite thing to make?
**Post Update**
Well, I have had the Instant Pot for a while now. Would you like to know if I still use it? The answer is YES!! In fact, I bought a second one on Black Friday. I use it nearly everyday!
Here's what I love. Soup, I love soup!! However, soup in the Instant Pot is even better! Just ask my family. The deal is this, when you make something like chicken soup, you don't have to use as much water to cook your chicken. Therefore, you don't have so much broth and the soup is heartier. The same with potato soup, the flavor is more intense, and much thicker and creamier!
Cooking frozen chickens is still something I do frequently with my Instant Pots. This is still a game changer for getting dinner on the table when you haven't done a good job planning. Cook it, shred it, pour bbq sauce on it and you have tasty bbq chicken sandwiches for dinner!
One more thing is rice. You can make excellent rice in the Instant Pot! It is fairly quick, but you don't have to babysit it. Just set it and walk away, no burned rice!!
Pin for Later!
Amazon Links