Recipe Tarragon Chicken Salad
In today's post I will share with you my favorite recipe for tarragon chicken salad. I do this with a whole chicken, but you could substitute chicken breasts or even canned chicken.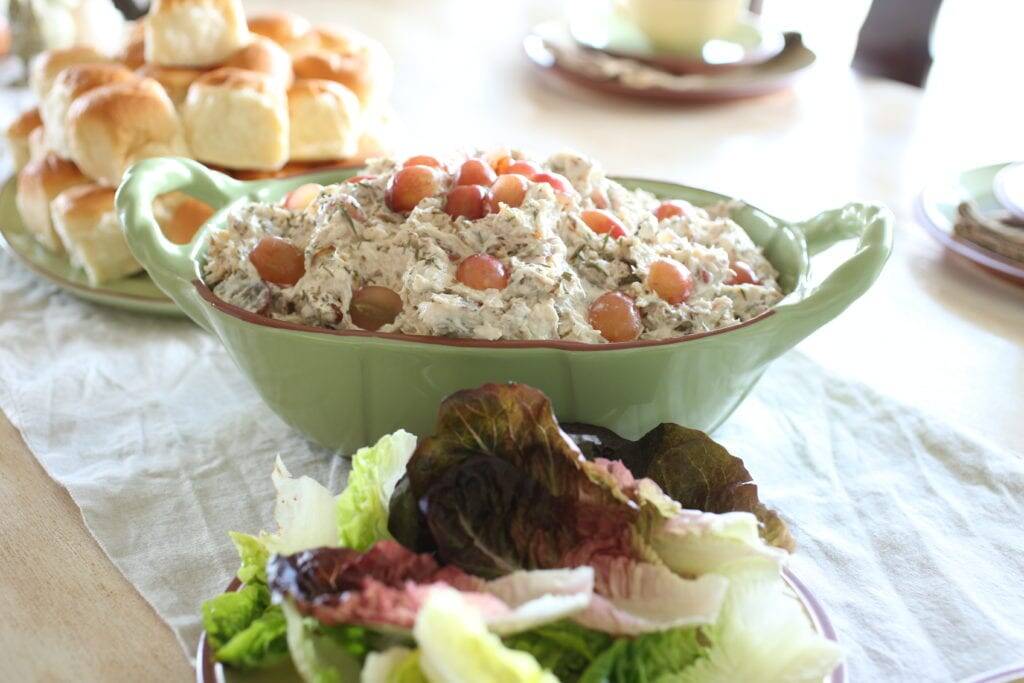 This salad is near and dear to my heart. When my husband and I got married, we had a friend cater the wedding reception. She was also a bridesmaid in my wedding…can you imagine that I even asked that of her? I was young and naive and apparently had no idea what went into catering an entire wedding! This salad was one of the specialties from her kitchen, and I had to have it for our reception. We served this tarragon chicken salad in little phyllo cups, but it is also delicious on croissants, hawaiian rolls or my favorite, wrapped in lettuce.
What you'll need for tarragon chicken salad
This salad is light and refreshing and the tarragon gives it a bit of unexpected flavor. Mayonnaise, grapes, almonds, a squeeze of lemon, a few shakes of dried tarragon and you have yourself a delicious treat. Sometimes I add celery, but my kids don't like it as well that way.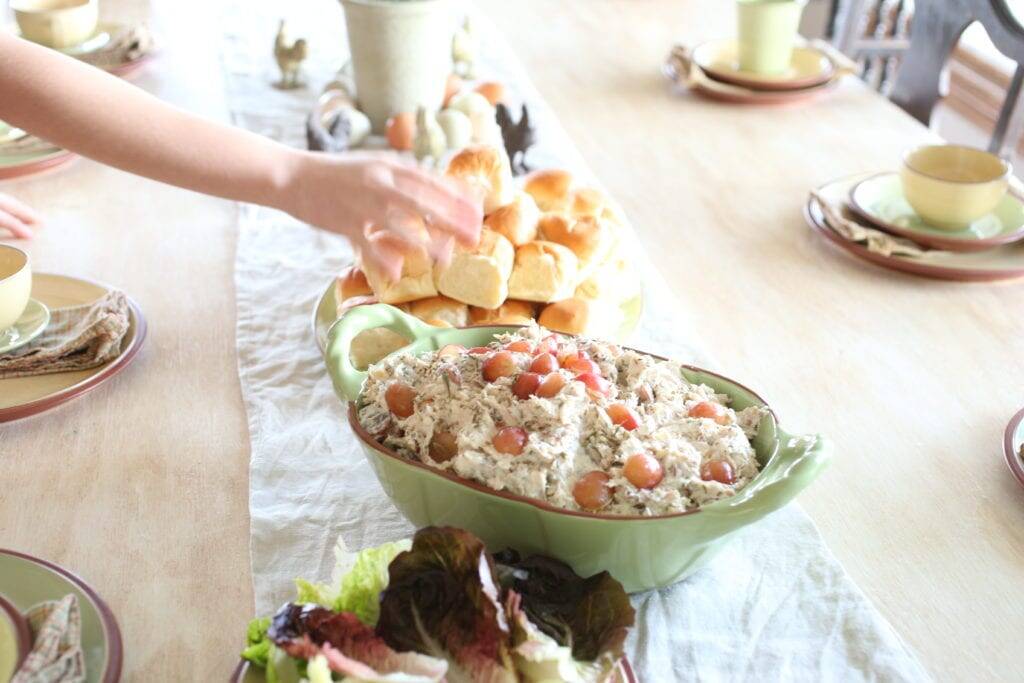 My daughters love this salad and often request it for birthday parties. We almost always have a tea party for the girls and this makes a lovely addition to the delicate foods for the table.
Cooking the Chicken
I used to make this with canned chicken, however over the last seven years we have started raising our own meat. I had to figure out a way to use our whole chickens to make this salad. A while back I did a post on dealing with whole chickens, if you missed that you can find it here. So, I have found that if I just put two smaller chickens in the crock-pot overnight, in the morning I have the perfect chicken for chicken salad. If the chickens are larger I will use two crock-pots. Now, I want you to know I put absolutely nothing in the crock-pot with the chicken. No liquid, no seasoning, nothing. Easy peasy.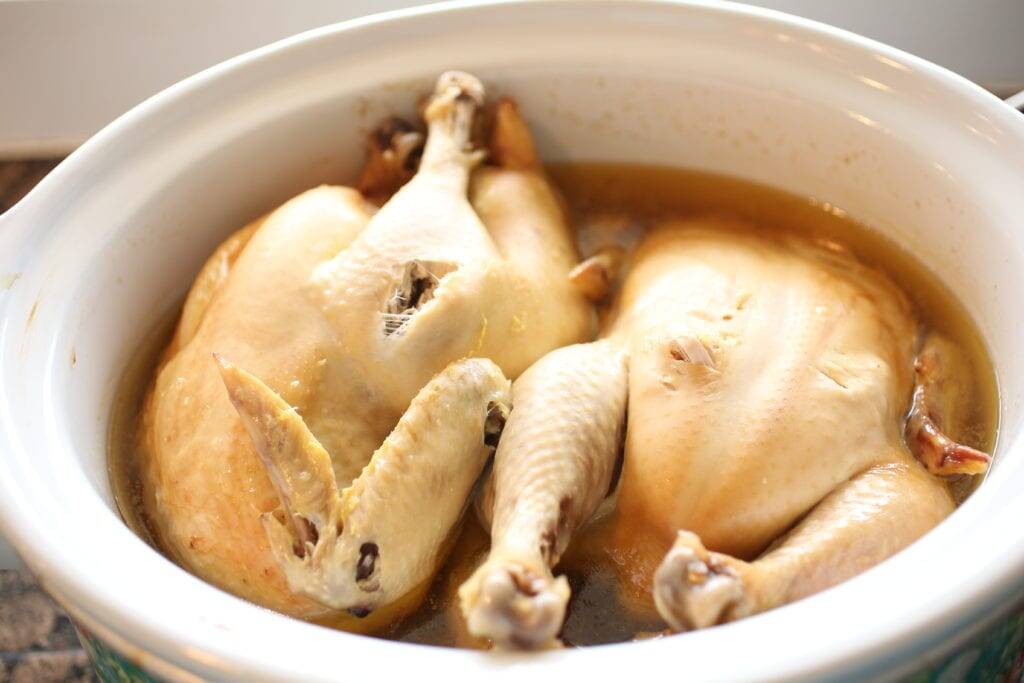 After I remove the cooked chickens, I de-bone them. If I am making this for a large crowd, or if I have used smaller chickens, I will use all the meat, even the dark. However, if I have thawed out larger chickens, I will use only the breast meat and save the dark meat for another meal. It is good either way, the white meat just makes it a little lighter and prettier.
After I de-bone the chicken, I put it in a big bowl, get some kitchen shears and cut the chicken up right in the bowl. I find this easier than dirtying up a cutting board. Then I add all of the other ingredients right in the bowl. I provided measurements for 12 ounces of chicken which is the equivalent of approximately one large can of chicken. I did a second card for someone like me cooking with whole chickens or for a crowd. The measurements aren't crucial. It is one of those dump it in until it looks and tastes good kind of recipes.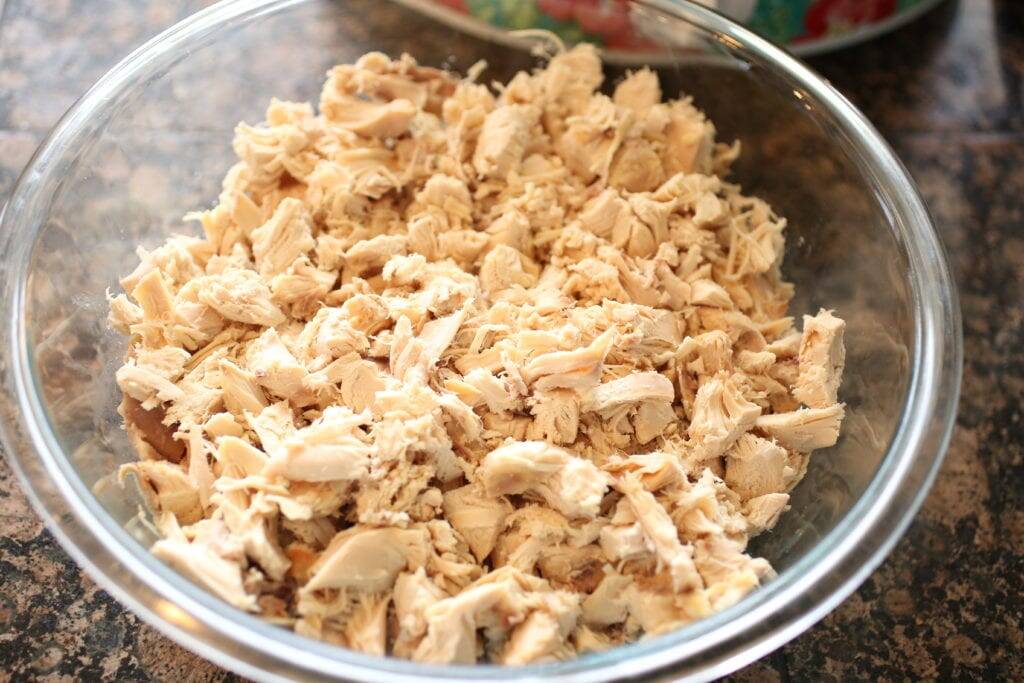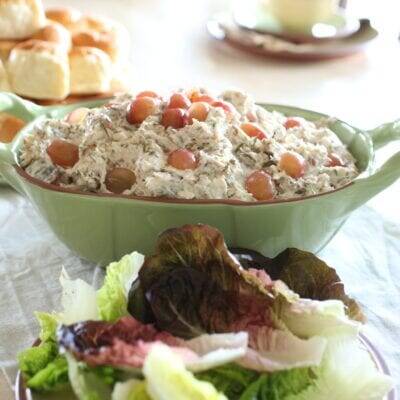 Tarragon Chicken Salad
A light and delicious salad, perfect for a Spring or Summer meal. Delightful at a tea party or birthday party.

Ingredients
12

oz

Chicken

8

oz

Red grapes cut up

3/4

cup

Almonds sliced

1 1/2

cup

Mayo

1

Tbs

Dried Tarragon

1/2

Tsp

Lemon juice

1

tsp

salt
Instructions
Season the chicken with salt and give it a good stir. Add all the other ingredients together, squeeze some lemon over it, and give it another good stir. Serve on croissants, phyllo shells, hawaiian rolls, or wrap it in lettuce. Enjoy!

Tarragon Chicken Salad for a Crowd
This recipe is for using whole chickens and making a larger quantity of salad. Perfect for a tea party or birthday party!

Ingredients
4

lbs

Cooked and chopped chicken

32

oz

Grapes cut up

2

cups

Sliced Almonds

1

container

Mayonnaise

4

Tbs

Dried Tarragon

2

Tsp

Lemon juice

1

Tsp

Salt
Instructions
Using kitchen shears cut up the chicken right in the bowl sprinkle with salt. Add all the ingredients, squeeze some lemon over it and stir. Serve on croissants, hawaiian rolls, phyllo shells or wrap in lettuce. Enjoy!

I hope you try this tarragon chicken salad and enjoy it as much as we do!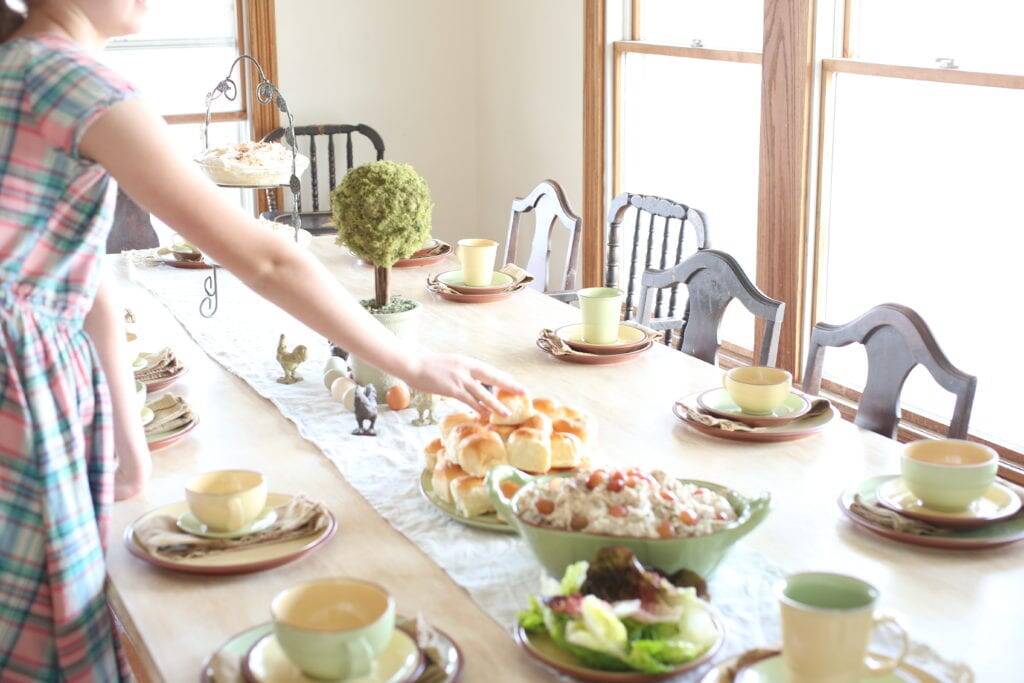 Pin for Later!