Misfits Market Box Review: Eat More Veggies!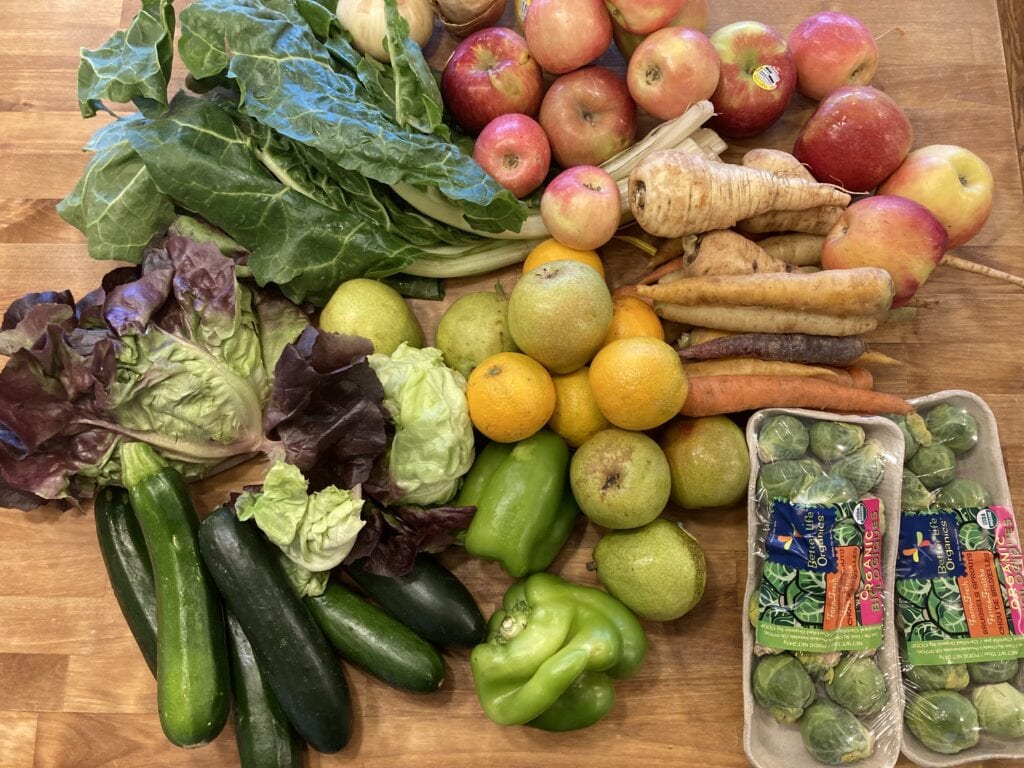 Misfits Market Box review, this is my experience with their produce boxes. I hope this will be helpful for anyone interested in trying a produce box service. There is also a coupon code for you in this post.
What are Produce Boxes?
If this whole concept is new to you, let me explain what these services are. There are several companies out there that allow you to have fresh boxes of produce delivered to your home weekly, or bi-weekly or really however often you want it. You sign up for the service and depending on the company, you then select the items that you want, and a box of produce shows up on your doorstep.
Where is the Produce Sourced?
This is the statement of sourcing from Misfits Market website:
All of the produce in your weekly Misfits box is certified organic and non-GMO, sourced from hand-picked farms and partners in our region and across the Americas. This means that they avoid using synthetic fertilizers and pesticides, are prohibited from using genetic engineering or genetically modified organisms, and, according to the USDA, "rely on natural substances and physical, mechanical, or biologically based farming methods to the fullest extent possible."
While I believe buying local is best, availability is often a problem. We live in the country, and believe it or not, it's difficult for us to find local organic produce. While we seek to grow our own food, we come up very short in the produce department.
While there are several companies out there with produce subscriptions, my experience is only with Misfits Market.
This is the description directly from their website:
It's a subscription box of sometimes funny-looking, always delicious produce, designed to break the cycle of food waste. Think of us like an online grocery store, except one that specializes in rescuing food that is unnecessarily thrown away. We source high-quality organic produce that has a few quirks—onions that are too small, potatoes that are shaped like your favorite celebrity, and carrots that fell in love and got twisted together. It may sound like a joke, but billions of pounds of this fresh and delicious food is tossed each year because grocery stores only want "perfect" foods on their shelves. We step in and buy this food from hundreds of farms across the country and bring them to your doorstep, saving you money and helping you save the world.
How Did I Get Started With Misfits?
I had read several reviews from other bloggers sharing their experience with produce delivery services. The last one I read left me thinking that I would not like the service. There were complaints of few choices and outdated produce. The very week I read those reviews, a friend said she had signed up for Misfits Market.
I warned her that I had read some poor reviews of such services. She said that so far she had been very pleased. Of course, I trust my close friend over anything I read on the internet, so I listened, and I looked at the pictures she showed me of her counter filled with delicious, fresh, organic produce!
She offered me a discount code to start and I decided to give it a try. My mom and another friend signed up at the same time. All of us are still using the service, and we are all still pleased!
How Does The Produce Subscription Work?
When you sign up you can pick the box size, day of delivery, and frequency of delivery. This can easily be changed from week to week. You can also skip a week, pause or cancel your plan at any time. All produce is certified organic and non-gmo.
There are two different sized boxes. We get the Madness Box which is $35 plus $5 shipping. There is also a smaller box called the Mischief box, it is $22. We get a box every week, but you can do every other week if that fits your household better.
Every Friday afternoon around 5:00 I get an email saying "It's Time to Build Your Box". I get so excited every time…it's the little things! Today when I was looking at their site, there is a note that says come back at 3:00 on January 22, which is my next order date. I had never noticed that before. It is first come first served on selection, so if I got there at 3:00 rather than waiting for the email two hours later, I would have an even better selection.
Below are screenshots of what it looks like. There are three or four categories categories. From the first two, you get to choose six items. From the next two, you can pick two items.
Below is a sample of their Marketplace. They carry extra fruit and veggies, and also items like oats, flour and even soup. We love the Pacific Foods Roasted Red Pepper and Tomato Soup. The price is really good too!
How Weird is the Produce?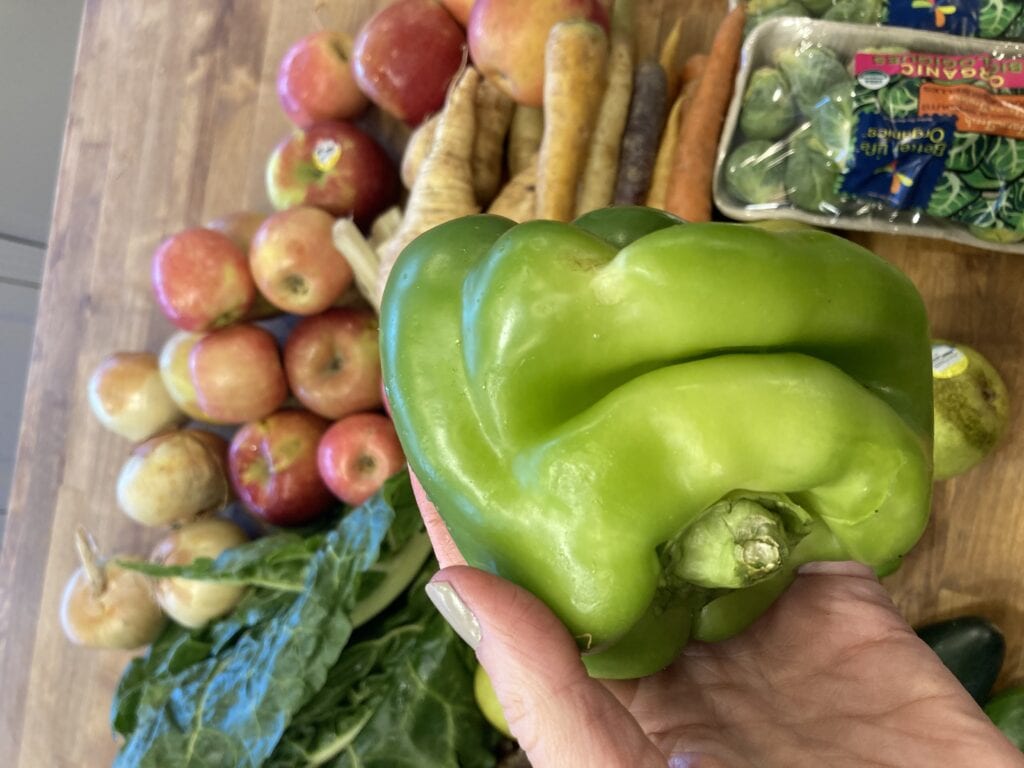 Most of the produce I have received has looked pretty normal. The sizes are the main variables. Some of the apples are just enormous. The Swiss Chard last week was HUGE!! Other times, however, you may get something like a head of cauliflower that seems rather small. Some of the peppers have been a little deformed. All of it is completely edible.
Honestly, nearly everything has been very tasty. The pears have been ripe and sweet, the apples too. The oranges have been very good. The radishes are so yummy! They are mild tasting and really beautiful. The zucchini and cucumbers have both been great.
What I Like About Misfits Market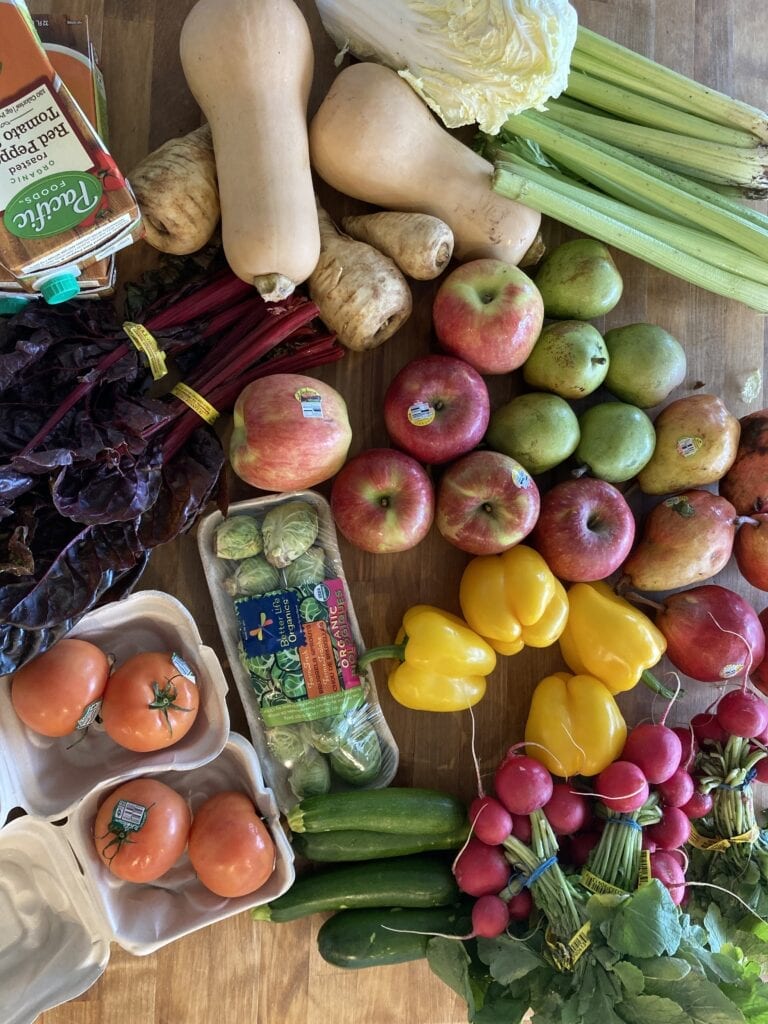 -Here is what I like most: Fresh organic produce showing up at my house every Thursday.
-Their system is very organized. I get the email on Friday and I do my "shopping". I have until Sunday night to make any changes. This makes meal planning for the next week so much easier. I know what I will have on hand.
-I like that it is eliminating food waste. Anyone who has a garden knows how valuable fresh produce is. You also know that even imperfect produce is delicious.
-We definitely eat more produce! Having a mound of fresh organic produce show up makes me sneak it in more recipes. For example, last Thursday I had Teriyaki Chicken planned for dinner. Rather than just having the sauce with chicken, I chopped up zucchini and swiss chard and mixed that in with the chicken and the sauce. Then I served it with a fresh salad.
-Roasted Vegetables are just about the easiest and most delicious side dish. I fill a sheet pan with chopped up parsnips, beets, butternut squash, and radishes, then roast with some coconut oil, garlic salt, or Johnnys at 425 degrees. So delicious!
-It pushes us to try new things and to eat more variety, rather than just broccoli and carrots.
The Market Section
In addition to the usual choices there is also a Market Section. This includes other varieties of fruit and produce. Things like berries, brussel sprouts and mushrooms.
I have ordered the brussel sprouts every time. The price is comparable or maybe even a bit cheaper than what you would pay for organic produce at the grocery store.
As I mentioned above, there are also items like salad dressings, mayo, flour, oats and granola.
Negative Things Misfits Market
-The negatives are few. The only time I had a problem was with our first box and they were quick to make it right. Honestly, the problem was not really theirs. It was with FedEx, it was the week of Christmas and I think lots of packages were delayed. Our box arrived four days late and quite beat up. Even with that against us, most of our produce was still in good shape and edible. They gave me a 25% credit for the few items that were damaged or wilted.
-My friend had trouble with ordering Organic Mayo from their market section and receiving regular mayo. Again they were quick to make it right.
-Your choices are limited to what they have available. You get to pick six from the first two categories. Maybe you don't love or aren't even familiar with all of the choices. I see this as a positive as well, it encourages us to try new things.
-Some of the produce has been bruised or perhaps not as fresh as I would have chosen. This has mainly been apples and pears. I did get some celery once that was pretty stringy and not crisp. Of course I have had the same experience at the grocery store.
-Occasionally they will wind up being out of an item that you ordered and they will send a substitute. I have not experienced that first-hand, but my friend received celery root in place of something else and she wasn't thrilled with that choice.
How is Misfits Produce Packaged?
All of the packaging is Eco-friendly which means it is biodegradable and or recyclable.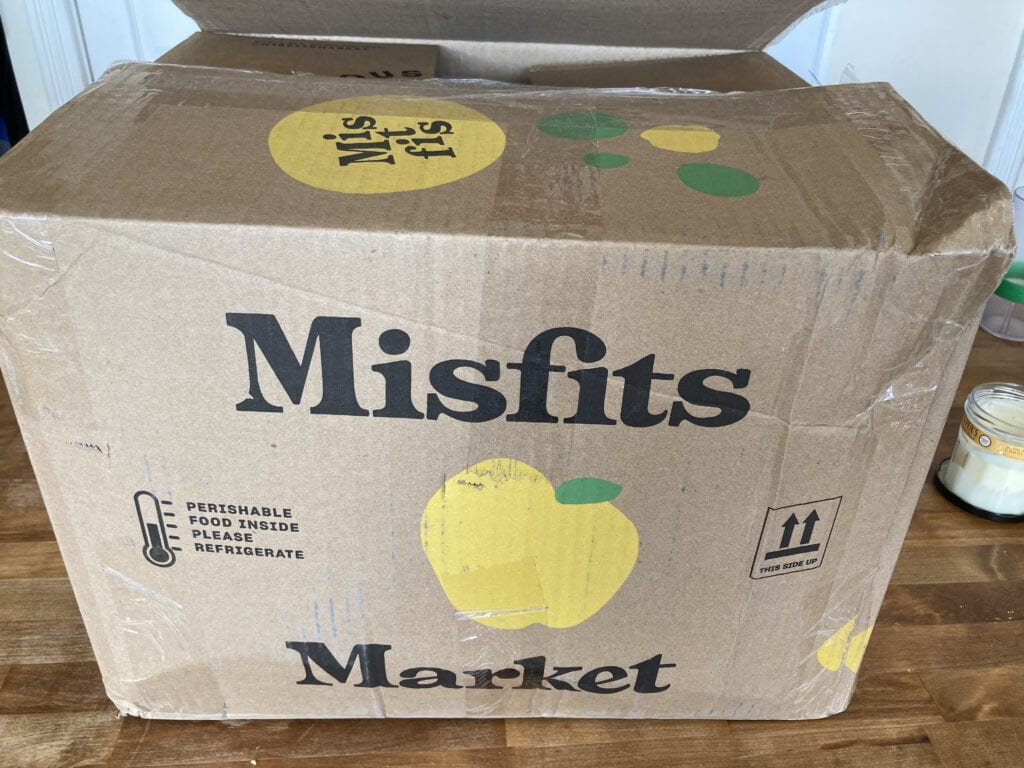 The insulation is paper based and the plastic is recylable.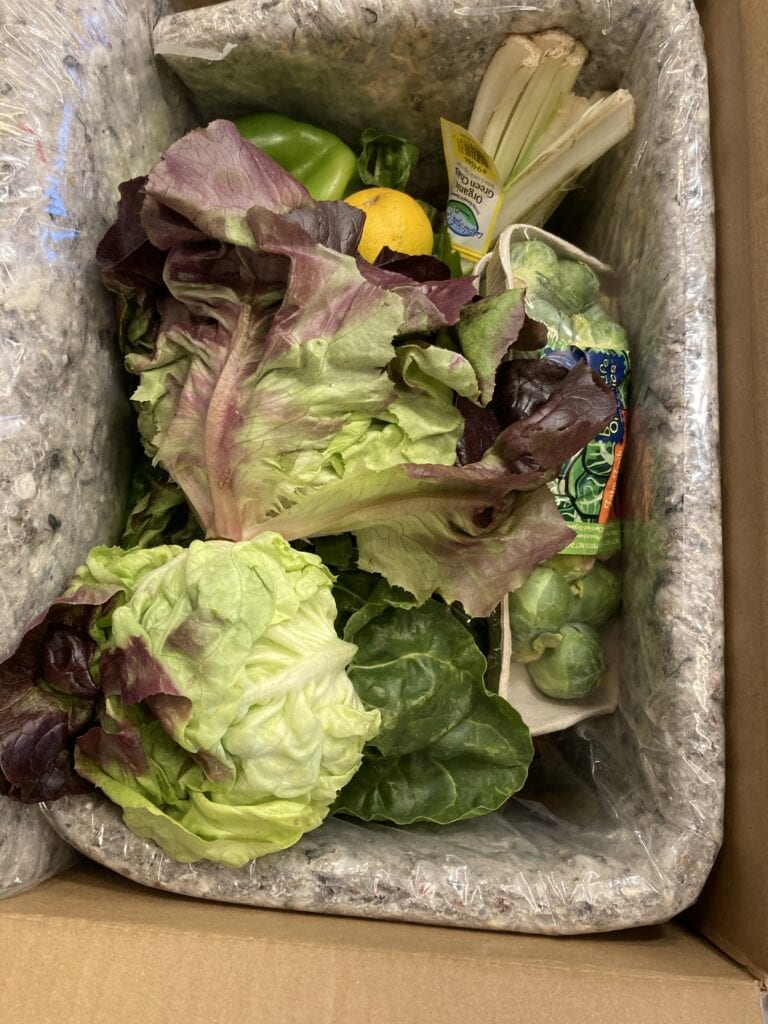 How Expensive is the Produce?
At $35 for a large box and $22 for a smaller one. The weekly price is very affordable. The prices are very comparable to what you would pay for produce anywhere else. It is definitely a value for people like us that live in the middle of nowhere. Our local Walmart carries some organic produce, but to get this much of a selection we would have to travel for hours.
I can't speak to the smaller box, but the large box is A LOT of produce definitely enough for our family of 12 for a week. The only produce we need to supplement is sometimes apples and baby carrots. Our kids eat a lot of those daily.
Want a Discount Code for Trying Misfits Market?
If you sign up for Misfits Market through this link, you will receive 25% off your first order and I will get 25% off my next order.
Pin and Share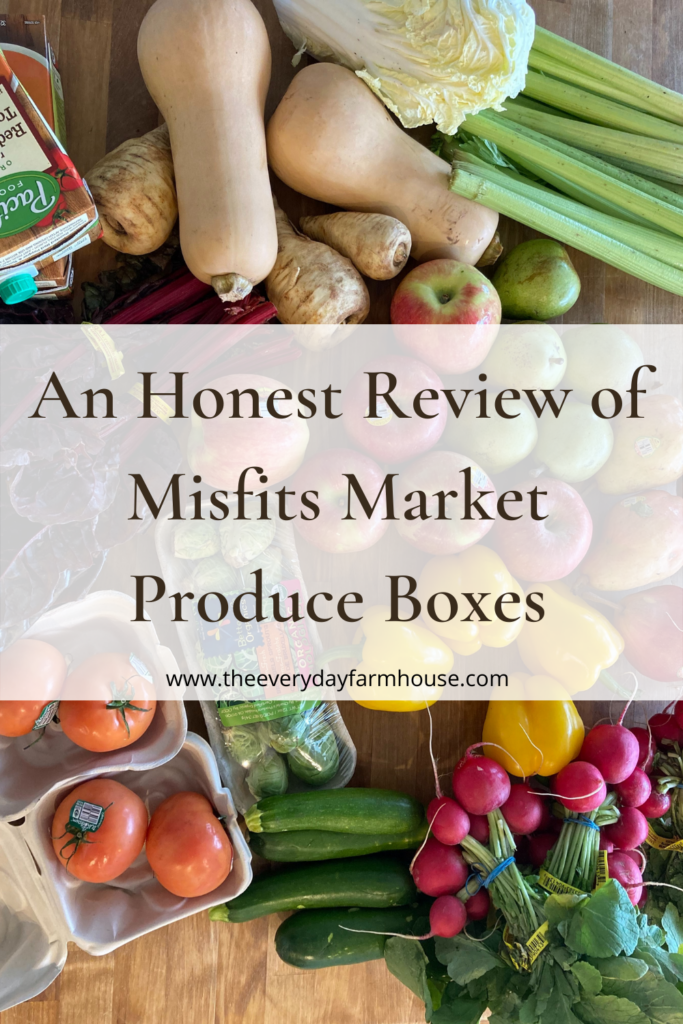 Need Help With Meal Organization?
Grab my meal planner from my Etsy Shop!