How to Make Butter from Raw Milk
Butter from raw milk is simple to make and very affordable! You can culture the cream first and add extra flavor and probiotic benefits!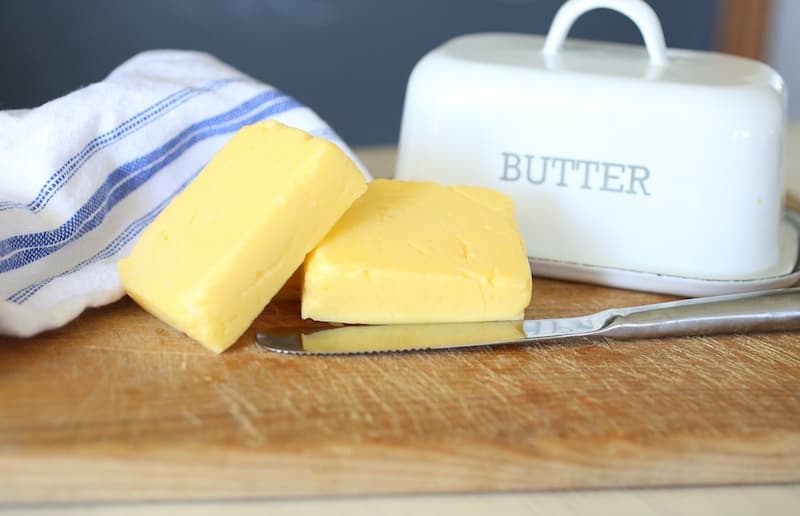 This post contains affiliate links
Disclosure: Any information given is my opinion formed through my own research. This information is not meant to diagnose, treat, prevent or cure any illness. Please do your own research regarding your health as you are responsible for your own decisions.
Where to Source Raw Milk
The best way to find a good source of raw milk is to ask around. Before we had a cow I would just ask people I knew if they had a good source for raw milk. We have found local families with a cow that have extra milk.
Check on Craigslist and Marketplace as well. I once found a source from there!
For many years we would drive an hour to buy milk from a dairy. Looking back while yes, we were getting raw milk, I don't know that it was the best quality. If you are concerned with antibiotics and such being used on the animals, it's best to talk to the farmer and find out exactly how the cows are handled. Of course, you should do so respectfully without looking down your nose at their choices!
Depending on where you live, you may be able to find a local store that sells raw milk.
If you have the land, you could always buy a cow!
What is Cultured Butter
Cultured butter is made from cream that has been allowed to ferment or sour. This gives the butter an extra depth of flavor and also boosts the probiotic benefits! So slathering your toast with cultured butter is essentially like taking a vitamin…ha!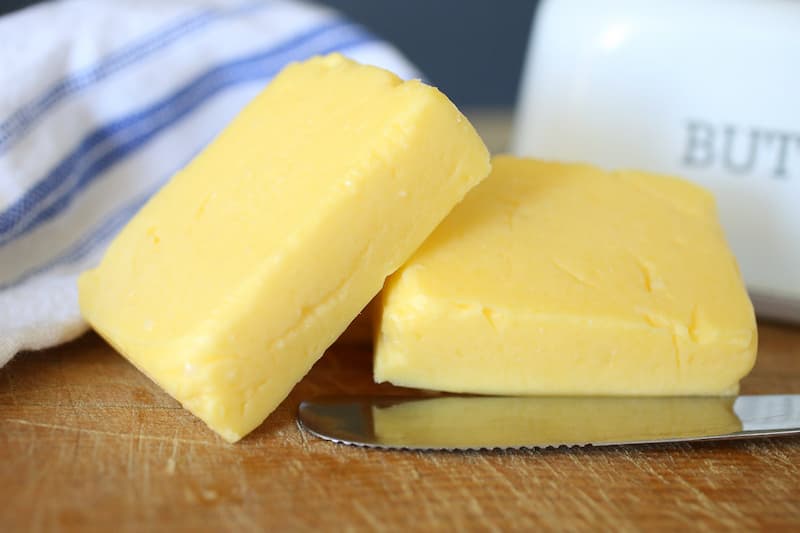 How to Make Cultured Butter from Raw Milk
When I want to culture my cream for making raw milk butter I simply skim it off like usual and place it in a jar. Next, I add a spoonful of raw milk yogurt. Then, I cover it with a light cloth secured with a rubber band and leave it out on the counter for 24 hours. Then I follow the steps below for making butter.
There are other ways to culture the cream, you could add a bit of mesophilic starter or you could simply leave it out on the counter to naturally sour. Leaving it out really does work fine most of the time. I like to add just a bit of yogurt so that the taste comes out consistent. Either way, leave it out until it smells and tastes pleasantly sour.
If leaving it out on the counter to sour does not appeal to you, you can also leave it in the refrigerator for a more extended period of time and allow it to sour there. It may take up to two weeks for it to sour in the fridge.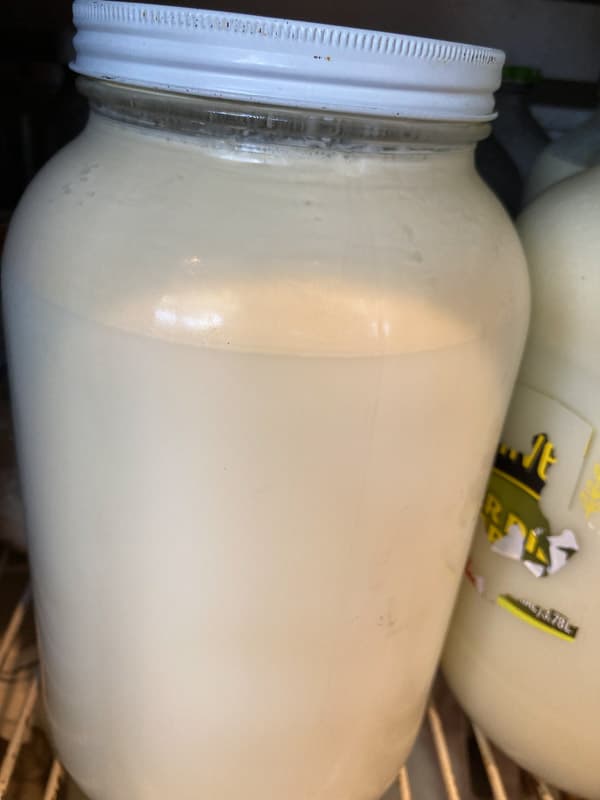 Steps for Making Butter with Cultured Cream or Not Using a Mixer
You can also use a blender, food processor, or butter churn or you can just shake and shake and shake it! I like this mixer and have been so happy with it! I use it almost daily for so many different things! You can probably find one cheaper than the price in the link, I don't think I paid that much!
Skim the Cream off of the Milk
The cream will separate and be visible after sitting in the fridge for a day or so. The longer the milk sits in the fridge, the thicker and more visible the cream will be. I like to skim the cream off after at least two days of sitting in the refrigerator.
Place the Cream in a Mixer or Blender
The cream temperature can be cold or room temperature. I think cold cream and a frozen mixing bowl and whisk bring the cream to butter faster than room temperature. When it is room temperature I find that it takes around 15 minutes.
If you have one of these splash guards for your mixer, you will definitely want to use it. I also cover the opening with a light kitchen towel. The buttermilk splashes out pretty quickly! This guard looks even better, I may need to get that set!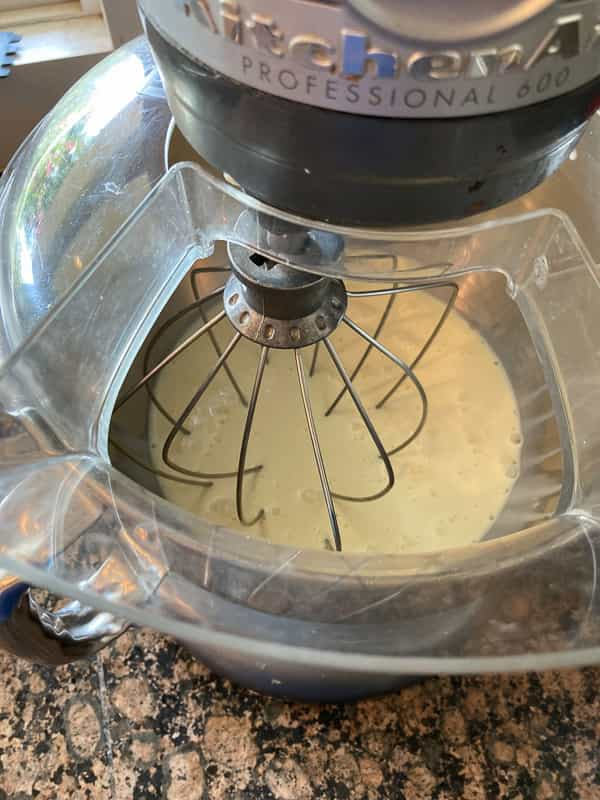 Begin Mixing the Cream
There will be several stages that the cream will go through before it is butter. Initially, it will just look like cream sloshing around in the bowl, then it will gradually start to thicken.
You will notice the cream getting thick and turning to whipped cream!
Shortly after the whipped cream stage, the cream will begin to turn more solid and separate from the liquid, you are not quite there yet, keep mixing! It will look like chunks of butter mixed with a cloudy liquid.
Once the liquid (buttermilk) has wholly separated and the butter has formed a blob on the mixing whisk, you are done! You have made butter!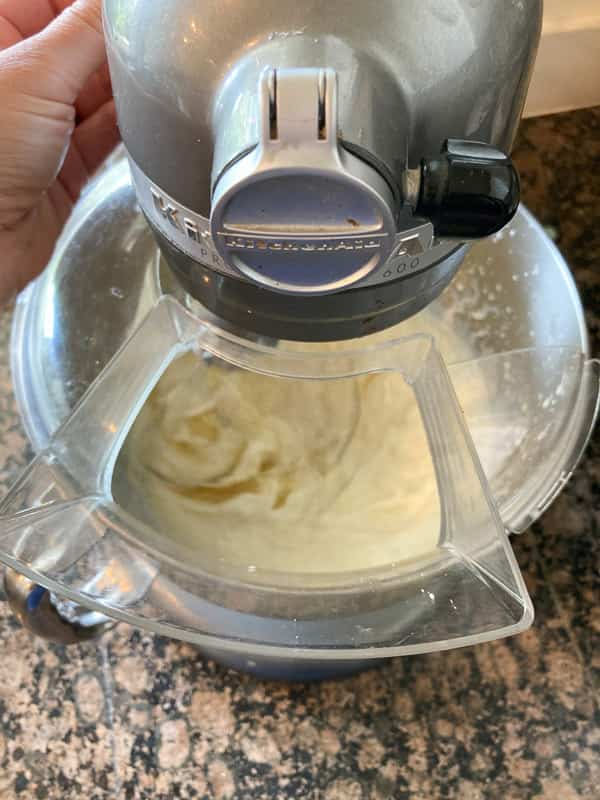 Rinse the Butter
This is the part that is rather tedious but essential. In order for the butter to store well, you must rinse all of the buttermilk out of it. This takes a bit of time and effort but you will be glad you took the time to do it!
Once the water runs clear, you are done rinsing.
I like to put the butter on a board and press the butter to get all of the water out before I put it in the molds. I just lean the board against the sink and let any liquid run out.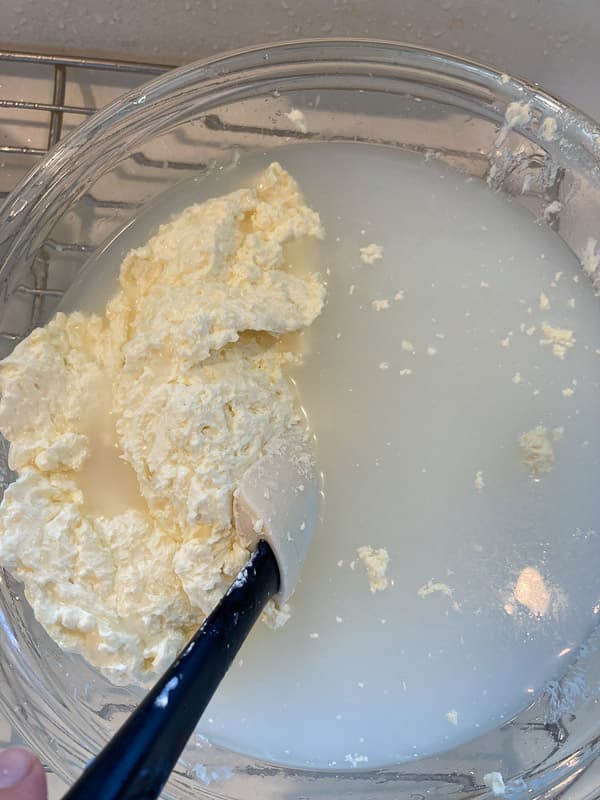 Salt the Butter (If desired)
I always salt my butter, it adds flavor and another layer of preservation. There isn't really an exact measurement for this, just a good-sized pinch, or to taste. If you absolutely need a measurement try about 1/4 tsp.
Put in a Mold or Roll into a Ball
I use these soap molds just because I know the amount is equivalent to a stick of butter and I had it on hand. However, I am thinking I should buy these molds as they would fit in a butter dish better. Or you could go all fancy and get one of these wooden molds…so pretty! Press the butter into the molds and store in the fridge until you are ready to use!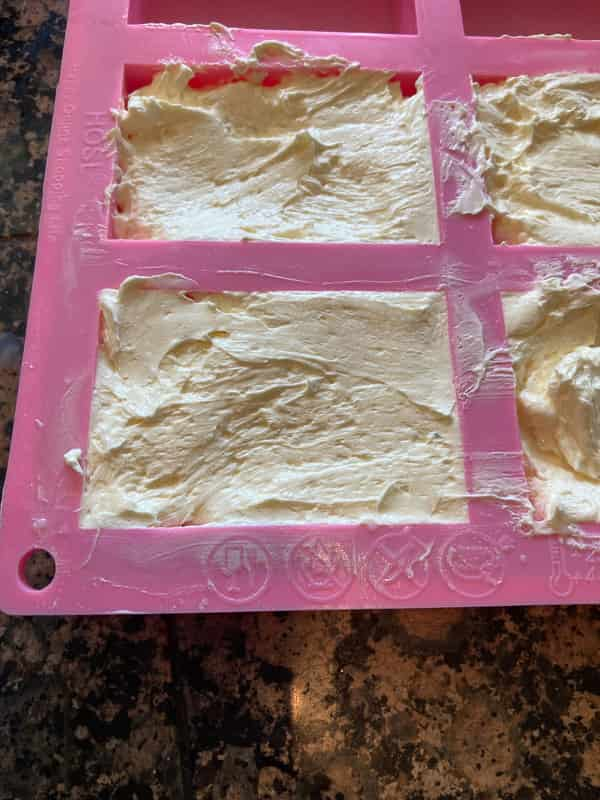 How to Make Raw Milk Butter Video
Butter Made from Raw Milk
That's it! The process is pretty simple and my kids love making butter with me! It is definitely a money saver if you have raw milk available to you!
Happy homemaking!
Check Out My Shop for Helpful Planners and Pretty Aprons!