Father's Day Treat–Fresh Strawberry Pie
In this post, I will share one of my husband's favorite dessert recipes–a fresh strawberry pie! This post contains affiliate links.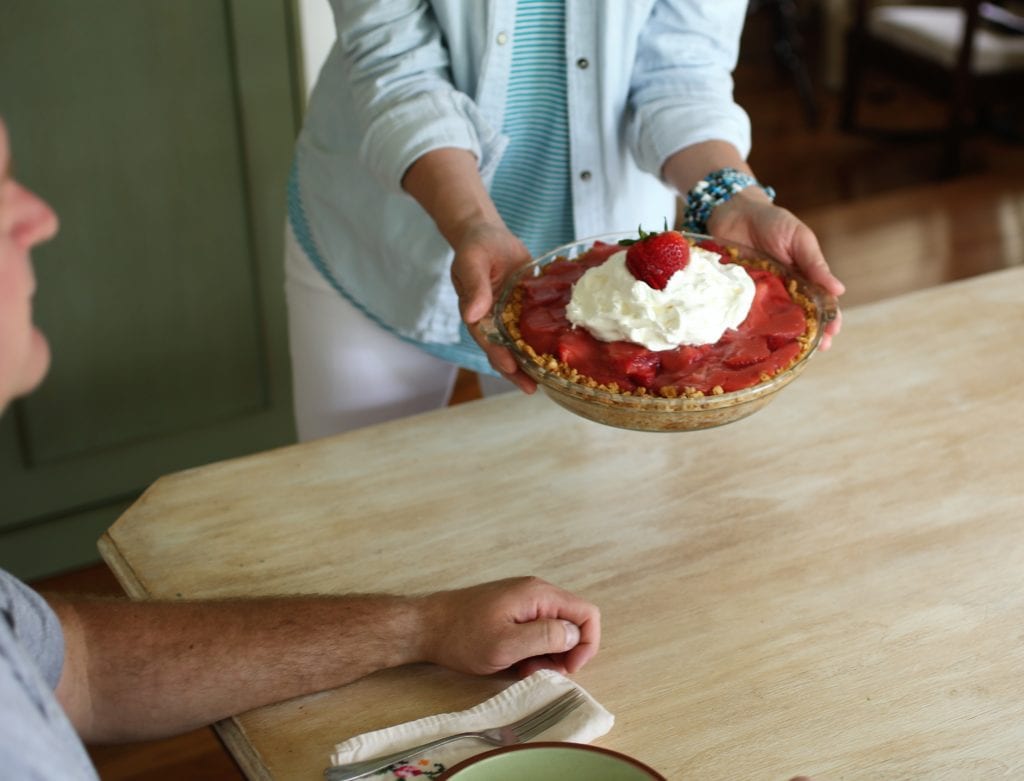 Have you ever read the book "The Five Love Languages?" If not, it's worth reading. It's valuable for understanding yourself, your spouse, and your children. What does this have to do with a recipe for fresh strawberry pie? Well…not much, but maybe pie should be a love language!
The premise of the book is that everyone has a particular "love language." A love language is the one thing that others do for you that makes you feel truly loved. You naturally show love the way you like to receive love. The five love languages are as follows:
Words of Affirmation
Quality Time
Receiving Gifts
Acts of Service
Physical Touch
My husband says that I have all five…what a lucky man! That just means it is so easy to show me love! I am uncomplicated! His main love language is physical touch, but he also feels loved with quality time.
Something that I find truly fascinating about this, is the fact that you can see how a person likes to be loved from the time they are little. My mother-in-law reports that my husband was a bit clingy! He liked to be carried around in a backpack, and pretty much wanted to be held all the time.
I will tell you this: His love language is not gifts! He is completely unimpressed with gifts…really, stuff in general. Stuff just doesn't do much for him. So, for Father's day, the kids and I will make him a special treat. No fancy gifts–just lots of hugs and quality time with a special dessert! That is why this post is not a Father's day gift round-up. Although, my dad likes gifts, so perhaps next time I will have him help me with that!
Recipe: Fresh Strawberry Pie
This recipe comes from my friend Cypress. For a wedding gift, she gave us a recipe box with several of her favorite recipes tucked inside. Many of her recipes have been favorites of ours for many years.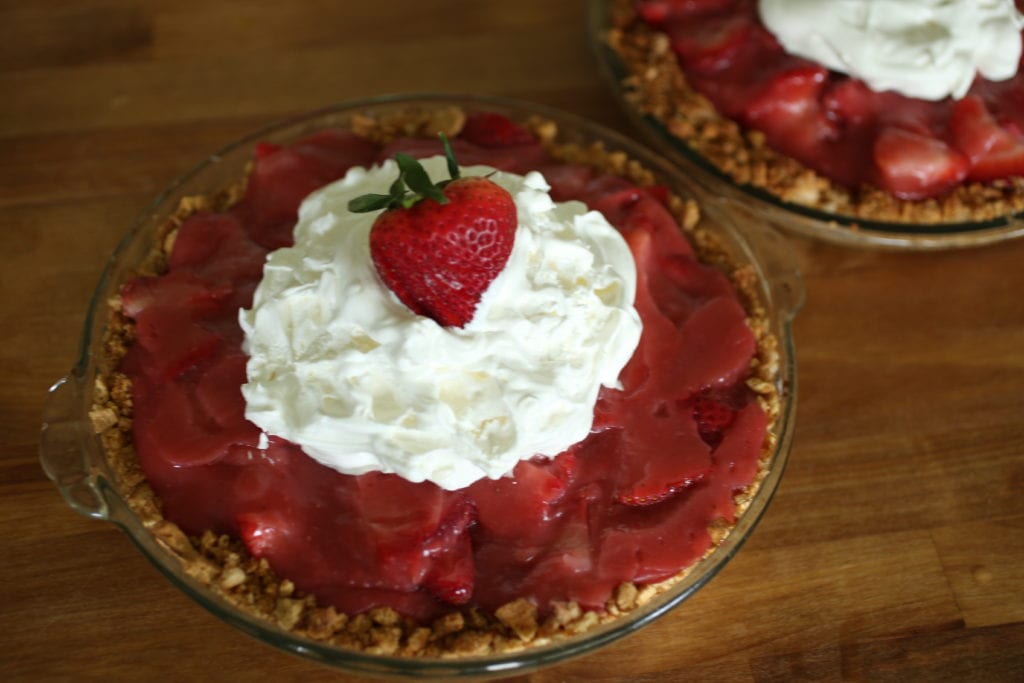 Step 1: The Crust
I melt the butter right in the pie pan while the oven heats up. Set your oven to 400 degrees and put the pan in with a stick of butter. Let it melt while you crush up the graham crackers. To crush the graham crackers, you could use a food processor, or let your kids mash them up in a gallon bag with a rolling pin.
Once the butter is melted, put the 1/3 cup of sugar, and the graham cracker crumbs into a 9.5 inch pan. Stir it together, and then use a measuring cup to mash it into the pan to form a crust.
Step 2: Prepare the filling
Cut up and hull 6 cups of strawberries. Set aside four cups. Puree the remaining two cups of strawberries. Use a blender or food processor. It is very important that you do not add extra liquid to the strawberries. The pie will not set up with extra liquid…ask me how I know!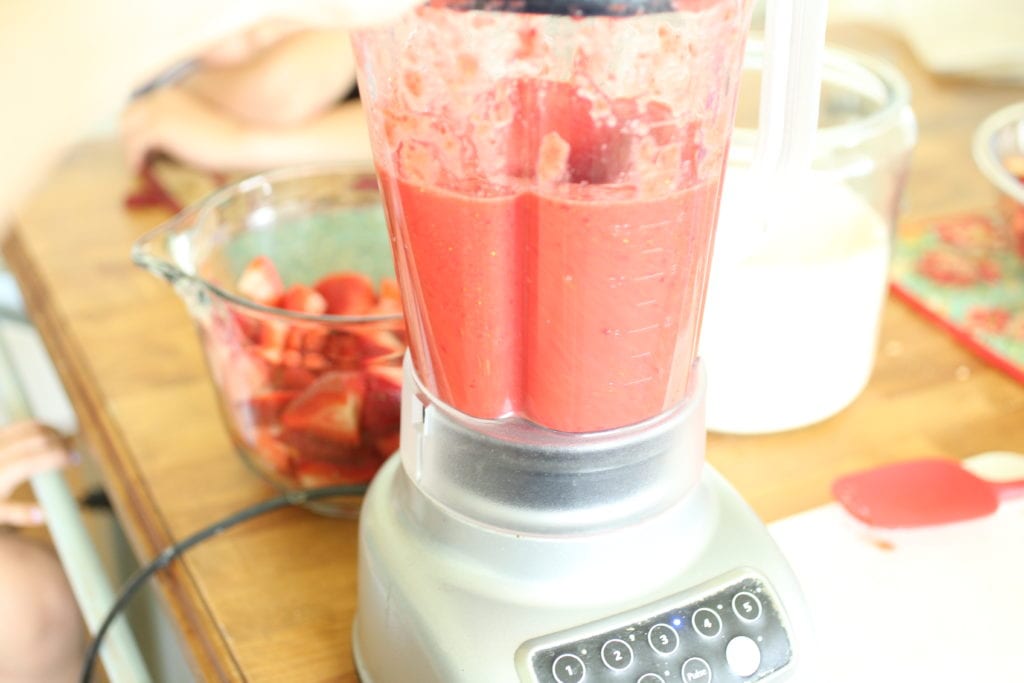 Next, pour the puree into a sauce pan. Make a slurry with the water and cornstarch. This just means add the cornstarch to the cold water, and mix it together. Pour the slurry into the strawberry puree. Add the salt, sugar and butter. Let everything simmer over medium high heat, while stirring it constantly. Cook for a minute or so after it simmers–just until it thickens and deepens a bit in color.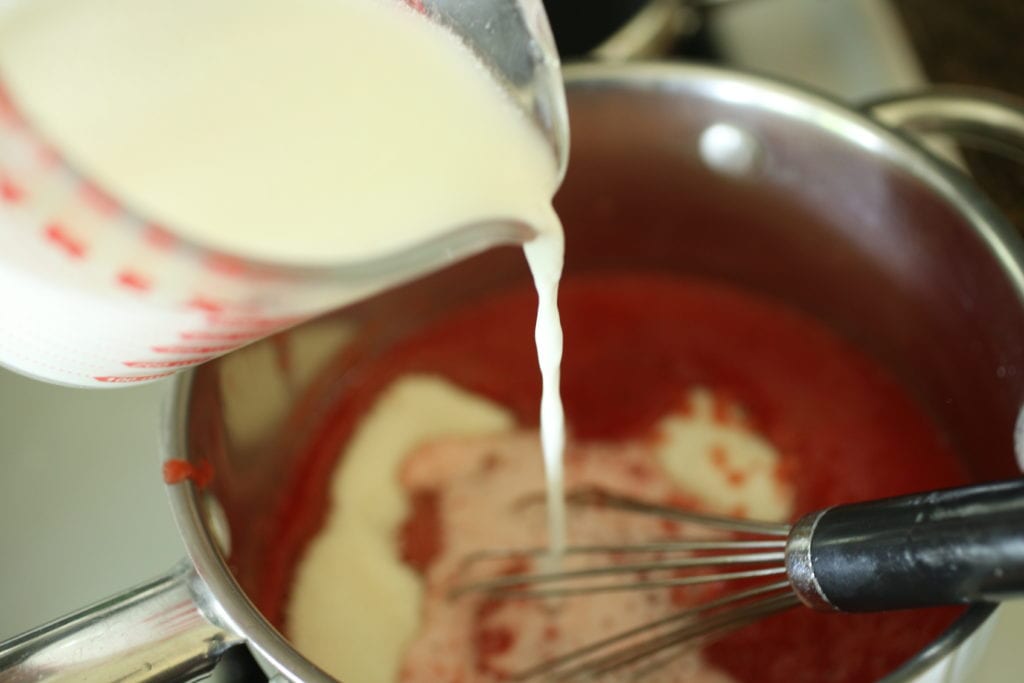 Step 3: Assemble the pie
Now, put some strawberries into your prepared crust and pour about half of the puree over them. Next, add the remaining strawberries, and pour the remaining puree over the top. Spread it, and give the pan a little shake to fill in between all of the berries. Lastly, cover and put in the fridge to chill for about four hours.
Step 4: Top with some whipped cream and enjoy!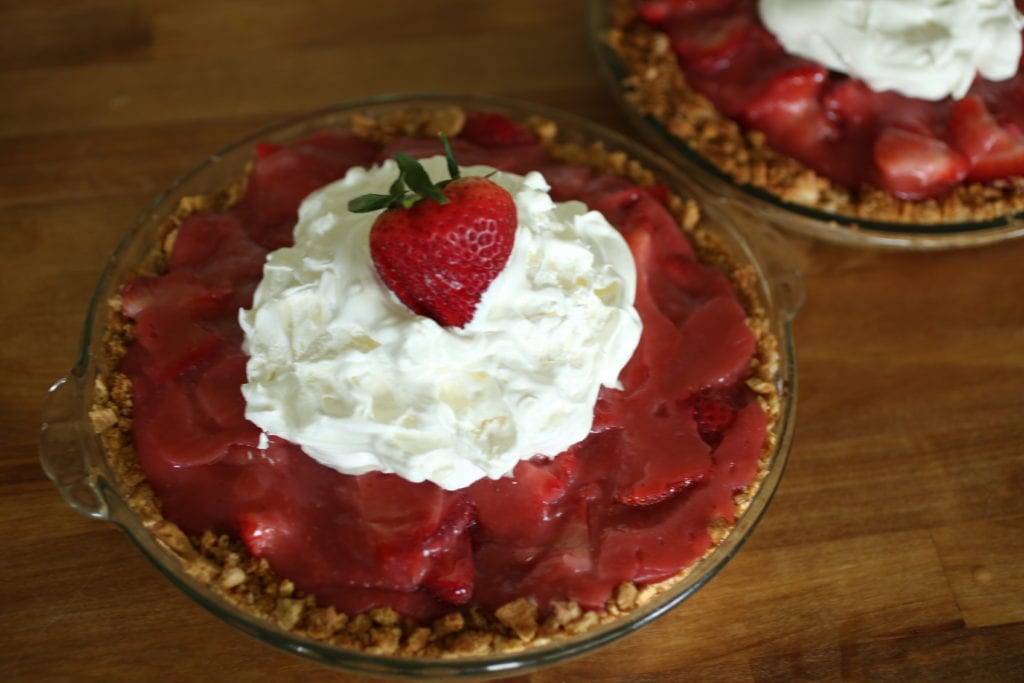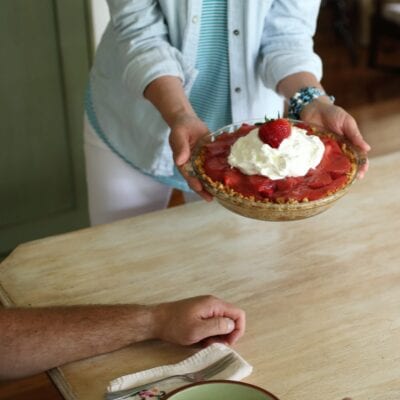 Fresh Strawberry Pie
Buttery graham cracker crust and delicious strawberries. This cool pie is perfect for a June treat! Plan ahead, as this needs to chill for four hours!
Ingredients
6

Cups

Strawberries

cut and hulled

1

Cup

Sugar

1/8

Tsp

Salt

1/4

Cup

Corn Starch or Arrowroot Powder

1/2

Cup

Water

2

TBS

Unsalted Butter

I use salted with no issue
Graham Cracker Pie Crust 9"
1/2

Cup

Melted Butter

1/3

Cup

Sugar
Instructions
Rinse, dry and hull the strawberries. Cut large strawberries in half. Set aside 4 cups. Puree the remaining berries in blender or food processor. Do Not add extra liquid to puree. In a medium sauce pan, whisk together water, corn starch, salt and sugar. Stir in the pureed berries along with the butter. Bring mixture to a simmer over medium-high heat, stirring-Constantly. Cook for one minute.

Pour 1/2 of the reserved berries into crust, and pour 1/2 of the hot berry mixture over those. Cover with remaining berries, and spoon the rest of the hot mixture on top. Gently shake to coat evenly. Refrigerate for at least 4 hours to set.
Pie Crust
Mix together the crumbled graham crackers, melted butter and sugar. Next, press into the bottom, and up the sides a bit in a round pie pan. I like glass. Bake at 400 degrees for 5-8 minutes until it starts to set.
Notes
Feel free to use a store bought pie crust.  They are not as tasty, but the pie will still be yummy.  Don't forget to plan ahead, as this has to chill for four hours!
Pin for Later!
The Book and Helpful Tools