Old-Fashioned Biscuit Recipe with Lard and Whole Wheat Flour
Old-fashioned biscuits with lard have a rich flavor, a tender interior, and a delicate, crispy exterior. The mention of lard biscuits conjures images of warm, savory goodness straight from the oven, ready to be slathered with butter or smothered in gravy, making them an enduring favorite at breakfast tables or a tasty addition to soup or stew at dinner!
Depending on where you are from, biscuits may be a regular occurrence at your table. However, my husband who is from the North Eastern US, never really ate biscuits….can you imagine? He prefers English Muffins! That's OK, he has adjusted and can now enjoy a good biscuit…especially if it's slathered in gravy!
We had these biscuits with butter and apple butter, my recipe for that is here! So good!
This post contains affiliate links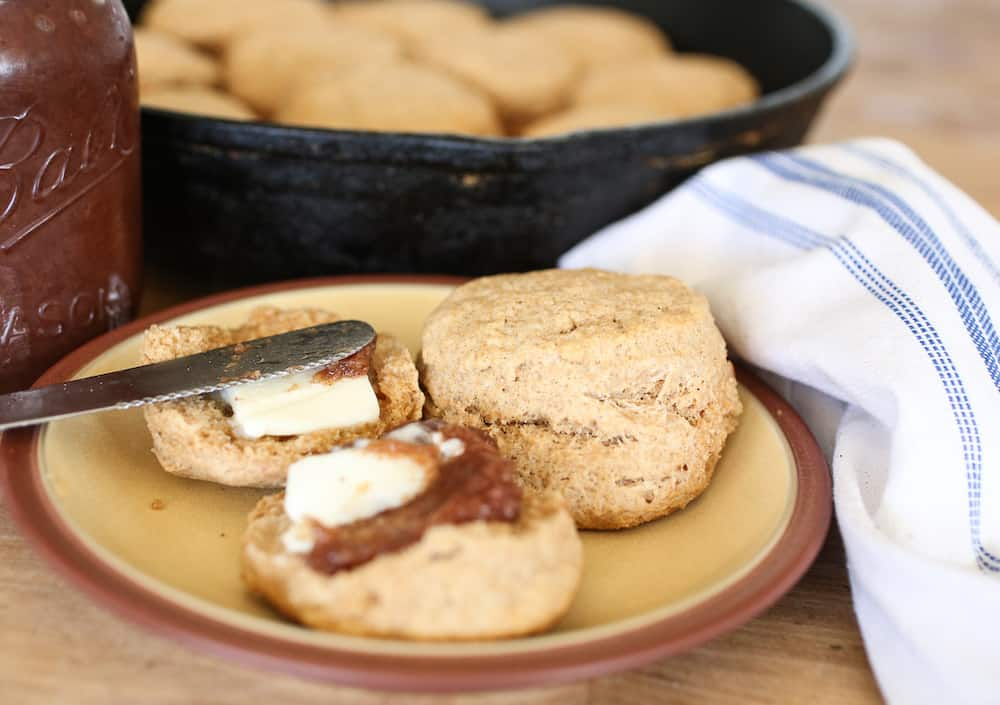 Why Use Lard for Biscuits?
Much like using lard for making pie crust, lard has specific qualities that create tender and flaky results.
Flakiness: Lard is a solid fat at room temperature but melts at a higher temperature than butter. This means that when it's incorporated into biscuit dough and heated in the oven, it creates steam pockets that help to leaven the biscuits. This results in a flaky and tender texture that most people enjoy in biscuits.
Flavor: Lard has a distinctive flavor that can enhance the overall taste of biscuits. It imparts a rich and savory quality that can complement the sweetness of other ingredients or toppings, such as honey or jam.
Moisture: Lard contains a small amount of water, which can help to keep the biscuits moist and tender. This moisture content can be especially beneficial when making biscuits, which can become dry and crumbly if overworked or overbaked.
Shortening properties: While lard and modern-day shortening are not the same, lard is considered a shortening and really the first one. Lard helps to inhibit the development of gluten in the dough. This leads to a more tender and less chewy texture in the biscuits.
What is the Difference Between Lard and Shortening (Crisco)?
Lard and shortening are both fats commonly used in cooking and baking, but they have distinct differences. It might sound confusing but the term shortening used to mean lard and only lard. Lard was the only fat available to use most of the time. Things like Crisco and margarine simply didn't exist. Butter existed, of course, and while you could use it as shortening, it simply isn't ideal to use in every kind of baking and it was expensive. Shortening was considered any fat that was solid at room temperature.
Lard is a fat derived from rendered pork fat. In contrast, modern-day shortening or Crisco is made from hydrogenated vegetable oil. For years we were led to believe that the latter was a healthier option. However, that is simply not true. You can read all about lard here.
Tips for Tender Biscuits
Don't overwork the dough, fold it a few times flatten it, and cut
Use a biscuit cutter. A glass will work in a pinch but that thin sharp edge of a biscuit cutter allows the biscuit layers to rise. A glass or other round object can smoosh the layers as you cut.
Leave the dough a bit moist and on the sticky side, don't over flour when you pat it out
This set would make a great gift to yourself! You can cut biscuits and roll out pies with it!
Ingredients for Biscuits with Lard
2 cups flour wheat or white or a mix
1 TBS baking powder
1/4 tsp baking soda
1 1/4 tsp salt
8 TBS cold lard
1 cup buttermilk or sour milk (If you don't have either on hand, you can add 1 TBS vinegar or lemon juice to your measuring cup, then fill the cup with milk up to the one-cup line. Let it sit for at least 5 minutes and you will have sour milk or a buttermilk substitute)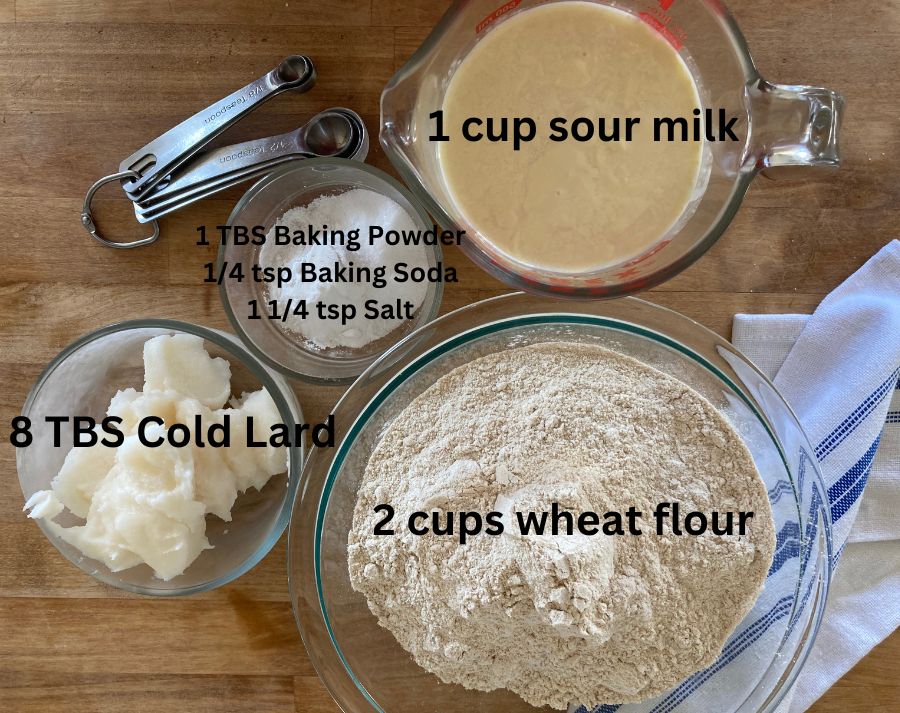 Steps for Making Lard Biscuits
Chill the lard
Preheat the oven to 425 degrees F
Whisk together the dry ingredients
Cut the lard into the dry mixture
Add in the buttermilk or sour milk
Lightly work the dough until it is cohesive
Pat onto a lightly floured surface. Cut the biscuits out and place on an ungreased sheet or cast iron skillet
Bake for 12-14 minutes or until golden brown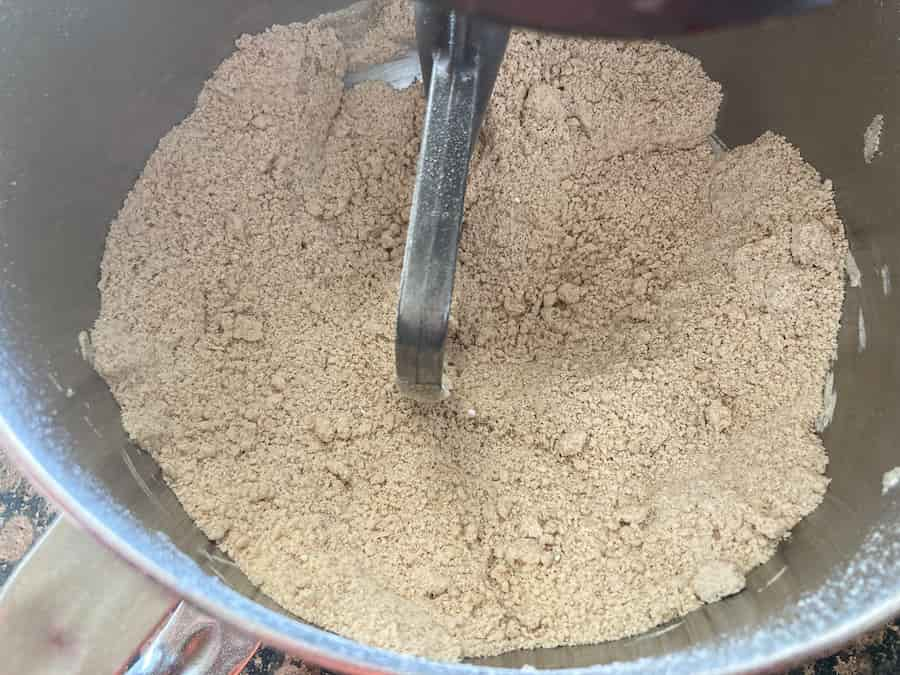 I made a batch with white flour and that is the photo below. They certainly are a prettier biscuit but we really prefer the whole wheat flavor.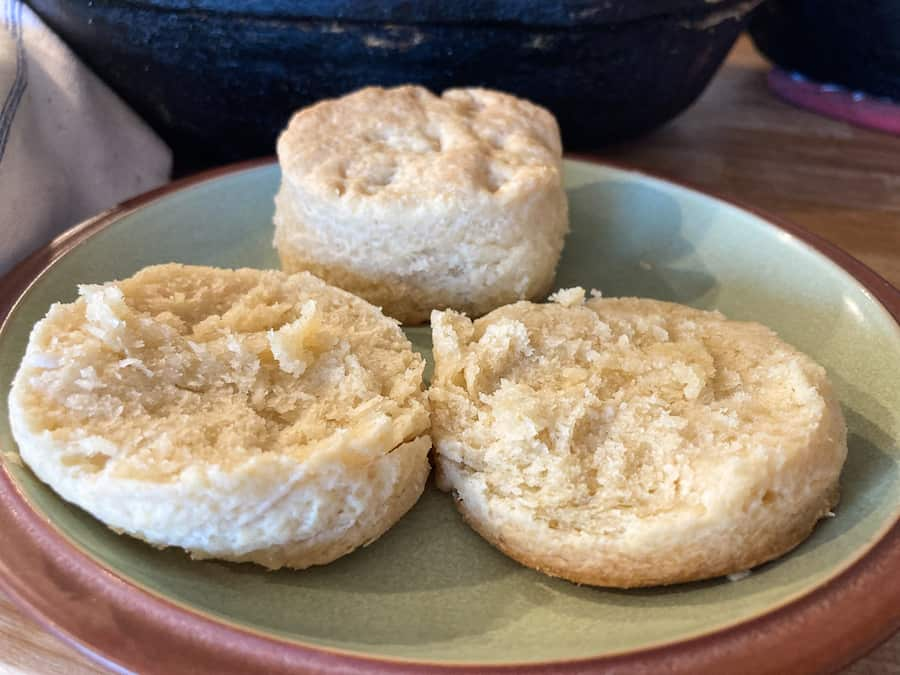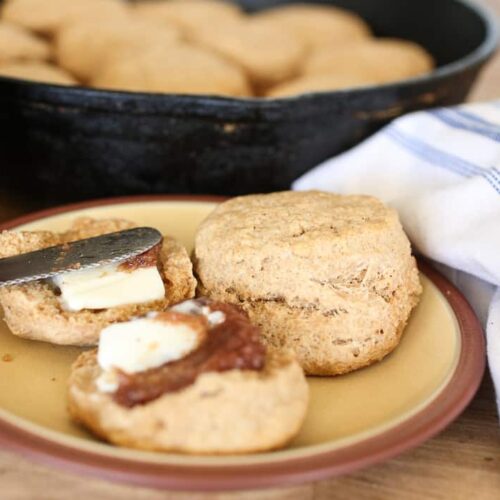 Old-Fashioned Lard Biscuits with Whole Wheat Flour
A tender flaky biscuit, perfect for slathering with butter and honey or gravy!
Equipment
1 Pastry Blender or mixer

1 Biscuit cutter
Ingredients
2

cups

Whole Wheat or White Flour

1

TBS

Baking Powder

¼

tsp

Baking Soda

1¼

tsp

Salt

8

TBS

Lard

Cold

1

Cup

Buttermilk or sour milk

You can pour 1 TBS vinegar or lemon juice into a measuring cup, then fill the rest with milk up to the 1 cup line. Let it sit for at least 5 minutes and the milk will sour.

1

tsp

melted butter

for brushing the tops of the biscuits
Instructions
Preheat the oven to 425°

Whisk together the flour, baking powder, salt, and baking soda. Using a pastry blender or stand mixer, gently cut the lard into the flour mixture until it looks like coarse crumbs. Add the milk and mix until just incorporated, don't overmix.

Next, dump the dough out onto a lightly floured surface. Use less than ¼ cup to flour the surface. Fold the dough over and over several times until the dough is cohesive and easy to work with. It's ok if it's a bit sticky still.

Once incorporated, pat the dough into an oblong shape about ¾" thick. Then using a biscuit cutter cut out the biscuits and place them on an ungreased tray or cast iron skillet. Brush the biscuit tops with the 1 tsp melted butter.

I used a 2.5 inch biscuit cutter, you may get more or fewer biscuits depending on the size of your cutter and how thick you pat your dough.

Bake at 425° for 12-14 minutes or until golden brown on top.

Top with butter, honey, or apple butter! Or slather them with sausage gravy! Enjoy!
I hope you give these a try and enjoy them as much as we do!