Traditional Apple Butter Recipe in the Crockpot
You can easily make delicious traditional apple butter in your crockpot! With some fresh apples, sugar, and a few spices you can have the best apple butter!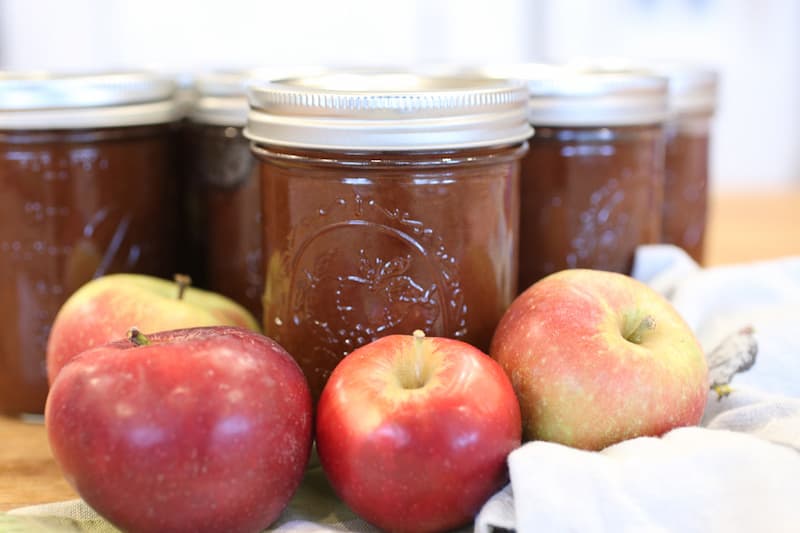 Tools for Making Apple Butter
I used to make apple butter in the crockpot by peeling and chopping the apples into small pieces. I would then cook it all down until the apples could easily be mashed. You can certainly do it that way as I did for years. It works, but it does take a long time to cook the apples down and the result was chunkier apple butter. You could also do it that way and use an immersion blender to blend the apples up into a nice smooth consistency.
Recently I purchased a Johnny Apple Sauce Maker. I also bought an Instant Pot a couple of years ago. These tools are certainly not necessary to make apple butter, however, they do streamline the process and save you all of that peeling and chopping. If you need any more reasons to buy an Instant Pot, check out this post here.
How to Make Apple Butter in the Crockpot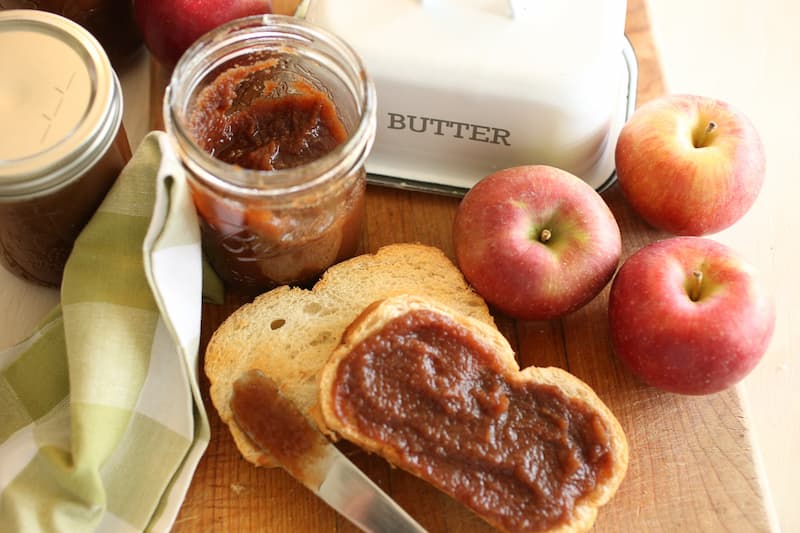 For this apple butter, I followed my recipe for making applesauce here. It's super simple, quick and best of all there is no peeling! Once you have the applesauce, you can go on to the next step. Of course, you could use store-bought applesauce as well!
First, I fill the crockpot to the brim with applesauce, this was over six quarts of applesauce. Then add 3 1/2 cups of sugar. I know it's a lot, feel free to use less, I tried it but it was more tangy than sweet. It just didn't taste like traditional apple butter. Next, I turn the crockpot on high. I leave the lid off of the crockpot and leave it to cook down. I do stir it occasionally.
It can take 12 hours or more for the applesauce to cook down to a thick spreadable consistency. I do not add the spices until it has cooked down for several hours. I find that the cinnamon and spices kind of dissipate as the apple butter cooks, so I wait to add it until later.
After it has cooked down you will notice it starting to get darker and the liquid on the sides will be bubbling. When you decide to add your spices, you will add 2 TBS cinnamon, 2 tsp allspice, 1/4 tsp nutmeg, and 1/2 tsp cloves. This is not a science, you can experiment with more or less of each. If you don't have allspice, just add extra cloves. I find nutmeg to be a bit overpowering so I don't add too much of that.
Stir it all in and let it cook down until it looks glossy and has reduced several inches. I look for it to be glossy and have very little liquid pooling around the edges. If you don't have hours to babysit it and if you started it too late in the day and need to go to bed, just put a lid on it and let it cook on low or warm overnight. Then take the lid off in the morning and turn it back on high.
Twelve hours is usually how long I let mine cook down. However, if the apples were especially juicy it can take longer than that. Just look for the thickness that you want and the glossiness.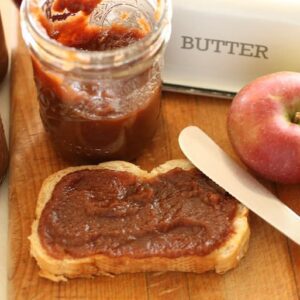 Traditional Apple Butter
Sweet, spreadable cinnamon and spice apple butter. Perfect for toast!
Ingredients
6

Qt

Applesauce

homemade or store bought, or you can peel and chop up 1/2 bushel of apples.

3½

Cups

Sugar

I use organic evaporated cane sugar, you can use any kind you wish, even sucanat

2

TBS

Ground Cinnamon

2

tsp

allspice

¼

tsp

nutmeg

½

tsp

cloves
Instructions
Fill the crockpot to the brim with applesauce. I used a bit more than 6 quarts of applesauce. Add 3½ cups of sugar. Let it cook uncovered on high for several hours before adding the spices. When it has reduced some and a lot of the liquid is cooked out add 2 TBS cinnamon, 2 tsp allspice, ¼tsp nutmeg, and ½tsp cloves. Stir well and let it continue to cook down until it looks glossy and has reduced in the crockpot by several inches.

If you are canning this, you will need 7 sterilized pint jars. Apple butter requires a 10 minute water bath.
Canning Apple Butter
If you would like to make a large batch of apple butter and save it through the winter or give it as gifts, it is very simple to can. You simply fill the jars with hot apple butter and then do a 10-minute water bath.
As with my applesauce, I often heat the jars in the oven on a sheet pan with water in the bottom. After heating the jars for about 15 minutes in a 200-degree oven, I fill the hot jars with hot apple butter and place clean hot lids on the jars. The jars will naturally seal.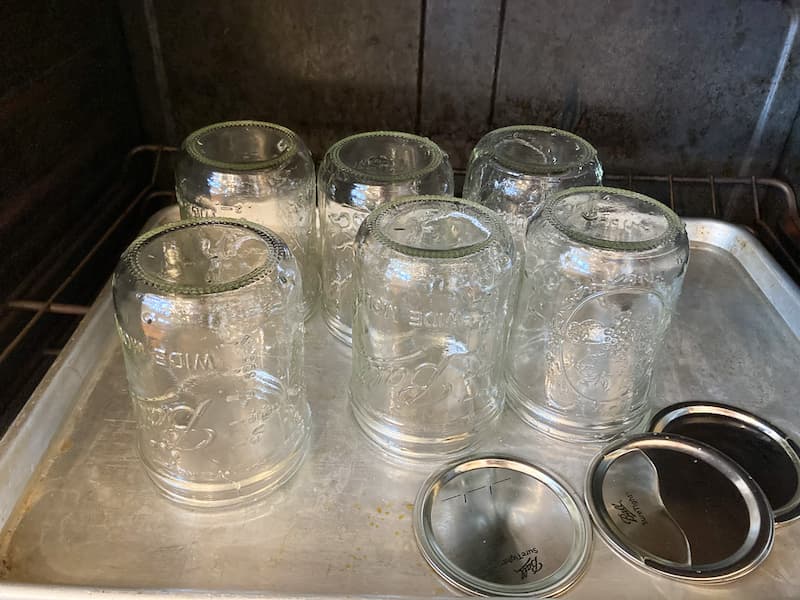 If you are not comfortable with that advice, then by all means just do a quick 10-minute water bath to be sure! Here is a complete tutorial on water bath canning.

Pin for Later