White Chicken Zucchini Spinach Lasagna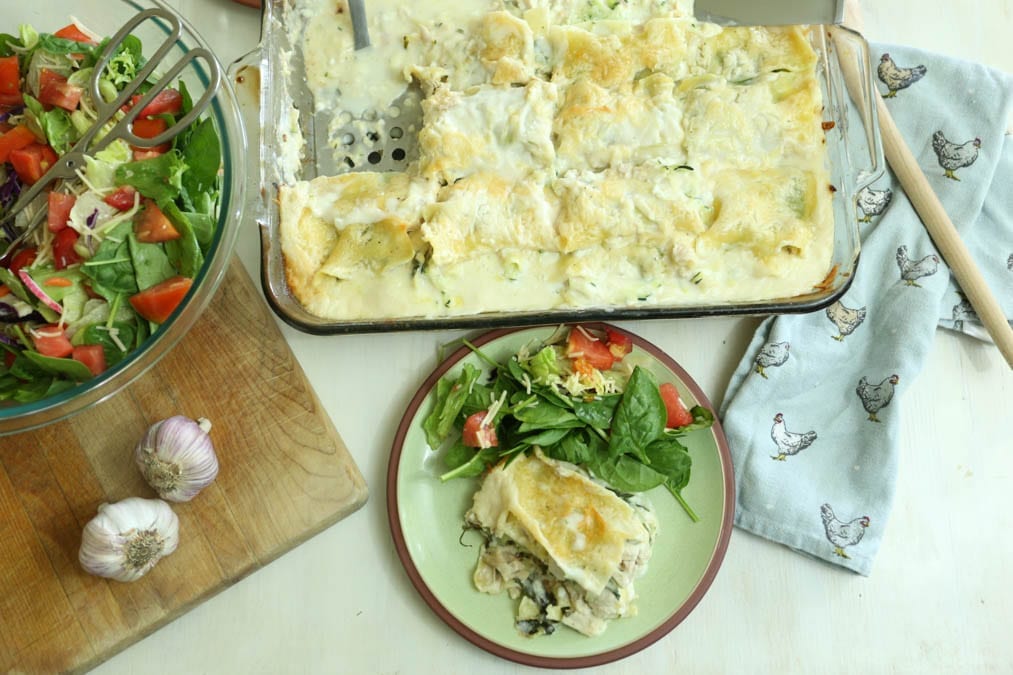 White chicken zucchini spinach lasagna–a sneaky way to eat a lot of green veggies! This lasagna is decadent and really pretty simple to make. It's sure to be a favorite! Also, this makes a large 10x 15 lasagna. This post may contain affiliate links.
This is a take on the first meal I ever made for my husband! I was no cook when we first met. However, I knew how to make this, and I tricked him into thinking I could cook…and so he married me. Ha! Not really, but he did like this meal! Even after we were married, I had maybe two meals that I knew how to make well, so we ate this fairly regularly!
One note about this recipe, I use Romano cheese. If you have never used Romano, it stinks. Sort of like Parmesan stinks. Not foul, but definitely a strong smell. My kids always complain when I use it, but they get over it because it tastes really good! I used to make this lasagna with only Mozzarella and Parmesan, but the Romano adds so much creaminess and flavor that I now always use it!
Zucchini
This time of year, I will put zucchini in anything and everything. It is still growing well, and it's nutritious, so I sneak it into nearly every dish I make. It's just one of those vegetables that is very adaptable. I used to make this lasagna with only spinach, now I add zucchini and it's even yummier!
Oven Ready Noodles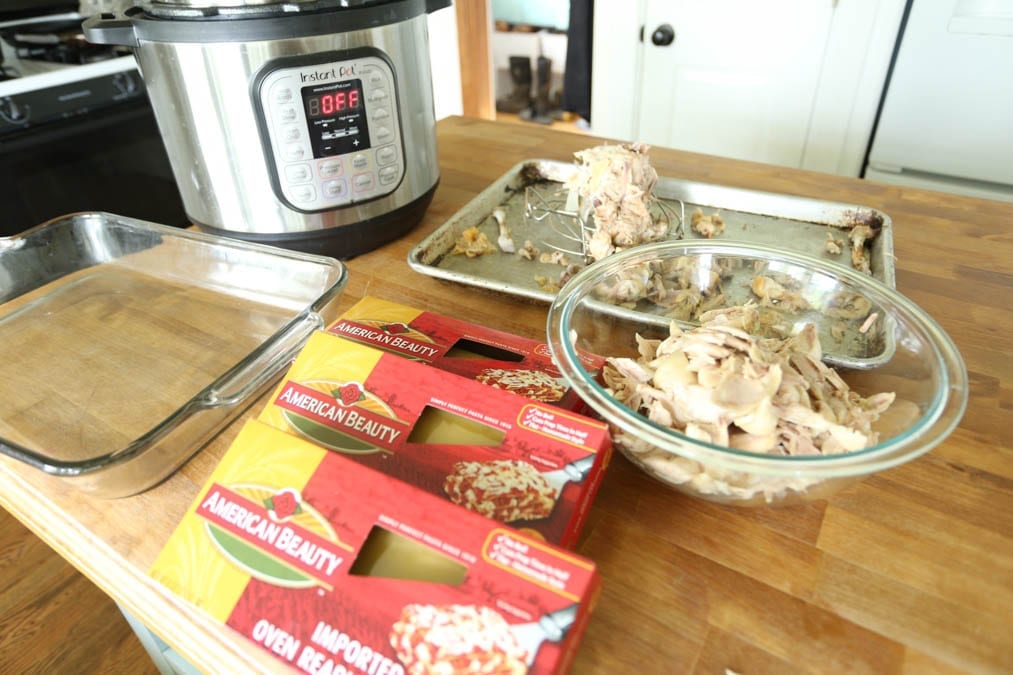 I have always used oven ready lasagna noodles. Honestly, I have never cooked the ones that you have to boil first. However, not all oven ready noodles are created equal. The ones in the picture were not our favorite. They were just straight and flat, and kind of small. Check at your grocery store for a brand that has the long noodles with the ruffled edge. They just make a better lasagna. The layers stay in place better, rather than just sliding off.
Jarred or Homemade Sauce
This is entirely up to you. I usually use a jarred sauce when I make this, but will include a made from scratch alfredo sauce recipe just in case you don't like to use a pre-made sauce.
Alfredo Sauce
This is a pretty simple sauce to make, and really is tasty. I used jarred sauce when I made this. Mainly because I was taking pictures and didn't want to make any more of a mess. Jarred sauce has its place, especially if you are in a big hurry to get dinner on the table! I used Classico, and it was really tasty! It took 3-15 ounce jars for a lasagna this size.
1 Cup Butter
4 1/2 cups Heavy Cream or half and half
1 head of garlic
2 TBS flour
1 Tsp Salt or garlic salt
1/2 Tsp Pepper
1 1/2 Tsp Italian Seasoning
2 Cups shredded parmesan cheese
1 Cup shredded romano cheese
On medium heat, melt the butter in a heavy bottom medium size pot. Add the minced garlic and cook until aromatic. Whisk in the flour and cook for about 2 minutes. Whisk in the cream, or half and half. Add in the seasoning, salt and pepper. As the sauce begins to thicken after several minutes, add in the cheese. Whisk until it is thick and smooth, about 5 minutes.
Chicken
I always use whole chickens. We raise our own meat, so that is what I have on hand. I cook a whole frozen chicken in the Instant Pot whenever I need chicken for a dish like this or for a casserole. For a frozen chicken in the Instant Pot, I cook it 10 minutes per pound on the poultry setting. I then de-bone it when it is done. For this recipe, I used about three cups of chicken, and saved the rest for another meal.
Alternatively, you could bake or boil a few chicken breasts for this meal.
Assembly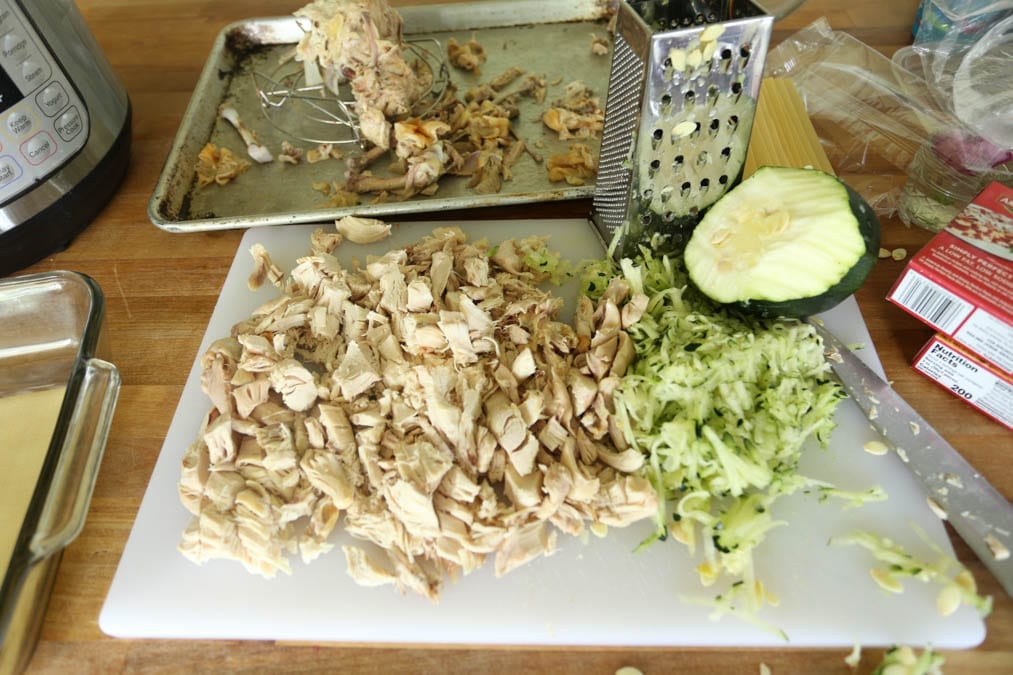 There is certainly no exact science to layering this lasagna. I doubt that I ever do it the same way twice. I am NOT a precise cook. This will turn out fine as long as there is some sauce on each layer over the lasagna noodles. That is how the noodles will cook, and you must have the liquidy sauce over them.
To assemble, start with pouring a bit of sauce in the bottom of your 10×15 baking dish. Next, layer your dry lasagna noodles. Then pour enough sauce to cover the noodles, add some chicken, fresh spinach and shredded zucchini. Top with some mozzarella cheese. Then layer more noodles on. For the next layer, pour a bit of sauce, add the cottage cheese, and top with mozzarella. For the next layer, add the sauce, more chicken, zucchini, spinach, and top with some Romano cheese. Put the final noodle on top, pour sauce over it, and sprinkle with Romano and parmesan cheese.
Spray a sheet of aluminum foil with some cooking spray. Then cover the lasagna and bake at 375 degrees for about 45 minutes. Uncover the lasagna and bake for about 10 more minutes. Let it stand for about 5 minutes before you cut it. Enjoy your white chicken zucchini spinach lasagna!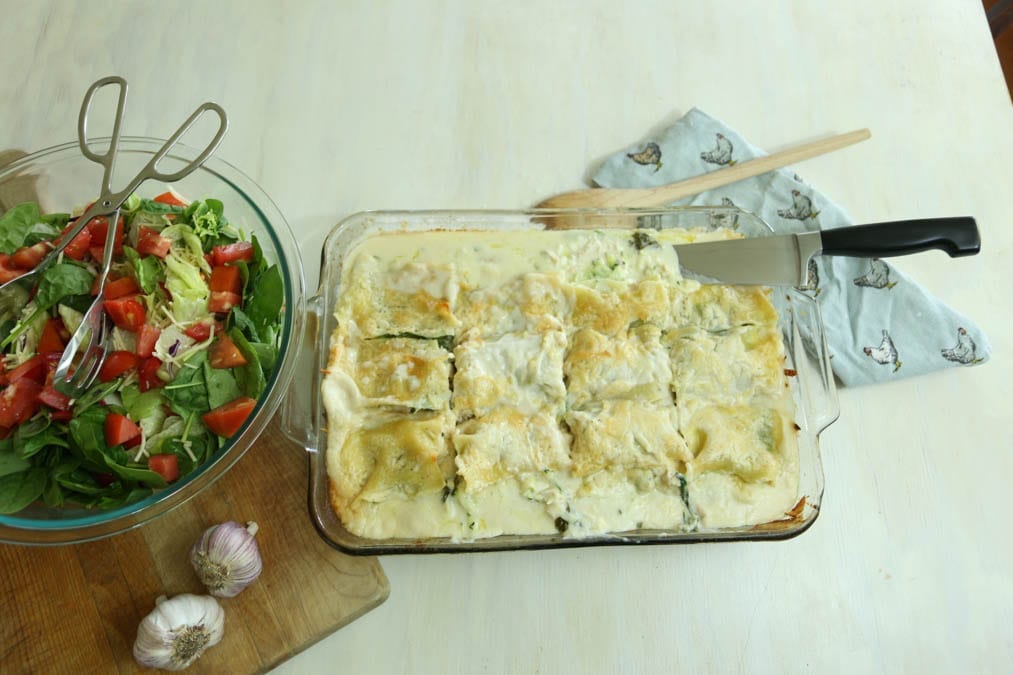 Printable Recipe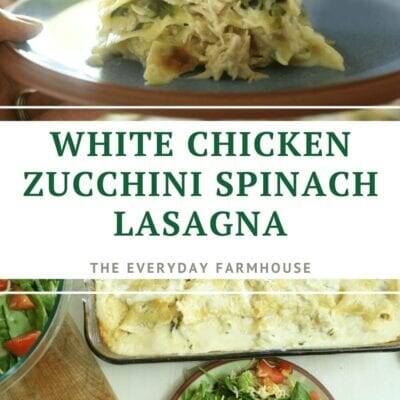 White Chicken Zucchini and Spinach Lasagna
Delicious and easy to make. Simple enough for a week night dinner, but fancy enough for company as well!
Ingredients
2

pkg

Oven Ready Lasagna Noodles

3

jars

Alfredo Sauce

Or Approximately 5 Cups Homemade Sauce

1

pkg

Fresh Spinach

You can used frozen as long as it is thawed and drained

3

Cups

Shredded Zucchini

Add as much as you like

1

Carton

Cottage Cheese

2

Cups

Mozzarella Shredded

1

Cup

Parmesan Cheese Shredded

2

Cups

Romano Cheese Shredded

3

Cups

Cooked and Chopped Chicken

Cook using IP or boil it.
Instructions
First, cook the chicken. I always use a whole chicken cooked in the Instant Pot. You can cook the chicken however you would like. You could boil a few chicken breasts, or you could bake them until done.

If you are not using jarred sauce, go ahead and make the sauce while the chicken cooks.

Preheat the oven to 375°. Shred as much zucchini as you would like. I used about 3 cups or so. Add as much as your family will tolerate! If your cheese is not pre-shredded, go ahead and shred that up now too.

Begin layering the lasagna. There is no exact science to this. You can mix the sauce and chicken together if you like, or leave them separate. Start with a bit of sauce–enough to lightly cover the bottom of the pan. Next, layer the dry noodles. Pour enough sauce over the noodles to cover them. Then layer the chicken, spinach, zucchini, some shredded mozzarella, and some shredded romano. Add another layer of noodles, cover with sauce, then layer on the cottage cheese and top with some more mozzarella and romano. Add another layer of noodles, pour on the sauce, layer with chicken, spinach and zucchini, top with some more shredded cheese. For the last layer, place dry noodles on top, pour the last of the sauce over all of it, and sprinkle with parmesan cheese.

Spray a large piece of aluminum foil with cooking spray. This will prevent the cheese from sticking to it. Cover the lasagna and bake for 45 minutes. Uncover, and bake for another 10 minutes or so. Lastly, let it stand for about 5 minutes before cutting. Enjoy!
Homemade Alfredo Sauce
Melt the butter in a medium sauce pan. Add in the minced garlic, cook until aromatic. Whisk in the flour and cook for about two minutes. Add in the heavy cream or half and half, whisk in the seasoning and salt and pepper. Cook for about 5 minutes, whisk in the cheese and stir until thick and smooth.
White Chicken Zucchini Spinach Lasagna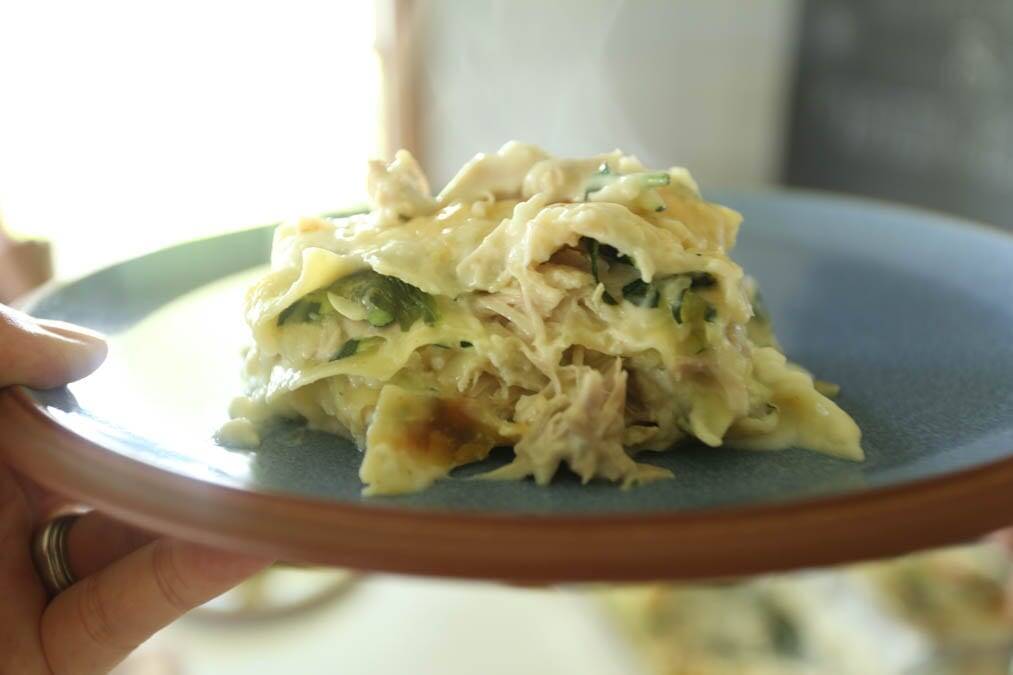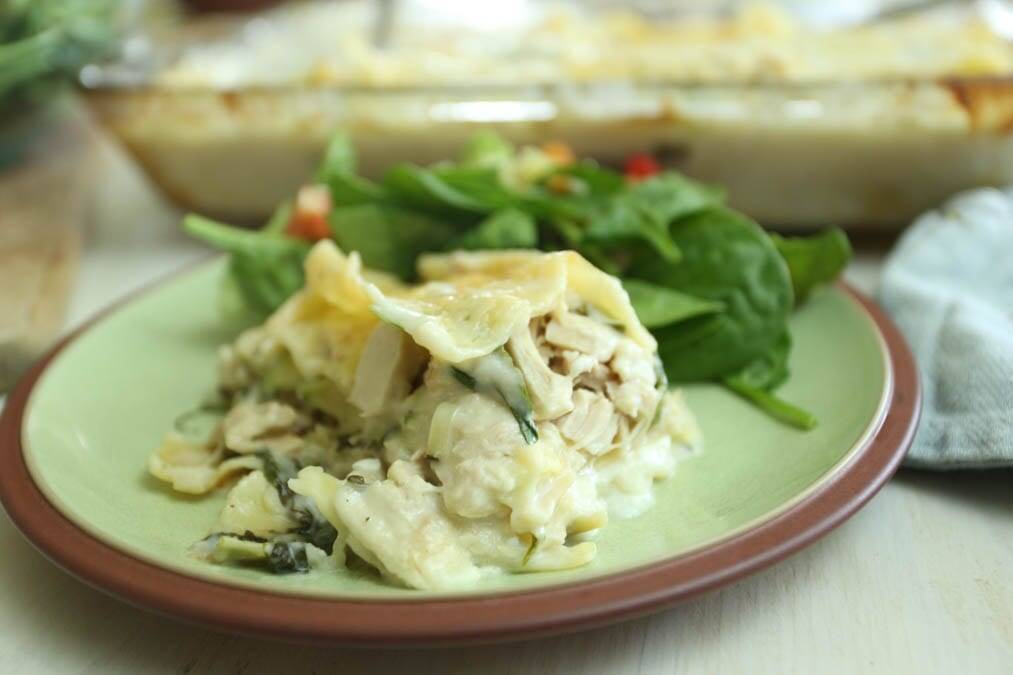 Need More Dinner Inspiration?
Pin It!