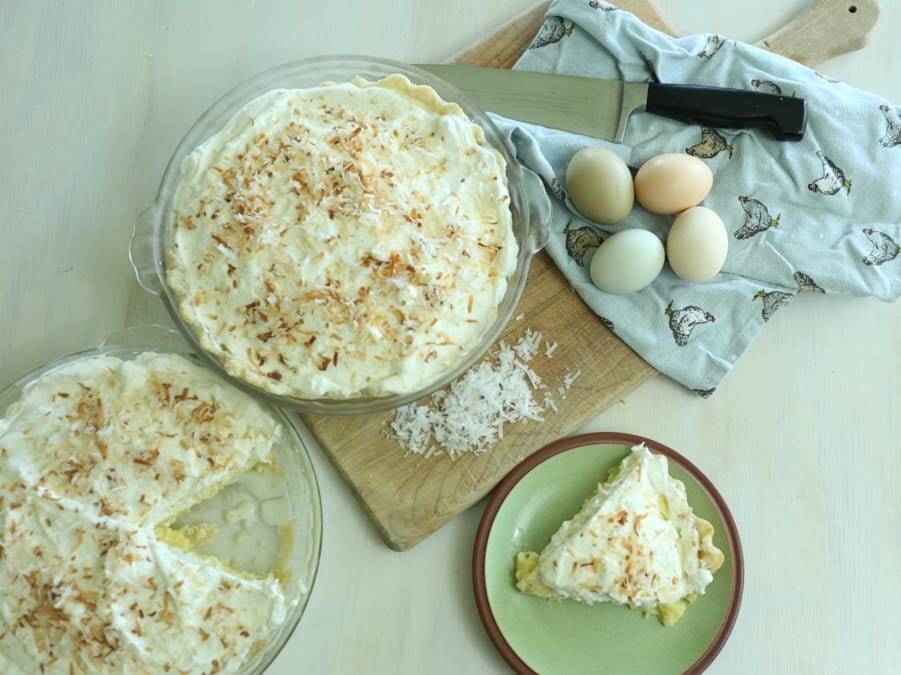 This coconut cream pie recipe is simple and delicious! In this post I share how you can make a delicious pie that will rival your favorite restaurant pie. This is also a great treat for Father's Day!
My husband loves Coconut cream pie. However, he would only eat it maybe twice a year. There are a couple of restaurants in our area that have really good coconut cream pie. Of course we don't go out to eat that much, and really who has room for dessert after most meals anyway? So, I began searching and experimenting with making coconut cream pie at home. This is now one of our special treats for Daddy's Birthday or for Father's Day!
After a bit of trial and error, I think I have a recipe that definitely trumps any frozen coconut cream pie. And according to my husband, this is every bit as good as the pie from a local restaurant. So here it is!
Pie Crust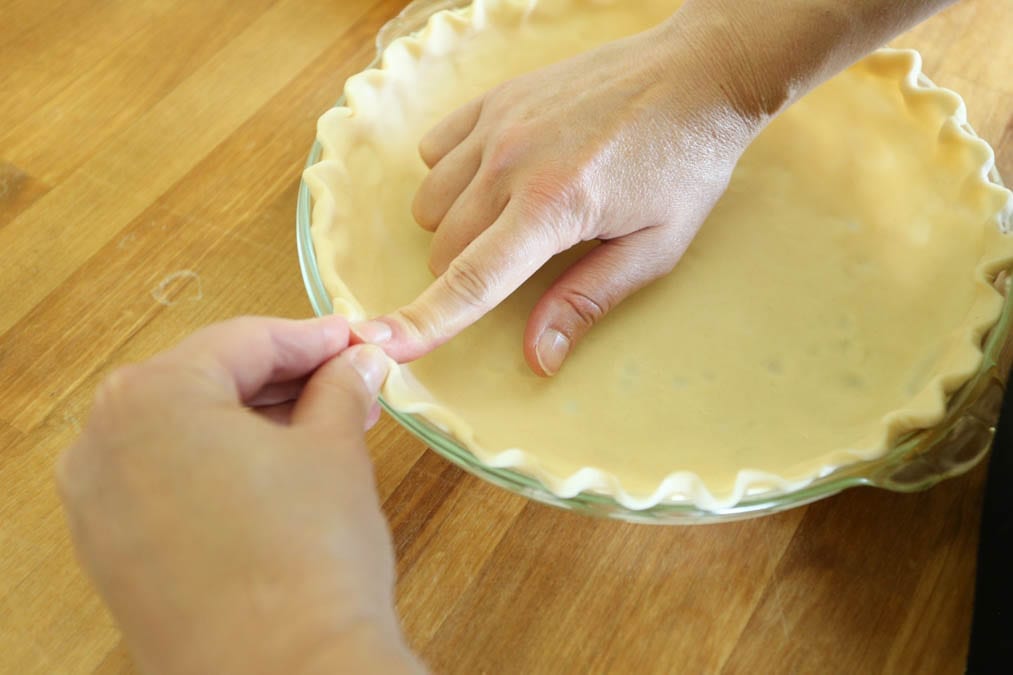 I am all for homemade everything. However, there are times when the refrigerated pie crusts are just too convenient to resist! That is what I used for this pie. So, if you do the same, no judgement here! I had a lot of things to do the day I made this, and making a mess of my counter wasn't one of the things. However, if you like a homemade pie crust with whole wheat flour like I do, here is a great recipe! You could also substitute any single pie crust recipe that you like.
Pie Crust Recipe
One cup flour ( I use Prairie Gold Whole Wheat Flour, it is light and works well for pie crusts and baking), 1/2 tsp salt, 1/2 cup cold butter (cut in cubes), 1/4 cup cold water and 1 tsp vinegar.
Mix the flour and butter and salt with either a pastry blender, fork, or food processor. Slowly add the cold water mixed with the vinegar. Work it into a dough. Roll it out into a round pie crust. Line your baking pan with it and crimp the edges. Bake at 400 degrees for about 10-12 minutes.
I have not mastered the art of keeping the pie crust from shrinking when baked. Pricking all over with a fork is supposed to help. You can also line with foil and fill with dry beans. They also make pie weights to fill the crust when you bake it. If you have any tips, please share in the comments!
Toasted Coconut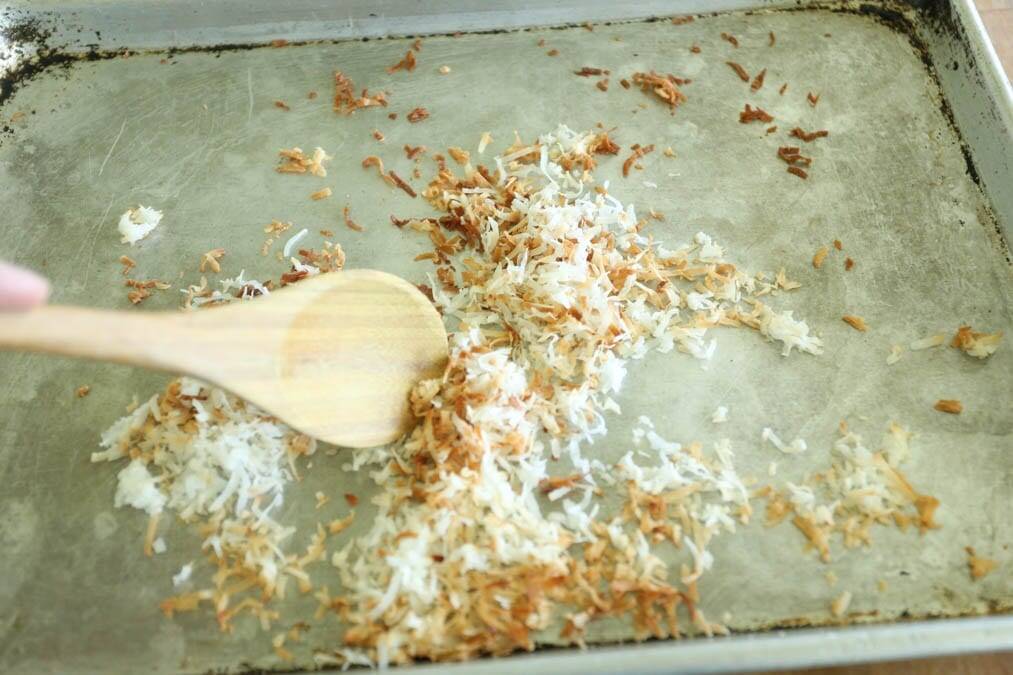 While your pie crust is baking, sprinkle about 1/4 cup flaked coconut on a baking sheet. Place in your hot oven and toast it for about 4-5 minutes. Check it after 3 minutes and give it a stir. Then let it finish for a minute or two more. Watch it, it can go from barely golden to burnt really quickly! This is what you will use to garnish the top of your pie.
Filling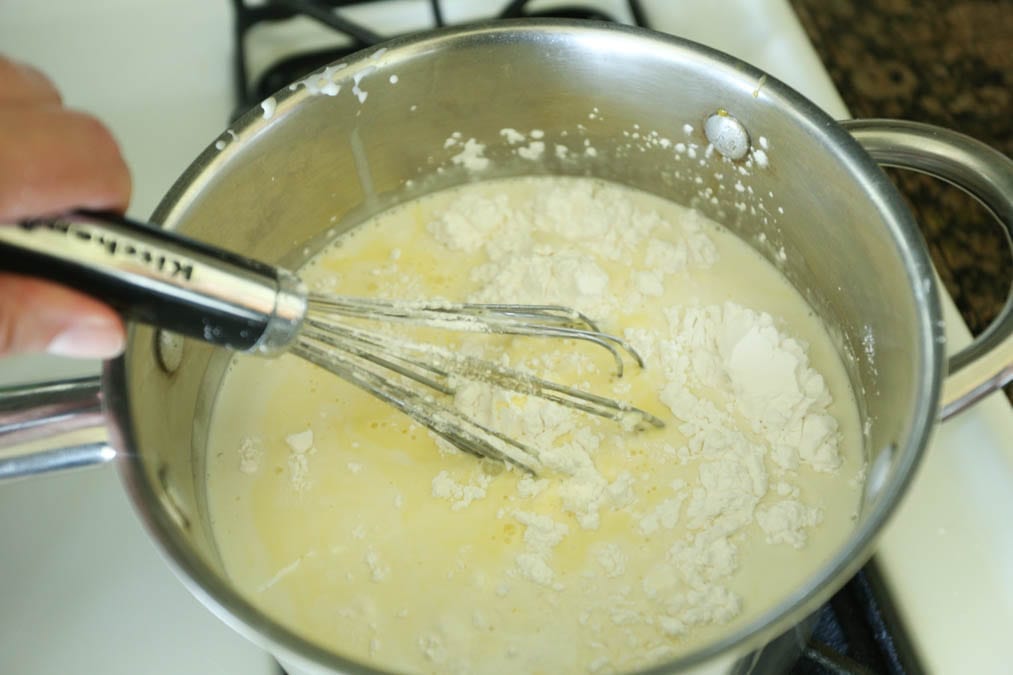 For the filling you will need to whisk together, 1 can coconut milk, 1 1/4 cup half and half or whole milk, 2 beaten eggs, 3/4 cup sugar, 1/2 cup arrowroot powder (or cornstarch), and 1 tsp salt. Whisk regularly while heating over medium high heat. It may take 10-15 minutes for it to thicken. Once it is quite thick, remove from heat and add the 1 tsp vanilla and the 1 cup of coconut. Pour into the prepared pie crust and let cool for about four hours or until set.
Arrowroot Powder
I use arrowroot powder in any recipe calling for cornstarch. Corn is typically genetically modified, so we try to avoid it unless it is specifically labeled non-gmo. Arrowroot is a tuber similar to a yam or sweet potato. It has a higher protein content than other tubers. It has 5 grams of protein per cup. Arrowroot is also high in fiber. When you buy it in powdered form it is a great substitute for cornstarch or flour when you need a thickener. It is also a great gluten free option! So, I feel better about using it in recipes.
Whipped Topping
I will cheat on pie crust, but not whipped cream! Frozen whipped topping is just not the same, and it is full of nasty ingredients. Making your own whipped cream is really very simple and quick. The key to perfect whipped cream, is freezing your bowl and beater. Then simply pour in the cold heavy cream and 1/4 cup powdered sugar. Mix on high speed for about 3-5 minutes, watch it closely. It is done as soon as it starts to leave streaks in the cream, test it to see if it feels thick and if you can make a stiff peak with it and it stays. If you go too long, you will have sweet butter!
Finish your Coconut Cream Pie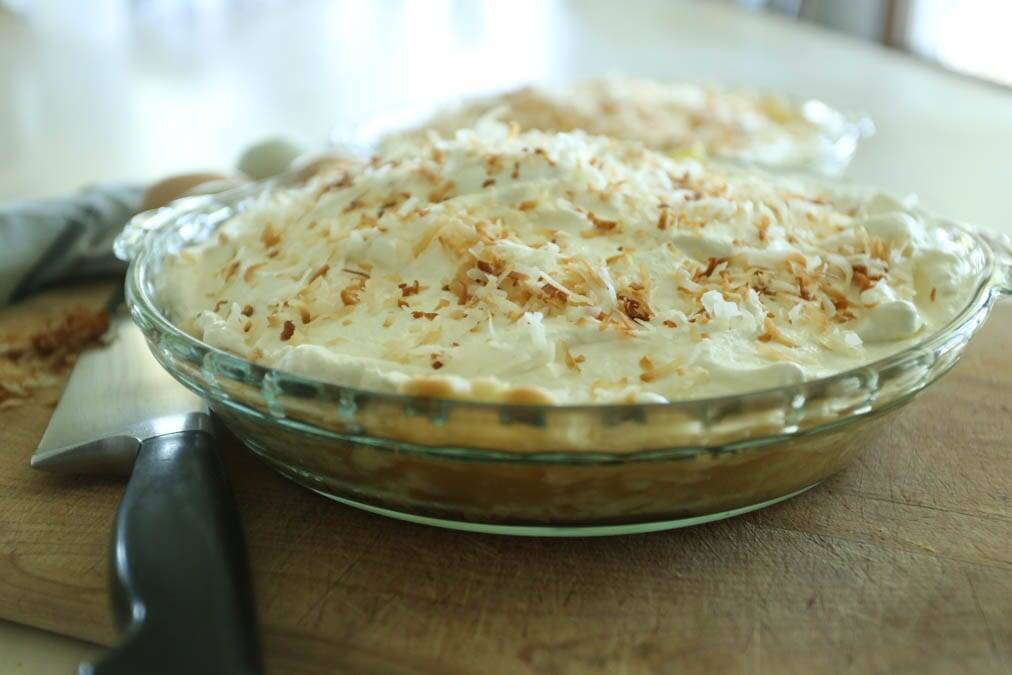 Top your chilled pie with the whipped cream. Then sprinkle the toasted coconut on top. Serve it up and enjoy!
Printable Recipe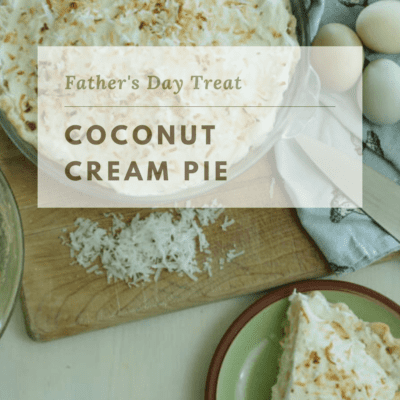 Coconut Cream Pie
Cool, fluffy and rich with coconut flavor. This pie is a special treat, but not too sweet!
Ingredients
1

can

Coconut Milk

One can equals 1¾ Cup

1 ¼

cup

Half and half or whole milk

2

eggs

beaten

¾

cup

sugar

½

cup

Arrowroot powder (you could also use cornstarch)

¼

tsp

salt

1

tsp

vanilla

1

cup

sweetened flaked coconut

I use half sweetened and half unsweetened to cut down on the sugar a bit.

¼

cup

additional coconut

This is for toasting and garnishing the top of your pie.
Whipped Topping
½

pint

heavy cream

¼

cup

powdered sugar
Single Pie Crust (or use store bought roll out crust)
1

Cup

White Whole Wheat Flour (Prairie Gold)

This is a light whole wheat and works well, if you have a heavy or coarse wheat flour, you may need to mix in half white flour to have desirable results.

½

tsp

salt

½

cup

Cold Butter

Cut into cubes

¼

cup

cold water

1

tsp

vinegar
Instructions
Combine the flour, salt and butter with a pastry blender. When it is like coarse crumbs, add in the cold water and vinegar. Gently work into a ball. Sprinkle your work area with a bit of flour. Roll out to a thin crust the size of your pie pan. Bake at 400° for about 10-12 minutes. While the crust is baking place about ¼ cup of flaked coconut on a baking sheet and let it toast for about 4-5 minutes.
For the Filling
In a medium saucepan, combine the coconut milk, half and half, 2 beaten eggs, ¾ cup sugar, ½ cup arrowroot powder, and the ¼ tsp salt. Using a whisk, mix over medium high heat and whisk until the mixture begins to bubble and get thick. It should feel quite thick. This could take 10-15 minutes. Once it is thick shut off the heat and stir in the 1 tsp vanilla and the 1 cup of coconut. Immediately pour into your prepared pie crust. Place in the fridge for at least four hours to cool and set
For the Whipped Cream
For perfect whipped cream, place the bowl and paddle of your mixer in the freezer for at least 15 minutes. Then immediately put the ½ pint of cream in there and begin mixing on high speed. Add in the ¼ cup powdered sugar. Watch closely for it to begin to thicken. Stop the mixer and check for thick peaks, don't over mix or you will have sweet butter!

Once your whipped cream is done, spread it over the cooled coconut cream pie. Lastly sprinkle the toasted coconut on top. Serve up and enjoy!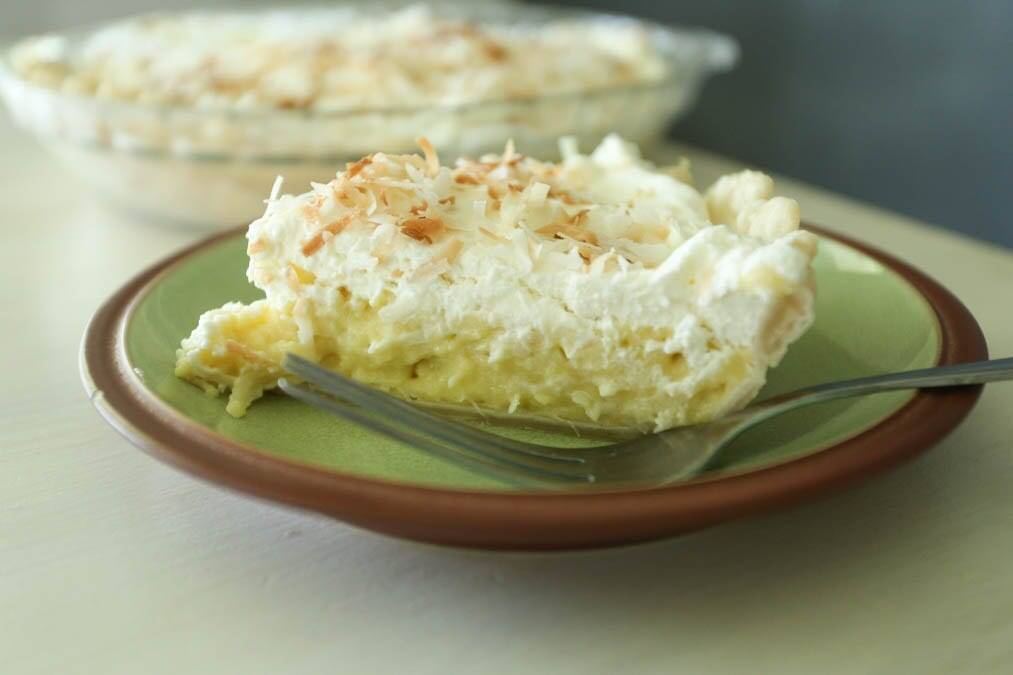 Pin and Share