How to Make Fermented Jalapenos | Probiotic-Rich Lacto-Fermented Food
Fermented Jalapenos are tangy and delicious just like pickled jalapenos but with the added benefits of Lacto-fermentation! Spice up your sandwiches or nachos with these zesty jalapenos!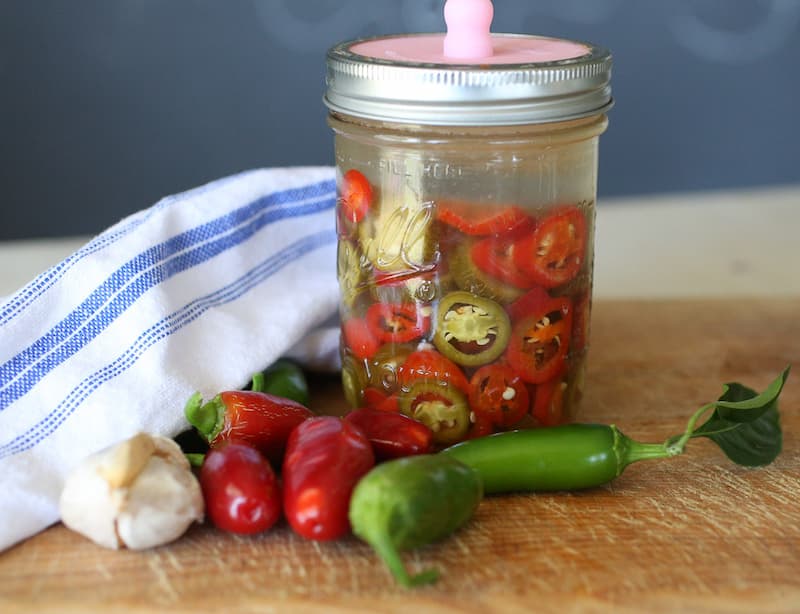 Disclosure: Any information given is my opinion formed through my own research. This information is not meant to diagnose, treat, prevent or cure any illness. Please do your own research regarding your health as you are responsible for your own decisions.
This post contains affiliate links
What is Lacto-Fermentation?
Lacto-fermentation is really just a process where the natural bacteria feed on the sugar and starch in the food, creating lactic acid. The salt in the brine keeps down the harmful bacteria and allows the good ones to do their thing. This naturally preserves the food while creating vitamins, digestive enzymes, and probiotics. This can aid your stomach, liver, or gallbladder.
The flavor resembles a pickled flavor, slightly tangy.
A Healthy Gut Provides a Healthy Immune System
The truth is, that we need enzymes and bacteria in order to digest our foods properly. Our overall health really stems from what is going on in our gut! Allergies…check your gut health. Skin problems…it might be your gut. Indigestion, fatigue, frequent illness. You guessed it…it might be your gut! Some studies I have read recently indicate that even our brain function is directly related to our gut health!
Through our modern diet of processed foods, and our overuse of antibiotics, we have really done some damage to our gut health. Processed foods do not have the live enzymes and bacteria required for digestion. They put NOTHING HEALTHY into our bodies. Antibiotics tend to kill off all the bacteria, good or bad. So, if you have taken antibiotics for an infection or illness, or if your diet consists mostly of food that comes from a box or a package, you need to put some good bacteria back in. Otherwise, you will find that your illnesses will begin to be recurring, and your ability to fight them off naturally will diminish.
Healing After Antibiotics
As a mother, I am very drawn to information on health. We take a pretty natural approach to keep our bodies healthy so that they can fight off disease. Out of my ten children, only one has ever been on antibiotics. I don't say that to brag on myself, I say that to brag on the human body! I believe that our bodies were made to fight off disease and heal themselves. Granted, this can only happen when the body is properly cared for and working as it should.
My husband was recently on antibiotics, I have been giving him kombucha, homemade yogurt, and these zesty fermented jalapenos!
Our gut is home to 70% of the immune system! (That number came from mindbodygreen.com) Your gut bacteria helps your immune system's T-Cells to develop. So, keeping your gut healthy is vital to keeping you healthy!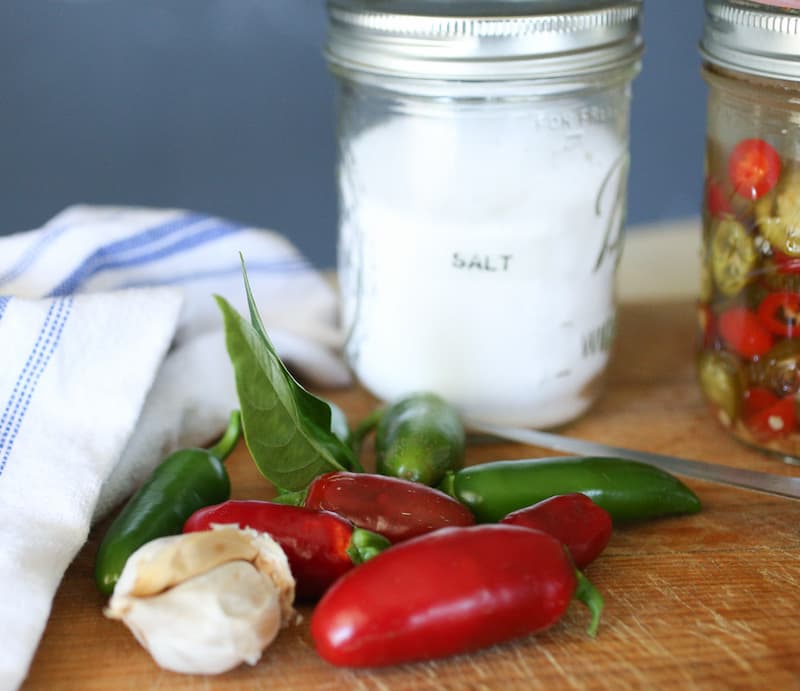 How to Make Fermented Jalapenos
The process of fermenting is really quite simple. You slice the jalapenos and pack the jar or jars full, leaving some space for the glass weight. Add a clove or two of garlic if you enjoy the garlic flavor.
Mix the salt water, the general rule of thumb for fermenting is between 1-3 tablespoons for each quart of water. For these peppers, I used two tablespoons for a quart of water. Then I packed my pint-sized jars and then poured the liquid over them.
Next, add a glass weight to hold the jalapenos under the salt water. I like these glass weights, they are easy to place and remove from the jars. They fit wide-mouth jars. I always make a mess when I add the glass weight, it's a good idea to place the jars in a shallow dish or in the sink when you add the weight to catch the overflow of water.
I like to add a fermenting pickle pipe lid. Here is a whole fermenting kit that looks really nice, it comes with everything you need including a jar.
Ingredients for Fermented Jalapenos
Jalapenos-I didn't count but maybe about 15…depending on the size of the pepper
1 quart of filtered water
2 TBS Sea salt or canning salt
1-quart jar or two pint jars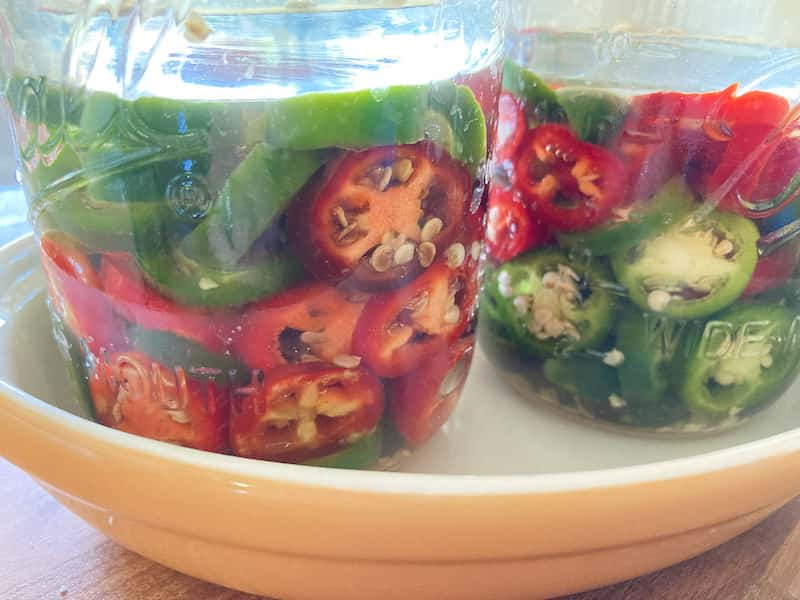 How Long Should Jalapenos Ferment?
After packing everything in the jars, place the jar on a shallow dish or plate. Let the jalapenos ferment on the counter for about a week. With other fermented foods like carrots, they seemed to ferment faster like five days. We tasted the jalapenos after five days and they were not tangy, just salty and super hot!
We actually let these go for two weeks before we were happy with the tanginess. They also seemed to calm down with the spiciness the longer they fermented. Feel free to ferment them for longer, as long as there is enough liquid to cover them, you can let them go for a month if you'd like.
After you are happy with the flavor, put a lid on the jar and pop it into the fridge. They can last for at least 6 months in the refrigerator.
Home Temperature and Fermentation
The ideal temperature for fermenting vegetables is between 68-77 degrees. Anything cooler will slow the process and anything warmer may result in spoilage. Our house is typically around 76 degrees this time of year. My fermented veggies and all the drinks like Kombucha and Kefir water turn out well at that temp.
Tips for Fermenting
To prevent mold, keep the jalapenos submerged in the liquid. If you don't have a glass weight, you could use a clean rock and something like a cabbage leaf to keep it all under water.
Double-check your salt measurements, salt is vital to preservation and fermentation.
Set the jars on a plate or shallow dish as sometimes fermented foods will bubble up out of the top of the jar. This will help to keep the kitchen clean.
Only use the freshes best peppers for fermenting, avoid soggy, wilted, or spotted jalapenos.
Love all Things Homemaking and Homesteading? Never Miss a Post!
Other Fermented Recipes