Cashew Pea Salad is an excellent summer dinner. Light and refreshing, but with enough protein to satisfy.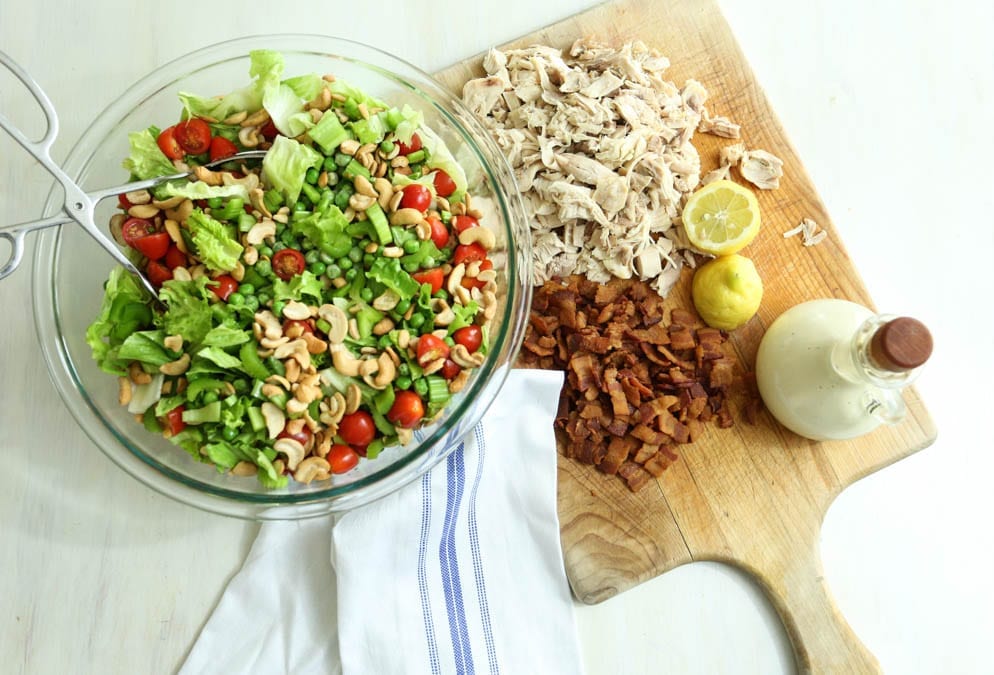 I love salads! Like really–I could eat salad everyday! This salad has been eaten for breakfast…by me. Cold and crisp foods are my jam. This salad is delicious and it even pleases my children! Ok, that's kind of a lie. My two teenage boys told me they tolerated the lettuce in order to eat the bacon and cashews. But whatever! It was food, so they ate it.
I know making your own salad dressing sounds like a lot of work, and the list of ingredients looks long. However, it is super easy! My 12 year old whipped this up while I cut the veggies.
The peas go in the salad frozen, and by the time you eat it, they will be thawed and perfect!
Cashew Pea Salad
A delicious, light, and satisfying salad. Includes a homemade dressing that whips up in minutes.
Ingredients
2-3

Cups

Cooked Chicken

½

lb

Cooked Bacon

1-2

Head

Romaine, or leaf lettuce

enough to fill a large bowl

½

pkg

grape tomatoes

cut in half

5

ribs

celery

chopped

2

cups

cashews

10

oz

package frozen peas

2

green onions chopped

optional
Dressing
¾

cup

olive oil

¼

cup

red wine vinegar

1

clove

minced garlic

3

tsp

dijon mustard

1

tsp

worsteshire sauce

1

tsp

lemon juice

½

cup

sour cream

¼

tsp

salt

¼

tsp

pepper
Instructions
For the chicken, I never have cuts. I only have whole chickens in my freezer. I cook one in the Instant Pot, and then debone it. I load this salad pretty heavily with chicken, but that is just our preference. You could substitute grilled chicken breasts, or leftover rotisserie chicken. Fry your bacon and let it cool. Next, simply put all of your veggies in a large bowl. Add in the chicken. Pour the dressing over the salad and toss with tongs. Top with bacon and cashews and give your salad another turn or two with the tongs. Serve and enjoy!
Dressing
Mix all ingredients in a bowl with a whisk. Or you could use a blender.
For the chicken, I just cook a whole frozen chicken in the Instant Pot. I cook a frozen chicken for 10 minutes per pound. I sprinkle it with seasoned salt (we love Johnnys). Use the rack in the Instant Pot, and pour 1 cup of water in the bottom. When it is done, I let it cool and debone it. For this salad I used about 2-3 cups of chicken. The rest we just put in the fridge and made quesadillas with chicken the next day.
Grilled chicken would also be fabulous, or leftover roasted chicken, or even chicken from a rotisserie chicken.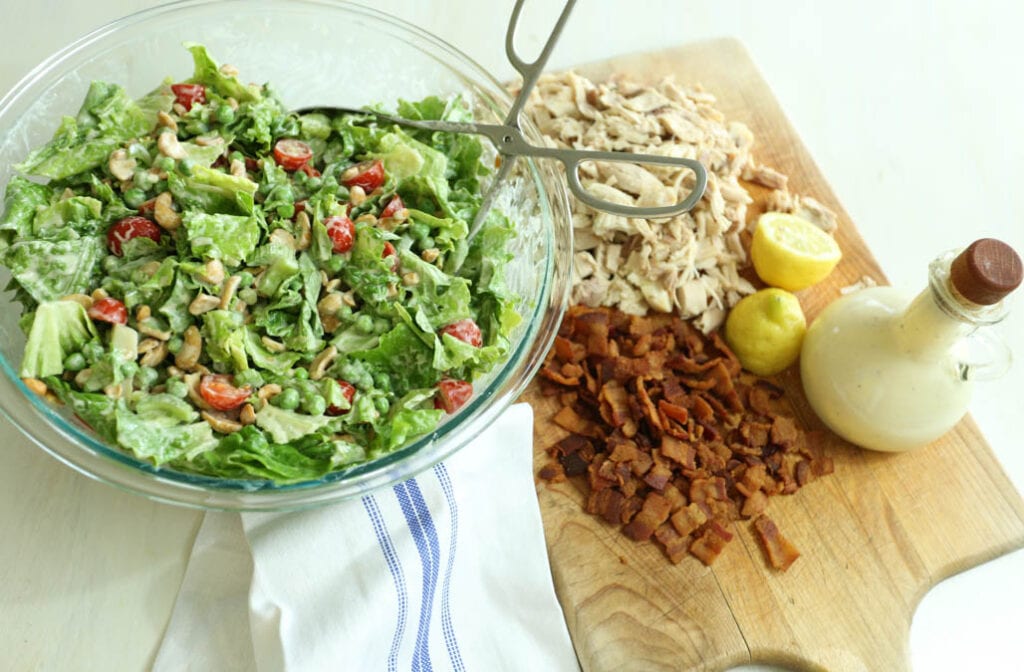 I always fry the bacon in a cast iron skillet, it really is better that way. However, you could bake it in the oven or microwave it if that is easier for you. Let it cool and drain on paper towels.
That's it! I hope you love this Cashew Pea Salad as much as I do! If so let me know in the comments! Or you could tag me on Instagram and let me know you made it!
My second favorite salad is Tarragon Chicken Salad, you can find that recipe here!
Pin for later!