Oat and Whole Wheat Pie Crust Recipe
Oat and whole wheat pie crust is delicious and hearty. Depending on how long you grind the oats, you can have a rustic or a smooth pie crust. The nutty sweetness of oats is perfect for just about any pie or quiche.
This post contains affiliate links.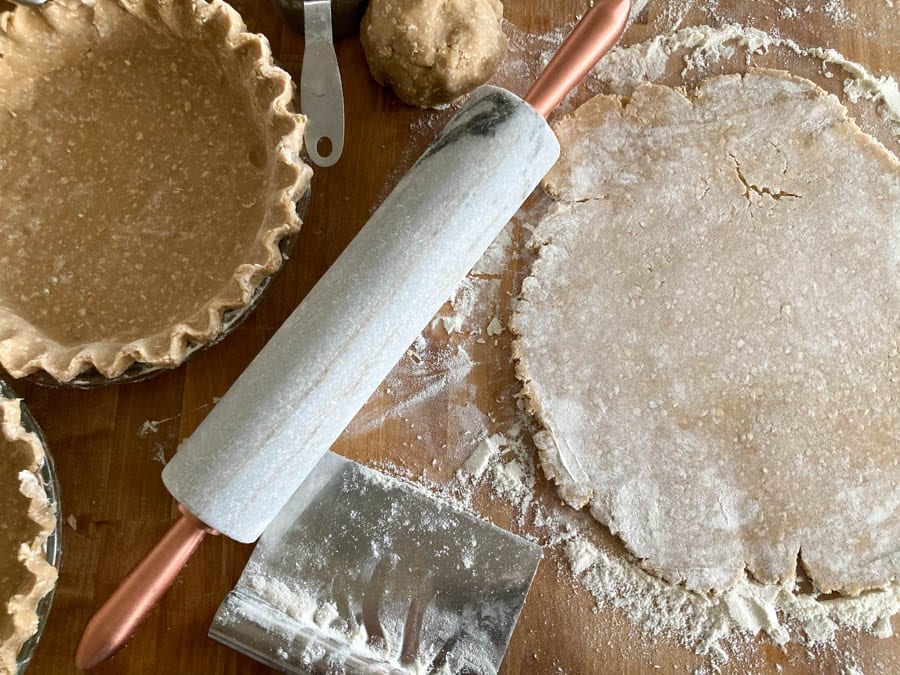 Is Homemade Pie Crust Easy to Make?
Pie crust is one of those things that so many people struggle with. It seems like an awful lot of work and mess when you think about it. Opening a package of pre-made shells sure sounds a lot simpler. No judgment here, I have done the same many times. However, homemade pie crust really isn't difficult! Not to mention this crust is way better than anything store-bought!
Why Add Oatmeal to Pie Crust?
Oatmeal in pie crust makes a delicious crumbly slightly nutty and sweet crust. Some of my kids prefer this over plain pie crust. The flavor really compliments just about any filling!
How to Add Oatmeal to a Pie Crust?
In order to add the oats, you can do a couple of different things. You can use a mini food processor and grind up the oats. This will make some of the oats into powder (like flour), there will also be some bits of oats left. I made one like this, and we kind of liked the oats left in bigger pieces. This makes a more rustic crust. I also made some crusts using the blender to grind up the oats. The blender made all of the oats like flour. This crust was also very good, just smoother and more like a usual pie crust, not as rustic.
Need Help with Meal Planning?
Grab my meal planning bundle from my shop!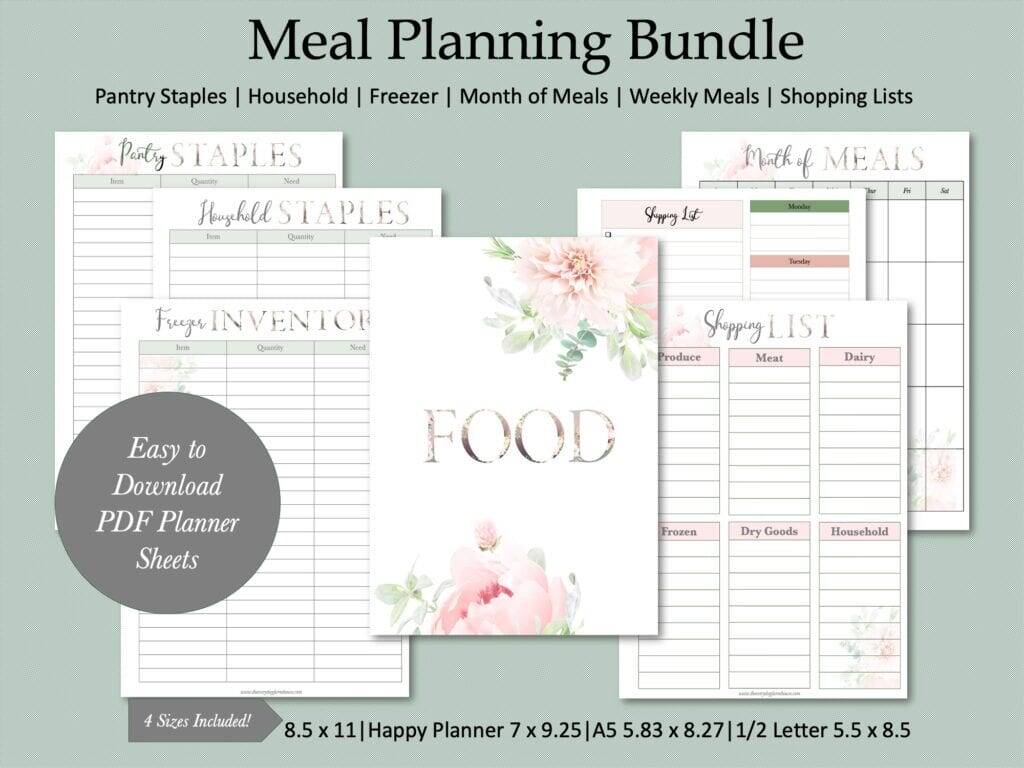 Oat and Whole Wheat Pie Crust Recipe
(This recipe was adapted from the Oat pie crust recipe found in The King Arthur Whole Grain Baking book)
This recipe makes two generous pie crusts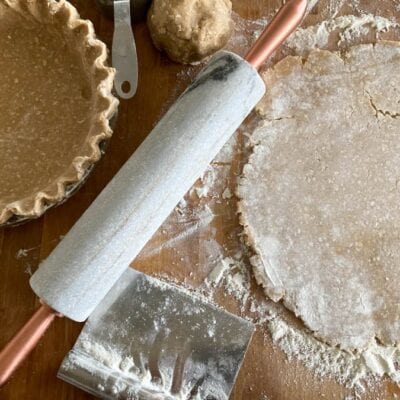 Oat and Whole Wheat Pie Crust
The nuttiness of oatmeal gives a slightly sweet flavor to this crumbly and delicious whole wheat pie crust.
Equipment
Food Processor or Blender

A Stand Mixer is handy but not necessary
Ingredients
1⅓

cup

Old-Fashioned Rolled Oats

2

cups

Whole Wheat Flour

I like Prairie Gold White Whole Wheat, it is light and produces nice baked goods. If you have a coarser wheat flour, you may want to substitute half white flour.

½

tsp

baking powder

½

tsp

salt

1

cup

(2 sticks) of butter

slightly softened

2

tsp

cider vinegar

10-12

Tbs

ice water
Instructions
Grind the oats in a blender or food processor. Leave some larger bits of oats for a more rustic crust, grind to a flour for a smoother crust. In a stand mixer using the paddle attachment add the oats, flour baking powder, and salt. Cut the slightly softened butter into cubes and mix it into the dry ingredients. If you don't have a stand mixer, just use a pastry blender or fork. Mix until you see what looks like pea-sized crumbles.

Next, as the mixer is going, sprinkle in the cider vinegar and the ice water one tablespoon at a time.

Mix until the dough comes together nicely. Pick up a bit and see if it sticks together rather than crumbling apart. If it seems too dry and crumbly add a bit more ice water.

Split the dough into two equal lumps. Roll each lump into a ball. On a lightly floured surface, flatten the ball into a disk, and using a rolling pin roll the dough into a circle that is between ¼' and ⅛" thick. Pie crust should be about 1" larger in diameter than your pie pan. If the dough seems too sticky, you can refrigerate it for a bit, I didn't find this to be the case.

Roll the edges under and using your finger crimp the edges of the pie crust. Fill with your favorite ingredients and bake. I found no need to pre-bake this crust at all. It gets nice and crispy without any extra baking time. Follow the temperature for your pie recipe.

If you are baking this for a pie that you won't need to bake like a pudding pie, use pie weights or line the crust will foil and fill with beans. Bake at 375° for 15-20 minutes or until it is golden brown.
Oat and Whole Wheat Pie Crust Instructions
Using a stand mixer or a pastry blender, cut the butter into the dry ingredients. When thoroughly combined, it should resemble pea-sized crumbles. Next, sprinkle the cider vinegar into the dough with the mixer running, then add in the ice water one tablespoon at a time. I used all 12 tbs of water, the whole wheat flour seems to need that, but if you are using white flour, you may need less water. Just watch the dough, if it seems too dry at a bit more. Pick up a piece with your hand and see if it sticks together well. It shouldn't crumble apart.
Split the dough into two equal balls. I have four in my pictures because I feed a lot of people. Smash the ball into a disc and then roll out to 1/4″- to 1/8″ thickness. I think 1/4″ is nice for something like quiche which is what I made with these crusts. The crust should be about 1″ larger in diameter than your pie pan. Fold the crust under and using your fingers, crimp the pie edges.
Bake per your pie recipe instructions. For baking an empty shell, like for a pudding pie, line with foil and fill with beans to prevent the crust from shrinking up. Or use pie weights. Bake at 375 degrees for 20 minutes or until golden brown.
I hope you give this pie crust a try!
I made quiche with these and we really liked the heartiness of the crust. I can share the quiche recipe later if you are interested!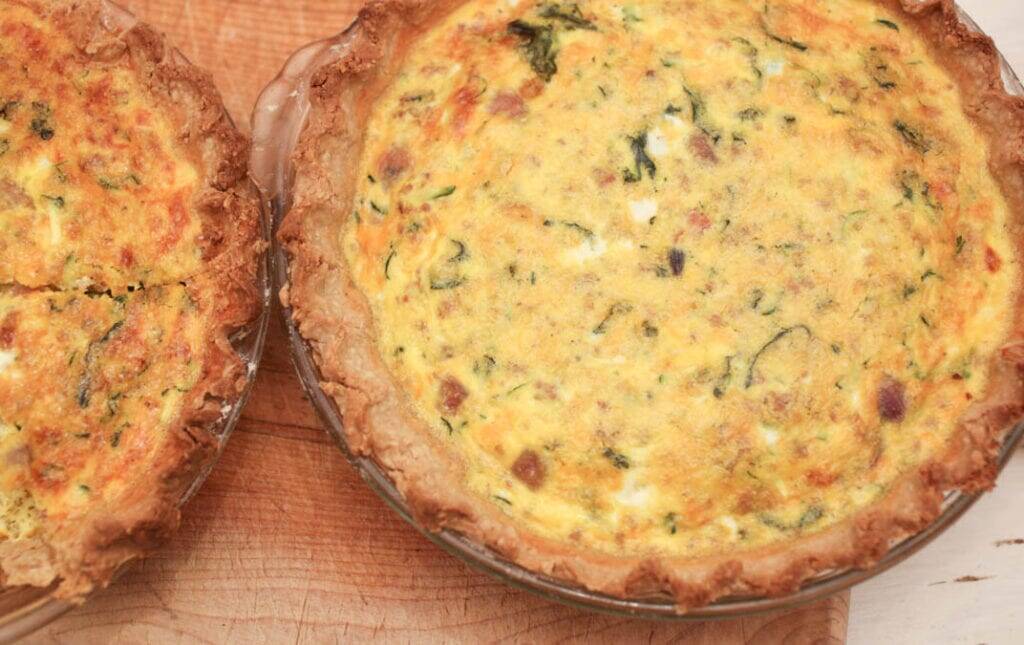 Pin for Later!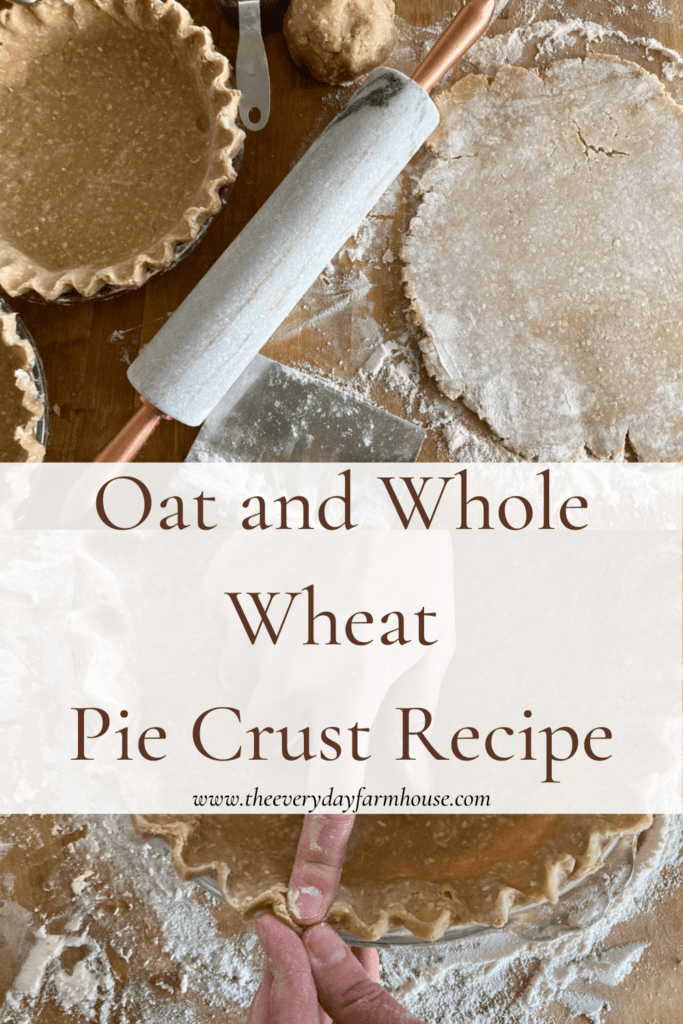 Need Pie Recipes?
Father's Day Treat–Fresh Strawberry Pie